This post may include affiliate links.
Is the entire family bored at home?
 Are you looking for fun bonding activities for families that everyone can enjoy together? Would you like to create memorable family bonding moments without spending too much money?
Sometimes it can be a pain trying to decide on a unique activity that can keep the whole family engaged and won't make you feel like gouging your eyes out.
Today, I'll help you decide on some fun bonding activities for families to draw you closer together and not at each other's throats.
If you're ready, let's get into the list!
Please share the ❤️️ and PIN this post for later!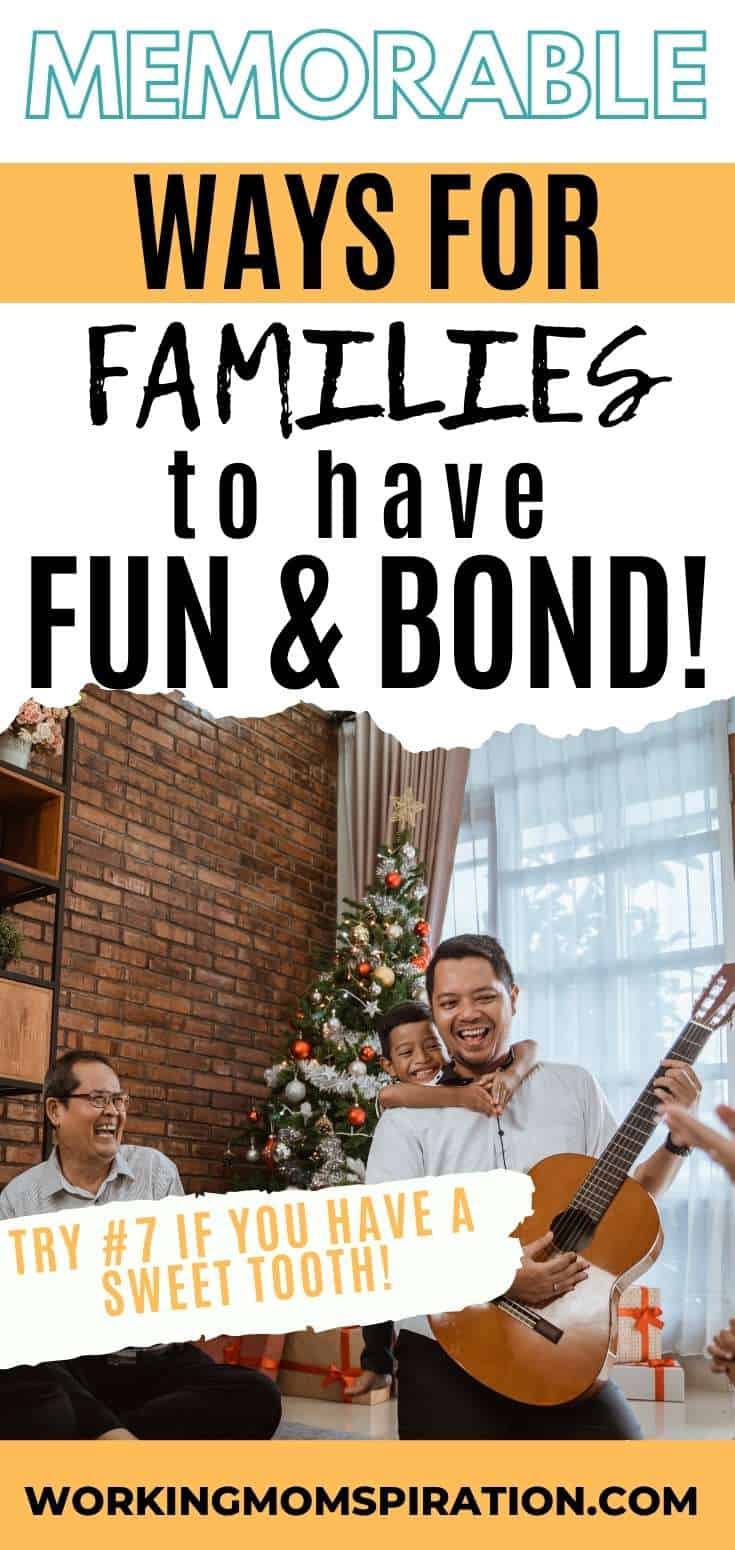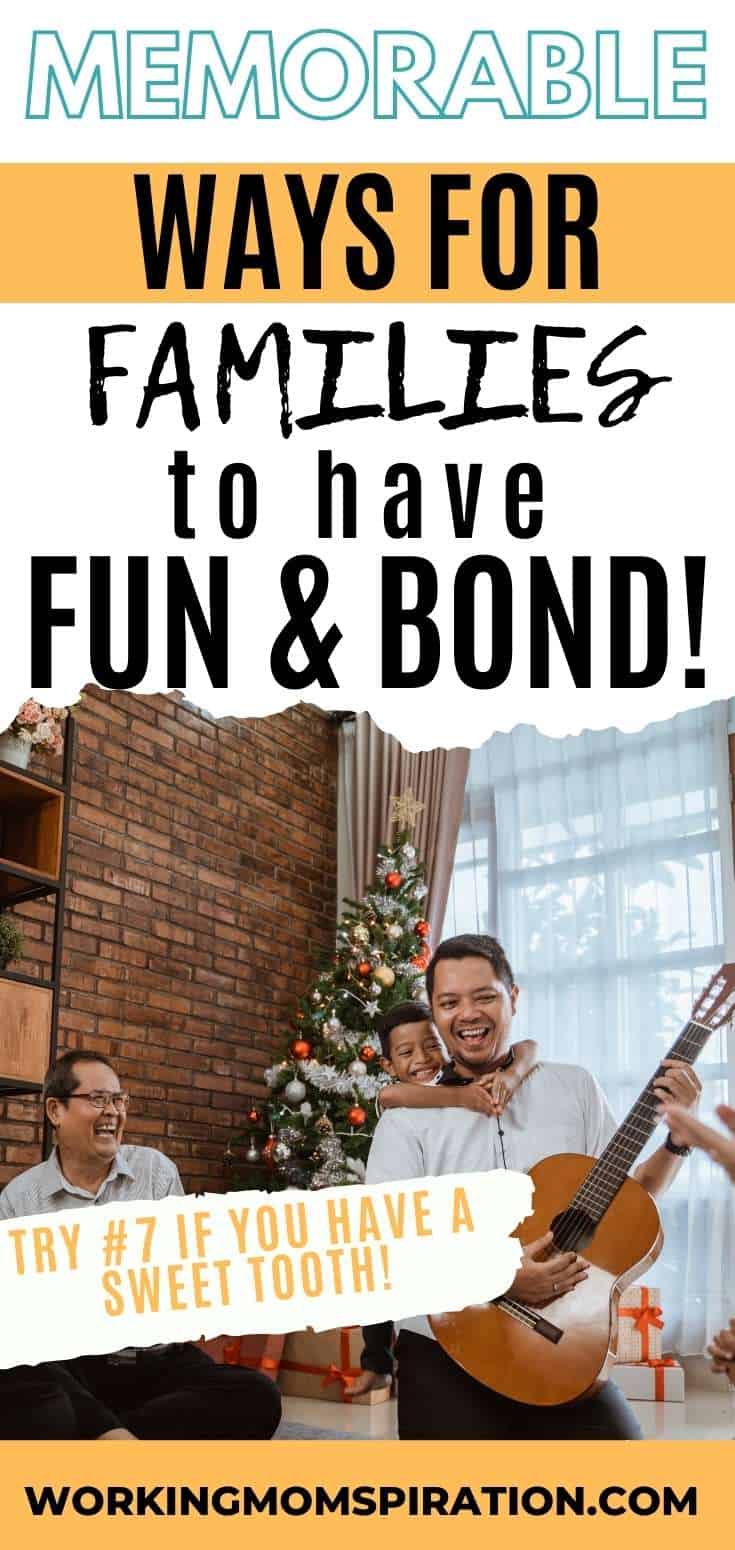 Best family bonding activities to try now
1. Go sightseeing
A great way to enjoy the outdoors while doing some family bonding is by doing some fun sightseeing activities.
You can head out of town for the weekend to a slightly remote location in the country, or a gorgeous scenic landscape. It could be a simple day out or a full weekend trip.
If you have nature lovers in the family, this is the opportunity for them to make the most of it. Bring along binoculars and see who can spot the most birds. If you can find a rare one, that's bonus points. Look for a trail nearby, and have everyone partake in a short hike which is sure to boost your endorphins.
2. Have a family water game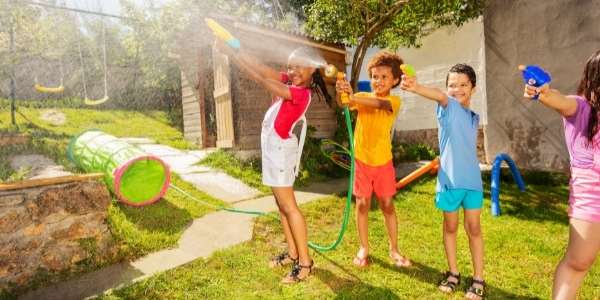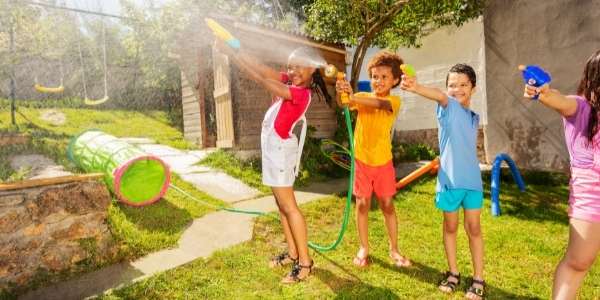 Bonding time with family is super important and what makes it better is actually having fun with each other. Partaking in water games as a family is one of the best family bonding activities that everyone can enjoy.
Take all the kids out to the backyard and take part in some good old fashion water gun games. You can divide yourself into groups and get points for who 'shoots' best. Another fun water game is a water balloon fight.
Each member of the family can participate by hurling balloons at the opposing team and the winner gets breakfast in bed for a week. 
3. Have a craft off competition
Does your family enjoy doing crafts? Whether or not they do is beside the point. It's a fantastic indoor family bonding activity, especially on a rainy day.
You can find fun crafts on Pinterest that each member of the family has to make themselves. It can be a simple clothespin craft (I love these) or a knitted plush toy for those who have impeccable crafting skills. To make it more cohesive, working with a theme in mind is best.
It could be a 'Winter Wonderland' or 'Summer Fun' theme. If there are smaller children in the family, working in teams instead of individually is probably better.
4. Outdoor Scavenger Hunt
A scavenger hunt can be extremely fun for kids if done properly. That's not to say the entire family can't enjoy it as well. What's great scavenger hunts is that they are rather inexpensive and can be together in a short time.
A fun scavenger hunt idea is to create a world of sorts where children use a map to find objects. The map will provide hints on the possible location of items. The older kids can do certain challenges or answer specific questions and be rewarded once its completed.
The adults in the family can play along as 'helpers' or 'guides' the children will find along the way. If you're not up for an outdoor scavenger hunt, this indoor one works well too!
5. Try a new restaurant
As a self-proclaimed foodie, I must say this is one of my favorite family bonding activities of all time. Sitting with family and friends while enjoying delicious grub is a nice way to talk and enjoy each other's company.
If you live in a neighborhood where you've tried all the food already, you could arrange an out-of-town dining experience for the family. Check out the restaurant online to see what type of cuisine they offer before heading out, to make sure it fits everyone's preferences. 
6. Play board games
Pictionary is one of the best games for family bonding because it's made for all ages. It's a lovely idea for a family evening at home filled with excitement for the little ones and hysterics for adults.
What makes it more interactive is that you can cast it on your devices and laugh at the hilarious attempts of drawing day-to-day items. Kids will never get bored because it comes with more than 1000 clues in several fun categories.
If you're looking for one of the best board games for large families, Pictionary should be your choice. 
7. Bake together
Another way to spend much-needed time together isin the kitchen. Most kids love baked goods, and if they make them with the family, it can create great memories. What type of sweet treats does your family like best?
Make the most of your family bonding time by making something you all love. It could be Macadamia cookies, a Pineapple upside-down cake, or colorful sprinkled donuts. Make it a family affair and have the children mix the batter and place it in the pans.
Once you're done, rate the baked goods and have a good laugh. 
8. Have Mario Kart Tournament
Not everyone will have a Mario Kart game but any video game can work. Choose a game where every family member can use a controller and have a tournament or race off.
Make it fun and not too competitive especially with younger children being at a disadvantage. Parents should choose the kids avatars and players to avoid squabbling among themselves.
When you're all ready to play, have everyone dressup like their game character, to make it more authentic. 
9. Have a beach day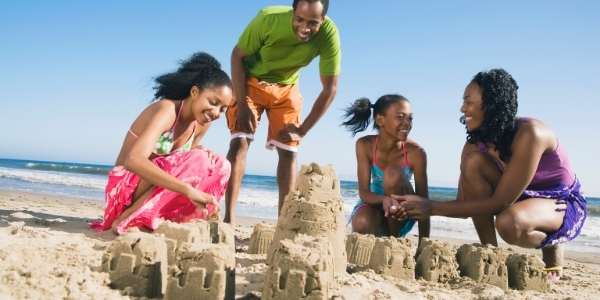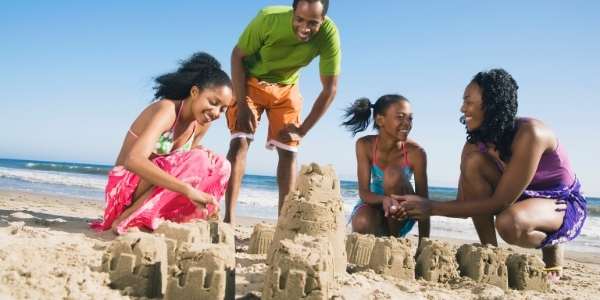 What better way to enjoy the summer, or any other time ( except winter) than a full beach day. If you hate the sun but still want to enjoy the water, try going in the early morning or late evening if the kids aren't fussy.
Take along some blankets and have a nice picnic on the beach if it's allowed. You can also try flying kites, trying badminton or tennis, playing frisbee with the pets, or having a nice bonfire at sunset.
Another way to enjoy the beach is by making the traditional sandcastle or having a small sandcastle-making competition. 
10. Build a fort
Get creative and build a nice fort in the backyard. If the kids have been asking for a treehouse for the longest time, this would make an easier alternative. There are a variety of fort ideas you can try with materials around the house. It can include sheets, cartridge paper, wood, flowers, or a tablecloth.
You can make it in any size or shape you desire, but preferably teepee shaped where the whole family can sit inside and check it out! If you're lost on ideas, these 30 fun fort ideas could work. You also have the option of purchasing a fort and assembling it together which could be fun too!
11. Play hide and seek
If you prefer family bonding activities that are simple, hide and seek is the way to go. It could make for a nice family evening at home activity for toddlers who enjoy a simplistic game.
While adults might find this a tad bit boring, you can spice it up by creating hints, clues, and prizes that everyone can partake in. Write clues around the house and have children use that to help them find the others.
You can also make it more challenging by letting the kids count much longer than expected so they can't find the 'hiders' too quickly. 
12. Write funny stories and poems to each other
Get in some laughs – and tears by having everyone create funny poems or stories and read them out loud. They can be as long or short as the reader likes but they should be something out of this world or truly bizarre.
To help your family get creative, provide prompts that will guide them on writing a hysterical piece that is sure to induce laughter. Once everyone is finished with their piece, enjoy a G-rated comedy with the children for a movie night.
Family Bonding Activities that work
Getting the family together for a fun evening or day together can sometimes be difficult. Work, school, and life can get in the way and prevent us from spending that much-needed quality time together.
Family time should be meaningful, fun, and enjoyable and you should never have to feel forced to be together. There are numerous family relationship building activities that I haven't mentioned in this post that you can try.
Create your own moments and memories! These family bonding activities should just be a big helper for you to spend more time together and not take things too seriously.