This post may include affiliate links.
Are you a new blogger looking to grow your blog and transform it into a business?
Awesome sauce!
You've come to the right place. 
I don't know of any blogger who doesn't want their blog to make a consistent income.
In order to do this though, there are a few ways to go about it.
These are by no means the only things you can do to grow your blog.
You don't even have to use them to make money.
Buuuut….
You definitely stand a better chance of making more money, getting more traffic, and attracting more loyal followers with these tips.
What's great about them is that you can implement them whenever you want and continue using them to grow your blog successfully.
I must warn you that these tips can take some time to work and aren't do-and-done methods.
Pin this post for later if you'd like to come back and try each method step-by-step.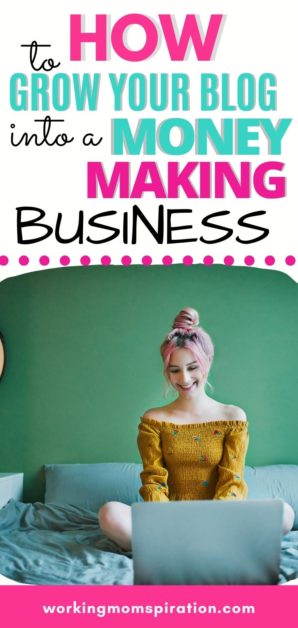 1. Write Epic Content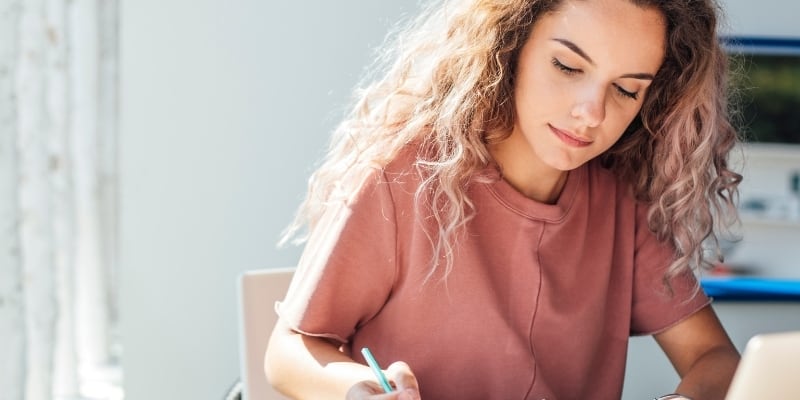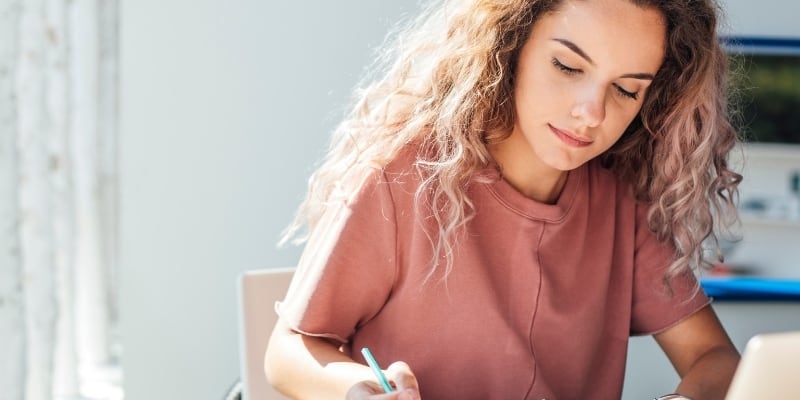 It's very important to write valuable content on your blog.
If you've been reading a few of my other posts, you'll see how much I emphasize writing for your reader.
Giving valuable content is necessary for attracting targeted traffic and providing your readers with value.
Organize Posts
The way I like to do this is to organize my blog posts before I write them.
The first step is to choose your topic. This will of course be related to what your niche is about in some way.
If your niche is Parenting, you could select a topic like " How to discipline your kids without shouting" or ' 7 hacks for teaching young children gratitude'.
Always make sure your title is informative and catchy. You want your potential readers to know what your posts are about and you want them to click.
Never use a boring title for your blog post because people will most likely never read it.
Once you have your topic selected, you can then write your post. 
To properly structure my posts I like to follow these helpful steps:
Organize with subheadings
Insert a catchy opening line/paragraph
Add a call to action
Use relatable examples/language
Proofread post
This is NOT a hard and fast rule, I just like to implement a structure to make it much easier to write my posts and make sure my reader gets a quality piece. 
Write frequently
How often you post will depend on YOUR business and no one can tell you how much to post or when to post.
It could be once, twice, or three times a week.
Buuut I would never tell you to go for months without posting.
That's a total no-no!
Can you imagine following your favorite blog and they consistently post twice a week for 6 months and then suddenly poof! You don't see a single post for one whole month?
Wouldn't you lose interest eventually?
Well….that's how it would be with your audience. They'll move on and find greener pastures if you don't keep a consistent schedule.
I'm not telling you to go crazy and send out 10 posts a week. That would be crazy!
But it's best to find a balance and post on a consistent schedule. So if you've decided on posting just one quality article per week, keep it that way until you feel like you're ready to start posting more often.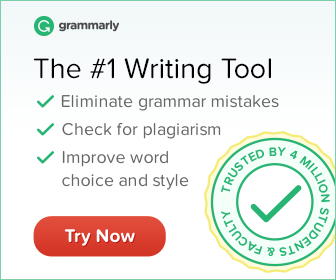 Write long-form content
Writing quality long-form content is essential to growing your blogging business. That's because Google favors posts that are 2000+ words. 
So that means writing shorter posts than this on a regular basis may not give be the best idea for growing your business successfully.
I'm a bit of a wordy person myself so I don't have much of an issue with it.
However, if you're not someone who likes to write long content that much, it comes with practice.
I'd recommend writing with at least 1,200 words or more and try to improve on it. It's not enough though to just write a very long post with little or no value.
If your post is not intriguing to your readers, they are not going to stick around.
They'll probably never revisit your blog as a result.
When you're writing your blog posts don't just make them longer, make them helpful.
2. Use SEO Strategies
SEO is one of the first things to implement on your blog when you're just starting out. 
That's because you want your blog post to be found, and in order to do that, you need to rank!
Three essential tools for this are:
If you want to know exactly who is visiting your blog, where they are coming from, and their demographics, then Google Analytics is the way to go.
Google Analytics
Google Analytics allows you to get reports on your site to see how well it's performing. It gives you insight into which content receives the most views and how users interact with those posts.
A few things you can see are:
How long visitors stay on a page
How many visitors leave after viewing a page
Page Value
These are useful in helping you to improve your posts and pages based on how your readers engage with your content.
So, if you see a trend where a particular post is getting a high bounce rate, that's an opportunity for you to review and make some changes. Once the changes are made, you can access if the bounce rate has improved and if readers are loving the changes.
Google Search Console
The Google Search Console will let you know how your readers are finding your blog and what they click on to get there.
This is a helpful way to improve your blog traffic by creating more opportunities for readers to find you. 
It also helps you with improving keyword research and SEO.
By using the Google Search Console, you can find underperforming keywords and in turn, optimize them to broaden your ranking in the search results. 
Yoast Plugin
The Yoast plugin is one of the most popular plugins for improving your SEO for blog posts.
While I don't think it's perfect and it should be used with some discretion, it really helps me optimize my blog posts. 
It can give you helpful tips like how much active voice to use, how many times you've used your keyword, and if they've been used in the right places.
Use long tail keywords
Long-tail keywords are specific keywords that tend to be longer. These phrases are a blogger's friend because they're more targeted.
They are also used much less, which makes them lower competition keywords.
For example, if you're writing about 'cake recipes', targeting the words 'cake recipes' would be quite difficult. Instead, you could target a long-tail keyword like 'chocolate raspberry souffle cake recipe' because it's longer and much more specific.
Using keyword tools like Keysearch, you can find long-tail keywords and incorporate them within your blog post.
You can add them to the following places:
Blog Post URL
Blog Post title
Introduction
Headings and Sub-heading
Sprinkled in your post
Keywords are a major part of your SEO strategy. Doing the proper research and using them in each post, can help you rank on Google much faster.
3. Use Pinterest (the right way)
Pinterest is an awesome tool for bloggers. If you use it to your advantage, it can help to grow your blog much more quickly.
That's because Pinterest users, who are primarily women, are always on the lookout for awesome pins for recipes, DIY activities, interior decoration inspiration, and fun activities for kids. 
If you want to drive targeted traffic to your blog, creating viral pins that lead to your blog is a great idea. 
Why you should be using Pinterest now: 
Drives crazy traffic
You get more inbound links
Creates engagement with readers
Works well with social media platforms
New leads
More sales
One thing to keep in mind is that your pins can take a few months to gain traction on the platform.
During that time you can continue working on implementing SEO strategies that work for your niche. 
One of my favorite things to do after writing a blog post is to create gorgeous Pinterest pins that push viewers to click. 
Remember, when people are scrolling through Pinterest, they're seeing hundreds of different pins. 
You want to make sure you create a pin that stands out. It has to be something that will give them an incentive to head over to your blog. 
It could be adding a call to action, promising them a freebie, or adding something that they simply cannot resist. 
Again, that's going to depend on the type of post you're sending them to and the niche you're in. 
To make scheduling easier for you, I recommend using Tailwind which helps you schedule multiple pins at once spread out on different days and in separate time slots.
Either way, if you have a blog and you haven't already been using Pinterest, now is the time to start! 
4. Grow an email list
As soon as you start your blog, you should try to get an email list started. 
I use Mailerlite and so love how easy they are to use. They are also free for your first 1000 subscribers! 
Most bloggers add a subscription form to their blogs sidebar and this does help to build an email list.
I do this too and it's a great tactic.
Buuuut…
There are other ways to make it go much, much faster.
Using lead magnets!
When you write a blog post, you can include a bonus that your reader may like and you'll know they will give up their email address for.
For this, you can use an opt-in form. I use Thrive Leads because it's very easy to use and they have gorgeous templates.
Your lead magnet could be a meal planner, ebook, free course, or a swipe file. Just be sure that it's related to the post in some way.
Use multiple opt-in forms
You can add various opt-in forms all over your site like the sidebar, footer, within posts, and on landing pages to increase the odds of your readers subscribing. 
In the process, make sure not to clutter your site as this will be more likely to drive visitors away. I use Thrive Leads to add all the cute opt-in forms you see on my page. They are easy to design and add to your blog posts.
Free content library
This is like a lead magnet, but with some or …I mean a lot of icing on top.
 A content library will have multiple helpful tools and resources like cheat sheets, blog planners, content planners, or anything else related to your blogging business.
This works well because readers will be more likely to give up their email address to access an entire freebie library, rather than when they're getting just one freebie.
Use quizzes or giveaways
This is a fun and creative way to get visitors to subscribe to your email list.
It can help grow your blog because visitors will be more likely to partake in a quiz or want a potential prize for a giveaway.
Some bloggers also give away deals like a 30% of a product or service which adds a bit of urgency to purchasing and in turn they might subscribe as well.
Starting and growing your email list doesn't have to be hard.
Using these methods have been proven to boost conversions and help bloggers grow their blog faster.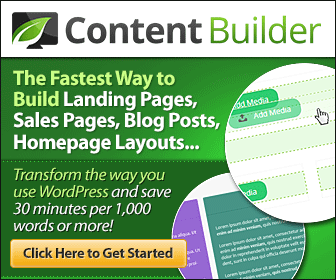 5. Use Facebook Groups
Facebook Groups are not just a place to meet like-minded bloggers, it's also a place where you can promote and market your blog.
Mind you, this is not allowed on every single Facebook group, but there are some that allow it.
What I recommend though is getting to know other bloggers in your niche, asking for advice if you're new, and helping others where you can.
By adding a helpful hand, others will see just how generous you are, and may want to return the favor.
They may refer you to their readers, or mention your blog in their posts which in turn can help drive traffic your way and get your name out there.
Facebook Groups to help you with blogging:
6. Monetize Monetize Monetize!
 This is one of the main reasons you started your blog and there's no reason to deny it.????
Your blog is a business and your aim is to grow it and turn it into a full-time income, am I right?
The truth is that every blogger can make money from their blog.
Its just that they sometimes go about it the wrong way by:
Not niching down enough
Not knowing their target audience
Choosing the wrong revenue stream (using ads too early)
Remember, you have to put in the work and have lots of patience.
The first step in doing this is choosing a niche that works for you.
This could be anything you're an expert in and what you're passionate about.
When you've figured out your target audience (moms, millennials, cat lovers) you can settle down and choose how to monetize.
Personally, one of the best ways to make money is through affiliate marketing.
This can work with just about any niche. 
However, in order to make money, you should recommend products you use and love.
Your readers will know if you're not genuine. Don't fake it.
You can write round-up posts or product reviews to highlight your affiliate products while being honest in the process.
Digital products
Selling your own products is one of the best ways to monetize and grow your blog.
Secondly, it's a passive income stream – who doesn't love that!
You can design digital products using tools like Canva or PicMonkey.
Create something that you know will help your readers in some way and make it irresistible. 
Other ways to make money:
Courses
Consultation
Coaching 
Ads
Sponsored Posts
Webinars
Membership sites
Grow your blog with these simple tips
Can you really grow your blog and make a full-time income from it?
I say yes. But only if you really implement these strategies, work hard  (I mean sleepless nights), and be super-duper patient.
These tips certainly won't grow your blog immediately, but by using these strategies over time and sticking to them, you will see the difference.
Do you have any blog growth tips for me? I'd love to hear them. Write them down in the comments below!
If you liked this post, please PIN it for later!❤️️????