This post may include affiliate links.
One of the easiest ways to make money online is through affiliate marketing.
That's because you don't need to create a product from scratch or do endless research and testing to produce a course or book. What you do is promote a product you use or trust to your audience!
That's one of the fun things about affiliate marketing.
You can talk about something you actually like and if it benefits your audience, they'll love you for it!
I'm going on about how great affiliate marketing is and how you can make a living from it.
But some of you may be new to this and are wondering, how exactly does the affiliate marketing process work?
I'll get into that soon.
If you're a new blogger, this is a great way for you to learn how to make passive income from promoting other companies' services and engage your audience at the same time.
I must tell you that affiliate marketing is best done with a blog of your own. I
f you haven't started one as yet, you can learn how to start a blog that makes money.
What is Affiliate Marketing?
Of course, I promised you I would get into what affiliate marketing actually is. 
Affiliate Marketing is a system where companies or businesses pay commissions to someone who promotes or markets their products. 
You can do this with or without a blog, but the best way to make an impact with affiliate marketing is by having a platform to actually promote these things.
Is this something you're interested in? Of course you are!
Listen. You can write helpful content for your readers with your very own blog and include affiliate products within it to earn some decent cash.
The first step to making it happen is by signing up to affiliate programs or networks and once accepted, you'll get a tracking link that you share with your audience.
When one of them buys anything using your link, you'll make a commission. 
Nice huh?
That's why I highly recommend starting a blog with Bluehost because of its affordable plan and you can start a blog for as little as $2.95 a month!
Affiliate Programs vs Affiliate Networks
You have various options when you want to get started with affiliate marketing.
You can join an affiliate program or an affiliate network.
An affiliate program is simply an individual company that works with you and pa
ys you directly. An affiliate network on the other hand has various affiliate programs that you can join within its database. 
Either one is fine, to be honest, it's just that once you get started with an affiliate network, you can then join numerous affiliate programs at the same time.
Some bloggers may find this easier because you can scourer an affiliate network's database to find products that work for your niche.
With some affiliate programs, you can apply to them on their website, while you will only find others within an affiliate network.
To increase your chances of being accepted, you should promote products that are directly related to your niche.
So if you're a travel blogger, you can recommend travel gear that you know would be great for your audience.
Other tips to increase acceptance are:
Have at least 10 quality posts published
Make sure you have a Disclosure page set up
Have an About Me page
I know it can be a bit tricky especially for new bloggers who want to get into affiliate marketing but they're not sure where to start.
I'll recommend some great affiliate networks and programs that accept new bloggers, so you can be on your way to earning some cash!
Remember to PIN this post for later!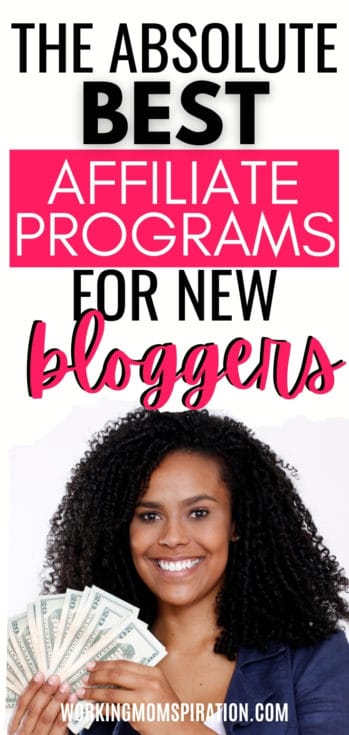 List of best affiliate programs for new bloggers
AFFILIATE NETWORKS
This is absolutely one of the best affiliate networks out there and one of my favorites.
This network has lots of popular brands and several categories you can choose from to suit your niche.
You have access to more than 4,500 affiliate programs in categories like:
Fashion
Home and Decor
Games
Marketing
Blogging
You can filter your programs and choose from the thousands that the network offers.
There's even have the option of selecting programs based on holidays or seasonal events. 
What I like about Share-A-Sale is that they have new programs being added every month and you can apply to the various merchants with just the click of a button.
Their sale commissions vary based on each program, but you can make as much as $200 in commissions!
Here are a few programs you'll find on Share-A-Sale and you can search for lots more!
You'll be able to monitor your earnings and progress on the interface. For me, this is one of the most straightforward affiliate interfaces I've used yet and everything is easily accessible.
So whatever your niche is, you're sure to find something in Share-A-Sale.
This is a large network much similar to Share-A-Sale.
They have a large host of programs to choose from in a variety of niches as well. 
FlexOffers will accept new bloggers and they are a great option to start out with because you'll find many of the big brand affiliate programs within this network. 
Their interface is pretty simple and easy to use even for beginners.
There is also an area to track your offers and how much money you're earning from each merchant.
Whether you live in the U.S. or not, you will have no problem getting your funds as FlexOffers uses Payoneer as one of their payment options.
You can make more money with FlexOffers with their Refer-a-friend program. 
You can earn 50% of the revenue earned from the income of the friends/people you refer. 
This is another affiliate network that is great for new bloggers to join.
When you've just applied, they will charge you a $5 screening fee which will be refunded once you're approved.
If you're a blogger, social media influencer, or have some other type of audience, AWIN has some awesome programs lined up for you. 
In fact, they have more than 15,000 brands within their network, so you will have no problem joining programs that fit your niche.
With AWIN, you can apply to individual brands and earn a commission from your affiliate links.
Their commission rates range from 2% to 10% and this is based solely on the brand itself. 
Affiliate Programs
Bluehost is an amazing affiliate program to work with, especially for bloggers.
Because a lot of bloggers already use Bluehost to host their blogs, it's a great way to make passive income while promoting a company that you trust.
Bluehost hosts more than 2 million websites and provides a free SSL certificate when you sign up. 
I use Bluehost because they are super affordable and they have excellent customer service.
I can get to an agent in a jiffy and fix any issues I may have with my blog.
With Bluehost's affiliate program, you can make anywhere from $60-$130 per sale! 
You can get started with your own blog hosted by Bluehost and sign up as an affiliate and earning cash.
Of course, you will have to write content and drive visitors to your blog. But if it's something you're serious about, I recommend you start now. Why wait?
If you're a blogger who wants to grow their email list, then you need to sign up with an email marketing provider.
One of the best ones out there is MailerLite. 
When I first started my blog, I had signed up with MailChimp, but when I tried to use their interface and set up my email campaign, everything was very confusing.
Now, I'm not dissing MailChimp or anything, but in my research, I found out that you can't even use affiliate links in your emails!
That's a total no-no for me.
With MailerLite, you can promote them on social media and on your blog for the benefit of your audience who may be looking for a product related to email marketing.
Not only that, when I switched to MailerLite, I found them SO easy to use.
And I'm not just saying that.
You can set up automatic workflows, landing pages, popups, and opt-ins. 
What's more, they're free for your first 1000 subscribers! So you only pay when you go over this amount. 
MailerLite is one of the best affiliate products to promote especially for new bloggers who want to promote a company that works well for them.
Make $30 from every sale!
Do you want to beautify your blog and drive more traffic to it? Creative Market is the go-to shop if you want gorgeous stock photos, mockups, or social media templates. If you want a feminine WordPress theme, you can find thousands to choose from on Creative Market!
Powered by Creative Market
When you sign up with Creative Market, you get free goods each week straight to your inbox!
It's such a pleasant surprise when I get these cute goodies in my inbox that I can use for my blog or designs.
If you plan to open an Etsy or Shopify shop, Creative Market has various designs and templates that you can make your own and sell for cash.
You can make 15% off every commission you make from Creative Market! 
Another way to dress up your blog is with Elegant Themes. It's pretty easy to use and adjust to your liking, so whatever your niche, you can customize your theme to match your branding or style. 
If you're just starting your blog and looking for a theme, Elegant Themes is a great option.
What's nice about their affiliate program is that they offer a recurring commission and you make 50% from every sale!
Your blog speed plays a large part in how much returning traffic you'll get and how Google indexes your site.
Google looks at site speed and the performance of your blog and will rank you accordingly.
If you want to improve your site's speed, then Short Pixel is the way to go.
This is a plugin that will compress your images up to 90% and significantly improves your blog's load time and overall optimal performance. 
You can sign up for a free plan or choose one of their paid plans that allows you to compress thousands of images for years to come.
I use this plugin and it's made a significant difference in how my blog works!
By using this plugin, you can promote this to your site visitors and make some decent cash from affiliate earnings. You're able to generate campaign links and track your earnings and conversions.
Become an affiliate and make 30% from all new sales and even earn recurring income!
I've been using Grammarly for a few years now and it's actually one of my favorite tools.
As a Freelance Writer, it's been instrumental to how well I write my posts and even how well they sound. 
Grammarly has an affiliate program for bloggers who want to earn some cash using a tool they love. And let me tell you now that I LOVE this tool!
As an affiliate, you can make $0.20 for each free registration, and $20.00 for each premium plan purchase.
While $$0.20 sounds small, as your traffic increases, it will definitely add up!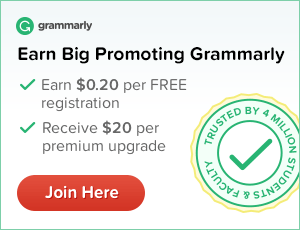 This is another email service provider like Mailerlite that offers recurring commissions.
This simply means that you get paid every month that the customer remains an active paying customer. 
So you continue earning a commission each month. Most bloggers are looking for ways to make consistent passive income, and starting with Convert Kit is one way to do this!
You may or may not have heard of Tasty Pins.
If you're going to use Pinterest to promote your blog like I do, it's a very handy tool!
What it does is it allows you to write Pinterest descriptions and titles to pins, write alt text for images in keeping with SEO, and disable images you don't want to be pinned on Pinterest.
You can also add a cute hover button to your pin images, so your readers can easily share your content. With their affiliate program, you can make a 30% commission on all referrals!
In order to drive traffic to your new (or old) blog, efficient strategies are a must.
That's why I use Tailwind. Tailwind is a trusted Pinterest partner that will help you save time (and tears) when you need to schedule your pins. 
As an affiliate, you can earn a 15% commission for the sales you make. Not only that, but you'll be helping other bloggers to grow their businesses while you are!
Sign up for Tailwind and schedule 100 pins for free!
Last, but certainly not least on our list is PicMonkey. PicMonkey is a platform for bloggers and content creators to design awesome graphics, social media posts, and web designs with a simple click. 
PicMonkey has graphic design tools that you can use to make stunning graphics to wow your audience.
Sign up now and make a 30%-50% commission!
Are these the best affiliate programs for new bloggers?
It's up to you to decide!
It's an exciting journey to start joining affiliate programs and making passive income with them.
After setting up your blog, pumping out great content, and promoting it online, it's can be a pretty nice reward.
It's always important to remember that you have to promote affiliates that are relevant to your audience.
This way it benefits them, and you have a greater likelihood of selling them.
Look at your niche and determine what are the best products and services that align with it and see how best you can promote them on your blog.
That's it for now, 13 of the best affiliate marketing programs and networks for new bloggers.
No matter how small your blog is, you have a chance to make some money with it once you promote your products the right way!
If you liked this post, please PIN it for later!❤️️????