This post may include affiliate links.
How is it that bloggers find the time to promote their blogs and do it for free?
That's a question that comes up pretty often for website owners.
It can be really challenging once you've spent grueling hours working on your latest blog post, only to find that your traffic is….tanking?
Getting traffic to their blogs is the ultimate goal of every blogger.
And whether you've been in the biz for a looooong time, or you've just started, it's really a thought that literally never leaves your mind.
Writing killer blog posts is just one hurdle to pass over, but the marketing aspect?
It can take up a lot of time.
As a matter of fact, it's been said that you should create content 20% of the time and the other 80% should be marketing and promotion tactics.
Talk about a wild ride!????
Because it can be a little (or a lot) harder to get traffic especially when you've just started your blog, I've put together some of the best places to promote your blog and drive more traffic!
Keep in mind though, that as in all things that bring success, consistency is key.
You will have to keep pushing steadily each and every day to promote your blog and this will still be the case even when you're getting organic traffic. 
I'll also recommend a few handy tools that I use to help me market my own blog and hopefully, they will help you too!
Create a promotion strategy
Before we get into the list, I just wanted to mention that before you start posting your URL all over the place, it's necessary to come up with a promotion strategy.
This means that you will need to have a plan in place to market your content successfully.
In order to do this ask a few questions:
Do I have a content calendar?
Have I set up a blogging schedule?
Who is my audience and where do I find them?
What are their problems?
How can I fix these problems?
Having a content calendar and a blogging schedule will ensure that you have content at the right time to actually share on these platforms.
Without a content calendar, you may get a bit disorganized and lag behind in your blogging schedule.
Also, if you're going to be sharing content, you'll need to know who you'll be sharing it with.
First off, this will be determined by your niche.
So once your niche has been established, you will be able to center your content around that and then write articles for your audience.
If you know exactly where to find your audience, it will be much easier to choose the perfect platform to share your content on.
Your audience will get to know you and you might get a steady stream of traffic from that source.
With all that said, let's get into the list!
Remember to share the ❤️️ and PIN this post for later!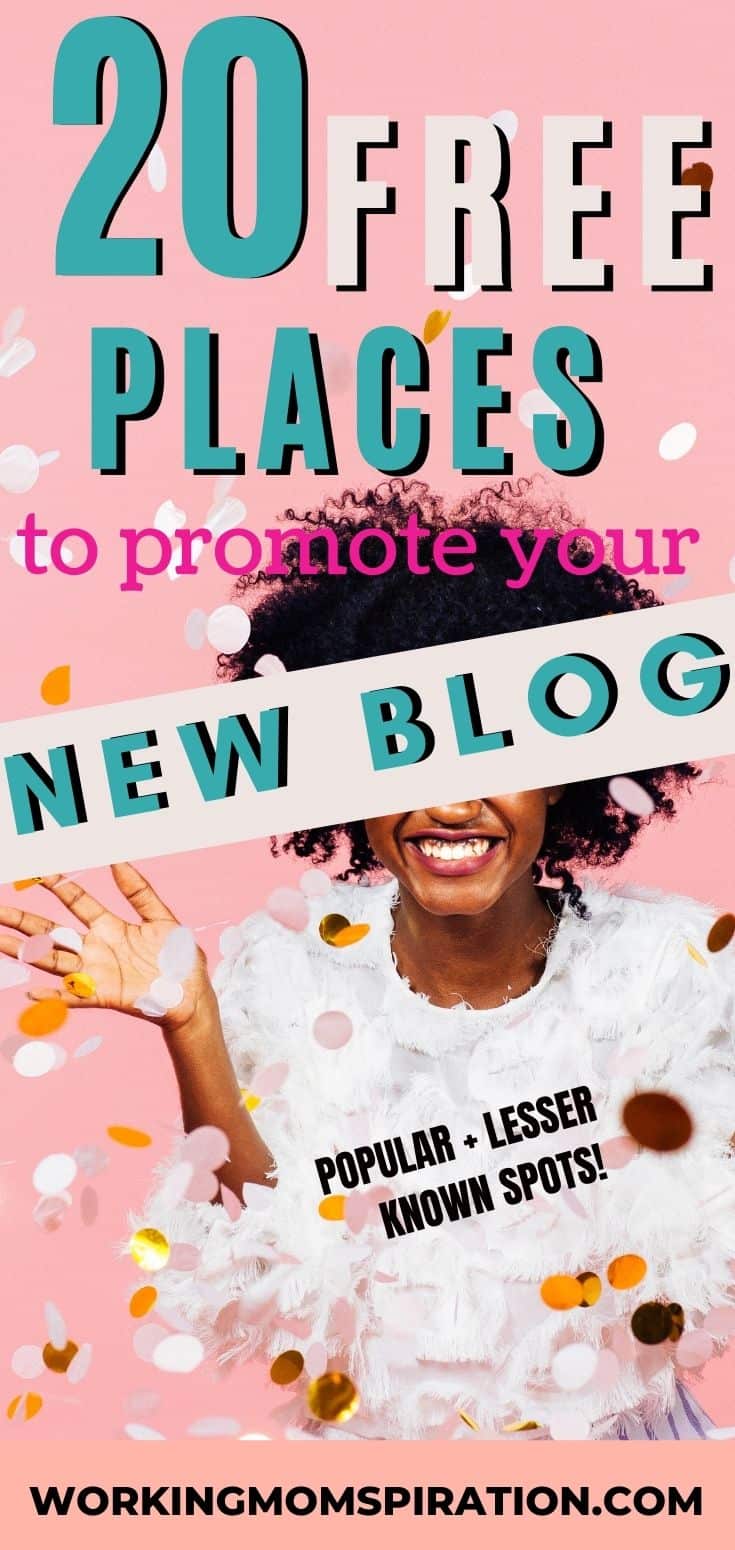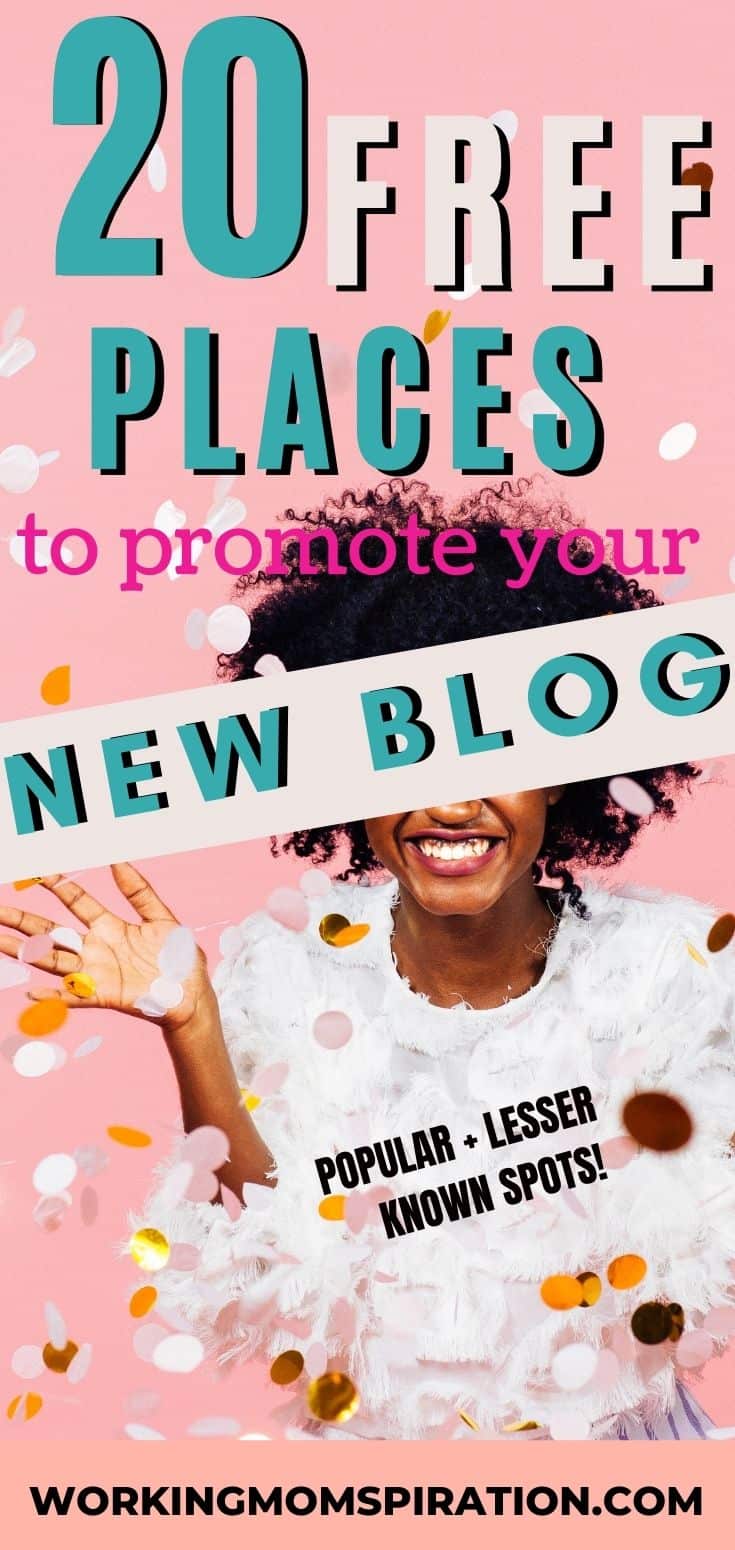 This is one of the best ways for new bloggers to get traffic.
It does take some time to gain traction on the platform, like say 6 to 8 months, but it's the number one traffic source for most new bloggers who use it.
It is essential that you create a Pinterest Business account and create Pinterest boards to post your pins to.
Group boards are also used on Pinterest, but using Tailwind Tribes will boost your blog traffic and engagement so much more!
Unlike some other platforms like Facebook and Instagram that recommend you post only once or twice a day, Pinterest recommends posting 15 times or more!
To help me avoid blogger burnout, I use Tailwind to post all my pins.
If you'd like to get started on Tailwind for free, here's a $15 credit that you can apply to your account once you're ready to start using the Pro features!
If you want to learn easy ways to publish your pins, check out how to schedule pins for free!
Facebook Groups
With Facebook Groups it's not enough to just join every blogging group you come across.
It's best to research and find groups that are relevant to your niche. If you're in the travel niche, you would look for Facebook Groups geared toward travel and destinations.
Facebook Groups are places where you can get help from other people and engage in threads with like-minded bloggers who can share your content and vice versa.
This creates an awesome opportunity to network and promote your content as well.
A few Facebook Groups to check out are:
Email List
You might not have thought of this, but yes, your email list is a great place to promote your blog.
Since you have subscribers who have actually signed up to get more content from you, why not continue sharing helping stuff there?
You can start with an email service provider like MailerLite which is free for your first 1000 subscribers!
I use MailerLite and I absolutely love them.
You can also try Convert Kit which a lot of bloggers swear by.
In order to get more subscribers to your list, you can add opt-ins or popups to your blog that may include freebies that your readers can sign up for. 
Once you have loyal subscribers, you can update them on your latest posts and give them tips, updates, and other exclusives!
Though this may not give you the constant traffic you need, Instagram is still a great place to promote your blog and build engagement with your followers. 
To get more readers to your blog from Instagram, you can create mockups of freebies in your Instagram posts and add your blog URL in the bio, so that readers can check it out. 
Also, using Instagram stories is a nice way to get more traffic and even more followers on the platform.
This is one of the best places to promote your latest posts and get traffic to your blog on a regular basis. 
Instead of just putting out your blog link all over the site, what you will do is link your blog post as an answer to a person's question.
If someone wants an answer on how to start doing affiliate marketing and you have a concise post on this, you can answer the question on Quora and link your post.
This creates targeted and organic traffic because your blog is relevant to the person's inquiry.
If your response becomes a popular one, you have the chance to get more click-throughs to your blog and hence, more traffic.
While this may not immediately come to mind as a place to promote your blog, it is a source from which you can get consistent traffic.
Feedspot is an online RSS feed reader that you can easily use to subscribe to your favorite blogs and get recent updates from anything you like.
This can be anything from fashion, news, work from home jobs, and food or recipes.
For content creators like myself though, Feedspot opens an opportunity for me to add my blog and have my target readers find me.
I actually submitted my blog to Feedspot and my blog was added to one of my favorite listings there – the Stay at home Mom list!
If you really want to market your blog and get the right kind of traffic, you should definitely check Feedspot out!
This is another great place to market your blog by sending out your latest blog posts or tips for your readers. 
Even if your blog is new, you can repost the same blog post in intervals using different images, tweets, and hashtags.
This way you can target various audiences who would be interested in your content.
One of the most popular online platforms right now is definitely TikTok.
You can find anything from crazy challenges, dance-offs and recipes on steroids.  
The users on the platform are very engaged, which makes it the ideal place to market your brand and promote your blog posts.
You can make short videos or snippers of your products, courses, or anything related to your business –  but make it interesting.
Also, try to show your face and talk to your audience often.
 That's because people tend to like videos with people engaging with them one on one, as it's more personable.
If you do like making videos and you like viral trends, TikTok might be just the place to get your blog content out there.
LinkedIn is best known as an online portal for business and professional personnel all over the world.
You can create a profile on LinkedIn and add your blog as your business.
This can help you to not only promote your blog content and update users but it's an opportunity to network with like-minded bloggers. 
Medium is a place where you can republish blog posts after they've already gone live on your blog. Bloggers say it's worked wonders for their businesses.
You can submit your blog posts as a story and add tags that will get you more clicks from readers. 
You can add links in your republished posts on Medium, which can then lead readers back to your actual blog.
When people read your posts on Medium, you have a greater chance of getting blog traffic.
Bloglovin' has grown in popularity over the past few years as a place to follow bloggers and get your latest blog posts all in one place.
Bloglovin' will put all your latest articles into categories for potential readers to access.
You can grow your following while also promoting your blog on Bloglovin'.
Why not try following a few bloggers in your niche? They just might follow you back!
Reddit is an online community that has an immense library of categories for various topics and niches.
Instead of just being a place to market your blog though, you should first become an active member of the community by answering questions in a helpful way.
When you provide value to members of the community, you'll be able to add your blog links in relevant answers and this can help you get more traffic.
This is a social site for small businesses to share and find other business owners, tools, training, and materials to boost their businesses.
It can really help you to increase your growth and get hacks for promoting your blog or business.
Growing your blog is something that you have to work at continually.
Using a community like BizSugar can accelerate the process by networking with other business owners or bloggers like yourself. 
Flipboard is an app that showcases articles and newsworthy stories in bite-size content.
You'll find major publications and even smaller ones on this app.
To easily promote your own content, you can create an account and post your blog posts there.
This way you can get some traffic and market your brand simultaneously. 
You can certainly get more traffic to your blog by using the popular online platform Mix, previously known as StumbleUpon. You simply add your blog post link and tell your potential audience what it's all about. 
To ensure your content targets the right audience, you can add relevant tags and then submit your post to get more traffic.
Bored Panda is a site geared mostly toward writers who want to share content related to animals, travel, photography, and parenting.
What you do is sign up for an account and share a story with a link to your site at the end of your post.
It's an awesome space to republish your blog posts and share your content with a wider audience.
If you want to readily promote your content and have it shared on multiple platforms, then Viral Content Bee is one of the best places to do this.
You can submit your blog posts which can be shared on popular platforms like Facebook, Twitter, and Mix.
You can earn credit by sharing other content which will then help you to share your own blog posts!
Everyone (or almost everyone) uses Youtube.
But have you ever thought about using this platform to promote your own brand?
You can create a Youtube channel to share tips and tricks about your business if you're in the marketing niche.
If you're a lifestyle blogger, on the other hand, you can do videos about your favorite products or do Day In The Life Vids.
People seem to love that kinda thing!
Another video platform for marketing and promotion is Snapchat.
Even though the viral rage of Tiktok has overshadowed this once super popular social platform, it's still a great place to share your posts or content.
Videos only last for 24 hours so you can add quick videos or pictures with your links and get some traffic.
This is a place where influencers, bloggers, and marketers give their content a boost by joining communities and networking with others online. 
You can engage with other members based on your niche in order to get more shares when you promote your blog.
Sign up for an account and start joining some groups to get your content going viral today!
Grow your blog
Even though these sources create a space for you to share your own content, it's a smart choice to share content from other bloggers too.
If you only ever promote your own blog or content, you may come off as self-promoting or spammy no matter what platform you use.
Apart from being a sharer, it allows you to network with others and build friendships with business owners which can be an opportunity to grow your own business – in a non-selfish way.
So remember- when you're promoting your own content, be kind and share someone else's stuff too!
If you liked this post, please PIN it for later!❤️️????