This post may include affiliate links.
I absolutely love taking online courses.
When they're free, that's an even bigger bonus!
Whether you're a new or experienced blogger, it's a must that you invest in useful blogging courses.
I've taken a few myself and let me tell you, they have helped me SO much in my blogging career!
There are a few blogging courses that haven't offered much in terms of quality, but hey, nothing tried, nothing done, right?
I've gone through an extensive list of free blogging courses and have selected the very BEST that will teach you the basic principles of blogging.
Once you get a taste of these free blogging courses, I recommend investing in paid ones that give you even more instructional tips.
No blogger is gonna give out ALL their tips for free because they would never make any money!
These free blogging courses will steer you in the right step so you can learn the most important things every blogger should know to start a money-making blog.
You'll learn things like SEO, Affiliate Marketing, Pinterest marketing and so much more!
They are perfect for beginners on a budget who want quality courses without paying big bucks. 
How to Start a Blog That Makes Money
So one of the main reasons bloggers get into the blogging game is to make money.
If you have a blog and haven't started thinking about monetizing it, now is the perfect time to begin.
Check out my simple step-by-step guide on how to start a blog and make money.
Making money from your blog doesn't start immediately, and any blogger who tells you that it does is lying!
Getting your blog set up is actually the easiest step, and there are lots of guides out there to help you do that. 
What takes time and patience is the process of creating multiple income streams that will benefit you and bring you success.
My free Blogging Challenge will give you all the details you need to get this going. Trust me, you won't regret it. 
Remember to Pin this post for later!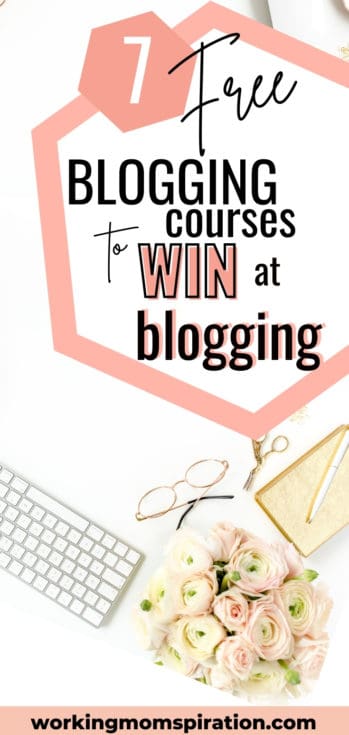 I have to tell you that when I first looked at the content to be covered in this course, I was completely overwhelmed.
I mean, there is literally everything a new and even experienced blogger could learn from this entire course. To say it is thorough is an understatement. 
Brad Merril, the creator of this free blogging course is an entrepreneur and tech journalist who runs his very own successful blog.
He gives you the main overview of starting a blog the right way to finally make revenue.
He even goes through mistakes bloggers should avoid, explaining the errors he made when he just started out. 
The course goes through a lineup of various topics every blogger should know which include:
Content Strategy
Naming and Branding
WordPress Set-up and Walkthrough
Backups and Security
Writing irresistible headlines and effective content
Targeting your audience
Generating Long-term revenue
These are just a small list of the ginormous amount of content Brad gives throughout this course.
When I was starting this blog, this was the very first blogging course I took and it really laid the foundation for how I create content for my blog today.
It's available on Skillshare and you can sign up for two free months and binge watch a ton of courses ( that's what I did) ????
If you want to know the foundational principles of all things blogging, then I recommend signing up for this blogging course. 
Simple Stupid SEO is one of the most detailed SEO courses you will find online!
There is a free training webinar that shows you real strategies that you can implement to improve your blog traffic and income. 
While I can't tell you that the effects are immediate, if you utilize the steps in the free training, you can definitely see improvement over time. 
Mike Pearson, the creator of Stupid Simple SEO, makes thousands of dollars from the various websites he has created using the strategies he provides within the course. 
The actual course itself is a paid course and very beginner-friendly. It was created specifically for bloggers who want to learn tried and true methods of SEO strategy.
It will lead you through the basics of SEO and show you how to use SEO tactics to get thousands of page views from search engines.
The more traffic you have from Google, the higher your chances of applying to high paying ad companies like Mediavine.
Bloggers can make a decent amount of cash just from this passive income option alone.
Here's a breakdown of the Stupid Simple SEO course:
The secret of niching down
Understanding domain authority
The best way to choose keywords
Four things to do to with your content to rank
SEO checklist
Want to learn more about SEO? Here are a few more courses to get you going:
Bloggers everywhere agree that Pinterest is one of the best ways to blow up your blog traffic.
If you haven't started using Pinterest as yet, what are you waiting for? Get in the game now girl!
Pinterest is THE platform to use if you want to get organic traffic to your website before your SEO kicks in.
We all want to rank in Google with SEO and it's best to use it from the get-go.
However, after you implement SEO strategies, it still takes time for Google to recognize your website and start ranking you.
That's where wonderful Pinterest comes in!
Pinterest Marketing 101 is a course by Peg Fitzpatrick where she goes deep into Pinterest marketing including tips on how to use Pinterest to drive traffic to your blog.
A few topics she delves into are:
How to create a great board
Elements of a great Pinterest Pin
How to use rich pins
Tools for pinning on Pinterest
How to use Tailwind
This course really opened my eyes to how great Pinterest is for website traffic if you use the platform the right way.
While Pinterest is great for promoting your website content, there is more to it than just pinning pretty pictures.
Pinterest also involves using SEO, choosing the right hashtags, designing clickable pins, and joining the right group boards.
There are also different methods of pinning such as manual pinning and automated pinning using tools like Tailwind as mentioned above.
I'd also recommend getting used to the idea of scheduling pins the right way so you don't get marked as spam on Pinterest.
Other great Pinterest Courses to get started with are:
Take your time and grab a few of these free courses to get yourself acquainted with Pinterest. There is a lot to learn, but if you implement the right strategies, you can be on your way to Pinterestdom! 

This next free blogging course will get you on your way to mastering social media and promoting your blog like super-woman!
Once you have your blog up and running with some awesome content on that baby, it's time to get it out to the world!
You know who your audience is, but you have no idea how to get it to them. Sasha's course helps you to market your content to your target audience. 
Some of the topics she covers in the module are:
Know your audience
Developing a strong social media strategy
Build your authority
More ways to grow
Whether you're a new blogger or a bit more experienced, it can't hurt to take this crash course to learn a bit more about marketing and promoting all that juicy content on your blog.
If you're looking for some other specific social media courses here are a couple more:

Are you looking to create stunning visuals for your blog, digital services, and social media marketing products? Look no further than this complete graphic design course, that will teach you everything about designing professional-looking graphics.
This design course goes into the basics without delving into any specific design tool that may confuse beginners.  A few of the topics are:
Design Principles
Color Psychology
Typography
Using images
The topics mentioned are well-rounded but they don't bombard you with too much information.
It's a blogging course beginners will love because it's so simple and you will hopefully learn some stuff you didn't know before.
This course is a great way to start learning about design and it can definitely help you to improve some things on your blog. 
Check out these other helpful free courses on design:
Now to the fun part! Actually making some money with your blog. You've probably heard it before, but affiliate marketing is one of the best ways to make money with your blog. The Make your first Affiliate Sale Course shows you just that.
In my research, I found that there are not many free blogging courses that teach you about Affiliate Marketing, but it's such an important part of your blog strategy if you're planning to make money from your blog.
If you're a beginner, you may not be thinking about Affiliate Marketing for your blog just yet, but it's one of those things you should put as your priority because it's a winning ticket.
This free course will take you through:
Affiliate Marketing Basics
How to find profitable Affiliate Programs
Implementing an Affiliate Marketing Strategy
Increase clicks to make your first sale
I don't know about you, but this sounds like an awesome way to get started with the basics of Affiliate Marketing. I
f you take this course and enjoyed it, and you really want to delve into Affiliate Marketing, I recommend taking Michelle's course, Making Sense of Affiliate Marketing.
It's not a free course but I'm suggesting it to anyone who wants to get really serious about Affiliate Marketing. 
Michelle, the creator of this course is a blogger herself and she makes more than $100,000 a month from her blog.
A large portion of that is from affiliate marketing. I know, I know, it came as a shock to me too.
Although the course is a bit pricey, it goes in-depth with how to make sales and to really make that dough from your blog.
If you're interested in Michelle's course, sign up here. 
Last but not least is email marketing.
Email Marketing is not a favorite amongst bloggers and some wish they never had to do it. But guess what?
The power of marketing and promotion is fundamentally in your email list.
Your subscribers are the ones who want to hear from you and eventually they will become your actual buying customers and not random bystanders. 
In this email marketing course, you'll learn just what you should send to your subscribers, and email mistakes you have probably made, and how to fix them. 
The course also gives you the secret to list building and the right template for attracting subscribers. 
Two great email marketing service providers I highly recommend when you start are MailerLite and ConvertKit.
If writing to your subscribers is something you've been struggling with, give this course a try to get the formula for clickable, readable emails. 
You Can Do It Girl!
Blogging courses are a must if you plan to kick-start your blogging career with a bang.
Don't rely on just reading posts on blogging.
Subscribe to any course on this list (hello they're free!) or do your research and find a few others.
Investing in your blogging career is essential.
Getting instructional, practical guides from experienced bloggers will help you not pull your hair out while trying to figure out your next move.
Which one of these free blogging courses have you tried and how was it? Comment down below and let me know.
Remember to sign up to the Blogging Biz Challenge and learn how to transform your blog into a full-time business!
If you liked this post, PIN it to your Blogging Board!