This post may include affiliate links.
The holiday season is one of the best times of the year. For most of us, it's filled with opening gifts with the family, munching on delish grub and sipping hot cocoa, or cozying up to a favorite book around the fireplace.
Before we enjoy all the fun and festivities though, planning for gift purchases, arranging festive decor, and managing traveling expenses can be tricky. That's where these Christmas side hustles come in! If you're one of the millions of people desperately thinking, ' I need Christmas money', you'll find some fun money-making Christmas ideas here.
Before the holiday frenzy begins, most people are looking to make extra money for Christmas, just so they don't dig into their savings. 
If you're someone who also wants to keep the budget down and make 'quick Christmas cash', here are 30 Christmas side hustles that you will definitely enjoy!
Please share the ❤️️ and PIN this for later!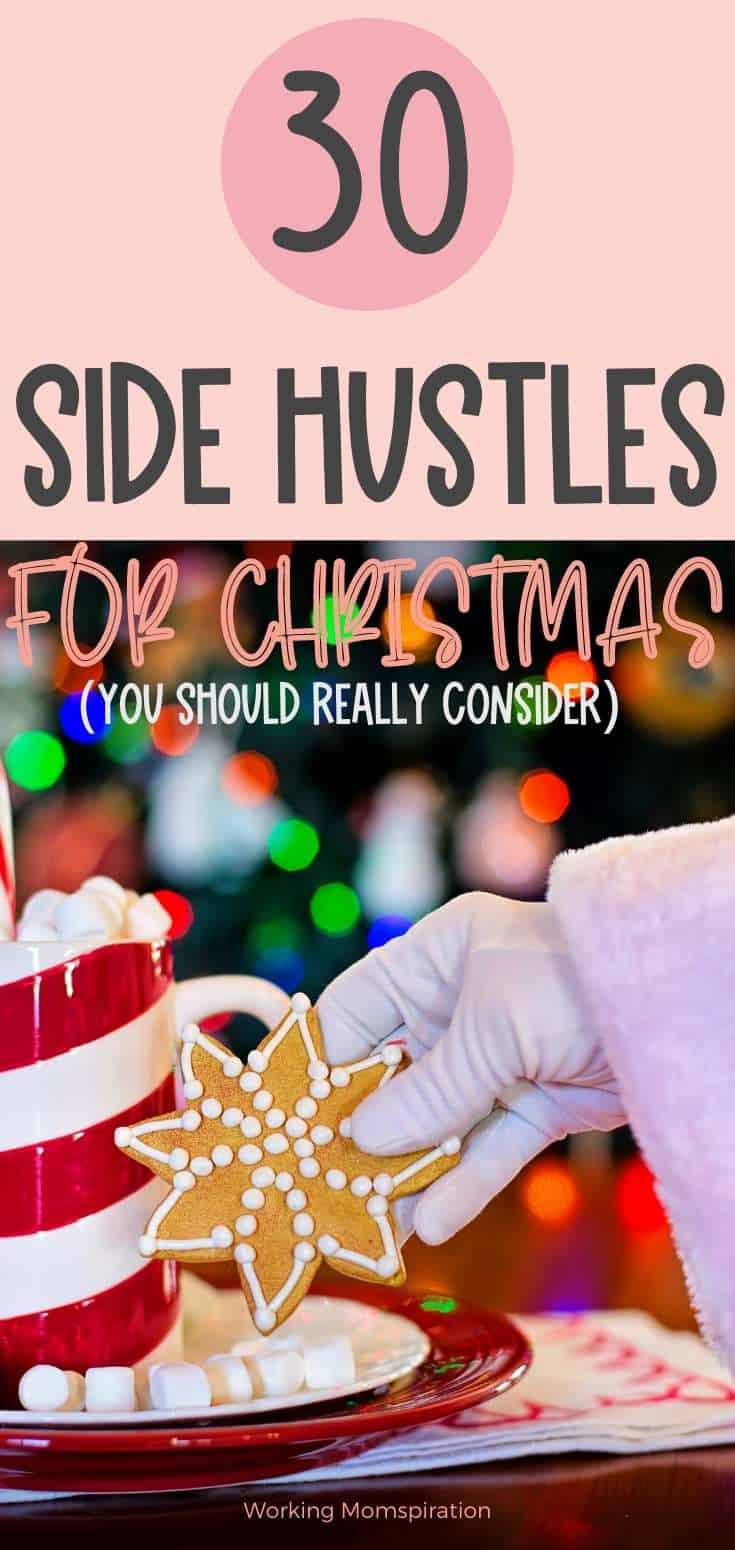 Best Christmas Side Hustles For The Holiday Season
1. Sell Holiday Treats
What better way to get into the holiday spirit than to sell some holiday treats? What could you make that customers would buy in a hurry? Maybe something that reminds them of Christmas of course!
It will take you a little time to research, create and produce your products, but it's worthwhile if you'd like to earn extra money for Christmas. Keep in mind that it is necessary to obtain a license and inspection to operate an at-home baking business, even if it's temporary. The US Small Business Administration provides sufficient details on the requirements.
 Here are some unique treats to sell for Christmas:
Peppermint Popcorn
Hot Chocolate Ornaments
Nutter Butter Crackers
Chocolate Fudge Cupcakes
Christmas Tree Brownies
Chocolate Kiss Snowball Cookies
Christmas Light Candy Canes
These are just a few ideas to get your creative juices flowing, but you can find other tasty treats to bake and sell for Christmas online. Selling holiday treats can become an annual Christmas side hustle that brings in extra cash!
2. Sell Printables
Holiday-themed printables are in high demand during Christmas, so it's a great idea to start brainstorming designs to sell online. You don't have to be a great designer to make them, but you can learn by taking online courses from professional artists. 
You can design your printables using Adobe InDesign, Canva, or Microsoft Powerpoint – it's totally up to you. Brand your printables and use your own unique design to make them stand out.
These designs do not have to be created from scratch though. Shops like Creative Fabrica, Design Bundles, and Creative Market sell illustrations, patterns, and Christmas-themed clipart that you can purchase and use on products.
Take these Illustrations for example:
Loading Preview…
Powered by Creative Market
Aren't they cute? They can be used for a whole host of things including:
Christmas themed planners
Christmas-inspired crossword puzzles
Christmas cards
Christmas gift lists
Christmas nursery wall art
While printables sell all year, Christmas-themed printables are best sellers during the holidays, so take advantage of it and make some money this Christmas. Open an Etsy shop to sell your printables because there's a huge market there. 
3. Flip Furniture
Have some old furniture that you would like to get rid of? Instead of throwing them out, you could flip them for some quick Christmas cash! How it works is that you take old furniture you no longer want, renovate it, and sell it online.
You can start this Christmas side hustle even without using your own furniture. Most furniture flippers search for items at flea markets, purchase them there, get them cleaned up, and sell them for a significant profit. 
For your renovation supplies, it's best to buy paint and other material from home improvement stores to cut costs. Once you're ready to sell, use spots like Bonanza, Facebook Marketplace, Bookoo, Craiglist, and OfferUp. 
4. Do Odd Jobs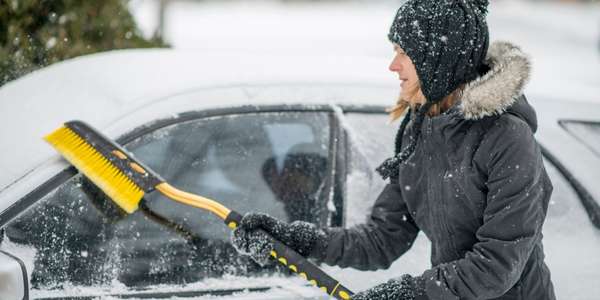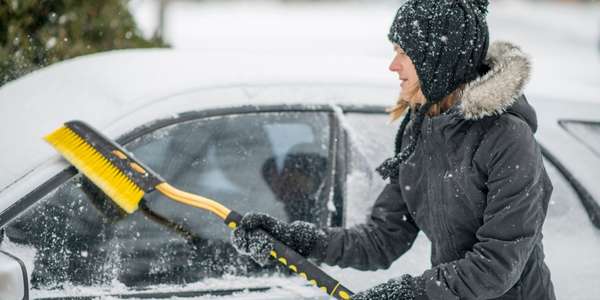 Another great way to make money from holiday side hustles, is to do odd jobs. Most of these gigs are very flexible and you can choose when to work. The most convenient and safe way to approach this is by using TaskRabbit. TaskRabbit is a same-day service platform where Taskers can sign up to perform a variety of jobs.
Task Rabbit has more than 50 job categories to choose from including:
Car Washing
Carpentry & Construction
Cleaning
Decoration
Deep Clean
Delivery
Electrician Jobs
Running Errands
The best part about using Task Rabbit is that you can set your own rates! Also, after filling out your profile, you'll need to verify your identity and pay a one-time $25 registration fee. TaskRabbit pays by direct deposit, so you must have a checking account.
Sign up with Taskrabbit to start working. 
5. Sell Stuff in Your Home
Have you thought about decluttering lately? Your house may be looking crammed right now and you can hardly find space to fit new stuff. It's now time to be out with the old and in the new. Remember that a minimalist approach to decor can make you more comfortable and happy. Also, for us parents, it makes the cleaning so much easier!????
Make a thorough list of the household items that you no longer need, and have them organized. A few things you could sell are:
Toys
Clothing
Sports equipment
Books
Selling them can be as easy as having a yard sale or using platforms like OfferUp. Learn how to make make money for Christmas with these decluttering tips and tricks. 
6. Do Fiverr Gigs
Another way to earn money for Christmas is by offering online services. A lot of people do this with Fiverr. It's an online marketplace where freelancers can get hired to complete virtual jobs. 
And just in case you're wondering, it is free to sign up and create a profile. I recommend creating a profile centered around a main job type that has a range of descriptions. For example, you could market yourself as a Virtual Assistant who does customer service, social media management, inbox management, graphic design, and so on. 
Other job categories on Fiverr include:
Digital Marketing
Video & Animation
Translation
Programming
Sales
Legal Consulting
Research
Sign up with Fiverr for free, to earn money for Xmas!
7. Sell Gift Cards
Do you have any gift cards laying around the house unused and rejected? If so, you could earn some cash by selling them online. It's one of the best ways to make money before Christmas because gift cards are really popular around the holiday season and used for gift giving.
They also make great gifts for other events too like college graduations, baby showers, and even thanksgiving. So you can sell your unused gift cards and make cash almost year round. List them for sale online with:
8. Test Websites
This is another enjoyable Christmas side hustle that you can do in your spare time. Companies will pay to have third-parties test their websites and rate them appropriately. This will help them to get the feedback they need to make sure things run smoothly.
In order to snag one of these website testing gigs, you do need to have a laptop, but being internet savvy, having reliable internet access, and providing accurate feedback are also necessary.
If you're interested, sign up with the following sites to earn some cash:
9. Try Proofreading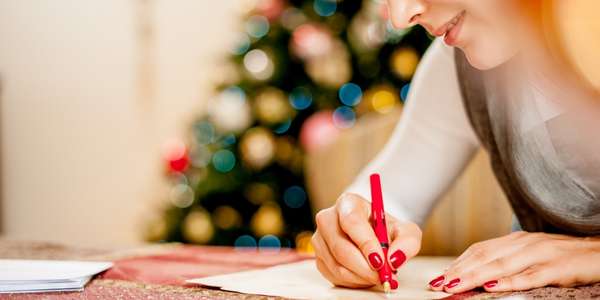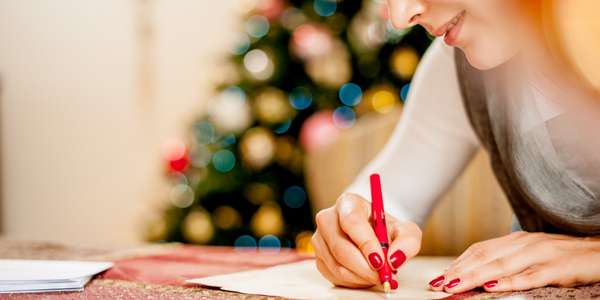 One of the best ways to get money for Christmas in a hurry is by proofreading. This means you'll be fixing grammatical, punctuation, and spelling mistakes in writing. While it's by no means difficult to proofread, not everyone can pick up on small nuances to perfect content.
Despite this, there are training courses to explain how it works and some proofreading companies do accept beginners.
If you'd like to earn a 5-figure income or more from proofreading, check out this free workshop to see how the creator does it. When you need 'Christmas money' fast, proofreading is one way to do it!
10. Type and Earn Cash
What's easier than typing on your computer? It's probably something you already do every day. Did you know that you make money from typing? Companies will pay transcriptionists or data clerks to type data into software using only their computers. 
Typing could be an easy Christmas side hustle to do alongside your day job because some companies offer part-time job opportunities.
Legitimate Transcription companies include:
These three companies take on newbies and the sign-up is free. Here are 14 transcription companies that also take on beginners. 
11. Sell Crafts
Crafts are one the biggest sellers during Christmas and it's no surprise why. Gifters are looking for unique products for family, Christmas office parties, and for gift exchanges.
If you could create a one-of-a-kind product, what would it be? There are plenty of craft projects you could make and sell online for a profit. 
Here are a few items your customer may like:
For more craft ideas to sell year-round, take a look at these projects to see if they are to your liking. 
12. Shop for Groceries
Do grocery shopping often? Why not give it a try and earn extra cash for Christmas? You might be able to land a lot more gigs before and during the holiday season, as people tend to shop more for groceries and food at that time.
You could purchase groceries for customers as an Instacart shopper. There is a requirement to do a full background check, so be aware of that before applying. It could help you make quick cash in time for Christmas as it pays around $26 per hour.
Sign up to shop for groceries with Instacart!  
13. Create and Sell Logos
If you have a sense of design, a quick way to earn cash is by creating logos for clients online. Because logos are so popular, you may be able to find freelance jobs every day by using a platform like Upwork.
It's necessary that your projects have a professional look, so I would suggest using software like Illustrator or AdobeInDesign to create them instead of free tools.
Ready to start creating? Check out Upwork for freelance projects! 
14. Become a Mystery Shopper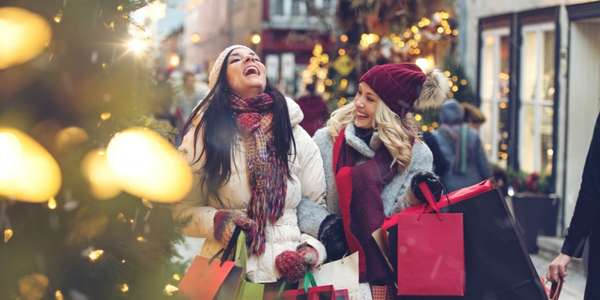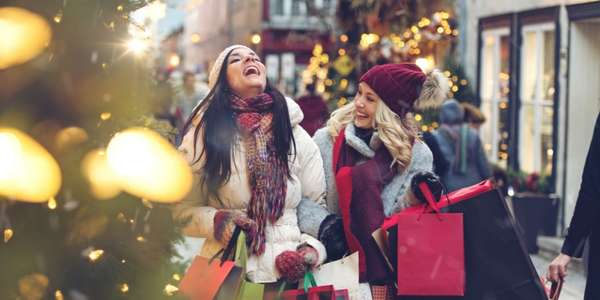 One of the easiest side hustles for the holiday season is mystery shopping. If you're someone who likes to go out and be festive for the holiday season, you will definitely enjoy this!
Mystery shoppers get paid to eat meals, purchase products, and dine at restaurants in return for a thorough review. What makes mystery shopping great is that it's flexible, you work anonymously and your tasks are simple. 
As a part of your assignment, you may need to ask questions at the location, take pictures, and formulate a well-written report.
Companies that will pay you for mystery shopping include Product Testing USA, Market Force, and Grassroots. To test digital products, try using Panel Place.
15. Do Surveys
If you want fast cash for Christmas, taking surveys is probably the best way to get it. Surveys are fun, quick, and easy to do. Have a mobile phone? Complete surveys at work, while running errands, or just before going to bed. 
If you'd prefer to get gift cards, you can answer simple questions and get those too! Here are some legitimate survey sites to sign up with:
I recommend using a dedicated email address for these websites because they send promotional offers for you to read and complete. For additional income from surveys, you can check out these 40 surveys sites that pay well!
16. Join Focus Groups
Have you ever heard of focus groups? You could join one and earn extra cash every month! Focus groups test products and services and then give their opinion or a review. This is done to help companies provide better products.
It is pertinent then that you're honest and give unbiased reviews. Being thorough might help you get more callbacks for focus group reviews.
If you'd like to earn money with this easy side hustle, start reviewing product websites such as:
17. Deliver Food with Doordash
You already know about shopping as an Instacart shopper, but you can also deliver groceries to customers with DoorDash. The company hires Dashers to deliver food and is accessible across all 50 US states.
Dashers decide when and how much they work using their car, scooter, or bicycle. You can get promotions with challenges and earn extra money on your deliveries along with tips!
A fun tidbit is that DoorDash promises to give Dashers an activation kit with protective material and you can purchase gear at their retail stores. 
Sign up with DoorDash to start earning money!
18. Sell Christmas Cards
Do you have a great sense of humor? Can you write irresistibly festive greetings for the holidays? If you can draw and design too, this side hustle is a great one to try.
Creating and selling your own Christmas cards does not have to be difficult. In fact, you can start designing and selling them right now.  You can sell cards on:
I would have to say that Etsy might be your best option because of the amount of traffic the platform receives. One downside is that is a lot of competition, so really niche down when designing your Christmas cards. 
19. Hang Christmas Lights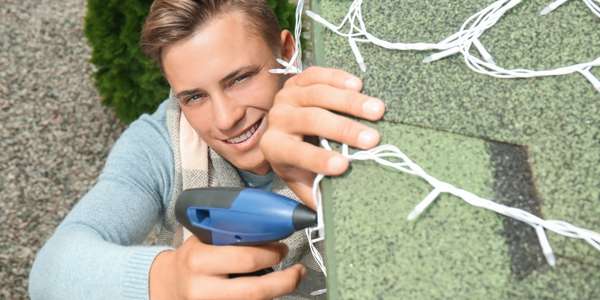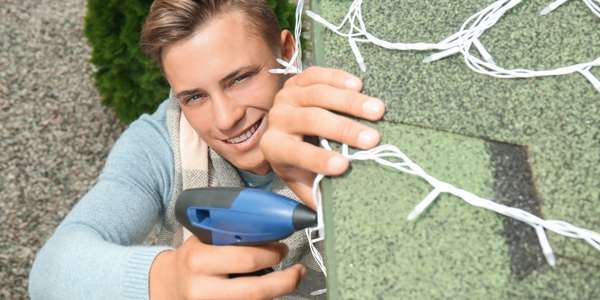 Putting up Christmas lights can get really tedious, really quickly. That's why most people pay to have it done instead. What better way to add the Christmas charm to your community, than to get paid for hanging Christmas lights?
You can look in the local paper for ads or find out if your neighbors need assistance with this task. You might just be able to get enough extra cash for the holidays.
20. Get Paid to Sleep
I'm sure I don't have to ask if you'd like to get paid for sleeping. We all need a little more sleep and earning money while doing it sounds pretty good to me. But just how do you go about doing this convenient side hustle? 
Signing up with a company like SleepJunkie of course! 
This company will pay 'Sleepers', (I just made that up BTW) to test their mattresses and report on their findings. In one recent study, Sleep Junkie actually paid $3000 to a Sleep Tester! These kinds of studies don't come very often, but you can review their website to find out more. 
21. Do Laundry
I have to be honest and say that this is not my favorite chore and it may not be yours either, but you can earn money from doing laundry. 
You can become a provider with a company known as Laundry Care. It operates in select states within the US and the application process takes about a day. You do pay for a $30 supply kit upfront which contains the tools needed to run your side hustle.
I think this is one of the best jobs for a stay at home mom or parent because you can do laundry tasks while performing your usual chores. Laundry Care manages the behind-the-scenes processes such as customer service, while you take care of the manual work.
As a Laundry Care provider, you have the potential to earn up to $2000 a month!
22. Write Christmas Poems
Writing is a skill that not too many people have. Sure, anyone can write a story, but it might not be the best. Good writers can earn money online by writing short poems during the Christmas holidays.
Here are a few places that may accept your poetry and pay you in cash:
Poetry Magazine
Chicken Soup for the Soul
Strange Horizons
You can also write for blogs and publications that pay you quickly. 
23. Wrap Gifts
This won't make you thousands before Christmas comes around, but you should be able to make a few bucks. The gift wrapping quest for busy shoppers is an inevitable part of the Christmas rush and you can become a 'little helper'???? who earns from it.
To find gift-wrapping jobs, check your local malls, as you may be able to find stores that pay gift wrappers during Christmas. 
24. Babysit
Another Christmas side hustle that rises in interest around the holidays is babysitting. While it's done year-round, parents with small children might want to avoid carrying their kids around while shopping. 
If you already have kids of your own or you have experience with babysitting, this is an easy side job to get started with. To find babysitting jobs in your area, head to Care.com and create a profile.
25. Sell Your Tech for Cash
Are you someone who changes their phones and tablet every year? Selling these gadgets that you no longer use may be the best way to earn some extra money. If these phones and tablets are in a good condition, there are spots where they can be sold online for a nice price.
If you don't mind parting with your beloved tech, try selling them on:
26. Do Small Online Gigs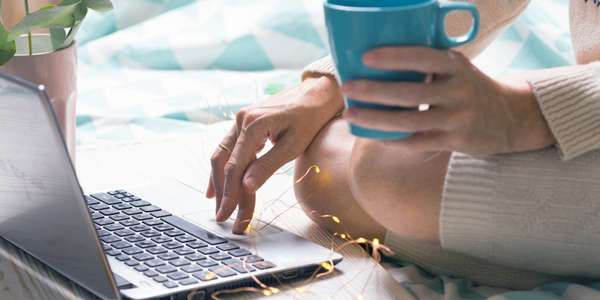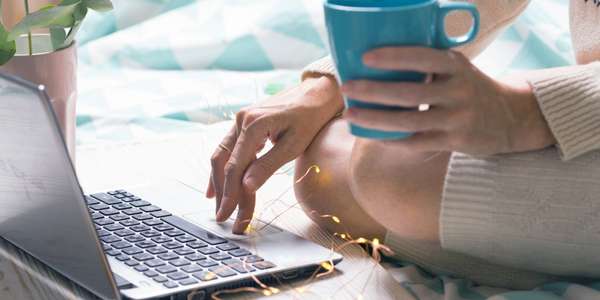 A more relaxed approach to earning a few bucks online is to complete small tasks online. And by small, I mean, ridiculously easy stuff. They might just be some of the laziest ways to earn cash online.
One company you can sign up with is Picoworkers. The platform works in a similar way to Fiverr where freelancers complete microtasks to earn money. This includes stuff like writing comments, clicking links, and signing up forms.
If you want a super duper easy way to earn small cash, sign up with Picoworkers. 
27. Tutor Online
Do you enjoy sharing tips and tricks with friends? You could transform your knowledgeable mind into a part-time income stream.
Teaching in the classroom is no longer the only way to instruct students. It's now possible to teach online using platforms like Outschool. The platform accepts people who have the skills to teach students in different subject areas.
You can choose when to work and set your own rates.
Sign up with Outschool to teach and also check out how to make money teaching English online!
28. Rent Out Your Space
If you have extra room to spare and you haven't been using it, why not clean it up and rent it out for cash?
This is a great option if you live in a tourist region because some travelers prefer to rent houses rather than hotels for that homey feeling.
You could rent a part of your home or transform an outdoor garage into an Airbnb rental.
Find out more about how to start this Christmas side hustle!
29. Sell Photos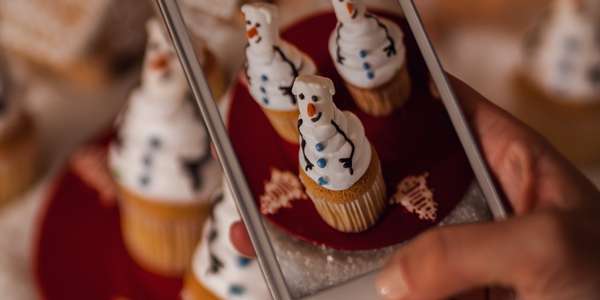 This is a great passive income idea to start right around Christmas time! And you can continue even after the holidays are over.
Publishers, business owners, and entrepreneurs are often in need of photos for their businesses. You could take photos and sell them online for royalties.
When someone makes a purchase, you earn money, and as I mentioned, it's completely passive.
Sell them online to:
Sign up and earn passive income from your photos!
30. Watch Videos and Ads
Who doesn't love watching videos? My favorite, especially during the holidays, are funny animal videos! 
During the festive season, you could earn money by watching videos and ads.  Companies will pay you to sign up to watch short clips and rate them correspondingly.
To watch fun videos, sign up with Prize Rebel, Zoombucks, Swagbucks, Kashkick, and MyPoints!
How Can I Make Extra Money For Christmas?
The best way to earn cash for Christmas is to think about the type of jobs you can perform well. Don't choose a job that you know you will hate. If you would prefer to work online, there are legitimate job portals and websites hiring year-round. Some of these include:
These websites offer both full-time and part-time positions for job seekers, but if you're more interested in doing freelance work online, Fiverr and Upwork are great options.
As mentioned before, checking local ads and using TaskRabbit are the best way to find suitable jobs in your area.
Business Ideas for Housewives
If You Liked The Post, Please Pin It For Later!????❤️️