This post may include affiliate links.
There are plenty of people looking for legitimate online jobs that pay daily. Instead of a monthly salary, they can access their funds daily, which is more convenient. 
Sometimes, it can be extremely rare to find jobs that pay weekly or better yet every day. There are sites too, that will trick unsuspecting individuals by advertising 'daily pay' job deals with high payments, which are only scams.
Most legitimate jobs pay a monthly salary which is excellent, but there are a few that will pay daily.  Some will pay you through PayPal, where you can get your funds almost instantly.
As a homeschooling mom, I've tried various online jobs and gigs to earn extra money. Some paid monthly, while others paid weekly and I really enjoyed the consistency. 
If getting paid at frequent intervals is something you're interested in, here are 20 legitimate online jobs that pay daily!
Please share the ❤️️ and PIN this for later!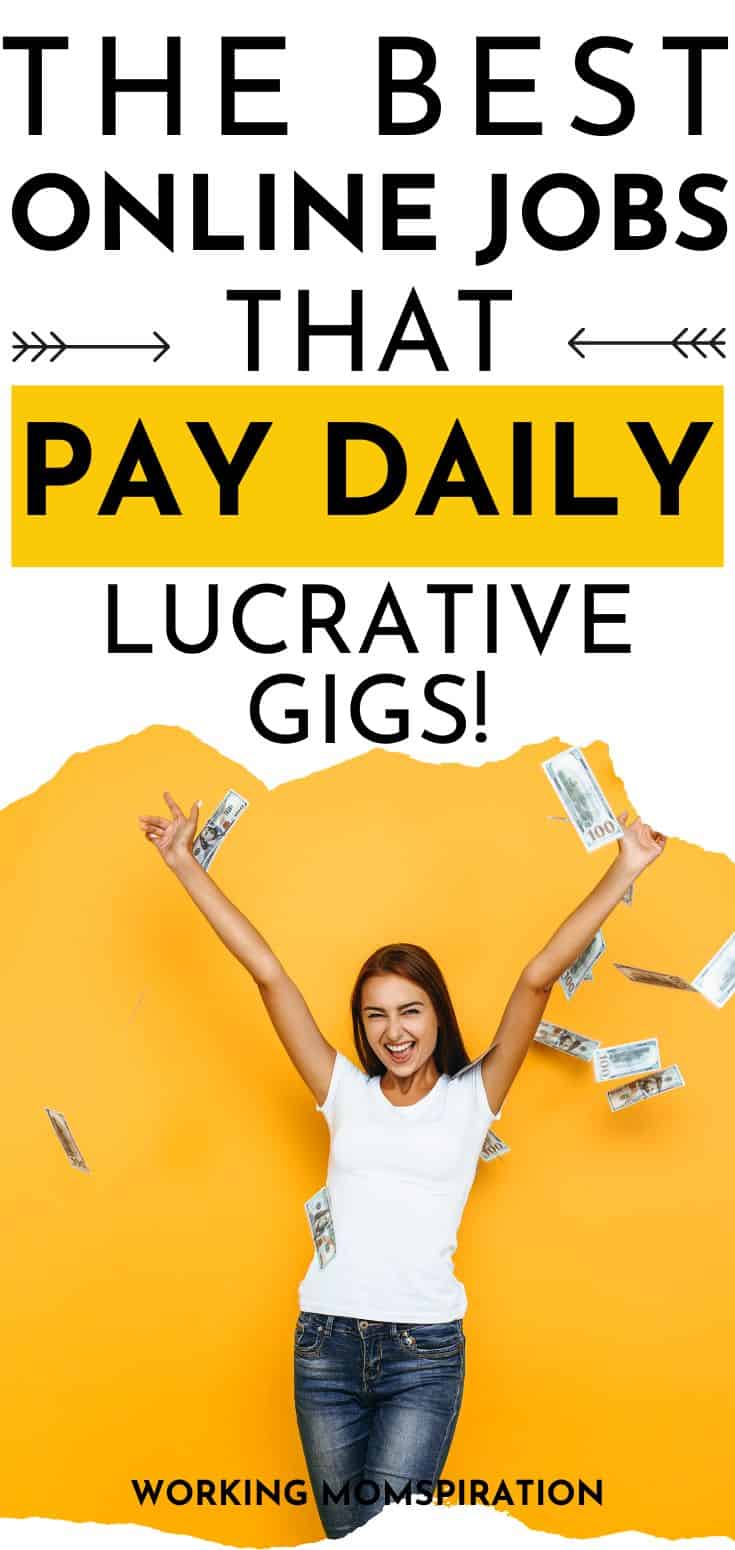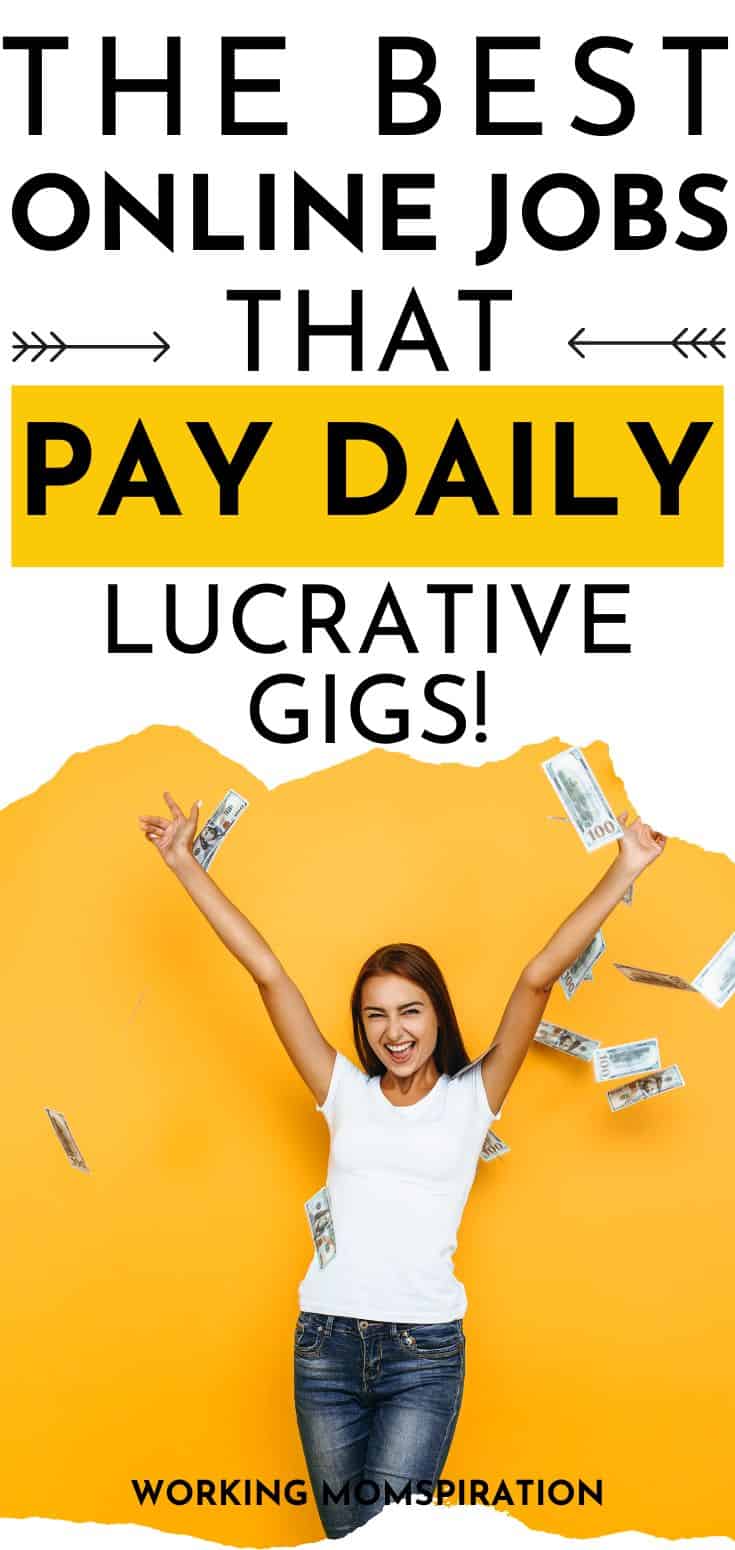 Passive Income Online Jobs That Pay Daily
1. Selling Handmade Products on Etsy
Do have a creative streak? Would you like to make passive income daily by selling handmade products in your online shop? Even though there are plenty of shop owners on Etsy, it's better late than never to start earning money online.
There are 96 million active users on Etsy, looking for products to purchase as gifts, decor, and more. What is it that you can make?
A great way to get ideas about what you could make is to browse the website yourself. A few categories you'll spot right away include:
Wedding souvenirs
Wall Art
Stickers
Baby products
Personalized gifts
Handmade clothes
Beauty products
There are also resources like TikTok and Youtube to find out how to create products from scratch. You could also take a course on Udemy to get more in-depth information. Before embarking on your shop, using a keyword tool like Marmalade will help you find keywords and analyze the competition. 
2. Printables Business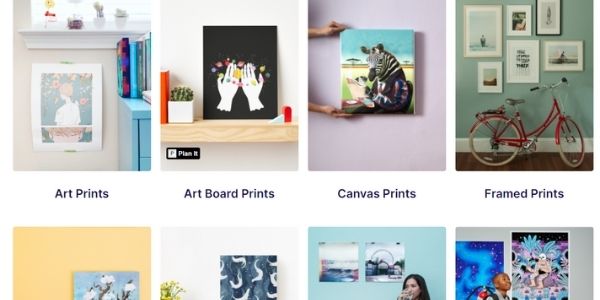 Another online job that pays daily is a passive income printables business. Printables are a hot product right now and have been for a while because of their profitability. They are also low maintenance and are easy to create.
A few years ago, I had literally no experience in making printables, but by looking at tutorials on YouTube, I was able to create my own printables using Canva. I love Canva and use it for everything. You too can create and sell printables using this simple tool and turn it into a full-time income.
3. Selling Books
Are you a bookworm? Whether or not you read, or love books for that matter, a totally passive way to make money is by selling them online. And I'm not talking about selling old books in bulk.
You can create your own books and sell them on Amazon. This can be done through Amazon Kindle Publishing by utilizing online tools to create a book cover and interior. The last step is uploading the book to the platform, and selling it online. 
Best of all, it's completely free to get started. Find out how to publish your own books effortlessly online. 
4. Stock Photos
If you're savvy with a camera or smartphone, you could potentially be making money online daily by selling photos. But what kind of photos?
Anything that stock photo websites would buy of course! This could include:
Nature
Pets
Family
Fishing
Vacation
Seasonal
Food and Drink
Your pictures will need to be high resolution, as photo sites only take the best quality photography. When your photos sell, you earn what's called royalty and the best part is that you'll make money passively!
Sell your photos on:
5. Affiliate Marketing
Not many people truly understand what affiliate marketing is. Some think it's a scammy type of operation, while others believe only big corporations can do it. Nothing could be farther from the truth!
Anyone can make money from affiliate marketing, and they can do it every day too! If you can promote a product that you've used, affiliate marketing could be your next day job. You can promote these products on social media or through a blog.
Here are 13 affiliate marketing companies to get started with!
Free Online Jobs That Pay Daily
6. Product Testing
Who doesn't like getting free stuff? I'm sure you wouldn't mind receiving free products to test and then make money from it! Product testing is just one way that moms or anyone for that matter can earn money online from a ridiculously easy job.
You can test products like:
Clothing
Shoes
Kids toys
Makeup
Snacks
When you sign up with the product testing company, they will send you free samples of a product and some also grant rewards to testers for a review. Just remember to be totally honest and transparent in your product review.
Here are 50 ways to get paid as a product tester!
7. Focus Groups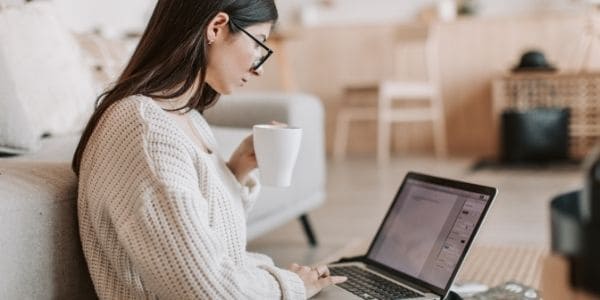 If you enjoy doing product reviews, I'm sure you wouldn't mind joining focus groups to earn cash daily. Focus groups are small groups of people that are invited to give their opinion online or in-person. 
You can get paid just for answering questions related to services that help companies perform market research for their products. One fun thing about focus groups is that all the work can be done on your mobile phone. Join Pinecone Research for easy market research questions!
8. Answer Surveys
A leisurely way to earn money online quickly is with surveys. They won't pay you quite as much as a regular job, but the cash does add up. Some surveys can take around 3 minutes, while others can take 10-15 minutes to complete.
In most cases, the longer the survey, the higher amount of cash you'll earn. What I especially love about surveys is how easy it is to sign up. A few popular surveys sites include:
If you'd like to earn around $300 or more each month, these 40 survey sites are a great start!
9. Online Research
Participating in online research is another quick way to make money online daily. There are various ways to participate in research online that is not too grueling. All this can be done from either your laptop or phone.
Wonder is a research company that will pay you to browse the web and answer research questions which can be a bit challenging. You can earn about $30 per question. They are always looking for researchers to join their community.
Other ways to earn via research:
10. Rating music
Do you enjoy listening to music? Are you the type to play it in the house when you're cooking, cleaning, or relaxing? Well, you can turn your love for music into a money-making gig by reviewing music online. 
There are various online spots to listen to your favorite tunes such as:
Slice the Pie
HitPredictor
Playlist Push
Earnable
Don't apply to just one! You might find that trying a variety of music review apps will bring in more cash.
Writing Jobs That Pay Daily
11. Writing for your blog
A few years ago, if someone had asked me if starting a blog was a great idea, I would have looked at them crazy. But now? I would say it's one of the greatest investments you can make. A blog is great for people who love to write and help people along the way. 
If there was one topic you think you could write about in the long term, what would it be? It could be anything ranging from home decor, food, and recipes, finances, kids' behavior, or travel in South America. 
What's great is, that you can make money on your blog from ads, memberships, and even selling digital products!
My favorite way of earning money on my site is affiliate marketing. Here's a payment I received recently from one of my affiliate programs:


If you would like to make money with your own blog, check out how to start a mom blog and start earning!
12. Online Magazine
Would you like to write for an online blog or magazine and make money? This is one of the most lucrative ways to earn cash online because legitimate publications pay a handsome fee for each post.
It's a very flexible online job as well because everything can be done remotely. Before starting, it would be a good idea to research how to pitch to the Editor and read the guidelines on the publication's writing style.
Here are 32 parenting sites that moms can write for and earn $1,000 a month!
13. Greeting card writer
I love to read greeting cards, especially the really funny ones with hilarious covers. Do you have a great sense of humor? Can you write sentimental pieces that pull at readers' heartstrings? 
These are just a couple of the things that greeting card companies look for in their writers. Your submissions should be short, but the potential earnings are upwards of $100 – $300 per post. 
If writing for greeting card companies sounds interesting, here are a few to test out:
 Blue Mountain Arts
 Papyrus
NobleWorks Cards
Calypso Cards
14. Travel writer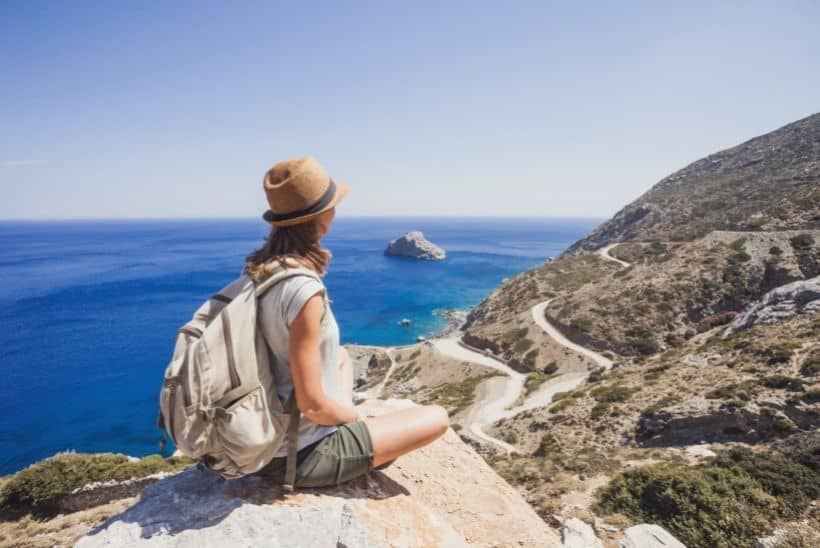 Put together two simple words, 'writer + travel' and you've got a fabulous combo that most only dream of. Travel writers scour global (or local) destinations to find gorgeous landscapes, scenic views, and sometimes delicious grub for readers to enjoy. 
As a travel writer, you'll need to be motivated, expressive, and sometimes daring, depending on the locations for exploration. At times, readers like to know about the less traversed locations and cultures, so being flexible is necessary for this gig. 
15. SEO Writer
This is not something you may have come across often, but SEO writing does make money. SEO writing is a form of technical writing that gets blog posts ranking in search engines like Google. This means you'll need to know how to do keyword research and use SEO tools for the best results. 
I knew nothing about how to do SEO writing before I started this blog, but by doing careful research, I was able to do it on my own. Now my posts rank in search engines and I'm improving my methods over time.
After learning about SEO, I was able to make money writing articles for clients part-time! Find lucrative beginner SEO writing gigs on Fiverr. 
Bonus Online Jobs That Pay Daily
16. Correcting errors
It may be considered challenging, but one of the higher-paying online jobs that pay daily is proofreading. Proofreaders correct spelling and punctuation errors for clients or companies. This could mean working on books, manuscripts, publications, and more. 
Proofreading allows you to work online and choose a schedule that fits your lifestyle.  If you're interested in not only working as a proofreader but would like to turn it into a business, check out this free workshop. The creator of the workshop earned 43,000 in just a year, working part-time. 
17. Typing Gigs
Are you a fast typer? This is another great way to earn money by using your skills. Typers get paid to input data using software with a computer. If you've always wanted an easy work-from-home job, typing is it.
There are different ways to work as a typist online such as:
Virtual Assistant
Word Processor
There are more online typing jobs that offer daily payment that you can find using job boards like Indeed or FlexJobs. 
18. Chat Jobs
If you hate being on the phone, but wouldn't mind working in customer service, a chat job could be ideal. Chat jobs are easy and I can vouch for that because I've worked as a chat agent twice. It may not be for everyone, because customers can get pretty heated, but when you're communicating via chat with an angry customer, it's much better than them shouting over the phone.
Interested in chat jobs? Here are 23 companies that hire workers to chat online. 
19. Dropshipping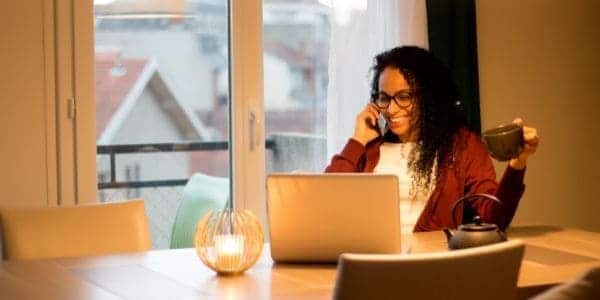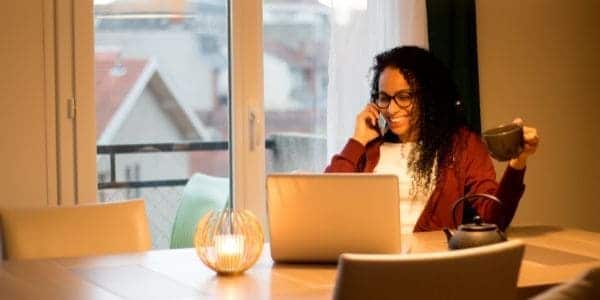 This side hustle really blew up over the past few years. It seemed so easy that every entrepreneur left and right was signing up to sell their products online. Dropshipping is still conquering the online space and it doesn't seem like it will stop anytime soon.
Dropshipping involves selling products online, with a dropshipping company transporting the products for you. The best part is that you do not need to keep any inventory. To get a great beginner's course on dropshipping, check out Udemy. 
20. Teach Online
There's a growing number of people using their love for teaching to start a career or a part-time job. Instead of heading to the classroom, or earning a degree to teach, you can do all this without any previous experience.
There might be requirements for some companies such as being a US resident, but apart from this, a remote teaching opportunity awaits you. For individuals who have earned an ESL certificate, several companies hire ESL teachers to work online.
 However, if you'd like to teach elementary-aged students without any experience or educational background, Outschool is a great choice. On Outschool you can teach:
Art
Coding
STEM 
Languages
Social Studies
History
There are several more subject areas to teach on Outschool such as Minecraft and Cooking. Sign up with Outchool for free to start teaching!
How Can I Work Online and Get Paid Immediately?
The first step to take is to search for jobs on legitimate job boards. This is the best way to avoid scams which are very prevalent in the online job world. Looking at the description on the job listing will sometimes indicate how much you will make, whether, daily, weekly, or bi-weekly. Some jobs will not list a salary for privacy reasons, and there's no way to avoid this. 
Choose an Online Job That Pays You Daily
These online jobs are great for almost any worker. Whether you're a beginner to the online space, a work-from-home mom, a student, or a digital nomad, these flexible gigs will suit you. Any form of employment that allows for an easygoing schedule and isn't demanding, is a keeper in my book. 
Always remember to beware of online scams and use trusted job boards in your quest for remote work. 
If You Liked This Post, Please Pin It For Later!❤️️????