This post may include affiliate links.
If working remotely from anywhere in the world entices you, I definitely recommend snagging a transcription job online. 
You'll learn about the best transcription jobs for moms to work on their own schedule, the pros and cons of each, as well as how much they pay.
This will include jobs that are flexible and easy to get started with.
While transcription jobs are quickly accessible online and you can easily get hired as a beginner, some of the better-paying ones are harder to find.
I would like to share work from home transaction jobs that are high-paying, but a few entry-level ones as well.
That's because while I do prefer to recommend the highest paying jobs and the best quality for my readers, I do know that some of you will just be starting out with transcription. 
Because of this, I will list some of the best transcription companies to work for, along with those that accept entry-level transcriptionists (that might not pay as much).
It's important to know what you're getting into before you apply and I just prefer to be transparent with you.
Because there are several at-home transcription companies to work for, narrowing it down to the very best will save you some much-needed time and energy. 
Please share the ❤️️ and PIN this for later!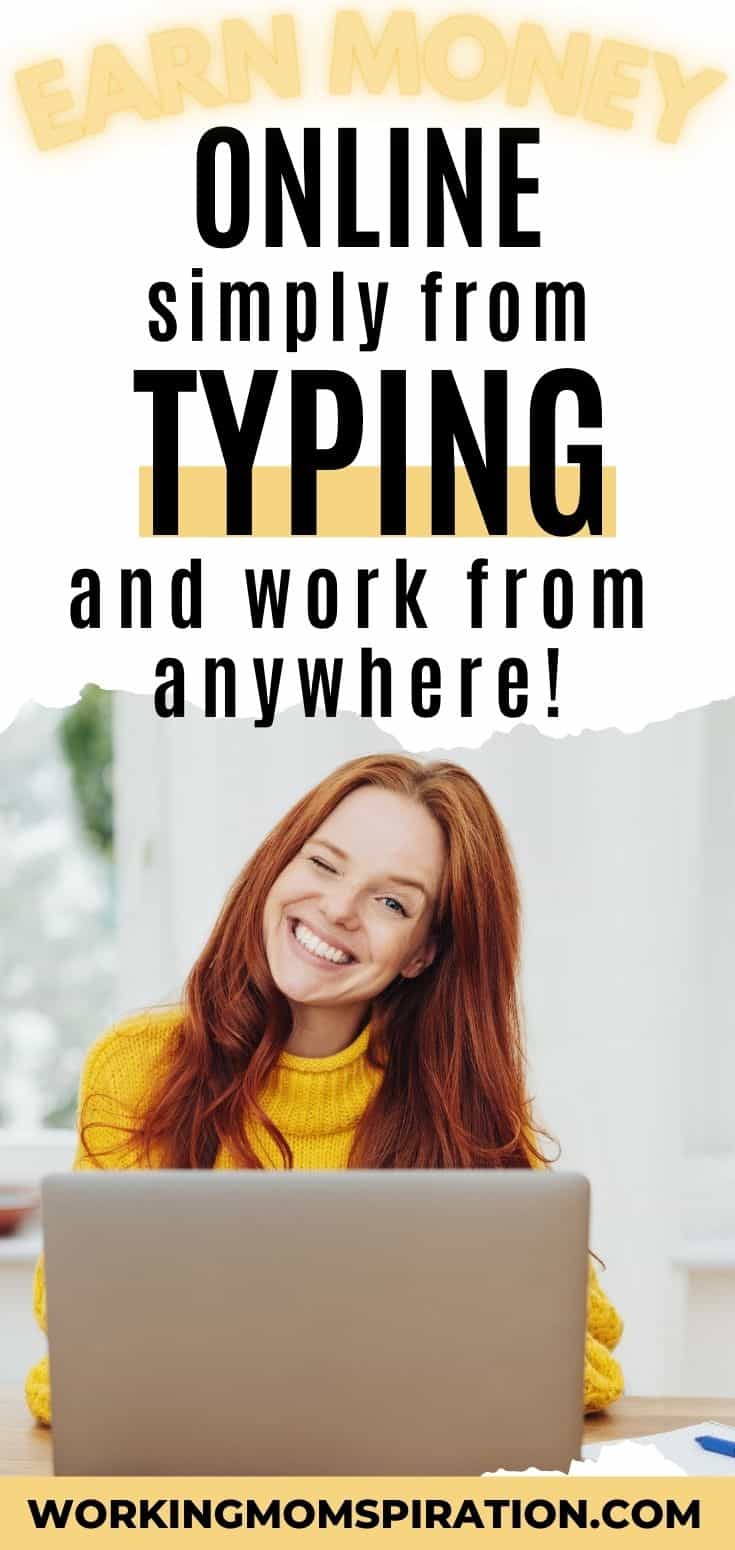 What Are the Best Transcription Jobs For Moms?
Because so many people are earning a decent income doing audio typing from home, there's no need to work as a transcriptionist in an office setting.
 The ideal situation for most moms is a remote working environment. This way, you won't feel tied down or confined to one place.
With that said, if you're a mom who wants a remote transcription job that can help pay the bills and cover some expenses, then read on to find out more about how to get into transcription and earn a decent salary.
What is Transcription?
Most of you will already be familiar with what transcription is, but for anyone who may have come across this post accidentally, I'll go a little bit into what transcription is.
Transcription is simply turning audio into text.
You will be typing what you hear into software as a data entry specialist. Transcription itself is not particularly difficult, but it does have a learning curve.
It might also be a challenge to hear the audio effectively, as some freelancers frequently complain about this.
I also want to warn you that being a fast typer is essential. Most companies do not pay by the hour, but by the audio hour. This means that if you have a twenty-minute recording, you will be paid for how much of you've transcribed.
A twenty-minute transcription could take an hour or more to complete and even longer if you're a beginner. So be aware of that.
How Do I Become a Transcriptionist?
Would you like to learn how to become a transcriptionist online? There are various steps to take in order to become a professional transcriptionist.
 Some people will even go on to get a transcriptionist certification.
However, this type of certification is generally required only for medical transcription jobs or for legal transcription jobs, which pay significantly more than freelance transcription roles.
This certification is not necessarily required for remote transcription jobs like the ones I'm mentioning today but could be helpful in becoming a professional transcriptionist in the future.
However, a more popular and easier way to become a transcriptionist is to get started in general transcription.
In order to become a transcriptionist you'll need to have:
Perfect grammar and pronunciation
Certifications (in some cases)
It's important to note that when you apply for a job as a transcriptionist, some companies have a style guide that you will have to learn.
They will outline this guide before you are allowed to take your transcription test.
The style guide is what will be used to evaluate your transcription skills once you've taken the test.
Most, if not all freelance transcription companies operate with a style guide as general transcription roles require this. 
Should I Take a Transcription Course?
You should if you want to become a full-time transcriptionist and start a wholesome career. If this is something that interests you, try this free mini course with Transcribe Anywhere.
It's a 100% fully online transcription course that will teach you all you need to know about transcribing audio.
Sign up now and start your transcription journey!
How Much Do Transcriptionist Jobs Pay?
Based on studies by Indeed, the average transcriptionist will earn about $16.45 an hour.
However, factors like your experience level, the type of transcription you do (general, medical, or legal transcription), the company you work for, and how fast you work, will naturally affect your pay.
As a beginner, you can expect to make less, but as with every job, experience makes you better.
I wouldn't let the average pay turn you away from applying for a transcription job.
Best Transcription Jobs to Work Remotely
1. GoTranscript
I have an account with GoTranscript and even though I'm not doing transcription ( I have a blog, no time), it really is one of the best transaction companies online.
According to their website, they are one of the largest online transcription and translation companies in the world and are rated 4.9/5 based on real customer reviews.
The company also has a 4.2 rating on Glassdoor which shows that its employees are highly satisfied with the company.
That alone gives me the vote of confidence that they are a trusted company that I can recommend to you guys.
They started in 2006 and since that time has grown to include a team of 2,000 people worldwide. The top transcribers earn around $1,215 per month and they are always on the lookout for new transcriptionists.
They hire worldwide and you can transcribe multiple languages as well which is a big plus.
If you want to apply to one of the best transcription jobs online and start working right away, apply to GoTranscript now!
Earnings: $12 – $13 per hour
Pros: Wide range of work
Cons: Editors can be harsh
2. Rev Transcription 
Rev is a popular company and one of the best paying transcription sites online.
It is one of the few transcription companies for beginners to get accepted and start working right away.
They have an easy sign-up process too. 
Head over to Rev, sign up, take a quiz, and get approved. Once you've made it in, you'll be able to browse their dashboard and choose from the hundreds of transcription jobs available.
They do require that you have impeccable English skills and grammar before you are approved to work with them. No need to worry though, as they do provide you with a guideline when you're ready to take your test.
What's so nice about Rev is that they allow you to choose from lectures, podcasts, interviews, and other fun recordings, so you won't be bored out of your mind while working.
The only things you'll need are a laptop computer and a reliable internet connection to get started.
Sign up with Rev and start earning.
Earnings: $7 – $20 per hour
Pros: Flexibility
Cons: Hard to manage schedule when new
3. 3Play Media
If you're looking for one of the best entry-level transcription jobs online, then you're in luck. 
3Play Media hires freelancers to transcribe audio, and also has openings in video captioning, subtitling, and translation.
If you're a Spanish speaker, you'll be happy to know that they also hire Spanish transcriptionists.
At 3Play Media, you are expected to transcribe audio with their internet-based software tool and provide a quick turnaround time on your projects.
You will do great at 3Play Media if you have an excellent command of English, great communication skills, perfect grammar, and the ability to work well independently.
Check out their website if you're interested.
Earnings: $10 -$22
Pros: Exceptional management team
Cons: High workload
4. Transcribe Me
There are quite a few easy transcription jobs around, and it seems that TranscribeMe is a company that offers these types of gigs.
As a TranscribeMe freelance worker, you'll be getting paid at one of the highest rates in the industry.
The top transcriptionists are said to make around $2,200 each month.
This no doubt implies that TranscribeMe might be the best transcription company to work for.
Not only can you do general transcription jobs from home, but they also offer Medical and Specialty jobs as well.
At TranscribeMe, they give their employees opportunities for growth and by developing your skills, you can advance to larger projects with the potential of increased earnings.
As with Rev, the only tools needed to start are a laptop and reliable internet.
What I've found to be one of the highlights with the company is that you can work whenever you want and transcribe short clips.
Start working with TranscribeMe.
Earnings: $10 – $21 per hour
Pros: Being able to choose your schedule
Cons: Beginners may find job difficult
5. Net Transcripts
Net Transcripts offers both transcription and translation services to government agencies, law enforcement agencies, and businesses.
You can work either as a Law Enforcement Transcriber or as a General Transcriber. On Net Transcripts, your earnings depend on the deadline you're working with. Your payment will be higher with shorter deadlines.
This company will require experienced transcribers to work for them and you need to pass a background check. 
Sign up with them here.
Earnings: $5 – $12 per hour
Pros: Supportive team
Cons: No incentives or chances for promotion
6. Tigerfish Transcription
This long-standing transcription company has been around for more than 32 years and provides transcription, editing, and proofreading services.
I have to say that it's one of the best transcription companies for beginners because it hires freelance transcriptionists with no experience whatsoever. 
Even though Tigerfish accepts newbies, you will need to have a fast typing speed to earn money on the platform. Being accurate with your transcripts is also a plus.
Sign up as a beginner here.
Earnings: $7 – $15 per hour
Pros: Payments are issued weekly
Cons: Purchasing their transcription software is compulsory
7. Speakwrite
SpeakWrite is one of the best places to find transcription work for beginners as they provide work-from-home transcription jobs to anyone who is new to transcribing audio.
One thing to note is that even though this is a freelance opportunity, you are required to dedicate at least four hours each week to complete transcripts.
SpeakWrite specializes in insurance, law, and business industries, so you'll be transcribing audio related to those sectors.  SpeakWrite does not offer medical transcription at this time.
Check out their website here.
Earnings: $12 – $15 per hour
Pros: Prompt payment
Cons: Low-quality dictations
8. CrowdSurf
Crowdsurf hires transcriptionists for both transcription and captioning services on their platform.
You don't need to work a specific amount of time so it's pretty flexible.
This site is not open worldwide and only accepts US or Canadian citizens. They also require that you have good typing skills, proper command of English, and great listening skills. Being a team player doesn't hurt either.
This is one of the more ideal transcription sites for beginners to work with as most of their audio files are ten minutes or less.
I wouldn't recommend it as your first choice however as their rates are comparatively low. 
Apply online with Crowdsurf.
Earnings: $3 – $12 per hour
Pros: No previous transcription experience is needed
Cons: Lengthy recruitment process
9. Transcript Divas
If you want to snag one of the truly remote transcription jobs for beginners, then Transcript Divas should be your company of choice.
They hire independent contractors to transcribe market research information, legal documents, academic papers, and copy for media. 
This company promises same-day or even next-day delivery to clients, so you will need to be quick on your feet.
 In my estimation, this company may be best for experienced transcribers, seeing that they have a high turnaround time and strict accuracy standards.
As with the other transcription companies, you need proper English fluency, accurate typing, impeccable grammar skills, and the ability to follow a style guide.
If you have transcription experience, sign up now.
Earnings: $10 – $27 per hour
Pros: Professional company
Cons: Inconsistent workload
10. Aberdeen
You might not have heard of this company before as it's relatively new, having been founded in 2016, but nonetheless, it is a legit transcription company.
Aberdeen offers many services including:
So, if you would like to engage in various typing jobs from home, Aberdeen is a great place to start.  Having a high typing speed and accuracy are necessary requirements to work for Aberdeen. 
Sign up to get started.
Earnings: $16 – $20 per hour
Pros: Great company culture
Cons: Not many benefits available to workers
11. Babbletype
Join Babbletype and find part-time remote transcription jobs that fit your schedule. They hire transcriptionists and translators to provide accurate transcripts in various industries.
Clients can easily upload their files to the platform and from there, it will be completed by a Babbletype worker. You need to be detail-oriented and must be able to work with tight deadlines.
You will be working as an independent contractor for Babbletype and their recruitment process is relatively easy.
Learn more about them here.
Earnings: $9 – $10 per hour
Pros: Flexibility
Cons: Inconsistency in grading transcripts
12. SpeedPad
SpeachPad has very high standards and guarantees 99% accuracy to their clients. This means you will need to be really detailed and pay special attention to accuracy in order to work for this company.
They have big names clients which include the likes of Amazon, Linkedin, and Loreal. 
As a remote transcriptionist, you can work from anywhere and choose your own hours. Another convenient option SpeechPad offers to its transcriptionist is that they can choose the jobs they prefer and change their niche if they want to. 
Sign up and start earning today!
Earnings: $5 – $15 per hour
Pros: Great feedback from management staff
Cons: Need to maintain at least 93% accuracy
13. CastingWords
Having been around since 2005, CastingWords is a force to be reckoned with in the transcription world. You can work as a freelance transcriptionist or editor.
Since this is a freelance transcription role, you will be self-employed. You must have access to a working computer, headset, and have a quiet place to work. 
If you're detailed oriented and can produce high-quality transcriptions, then CastingWords is a great place for you to work. As a transcriptionist, you can find various types of gigs on CastingWords such as:
Transcribing audio
Editing audio
Grading edits
Approving transcripts
Sign up with CastingWords here.
Earnings: $8 – 9 $ per hour
Pros: Easy hiring process
Cons: Low entry-level pay
14. Quicktate
This might not be one of the best transcription jobs on this list, but the company does hire beginners and has a decent company score on Glassdoor.
There are easy transcripts for you to work with on Quicktate including letters, memos, voicemails, conference calls, and phone call recordings.
To work with Quicktate, you should have:
Accurate spelling
Great listening skills
Your own equipment
Grammar skills
When applying to their site, you will need to read their procedures, tell them a bit about yourself and take a quiz to test your transcription skills.
Sign up here.
Earnings: $3 – $8 per hour
Pros: Work is always available
Cons: Administration not responsive
Choose From the Best Transcription Jobs Available Online
If you want to earn money doing something as simple as turning audio into text, then starting with these transcription companies is your best bet. As mentioned before, you don't necessarily need a certification, as a simple online transcription test will suffice in order to qualify.
While not all companies pay optimally, I was still able to find some of the best-paying transcription jobs for beginners to get started with.
You can continue transcription on a freelance basis which is much easier than working full-time. If you do decide that this is the right career choice for you, turning to medical or legal transcription would be a great idea.
You can find at-home legal transcription jobs on FlexJobs and other legitimate job boards.
Also, you can get certified with a company known as the Transcription Certification Insititute and be on your way to finding more legitimate transcription jobs that pay much better than the average gig.
While this course is paid, it's a great way to show your certification and get more opportunities.
If you'd like more tips on making money, check out this post on flexible online jobs or this other post on part-time jobs that are perfect to do on the weekend.