This post may include affiliate links.
So you're thinking about starting a printables business, but you're wondering how to get started.
Have you ever thought about selling Canva templates online?
That's not a trick question???? 
You can design and sell your own templates using Canva which is a very easy tool to start with.
It's great for beginners and I know for a fact that a lot of graphic designers use it as well.
It's just that good!
Think about it for a minute. You could make at least $1000 each month, just from selling your own templates. 
I don't want to get your hopes up too far and sell you a dream that may not come true.
But I'm telling you now that if you have an eye for design, you can start selling Canva templates in your own shop.
How do I know?
Because I've made some sales online in just a few months, by selling prints online that I've created with Canva.
There is more to selling your printables than just making pretty designs. You will need to find somewhere to sell them and promote them on your own.
But I'll get into all of that pretty soon!
To be honest, you don't need to spend a lot of money buying expensive tools to make printables.
Some designers recommend that and it's great if you can afford these tools, but it's not necessary for the printables I'm going to mention today. 
What's great about selling Canva templates is that you have the opportunity of making it a thriving business or earning cash from it as a side hustle like I do!
Wanna learn more about selling Canva templates online? Let's get into the post!
What On Earth is Canva?
If you have never heard of Canva (which is hard to believe), I'll let you know now that it is the most awesome graphic design tool out there!
OK, so I'm not going to say it's the best out there and that every other tool is incomparable, but I have to admit that when I first used it, I was blown away. 
You can use it whether or not you've ever designed in your life because it's such an easy-to-use design tool.
Once you're inside Canva, you will be able to access a plethora of design elements such as fonts, images, graphics, and more.
Best of all…you can sign up for free!
Please remember to share the ❤️️ and PIN this post for later!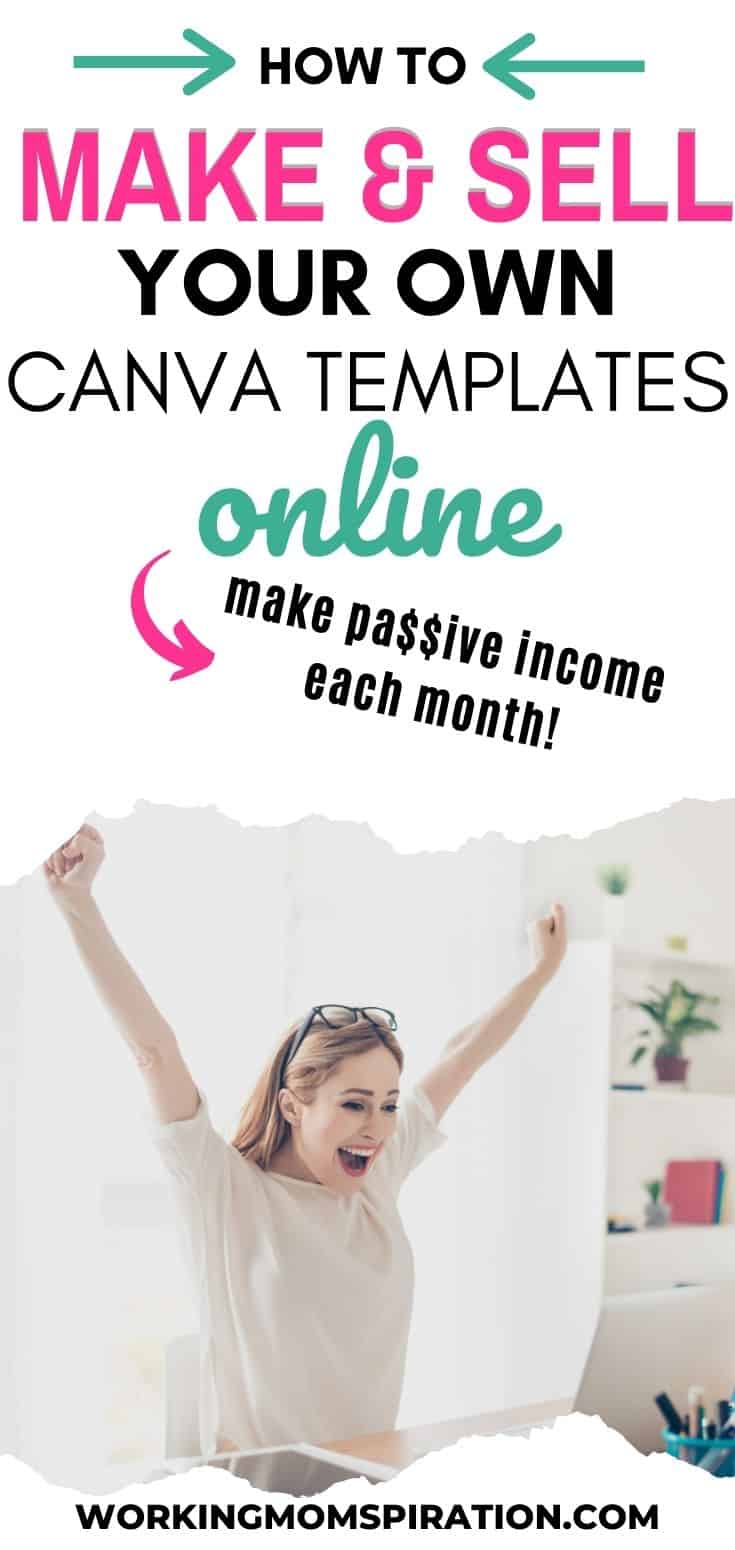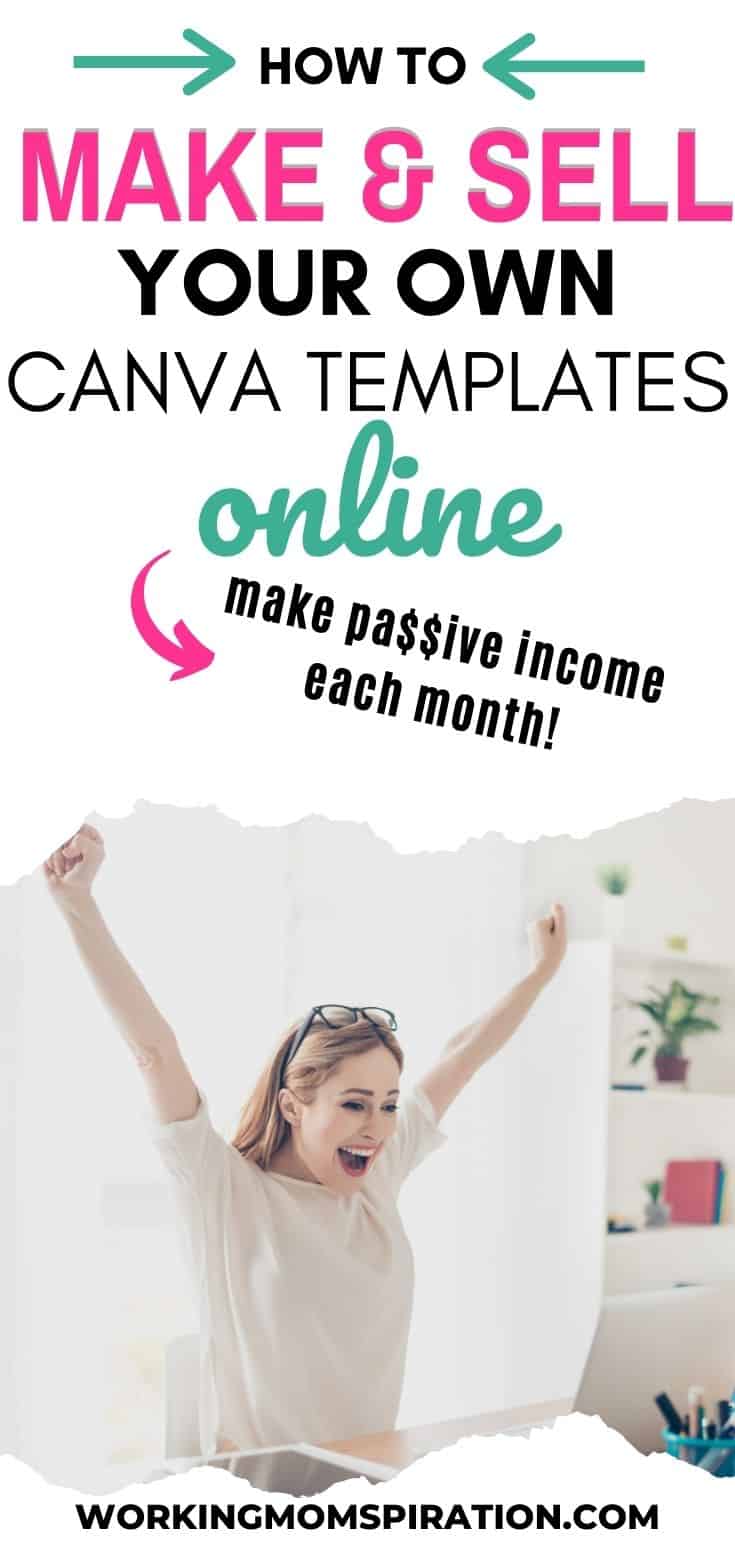 Why Sell Canva Templates Anyway? Can't I use the Ready Made Templates?
There are literally thousands of templates on Canva and I've used a few of them myself. However, these templates are made to be edited by the user for various purposes.
While Canva's designs are awesome, people want to purchase templates that are a bit more personalized.
Canva may design a lovely Instagram post template, but it may not be specifically geared toward Instagram users.
That's where you come in.
If you are an expert in a particular design area, then you can create templates that fit a specific audience. 
Are you a mom who loves making grocery lists? You can create grocery lists that are really unique and creative.
Another example is making resumes.
Canva has a ton of them and they are really gorgeous.
However, you can improve on them by adding additional features that you don't see on Canva's resume templates. 
You may be able to find a gap in the market and corner that.
Upside to Selling Templates Online
Start an Online Business
While it may not be easy when you've just started it, an online business that brings in continued revenue is a way to make a full-time income.
You may have always wanted to start your own business, but you were never sure what you wanted to do.
Well, if you like design and creative projects, selling printables or templates online is one way you can do this.
And if you use Canva, you can do it for free!
Earn Passive Income
Would you like to earn money while you sleep?
Creating a passive income stream is an ideal way for moms to make money online.
Selling Canva templates online can allow you to basically 'set it and forget it'.
That's because you'll be selling digital products that you can put up once, and make sales from whenever someone buys them.
It requires little or no upkeep and you can just sit and watch your money grow.
Flexibility
This is maybe one of my favorite things about selling digital products online.
You can choose when to design or create your products.
Gone are the days when you had to sit at a desk all day or listen to your boss shout over your shoulder.
Now you're a boss mama, setting your own schedule and living life intentionally!
Choosing a Niche to Sell In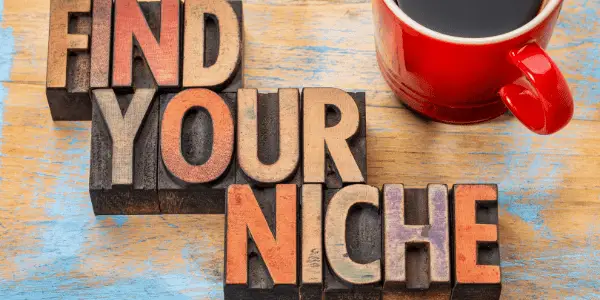 Once you have decided on selling templates and printables, you will realize that there are particular niches that sell better online.
There are also niche markets that online business owners can delve into.
A niche is basically a type of printable geared toward a specific audience.
A few popular examples include:
Food
Gifts
Baby
School
Career
Blogging
Organization
Advertizing
Holidays
There are a lot more niche ideas we could go into, but these are some of the most profitable ones.
One way to come up with niche ideas is to think about printables you would use in your own life.
Chances are that many other people would use them as well.  
However, the best way to discover niches and make your side hustle more profitable is to do research.
Browse through Canva's templates for a little inspiration to get an idea of what people want to use.
You can also check out template or printable ideas on platforms like:
Where to Start Selling Canva Templates
You might be wondering just where to sell your templates once you've designed them.
There is no perfect place to sell online, but there are a few that you can check out.
Many online platforms now allow the purchase of digital products because you can send them to customers for free and it's super easy.
Here are some of them:
Etsy
This is an online platform that is very popular and well known for selling handmade goods. 
What a lot of people may not know, is that you can also sell digital products like templates there as well. 
When you join Etsy, you will be able to set up an online shop and list your items for as little as $0.02. 
While I do recommend Etsy for beginners, because the platform is so easy to use, there is still a lot of competition from other sellers. 
Redbubble
Even though Redbubble is known mostly for Print on demand (POD), you can sell a number of items like wall art and greeting cards. 
That's the beauty of Canva.
 You are not limited to a specific type of template and you can design whatever is in demand. 
Wall Art is a big seller on Redbubble, so you can take advantage of that. 
You don't have to stop at selling templates, but you can create print designs to sell on mugs, t-shirts, dresses, masks, backpacks, and more.
Zazzle
Zazzle is somewhat similar to Etsy in that you can sell a variety of items like postcards, printables, and wall art. 
The beauty of Zazzle is that you can sign up as an artist and sell the templates you've designed and Zazzle will take care of all the shipping and logistics.
 There is another option for opening your own shop and managing that aspect, but simply selling your designs is much easier.
 You will make a commission on each item you sell on Zazzle and you get to set your own prices. 
Creative Market
You'll find an array of products on Creative Market that are geared mostly toward designers and creators. 
Products such as website templates, creator brushes, premium stock photos, and of course templates, make up a large part of the platform. 
There are thousands of gorgeous illustrations here as well. 
As a seller, you can create your designs in Canva and then upload them to your online shop.
It's as easy as that!
Design Bundles
This platform has hundreds if not thousands of fonts, wallpaper designs, SVG's and templates that are geared toward crafters and sellers. 
When you buy a product on Design Bundles, you are able to customize it as your own in another design. 
So, as a seller on their platform, you can design an editable printable and then sell it for a specific price. 
Products sell well here because they are really affordable.
Creative Fabrica
Creative Fabrica is also very popular and is similar to Design Bundles.
 Crafters head to this online marketplace to get designs for their crafting business.
 However, you'll discover that there is a big demand for templates on Creative Fabrica. 
These include printables, coloring sheets, Kdp templates, notebook sheets, and more.
You can sign up as a designer and set up your own shop. 
Ladyboss Biz Boutique
This platform is not as well known as the others, but nonetheless, you can earn a steady income selling your templates here.
 While you'll find a variety of printables on this site, most of them are geared toward bloggers, creators, and businesses. 
So, if you can create social media templates for Instagram or Pinterest templates, you would do really well here. 
Selling Canva Templates On Your Blog
I would recommend this as the best option when it comes to selling online.
Why?
Because you're fully in control.
While third-party websites are good in their own way, nothing beats having your own personal space to market your products.
With that said, how do you go about selling Canva templates on your blog?
Sign Up With a Host
You can choose any host you prefer once you've done enough research.
However, I've chosen Bluehost as my host and they're awesome!
As a site owner, you can sign up for Bluehost hosting for as little as $3.95  a month! 
You have the option of adding a domain name through Bluehost, or you can purchase one via Namecheap. 
When you sign up with Bluehost, you get the option to install WordPress automatically.
Link It With WordPress
WordPress is basically the central area that you'll be doing all your blog tasks from.
This will include:
Creating pages
Writing posts
Managing hosting
Adding plugins
Choosing a theme
One very important part of starting a blog is choosing the right theme.
It can make a big difference with who stays on your blog or revisits.
Depending on your audience, you might choose feminine blog themes or a more corporate theme. 

I chose a WordPress theme that works well for my audience and is quite adaptable to my needs.
If you would like to build your own pages and make them more customizable, Thrive Themes is a premium page builder that even beginners can use. 
I use it to create sign-up pages for my blog and it works quite well!
Set Up Shop With Vender
You have a variety of options to choose from when it comes to selling on your blog.
Here are a few picks that are quite popular with online sellers:
WooCommerce
WooCommerce is a free plugin that allows you to set up an online shop in WordPress.
Once you've installed it on your blog you will be able to create a beautiful store and add your Canva templates to it. 
The best part about WooCommerce though is the option to add payment gateways that are convenient for your customers to pay.
You can create your listings, add pricing, mock-up images, among other things. 
SendOwl
Another easy-to-use tool for your self-hosted blog is SendOwl.
It operates a little bit differently from WooCommerce in that it adds functionality to the pages on your blog.
How it works is that you create your sales pages and then Send Owl will allow you to add payment options and even coupon codes to those listings. 
SendOwl has different pricing packages that are really affordable.
Shopify
You must have heard of Shopify by now because it's one of the biggest online vendors out there.
While it's not a plugin or add-on for your self-hosted websites like WooCommerce and SendOwl are, it still allows you to have an online shop for your templates.
Shopify will be linked with your blog, though it's on a separate platform.
Shopify involves a monthly fee, but its many capabilities make the pricing reasonable.
Shopify is great for people who want to have a customizable shop theme, shop features, and the option to add numerous shop listings to their store. 
Profitable Canva Templates to Sell Online
????Tip: Let me just put it out there that you won't be downloading and selling Canva's native templates. What you will do is utilize Canva's design tools and template format to make your own designs from scratch.
Coloring Pages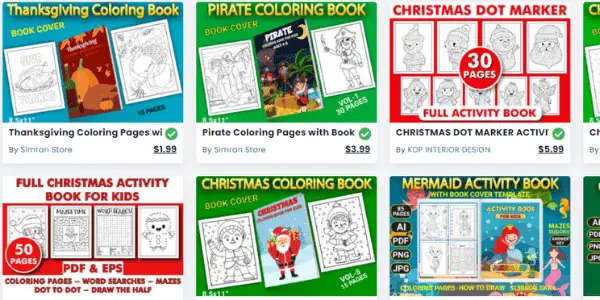 Did I already mention how popular coloring pages are? Remember that kids love to color and it's one of the ways to foster their creativity.
Younger kids may love to color their favorite cartoon characters, while teens might enjoy movie-themed coloring pages.
Oh, and let's not forget that adults can get in on the fun too.  You can create adult coloring pages with inspirational words, bible verses, flower themes, and other scenes that older folks may like.
2. Chore Chart
These are great tools for moms to use to get their kids to do their chores and be more responsible.
You can make chore charts based on themes, holidays, and age groups.
Get creative with your chore charts to make them stand out.
You can browse the Canva library to get some inspiration, but remember not to use the design. 
Adding reward sections for completing chores can really make your designs stand out. 
3. Flashcards
What better way to help your kids learn while having a bit of fun? Flashcards should be colorful, creative, and designed to really intrigue kids. 
Examples of flashcards include:
Sight Words
Math Quizzes
Numbers
Shapes
Alphabets
Spelling
Adding a variety to your shop could really help.
4. Activity Pages
This can help kids to pass the time. And they can really be fun too!
Your activity pages could be a compilation of mazes, dot-to-dot games, hangman games, tic tac toe boards, and any more creative games you can think of!
To add more value to your activity pages, consider making bundles with different sheets.
5. Save the Date Cards
This is one printable that literally never gets old. Canva has quite a few of these templates, so you can create your own from scratch and add your own flair.
Save the dates can be really helpful for brides and grooms to notify their guests ahead of time.
Try offering personalized options to your audience so they can choose colors, fonts, and designs.
6. Wedding Favors
A nice addition to any wedding is of course wedding favors.
Instead of making standard prints for wedding favors, you can use Canva to create unique ones that can be personalized.
This can be in the form of a tag or sticker that couples can add to small trinkets like a package of sweets.
7. Wedding Invites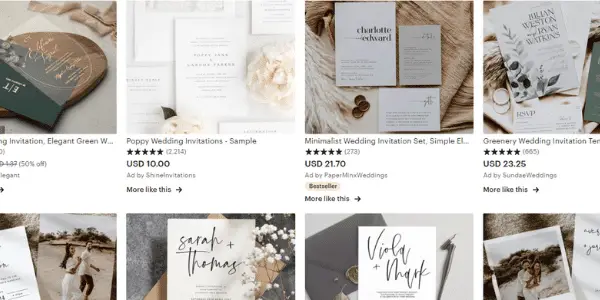 Having a beautiful wedding invite is what every bride wants.
This can be one of the easiest templates that you make using Canva's graphic design tool. 
You can get pretty creative with your wedding invites and make gorgeous creations with different themes. 
8. Meal Planner
An ideal planner for anyone who wants to plan their weekly meals ahead.
Even though customers can buy meal planners at their local store or on Amazon, offering some unique styles rather than the usual plain ones can help.
You can create daily, weekly, or even monthly meal planners!
9. Household Planners
Are you a busy mama? You must know how important a household planner can be.
A properly designed printable planner can help moms to meet their goals, organize their time, and complete their tasks.
10. Weekly Planner
A weekly planner might be just what a very large or busy family may need.
A weekly planner can help families keep track of all their duties.
11. Monthly Calendar
Calendars might seem pretty basic for most people, but you can create lovely monthly calendars that will wow your customers. 
Get creative and add other elements like goal setting to target a more defined audience.
12. Password Trackers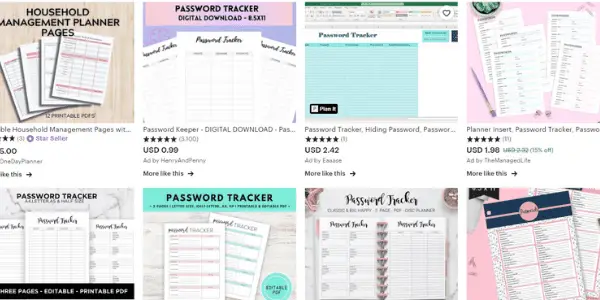 This might not sound like a thing, but believe me, people still use password keepers.
I know how it may look using printables that list all your private information.
But hey, they sell????.
Password Keepers can be minimalist and may include headings like:
Website
Username
Password
Email
This is good for people who may not be so tech-savvy and need to have their passwords in one place.
13. Daily Checklists
Staying productive on a daily basis can be difficult to achieve.
Some folks find it handy to keep a daily checklist to hold themselves accountable.
You'll find that daily checklists will be very popular among moms. I mean it doesn't get busier than a mom's life!
14. Fitness Trackers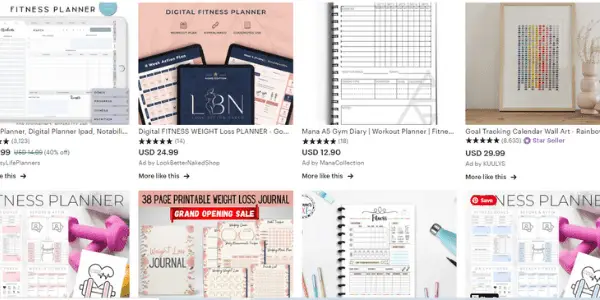 The health craze is only here to stay and you should definitely jump on this opportunity.
Fitness or health trackers can help people stay on top of their goals and accomplish their daily or weekly routines.
Customers can use these to track:
Daily water intake
Exercise goals
Blood sugar levels
Diet pattern
15. Cleaning Checklist
Most of us as moms don't love it, but cleaning is a must.
Cleaning checklists are perfect for busy moms to arrange their cleaning routine and keep track of their progress.
Help moms make their homes more beautiful with a monthly, weekly, or daily cleaning checklist. 
16. Wall Art
Do you love art? You can express your creativity while making an income by designing wall art. 
Create inspirational quotes, affirmational statements, minimalist designs, or funny, quirky sayings for any room of the house.
17. Greeting Cards
These can come in pretty handy for an upcoming birthday or special event.
Printable greeting cards are a real money maker, especially on Etsy. 
People have birthdays and other events all the time, so it's no wonder then that these are so popular.
You can design greeting cards for:
Graduations
Holidays
Anniversaries
Baby Showers
Bon Voyage
18.  Party Games
Who doesn't love a good party game?
Add some fun to the party scene by making some creative party game templates for different occasions. 
Be it birthdays, baby showers, trivia, or anniversaries, you can create delightful games for couples or families to enjoy their special occasions.
19. Gift Tags
Add an element of fun and surprise to any gift by making cute printable gift tags.
They are so easy to design, you'll wonder why you hadn't made them sooner.
Check out Canva's gift tag templates to get you on the right track.
20. Budget Planners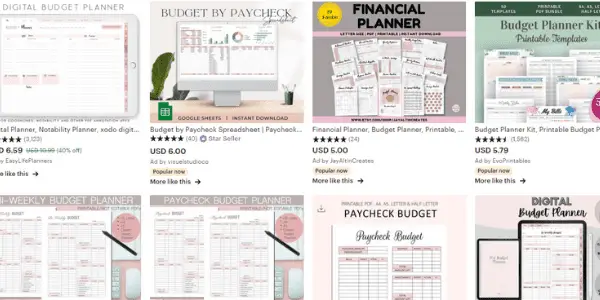 Don't you just love a good budget planner? It can be hard to get your expenses in order but the right budget planner can help you do just that. 
Motivate restless mamas with a gorgeous mix of printable planners in your own shop.
21. Saving Trackers
These are savvy little financial planners that are great for moms, families, and the budget hopeful.
These convenient printables can really motivate people to save and reach their financial goals.
22. Social Media Templates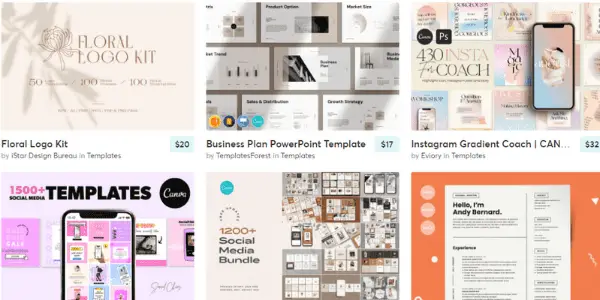 This may be one of the biggest sellers of all time because they are really popular with bloggers, content creators, and influencers.
Not everyone can create attention-grabbing templates, so if you can make these, they could be reel in some serious cash!
Types of social media templates to make include:
Pinterest templates
Instagram post templates
Instagram stories templates
How Much Should I Sell My Templates for? 
There are various ways to price your templates and this will all depend on:
The type of templates you sell
Where you sell your templates
Method used to sell templates
Types of Templates
The type of template you sell will affect the cost.
Some templates will have more of a demand or involve more intricacy to create and so it will cost more. A gift tag for example will cost significantly less than a menu planner.
Where to Sell Your Templates
If you choose to sell items on your own blog, you can decide on your pricing based on market standards.
Do your research on places like Etsy to see what price the equivalent template sells for.
You will not want to go too high or low as this may hinder customers purchasing from you.
When you sell on third-party marketplaces like Creative Market, you will need to sell at a standard price as well, in order to compete with other sellers.
How to Sell Your Templates
You can use various strategies to sell your templates.
This way you can get more sales and add more value for the customer:
Single Templates
This is maybe one of the more popular ways to sell templates and it works by simply selling templates for a particular price. To earn more revenue, you can offer discounts or occasional sale events. 
Bundles
I see a lot of people do this and it works. You can offer a set of templates or bundle them together for a price. In this bundle, you could offer planner sheets, productivity sheets, and menu planners for example. This way, the customer can get more value. 
Tripwire
This works by offering some type of freebie on your blog or website.
When that person signs up for your freebie, they are taken to a page showing them a heavily discounted item (your Canva template) that's related to the freebie.
Customers are more likely to purchase this item because it's at a very low price. 
But Who Will Buy My Templates?
This one isn't so hard when you think about it. There are so many people who need to buy templates and your market will depend on the niche you have chosen.
For example, if you decide on selling coloring sheets, your market may include kids.
This is just an idea for you to mull over.
A few other markets include:
Authors
Content Creators
Bloggers
Writers
Business Owners
Freelancers
Working Moms
Pinterest Managers
Life Coaches
Stay-at-home moms
How to Start Selling Canva Templates
The first step is to actually sign up for Canva.
Once you sign up, you'll be taken to the Canva platform, where you'll see a variety of template options to get started with.
As I mentioned before, Canva is free and you can create and sell your templates using the free elements that Canva provides.
To add more bang to your buck and get access to more functionality, you can try Canva Pro for 30 days!
What I Love About Canva Pro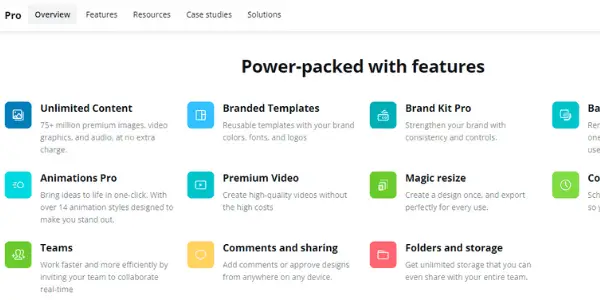 Get Hundreds of Folders
You can organize all your templates into folders.
This might not look like a biggie but trust me when I tell you that it helps so much!
Imagine making hundreds of templates in various niches like weddings, homeschool marketing, etc.
You will need to sort them in order to stay organized – and sane!
Branding
This is one of my favorites! You can upload your own logos, fonts, and color scheme and have them in one place.
Canva created what they call a brand template that can be used for various purposes.
So if you have more than one business and you need to be on point, you can create a brand template for each. 
Resize Design
Now, this is a must! If you're going to be designing a variety of templates then it makes sense to use this feature.
If you've created a fitness tracker template and you want to use it in a different size, Canva allows you to resize it with just one touch.
This is very handy when you're busy because you won't have to make another template from scratch!
Background Remover 
If you hate ugly backgrounds, this tool comes in really handy.
Just touch the button and the unwanted background will disappear just like that! And the image will still retain its quality, which is essential. 
While you do not need Canva Pro to make awesome designs, it has so many more features that will make your design a whole lot easier. 
I recommend trying it for 30 days free of cost, to play around with it and see what it can do.
If you really want to thrive in your printables business, Canva Pro can help get you ahead of the competition! 
Check Out Their Designs for Inspiration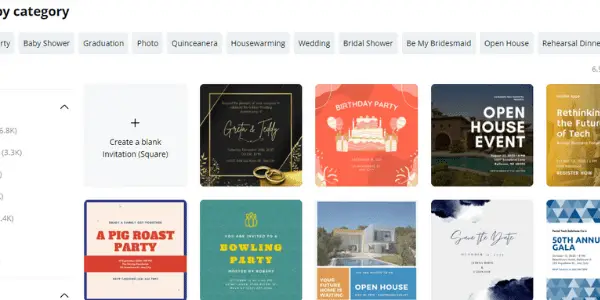 What I recommend doing next is browsing through Canva's native templates.
Canva has thousands of templates in different sizes and niches. This will give you an idea of the type of templates you can make yourself.
It will also give you an idea of what customers are looking for, but you will create a design that adds a special touch. 
Get Acquainted With the Design Tool
This definitely goes without saying, but you should get used to Canva's design tool so you can start creating gorgeous templates.
Once you select a template, you'll be taken to the Canva design tool.
From there, you will notice that there are various tabs for adding photos, graphics, elements, texts, and uploads.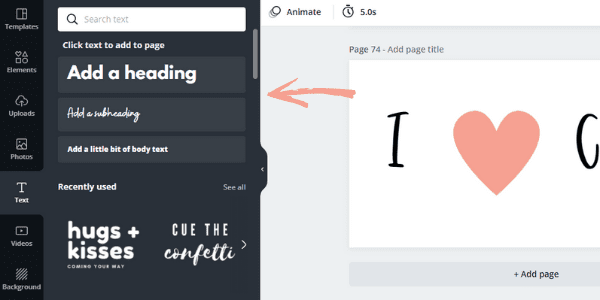 I would recommend that you take your time comparing how different fonts work with each other, using various colors, and using Canva's free elements to create designs.
This can give you a bit of inspiration in order to make unique templates that are much different than the ones in Canva.
Decide What You'll Sell
This is maybe the most important part of starting your printables business. 
What will you actually be selling online? 
I already mentioned niches and products that you can sell online, but you may not want to sell in these niches.
The first step to starting an online business is finding your strength.
What are your skills and expertise? 
What are your passions?
In assessing these questions, you will be better prepared on what types of templates to sell in your shop.
If you have been a social media expert, perhaps you can make social media templates for bloggers.
Are you a homeschooling mom?
How about selling educational worksheets to other moms or even teachers?
Would you like to design sticker templates for journal buffs?
How about menu planners for the super busy mom?
These are some ideas to get you started.
Do some browsing on Etsy to get an idea of what people want to buy and then create a spreadsheet to organize the products you want to sell by niches.
Create Your Design
Now to the fun part! Are you ready to start making your templates in Canva?
Head to the design tool and start making your designs and have family and friends give you their honest opinion on your designs.
Getting feedback can help you to evaluate your design skills and see what actual customers may think about your templates.
Make use of Canva's free graphics and elements to make templates. This is to ensure that a customer can use the template whether or not they have a Canva Pro account or not.
Set Up Delivery
Canva has made it so easy to share your designs with customers. 
When you have designed your template you have the option to use a sharable link so that customers can access the template.
You can access the sharable link from your design as seen here.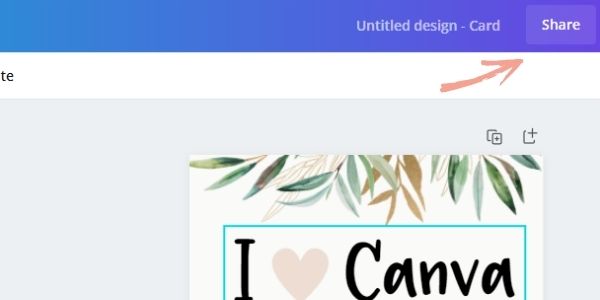 ????Tip: Once you get the sharable Canva template link you can choose to 'share link to use as template'.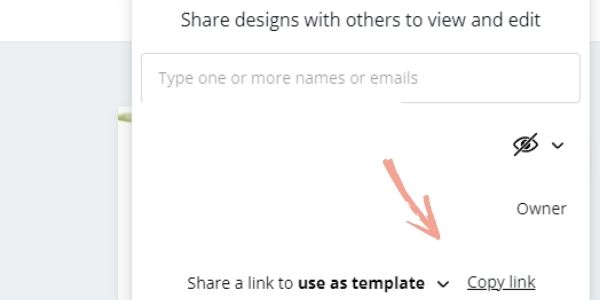 Only someone who has purchased directly from you will have access to this link.
In order to use this option, you will need to have a Canva Pro account.
Create a PDF and add the sharable link to the PDF.
This PDF file can be added as a downloadable file in your store.
When your customers purchase from your store, they will download the PDF and this PDF will contain the sharable Canva link that will bring them directly to the template in Canva.
They can now edit the template to their heart's desire ❤️️
Create Mockups
What better way to show off your designs to prospective buyers than to create mockups.
Because customers cannot see the actual product before buying it, creating product images is an incentive for purchase. 
To drive more sales I recommend:
Using high-quality photos
Use varying angles of the product
Show customers how they can use the products
Add at least 10 images
List Your Products Online
Last but certainly not least, you need to put your items up for sale online. 
Listing your products might be more time-consuming especially if you're selling a lot of templates.
It may also depend on the type of shop you use, whether it's Etsy, Shopify, or WooCommerce.
Some sellers hire product listers to add their shop items which saves time.
If you don't have the budget for that, take your time and add only a certain amount of products at a time.
The key is to make sure that whatever amount of templates you've added, that all are optimized for the customer. 
Market Products Online
In order for customers to find you, you will have to do a bit of promotion.
One of the best places to start is on social media. You can get started with:
Facebook
Instagram
Pinterest
Pinterest is one of the best places to market your templates because there is a huge audience for them.
Also, it's a highly visual platform, so customers will be intrigued by your products once they are at the buying stage.
Try to grab their attention with gorgeous template designs so they can see the benefit of checking out your products. 
I use Pinterest for my blog and it already brings in a decent amount of traffic.
The key to getting exposure on Pinterest is using relevant keywords, making stunning pins, and optimizing your boards.
If you're already using a blog to sell your products online, promoting your products to an email list is a no-brainer. 
I use MailerLite and it's pretty awesome.
You could try showing your email list how useful templates are and introduce your own templates to them over time.
Other Ways to Make Money with Canva Templates
Don't think you are limited to making money by selling Canva templates only, as there are a few other ways to earn an income using your skills.
Offer Services
After you have made some sales and built a portfolio, you can offer your services to professionals, on Fiverr or Upwork.
You can make templates for people who have a demand for them.
These are people who may need to use templates for their business and services and they just don't have the time to make it themselves.
Create a profile, include your work history and describe your services in detail.
This way, you can show why your potential customer should choose you over the competition.
The more clients you book and the more positive reviews you get, the more potential for making money full-time.
Create a Design Course
You have gained unparalleled knowledge and expertise on making and selling printables.
And now you want to share that knowledge.
Why not create a course and teach other business owners how to sell templates and printables online?
You can use platforms such as:
Want to know the best part about creating courses online?
You make it once and earn passive income for as long as you choose!
Create a Youtube channel about printables
If you don't want to take the course route (or you want to both) there's always Youtube.
Youtube has become the place for content creators to share their passions and earn an online income.
If you find it fun to make videos and you're comfortable behind the camera, you can create weekly videos about making money online.
One of the more popular videos is making money selling on Etsy.
However, because Canva is a much less saturated niche, you could teach people how to make money using it.
Start Selling Canva Templates Today!
Are you ready to start selling Canva templates online? You have the chance to turn this into a profitable business. 
There's no better time than the present to create another income stream, especially if you're a stay-at-home mom.
You can create your templates and 'set it and forget' it basically.
That way, you'll have more time to dedicate to your family, another side hustle, or for travel.
This is what I love about selling printables online. It's one of the best ways to make passive income and to become more financially secure.
If you're ready to start earning some serious cash with Canva, sign up here to try Canva Pro free for 30 days!
Trust me you won't regret it. 
If you liked this post, please PIN it for later!❤️️????