This post may include affiliate links.
I really enjoyed using coloring books as a kid. It was just something to pass the time when I wasn't playing with my dolls.
I tried coloring books with my son, but let's just say, he wasn't a fan. While it may be fun for most people, not everyone is into the coloring game.
But did you know that you can get paid to color?
It was recently that I realized this and I'm like wow! Imagine that…a way to destress, create something artistic, and earn money at the same time!
It doesn't matter if you'd like to make money in your spare time, start a side hustle, or work full-time. 
The fact remains that you can still get paid to color in your downtime.
If you're interested, let's find out the many fun ways you can make money coloring, while improving your art skills!
PIN IT!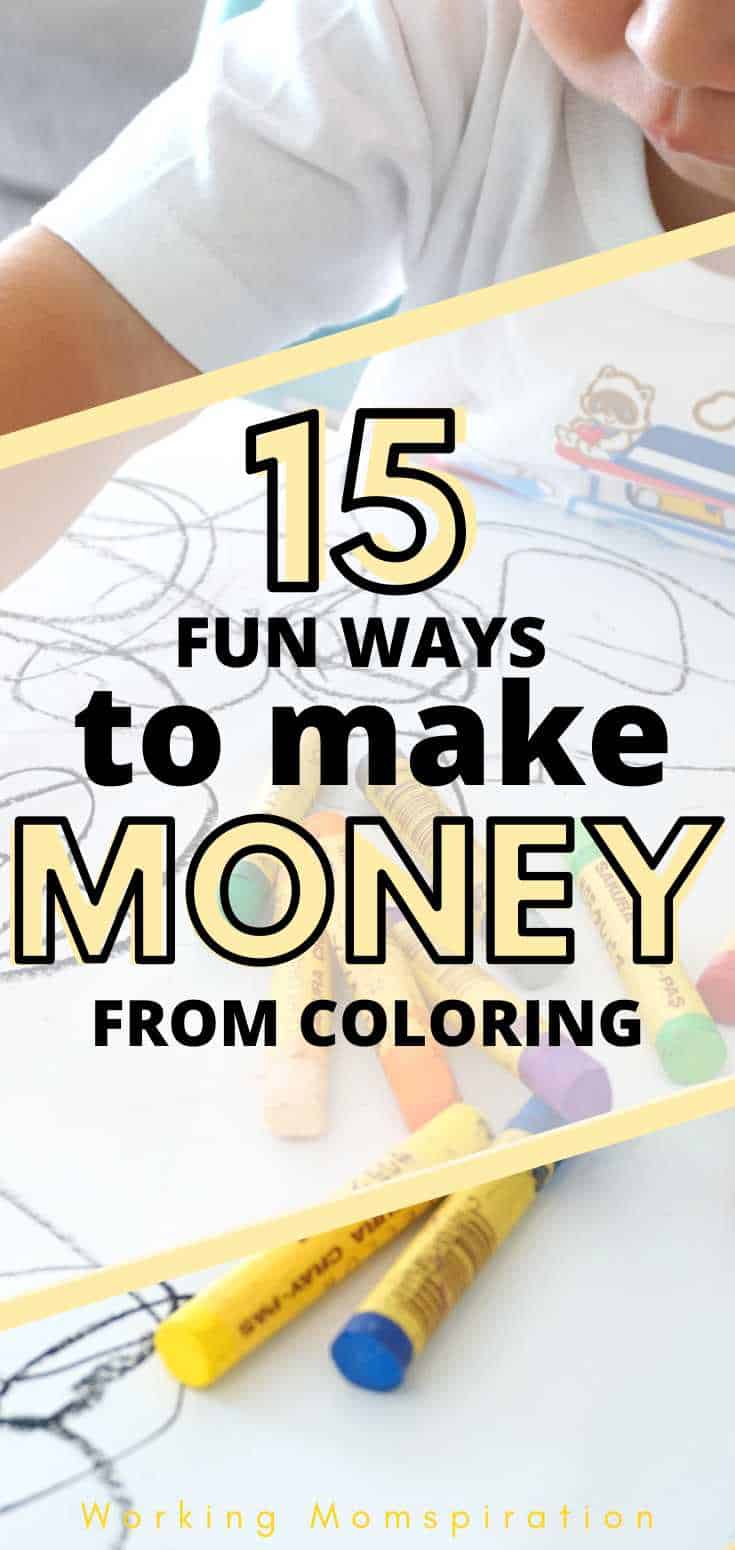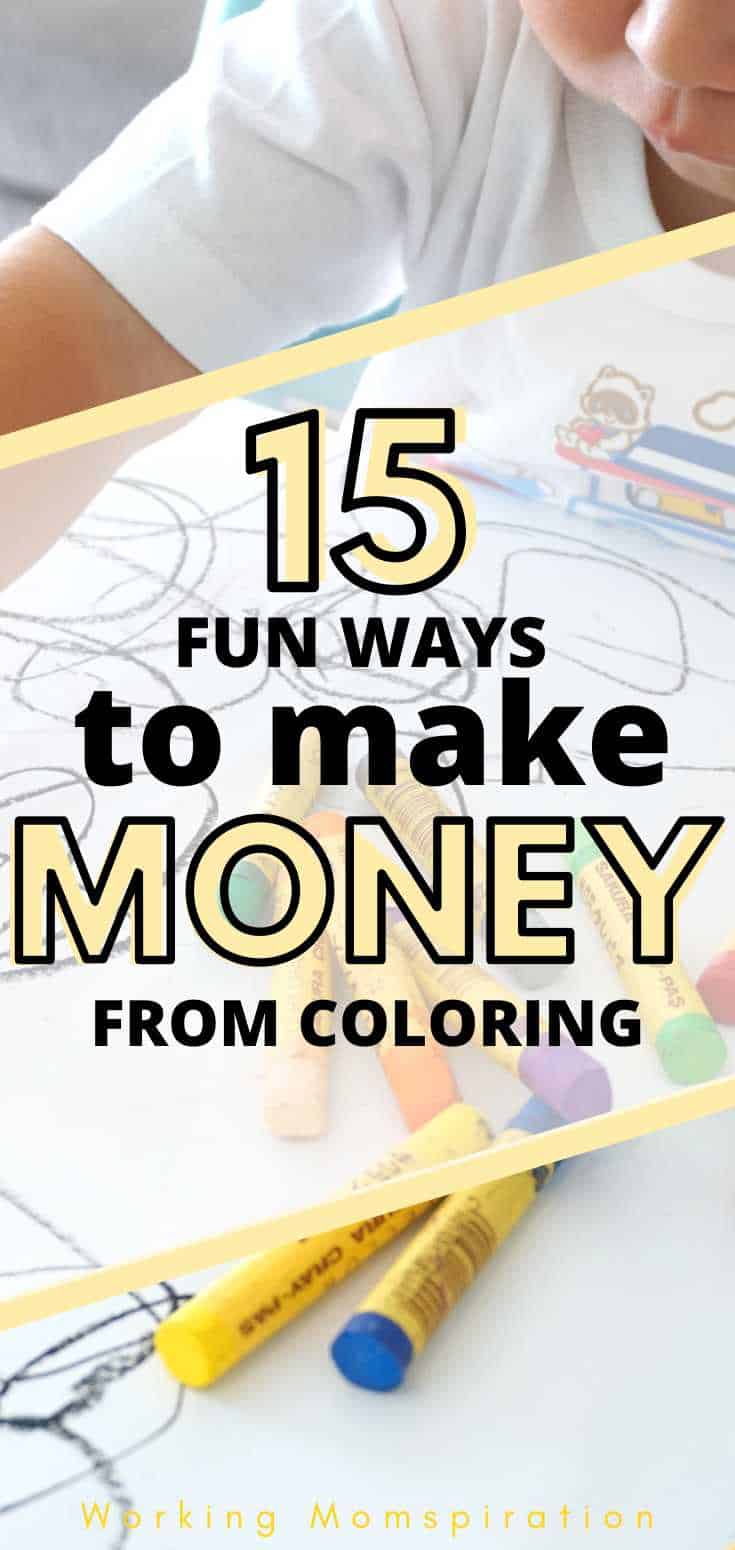 Get Paid to Color With Your Art Skillz
1. Provide Freelance Services
Not everyone has the gift of design, so, you can get away with creating graphic design elements for customers on Fiverr.
Having a talent for creating stunning visual designs provides you with endless opportunities to capitalize on that skill and make money with freelance graphic design work. 
As a freelance designer, you have the potential to work with a range of clients and create unique designs that help them achieve their marketing and branding goals.
You can create color branding for various types of products on popular platforms including Upwork, Fiverr, and 99designs. 
These platforms are an excellent resource for finding freelance work, as they connect you with clients from all over the world who are seeking your specific skill set.
One of the most significant advantages of working as a freelance designer is the flexibility to work whenever you want and choose gigs that suit your lifestyle. 
What are you waiting for? Start coloring now!
2. Become a Coloring Book Artist
If you have a passion for creating intricate and detailed artwork that others can enjoy, then becoming a coloring book artist can be a highly rewarding side hustle.
This is something that many entrepreneurs are doing because of how seamless the process is. 
The first step to being successful in this business is to create high-quality artwork that resonates with your niche. 
You can create your designs with Adobe Photoshop which comes with a monthly subscription, or use Affinity Designer that only has a one-time fee. 
Also, you must be aware that trends change, so you need to do thorough research on the latest trends and styles in the coloring book market to get inspiration and stay up-to-date with what is popular. 
Need some ideas?
Popular coloring book themes include:
Animal Kingdom
Mandala Flowers
Inspirational Quotes
Geometric Designs.
Retro Coloring
Color by Number
Vintage Travel
Garden Escape
The best place to start your business now is with Amazon KDP. It's completely free to create an account and start uploading designs. 
Get started with this simple guide on low-content publishing. 
3. Work as an Art Instructor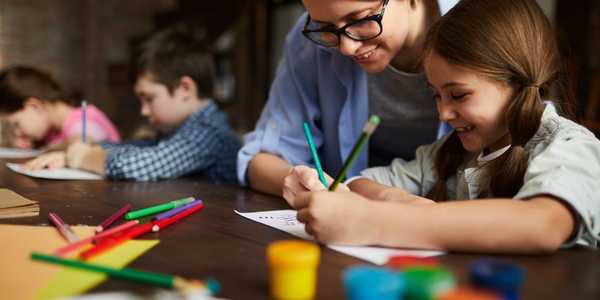 Are you seeking a fulfilling career where you can help students to develop color theory, gain artistic knowledge, and start their own successful livelihoods?
If this interests you, you could get paid to color as an Art Instructor. 
Being an art instructor can bring you immense joy and financial stability. 
It's a great opportunity because you can teach in-person or online. 
 There are plenty of ways to grow your reputation, attract students, and boost your earnings.
One place I recommend working part-time is on Outschool. It's a fun platform where you can teach kids all about art and coloring with creative classes.
Once you've got your topic in mind, start planning out the structure of your class. 
Consider the age group and skill level of your audience, and make sure you include learning objectives, fun activities, and assessments to keep your students engaged.
When it comes to pricing your class, Outschool gives you the freedom to set your own rates. Take a look at other classes in your niche to get an idea of what other teachers are charging. 
Once you've set your price, you're ready to share your expertise with eager learners.
So go ahead and make money by coloring pages and teaching kids to do the same!
4. Create Custom Coloring Pages on Etsy
Have you ever thought about creating your own Etsy shop?
If you have some design skills and wouldn't mind creating niche products, then Etsy is a great place to use those skills.
Instead of selling coloring books on Amazon, you can start selling coloring pages online that customers will purchase for resale in their own shops. 
Think about selecting a niche and a specific audience to serve. Etsy is one of those places where you can't get away with having too much variety.
Follow up by creating coloring page designs that are easy to color and print. Etsy buyers LOVE to leave reviews and you'll want to ensure that yours are great.
Finally, set your shop apart by offering customization options for your coloring pages, such as adding names or changing patterns.
 This can increase the value of your product and attract more customers. When you're ready to sell, do some research to see what other Etsy sellers in your niche are pricing and choose a similar framework.
Overall, creating custom coloring pages on Etsy is a fun and profitable way to share your creativity with others.
By following these steps, you can create a successful Etsy shop and grow your customer base.
5. Social Media Influencer
If you're someone who enjoys using social media and understands marketing, you could create a social media following by showcasing your coloring pages and techniques.
 You can monetize your social media accounts through brand collaborations and sponsored posts.
While most influencers are mostly promoting fashion and food, you can take a unique spin on this idea and promote your art.
To actually earn in this career choice, you'll need to be consistent, create top-notch content, and engage with your audience.
Knowing what your followers love and developing a content strategy around that is essential.
You'll also need to interact with your followers by responding to their comments and messages.
The best way to make money once your following is established is to work with brands that are highly respected and are looking for influencers to promote their products through sponsored posts, reviews, and ambassadorship programs. 
One creator that I follow online is Mimimoo Illustrations. She collaborates with brands and has a variety of lovely graphics on her Instagram page.
You can follow her strategy by posting challenges and other fun activities to keep your audience engaged. You can easily gain more followers and more brands will want to work with you!
Just remember to always be transparent with your followers about sponsored content.
6. Help People Using Art Therapy
Did you know that people use art therapy as a way to cope with stress and anxiety?
Art therapy is a therapeutic technique that involves the use of artistic media and creative expression to help individuals improve their mental health and well-being.
This type of therapy can help individuals explore and express their emotions, reduce stress and anxiety, and improve communication skills.
So, apart from a love for art, you will be helping other people with their own life issues. 
 Your role as an Art Therapist can have a significant impact on improving an individual's mental health and it's also a career path that can offer financial stability and fulfillment if you're passionate about the field.
Because you'll be working as a therapist, it's a requirement that you're certified and Art therapists typically hold a master's degree in art therapy or a related field and are licensed by their state. 
You can work in a variety of settings, including hospitals, mental health clinics, schools, and private practices.
7. Children's Book Illustrator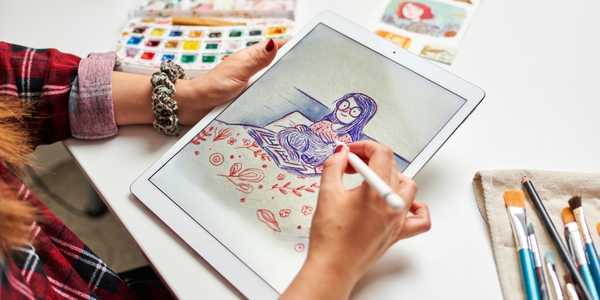 If you have children of your own, you know just how excited they get with a new book. Especially if that book has a LOT of pictures.
A children's book illustrator is a professional artist who specializes in creating visually appealing and engaging illustrations for children's books. 
They need to understand how to use color and design to bring books to life and keep kids engaged.
These illustrations are a critical component of the book's overall success, as they play a significant role in capturing the imagination of young readers.
As an illustrator, you'll work closely with authors and publishers to bring a story to life visually. 
You may work on a variety of projects, including picture books, chapter books, and graphic novels.
 Illustrators may also use a variety of materials and techniques, including pencil, pen and ink, watercolor, and digital media, to create their illustrations.
Knowing how to blend colors to make them attractive is necessary for this role.  It's something I've been trying to learn myself just for fun. 
I've used YouTube and Skillshare to learn about how to create art that pops!
If you'd like to start making money as an illustrator for children's books, I highly recommend checking out Fiverr.
This illustrator earns $1,500 for her premium service of creating 5 figures for commercial use.
8. Coloring Book Product Reviewer
How many times have you purchased a product and been disappointed?
I know I have.
If you're someone who doesn't mind testing out products and reviewing them, this could be an awesome part-time opportunity. 
With this side gig, you'll be able to indulge in your love of coloring and share your thoughts and opinions on the latest coloring books and supplies with a wider audience.
I've seen a few coloring book reviews online.
These YouTubers share what they like about the product, what could be improved, and other recommendations for those seeking a fun coloring book to enjoy. 
The first step you need to become a reviewer is to start a following on Youtube and create in-depth, yet fun reviewers for viewers. 
Once you've accomplished this, you can earn money when you partner with brands to give honest reviews. 
9. Become a Comic Book Artist
If you have a passion for comic books and a talent for drawing, there is a possibility to make a career out of it.
 Being a comic book artist can be a lucrative profession, but it takes hard work, dedication, and a commitment to improving your skills.
To land successful gigs, you'll need to develop a strong portfolio of your work. You can showcase this to potential clients and make money on a freelance basis.
Your portfolio should include a variety of samples, including character designs, sequential art, and cover art. It's important to showcase your versatility as an artist and to highlight your strengths.
One way to get your name out there is to start networking and marketing yourself. Try attending comic book conventions and events to showcase your skills and expertise and meet others in the industry.
You could also create comic books with unique characters as coloring books and develop a brand that stands out.
This way, you'll be known in your field for your specific work. 
10. Make Money as a Greeting Card Illustrator
Greeting cards are the age-old way of sending condolences, birthday wishes, and even graduation congratulations in a meaningful way. 
Even though they've existed for what seems like forever, they are still very popular ways to communicate with friends and loved ones. 
Greeting card illustration itself is a lucrative career path for artists who have a passion for creating visually appealing and emotionally resonant images. 
You can get paid to color and develop designs that appeal to a certain audience. 
The demand for greeting cards is consistent and spans various occasions and demographics.
You'll find that you can earn money throughout the year, but especially on special holidays like Christmas or Valentine's Day. 
The most common way to make money in this field is to sign up to work as an artist with greeting card companies.
A few popular ones include:
Blue Mountain Arts
Oatmeal Studios
Calypso Cards
NobleWorks Cards
Papyrus
Because work may not always be consistent, it's best to seek clients or do freelance gigs to keep busy. 
11. Start an Art Blog
One way to express yourself and share valuable content with others is to start a blog.
I've done it myself and it's one of the best choices I've made so far.
It's become an increasingly popular way for artists to make money online showcasing their skills and teaching others. 
The art industry is continuing to grow and evolve, so there is a significant opportunity for art bloggers to leverage their skills and knowledge to generate income.
As an art blogger, you have several ways to capitalize on your skill and earn consistent revenue.
These include
Trying Affiliate marketing by recommending art supplies, books, or other products to your readers and earning a commission for each sale made through your unique affiliate link.
Creating sponsored posts where you can write a post about a product or service and receive payment from the sponsor.
Using Display advertising by placing display ads on your blog and earning revenue from clicks or impressions.
There are several more methods to make money as an art blogger, but these are the most popular.
 If you are passionate about art and have a flair for writing, becoming an art blogger could be the perfect way to turn your passion into a profitable business.
Find out how this couple makes $500,000 annually from their own blog and how you can too!
12. Sell Print-on-Demand Products
One of the best ways to earn from your coloring hobby is to create Print on demand (POD) products to sell online.
POD is a rapidly growing industry that allows artists to turn their designs into printed products without the need for inventory or upfront costs.
As an artist, you'll be able to showcase your work and monetize your creativity by selling your designs on a variety of products such as t-shirts, mugs, phone cases, and more.
Selecting a niche is important as this is the main theme you'll focus on for attracting a specific audience. 
Selling your products is the most important part, so I recommend using sites like Redbubble, Zazzle, and Society6 to upload and sell designs for passive income.
13. Create a Coloring App
Coloring apps have become increasingly popular in recent years, and for good reason – they are a fun and engaging way to unwind and express creativity. 
You might believe that it's difficult to create an app, but it's something you can learn with a simple online course. 
Just as with physical coloring books, coloring apps provide users with the convenience of coloring anywhere, anytime, without the need for physical coloring materials.
Just whip out a phone or tablet and voila, a relaxing and fun game for both kids and adults. 
What makes them great is that, unlike traditional coloring books, coloring apps eliminate the need for messy pencils, pens, and markers and most are designed with user-friendly interfaces, making it easy for people of all ages to use and enjoy.
You can earn money with an app by either creating one yourself or paying a developer to make one for you. 
The income will be largely passive requiring only updates with new features of glitches in the code. 
The most popular ways to monetize your app include:
In-app advertising: This is the most common way to monetize free apps. You can earn revenue by displaying ads within your app. Advertisers will pay to have their ads shown to users, and app publishers earn a commission on each ad click or impression.
In-app purchases: This monetization strategy involves offering users additional features, content, or virtual goods for purchase within the app. This can be a powerful way to increase revenue, as users are often willing to pay for premium content or features.
Subscription model: This involves charging users a monthly or annual fee for access to premium content or features. This is common among news or media apps, where users can access exclusive content for a fee.
14. Create an Art Course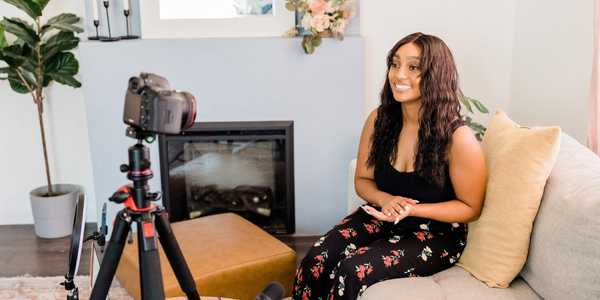 Due to the popularity of coloring, there has been a rise in the creation of art courses that teach people how to use various painting styles including watercolor, gouache, acrylic, and more.
This gives you an excellent opportunity to make money on the side.
Creating a coloring course can be a lucrative venture for anyone with a passion for coloring and teaching.
Your course can be designed to cater to a specific niche audience, such as beginners or advanced colorists.
It can also be structured as a one-time purchase or a monthly subscription, depending on the level of content and support offered.
To create a successful coloring course, it is essential to start with a clear and concise plan. Structuring your course into various chapters and bite-sized portions will make it easier for your viewing audience.
I recommend using Udemy and Skillshare to create a course that can make you passive income.
15. Dropship Wall Art Designs
If you're passionate about art and design and want to start a business, dropshipping wall art can be an excellent opportunity for you.
Wall art is very popular among home designers because it adds a decorative touch to a room and enhances its overall ambiance. Choosing the right type of wall art can create a specific mood or atmosphere, such as a calming, inspiring, or energizing vibe.
You can sell your own wall art by setting up a personal shop using Shopify.
On the platform, you can showcase your wall art collection, and offers easy checkout and payment options.
You can then connect a dropshipping supplier like Printify to your store which will send out your wall art designs after you've uploaded them. Prinitfy will handle all the printing and shipping, while you work on marketing your store.
Get Paid to Color in Style
So as you can see, you can get paid for coloring in a variety of ways.
It may seem too good to be true, but it is a legitimate and fun way to earn some extra cash.
It's a fantastic side hustle for a stay-at-home parent, a student, or someone looking for a creative outlet that also wants to make money,
Coloring can be a relaxing and enjoyable activity that you can change from a hobby into a profitable side hustle.
So why not give it a try and see how much you can earn by doing something you love?