This post may include affiliate links.
What better way to earn money than getting paid to do something you love?
Are you an artist who would like to use your skill for profit? Of course, you would!
You can get paid to draw in a variety of ways and best of all, the start-up is free!
If you're a budding artist, you may have wondered how to make some extra cash from your creative skills. 
The good news is, there are many ways to make money as an artist, and with a bit of effort and creativity, you can turn your passion into a profitable business.
Because of the growth in remote work, the benefits of being an artist have greatly increased. You'll never have to leave home to work on your side hustle or business.
This also allows you the luxury of traveling while working, so you can get paid to draw online whenever you choose.
And clients will pay artists to draw for a variety of reasons.
So, if you're an artist who really has an interest in earning, discover these fun ways you can get paid to draw artwork online!
PIN IT!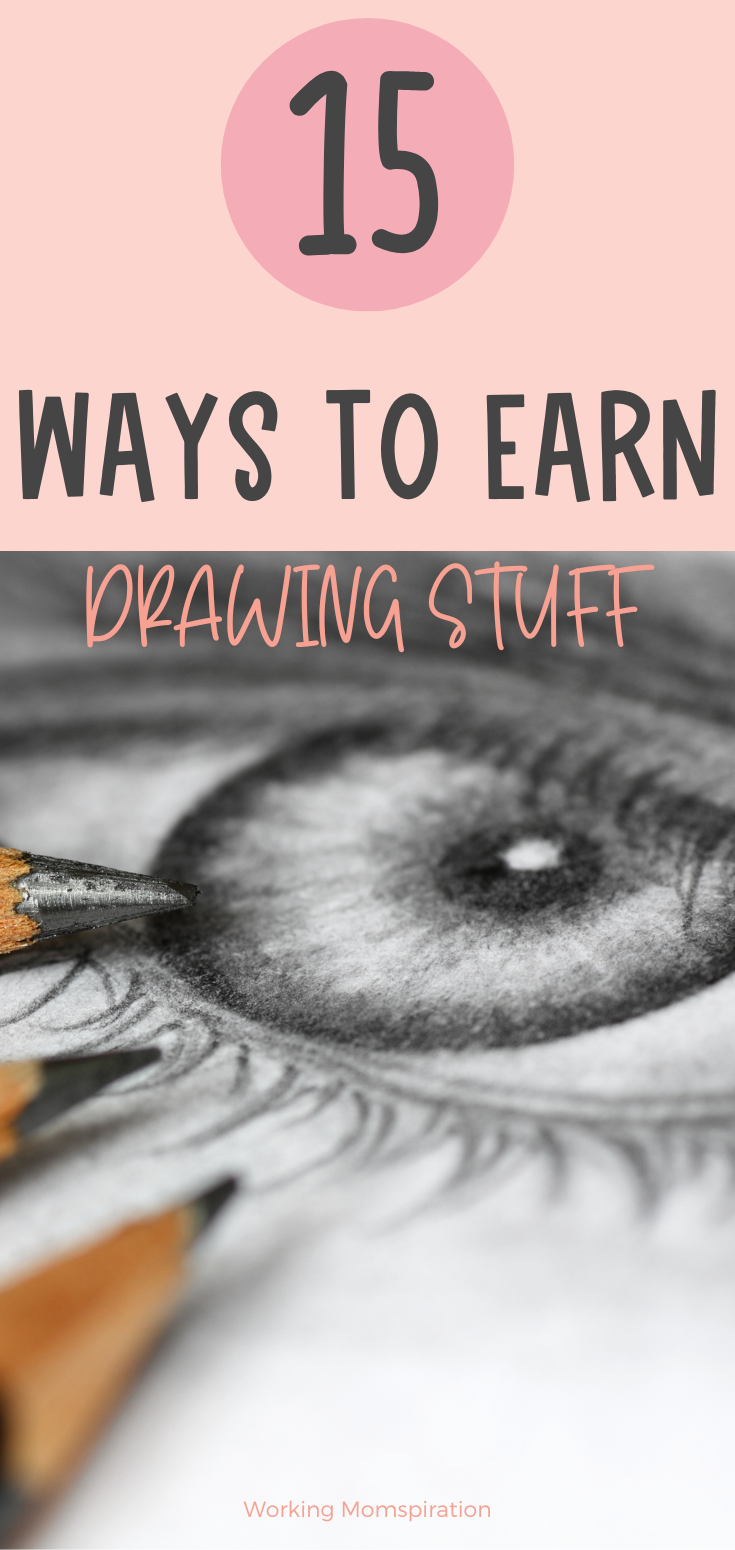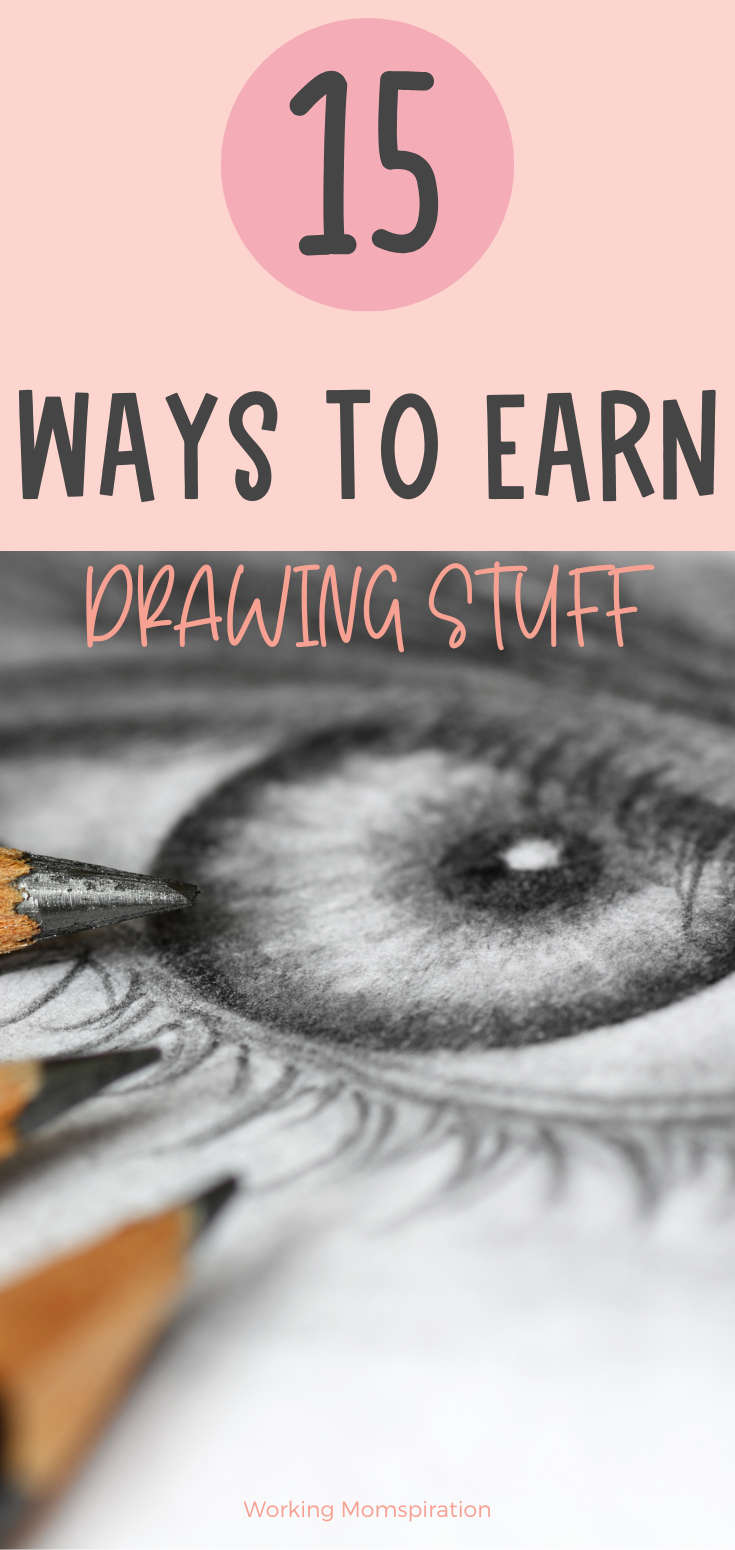 Get Paid to Draw as an Artist: 15 Fun Ways!
1. Commissioned Artwork
You may or may not have thought about commissioning your own artwork, but it's a viable way to earn money. 
Commissioned artwork is simply creating artwork specifically for a client or customer, who has requested and paid for it. Generally, the client has provided the artist with a specific vision, idea, or theme to work from, and the artist uses their skills and creativity to bring that vision to life. 
While commissioned artwork can take many forms, including paintings, sculptures, illustrations, and graphic designs, paintings are one of the most popular art forms.
How Much Money Can I Make?
The amount of money you'll make will depend not only on experience and quality but also on the size of the painting completed.
Once all this is finalized, your client can use the painting for both personal or commercial purposes, depending on the agreement you made. 
Commissioning your artwork is a good way for you to earn income and for clients to obtain custom-made pieces that reflect their unique tastes and preferences.
Marketing your artwork to a defined audience can bring in substantial revenue.  
2. Art Sales
Another way to earn money by drawing online is through art sales. While it may be challenging initially, having an understanding of your audience and potential market can help you to get more sales.
Are you selling to collectors, connoisseurs, tourists, students, or casual viewers?
This can make the difference between making significant money or trickling sales. 
Without anyone selling your art, you won't make any earnings, so I recommend joining online artist communities and connecting with art dealers and collectors. 
This way, you can get exposure and build a clientele. 
How Do I Get Sales?
You'll want to make sure that you use high-quality materials in your work to produce art that appeals to a certain audience. Setting yourself apart is essential to making it in the art world. 
While it can be tempting to charge high prices for your work, always price your work appropriately as pricing too high can discourage potential buyers, while charging too low could undervalue your skill. 
It will also be up to you to promote your work through social media, art galleries, art fairs, and online marketplaces.
 Create a portfolio that showcases your work and provides potential buyers with a glimpse of your artistic abilities.
3. Create Book Illustrations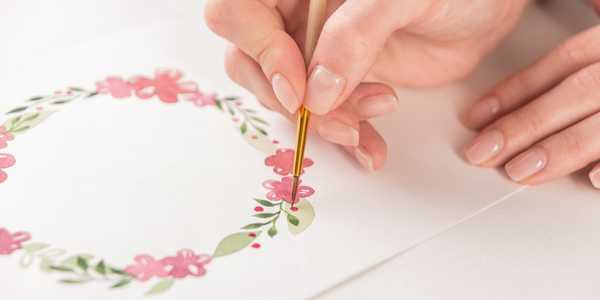 Would you like to get paid for your drawings and help authors with their lifelong dream?
You can as a book illustrator!
This is a lucrative and rewarding career option for artists who are passionate about drawing and storytelling. 
Book illustrations are an essential component of children's literature, and publishers are always on the lookout for talented illustrators who can bring their stories to life.
If you are an artist who loves to draw and has a keen eye for detail, then you can easily make money creating graphics for children's books. 
What Skills Do I Need to be Successful?
You must keep in mind that becoming a successful illustrator requires more than just artistic skills. It requires a sound understanding of the industry, the ability to work with authors and publishers, and the willingness to continuously improve your craft.
To get started as a book illustrator, you first need to build a strong portfolio of your work. This portfolio should showcase your artistic style which will fit into the genre that an author is seeking. 
As a beginner, I can recommend using Fiverr as it's one of the best platforms to find legitimate gigs in illustration and design.
Not convinced?
This illustrator earns $160 for creating just 2 illustrations for clients. You have the potential to do the same.
Sign up with Fiverr to start earning!
4. Teach Drawing to Kids
If you've ever worked as an art teacher before, you'll know that it requires a combination of technical skills, creativity, and teaching ability. 
To really excel in this profession, you must be able to not only create art but also effectively communicate your techniques to students.
You may or may not be comfortable working in a classroom, but it's still a fantastic opportunity to teach students how to advance their drawing capabilities.
Where Can I Teach?
One way to do this without ever leaving your home is to do freelance art classes with students on Outschool. This is a fun, interactive site where you can show kids how to draw through a video medium.
What's great about Outschool is that it doesn't even require a qualification to start teaching.
You might be wondering, "what can I teach on Outschool as an art teacher?"
Here are a few ideas:
Graphic design
Drawing
Painting
Animation
If you'd like to be a hit as an art teacher on the platform, I suggest creating lesson plans that are engaging, age-appropriate, and aligned with your students' interests and abilities. 
Also, it might be a good idea to use a variety of teaching methods to ensure that all students are able to learn and participate.
Showing your students how to use different art materials and tools, and demonstrating various techniques in order to help them understand how to create different effects can also be a fun way for them to learn.
We all know that kids can get bored really quickly, so you can find ways to encourage them to be creative and experiment with different ideas and techniques.
After all, art is expressive!
Sign up with Outschool as a freelance art teacher to earn a steady income. 
5. Sell Clip Art On Creative Market
Have you ever heard of the website Creative Market? 
It's a spot where you can find literally thousands of creative assets like photos, illustrations, procreate brushes, graphics, and more.
I've used it myself and purchased pretty affordable graphics for my own creative projects.
As an artist, you can earn hundreds, if not thousands on the platform by creating your own shop and selling your art.
You can get paid to draw by creating high-quality clipart that is visually appealing, unique, and useful.
It can be fun to experiment with various styles and themes, including floral, animals, patterns, or icons. 
Using tools like Adobe Photoshop, Affinity Designer or even Procreate (and free apps too) allows you to design your clipart digitally and sell them online. 
How to Set Up Shop
Once you have your designs, you can then set up a shop on Creative Market, providing basic information about yourself and your store, including a shop name, bio, and profile picture.
Make sure to add your own personality so that your shop can stand out. 
This artist created a gorgeous clip art bundle for cat lovers, and I find it to be soooo cute!
Loading Preview…
Powered by Creative Market
When adding your listings, show customers your creative skills with attractive preview images, a  catchy description of each clip art set, file formats available for download, and usage rights. 
I've found that selling bundles does pretty well because customers feel that they get value for their money. 
While customers come to this website every day, it can't hurt to promote your art on social media and even Pinterest.
Earn money with your own shop on Creative Market today!
6. Make YouTube Tutorials
One of my favorite things to do is watch YouTube drawing tutorials. 
Even though I can't draw to save my life, I'm trying to learn in my spare time.
Hundreds of creators in various niches, are using YouTube as a way to gain an audience, get exposure and earn money.
This is a fantastic way to draw for money and build an audience simultaneously!
Whether or not you have an outgoing personality, it's possible to make money with drawing tutorials.
The first step is deciding on your core audience. Will it be aspiring artists, people who are new to drawing, digital artists, or those who want to refine their art?
Once you've decided, it's time to create content. It's recommended to be consistent on the platform but more importantly, add value to people's lives.
It makes no sense to do a shoddy job just to pump out videos weekly.
How to Get Monetized
At this time, YouTube requires 4000 watch hours along with 1000 subscribers to become monetized.
This means creating quality content that your ideal audience will get value from and appreciate.
You will then have the chance to add adverts to your videos and earn money passively.
To get your creating juices flowing, here are 3 YouTube creators who provide quality content and who I LOVE to watch:
They do specialize in digital art using Procreate which I think is a great way to teach drawing lessons online.
7. Create Drawings for Greeting Cards
I love reading funny greeting cards, especially the ones that keep you laughing for a good while.
It doesn't seem like greeting cards will ever go out of style, they're just so…good.
With their popularity, it's no wonder artists that are making big bucks by creating cover art. 
To start your journey, you can research different greeting card companies and see if they accept freelance submissions. It's also a good idea to create a portfolio of your work and tailor it to fit the style of the companies you are interested in working with. 
If you'd like to get paid for drawing pictures, this side hustle is perfect for you!
How to Get Started?
You'll then need to create the concept art for whatever theme you're creating the card for. 
This could include anniversaries, funny jokes, Valentine's, baby showers, and New Year's. 
A few greeting card companies I can recommend include:
Blue Mountain Arts
Madison Park Publishing
Avanti Press
Oatmeal Studios
Be sure to check regularly for submission openings on the websites recommended. 
8. Get Paid to Draw Cartoons or Animations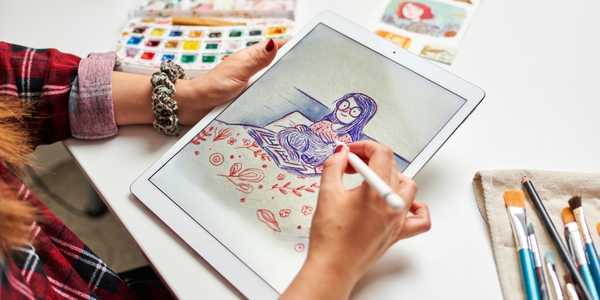 Another way to make money online is by creating cartoons or animations for various publications. This could include studios, magazines, or newspapers.
Artists can get paid to draw sketches and transform them into gorgeous artwork.
Creating animations or cartoons is an exciting and rewarding career path for those with a passion for art and storytelling.
You'll need to have skills in drawing, sketching, and creating characters and storylines. 
Some artists take the extra step and attend art school or take online courses to give them that extra boost.
Based on my research, I've found several legitimate companies that are open to full-time employees or freelancers to create animations or cartoons for their businesses.
You can get started with sites like:
You can also contact animation studios directly as many companies hire freelance artists for short-term projects or ongoing work.
Other Ways to Work as an Animator
It might be a good idea to network with other artists and professionals in the animation industry which can lead to job opportunities and collaborations.
Another way to find gigs is to create your own content and publish it online, build a following, and attract potential clients.
When it comes to getting paid for your work, it's important to consider the scope and complexity of the project, as well as the usage rights and royalties.
Many artists charge per project, per hour, or negotiate a royalty agreement for ongoing use of their work.
So, you can make a full-time career out of drawing whether you're creating characters for children's cartoons, designing animations for commercials or movies, or creating your own content, the opportunities for artistic expression and financial success are endless.
The best part is that you can draw and get paid online with this savvy skill!
9. Sell Print-on-Demand Products
Would you like to create a scalable income with your art?
You could be selling products with your artwork and earning passive income online.
If you've never heard of it, print-on-demand or POD platforms allow artists to make money from their art by creating designs that can be printed on various products, such as t-shirts, mugs, phone cases, and more.
You simply draw a design, place it on merchandise and sell it. 
I've done it myself and I'm literally not an artist.
Where to Sell Products
Some artists earn money by selling on platforms like:
You also have the option of starting your own store and using Printful to fulfill all your orders.
Once you've set up your shop, I recommend promoting it online especially with platforms like TikTok to get exposure. 
You don't even have to talk in videos; just create an engaging video showcasing the product in a meaningful way that gets lots of attention.
10. Start a Patreon Channel
I highly recommend using Patreon, if you plan to or already use YouTube to conduct tutorials.
Patreon is an online platform that allows creators to receive financial support from their fans or patrons. 
I've mostly seen it used by creators such as artists and musicians, or just about anyone who creates helpful content.
How to Make Money on Patreon
You can set up your Patreon page and offer membership tiers or subscription levels, with each having its own set of benefits or perks. 
One way to get subscribers to your Patreon page is by creating helpful tutorials on YouTube, your blog, or social media where you already have an audience and then sending them to your page for exclusive clips.
You'll need to make it clear that they will be getting content that won't be found anywhere else. 
I love the idea of using a Patreon as a creator, because it gives you complete control over your content, pricing, and communication with your patrons.
Keep in mind that Patreon does take a small percentage of the revenue generated by each creator, and charges a processing fee for each transaction. 
However,  creators still receive most of the money pledged by their patrons.
11. Draw Portraits for Cash
Have you ever thought about drawing portraits for money?
This could include realistic portraits, caricatures, you name it!
You can get paid to draw portraits online on places like Fiverr or from paying clients all over the world!
It's great when artists can find a way to not only earn money consistently but have fun with their job or career.
Drawing portraits can be a lucrative business, especially with the rise of online platforms and social media. If you have a passion for art and want to make some extra money, consider offering portrait drawing services.
Even established artists need to practice in order to perfect portrait art. 
I recommend practicing drawing portraits of friends and family members or using online resources to learn new techniques.
This can help you a long way to increasing your skill. 
Also, in order to create professional-looking portraits, you'll need quality materials. Artists should try to invest in good-quality paper, pencils, erasers, and other necessary tools.
When you're just starting out, it can be challenging to invest in expensive tools, so you can purchase more affordable items initially. 
What about Caricatures?
Did you know that you can get paid to doodle?
On the more fun side, drawing caricatures is another way to earn money from drawing. 
These are more goofy portraits, which, while requiring drawing skills, have less pressure on the outcome.
It's great for artists who have a great sense of humor and love to make others laugh.
One way to develop your caricature skills is to practice drawing from life.
To make money doing this, you can attend events or public places where people gather, such as parks, festivals, tourist attractions, or even online. 
This artist, for example, makes up to $300 for creating caricatures on Fiverr!
12. Do Freelance Projects
If you'd like to make money when you choose and live a more laid-back artist lifestyle, I highly suggest working as a freelance artist.
You can draw as your heart desires and earn money only when you choose to accept gigs.
The one place I'd start with is Fiverr.
On Fiverr, there are hundreds of freelance roles available, but one of the most in-demand ones is design.
On the website, you'll see options like:
Logo Design
Illustrations
Game Art
Pattern Design
Icon Design
There are a lot more to choose from that may cover your skill area.
How to Get Started on Fiverr?
You may already know that it's free to use Fiverr, set up an account, create a gig, and then start accepting clients.
While there is competition on the platform, you can set yourself apart by offering extra services that customers will appreciate.
Check out this artist who creates surrealist editorial illustration art starting at  $550 a piece! 
13. Use Twitch Streams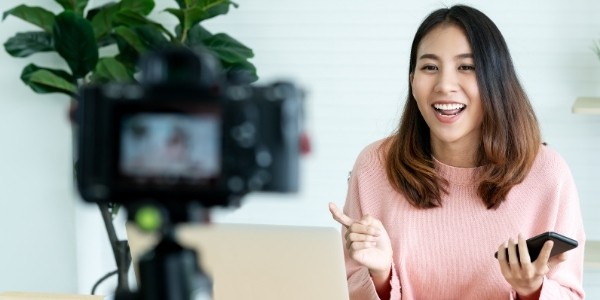 As an artist, making a living can be challenging, but with the rise of platforms like Twitch, it is possible to monetize your creative skills and earn a sustainable income.
Though relatively new Twitch is a live-streaming platform that primarily caters to gamers, it has also become a hub for artists to showcase their talents and build a community. 
With Twitch, artists can broadcast themselves creating art, interacting with their audience, and monetizing their content through various means.
One of the main ways you can make money on Twitch as an artist is through subscriptions. 
Subscriptions are monthly payments made by viewers to support their favorite artists. Twitch offers three tiers of subscriptions, with the artist earning a percentage of the payment depending on their partnership status with Twitch.
Other Ways to Earn Money on Twitch
You can also earn as an artist through twitch from donations as viewers can donate money directly to a streamer through the platform.
 Streamers can set up donation alerts to encourage donations during their stream. You may find that if users find your content engaging and fun, the greater the chance of them donating. 
Just as with YouTube, you can also earn from ads as Twitch does run ads during streams, and streamers receive a portion of the ad revenue. 
14. Sell Fonts
While some might not consider these types of art drawing, font making and calligraphy are intricate art forms. 
Typography is all about making letters and symbols look good and easy to read. It's like putting together a puzzle of fonts, sizes, spacing, and all that jazz to make text look awesome.
You'll see typography everywhere, from books to websites to ads.
On the other hand, calligraphy is all about making handwriting look fancy schmancy. It's not so much about getting a message across as it is about making words look like works of art.
People use calligraphy for fancy invites, greeting cards, or just to show off their mad penmanship skills.
Both are popular forms of art that can be monetized in several ways.
How to Make Money With Fonts and Calligraphy
 You can sell your fonts or calligraphy designs on websites such as MyFonts, Creative Market, or Fontspring. These websites offer a platform for font designers to sell their creations to a broad audience.
Customers browse the website, choose your artwork and make a purchase. You'll earn cash for each purchase and basically make passive income.
To get more sales, I recommend packaging multiple fonts together and selling them as a bundle. This approach can appeal to customers looking for a range of fonts and can result in higher revenue than selling individual fonts.
Another option is selling custom font design services to clients such as brands, advertising agencies, or graphic designers. This allows you to charge higher rates and work on more exciting and challenging projects.
15. Create an Art Course
An ideal way to earn money from your drawings is to create an art course. This will of course be based on your knowledge and experience in the art world to help other artists with their careers.
As artists, we know that our creativity is priceless, but unfortunately, not everyone sees it that way. 
By teaching others how to create art, you can share insights and earn a steady income at the same time. 
The first step to creating an effective course is to identify your target audience and niche. It could be anything from drawing, painting, digital art, sculpture, or printmaking for beginners or advanced users. 
Decide whether you'll arrange your course in written or video format. Since you're teaching the concept of art, visual display is very important. 
Where Can I Sell My Course?
You can use platforms such as Skillshare, Udemy, Teachable, or Thinkific to create and sell your course.
Once you've promoted your course on social media, YouTube, or through ads, it creates an excellent opportunity to earn while you sleep.
You can continue to make updates to your course with added videos, materials, and more for greater value.
Get Paid to Draw as an Artist
There you have it!
You've learned a variety of ways to make money as an artist with your skill.
There are even more ways for you to get paid for your creativity, including selling your art at art fairs, licensing your work, or even blogging about art.
While it can take time and effort to build an audience and establish yourself as a professional artist, the opportunities are out there for those who are willing to put in the work. 
By exploring these different options and finding the ones that align with your interests and skills, you can turn your passion for art into a lucrative career or side hustle in no time!