This post may include affiliate links.
Before I started this blog, I worked as a Customer Care Agent doing a chat job for an Insurance company.
It wasn't too bad and the pay was fairly okay.
I did have to work long hours and it wasn't a work-from-home job, so it wasn't the perfect job.
But I did make the most of it for some time.
What I really loved (or liked) about the job, was that I never had to talk to customers on the phone.
If you know anything about customer service jobs, you know just how exhausting and miserable it can be to have screaming customers in your ear all day long.
That is why chat jobs are so convenient. You can earn some extra cash and some of them have very flexible hours where you can even work part-time!
Even though thousands of people do this as a full-time job, a chat job can be an ideal side hustle for stay-at-home moms, college students, or anyone looking for another side gig.
If you want to go all-in and work full-time as a chat agent, you have that choice too!
If this sounds like something you'd like to get into, let's look at how you can make extra money with chat jobs at home. 
Remember to PIN this post for later!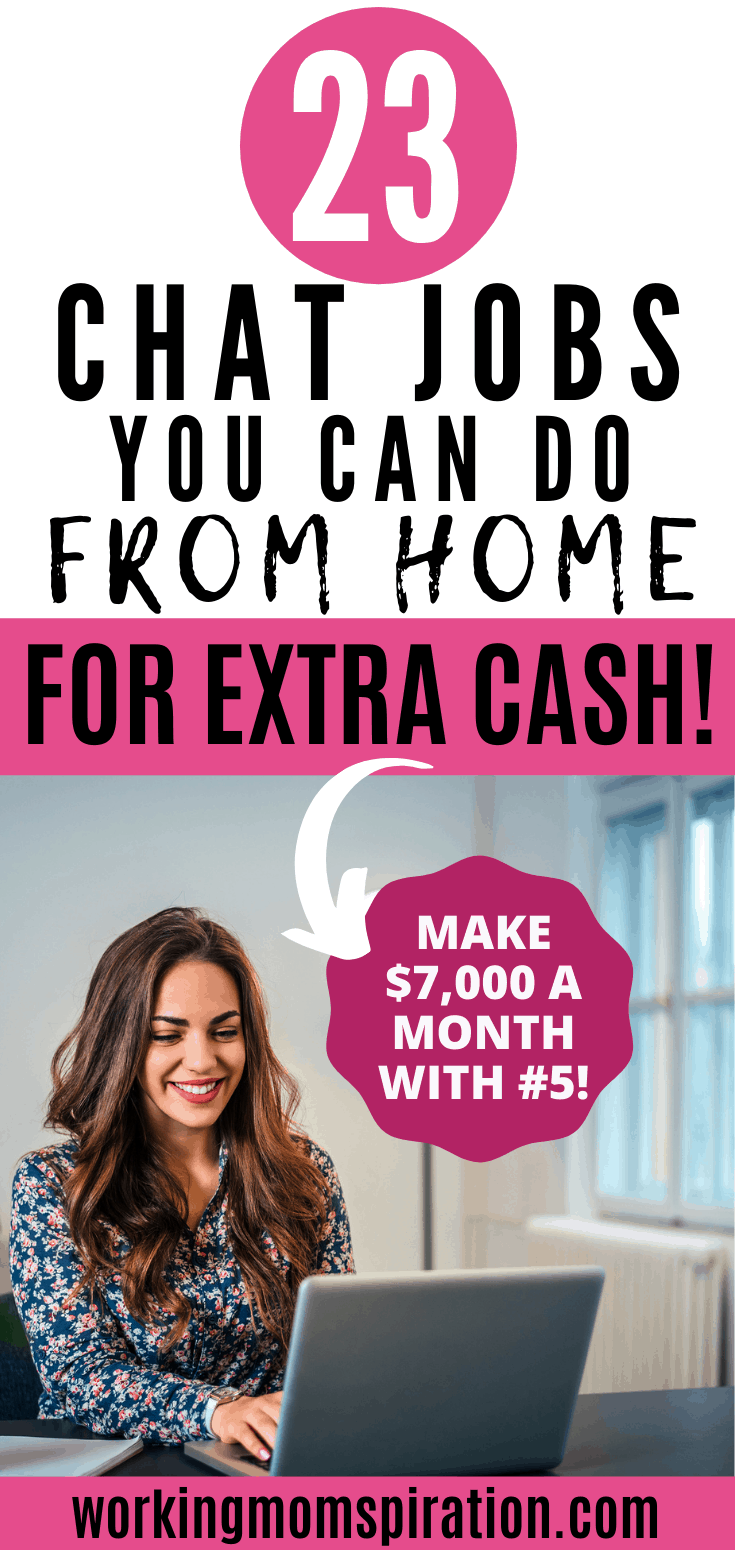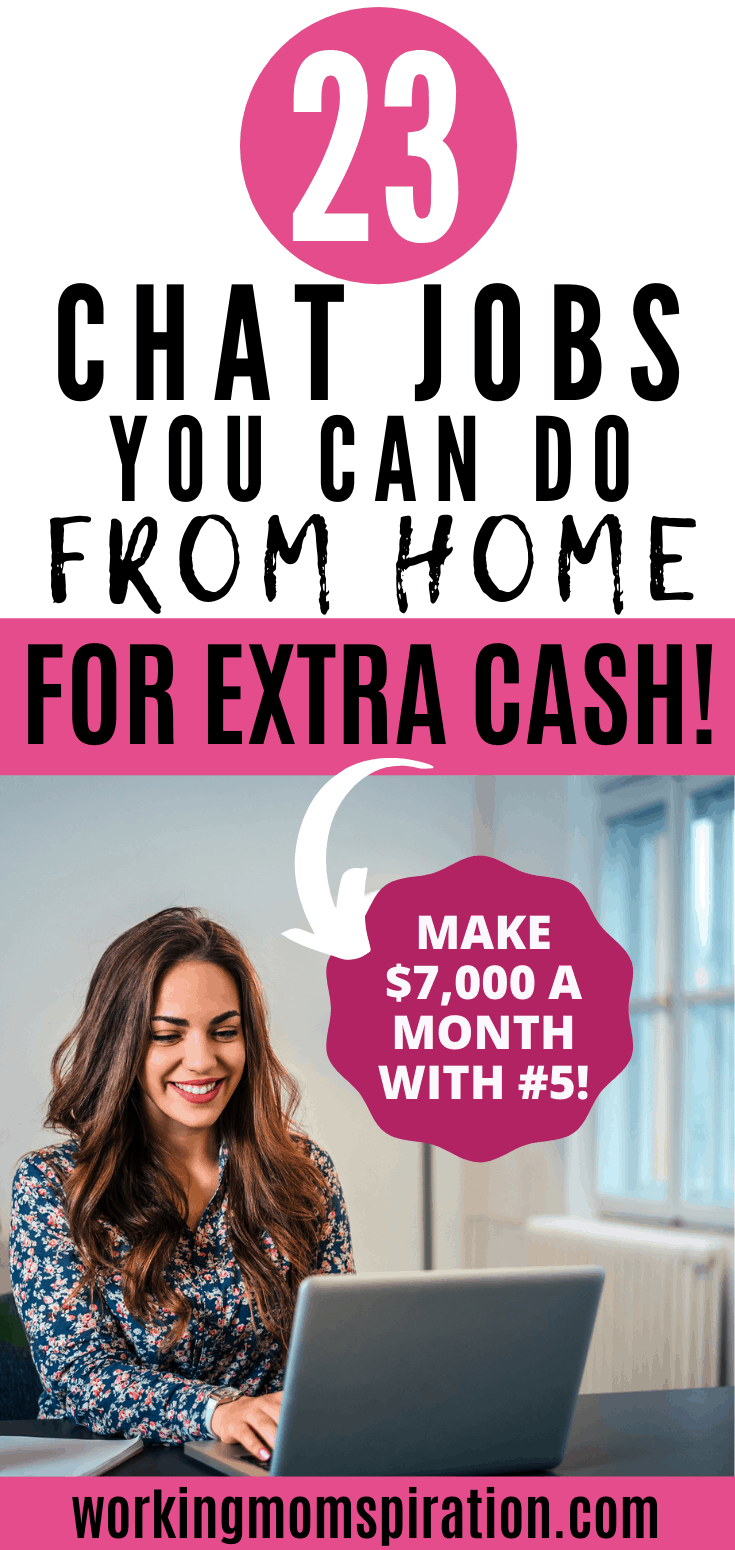 Requirements to Start a Chat Job at Home
For most companies, you don't need an endless array of tools, but for some, you may require a few helpful things to make your job a bit easier. These include:
A computer
Fast Internet Connection
Great communication skills
Good English Skills
Fast typing skills
A comfortable workspace
Having highly functional tools and a quiet and cozy workspace can contribute significantly to a better work-life and make it much easier to perform your daily tasks.
Also, the better your work ethic, the greater your chance for you to earn bonuses and more overtime!
How Much Can you Make With Chat Jobs?
Most chat agents earn an average of $8-$15 an hour.
The amount you make can also be affected if you choose to work part-time or full-time.
This means you have the potential to make about $40,000 per year if you work full-time.
Because there are more and more companies creating chat agent jobs worldwide due to customer need, there is an even greater potential at your fingertips. 
Best places that offer chat jobs at home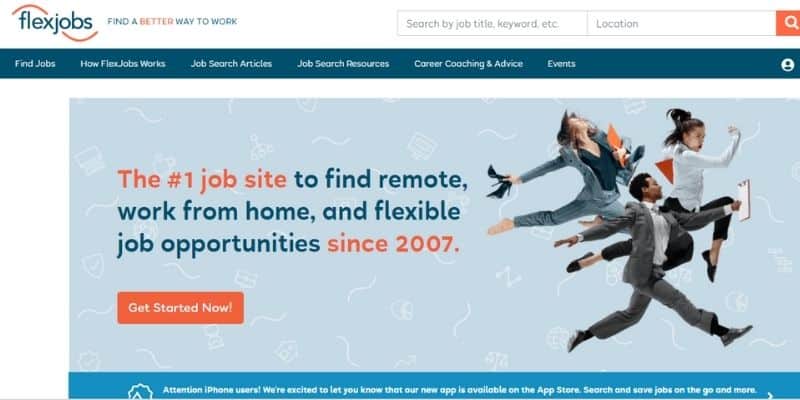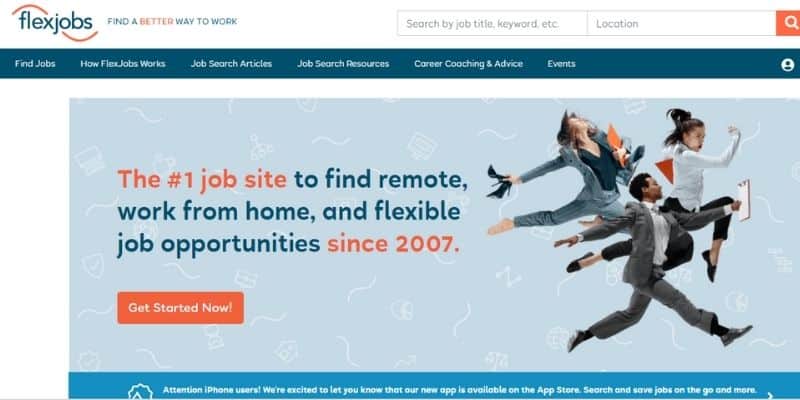 I must admit that when I first started my freelance journey, FlexJobs was the very first place I subscribed to when I wanted to work online.
That's because I did tons of research and found out they screen every single job that comes on their platform to ensure the safety of job-seekers.
On FlexJobs, you'll ONLY find legitimate jobs that you can do online.
It has a massive listing of online jobs and is a great place to find a chat job that you can do full-time or part-time.
Because they are so committed to helping job seekers and they vet each job listing, their subscription comes with a $14.95 fee.
I found their website very easy to use and I was able to apply to multiple jobs on their platform.
Sign up with FlexJobs today!
This company is always on the lookout for chat agents and the great thing is, they are fully remote.
The Chat Shop specializes in online sales and lead generation, so if you have some experience in those areas, that's a bonus!
They also emphasize that customer resolution is more important than handle time, so they'll be looking at how much you've helped the customer.
This company pays $10.65 per hour. 
They require that you can type 65WPM and 97% accuracy.
Apply at the Chat Shop today.
Applecare hires chat agents who offer technical support to customers.
This assistance is directly related to Apple products and services that customers may be facing problems with. 
Applecare is looking for people who not only have the technical know-how but folks who can also be friendly and thoughtful.
Being Apple, they offer paid time off and even product discounts to their chat advisors. 
If you're tech-savvy and enjoy giving a helping hand to others, then this chat job may be for you.
Check out Apple Careers.
This chat job may be a bit different than what most are used to but is ideal if you've worked in behavioral care.
Ginger hires behavioral health coaches and licensed therapists to chat with customers 24/7.
This means you will have to be a bit more flexible when it comes to your time.
You do need to have a counseling background as they provide customized care in the areas of mental support, psychiatry, and coaching.
Apply at Ginger today.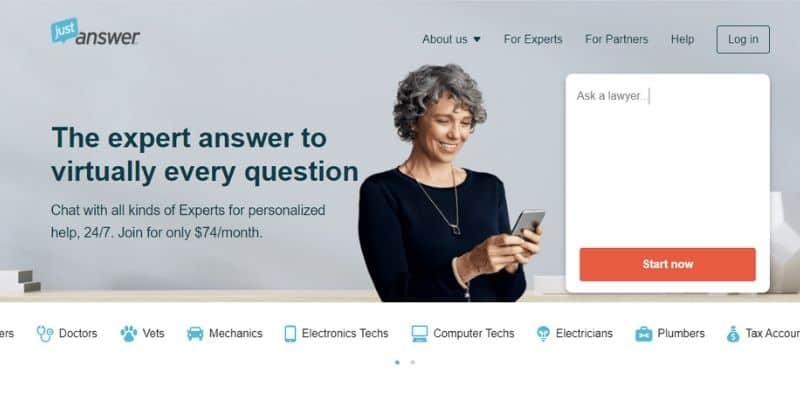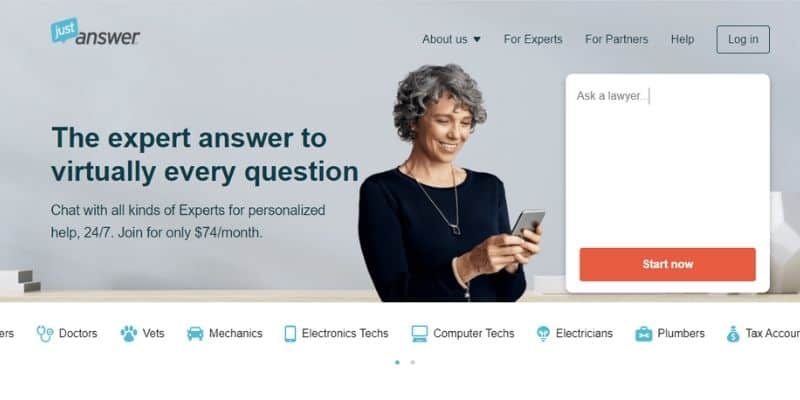 This is not your typical chat job, but more of answering queries that people may have.
Just Answer hires subject-matter experts to give comprehensive and relevant answers in various fields and subject areas.
This can be anything from animal health, legal advice, and medical advice. 
Because of this, they do require that you have relevant certificates for the field in which you apply.
Just Answer states that their experts make an average of $2,000-$7,000 a month. 
Sign up with Just Answer today!
This is another great place to find chat jobs so you can work from home.
There are various categories to choose from which include health, design, counseling, and technology. 
You simply sign up for an account, create a profile and engage with customers via chat.
One of my favorite things about this platform is just how flexible it is. You have the option to choose your own hours and work at your own pace.
Sign up with Presto Experts.
You may not have thought of it, but Fiverr offers lots of chat gigs that you can do remotely.
Once you sign up on the platform and fill out a suitable profile, you can start working with clients who can contact you directly. 
This is an opportunity for you to work as an independent contractor of sorts and set your own rates.
Depending on how difficult the task is, you can sometimes increase your rates.
Not too high though, as there are other prospects on the platform who will perform the same jobs for less money.
I would say check Fiverr out for yourself and see how best you can start a freelance chat job at home.
Check out Fiverr today.
OkCupid is a dating and relationship app that has thousands of users across the globe.
You can work for this company as a chat agent assisting these customers at any given time. 
Of course, as this is a remote job, you can work from the comfort of your home and make some extra cash.
You do have to know the ins and outs of the app and all its policies in order to be a successful rep. 
Sign up with OKCupid.
This is another great way to try a chat job at home.
ModSquad is constantly looking for people who can work remotely doing chat support in various roles. They always have a list of jobs available which do sometimes include phone support.
However, in my research, you can regularly find chat agent jobs as well. Whatever you choose to do, ModSquad's gigs are usually flexible, so you can choose the hours that fit your schedule.
Sign up with ModSquad.
This company is exactly what its namesake states.
You get to join a company where you can chat with customers by providing customer support.  
Your role will primarily be one of offering technical support where you will need to have analytical and great communication skills, as well as knowledge about Live Chat services such as Helpdesk and Chatbot. 
In exchange for this, you'll have a full-time position as a chat agent, get free access to Udemy where you can access thousands of courses, and of course, you get a salary.
Sign up with Live Chat today!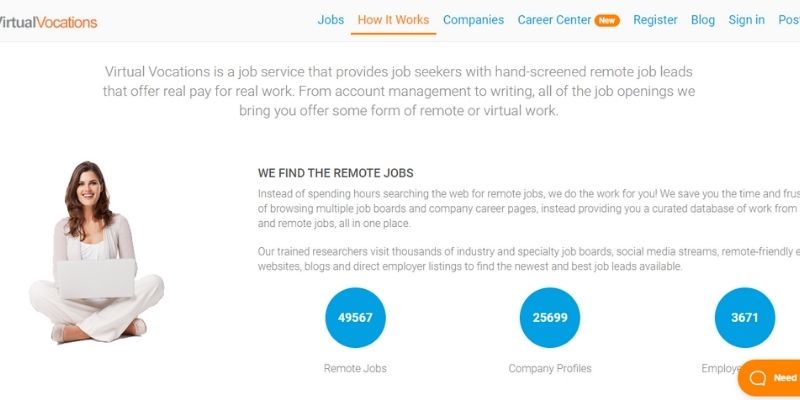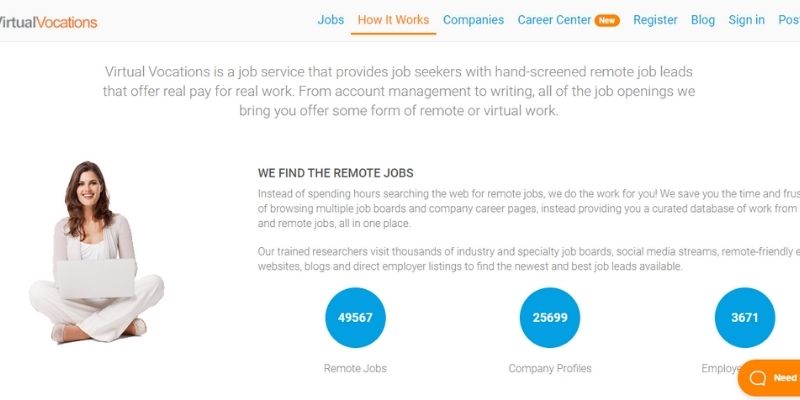 This is another awesome place to make money with chat jobs at home.
Their database is filled with remote positions in various categories such as customer service and technical support.
Similar to FlexJobs, Virtual Vocation has hand-screened remote job listings, so you never have to worry if a potential job is a scam.
You'll also have lots of new daily job options to choose from and once you've applied, you can track all your applications.
Apply at Virtual Vocations.
This is a chat job opportunity for people who have knowledge of website building, are web-savvy, and have experience in customer service and sales.
You'll also need to be able to multitask and show enthusiasm when helping customers. 
And yes, this can show even through chat. Lol.
If you're interested in this chat job, check out Site 123.
Pressable is a company that focuses on website hosting and WordPress.
As a chat agent, your job will be to assist customers with their needs and purchases. 
So once again like some of the previous mentions on this list, you will need some background knowledge on web hosting.
Apply to Pressable now.
This is an ideal role for someone who knows a lot about computers, electronics, and anything technical.
You'll be able to use your technical skills as a remote support agent and you never have to be on the phone.
The specific role is known as Cloud Support Agent and you will work full time and get all the benefits of an employee such as paid holidays and medical insurance.
Sign up with Support now.
This is one of the better places for chat jobs as they've been around since 1994.  It's a virtual solutions company that connects service partners in the areas of customer support and sales with brands who need these services for their business.
You would work as an independent chat agent and assist customers with queries and concerns.
One great thing about Arise is that you can choose your own schedule and this makes it an awesome chat job you can do from just about anywhere!
Check out Arise.
As with many chat jobs, Site Staff requires that you be able to type at least 65 WPM and possess good English and communication skills. 
You'll also need to be a multi-tasker as you'll be handling 3 or more chats at one time.
Being empathetic is another big plus and showing real compassion toward customers should be seen in your conversations.
As a reward for your diligence, you'll get weekly bonuses, competitive wages, and increased commissions.
Apply at Site Staff.
You can choose to work part-time or full-time as an online chat agent by providing excellent customer service via social media.
Live World prefers if you have previous work-from-home experience and fluency in reading, writing, and a knowledge of English at the native or near-native level.
Live World is actively seeking bilingual agents, so if you have a second language and you'd like to start a chat job at home, apply now.
RemoteCo is an online portal where you can find thousands of remote jobs in several different fields.
Of course, you can find remote chat jobs by searching their easy-to-use interface.
Once you find a job you like, you can apply and wait for an update from the employer.
What I find especially nice about RemoteCo is that you can choose jobs based on your location and skills.
Don't wait. Sign up with RemoteCo right now!
Known mostly for administrative jobs, Fancy Hands also offers remote chat agent jobs where you work as an independent contractor. 
You may be paid based on your experience as a chat agent or a similar role and also based on the complexity of the task. A few requirements of the job include:
Internet research skills
Computer and headset
Communication skills
Check out Fancy Hands now.
Asurion is another company that hires people to work from home as technical support agents.
They require you to have a quiet working environment and fast internet service. 
One thing to note is that you do have to pass a drug test or background check. 
Apply at Arise.
Work with Kelly Connect as a chat agent and earn $15 per hour plus a $500 bonus when your training ends.
That's not too bad if you ask me, especially as you won't have to be on the phone. 
Kelly Connect looks for chat agents who have phenomenal customer service skills and can handle multiple tasks at one time.
Join Kelly Connect today.
A lot of people know about Uber having used it to get a quick ride to their destination.
What they might not know is that Uber offers jobs as chat support agents.
You do have to pass a 3-day training in order to work with them. But once you pass the training, you'll be earning around $10 per hour.
To work as an Uber chat support agent, you need to possess excellent written communication skills and the ability to multitask.
Sign for with Uber now.
At Live Person, you will work as a live chat agent giving customer support in many different niches. 
They also offer email and phone support if that's something you're interested in.
Live World has many other job offers way beyond the realm of customer support which includes engineering, finance, operations, and brand experience.
Sign up with Live Person now.
Are you Ready to Start a Chat Job at Home?
This list of chat jobs is by no means exhaustive. You can find lots of online chat jobs just by searching in Google.
I listed a few that I'm familiar with, that pay well, and have lots of flexibility.
With these online chat agent positions, you can work full-time or part-time if you prefer, and you get the chance to earn really nice bonuses and all the benefits of being a regular employee.
As I mentioned before, these jobs give you the opportunity to work on your own schedule without ever having to leave your home.
Moms can get in on the action and work while their kids sleep (I do this sometimes) and make money from a side hustle that's manageable.
If you'd like to learn about side hustles that moms can do from home, check out these savvy side hustles that pay well!
If you liked this post, please PIN it for later!❤️️????