This post may include affiliate links.
Are you ready to boost conversions and make sales? If you are, great!
Look, I'm not promising you a miracle here, but just giving you a nudge in the right direction and a few tactics you can use to get more email subscribers.
You may be wondering what exactly is this magic formula and how do you get it?
First off, it's not magic. I use this formula to get readers on my email list and hopefully keep them entertained there.
One of the best ways to do this is through email pop-ups. 
I can hear the collective groans and roll of the eyes, but let me just tell you that pop-ups do work – as annoying as they might be.
The ones I'm about to mention are a bit more polite if you ask me, and are more likely to get your readers to click.
That's because they're not really intrusive at all. They are just nice reminders for your audience to sign-up to your email list, or grab a handy freebie!
I know it can be a pain to grow your email list and it's becoming even harder to get someone to give their information away.
These pop-ups are so cute and friendly, that they just might boost your conversions and get more people on your list.
When I first started blogging, I used MailChimp for my email marketing service.
After using it for a while though, I decided to use MailerLite and I've NEVER looked back! (that was a bit dramatic there wasn't it😄)
Since then, I've found it soooo easy to set up email marketing campaigns and workflows for whenever someone chooses to subscribe to my newsletter.
What makes it even better, is that MailerLite is free for your first 1000 subscribers!
Let's find out how you can use MailerLite and other tools to create cute pop-ups and grow your email list!
Please PIN this post for later!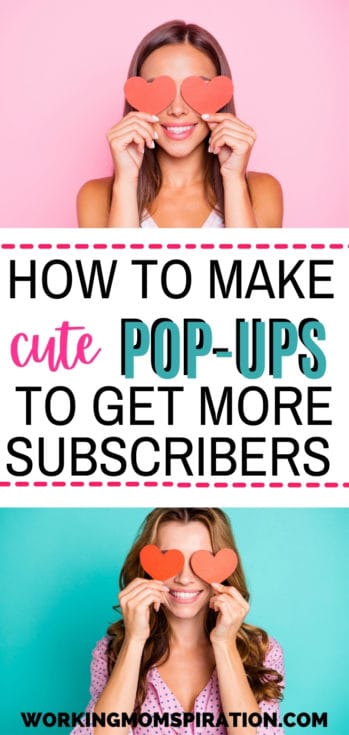 What is an Email Pop-up?
An email pop-up is a tool used to get a visitor's email address.
To be more effective, email pop-ups usually offer a freebie, sale, or another type of incentive to get the reader to actually hand over their email address.
How to use email pop-ups
In order to grab your readers attention, its best to follow a few practices like:
Using bold color
Create intrigue
Have informative content
Add a Call to Action
Use an appropriate time for the pop-up
Have attractive/compelling offers
It's not always easy to get a visitor to give away their email address, but once you understand what your reader wants, it can be much easier to create pop-ups that fit what they're looking for. 
With that said, we'll head into the first free option for creating cute pop-ups that won't totally annoy your readers!
MailerLite has various options for adding pop-ups to your blog. These include:
Featured pop-ups
Full screen pop-ups
Slide-box pop-ups
For the sake of this post, we're only going to look at two of these because we don't want to ruffle our readers' feathers too much. Let's try those that are a bit less pushy.
Slidebox pop-up
The slidebox pop-up is great for helping your readers notice your freebie or opt-in without being too forceful.
It basically slides into the frame enough that they will know it's there, but doesn't block their view completely. 
The slidebox conveniently hugs a part of the page, so that everything isn't obscured from view as you can see below: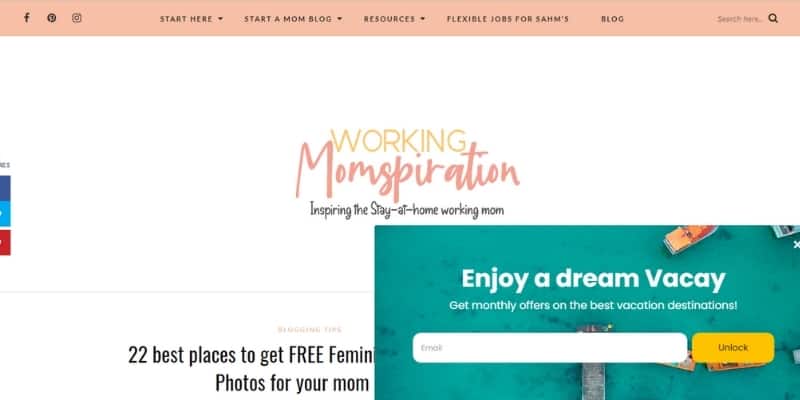 So this doesn't cover the reader's screen or make it difficult for them to remove the pop-up if they aren't interested.
In the MailerLite's settings, you can have it appear on specific posts and choose how and when it appears on the screen.
So if you don't want it to appear too soon after the person starts reading your post, you can customize it to suit your purposes.
Half screen pop-up
The next pop-up we're going to talk about is the half-screen pop-up.
Now, this one is a bit more dramatic than the first, but not enough to annoy your readers.
Again, this will not cover the entire screen, but just half of the screen.
I recommend this pop-up if you have something that you really want your readers to see, like a sale or new product or course you're introducing.
Here is how it looks on my site: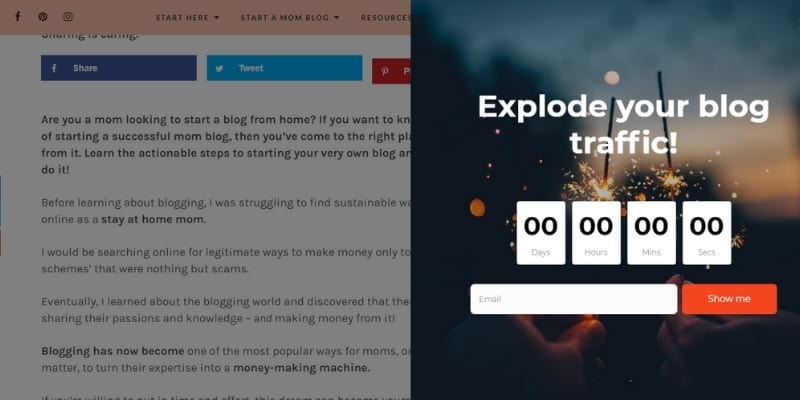 It's attention-grabbing but not overly so. Your readers can still scroll and see some of your content and they can easily remove the pop-up as needed.
Poptin is a free plugin for WordPress that you can use to add various pop-ups to suit your blogging needs.
You can choose from:
Lightboxes
Fullscreen pop-ups
Slideboxes
Bars
Mobile ribbons
And more
The Bar option is simply a pop-up that you can add at the bottom of your screen. That means when your reader is scrolling they won't be hindered by a form taking up the entire screen.
You can add pop-ups to increase leads, get more sales, or add a link to a product page or anything else you want more views for.
Bar
There's also an option to add a pop-up that only shows at the bottom of the screen.
What's great about this one is that it fits perfectly on the screen and allows users to keep reading even with it there.
Here's a sample of it below: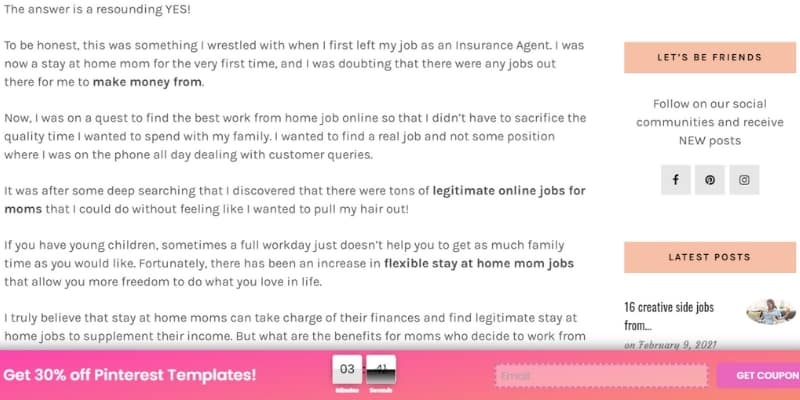 I think it's pretty cute if I say so myself😊
As with the other pop-ups, you can add any description you want and link it to other pages, products, or even affiliate links. The choice is yours.
There's even a countdown timer to create a sense of urgency.
This is a great way to grow your email list because it gives the reader FOMO (fear of missing out) and they will most likely want to grab what you're handing out right away!
You are able to control how soon the pop-up shows up on the page as well as applying an exit intent if the reader is about to leave your site.
There are also other customization options shown in the picture below.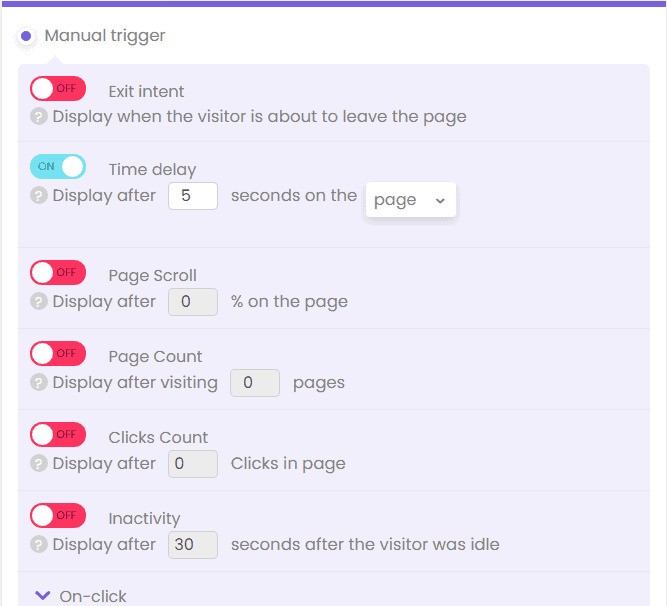 I think the option of displaying the pop-up after a certain amount of inactivity is also a great idea because it can be a handy reminder for your reader.
Lightbox
I'm mentioning the Lightbox here because it can highlight something really nice for your audience and while it appears in the center of the screen, it's rather small. 
So your audience won't really have a problem looking at it, entering their email address, and then getting back to your content as soon as possible.
Look at the sample pop-up below. Isn't it nice and purrty?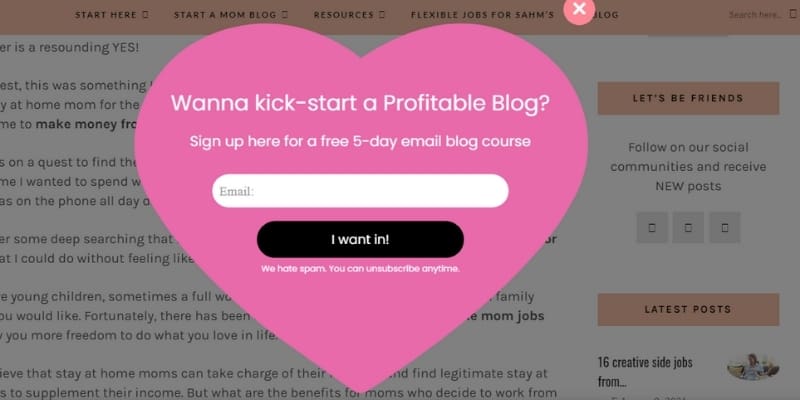 This pop-up is something to try if you want to make a statement without being too obtrusive.
You can add your own background, pics, and other cute lightbox shapes as well. I think this heart-shaped one is really nice though!
This is another fun tool for adding pop-ups to your blog as Convert Kit now has a free option for your first 1000 subscribers.
There are rave reviews from its users who love its simple-to-use features that are great for automation, making sales and sending correspondents to subscribers.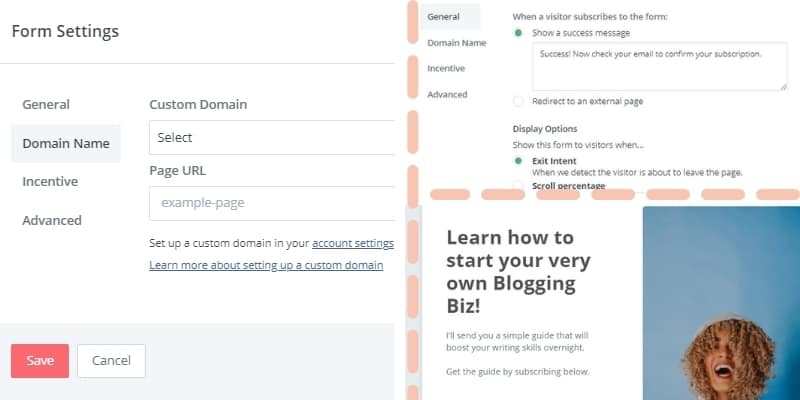 The pop-up I'll mention here is the exit-intent pop-up.
This is the pop-up on the bottom right-hand corner of the picture above.
This pop-up will only show when visitors are about to leave your site.
You can grow your email list by adding something intriguing that you know your readers would not want to miss out on.
You can also see that there are domain settings and custom messages that you can display to your subscriber when they sign up.
By using an exit-intent pop-up, you can offer them an amazing freebie like access to your entire content library or a special offer that's only for a limited time.
Unlike the other options I mentioned, Thrive Leads is a premium plugin that you can use to double your email list and drive your readers where you want them.
Instead of paying for a monthly subscription which is available with a membership, you can pay $67 for lifetime access to any one of their plugins.
I use Thrive Leads to add numerous opt-ins in and around my blog to get more subscribers.
With Thrive Leads, you can add a:
Lightbox
Sticky Ribbon
Slidebox
In line form
Opt-in widget
And more!
What's great about this plugin is that you can test pop-ups and see which ones perform best, which can further boost your conversions.
The pop-up below is known as the slide-in popup and is similar to the ones I mentioned above.
You can customize it with your own fonts and style to match your branding.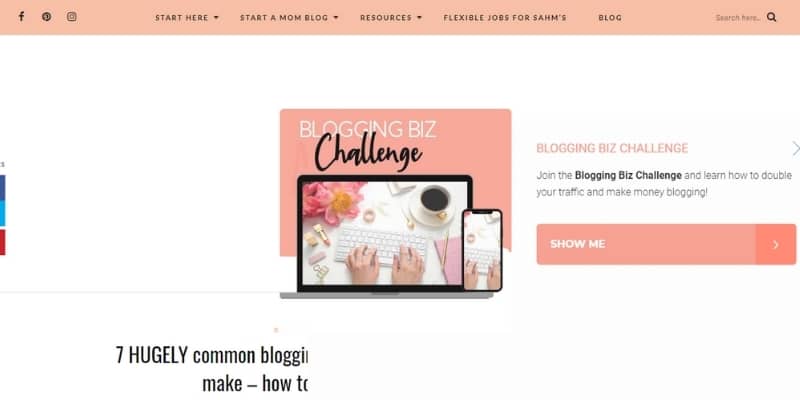 One of the main pop-ups I use is actually the Ribbon, which comes at the top of a page, and allows users to continue browsing my site and reading my content.
You can easily close the pop-up so it doesn't cause much of a disturbance.
Here's a sample of the Ribbon below: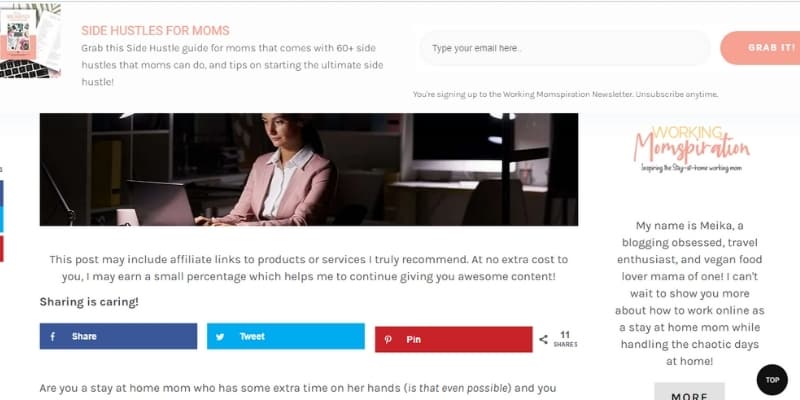 Below are a few other types of pop-ups you can create using Thrive Leads depending on how you want to grow your email list.
Although some people find full-screen pop-ups annoying, there's proof that these types of pop-ups are very effective.
It's always best to test them yourself and see how your audience reacts to them.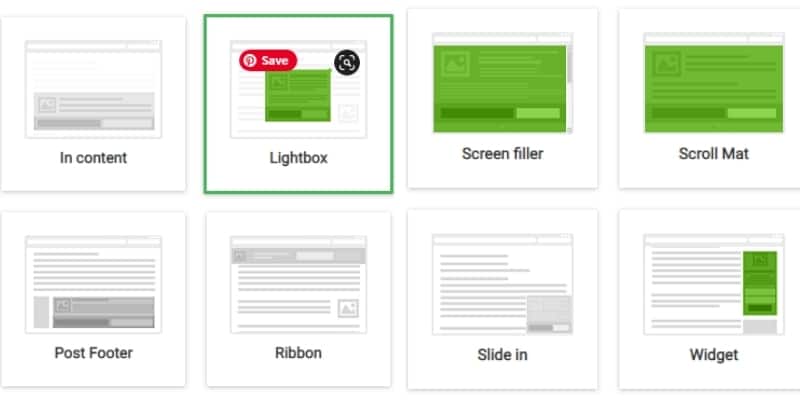 What's nice about every single pop-up Thrive Leads has is that you can add any design, color, and graphic you want to accentuate your brand or style.
I especially love how customizable everything is.
From being able to choose the pages, categories, posts, and even tags you want certain popups to show up on and even doing A/B testing to see which popup does best.

Why use pop-ups?
You may be wondering… aren't pop-ups the most annoying thing ever invented?
To be honest with you, they can be. This list was made just to show you the best types of pop-ups you can use, and how best to use them so your readers don't head outta dodge.
Sometimes, the quality content you provide and the help you give to your audience will be enough that they become returning visitors and loyal subscribers.
Now I don't want you to go crazy and add any kind of pop-up everywhere on your website.
It's best to do a bit of testing to see which ones perform best.
That's where the handy tools provided by these email service providers and plugins come in handy.
Once you try different types of pop-ups and you see which ones your audience responds to best, you can make that permanent.
There may come a time when other tools work much better than pop-ups.
The world of blogging is always evolving and you'll want to keep track of the current trends.
That being said, there are other reasons for using pop-ups other than growing your email list and they can benefit your business if you incorporate them sooner than later.
Here are a few other reasons for using these awesome pop-ups.
1. Get more leads
Pop-ups, if used right, are very effective in generating leads.
You can utilize them to create campaigns you're running that your audience just might check out if they closely relate to your niche.
Even if the reader does not take the plunge immediately, it's something that they can have in the back of their minds and come back to later.
So don't be afraid to create pop-up campaigns geared toward a specific part of your business, as it increases your chances of boosting conversions.
2. Increase your sales
Do you have a new product that you want to introduce to your readers?
Is there a course you're working on that you'd like them to preview?
Pop-ups give you a chance to show your audience an upcoming service or product you plan to sell.
It's a nice practice to actually tease your audience before just blasting the product on them.
This way you can get them to assimilate with your product and get used to the idea of it before they make a purchase.
With Thrive Themes, you have the option of giving your audience quizzes, so you can find out their likes and dislikes and then create content or services around that.
3. Link promotions or brands
Apart from writing your own content, you can use your pop-ups to promote other products and brands on your website.
This can range from sponsors, affiliates, other blogger services, and anything else that's related to your niche, that your audience would like.
This can further help widen your reach and boost your brand, as other bloggers and marketers will be more likely to promote you on their platforms as well.

Use pop-ups to grow your blog
The best way to grow your email list and your blog is to do what suits you and your brand.
You can use the strategies I mentioned here or just wing it and do your own thing!
That's the great thing about blogging, you can do what you love and make it your own.
Pop-ups are just another way to promote your freebies, products, services, and anything else that can help your email list to explode!
Just make sure to use whatever platform is best for you and where your business is at now.
If you liked this post, please PIN it for later!❤️️📌