This post may include affiliate links.
Are you looking to launch your very own mom blog?
Yes?
That's great!
Now that you've started your blogging journey, it's time to add a gorgeous feminine WordPress theme that will resonate with your readers!
When I first started my blog I was all hyped up about the theme that I was going to choose that would make my blog look beautiful.
I wanted to make it look pretty, feminine, and attractive. Something my readers would love!
That's the reason I chose this feminine WordPress theme.
But this isn't about me, it's all about you!
What type of feel are you going for? Do you want to go soft? Colorful? Chic? 
I've got your answers right here. 
This post will feature a mix of free and premium themes that are ideal if you're on a tight budget.
They can work with just about any niche as they all have a nice feminine feel.
Here is my list of 16 awesome WordPress themes that are great for mom bloggers.
PIN this post for later so you can have these gorgeous themes for reference!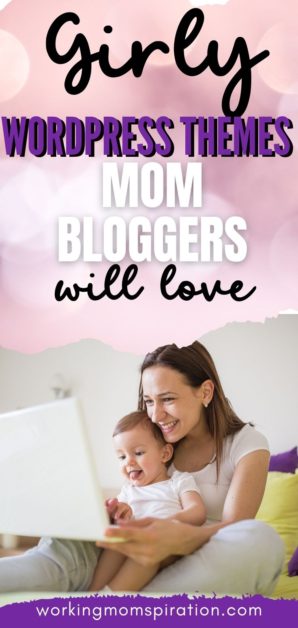 Free Feminine WordPress Themes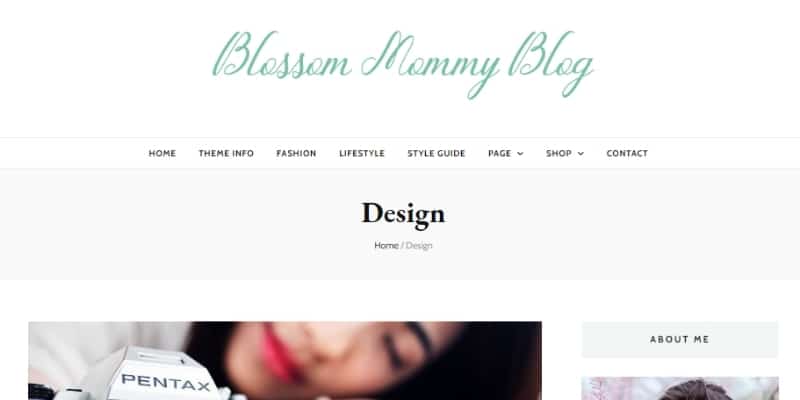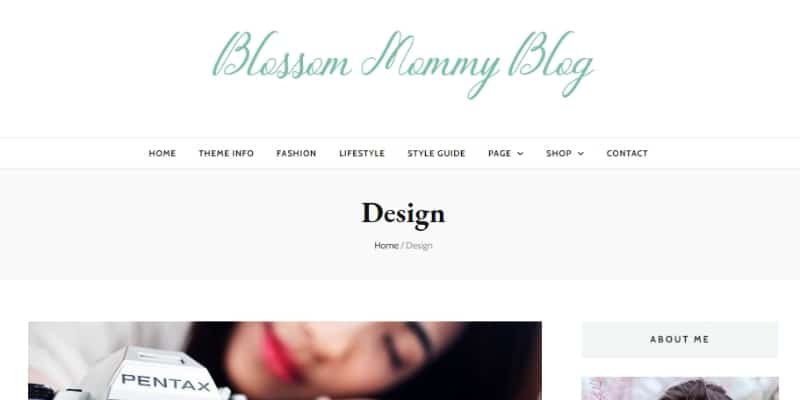 This free WordPress theme is simple, feminine, and perfect for mom bloggers! 
It has an accessible navigation plane at the top of the blog that displays categories clearly.
The theme also makes it easy to display recent posts, popular posts, and About Me features on the blog sidebar. This way readers can easily access your content!
I love that the blog has a responsive design so that whether readers are on their phone or desktop, their experience will be seamless.
You can also adjust the font settings and homepage layouts to change the look. 
There is also a handy Instagram widget at the bottom of the page that allows you to quickly boost your Instagram following.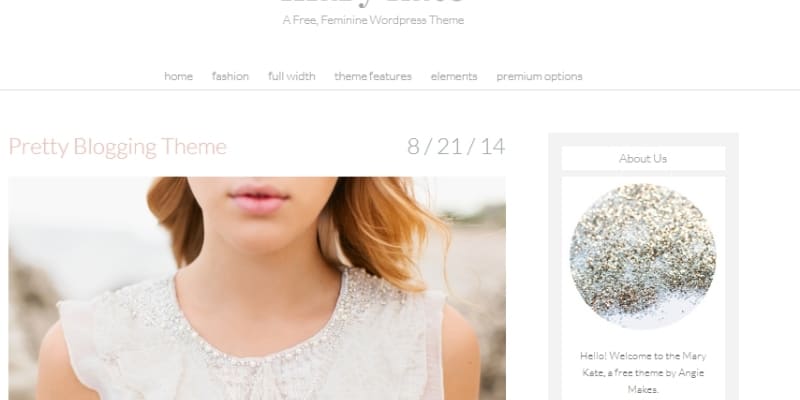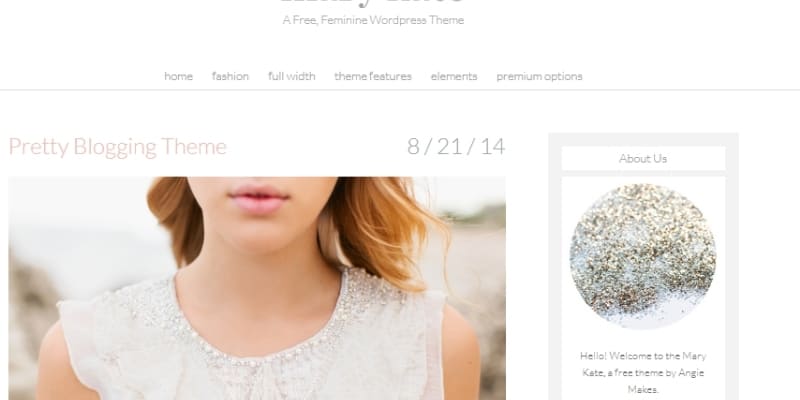 The Mary Kate theme has a soft, feminine vibe to it and looks more like a premium theme than a free one. 
You do have the option of upgrading to the premium version which allows you to upload your own font, customize colors in the theme, and adjust your sidebar to any width.
With that said, the free version has more than enough to get you going.
It has a nice, minimalist feel and a responsive design that works well on mobile devices.
Not only that, but you can integrate useful plugins such as Jetpack and Pinterest RSS.
If you're going for a minimalist type of blog, then the Mary Kate theme is perfect!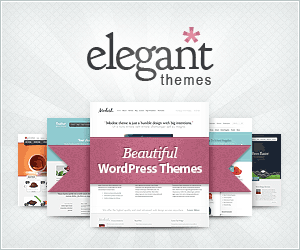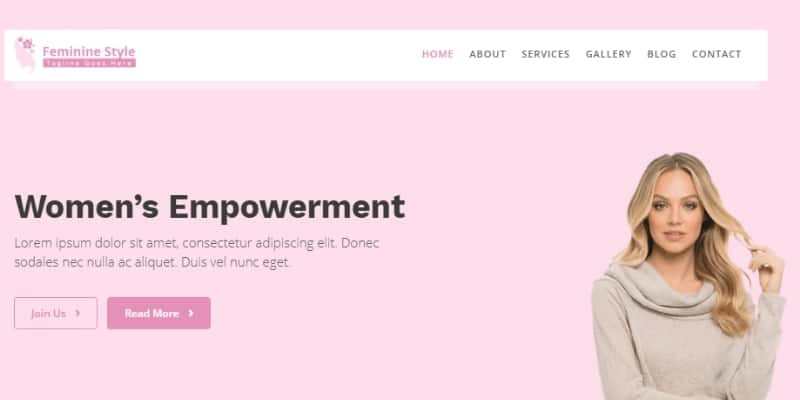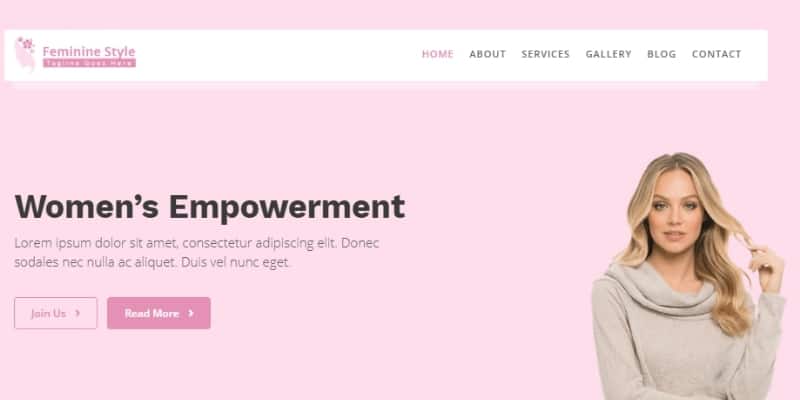 This is another awesome WordPress theme, that certainly has the 'feminine touch'. 
The theme does have a professional look that is accented with a nice baby doll pink color that screams girly!
You can customize this theme to your heart's content using the built-in Customizer. You can modify the sidebar, slider, colors, and the header and footer.
There's also an option to integrate WooCommerce if you plan on opening an online shop to sell your own products.
This theme is a great option for mom bloggers who want a visually stunning theme that has a professional look.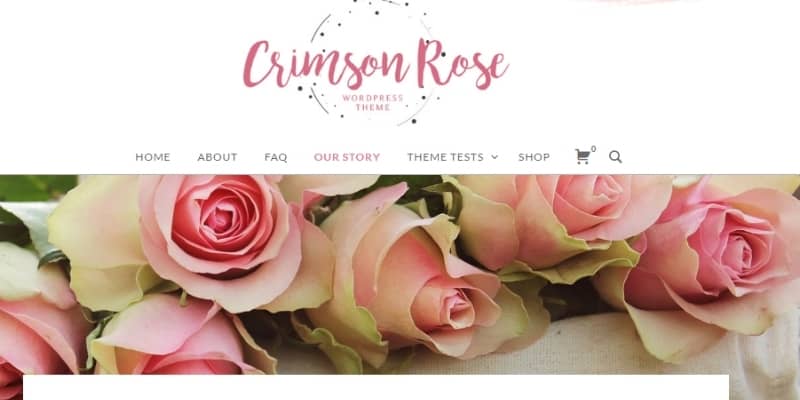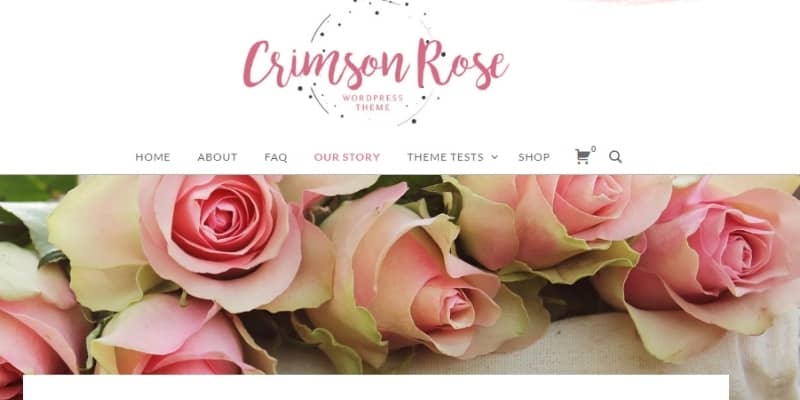 This gorgeous, feminine WordPress theme comes with all the bells and whistles for giving your blog that girly feel.
Its bright, open design lends itself to just about any kind of niche and it integrates with WooCommerce for all your product needs. 
With its sweet pink hue, the theme has a darling look without going overboard.
The homepage features dynamic sliding widgets to awake your readers to your newest posts or recent announcements.
They have conveniently placed social media icons and navigation links in the footer for easy access to your site visitors. 
This responsive WordPress theme is truly multi-purpose and adorable for turning your mom blog into a powerful website.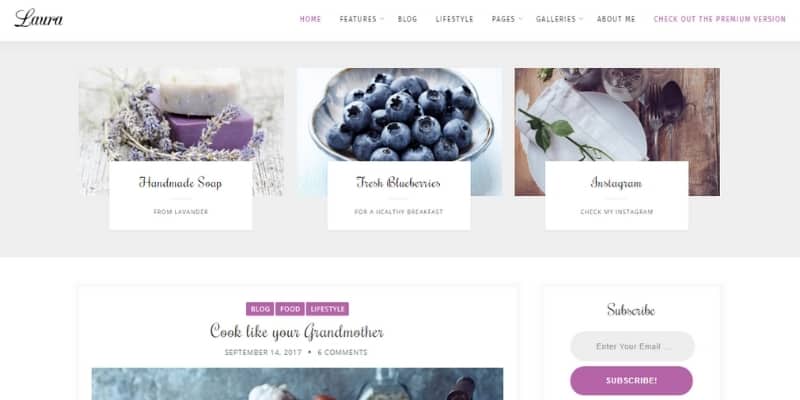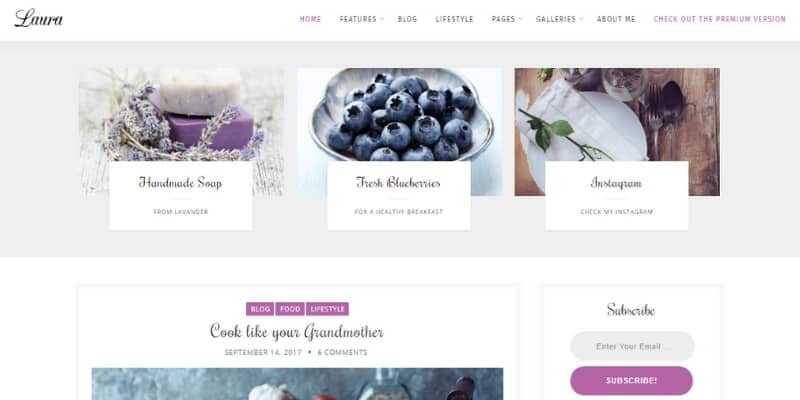 Laura Lite is a great pick that will highlight your content to get people reading.
It comes with attention-grabbing featured image posts and a simple subscription opt-in form at the right of each post.
The theme does have a minimal feel accented with pops of color in the right places.
The navigation bar at the top right hand of each page allows for greater visibility of blog categories and greater accessibility to more content.
Another bonus with this theme is that it is responsive and retina-ready.
You can use this theme for almost any niche including lifestyle, fashion, and beauty.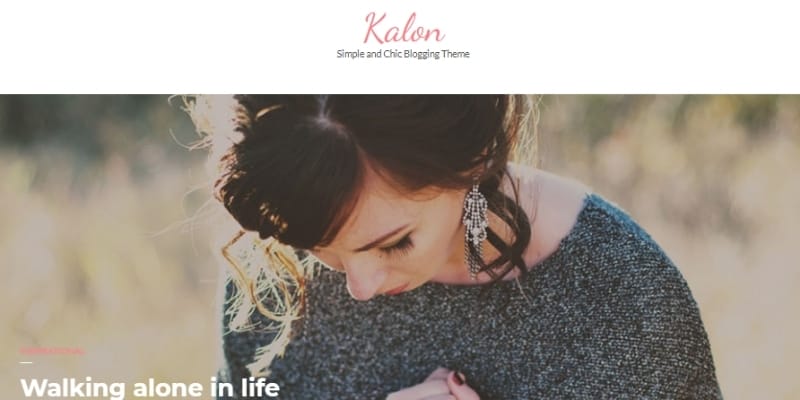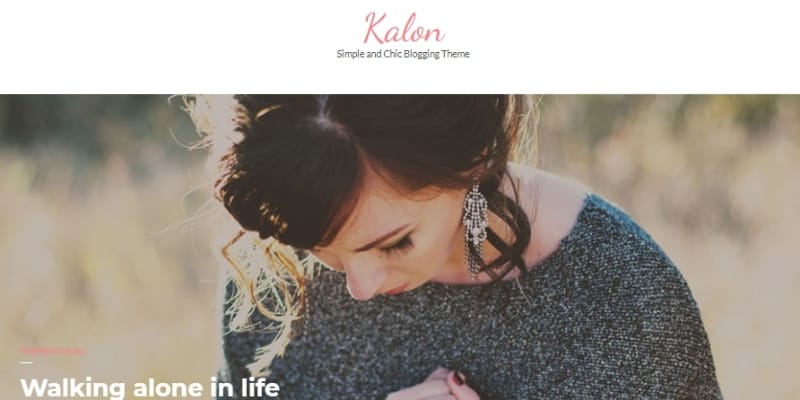 I love the simple sophistication of this WordPress theme. Though it's directed toward a wedding theme, it can definitely be used as a mom blog.
It comes with pink, white, and black colors in keeping with the feminine nature of the theme.
The responsive layer adds a nice touch and makes viewing blog posts so much easier.
To make your content really stand out, the theme allows you to customize the large header image to make an impact on your readers.
Again, though I recommend this for your mom blog, it can go with an array of niches such as lifestyle, food, nature, fashion, and photography.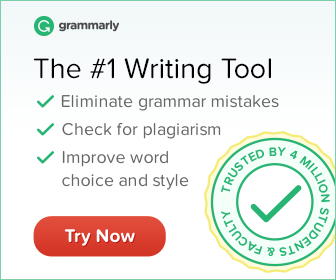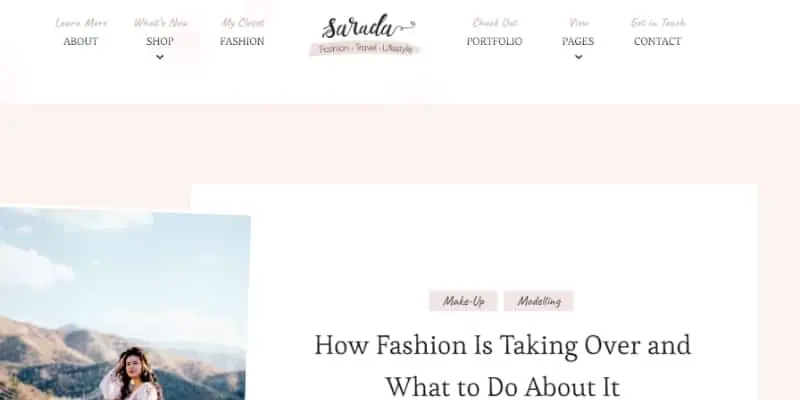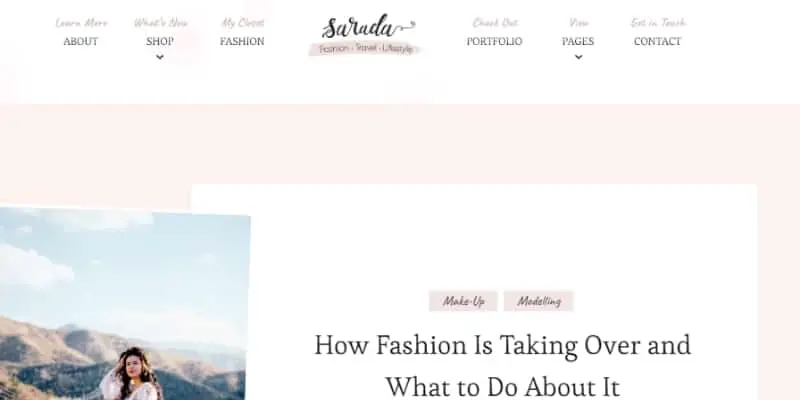 This beautiful theme is ideal for bloggers who want to have something truly unique.
With a built-in customizer, you can choose vibrant or soft colors to suit your look and make use of more than 900 fonts.
This theme will not only benefit you, but your readers will love the speed-optimized features and mobile-friendly design.
They will also love how easy it is to navigate your site, and the standout features will leave no doubt as to what your blog is all about.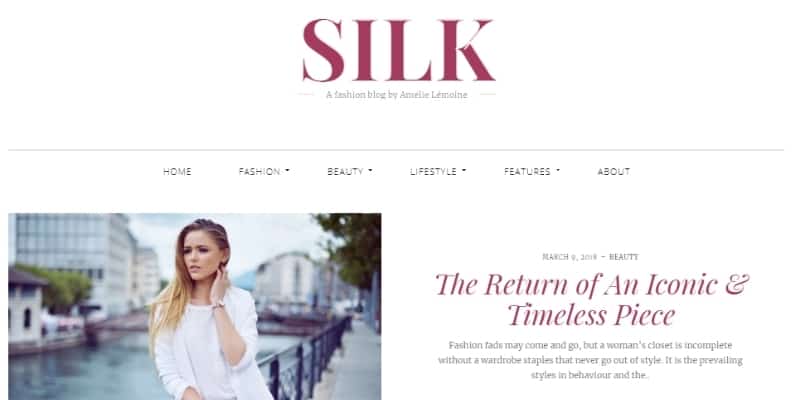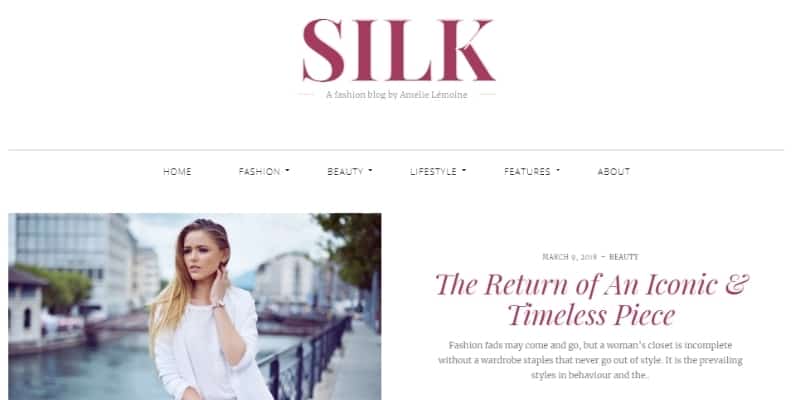 Beautiful and elegant, the Silk Lite WordPress theme has an immense amount of features to style your blog just how you like.
Although its made to suit, fashion or magazine type blogs, it also works well for a mom blog.
Readers can select blog post thumbnails to view images before diving into a post.
What's a good blog though, without a responsive layout? This one certainly has that and highlights the header and logo area just right.
Along with the feminine vibe you get from this theme, you can adjust the colors to fit your brand. The typography exudes a sophisticated feel that adds a bit of flair to this already gorgeous theme.
Premium Feminine WordPress themes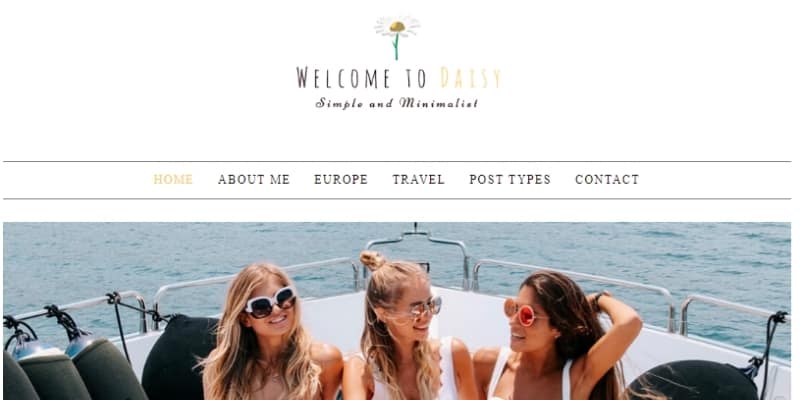 I love just how light, and flowery this WordPress theme is. Believe me when I say this is one of the best premium WordPress themes for mom bloggers!
The theme has a minimal style, elegant typography, and nicely placed accent colors to make your content pop!
If you plan to use lots of photography for your blog, this theme will allow your photos to make a bold statement. 
There's also an Instagram feed to showcase your most recent photos from the platform.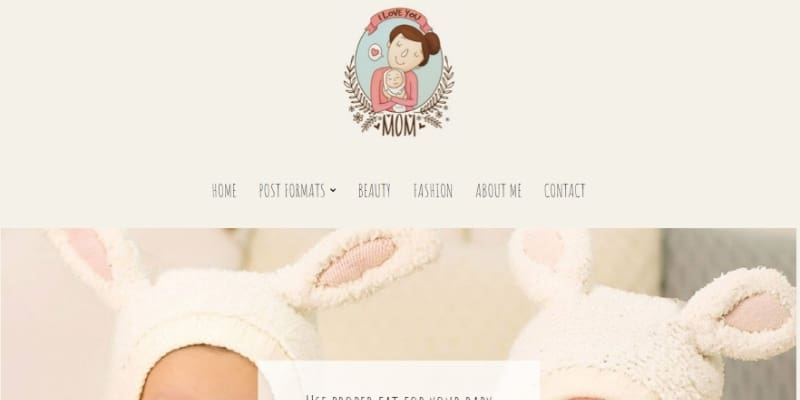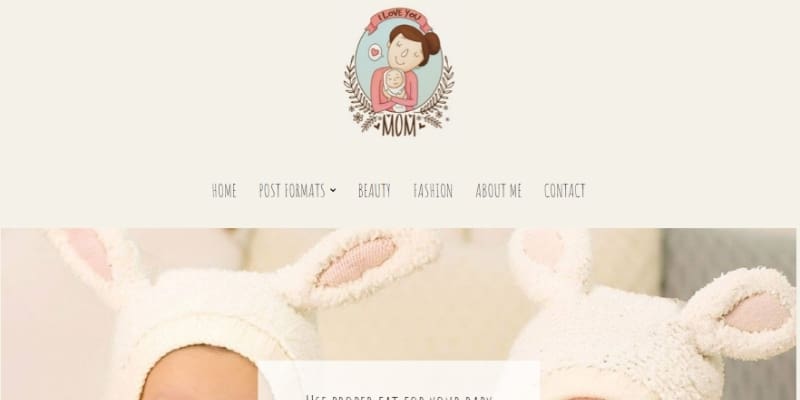 With a quirky and cute design, the Mom Life WordPress theme makes it obvious that you have a mom blog. 
From the graphics to the fonts and the layout, everything exudes a mommy and parenting flavor.
Some themes add so many features that it may overcomplicate things.
But the Mom Life theme is simple and to the point. The navigation bar lays out the categories in such a way that your readers will know just where to go and what to read. 
You can quickly add users to your Facebook Page with a suitable Facebook widget in the sidebar.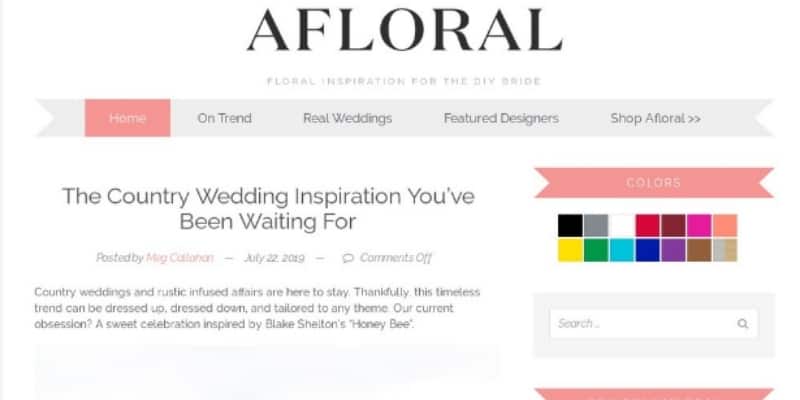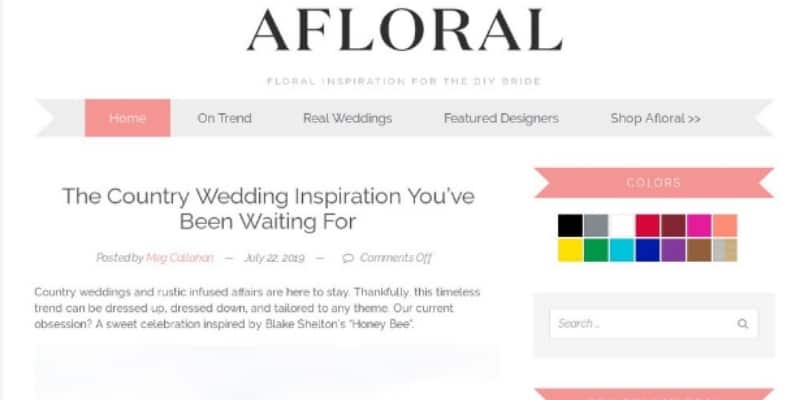 This modern, minimalist WordPress theme offers you the perfect way to highlight your images with a visual grid and sidebar design.
Afloral, above is a wedding blog that shows off the design that this theme does so well.
It also features ribbon designs that make it super easy for your readers to access your content.
Experiment with your theme colors to create a visually stunning interface that works well with your niche.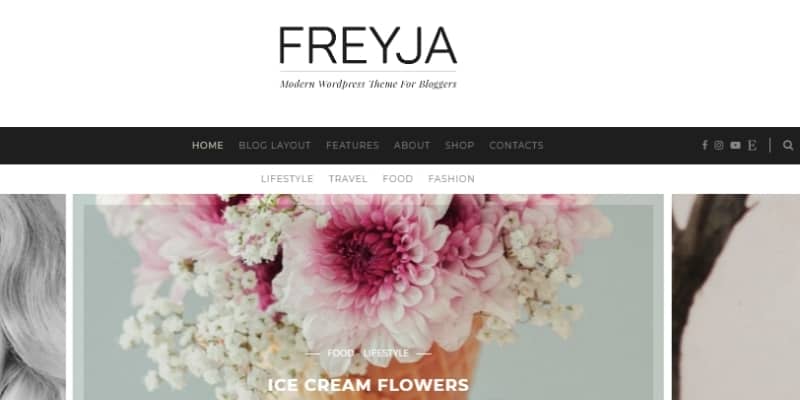 With the appearance of an intimate, personal blog, the Freyja WordPress theme can help you engage with your site visitors on a deeper level.
With 10 blog post layouts to choose from, you can pick your favorite style and change it up depending on how you feel. 
You also have the option of customizing your headers for each page and even adding a shop feature if you choose to sell something online.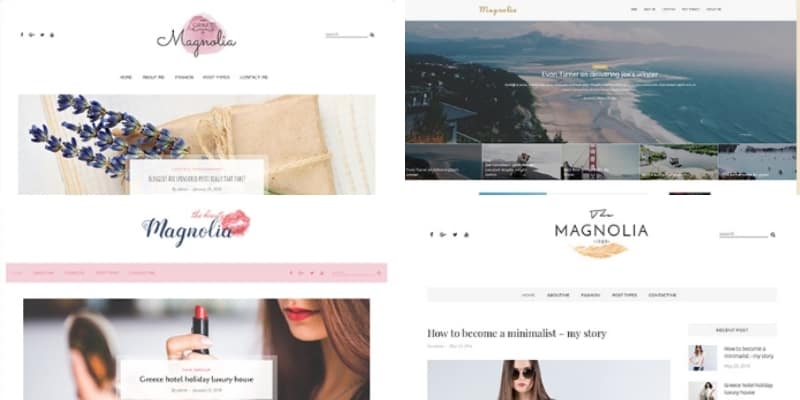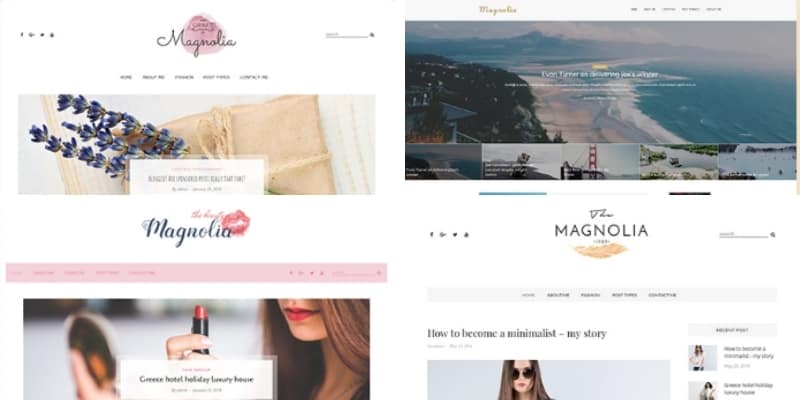 This is an excellent option for mom bloggers who want an easily customizable WordPress theme to make their blog stand out from the crowd.
It has more than 300 demos that be adjusted with simple tools.
Whatever your blog will feature, you can be sure that this theme will add a touch of femininity and simple elegance.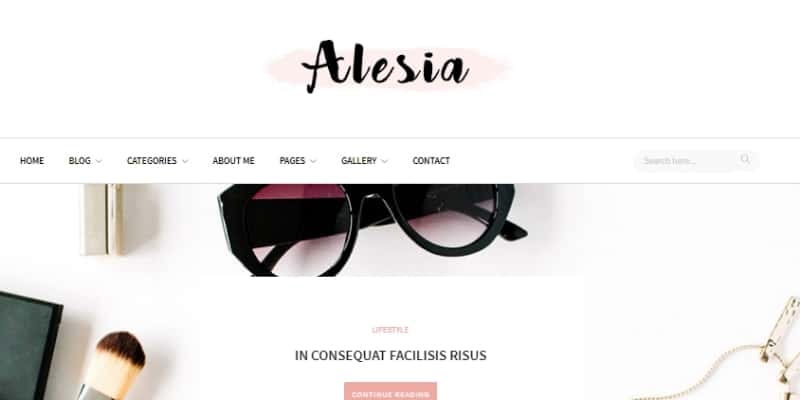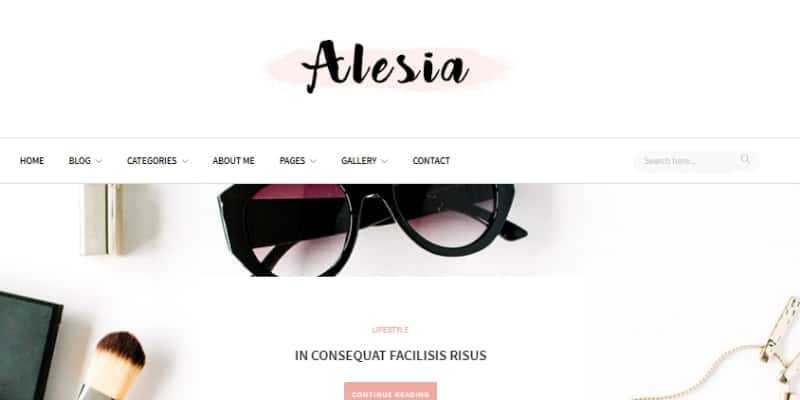 Not only is this theme gorgeous, but it also has a simplistic style and a responsive layout. 
You have full control over your colors, style, and layout with the intuitive drop, and drag builder.
Making pages is a done deal, with the no-hassle interface, so you can align your content just the way you want.
Adding your social media channels to your footer is easy-peasy and they are displayed with icons and words to make them much more vibrant.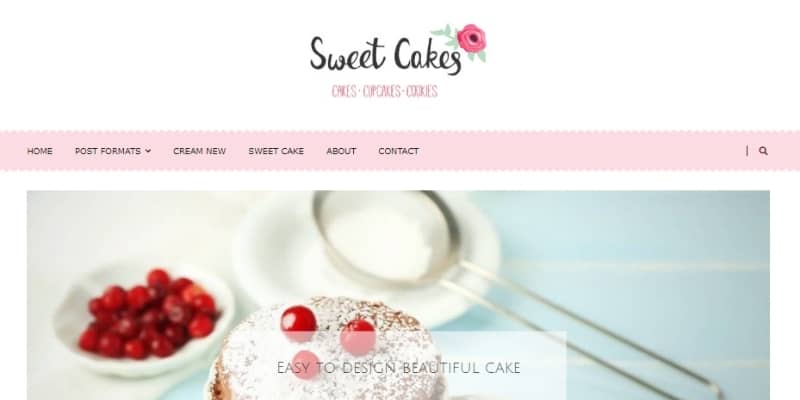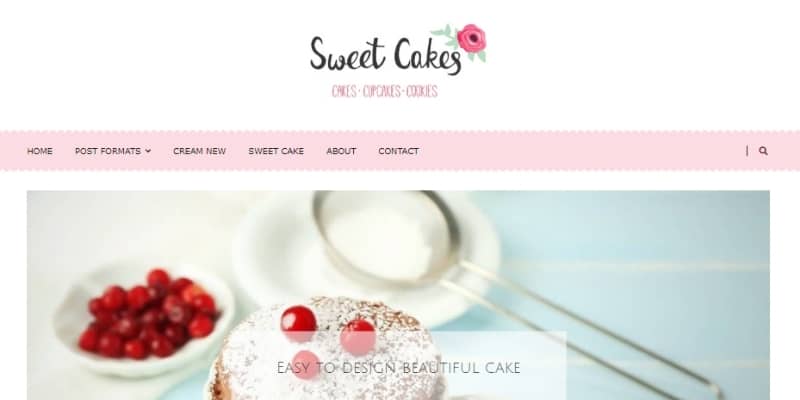 The Easy Cakes WordPress theme is your cookie-cutter food blog-styled theme and then some!
The interface is pleasing to the eyes with its feminine colors, galleries, and quote features.
As a mom blogger, you can use this theme to your advantage. 
If you want to feature your delicious-looking recipes, parenting hacks, or mom advice, this theme will allow you to do all that.
You can also use different post formats depending on the type of articles you publish.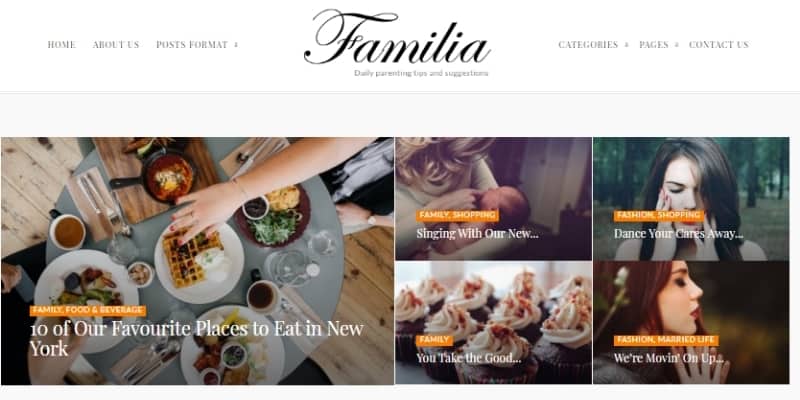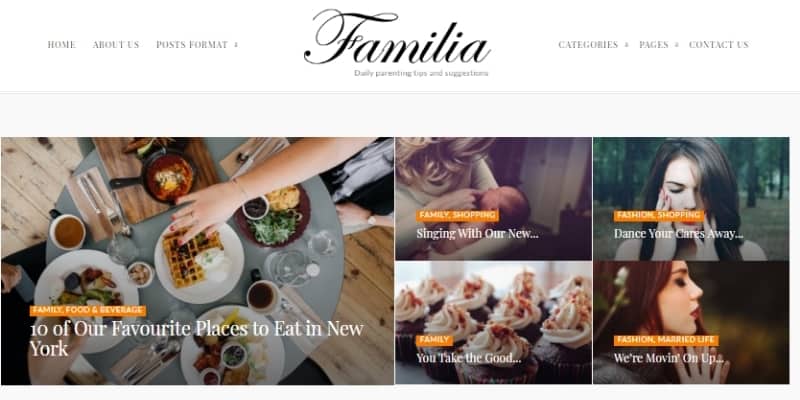 If you're looking for a WordPress theme that has a family-centered theme, then Familia is the right one for you.
You can complement your parenting posts with unlimited color variations, typography features, and other customization options.
 There's also a Facebook Open Graph that allows you to share Facebook posts much more easily.
Make your blogging life a breeze with this vibrant, easy-to-use theme. 
Feminine WordPress Themes Mom Bloggers Will Love!
Whether you choose one of the premium or free themes on this list, you've still made a wise choice.
Using a feminine WordPress theme is the way to go when it comes to starting off your mom blog right.
Maybe I'm just saying that because that's my style!
Either way, I hope you've enjoyed this list and that you're closer to choosing the right theme for your blog.
Let me know in the comments which one of these themes was your favorite. I'd love to know!
If you liked this post Pin it for later!❤️️????