This post may include affiliate links.
Are you interested in discovering ways to make money from the convenience of home? 
What about learning how to make 300 dollars a week from home as extra money?
With the increasing availability of online opportunities, it is now easier than ever to generate an income without ever leaving your residence. 
Commuting can be pretty hectic, whether you're carpooling or using the subway.
Working at home makes life much easier because you can sit on your couch or use a comfy workplace and still earn. It also helps you to save on gas or taxi fare which can be used to save for other expenses.
More and more people are turning to remote work as a way to make ends meet, and many are discovering the potential of earning a comfortable living from home.
Earning an extra $300 per week from home is an achievable goal with the right plan and mindset.
This can work whether you are a stay-at-home parent, a full-time freelancer, or just looking for a way to make some extra cash!
If you feel that you've been struggling to make ends meet or you just need some supplemental income,  this post will provide you with some tips on how to make 300 dollars a week from home in no time! 
PIN IT!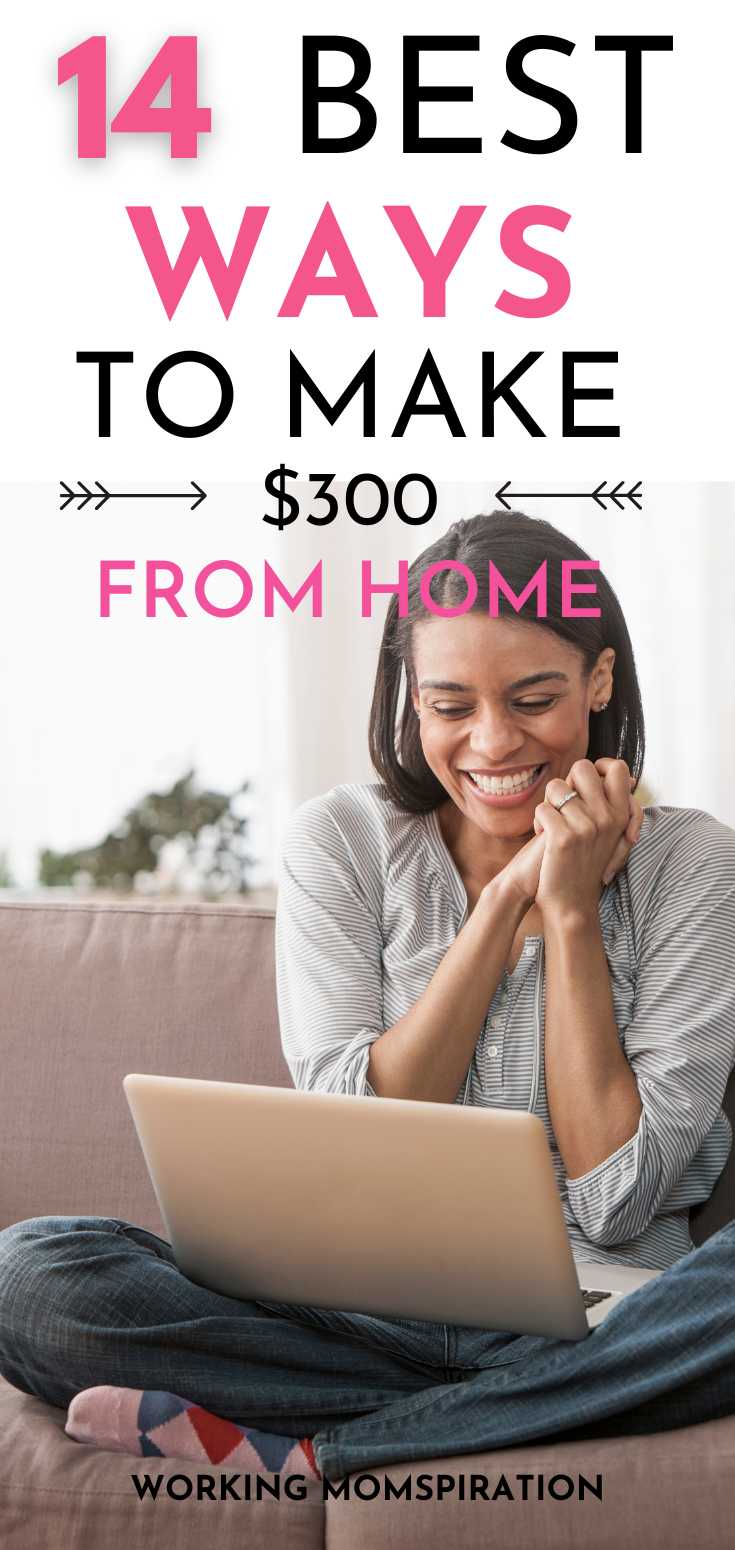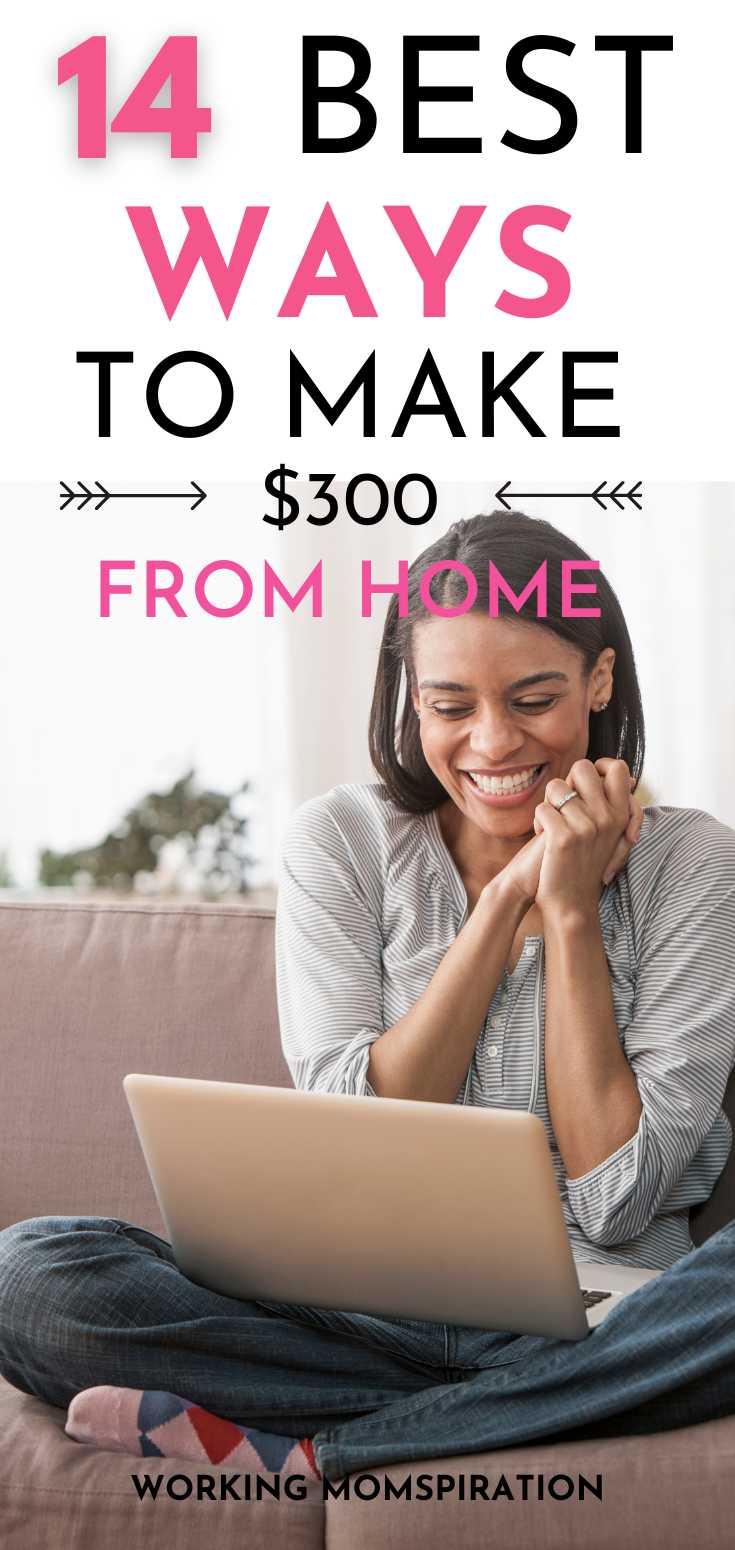 How to Make 300 Dollars a Week from Home Quickly
1. Complete Online Surveys
Do you want to make an extra $300 each week from the comfort of your own home? 
Look no further than taking online surveys! 
This is something super easy to start with and requires nothing more than a laptop or phone and a dependable internet connection. 
You can do this while on vacation, during the lunch break at your 9-5, or right before bed. 
With a variety of surveys to choose from, you can pick the ones that interest you the most and make money simply by giving your opinion or sharing your interests.
 Some people earn anywhere from $0.50 to $20 or $30 per survey, and the more surveys you take, the higher the rewards! 
The convenience of most survey sites is that you can get paid via PayPal, gift cards, or to your bank account.
Generally speaking, most people earn around $50 -$250 per month from surveys, but the more places you sign up to, the more you can earn.
Legitimate surveys spots to try include:
To increase your earnings, here are 40 fantastic survey websites to join right now!
2. Sell Items Online
Are you ready to tap into an amazing opportunity and start earning up to 300 dollars a week?
Thanks to digital shopping, you can now quickly and easily put your items up for sale to a worldwide audience.
The growth in POD (Print on Demand) platforms like Printify make it so easy to start listing your items for sale and earning passively.
 The great part is that you can earn money whether you're a budding entrepreneur selling handmade products or just trying to clear out your closet.
 All it takes is a solid marketing plan and some hard work and you could be raking in the dough in no time. 
There are several options when it comes to selling products online. Some of my favorites include:
Dropshipping products
Selling T-shirts on TeePublic
Selling second-hand tech on Gazelle
Once you've chosen the best platform for you, the next step is setting up payment and listing your items with great photos and descriptions and making sure your prices are competitive.
Finally, use social media, emails, and other marketing techniques to draw attention to your wares and start bringing in the dough!
3. Find Freelance Gigs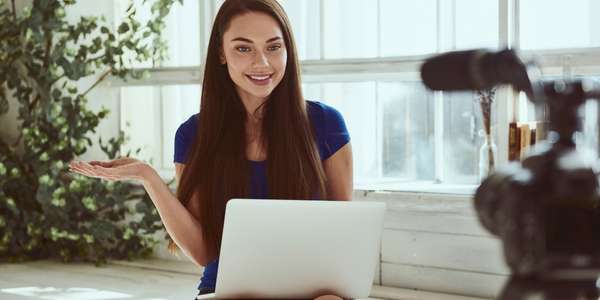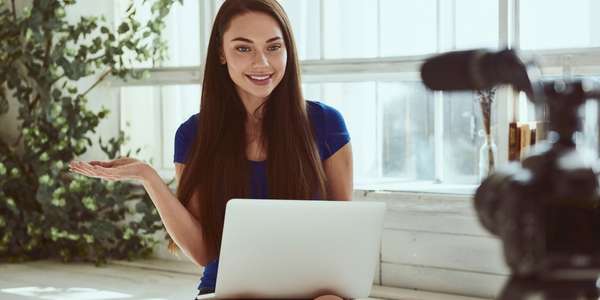 Have you ever thought about working on a freelance basis? 
This is great for anyone who wants to travel and have a more flexible schedule and lifestyle.
Freelancing opens the door for working in almost any career field, once the job can be done remotely. 
This could include writing, design, video editing, translation, or something else that you're good at. 
In most cases, you'll find that there is someone who is willing to pay for that service once you do a thorough job. 
You can start with freelancing sites like Upwork and Fiverr.
I have an account with Fiverr myself and have used it as a service for my blog. It worked out well and helped me with my business tremendously.
Even though there is some amount of competition on the platform, it's still possible to earn money and work when you choose.
This freelance writer earns $100 for a 400-word travel article gig on Fiverr.
You can grow on the platform and do the same.
Here are a few easy Fiverr gigs to start today.
4. Tutor Kids Online
 If you'd like to make extra cash at home using only your laptop, and the internet, tutoring might just be the thing for you! 
With the right qualifications and expertise, you can start earning in no time. Don't be alarmed about having a degree or previous qualifications, as there are companies looking for tutors with no previous experience. 
To get started as an online tutor, it's best to identify your skills and areas of expertise. 
This could be in mathematics, science, coding, or music.
Think about your education, your experience, and even your hobbies – anything that could influence how and what you teach your students.
One of the best places to start working as a tutor is Outschool. It's an online platform where kids can learn a variety of subjects in a fun and exciting way.
It's free for you to sign up and start working. Best of all, you can choose a schedule and work from home!
Sign up with Outchool and start earning money!
5. Work as a Virtual Assistant
So, I work online as a VA, and while it can be stressful, it's very rewarding!
You may have thought about trying this career path as well, because it's become so popular in recent years.
What services can you offer as a virtual assistant? This can include:
 Administrative tasks 
 Bookkeeping
Graphic Design
Inbox Management
Travel Arrangments
It's important that you think about how to set your rates and price yourself accordingly. I believe it's important to factor in your experience, qualifications, and the level of service you're offering.
That helped me to land my VA job in no time!
One of the best ways to snag jobs as a VA is to create a portfolio to show a potential employer or client what to expect from you.
Here are 10 places to find Virtual Assistant jobs. 
6. Do Pet-sitting at Home
Are you a fan of furry friends? Would you like to make money in your spare time by caring for them?
Pet sitting can be a fun and rewarding way to earn a bit of extra cash while spending time with a few animals! 
With the ever-growing demand for pet care services, there are plenty of ways for pet sitters to make money.
You can actually look after pets at home, when their owners are traveling or at work.
You may have duties that include, but aren't limited to:
Grooming
Feeding
Walking
Playing
Vet visits
 If you're interested, here are a few tips to get you started on your pet-sitting journey:
First, decide on how much to charge by doing research on what other pet sitters in your area are charging. While you're at it, consider your experience, location, and services offered when setting your rates.
Also, you'll need to either promote your pet business in the neighborhood or sign up to a site like Rover to find gigs in your area. 
Flexibility is also important, so it's a great idea to consider adding odd hours or holidays to your schedule, as these are often the busiest times for pet sitters. 
Don't be afraid of last-minute bookings or cancellations either – the more prepared you are, the better!
Check out Rover for convenient jobs.
7. Become a Book Reviewer
I love the idea of chilling on the couch while reading a good book! What about you? 
Publishers and authors are always on the lookout for book reviewers who can provide a brief yet informative summary of their books. It's a great opportunity to share your love for reading and help others discover great books.
What I like most about it, is that it's an excellent way to make extra money each month, especially as a book lover!
You can earn up to $300 a week depending on how many reviews you complete and how long the reviews are.
To be successful as a book reviewer, you need to have a passion for reading and be able to write detailed, honest reviews.
 You also need to be able to meet deadlines, as publishers and editors rely on receiving timely reviews.
Being familiar with the existing book market is also important so that you can provide thoughtful and relevant reviews.
Also, it's essential that book reviewers have a strong command of the English language (or related language) spelling, and grammar. 
Get started with sites like:
These are not full-time roles, so you are able to work on a freelance basis and choose when to do your reviews. 
8. Data Entry Jobs
Based on my own research, data entry jobs, while legitimate in their own right, have become the object of online scams over the years.
You'll find many websites promising to pay $1000 a day for data entry gigs for little to no work.
Despite this issue, there are still plenty of promising opportunities to earn extra money as a data entry clerk. 
To work successfully as a Data Entry Clerk, you should have great typing abilities and be proficient in the use of computers and software.
 To develop your skills even further, consider taking courses or practicing on your own.
You don't have to look far to find data entry jobs either as spots like Upwork, Fiverr, Virtual Vocations, and Indeed readily have postings available. 
Here are additional places to find data entry jobs that pay!
9. Try Transcription Jobs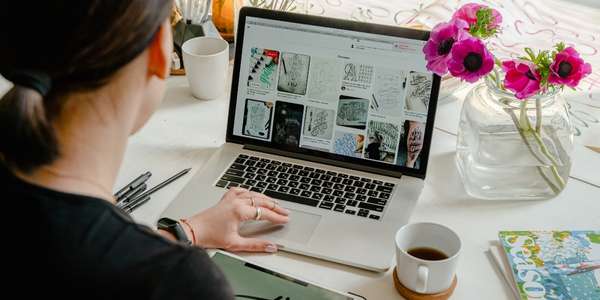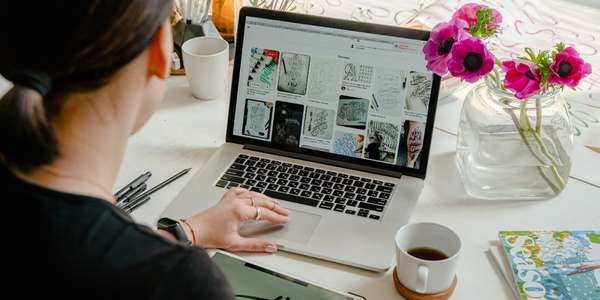 Typing on a computer is pretty standard for most of us these days and doesn't require much effort. 
However, if you have fast typing skills and keen hearing, a transcription role might be perfect for you!
As a budding transcriptionist, you will use your skill to transform audio or video recordings into written or typed form. 
While some people never mention this, transcriptionists generally need to have an acute ear for accents and dialects, not to mention an exceptional ability to understand different voices, tones, and speech patterns.
 With the rise of remote working, there is an increased opportunity for people to make a living as transcriptionists.
A few other skills needed to work as a transcriptionist include:
Familiarity with transcription software: You need to have experience with transcription software, including text editing software and tools for slowing down or speeding up audio playback.
Good grammar and punctuation: It is crucial to have a strong understanding of grammar and punctuation to ensure that the final transcript is coherent and easy to read.
Attention to detail: As a transcriptionist, you must be detail-oriented to ensure that you transcribe every word accurately.
Time management: You need to be able to manage your time effectively to meet deadlines and complete projects in a timely manner.
Knowledge of terminology: Depending on the field, you may need to be familiar with specific terminology, such as medical or legal terms.
Confidentiality: As a transcriptionist, you may be dealing with sensitive information. Therefore, you need to be trustworthy and maintain confidentiality at all times.
To start earning money online with your typing skills, you can find freelance jobs on Upwork and Fiverr, or apply for gigs on Virtual Vocations. 
Here are a few more places to find legitimate transcription roles online. 
9. Start a Social Media Management Biz
It can be fun to hang out on social media platforms with friends and family (virtually), browse through pics, and read hilarious posts.
It can be addictive though, so be careful!
Despite the pitfalls that make come along with social media, it is a place where you can earn a steady income if used the right way.
Take social media marketing for example.
Starting a social media marketing business can be a great way to make money and even more than $300 per week too!
 With the right skills, approaches, and strategies you can earn a lot of money and notoriety through social media marketing. 
 You can connect with clients, build an online presence, and increase their visibility and customer base.
The most familiar platforms to work on include Facebook, Twitter, Instagram, and YouTube.
You will use these to market your client's products and services, create content for their social media accounts, develop campaigns, and formulate strategies to increase brand awareness. 
A part of the job will also include studying analytics and data to monitor the performance of campaigns and make necessary changes.
 There are a lot of opportunities for social media marketers to make money. You just need to be creative, have a good understanding of the platforms, and have a good customer base.
I've found that the best places to find current job listings are Facebook groups.
The top social media managers make around $175,000 each year, which isn't too bad at all!
10. Write Short stories, Articles, or Poems
Another way to make $300 from home pretty quickly is by doing freelance writing projects. 
By this, I mean writing stories, poems, blog posts, articles, and landing pages for clients.
Plenty of websites are always looking for new content to keep their readers engaged. If you do have a knack for writing, you can easily make money online. 
I have found a number of high-paying freelance writing gigs online, that are pretty flexible.
Some freelance writers sign up with actual companies, while others use platforms like Fiverr, Upwork, Freelancers, Legiit, and more to earn cash.
You could write short stories and sell them on:
OR
Sell Poems on:
AND 
Write Articles to sell on :
Apart from selling your articles, you can write for parenting websites and offer advice. 
You could also consider starting a blog, creating content that's tailored to a specific niche, and monetizing it through advertising or affiliate marketing.
You don't need to be an experienced writer to make money writing online. All you need is a good understanding of what readers are looking for, using SEO, and writing in an engaging way.
Learn how this couple earns $500,000 each year from their own blog!
11. Use Your Graphic Design Skills
 Are you an enthusiastic graphic designer aspiring to make money from your craft? 
Graphic design is an incredibly fun side gig that can be transformed into a fulfilling career.
It allows you to express yourself and create stunning visuals which will help businesses and organizations reach out to their target audience.
Also, there are hundreds of ways to earn money as a graphic designer, and best of all, it's ideal for remote work.
Graphic Designers design products such as:
Logos
Flyers
Brochures
Packaging
Social Media Graphics
Book Covers
Infographics
Also, for more opportunities, you can create and sell digital design assets such as fonts, icons, and graphics on websites like Creative Market, Create Fabrica, and Design Bundles. 
Another fun way to get some extra cash is to participate in design contests. Many companies and websites hold design contests where you can submit your work and potentially win a prize.
12. Do Voice-over work
 Do you have a unique voice that you'd love to share with the world? 
Have you ever dreamed of becoming a voice-over artist? 
It's now easier than ever to work as a voice-over artist, with the abundance of freelance platforms on the web.
It's an exciting and highly rewarding job that lets you use your vocal talent to create compelling audio content for a wide range of projects. 
What do you think you're best at? Could you read audiobooks out loud? What about adverts for the radio?
Voice-over artists can work on projects such as:
Commercials: Use your voice for radio and TV ads and online advertisements for products and services.
E-learning and training modules: Many companies and educational institutions require voice-over artists to narrate their e-learning and training modules, making it easier for learners to follow along.
Audiobooks: Audiobooks have become increasingly popular in recent years, creating a demand for voice-over artists to read and record books in a clear and engaging way.
Animation and cartoons: You can lend your voice to animated characters in movies, TV shows, and video games, bringing them to life with unique personalities and quirks.
Explainer videos: Explainer videos are short animated or live-action videos that explain a product, service, or concept. Voice-over artists can provide narration for these videos, making them easier to understand.
Phone systems and IVRs: Some companies use automated phone systems and interactive voice response (IVR) systems to handle customer calls. As a voice-over artist, you can provide the recordings for these systems, creating a professional and consistent experience for callers.
Documentaries: Documentaries often require a voice-over artist to narrate the story and provide context and insights for viewers.
As you can see, being a voice-over artist allows you to work on numerous projects and earn consistently. 
If you'd like to start out with a freelance gig, here are 18 places to use your voice online. 
13. Do Photography
Who doesn't love taking quirky photographs and laughing at them later?
I enjoy taking unsuspecting photos of my pet cat, Coco and he really appears to love the attention.
But, not everyone takes photos of their pet and that's fine.
Instead, you can earn money by photographing nature, people, and wildlife, to earn revenue online. 
As a photographer, you can make a living in all sorts of ways, depending on your expertise and success.
You could start by selling prints, licensing our photographs, and contributing to stock photo libraries.
Commissions for weddings, portraits, and events are also great opportunities for earning a bit of extra money – the amount of course, depending on the complexity of the work and the amount of time spent on it.
If you're new to photography, I highly recommend selling your photos on stock photo websites such as Deposit Photos, Shutterstock, iStock Photos, and Smug Mug. 
14. Try Website Testing
Testing websites for money is a legitimate way to earn some extra income. 
And obviously, it only requires access to the internet, a working laptop, and a little extra time on your hands.
There are various platforms and companies that offer website testing opportunities to individuals, and you can apply to become a website tester on these platforms.
To get started, you may want to research different platforms such as UserTesting, TryMyUI, and Userlytics, which are popular options for website testing.
These platforms allow you to sign up as a tester, and then they will match you with websites or apps to test based on your demographic profile.
Usually, website testing involves recording a video of yourself using a website or app while providing feedback on its functionality, user interface, and overall user experience.
 After completing a test, you will be paid a certain amount of money, which varies depending on the platform and the length of the test.
While you should not leave your day job for this type of gig, it can be a good way to earn some extra money in your free time. 
To be successful as a website tester, you should have a good eye for detail, be able to communicate your feedback clearly and be willing to follow the instructions provided by the company.
How to Make $300 a Week From Home as Soon as Possible!
 Earning 300 dollars from home is entirely possible and it doesn't have to be too difficult either.
 It does require some effort and creativity, but with the right approach, you can easily earn the cash you need. If you're feeling overwhelmed because of a hectic schedule, start small. 
Begin your journey by taking simple surveys or doing website testing. Once you've got the hang of those, venture out to do more dedicated gigs like writing and social media work.
What's great about some of these gigs, is that they have the potential to turn into a career or side hustle.