This post may include affiliate links.
Are you a baker or cake connoisseur looking to make money?
 If you've ever found yourself mesmerized by the yummy world of baking, where the oven's warm embrace transforms simple ingredients into mouthwatering masterpieces, then you're in for a treat (pun intended)! 
You may have always wondered how to make money selling cakes, but have never put your thoughts into action. 
So today, we'll be looking into the delightful adventure of making money by selling cakes – because who said you can't have your cake and eat it too?
Now, I know what you might be thinking: "Can my love for baking really help me earn some dough (literally)?
Well, you can definitely turn this into a really profitable side hustle. 
 Selling cakes can be a gratifying and profitable venture, and we're here to spill all the sprinkles on how to get started.
Let's find out how to benefit from this sweet business!
PIN IT!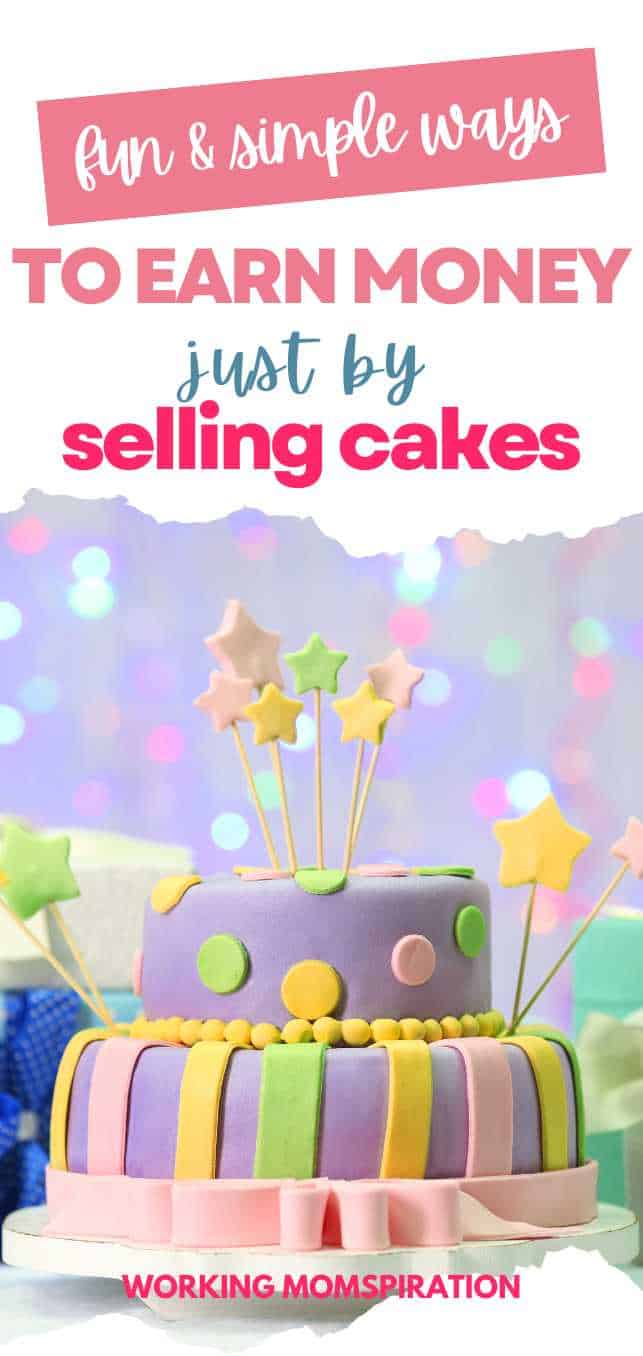 How to Make Money Selling Cakes from Home
1. Customized Cake Orders
If you like the element of surprise and wouldn't mind selling customized cakes, this one might be for you!
Customized cakes are basically edible works of art that bring joy and excitement to any celebration. They're all about capturing the essence of special occasions and bringing them to life in sugary form.
 Think outside the cake box and let your imagination run wild. From whimsical characters to intricate designs, let your cakes become edible works of art that leave everyone awestruck.
You can design cakes in various shapes, sizes, and themes such as:
Novelty Cakes
Sports-themed Cakes
Floral Cakes
Animal-themed Cakes
Corporate Event Cakes
Holiday Cakes
Fantasy Cakes
Vintage-style Cakes
Retro-themed Cakes
Music-inspired Cakes
It would be a great idea to publicize your business in your local neighborhood. This could be done through local ads, business directories, flyers placed in local shops, and by word-of-mouth.
There are plenty of occasions to sell your customized cakes too. Events like birthdays, holidays, and graduations are perfect for your designs.
Just be sure to check and review your state's regulations on your at-home food-based business to make sure everything is done correctly.
2. Sell a Baking Book with KDP
Have you ever thought of selling your own book online?
It's your chance to sell your own baking book for free using the Amazon Kindle Publishing platform!
Using this medium, you can compete with other authors and showcase your delectable recipes to customers.
With KDP, you have the power to create and publish your book in a user-friendly and hassle-free way. 
What type of baking book are you planning to offer?
There are sooo many cake niches to think of, it could blow your mind!
You could try any of the following:
Classic Cake Recipes Book
Decorative Cake Designs Book
Wedding Cake Baking and Decorating Book
Cupcake Baking Book
Vegan Cake Baking Book
Gluten-Free Cake Baking Book
Cake Decorating Techniques Book
Cake Pops and Cake Balls Book
Layered Cake Recipes Book
I've used the KDP platform myself and made my first sale in just a few months.
You could do the same and even better because I was selling a simple journal. There are thousands of people searching for the next great cake recipe book on Amazon.
 Plus, with Amazon's massive global reach, your book will be available to baking enthusiasts across the globe.
If you're ready to start your book-selling journey, find out how to create and sell a book using the KDP platform.
2. Cake Decorating Classes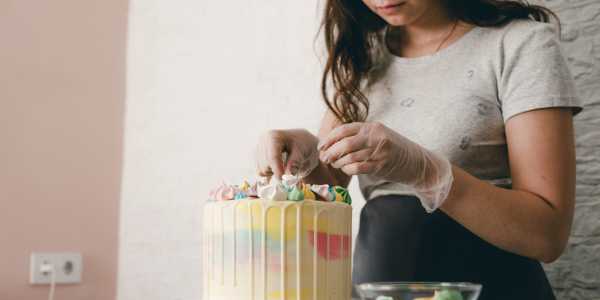 Have you ever considered teaching?
One way to go about this is by starting a cake decorating class.
This type of skill is highly sought after because of the type of money that can be made from it.
To start out with this business and earn consistently, the first step should involve choosing a niche market.
You'll need to think about what type of cake decorating class is best for you.
Are you a master of fondant? A whiz with buttercream flowers?
Identify your specialty and let it shine.
This will attract students who are specifically interested in the techniques you excel at.
Don't forget that you'll need to get a license in order to conduct your classes. Another part of the process will involve purchasing the proper equipment for decorating the cakes, baking, etc. 
When setting up your classes, try to create a memorable experience for your students.
You could provide them with handouts, recipe cards, and insider tips.
 It's all about learning and fun, so encourage their creativity and celebrate their accomplishments. 
A supportive and fun learning environment will keep them coming back for more.
As you gain momentum, consider offering advanced classes, themed workshops, or even private lessons for those seeking personalized attention. 
Don't be afraid to think outside the box and cater to various skill levels and interests.
3. Cake Delivery Service
If you have a talent for baking delicious cakes and an entrepreneurial spirit, starting a cake delivery business could be a lucrative venture. 
With the increasing demand for convenient food options, especially desserts, there is a vast market waiting to be tapped.
Before diving into the cake delivery business, thorough research and planning are essential. You do need to identify your target market, assess the competition, and determine what sets your business apart.
 A well-defined business plan will serve as a roadmap for success.
To run your cake delivery business successfully, you need to hone your baking skills.
 Experiment with various cake recipes, decorations, and flavors to offer a diverse menu. 
Investing in quality baking equipment and utensils is necessary to ensure consistent results.
And don't forget your menu!
It will have to cater to different tastes and occasions. 
How about offering a variety of cake flavors, sizes, and customization options?
 Think carefully about dietary restrictions and offer gluten-free, vegan, or sugar-free alternatives to attract a wider customer base.
Here's a fab menu idea for a start-up cake business:
Classic Chocolate Delight
Vanilla Celebration
Red Velvet Romance
Lemon Sunshine
Berry Bliss
Caramel Indulgence
Cookies and Cream Delight
Sounds yummy right?
And there's plenty more to find!
Start doing some research to start your business off right!
4. Start a Cake Blog
This is one of my favorite suggestions on this list, because, you guessed it – I own a blog!
It's a fantastic way to make money because it can essentially become a passive income stream. I know of bloggers who haven't worked on their blogs for months and still make money.
You could do that with a cake blog too.
The best way to start is to sign up with a hosting provider and purchase a domain name. 
After this, you choose a blog theme, add your plug-ins and start writing posts.
Need a blog name?
Here are some fun ones:
The Cake Chronicles
Cake Delights
Sweet Slice Society
The Cake Connoisseur
Baking Bliss
Cake Creations Corner
The Frosted Palette
Once you've chosen a fun and relatable blog name, it's time to write your posts.
Since you're writing about cakes, it shouldn't be that hard and it's even better once you've niched down.
Instead of blogging solely about cakes, it's better to choose a specific topic and center your posts around that topic.
Some sub-niches could include:
Gluten-Free Cake Recipes
Vegan Cake Creations
Cake Decorating Tutorials
Cake Photography and Styling
Cake Sculpting and 3D Designs
Wedding Cake Inspirations
Kids' Birthday Cakes
Cake Pops and Mini Treats
Seasonal Cake Creations
Healthy Cake Alternatives
International Cake Flavors
Cake Business Tips and Entrepreneurship
See how that works?
Now when you write, your audience will know what to expect from you and you'll get targeted readers.

When it comes to making money with your blog, you can try using display ads, affiliate marketing, selling a course about starting a cake, and more.
The possibilities are huge!
Find out how this couple earns $500K a year with their own blog.
5. Sell Baking Recipes on Etsy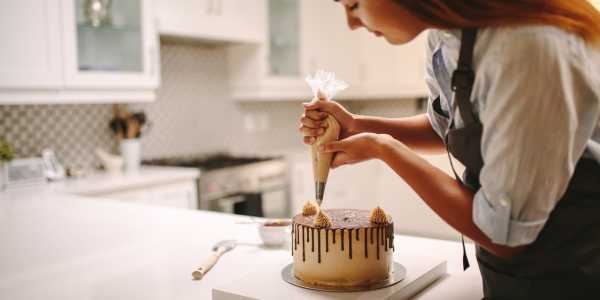 Have you ever shopped on Etsy?
It's like a treasure trove of unique, handcrafted, and vintage goodies that will make your heart skip a beat.
 Etsy is a vibrant community where talented artists, crafters, and vintage enthusiasts come together to share their passion and sell their one-of-a-kind creations.
You may not have thought of it, but you can sell cake recipes on Etsy!
This way, you can reach a wide audience of food enthusiasts and generate income from your cooking skills.
Making it on Etsy will take some time because of the competition, but you can identify your niche and specialize in a particular type of cuisine to make it much easier.
When you set up your shop (this can take literally less than 10 minutes)
You can upload well-tested recipes with clear formatting and appealing presentation. 
Make sure to write compelling descriptions and titles, and determine competitive prices for your recipes.
Without promoting your shop, it can be hard to make sales. So use effective marketing like social media and collaborations with food bloggers. 
This is a fun and delicious way to earn money consistently and passively.
How to Make Money Selling Cakes as a Business
 Understanding the Market for Cakes
To succeed in the cake business, you do need to understand the market demand for cakes in your area. Head out there and research local bakeries, cafes, and online platforms to gauge the competition and identify any gaps in the market that you can fill with your unique offerings.
 Identifying Your Niche and Target Audience
Determining your niche is essential for differentiation. You might want to consider specializing in custom-designed wedding cakes, children's birthday cakes, or vegan and gluten-free options. When you've identified your target audience, it will help you tailor your marketing efforts and products to meet their specific needs and preferences.
 Developing a Unique Selling Proposition (USP)
Craft a compelling USP that sets your cake business apart from competitors. Whether it's your signature flavors, attention to detail in decorations, or personalized customer service, highlight what makes your cakes unique and appealing to customers.
 Setting Up Your Cake Business
You should also decide on the legal structure of your business and register it accordingly. Obtain the necessary permits and licenses required to operate a food business in your jurisdiction. Then, set up a dedicated workspace, equip it with baking tools and equipment, and establish a system for inventory management.
Creating an Effective Brand Identity
Branding is everything! You should definitely create a cohesive brand identity that reflects the essence of your cake business. Start by choosing a memorable business name, design a captivating logo, and create visually appealing packaging. Consistency in branding across various touchpoints will help establish your business in the minds of customers.
Building an Online Presence
In today's digital age, an online presence is necessary for business success. It's pretty easy to create a professional website that will showcase your cake creations and services. It's a good idea to utilize social media platforms like Instagram and Facebook to share enticing photos, engage with customers, and build a loyal following.
 Pricing Your Cakes Competitively
Determine the pricing structure for your cakes that covers your costs and generates a profit. Consider factors such as ingredients, labor, overhead expenses, and market demand. Research the pricing of competitors to ensure your prices are competitive while reflecting the value you provide.
Can You Make Money Selling Cakes?
Does selling cake make money?
Absolutely bakers! Selling cakes can be a deliciously profitable venture. People love indulging in sweet treats, and if you have a knack for baking scrumptious cakes, there's a great opportunity to turn your passion into a profitable business.
Is a cake business profitable?
In all honesty, it depends. A cake business can be highly profitable if you approach it with creativity, quality ingredients, and excellent customer service. With the right pricing, marketing strategies, and a dash of passion, you can turn your love for baking into a lucrative and fulfilling enterprise.
How do I become a successful cake business?
To become a successful cake business, you'll need to have a winning recipe of key ingredients. First, hone your baking skills and create mouthwatering cakes that leave customers craving for more. Next, focus on building your brand, creating a visually appealing portfolio, and establishing a strong online presence. Additionally, providing exceptional customer service and building positive relationships with your clients will keep them coming back for more. Remember, dedication, innovation, and a pinch of creativity will help you rise above the competition and achieve sweet success.
How to make money from baking cakes?
There are several ways to make money from baking cakes. One option is to start your own cake business, whether it's a physical storefront, an online shop, or both.
 Another avenue is to offer customized cakes for special occasions, such as weddings, birthdays, and events. 
You can also consider selling your baked goods at local markets, collaborating with other businesses, or offering baking classes to share your skills and knowledge. 
The key is to find your niche, deliver exceptional products, and market your offerings effectively to attract customers and generate steady income from your passion for baking.
How to Make Money Baking Cakes From Home
I love a good cake and many good customers do too!
When you combine your baking skills with creativity and a dash of entrepreneurial spirit, you can turn your passion for cakes into a profitable venture. 
First, think about what you'd like to do. 
It could be a cake business at home, customized cakes for special occasions, or even a cake blog filled with delectable recipes!
 The key is to deliver exceptional products, provide outstanding customer service, and market your offerings effectively. 
Your success will come with dedication, so whip up your signature recipes, and let your delicious creations pave the way to a tasty and lucrative future. 
PIN IT!