This post may include affiliate links.
I love trying new recipes.
In fact, I do have a few recipe books on hand that I plan to utilize in my free time. 
Like myself, there are plenty of folks who are looking for new recipes or tips on improving their old ones.
That's where YOU come in.
You could make money selling recipes as a superstar foodie!
After all, food is an incredible source of joy and creativity.
The love of making recipes goes beyond the act of preparing meals.
It can be looked at as an art form that allows us to express ourselves and explore the endless possibilities of taste and texture.
If you do love food, you could use your skill to unleash your imagination by transforming simple ingredients into something extraordinary. 
And with that, you'll be helping others along the way.
So read on to find out how to make money selling recipes online as a side hustle!
PIN IT!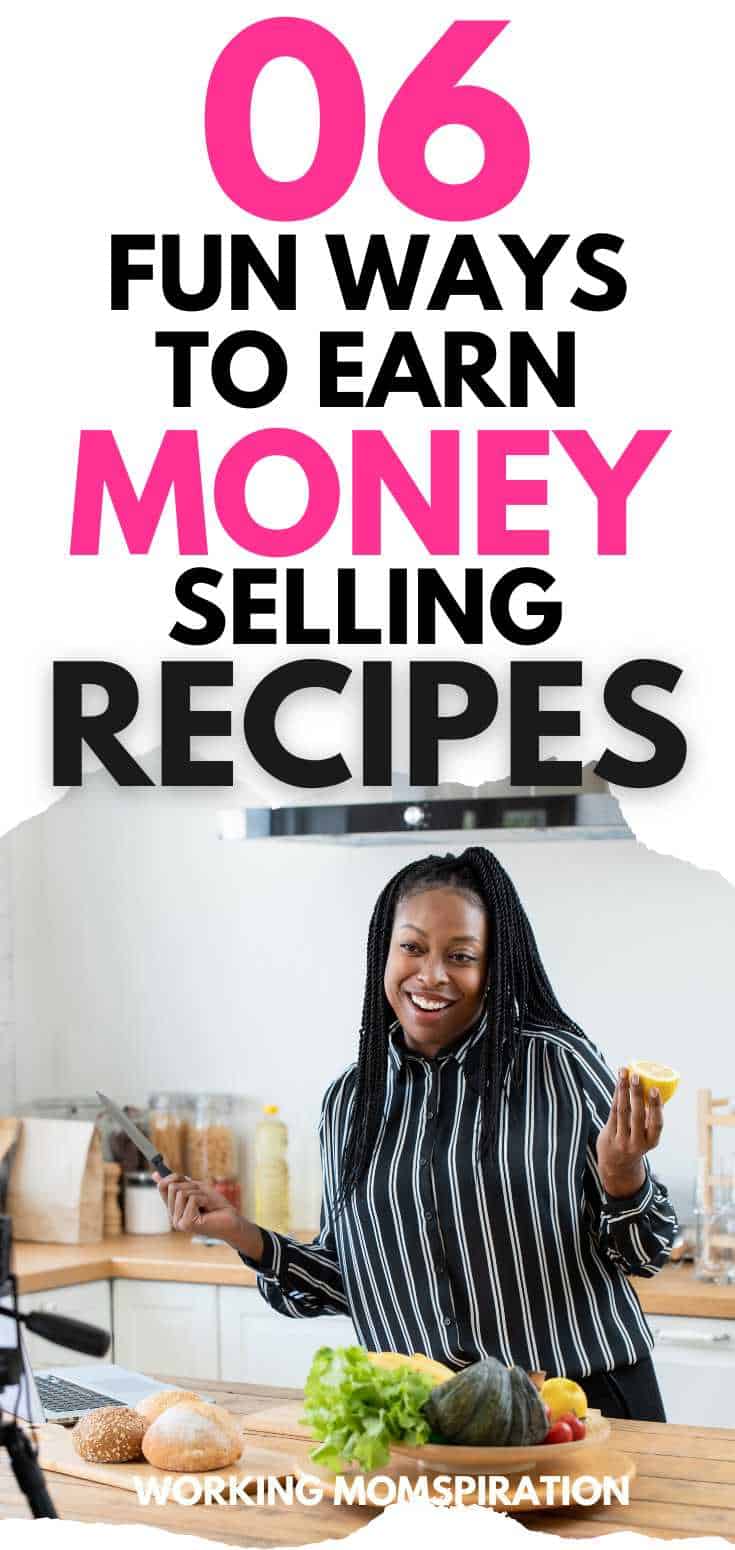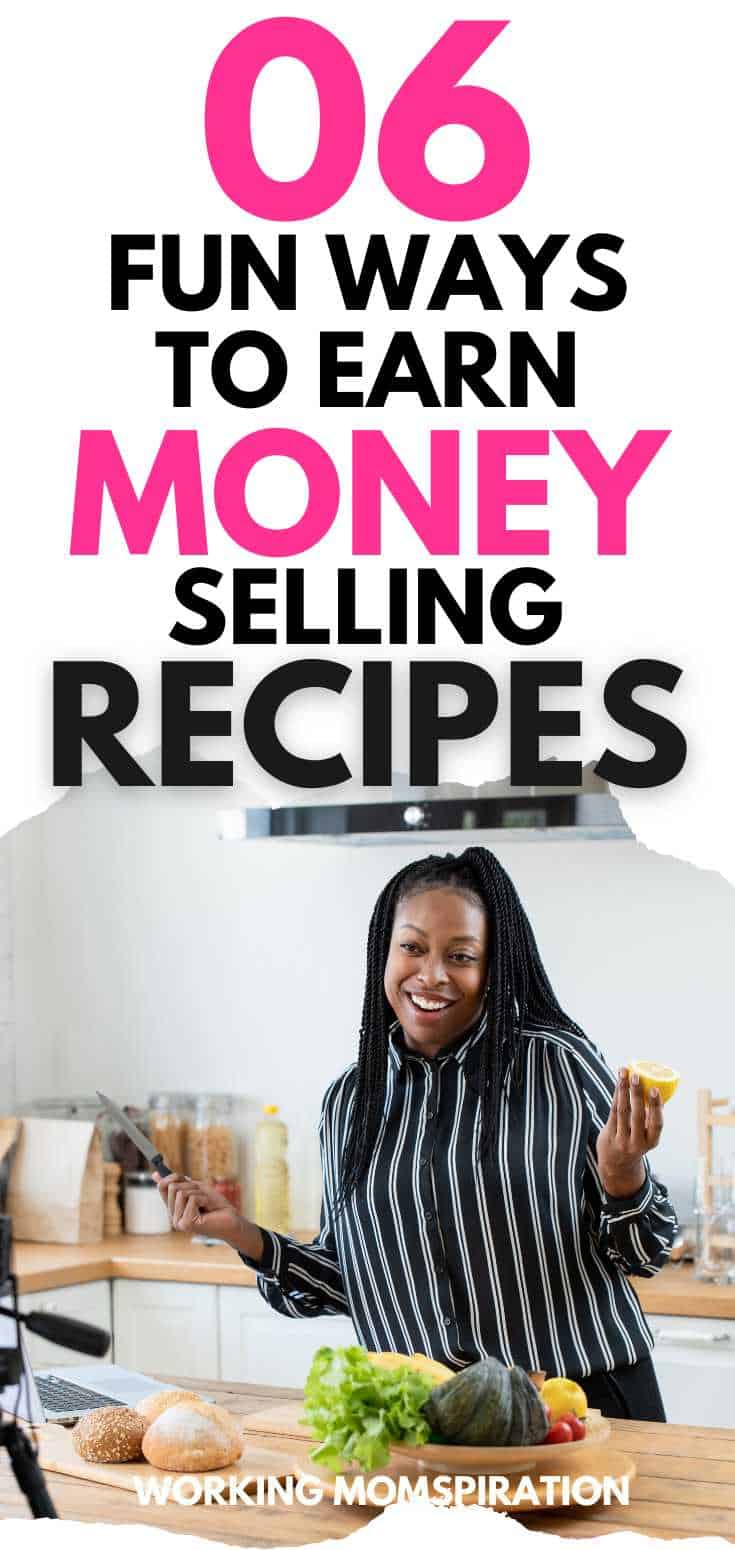 How to Sell Recipes Online for Cash
1. Sell Cookbook on the KDP platform
This is probably the most common way to make money selling recipes. 
If you're eager to make some dough by selling your mouthwatering recipes with a cookbook, then why not try Kindle Direct Publishing? 
Kindle Direct Publishing (KDP) is a self-publishing platform provided by Amazon.
 It allows authors and content creators to publish and distribute their books, including e-books and paperbacks, directly to Kindle readers and customers worldwide.
If you'd like to have success selling your book, this is one of the best places to start!
Your amazing recipes can be compiled into a PDF format which includes your captivating images and precise directions. 
Inject it with your unique flair, sharing your personal anecdotes and tips along the way. I mean readers do love a good story, right?
On Amazon, there is a lot of competition, so you'll need to use keyword research to get less competitive keywords so you can rank.
Use tools like:
Publisher Rocket
Bookbeam
KDspy
Book Bolt
When uploading your book, head over to KDP, sign up, and enter your personal details, banking details, and more.
Add your manuscript, and fill in the necessary fields like the book title, keywords, and author name.
Try to experiment with eye-catching titles, vibrant food photography, and enticing descriptions. Remember, people eat with their eyes first, so make sure each page is a feast for their senses!
Even with a great cover, you still need to promote your book. You can use Amazon ads, Tik Tok reels, and social media marketing to get more sales and visibility. 
Also, reviews are the icing on the cake, so encourage your readers to leave feedback on your book. 
Even though it may take some time to get sales, it's completely free to get started with this side hustle. And who knows your book may become a bestseller in just a few months!
Learn more about how to sell journals on Amazon and get into low-content publishing!
2. Start a Food Blog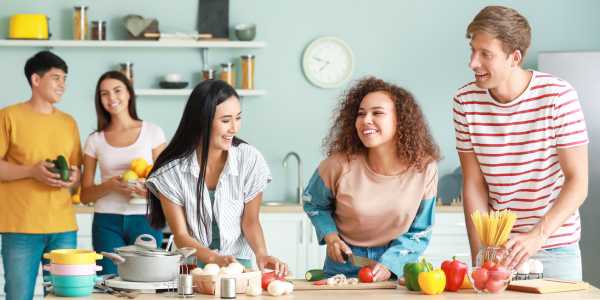 Blogging isn't dead and you can actually make money with your recipes through this avenue. 
Even if you hate writing, you can still earn by paying someone to write for you. 
There are tons of food blogs out there cashing in on the blogging experience and I don't see why you shouldn't.
If you're ready to start a food blog, I recommend choosing a specific niche. Choosing a general niche means there may be too much competition and you will find it hard to get traffic.
Here are a few ideas to get you started:
General Niche: Healthy Eating
Subniches:
Plant-based/Vegan recipes
Gluten-free recipes
Paleo diet recipes
Keto and low-carb recipes
Whole foods and clean eating
General Niche: International Cuisine
Subniches:
Italian cuisine
Mexican cuisine
Asian cuisine (Chinese, Japanese, Thai, etc.)
Middle Eastern cuisine
Mediterranean cuisine
General Niche: Budget-Friendly Cooking:
Subniches:
Frugal recipes
Cooking on a budget
Meal planning for cost-effective meals
Tips for saving money on groceries
Student-friendly recipes
Not so bad, right?
When you choose a sub niches, you can center your posts around this and then once you've got enough traffic you can monetize your blog with:
You can join ad networks like Mediavine or work directly with brands to display targeted ads on your blog. This can provide consistent revenue and what I like to call passive income.
Once viewer views or clicks ads, you earn cash.
Affiliate marketing is another tasty way to earn some dough. You can recommend kitchen gadgets, cookbooks, or specialty ingredients through affiliate programs and earn a commission when readers make purchases using your unique affiliate links. 
Choose products you genuinely love and believe in to build trust with your audience.
Sponsored posts on the other hand are a recipe for success too. Collaborate with food brands, kitchenware companies, or restaurants to develop sponsored content that features their products or services. 
You should be transparent with your readers about sponsored posts to maintain authenticity and trust.
Your food blog can also be a gateway to exciting opportunities like cookbook deals, television appearances, or partnerships with food-related businesses.
 Blogging will open an entire world of opportunity to you for years to come.
Find out how this couple earns 500K each year with their own blog.
3. Sell Recipes with a Subcription Service
Have you ever used a subscription-based meal-planning service? 
Well, many people do and would be willing to pay for it. 
It will involve creating a brand and showcasing your skills in cooking and developing awesome recipes. 
First off, think of a catchy name that reflects your passion for cooking and resonates with your target audience.
 Remember, your goal is to make meal planning and cooking an enjoyable experience for your subscribers.
Now on to the hard part!
You'll need to start creating a repertoire of mouthwatering recipes that show off your culinary expertise. 
Why not try experimenting with various cuisines, flavors, and dietary preferences?
This way, you can cater to a wide range of tastes. Make sure to keep your recipes user-friendly and easy to follow, so even beginner cooks can whip up delicious meals with confidence.
If you'd really like to entice potential subscribers, offer a free trial or a tantalizing sample of your recipes. 
This will give them a taste of what they can expect from your subscription service. You can share these samples through your website, social media platforms, or even host live cooking demos to engage with your audience directly.
Now it's time to set up your subscription-based model. 
Create a user-friendly website where subscribers can sign up for weekly or monthly meal plans.
A great way to make sales is to offer different tiers of membership, such as basic, premium, or family plans, to accommodate various needs and budgets. 
Make sure to create a clear pricing structure and emphasize the value they'll receive from your service.
To keep things interactive and fun, engage with your subscribers regularly. 
Send out personalized newsletters with cooking tips, ingredient recommendations, and exclusive content and encourage them to share their cooking experiences and creations on social media using a dedicated hashtag. 
You can turn your passion for cooking into a profitable venture with a little dedication, creativity, and a pinch of entrepreneurial spirit. 
4. Do Guest Posts for Food-Related Websites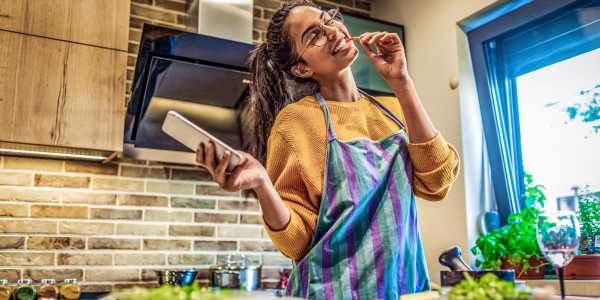 If you have a love for writing and food, but don't care to start a blog, this option is available to you!
You can write for food websites and earn money once they accept your article.
Stumped on where to start?
Here are a few:
These are just a few of the few among the thousands of food websites that you can write for and make money.
You can start out by pitching to these websites and once you make your mark, you may be offered a regular column to write.
Craft compelling pitches that highlight the unique angle or perspective you can bring to the table. Whether it's exploring regional cuisines, experimenting with fusion flavors, or delving into the history of a dish, make sure your ideas are fresh and exciting.
When you're writing, try to inject some humor, anecdotes, and personal experiences to make your articles engaging and relatable.
No one likes to be bored reading about food!
Your articles need to be high-quality and provide value to the reader. 
Basically, you want to make your readers drool over your descriptions and leave them eager to try your recipes.
When it comes to how much money you can make per article as a freelance food writer, there's quite a range.
 On the lower end, you might find opportunities that pay around $50, but don't worry, it can go up from there!
 Established publications and fancy magazines often offer higher rates, especially if you have experience or are covering specialized topics. 
Still, keep in mind that online platforms or smaller publications may have tighter budgets, which means their compensation might be more modest.
Payment structures can vary too. Some publications offer a flat fee for each article, while others pay per word or have set rates based on the type of content.
 Your level of experience and the complexity of the topic can also influence the rates you're offered.
And don't forget, when negotiating rates, consider the value you bring to the table and strike a fair balance that aligns with your goals as a food writer.
5. Create a Food App
I love using various apps. It could be games, trackers,  etc. I just like trying new apps.
You could take advantage of your love for food, and design an app.
You can actually pay someone to create an app too.
Come up with a catchy name for your app that reflects its purpose and captures the attention of food lovers.
Here are a few ideas:
FlavorFusion
TasteBudz
RecipeRevolution
DishDiscovery
FoodieFinds
Cookscape
Flavorsome
 Next, dive into recipe development mode and curate a mouthwatering collection of recipes that cater to various tastes, dietary preferences, and cooking skill levels. 
This could range from international cuisines, and healthy alternatives, to quick and easy meals.
The best part of the whole process is monetizing your app.
One popular approach is to offer a freemium model. How this works is that you offer a free version of your app with basic features and a limited recipe selection to attract users.
 Then, you'll offer a premium subscription plan that unlocks exclusive recipes, advanced features, meal-planning tools, and personalized recommendations. 
The key is to provide enough value to entice users to upgrade to the premium version.
However, you can add more revenue streams like in-app advertising. 
You can partner with brands, food suppliers, or kitchenware companies to display targeted ads within your app. 
The money-making potential of a food app is pretty exciting! 
It's hard to put an exact number on it, but a successful app can bring in some serious dough. 
Entertainment apps can earn you around $3,000+ per day which really isn't bad at all!
While creating a successful food app and monetizing it takes time, creating a well-curated recipe collection with innovative features and monetization strategies, can bring sweet success to the app world!
6. Start a Food Youtube Channel
You can probably have a lot of fun with this one!
While there are tons of YouTube channels out there, you can beat the competition by niching down.
A good example is trying something like this:
Channel 1: "Tasty Treats"
Subniche 1: "Healthy Eats": Focus on creating nutritious and wholesome recipes that promote a healthy lifestyle. Share tips for meal prepping, plant-based diets, gluten-free options, and weight management.
Subniche 2: "International Flavors": Explore the world of global cuisines and showcase recipes from various cultures. Dive into the rich flavors of Italian pasta, Thai curries, Mexican street food, Indian spices, and more.
Channel 2: "Baking Bliss"
Subniche 1: "Decadent Desserts": Indulge in the world of sweet treats, featuring recipes for delectable cakes, cookies, pies, and pastries. Show techniques for decorating and creating show-stopping desserts.
Subniche 2: "Bread Bonanza": Dive into the art of bread-making with recipes for artisanal loaves, sourdough starters, bagels, and more. Share tips for achieving the perfect crust, soft interior, and unique flavor profiles.
Once you've decided on a niche, it's time to create content that leaves viewers drooling for more. 
Whip up mouthwatering recipes, showcase your cooking techniques, and share useful tips and tricks. Make each video a feast for the eyes, with high-quality visuals, engaging storytelling, and a sprinkle of your delightful personality.
To monetize your channel, you can join the YouTube Partner Program and start earning through ads. 
As your channel grows, you can also explore brand collaborations and sponsored content.
Affiliate marketing is a great idea too. You can promote products and brands on the channel and add links to your video descriptions.
You can add additional revenue by offering perks to your most dedicated fans through Patreon or a membership program.
 Provide exclusive content, personalized recipes, or live cooking sessions to your loyal supporters in exchange for a monthly fee. 
This not only generates extra income but also fosters a closer connection with your audience.
You can also team up with fellow food YouTubers or influencers to create mouthwatering content together.
This type of cross-promotion to each other's channels can tap into different audiences, expanding your reach and gaining new subscribers.
Also, don't forget to invest in quality equipment to enhance your video production. 
A good camera, microphone, and editing software can make your videos visually appealing and professional.
 However, remember that content is king, so focus on delivering value through your recipes and storytelling.
So, grab your apron, turn on the camera, and let your food journey unfold on YouTube. With passion, creativity, and a sprinkle of business savvy, you'll tantalize taste buds and turn your food YouTube channel into a recipe for delicious success!
Other Fun Ways to Make Money Selling Recipes
Personalized recipe development services: Develop custom recipes for individuals or businesses.
Sell recipe cards: Create and sell beautifully designed recipe cards or printable templates.
Work with food brands: Create sponsored recipes featuring their products or promote their brand.
Cooking classes or workshops: Teach cooking skills and share your recipes through in-person or online classes.
Pre-packaged meal kits: Provide recipe instructions and pre-portioned ingredients in meal kits for convenience.
Recipe consultation services: Offer professional advice and recipe development for restaurants or food businesses.
Cooking-related merchandise: Sell merchandise like aprons, kitchen gadgets, or spice blends alongside your recipes.
Recipe Printables on Etsy: Offer digital recipe printables that customers can download and print at home.
How to Sell Recipes Online
Can I make money selling recipes?
Oh, absolutely! Selling recipes can be a fantastic way to turn your culinary skills into some tasty cash. Whether it's through cookbooks, online platforms, or other creative avenues, there's a whole world of opportunities waiting to be explored.
How do you get paid to make recipes?
There are several ways to get that dough rolling in! You can sell your recipes through various channels like publishing a cookbook, offering recipe development services, creating digital products like eBooks or printables, or even collaborating with food brands for sponsored recipes. The key is to find the method that suits your style and target audience.
How do I start selling recipes?
Ready to get cooking on the business side? To start selling recipes, you can begin by developing a collection of your best recipes, ensuring they're well-tested and have that extra flavor that sets them apart. Then, you can explore different platforms like self-publishing a cookbook, setting up an online store, or joining recipe-sharing websites. It's all about finding your unique recipe-selling path!
How to make money selling recipes online?
Ah, the internet, a bustling marketplace for all things delicious! To make money selling recipes online, you can consider creating digital products like eBooks or printables that customers can purchase and download. You can also explore recipe-sharing platforms that offer monetization options or set up your own website or online store to sell your mouthwatering creations. Embrace the online world and let those recipes work their magic!
Get Paid for Your Recipes
In a world filled with tantalizing flavors and culinary adventures, making money by selling recipes is like adding a pinch of excitement to your financial journey.
This can work if you're concocting mouthwatering dishes for cookbooks, collaborating with food brands to create delicious partnerships, or crafting digital creations to tantalize taste buds.
The recipe-selling path is full of flavorful possibilities.
So, don your apron, stir up your creativity, and savor the joy of turning your culinary passion into a profitable venture.
PIN IT!