This post may include affiliate links.
Are you passionate about cards and looking for an exciting way to turn your hobby into a profitable venture? 
If you would like to know how to make money selling cards, this one is for you.
I'm always looking for new ways to earn an extra buck and I don't see why cards can't play a part in that!
Today, we'll look at how to make money selling cards and delve into the strategies that can help you unlock the potential for financial success.
From business cards to greeting cards, the market for cards offers a plethora of opportunities for creative individuals like yourself.
 This works if you're an avid collector with an impressive inventory or a talented designer with an eye for aesthetics.
The potential to make money selling cards is within your grasp.
So if you're interested we'll look at the different types of cards you can sell to make some money online.
Let's dive in and unlock the treasure trove of opportunities awaiting you in the captivating world of card selling!
PIN IT!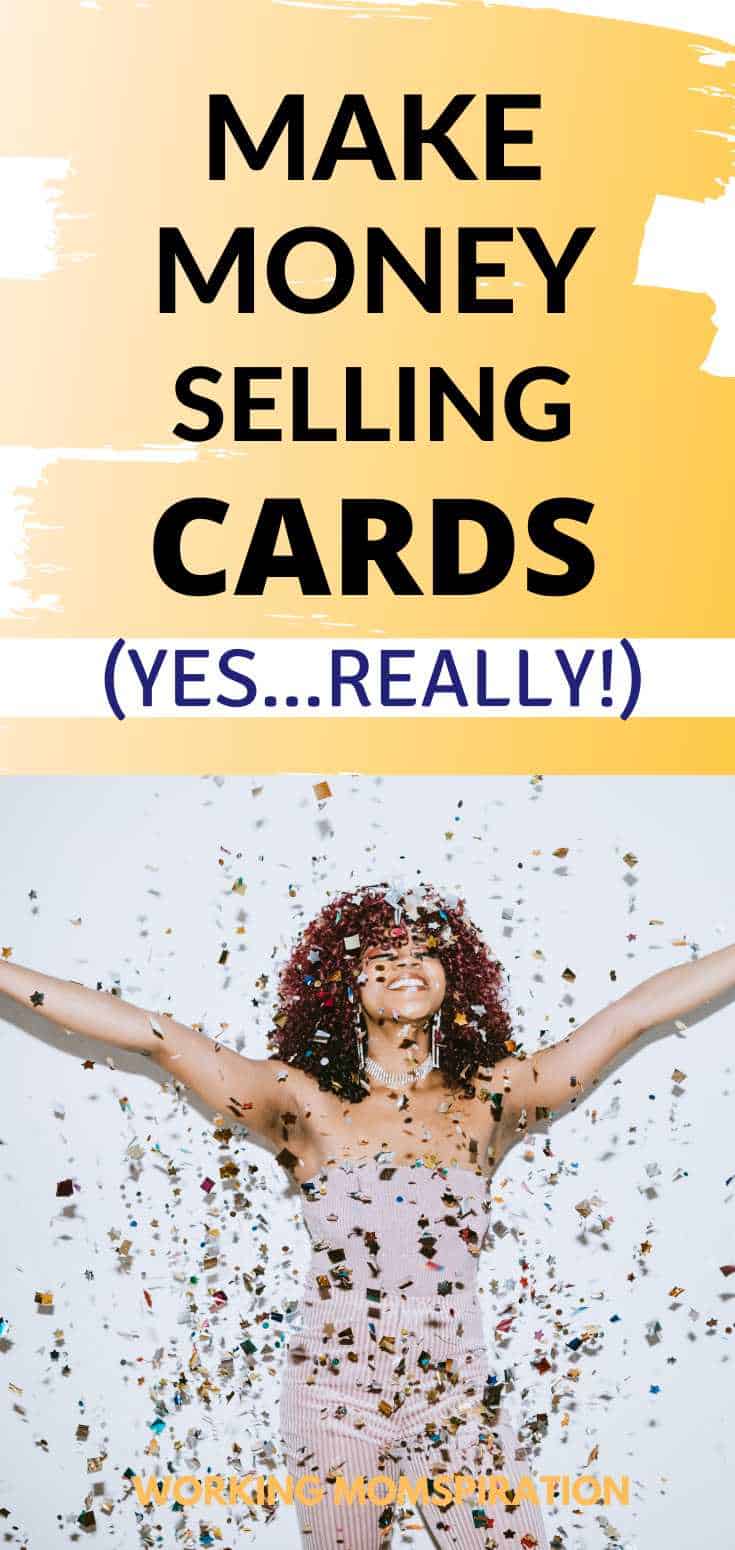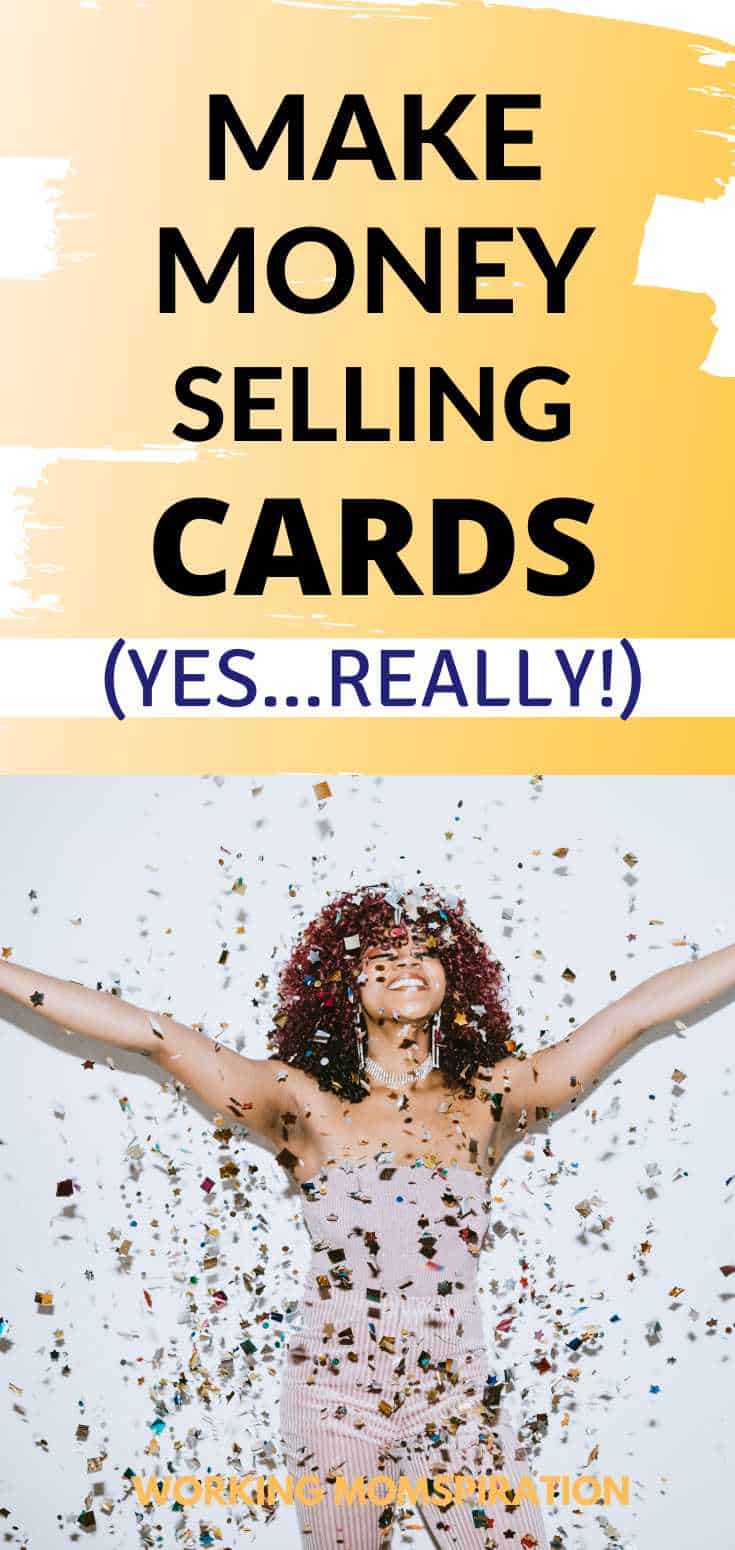 How to Make Money Selling Gift Cards
1. Buy Discounted Gift Cards and Resell for Profit
Buying discounted gift cards is like discovering hidden treasures that you can transform into profit.
You will need to keep your eyes peeled for reputable online platforms or local marketplaces where you can find discounted gift cards from a wide range of retailers. 
Some examples include:
Once you've snatched up these cards at a fraction of their face value, you can make some sales.  
I really recommend utilizing online marketplaces, social media platforms, or even your own website to showcase your gift cards and grab some customers.
While gift cards sell especially well around the holidays, they are a fantastic seller year-round!
It would be best if you tried to offer your cards at competitive prices, while not going too high.
Find the sweet spot where you can profit without pressuring the customer. 
To rev up your sales, don't forget to emphasize the incredible savings they'll enjoy by purchasing from you. 
Get ready to dazzle customers with amazing deals and watch your bank account grow. Happy hunting, gift card entrepreneurs!
2. Sell Unwanted Giftcards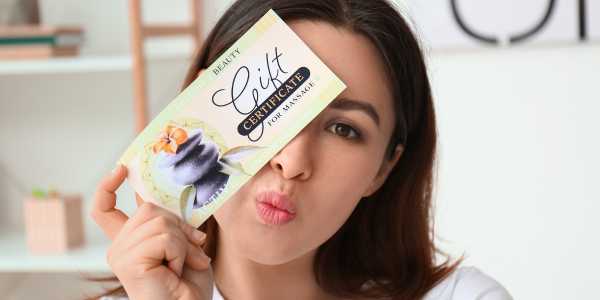 Are you sitting on a stash of unwanted gift cards?
 It's time to turn those overlooked treasures into cold, hard cash! 
Here's how to transform those unused cards into money-making opportunities. 
First, take stock of your unwanted gift cards and determine their value.
You can then use a website like Gift Card Granny to sell your products. 
What I like is that this platform provides a convenient avenue for you to sell your unwanted cards to eager buyers. So if you're someone who often winds up with gift cards, this is an excellent way to make extra cash. 
When selling them, be sure to make your listings detailed and add things like the card's value, expiration date, and any restrictions. 
To increase your chances of selling, consider offering a discount for bulk purchases or creating bundles of complementary gift cards.
I would also recommend using social media to share your card listings on platforms like Facebook, Instagram, or Twitter to reach a wider audience. 
So hop onto the online marketplaces, and start transforming those unwanted cards into cash. It's time to declutter and make some money along the way!
3. Partner with Local Retailers to Sell Giftcards
One of the best ways to make money selling gift cards is to collaborate with local retailers. This can be a game-changer for entrepreneurs seeking new avenues of income.
This is best done in your town or community as it will give your quick access to participating retailers. 
What you need to do first is identify local retailers that align with your target market and reach out to them. You could try boutique shops, specialty stores, or even larger businesses open to collaborations. 
Once you've done the first step, give them your proposition, and highlight how your collaboration can drive foot traffic, increase sales, or even enhance their brand image.
Even though this is all about how you plan to make money,  try to tailor to their needs, whether it's promoting their products on your platform or organizing joint events.
This is the best way to snag a deal, because every business wants it to be about them. 
 Negotiate a fair commission or percentage of sales for your role in driving customers to their store. 
One creative way to add more promotions to your business is to organize pop-up shops or collaborative events where you can showcase your products alongside the retailer's offerings. 
This creates a unique shopping experience and increases your exposure to a broader audience
Together, you can create a thriving entrepreneurial ecosystem that benefits everyone involved. 
Make Money using Greeting Card Companies
3. Create Art for Greeting Card Companies
Would you like to turn your artistic talents into a lucrative venture? 
If you have a knack for creating unique art pieces and content, then selling your skills to greeting card companies is best for you!
This can be a delightful way to make money doing what you love. 
A few reputable companies to write for include:
Blue Mountain Arts
Oatmeal Studios
Snafu Designs
Papyrus
Calypso Cards
Greeting card companies are a great source to make money from because greeting cards are an evergreen product. This means you can make a consistent income year round and particularly on special holidays.
Not to mention, the profit margins can be attractive, especially when creating designs in bulk. 
Some greeting card companies may offer a flat fee for your artwork, while others may provide a percentage royalty based on the sales generated by the cards featuring the artist's designs.
 It's not uncommon for artists to receive a royalty rate between 5% and 10% of the wholesale price for each card sold.
This is a nice side hustle for artists or those in the creative sphere and doesn't require full-time hours. It is however a way to earn passive income because the greeting cards sell even after you've created it once!
If you're truly interested in this income opportunity, you could work on specific themes like florals, ocean scenes, wildlife, seasons, and more. 
Better yet, you could concentrate on specific occasions like birthdays, anniversaries, graduations, congratulations, sympathy, or just do them all!
It's a fantastic idea to sell greeting cards that have the ability to evoke emotions and touch the hearts of the person receiving them. 
They tend to show expressions of care, love, celebration, sympathy, or gratitude. 
They will never be out of style, so I highly recommend taking advantage of this opportunity. 
4. Sell Greeting Cards on Redbubble
I don't know about you but I love cute stickers. If you know anything about Redbubble, you know they sell A LOT of stickers.
What you may not have thought of is that they sell greeting cards too.
On Redbubble you'll find the following and more:
Birthday Cards
Thank You Cards
Holiday Cards (Christmas, Valentine's Day, Easter, etc.)
Anniversary Cards
Wedding Cards
Baby Shower/New Baby Cards
Sympathy Cards
Get Well Soon Cards
Congratulations Cards
Friendship Cards
Graduation Cards
Thinking of You Cards
Love and Romance Cards
Inspirational and Motivational Cards
Funny and Humorous Cards
Selling greeting cards on Redbubble can be very rewarding.
Redbubble allows artists to upload designs and sell them on various products, including greeting cards. 
Can you create eye-catching designs?
This might be just the spot for you.
Buyers love unique, sometimes trendy, and usually funny images and quotes, so you can take advantage of this for your greeting cards.
 Once you've created a few designs, upload them to the platform and add descriptions, keywords, and relevant tags to increase your visibility. 
I love how this platform works because they take care of the printing, production, and shipping.
So all you have to worry about is designing. 
To make more money on Redbubble, utilize ads to send potential buyers to your designs.
Check out their designs and start making your own!
5. Selling Greeting Cards on a Blog
If you enjoy writing and wouldn't mind sharing your knowledge with the world, then you could earn money with a blog.
Generally, people blog for a variety of reasons that stem from their individual passions, interests, and goals. 
For many, blogging is a creative outlet, to express and share thoughts.
But let's be real here. The main reason is to make some mula!
You could start a blog centered around design, stationery, or art and then sell your greeting card designs as PLR products that others could purchase for resale. 
  Blogging does take some work especially when just starting out.
 Firstly, you'll need to start with a blogging platform like WordPress and purchase a domain name that reflects your blog's focus.
Having a visually outstanding blog layout that appeals to your audience doesn't hurt either. 
Once your site is up and ready, start creating helpful content that your readers will enjoy. Once you've gained enough traffic, you can start selling art designs and creations geared toward those who want a quick way to create their own greeting cards using ready-made art. 
Regularly evaluate your sales and customer feedback to refine your product offerings and marketing strategies. 
While building a successful greeting card business through a blog takes time, effort, and creativity, with dedication and perseverance, you can turn your passion into a lucrative online enterprise.
Sell Business Cards for Passive Income
6. Sell Business Cards on Etsy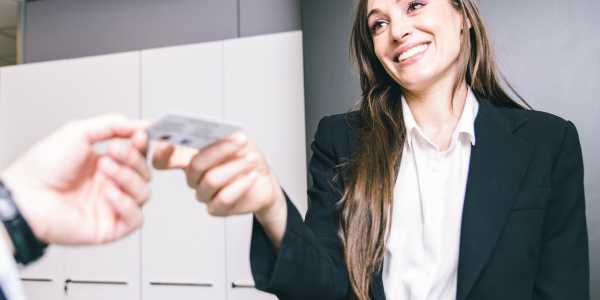 Etsy is one of the most popular online marketplaces around, with millions using the platform each month to purchase products.
Even though it was originally created for sellers of handmade products, there is a rise in the sale of digital products that users can purchase and customize on their own.
One of these products is the evergreen business card.
A quick look on Etsy will show you a range of business cards with various designs that fit different tastes.
If you'd like to turn your creativity into profit you can sell your business cards just like these other entrepreneurs. 
After creating an Etsy shop, you should research business card niches to get into. Use a keyword tool like Marmalade to find low-competition niches to get into. 
I would start by investing time in creating a diverse range of business card designs to cater to a specific industry.
 Also, consider different styles, colors, and finishes to appeal to a wide customer base. To add a further boost to the product line, it would be a great idea to allow customers to customize their products with logos, contact information, social media icons, and more!
Last but not least, promote your Etsy shop and business card designs through social media platforms like Instagram, Facebook, and Pinterest. 
This way. You'll get more eyes on your product and they may rise in the algorithm.
7. Design Business Cards on Fiverr
If you have a flair for design and want to turn it into a profitable venture, creating business cards on Fiverr can be a lucrative opportunity.
 Fiverr is a popular online marketplace that connects freelancers with clients seeking various creative services. 
To start out as a freelancer, create a profile on Fiverr that showcases your design skills and expertise in business card creation. 
It would also be great to highlight your unique style, previous work samples, and any specialized services you offer, such as custom illustrations or logo design.
Because pricing can affect your sales price your services competitively based on the complexity of the project. You may also need to offer different packages that cater to varying client needs, such as basic designs, premium options with advanced features, or bulk orders with discounted rates.
Always remember that you're offering a service, so replying promptly to clients who provide customer service is a must.
You can then make money by completing your clients' requests on time and commit to as many orders as you like. 
8. Sell Business Cards to Niche Markets
One fantastic way to create a lucrative business from selling cards is to cater to niche markets.
And what do I mean by niche markets? 
This can include groups such as:
Real Estate Agents and Brokers
Healthcare Professionals (Doctors, Dentists, Therapists)
Creative Artists (Photographers, Graphic Designers, Musicians)
Wedding and Event Planners
Eco-Friendly Businesses
Technology and IT Professionals
Fitness and Wellness Experts (Personal Trainers, Yoga Instructors)
Food and Beverage Industry (Chefs, Restaurant Owners)
Fashion and Beauty Industry (Fashion Designers, Hairstylists)
Pet Services (Pet Groomers, Dog Trainers)
When you customize your designs to meet the unique needs and preferences of these niche markets, you can stand out from the competition and attract a loyal customer base. 
This is much more profitable than concentrating on a general niche market with a competitive edge.
After choosing a niche market, it's necessary to know how to target them.
You can do this by looking into industry trends and branding. This knowledge will help you create business card designs that truly resonate with your target audience and effectively represent your brand.
As with any design business, you could offer customization options to clients so they can personalize their business cards based on their preferences. 
This could be anything from using industry-specific symbols, certain colors or fonts, or unique finishes.
Are There Any Other Cards I Could Sell  Online?
There are several types of cards that you can sell online for cash.
Some of these include:
Trading Cards
Trading cards are collectible cards typically associated with sports, such as baseball, basketball, or football. They can also include non-sports themes like Pokémon. Valuable and rare trading cards can fetch high prices from collectors.
Collectible Card Games (CCGs)
Pokémon and Yu-Gi-Oh! have a dedicated fan base. Rare and sought-after cards from these games can be sold individually or as part of complete sets.
Postcards
Vintage or unique postcards featuring specific locations, landmarks, or themes can be valuable to collectors. You can sell them individually or as part of a set.
Game Cards
Some video games, especially online multiplayer games, have in-game currency or items that can be purchased with real money. Players may be willing to buy or trade these digital cards to enhance their gaming experience.
How to Make Money Selling Sports Cards
Can you make money opening trading cards?
 Did you know that something as simple as opening trading cards could be so rewarding?
When you buy these in bulk, there may be strewed among your cards a few valuable ones that can fetch a high price.
 Many collectors and enthusiasts are willing to pay a premium for rare or valuable cards. The thrill of discovering a highly sought-after card within a pack adds to the appeal and potential profitability of opening trading cards.
 Your success in making money from opening cards relies on factors like obtaining valuable cards, understanding the market, and having a strategy for selling the cards at the right time and price.
What makes a card worth money? 
Several factors contribute to a card's value. Rarity is a significant aspect; cards that are harder to find or have a limited production run tend to be more valuable.
 The condition of the card also plays a big role, as collectors prefer cards in excellent shape. Historical significance, age, and the popularity of the player or character depicted on the card can all impact its value. Scarcity, unique features, or autographs can also increase a card's worth.
Overall though, a combination of these factors, along with the demand from collectors and the overall market conditions, determines a card's monetary value.
What trading cards are worth buying? 
Trading cards from reputable brands, such as sports cards from major leagues like the NFL, NBA, MLB, or popular card games are often worth buying. These cards have a larger market and a higher potential for value appreciation. It's also beneficial to focus on cards featuring star athletes, iconic players, or beloved characters. Also, limited edition or special edition cards, vintage or older cards, and cards from significant or rare sets can be valuable additions to a collection.
How to sell sports cards? 
There are various ways to sell sports cards. 
Online marketplaces like eBay, COMC (Check Out My Cards), or specialized sports card marketplaces offer a broad reach and convenience for selling your cards.
You can also check out local sports card shops which sometimes buy cards directly from individuals, providing cash or store credit.
There may also be the potential to get sales by attending sports card shows or conventions by selling your cards directly to potential buyers
When selling, you should keep in mind that the condition of the cards, current market value, and demand for specific cards or players will inevitably affect the price.
How to Make Money Selling Cards
If you're looking to make money selling cards, let me tell you now that can make a decent amount of cash.
At the beginning of your side hustle, it's better to focus on acquiring valuable and sought-after cards, whether they're sports trading cards, collectible card games, or rare and limited edition cards.
You should then research the market and stay updated on trends to understand which cards are in high demand.
Don't forget too that greeting cards, postcards, game cards and business cards are evergreen, so you will always have the chance to make money.
PIN IT!