This post may include affiliate links.
So you like to make money with Scentsy, but are not quite sure how to go about it huh?
If you'd like to know how to sell Scentsy successfully to make money, you've come to the right place!
This is a great side hustle for anyone who enjoys selling products.
Even if you don't enjoy it, it's something you can learn and grow to love – for the sake of an additional income stream of course!
If you're new to the whole Scentsy scene, it's a company that specializes in home fragrances and personal care products.
Since its inception, Scentsy has expanded its product line to include a variety of fragrances, including wax warmers, diffusers, room sprays, and laundry care products. 
Scentsy also offers a line of personal care products such as lotions, body washes, and fragrance sprays.
Do you enjoy using products like these? Would you like to sell them to other interested customers?
If so, read on to find out how to sell on Scentsy and make money doing it!
PIN IT!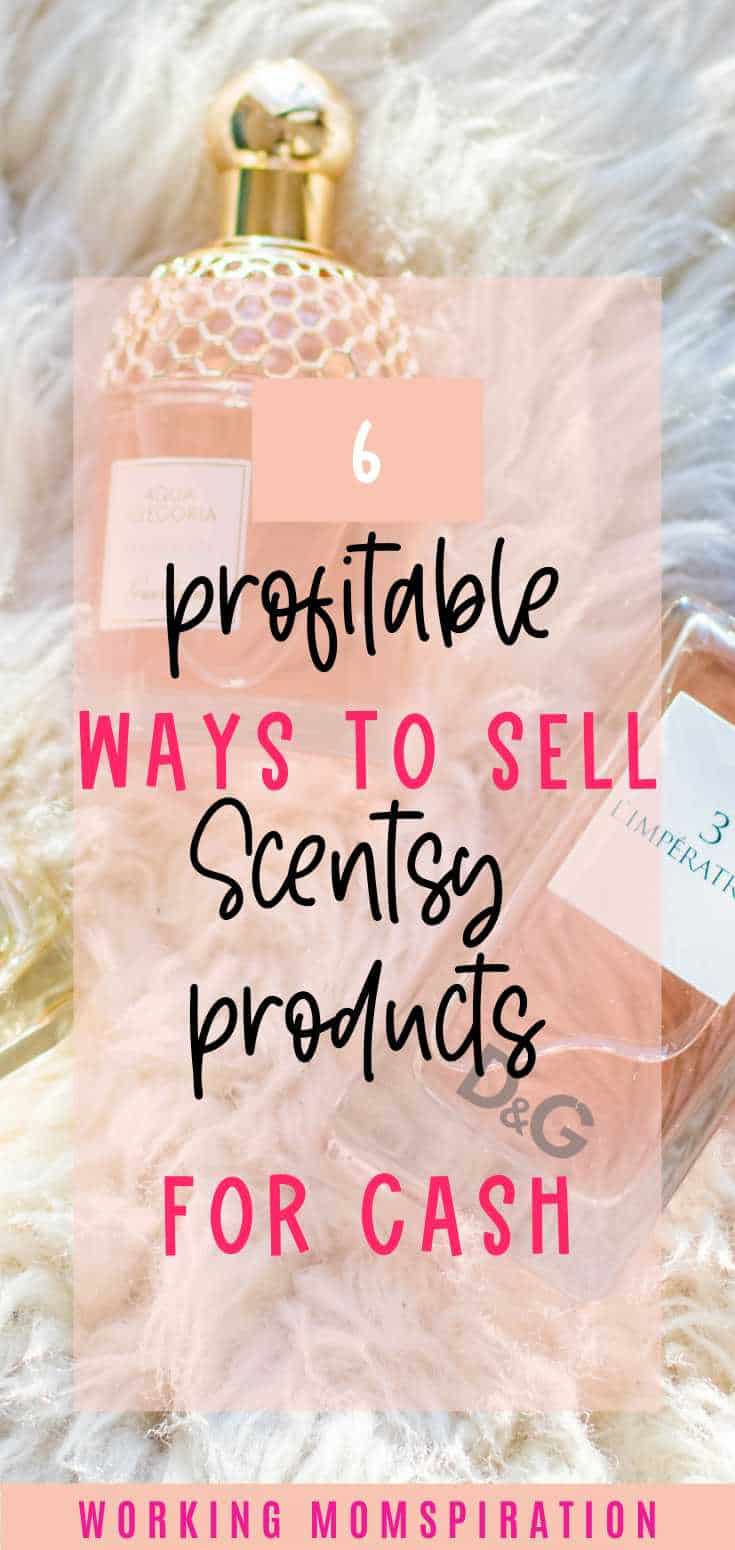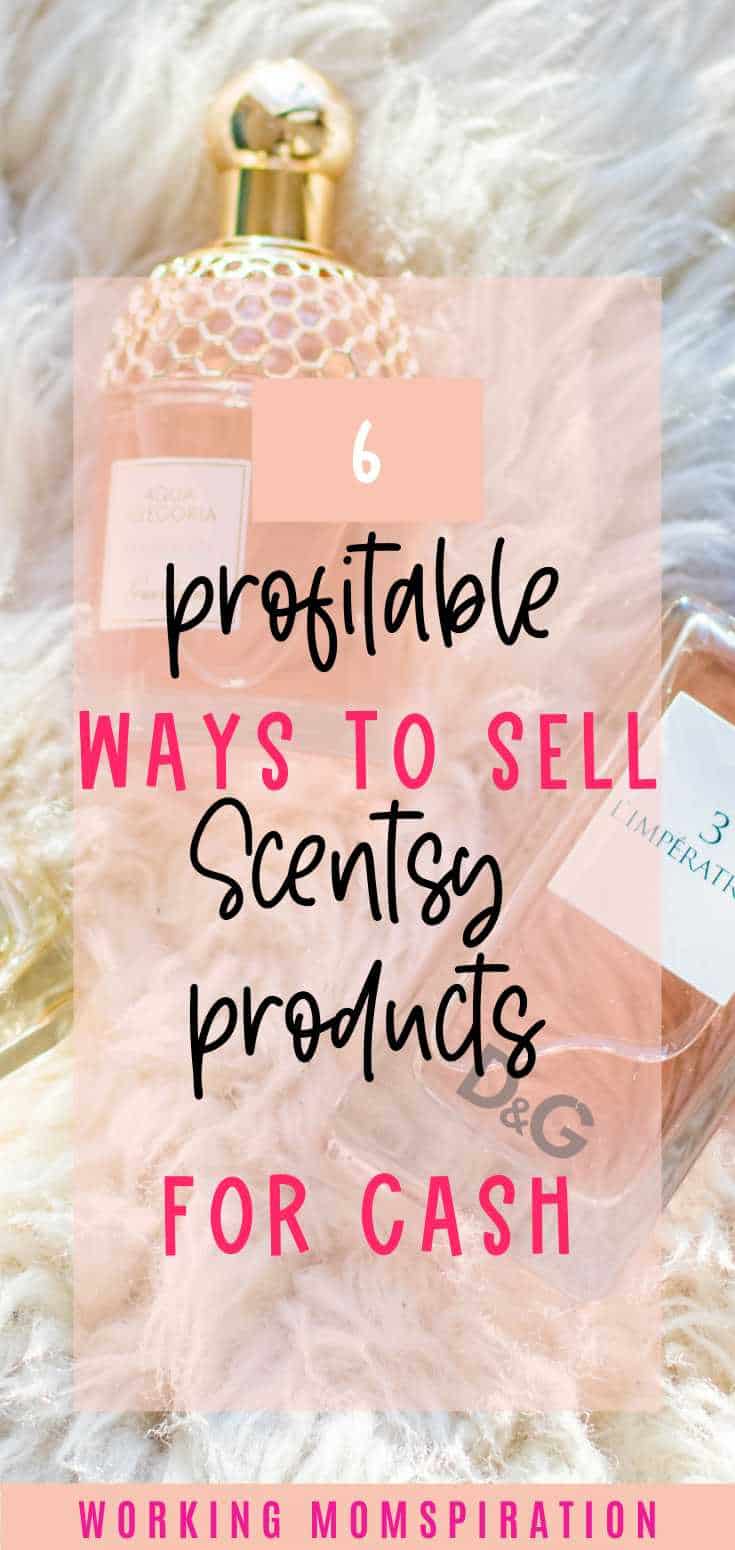 How Much Money Can I Make Selling Scentsy?
The amount of money you can make selling Scentsy, or any other direct selling company, can vary significantly and is dependent on many things.
This will include your individual effort, sales skills, customer base, market demand, and overall business strategy. 
While some individuals may achieve high earnings and build successful businesses through Scentsy, it is important to note that success is not guaranteed, and results can vary from person to person.
Scentsy offers a flexible income opportunity where consultants can earn money through retail sales, team building, and bonuses.
 Consultants earn a commission on the products they sell, and they can also earn additional income by building and leading a team of consultants. The more products sold and the larger the team, the greater the potential for earnings.
Creative Ways to Sell Scentsy for Cash
Here are a few creative ways to get more exposure to your Scentsy products and get more sales!
1. Wtite About It on a Blog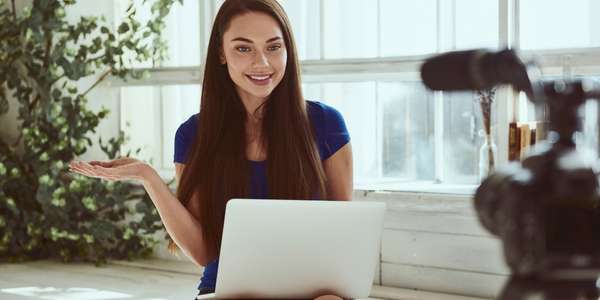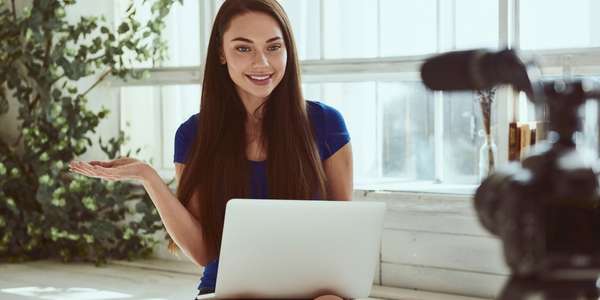 Do you enjoy writing?
You could start a blog geared toward home essentials and beauty products and incorporate Scentsy as well!
Your blog could be for homemakers who love to beautify their homes with various products and would be interested in the products that Scentsy offers. 
Writing for your blog is a business, but that doesn't mean it's not fun.
As a Scentsy consultant, you can showcase Scentsy products, share personal experiences and engage with a targeted audience.
 To successfully sell Scentsy on a blog, you do need to create high-quality content that resonates with readers and showcases the benefits of the products.
This means writing detailed product reviews, creative scent descriptions, home decor inspiration, and personal stories related to Scentsy.
Blog post ideas could include:
"Transform Your Home with Scents: A Guide to Creating a Welcoming Ambiance"
"Top 10 Scents for Relaxation and Stress Relief in Your Home"
"Discover the Best Scents to Boost Productivity in Your Home Office"
"Creating a Cozy Atmosphere: Fall Scents for a Warm and Inviting Home"
"The Power of Aromatherapy: Using Scents to Enhance Your Mood at Home"
"Refreshing Summertime Scents for a Cool and Vibrant Home"
Adding your own personal images of Scentsy products helps because your customers will value your opinion based on the fact that you use the products. 
You could earn money from your blog with:
Ad displays
Selling Scentsy products
Memberships
Scentsy Coaching Clubs
To maximize sales potential, you could utilize clear calls to action and provide convenient purchasing options, such as direct links or embedded shopping widgets. 
Regularly updating your blog with fresh content, and engaging with readers through comments and email newsletters can help build a loyal following and increase sales opportunities.
2. Use Social Media
Social media is another excellent way to sell Scentsy online. And it's free too!
You could use Facebook, Instagram, and Pinterest to reach a wider audience and build a strong customer base. 
For example, social media platforms like Instagram and Facebook allow you to showcase your products and connect with potential customers in a more personal way.
They allow you to use riveting images and captions to highlight the benefits of your products that draw in customers. 
A great way to bring more attention to your products or business is to run targeted ads on social media to reach specific demographics or interests, which can help you maximize your sales potential. 
Customers also enjoy getting discounts, so you could try offering promotions or coupons to loyal customers.
3. Attend Scentsy Events
Who doesn't enjoy attending functions?
Attending Scentsy events can be a valuable opportunity to connect with a highly engaged audience and boost sales. 
These events, such as Scentsy parties or trade shows, provide a platform to showcase Scentsy products, share personal experiences, and build relationships with potential customers. 
If you really want to grow your business with Scentsy, you can attend these events, offer product demonstrations, allow attendees to experience the scents firsthand, and understand the unique features of Scentsy. 
One important feature of Scentsy events is having a dedicated booth to showcase products. 
It should be an inviting and visually appealing showcase that highlights your product range. 
These events also offer a great opportunity to network with other Scentsy consultants and collaborate on cross-promotions which can enhance the exposure of your business. 
4. Start a YouTube Channel about Scents
I use YouTube literally every day and can't get enough of it!
There are billions of people using it, many of whom could be potential customers for your Scentsy business.
YouTube is a great place for doing demonstrations and tutorials and you could try this with a high portion of Scentsy products.
You could create a general YouTube channel about beauty products and home decor, or a specific channel geared toward Scentsy products only.
But your main customer base will be those looking for or using these types of products.
By creating video content, you could provide in-depth product reviews, demonstrations, and creative ways to incorporate Scentsy into daily life. 
YouTube allows for visually engaging presentations highlighting the scents, packaging, and features of Scentsy products.
 Adding personal stories and experiences related to Scentsy, can build authenticity and trust with viewers. 
To help your videos rank, optimize videos with relevant keywords, attractive thumbnails, and engaging titles to increase discoverability. 
You can then earn money by adding affiliate links to your products in the video subscription box and through YouTube ads. 
5. Hold Teaching Workshops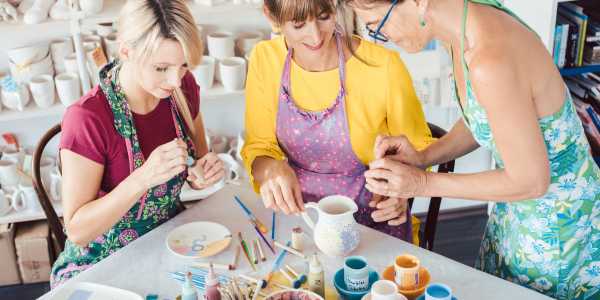 Plenty of people are looking to learn how to create their own products from scratch.
Instead of using online learning which is also great, they'd prefer to learn face-to-face. You could earn money by holding workshops and showing attendees how to make their own cables, wax melts or room sprays using Scentsy fragrance oils. 
This is a fun way to make money because it gives your customers a  unique and hands-on experience.
During the workshops, participants can discover the different fragrance options offered by Scentsy and learn how to blend them to create their own signature scents. 
This can involve experimenting with various combinations, exploring the art of scent layering, and finding their perfect fragrance profiles. 
Guided by an experienced facilitator, participants can learn about the different wax types, candle-making techniques, and the importance of using high-quality ingredients.
These workshops not only offer an enjoyable experience but also empower individuals to personalize their own living spaces with their preferred scents.
You can offer workshops through online ads or in your local neighborhood or city.
6. Have a Scentsy Party
This is one of the most popular and fun ways to sell Scentsy and earn money in your business.
You can host these parties at home or at a rented venue which can be fantastic for friends, family, and potential customers to experience the products. 
These parties provide an opportunity to showcase the wide range of Scentsy products, including wax warmers, fragrant wax bars, diffusers, and other home fragrance options.
To make this a great experience, you should set up visually appealing displays of the products, allowing guests to see, smell, and interact with the various scents and designs. 
Adding themed décor and ambiance that aligns with the Scentsy brand, can further immerse guests in the experience.
The parties can be structured in different ways, depending on your preferences and the needs of your guests. You can offer product demonstrations, where you showcase the features and benefits of the Scentsy products. Guests can learn about different scent combinations, explore seasonal offerings, and discover new ways to enhance their living spaces.
To make the events even more engaging, you can incorporate interactive activities such as scent games, DIY projects, or raffles for Scentsy giveaways. 
Providing samples or testers allows guests to experience the scents firsthand and make informed purchasing decisions.
Guests can invite their friends, expanding your potential customer base and fostering a sense of community around the Scentsy brand. 
Encouraging guests to share their experiences and recommendations can generate word-of-mouth marketing, attracting more individuals to your future events or parties.
How to Sell Secentsy Successfully FAQ
Can you make good money selling Scentsy?
Yes, it is possible to make good money selling Scentsy. The amount of money you can make depends on your sales skills, marketing strategies, and the amount of time and effort you put into your Scentsy business. 
Scentsy offers a generous compensation plan with commissions ranging from 20% to 25% on personal sales and additional bonuses and incentives for building a team of consultants.
How do you stay active selling Scentsy?
To stay active selling Scentsy and maintain a thriving business, there are several key strategies you can implement:
Consistent Marketing
Personalized Customer Service
Host Events
Network and Collaborate
Continuous Learning
Seek Feedback
How much do top Scentsy sellers make?
The earnings of top Scentsy sellers will depend on sales volume, team size, and overall business performance.
 While it is challenging to provide specific figures, top-performing Scentsy consultants have reported earning substantial incomes.
These high-achieving consultants often have a large customer base and consistently generate significant sales.
 They may also have a successful team of consultants under their leadership, which can contribute to their overall earnings. Also, top Scentsy sellers can benefit from various bonuses, incentives, and recognition programs offered by the company.
Scentsy provides income disclosure statements that outline the average earnings of consultants at different ranks or levels within the company. 
These statements can give you a general idea of the earning potential based on the efforts and achievements of other consultants.
How much does it cost to get started selling Scentsy?
To get started selling Scentsy, there is an initial investment required, which covers the purchase of a starter kit. 
At the time this was written, the cost of the Scentsy starter kit does vary depending on your location and the specific kit you choose. However, the starter kits generally range from around $99 in the US.
The starter kit includes a selection of Scentsy products, including wax melts, warmers, fragrance oils, and business supplies such as catalogs, order forms, and marketing materials.
 It provides you with essential tools to begin your Scentsy business and showcase the products to potential customers.
There may be ongoing expenses associated with running your Scentsy business, such as purchasing additional product inventory, attending training events or conferences, and marketing your business.
What are the requirements for Scentsy selling?
Age: You must be at least 18 years old to join Scentsy as a consultant.
Residency: Scentsy is available in several countries, and you need to be a legal resident of one of those countries where Scentsy operates. The availability may vary depending on your location, so it's important to check if Scentsy is available in your country.
Enrollment: You will need to enroll through a current Scentsy consultant or directly through the Scentsy website. The enrollment process usually involves filling out an application and agreeing to the consultant agreement.
Starter Kit Purchase: As mentioned earlier, you will need to purchase a starter kit, which provides you with essential products and supplies to start your Scentsy business.
Compliance with Policies: As a Scentsy consultant, you are expected to comply with the company's policies and procedures, which outline guidelines for conducting your business, marketing practices, and customer interactions.
How to Sell Scentsy Successfully and Make Money
As you can see, selling Scentsy successfully and making money requires a combination of effective strategies, dedication, and a passion for the products. 
When starting out, you should build a strong network of customers and promote your business through various channels such as social media, through blogging, hosting parties, and attending events. 
Offering exceptional customer service and showcasing the benefits of Scentsy products will help you establish trust and loyalty among your customer base.
 Also, actively participating in training programs and staying updated with the latest product releases and promotions will give you an edge in the competitive market. 
Be aware that you have to set realistic goals, stay organized, and track your progress to identify areas for improvement. 
Building relationships with fellow consultants and taking advantage of the support and resources provided by Scentsy can also contribute to your success.
 Remember, success in selling Scentsy is not guaranteed, and it requires effort and perseverance. By implementing these strategies and continuously adapting to the evolving market, you can increase your chances of selling Scentsy successfully and achieving your financial goals.
PIN IT!