This post may include affiliate links.
Would you like to use your creativity to create designs that people will actually buy?
You can do this by selling SVG files online!
SVGs are also known as Scalable Vector Graphics and are a total game-changer in the world of design.
That's because of their:
Scalability
Small file size
High quality
Customizability
Flexibility
 Keep in mind that SVGs are different from traditional bitmap images because they're created using mathematical formulas rather than pixels. 
This means that they can be scaled up or down without losing their quality, making them perfect for use on any screen, from the smallest smartphone to the largest cinema screen.
Trust me when I say they are VERY popular, and if you can design them, you can definitely earn from them!
This side hustle is perfect for freelance illustrators, people who enjoy drawing or designing, and who can't get enough of making quirky stuff that makes people laugh.
So, if you're interested in making money by selling SVG files read on to find more!
Can I Make Money Selling SVG Files Online?
You can make money selling SVG files online because it's a truly viable way to make money for graphic designers and artists. SVG files are in high demand due to their scalability, versatility, and the fact that they can be used in a wide range of design projects, including logos, web design, print design, and more.
Let's find out some of the best ways you can get started on your SVG side hustle!
PIN IT!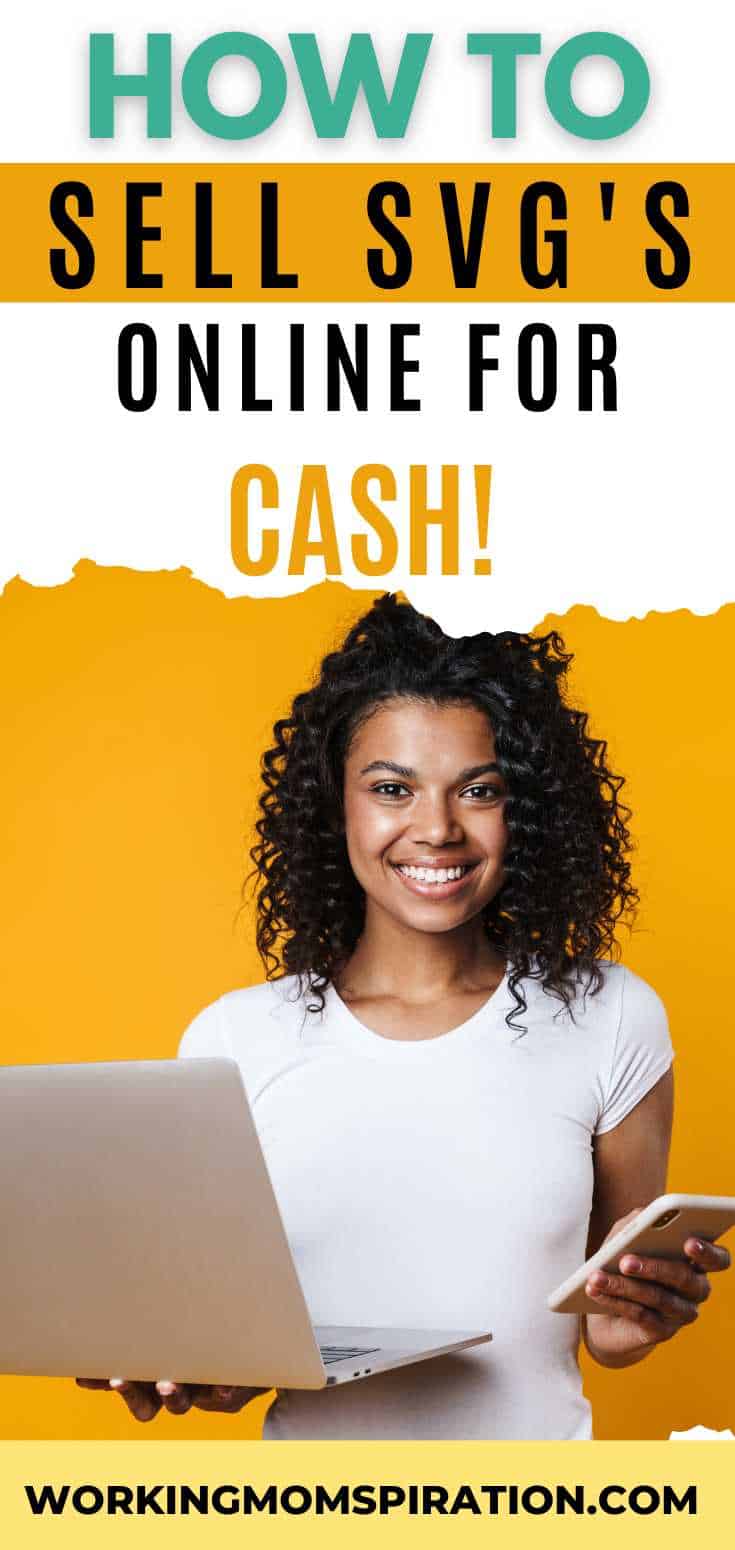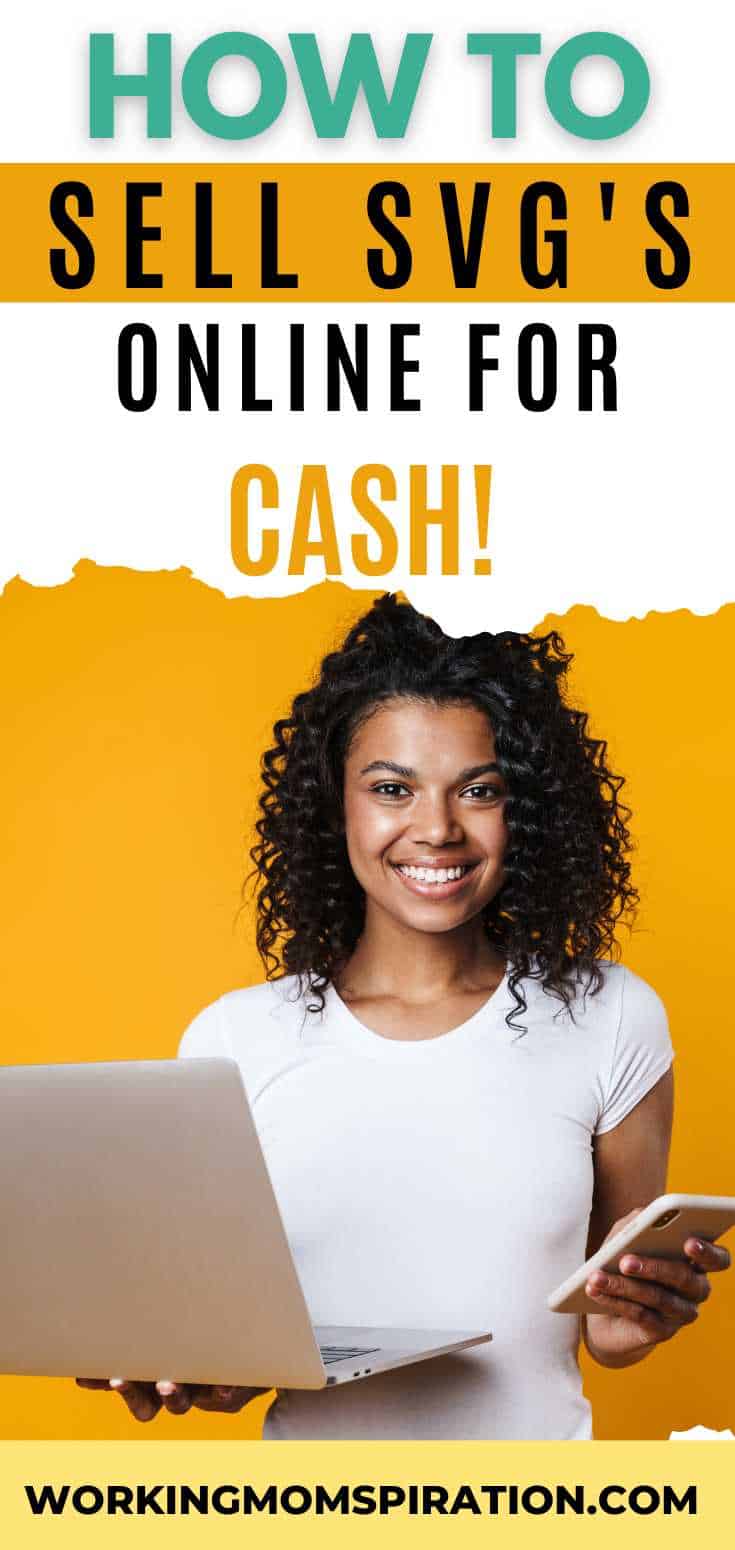 Creative Ways to Make Money Selling SVG Files Online
1. Sell Your SVG Files on Etsy
One of the best ways to sell your SVG files is to list them on Etsy.
That's because apart from the millions of shoppers who use the platform each month, there's a built-in customer base actually looking for SVG files to purchase.
It's an especially lucrative business if you're a designer or artist looking to monetize your digital artwork.
You'll be using your creativity to make money and build your skills at the same time. 
To get started selling your SVG files on Etsy, the first step is to create an Etsy shop. 
This process is straightforward and only takes a few minutes.
Once you have your shop set up, you can start uploading your SVG files. 
Listing your SVG files on Etsy is easy. Choose the "Add a listing" option and choose a category and give your product a title and description. 
Upload high-quality photos from multiple angles, provide pricing, and offer customization options.
Publish your listing and promote it using Etsy's marketing tools.
Here's an example of some cute SVG files on Etsy: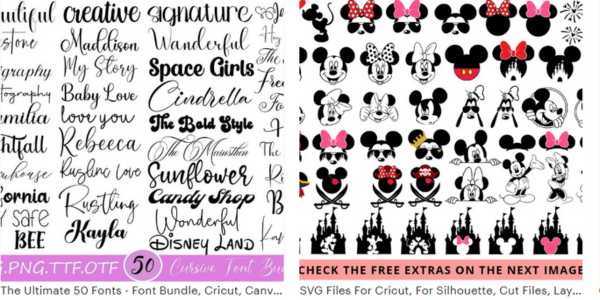 It's important to make sure that your files are high-quality and optimized for cutting machines like Cricut or Silhouette. You'll also want to make sure that you have the appropriate commercial licenses for any fonts or graphics used in your designs.
One of the best things about selling SVG files on Etsy is the ability to target a specific niche market.
 There are countless hobbies and interests that can be catered to with unique designs, from sports teams to pet lovers to holiday enthusiasts. 
By creating designs that appeal to a specific niche, you can attract a loyal following and build a brand around your designs. 
You can also take advantage of seasonal trends, like Christmas or Valentine's to create limited-time designs that generate excitement and sales.
2. Design SVGs to Sell on Merch
Have you ever thought about selling merch online?
You can increase your sales by selling SVG graphics on products like T-shirts, mugs, phone cases, and more.
Wondering where to start?
You can sell your SVG designs on platforms like:
Printful
Society6
Teespring
Spreadshirt
Fine Art America
Threadless
Printify
Gooten
To start selling SVGs, you'll need to create high-quality designs that appeal to a wide range of customers. 
Try to create designs around popular themes and trends, as well as niche markets that may be underserved. It's also important to ensure that your designs are original and not copyrighted.
When selling Print on Demand products, if you're not using a marketplace like Redbubble or Society 6 where customers are already looking, you'll need to market your shop. 
It's best to use social media platforms like Instagram and Pinterest to showcase your designs and reach potential customers. 
You can also offer discounts or promotions to encourage buyers to purchase your SVGs.
3. Make and Sell SVGs as Stickers
I am a definite sticker lover!
I mean they are a fun and cute way to add personality and style to just about anything. 
Do you ever use them for decorating notebooks and laptops?
It's something I like to do and many potential customers do too!
Stickers are one of the highest-selling items online. 
If you take a look at Etsy for example, there are thousands of listings for customizable stickers and more.
To sell SVG stickers, you should have funny, quirky, or sentimental quotes or images that customers can relate to.
People often collect stickers about their favorite shows or hobbies.
There are also other themes to look at including:
Animals
Food and drink
Travel
Nature and landscapes
Inspirational quotes
Pop culture references
Cute and kawaii designs
Floral and botanical designs
Cartoon characters
Sports teams and logos
People can buy your designs for personal use, or to resell in their own business.
4. Blog About SVG's Online
If you know a lot about design, you could create a blog centered around SVGs, what they are, and how to design and use them.
You could produce an endless list of blog posts around different topics about SVGs and earn money consistently.
The types of posts customers may be intrigued by are:
How-to guides and tutorials
Listicles or "top 10" type posts
Product reviews and comparisons
Personal stories and experiences
Roundups of useful resources or tools
But how do you actually make money with your blog?
There are plenty of ways, but the most popular options include:
Advertising
Sponsored posts
Digital products
Consulting or coaching
Memberships
As a blogger myself, I recommend providing quality posts that can help your reader.
Once you have enough traffic, you can sign up with an Ad network to start earning passive income.
You can also tie in affiliate marketing by promoting products that your customers would benefit from.
Find out how this couple earns $500,000 annually from their blog!
5. Create a Youtube Channel About SVGs 
We can say without a doubt that almost everyone uses Youtube.
And why do they use YouTube, you ask? Well, for starters, it's the ultimate hub for endless entertainment and knowledge.
 From funny cat videos to in-depth tutorials on how to master a new skill, YouTube has something for everyone. 
And let's not forget the thrill of discovering new content creators and following along with their journey.  
If you like to create fun and engaging content online, why not share your expertise on SVGs and design?
Here are a few useful video ideas you could try:
How to create custom SVG files using Illustrator or Inkscape
Best websites to download free SVG files
Top 10 tools for designing and editing SVG files
Tutorial on converting a PNG image to an SVG file
Showcase unique and creative ways to use SVG files in crafts and projects
Designing your own SVG fonts using Adobe Illustrator
Comparison of different cutting machines for use with SVG files
How to make a layered SVG file for vinyl cutting
Creating SVG files for use in Cricut Design Space
Best practices for optimizing SVG files for web use
YouTube is not a place where you'll make money immediately, but you can earn thousands each month from a combination of ads, affiliate marketing, and sponsorships if you do it right. 
 This involves creating engaging content that resonates with your audience. and delivering quality content consistently. 
Once you have a loyal following, you can then monetize your channel with the options mentioned above.  
When creating your videos, you do need to optimize them for search by using relevant keywords and titles. 
This will help your videos rank higher in search results and attract more views.
Keep in mind that to qualify for ads, channels must have at least 1,000 subscribers and 4,000 watch hours in the past 12 months. Once approved, creators can earn a portion of ad revenue based on the number of views their videos receive.
6. Sell SVG's on Marketplaces
Even though you have the option to sell SVGs on Etsy, there are other options for selling them online.
Just as with Etsy, marketplaces like Creative Market, Creative Fabrica, and Design Bundles are some of the best spots to sell SVGs.
Here's how they look on Creative Fabrica for example: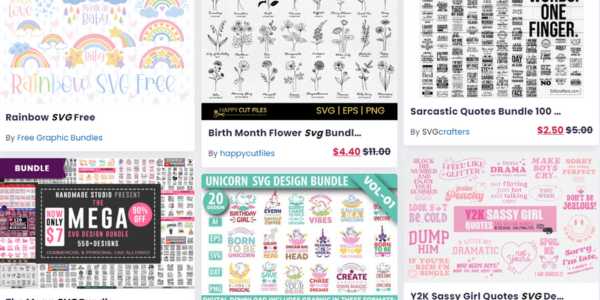 Just a quick look at the platforms will bring up hundreds of SVG files being sold to customers. 
While there is competition on the site, niching down on a particular theme or topic could help you to be found much more quickly.
These platforms all allow you to sign up completely free and set up an online shop. With Creative Market though, they do have a vetting process and it's recommended that you have a portfolio to showcase as well.
Take a look at these cute SVGs listed on the site!
Loading Preview…
Powered by Creative Market
Once your shop is up, you can upload your SVG designs along with a detailed description and attractive thumbnail image.
 Make sure your designs are high-quality and unique to stand out from the competition.
It's important to price your designs competitively and take into account the commission fees charged by each platform. 
A great way to keep your shop relevant is by updating it with new designs to keep your audience engaged and interested. I recommend creating bundles that can score more sales. 
7. Create a Course about SVG Design
If you're looking to make money and share your knowledge with others, creating a course is a fantastic way to do it! 
There has been a rise in online learning recently, so there's never been a better time to share your expertise with the world. 
And the best part? You can earn passive income from your course long after you've finished creating it.
Creating a course is not only a great way to make money, but it's also incredibly rewarding. You'll have the satisfaction of knowing that you're helping others learn something new and achieve their goals.
Creating a course about SVG design is one of the best ways to make money because people want to learn. 
To get started, you'll need to determine what specific topics you want to cover in your course, such as the basics of SVG design, advanced techniques, or specific software tools.
Next, choose a platform to host your course, such as Udemy, Skillshare, or Teachable.
 Create a detailed outline and script for your course, and consider including video demonstrations, exercises, and quizzes to keep your students engaged and ensure they are learning the material.
8. Create gigs on Fiverr and Sell SVGs
Have you ever wanted to know a way to make money from your skills and expertise? 
Fiverr might be one of the best places to start.
You could offer your services to clients from all over the world. 
There are thousands of people searching Fiverr each day for a service to purchase. 
One of these is illustration services. You could create custom orders for clients by designing funky SVGs – all in your style.
These customers could then sell these SVGs as their own and make money too! 
Some are probably using them for personal use, but hey, either way, you're earning right?
To get started, create a profile and set up your gig offerings. Do your best to showcase your skills and highlight what sets you apart from other sellers.
 Consider offering unique packages or extras to entice buyers and increase your earnings.
You can promote your services on social media and other platforms to reach a wider audience. 
FAQ About Selling SVG Files Online
Where can I sell my SVG files?
There are various online marketplaces where you can sell your SVG files. 
One of the most popular and well-known platforms is Etsy, which has a large community of buyers and sellers who specialize in handmade and digital products. 
You can also try Creative Market, which focuses on digital design assets such as fonts, graphics, and templates. Creative Fabrica and Design Bundles are also popular marketplaces for selling digital products, including SVG files. 
You might also want to try selling SVG files on POD (Print-on-Demand) platforms such as Redbubble, Society6, and Zazzle, where customers can purchase your designs on a variety of products such as t-shirts, mugs, and phone cases. 
How much to sell SVG files for?
You can price your SVG files based on the complexity of the design, the quality of the artwork, and the demand for the product. 
Typically, SVG files can be priced anywhere from $1 – $10, depending on the seller's pricing strategy and market demand.
It's important to balance pricing with the value perceived by the buyer, as a price that's too high may deter potential customers from purchasing your product.
 It's recommended to test different pricing strategies and monitor sales and customer feedback to optimize the pricing strategy over time.
Is selling SVG on Etsy worth it?
Selling SVG files on Etsy can be worth it for many creators.
The platform offers a large customer base and provides sellers with a user-friendly interface for managing their listings, orders, and payments. 
Etsy offers marketing and advertising tools to help sellers promote their products and reach potential buyers. 
How do I make and sell digital SVG files?
Choose a design software
 You can use a variety of design software to create SVG files such as:
 Adobe Illustrator
 Inkscape
 Procreate
 Sketch
 Affinity Designer
 Canva
Create your design
 Create your own unique designs or use existing ones as inspiration. Ensure that your designs are of high quality and are visually appealing.
Save your file as an SVG
 Once you have created your design, save it as an SVG file. This format will allow your design to be scaled without losing quality.
Sell on Your Shop
 You can set up a shop on various platforms such as Etsy, Creative Market, or Design Bundles. Ensure that your shop has a professional look and feel.
Make Money Selling SVG Files Online
Selling SVGs online can be a profitable way to turn your creativity into income.
To get started, you'll need to create unique designs using vector graphics software like Adobe Illustrator or Inkscape. Once you have your designs, you can sell them on various platforms like Etsy, Creative Market, Design Bundles, and Creative Fabrica.
You can also create your own website or online store to sell your SVG files directly to customers. To increase your sales, it's important to optimize your listings with detailed descriptions and high-quality images that showcase your designs. Marketing your products using social media platforms like Instagram and Pinterest can help you to reach a wider audience.
As a business owner, offering custom design services and creating tutorials or courses on SVG design can help establish you as an expert in the field and attract more customers. With a bit of effort and dedication, selling SVGs online can be a lucrative and rewarding way to earn a living doing what you love.
PIN IT!