This post may include affiliate links.
Who doesn't like a good old tumbler?
After all, they are some of the most versatile vessels used for centuries and have come a long way from their humble beginnings.
Do you use tumblers yourself?
Even if you don't, there's a huge market for tumbler connoisseurs who would love to have these useful containers in their kitchens.
Would you like to how to make money selling tumblers as a side hustle? 
It's a great way to add extra cash in your pocket or even start an online business. 
So many busy moms, parents, or even commuters would love to have tumblers around to sip on a refreshing beverage on the go.   
It's basically a must-have for anyone looking to add style and convenience to their everyday life.
Ready to find out if you can make money selling tumblers?
Read on to find out how!
PIN IT!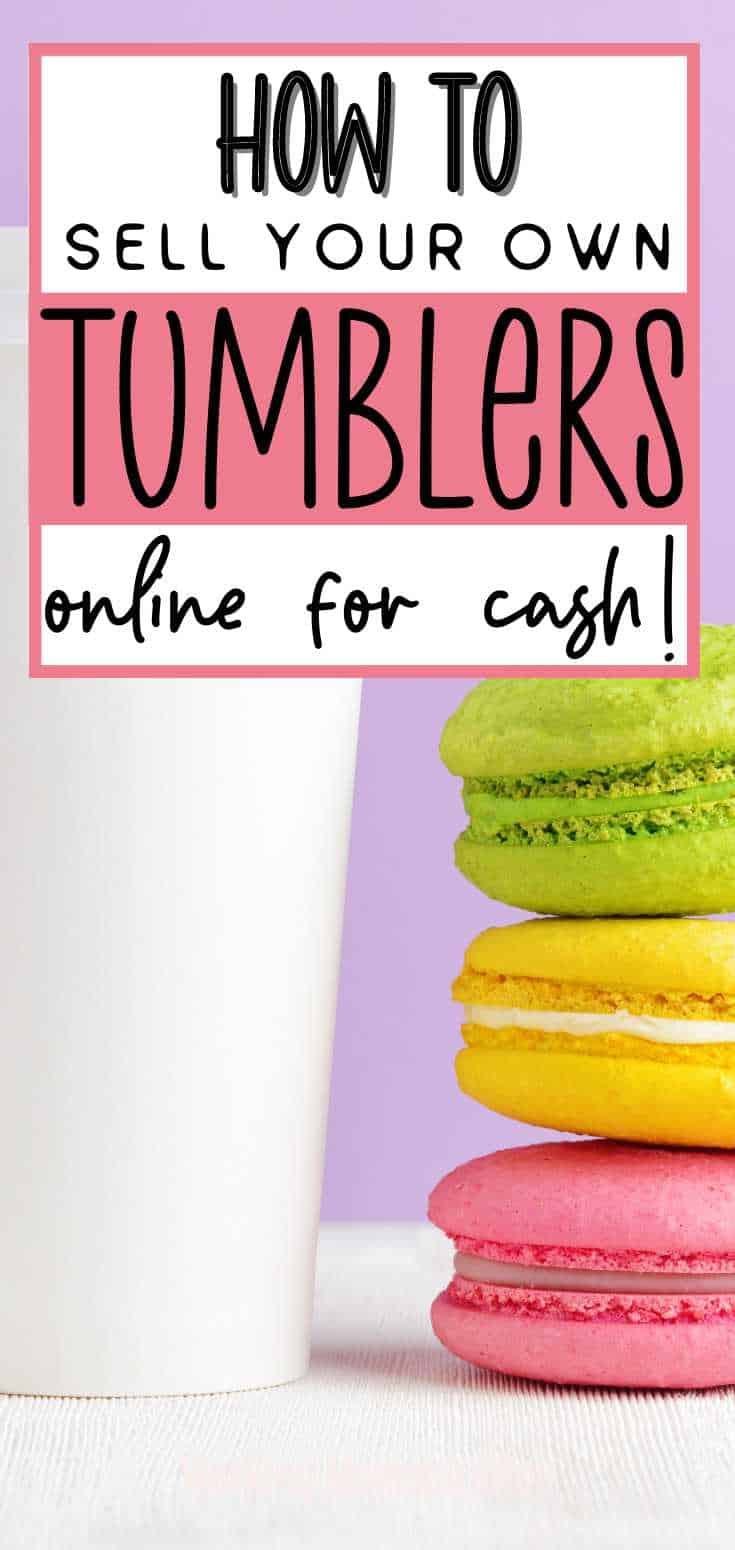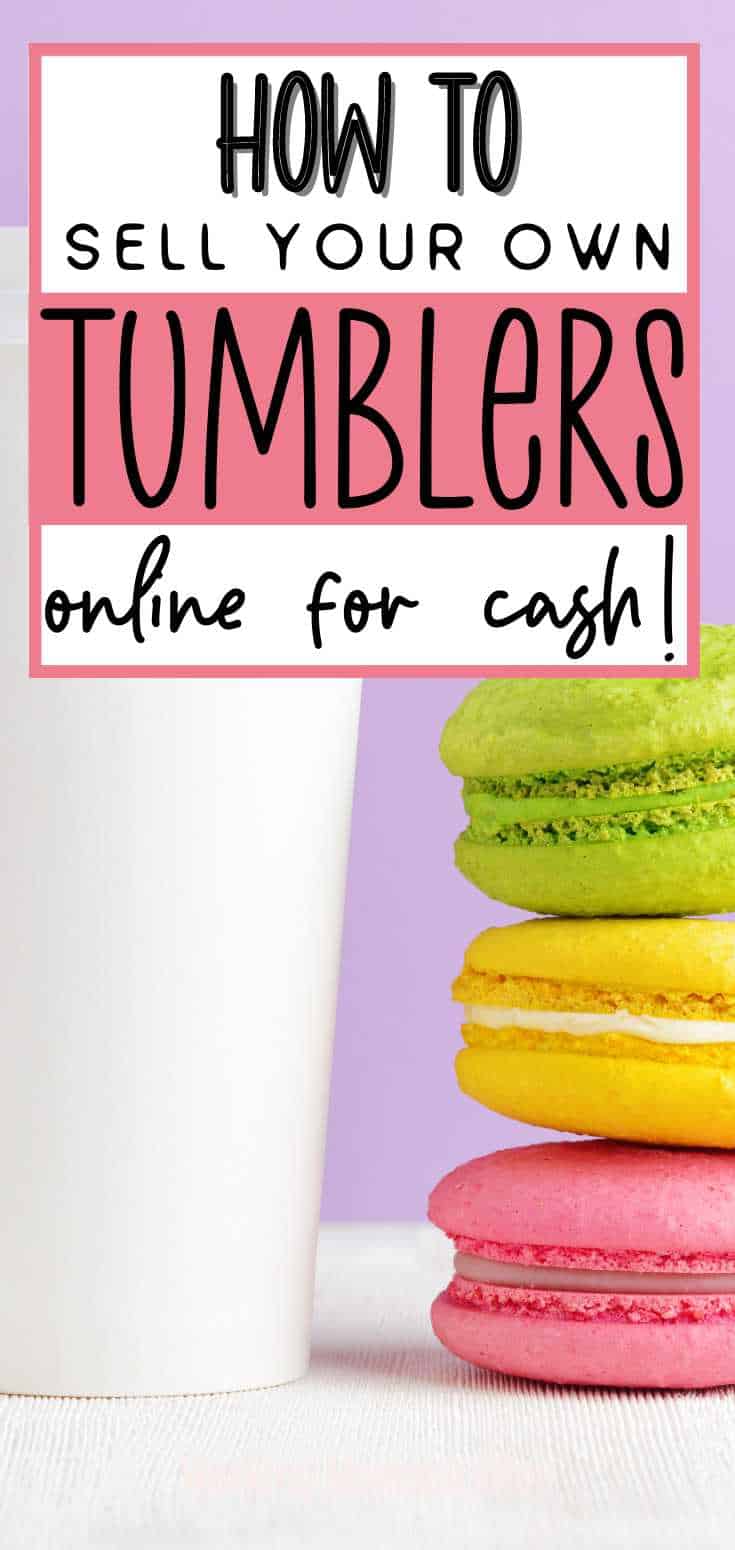 What on Earth are Tumblers Anyway?
If you're new to the world of tumblers, it's simply a type of container that is designed to be sturdy, durable, and able to withstand rough handling. 
It may come with a lid and straw for on-the-go use. 
Usually, you'll find that tumblers are made from plastic, glass, or metal, and are popular for use with cold drinks like water, juice, or iced coffee.
Types of tumblers include:
Stainless steel tumblers
Acrylic tumblers
Glass tumblers
Ceramic tumblers
Plastic tumblers
Copper tumblers
Biodegradable tumblers
Why Do People Buy Tumblers?
People may buy tumblers for a variety of reasons which include, but aren't limited to:
Durability – Tumblers are pretty sturdy and durable which makes them a good choice for people who are looking for a long-lasting drinking container.
Portability – They are ideal for travel and come with handy features like lids and straws that make them easy to carry around on the go.
Insulation – Many tumblers are insulated, so they keep drinks cold (or hot) for longer periods of time compared to regular drinking glasses.
Style – What's a tumbler without the style? They typically come in different styles, colors, and designs, making them a popular choice for people who want a stylish and personalized drinking container.
How to Make Money Selling Tumblers Online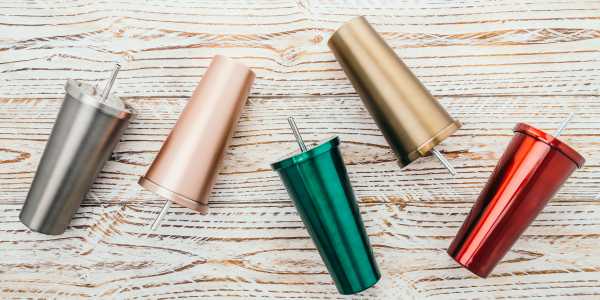 You have two choices when it comes to selling your tumblers online. If you want complete control over your tumbler business, creating and shipping these items is your best bet.
However, you can also outsource the process using Print on demand (POD) sites or drop shipping.
Let's look into both options to see which is best for you!
What Do I Need to Start Making Tumblers?
In order to create your tumblers you will need certain materials to get started.
Here are a few basic supplies that every tumbler creator has in their workshop:
Stainless steel, plastic, or glass for the main body of the tumbler (double-walled insulated tumbler)
Adhesive or bonding agent to attach the various parts of the tumbler together. Epoxy resin is commonly used. 
Lid and straw, if applicable
Insulation materials such as foam or vacuum-sealed layers
Tools such as a drill, hole saw, sanding block, alcohol, or heat gun to create any necessary openings, shapes, or designs on the tumbler
Protective equipment such as gloves, safety glasses, and a respiratory mask to ensure safe handling of materials and tools.
Depending on how you design your tumbler, more or less material may be needed. However, these are the basic materials to start your biz.
How to Do Research for Your Tumbler Business
Without proper research, you might not make any headway selling tumblers online.
The first step you'll need to take is to start by defining your key research questions, such as your target market, their preferences and needs, and the most popular tumbler designs and materials in the market.
You should also gather information about your competitors, market size, and industry trends through reliable sources. 
Analyzing your target audience is also important and this can be done by identifying your ideal customer and gathering their feedback through surveys, focus groups, or online tools.
To obtain the best supplies for your business, you should also research different suppliers and manufacturers, compare prices, quality, and shipping times to find the best options for your business.
Follow this up by evaluating the cost of materials, production, shipping, marketing, and competitors' prices.
An important step that many business owners skip is testing.
To get ahead of the game, you should create prototypes of your tumblers, test them with your target audience, and get feedback on the design, functionality, and appeal of your product.
How Can I Design a Tumbler?
Did you know that you can create tumblers even as a beginner?
I've seen tutorials online that can show you the ins and outs of designing a tumbler once you have the proper materials.
Beautifying your tumbler typically involves adding personalized designs, colors, and patterns to make it look more attractive and unique. 
Here are some general steps to beautify a tumbler:
Clean the tumbler
 Before you start decorating your tumbler, it is important to clean it thoroughly with soap and water to remove any dirt or residue. Dry it completely.
Choose your design
 Decide on the design you want to apply to your tumbler. You can use paint, vinyl, decals, or even glitter to decorate your tumbler.
Prepare your materials
Depending on the design you've chosen, you may need different materials. For example, if you're using vinyl, you'll need a vinyl cutting machine, vinyl sheets, transfer tape, and scissors. If you're using paint, you'll need paintbrushes, paint, and stencils.
Apply the design
Once you've gathered your materials, you can start applying your design to the tumbler. Follow the instructions for the specific method you're using, and take your time to ensure that the design is applied smoothly and accurately.
Seal the design
 After your design is applied, you can seal it to protect it from wear and tear. You can use a clear sealant spray, epoxy resin, or a clear vinyl wrap to seal your design.
Allow to dry and cure
 After sealing your design, allow it to dry and cure according to the instructions of the sealant you've used. This may take several hours or days.
Enjoy your beautiful tumbler!
 Once the tumbler is fully dry, you can enjoy your new beautiful creation!
Now it's time to start selling your designs online. 
Where to Sell Your Tumblers Online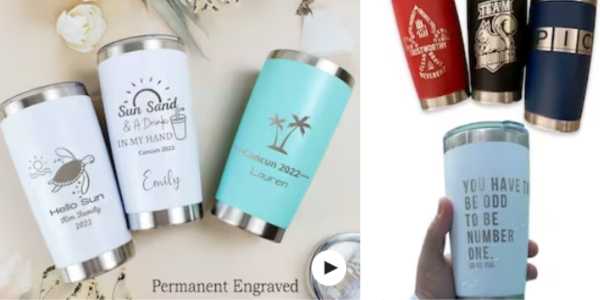 You have lots of options when it comes to selling your tumblers online. 
Here are a few options that are fantastic for almost every crafter:
Etsy
This is a popular online marketplace for handmade and vintage items, including tumblers. It's easy to set up an Etsy shop, and the platform has a large customer base that actively seeks out unique, personalized items.
On Etsy, you can set up your listings and include photos, detailed descriptions, and even customization options for customers to choose from.
Amazon Handmade
Amazon Handmade is a marketplace for handmade items, including tumblers. It is a good option for sellers who want to reach a large audience, as Amazon has a huge customer base. You will have a large number of prospective buyers eyeing your wares, so you have the potential to make good money. 
Facebook Marketplace
If you'd prefer to sell to a local market,  Facebook Marketplace might be the best option. It's a free platform for buying and selling items to those in your neighborhood. You can create a listing for your tumblers and reach people in your local area.
Shopify
This is great for those who want complete creative control over their tumber business.  Shopify is an e-commerce platform that allows you to create your own online store. It is a good option if you want to have a brand and provide a great customer experience.
eBay
Yes, folks, eBay is still alive and well. You can sell a wide variety of items, including tumblers. It's a good option if you want to reach a global audience.
How Can I Make Money Outsourcing My Tumbler Business?
You can either sell on POD platforms
OR
Do Dropshipping
POD platforms to sell Tumblers
There are many Print on Demand (POD) platforms that allow you to create and sell custom tumblers without having to hold inventory or manage fulfillment. 
This takes away the guessing game when it comes to purchasing materials, physically designing tumblers, and shipping them.
Here are a few places that you may find to be convenient:
Printful is a popular POD platform that offers a variety of tumbler styles, sizes, and colors to choose from. You can upload your designs, create mockups, and start selling your custom tumblers on your website or through other e-commerce platforms.
 Gooten offers a range of tumbler options, including stainless steel, plastic, and ceramic. You can upload your designs, create product listings, and sell your tumblers on various e-commerce platforms.
 Printify offers a wide variety of tumbler options, including stainless steel, plastic, and glass. You can create your designs, choose your products, and start selling on various e-commerce platforms like Shopify, Etsy, and WooCommerce.
Dropship Tumblers
Another option for outsourcing your tumbler business is to dropship them. 
You can look for a reliable supplier on platforms like AliExpress, Alibaba, or Oberlo.
 After finding a supplier, set up an online store using an e-commerce platform like Shopify, WooCommerce, or BigCommerce.
You can then set up product listings by writing clear descriptions, taking high-quality photos, and using relevant keywords to attract potential customers. 
The dropshipping supplier will handle all the shipping and inventory, while you manage the marketing and customer service.
How Much Money Can I Make Selling Tumblers Online?
The amount of money you can make selling tumblers will depend on various factors, such as your production costs, the price you set for your products, and the demand for your tumblers.
Let's consider an example to provide specific figures based on production costs. Let's say your production costs for a single tumbler are as follows:
Tumbler: $5
Paint and other materials: $2
Shipping supplies: $1
Equipment (vinyl cutter, heat press, etc.): $0.50
Labor (your time and effort): $5
Total production cost: $13.50
If you sell this tumbler for $25, your profit margin would be $11.50 per tumbler. However, keep in mind that this doesn't include any fees associated with the platform you use to sell your tumblers or any marketing expenses.
Assuming you sell 100 tumblers a month, your potential monthly revenue would be $2,500 (100 tumblers x $25 per tumbler). However, you would need to subtract any expenses, such as platform fees, shipping costs, and marketing expenses, from this revenue to determine your actual profit.
It's important to note that these figures are just an example, and the actual amount you can make selling tumblers will depend on your production costs, pricing strategy, marketing efforts, and other factors.
FAQ About Selling Tumblers Online
A tumbler business can be profitable if it is set up and managed well. The profitability of a tumbler business will depend on factors such as the niche chosen, the quality of the products, the pricing strategy, the marketing efforts, and the operating costs.
If the business owner can identify a profitable niche and offer high-quality tumblers at competitive prices, and has effective marketing strategies in place to attract and retain customers, then the business has the potential to be profitable. It's important to also consider the costs of running the business, such as the cost of materials, labor, shipping, and any overhead costs.
It's always a good idea to do thorough research and planning before starting any business, and to monitor and analyze the financial performance of the business regularly to make informed decisions and ensure profitability.
How Much Does it Cost to Start a Tumbler Business?
The cost of starting a tumbler business will vary depending on various factors, such as the scale of the operation, the type and quality of the tumblers, the marketing and advertising expenses, the cost of setting up an online store, and the legal and administrative costs.
At minimum, a tumbler business owner would need to purchase supplies, such as tumblers, customization equipment, and shipping supplies, as well as set up an online store or purchase a physical location, which can cost several thousand dollars.
Here's a rough breakdown of some of the costs you might incur when starting a tumbler business:
Tumbler supplies: $500 – $5,000
Customization equipment: $100 – $2,000
Website/domain name/hosting: $50 – $500
Legal and administrative fees: $200 – $1,000
Marketing and advertising expenses: $100 – $1,000
The total cost can range from a few thousand dollars to tens of thousands of dollars, depending on the size and scope of the business. It's important to carefully plan and budget for all expenses before starting a tumbler business, to ensure that the business is financially viable and sustainable in the long run.
Is a Tumbler Business Worth It?
Whether a tumbler business is worth it will depend on things such as your goals, target market, competition, marketing strategies, and overall financial performance. A tumbler business can be a profitable and rewarding venture if it is set up and managed well.
Many people are earning a decent income from it and you can too!
Here are some reasons why a tumbler business might be worth it:
Creative outlet: A tumbler business can be a creative outlet for those who enjoy designing and customizing tumblers.
High demand: Tumblers are popular products and are in high demand, which can lead to a steady flow of customers and sales.
Low overhead costs: A tumbler business can be run from home or a small workspace, which can keep overhead costs low.
Customizable: Tumblers can be customized for specific niches or audiences, allowing the business owner to tailor their products to a specific market.
Repeat customers: Customers who are satisfied with the quality and customization of the tumblers are likely to become repeat customers, leading to a steady stream of sales.
However, starting and running a tumbler business can also come with challenges, such as competition from other businesses, production costs, and marketing expenses.
How to Make Money Selling Tumblers
The idea of managing your own business can be exhilarating and scary at the same time. 
However, selling tumblers can be a lucrative business if approached with the right strategies.
You first need to conduct research, create authentic and high-quality products and promote your business with various strategies to be successful. 
Remember to stay creative, stay persistent, and always listen to your customers' feedback to ensure that your products continue to meet their needs and exceed their expectations.
PIN IT!