This post may include affiliate links.
Would you love to find online jobs from home without investment or payments? By just typing 'Online jobs' into Google's search engine, you'll find a host of job opportunities where you can work from home.
With the boom in remote work and freelancing it's now easier than ever to work with just your laptop. 
While not everyone enjoys working from home, it's an excellent opportunity for many digital nomads to make money on their own time. 
Earning an income online is awesome because you can choose your working environment, whether it's at home or the local cafe. If you need to travel to another country, you're still able to work freely without any issues.
As a mom myself, I enjoy working from home because it allows me to do household chores, spend more time with my family and choose my schedule. Would you like to find an easy online job without making any investments?
Instead of committing to a job that includes startup costs for equipment or business ventures that require heavy funding, you can choose one of these lucrative online jobs that require no investment at all!
Please share the ❤️️ and PIN this for later!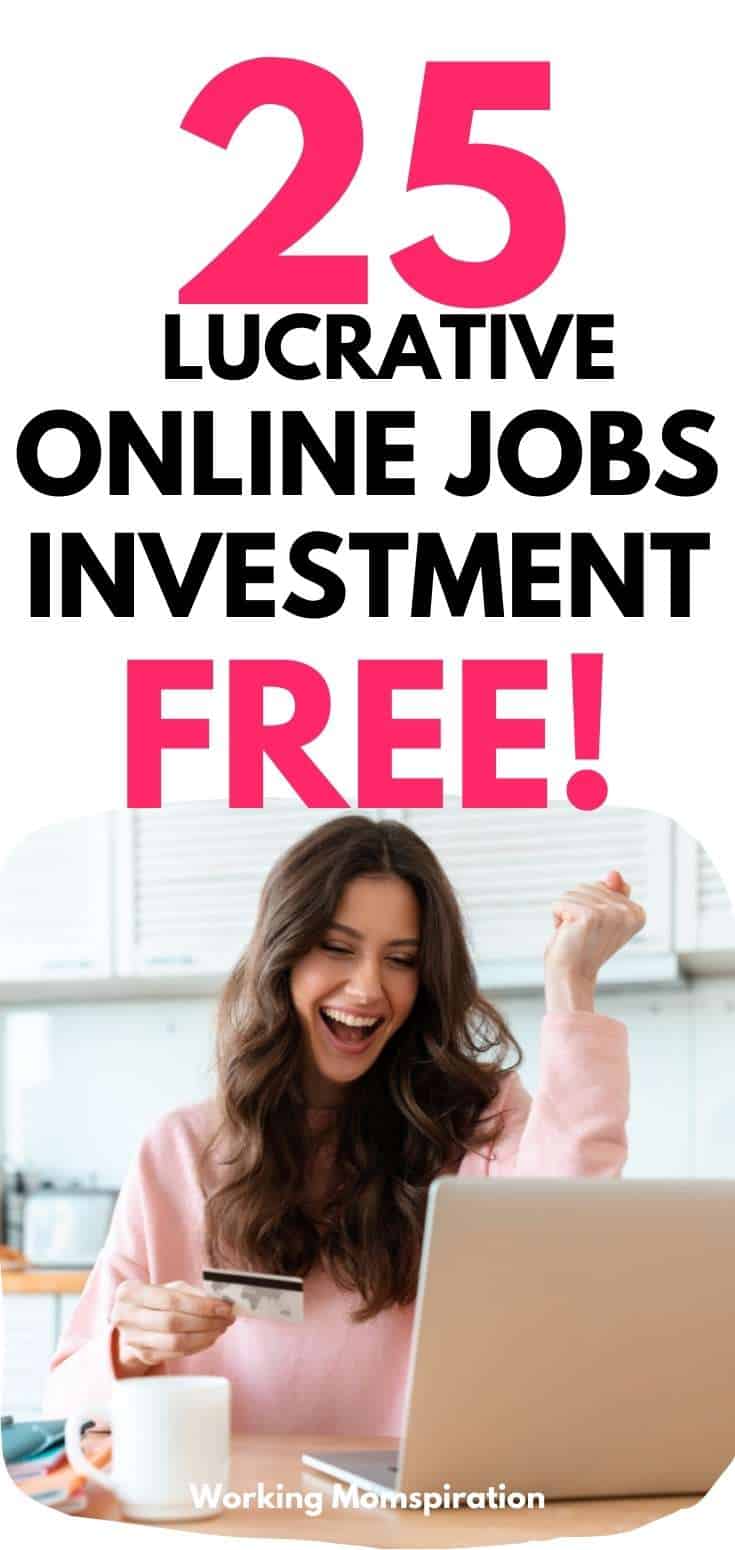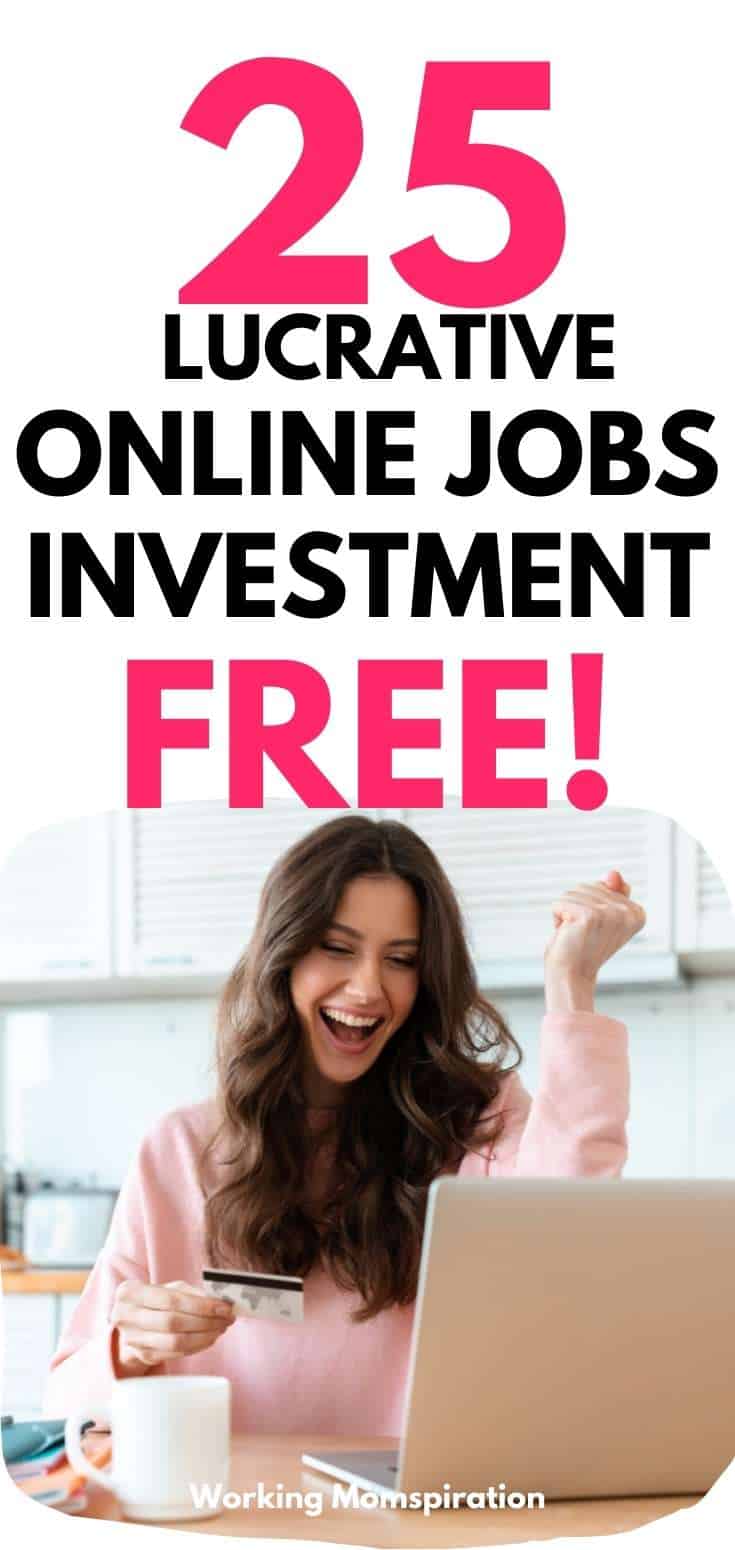 Tools To Earn Money Online Without Investment 
It would be unwise to continue and not mention that there are certain tools or services you will need to work online.
These are common things that most of us already have, but I thought about mentioning them before continuing with the post.
Working Laptop – This goes without saying that you'll need either a laptop or desktop computer to work from. Laptops are preferable in my view because they're portable. When I run errands in town, I take my laptop and work along the way!
Broadband Internet or Modem – Without the internet, it's virtually impossible to work. If you live in an area where the internet isn't reliable, use a local internet cafe.
Comfortable Work Area – This is more of a luxury than a necessity, but I think it's essential to work in a comfortable spot. For everyone, this may be different. It may be a desk, bed, on the porch, or backyard. Wherever it is, make it comfy!
20+ Online Jobs From Home Without Investment Or Registration Fees
1. Online Transcription Jobs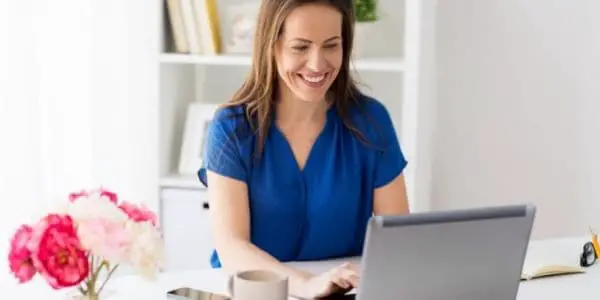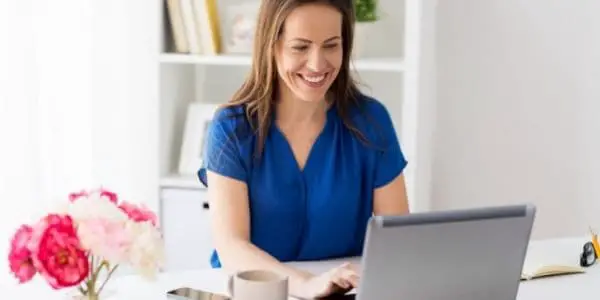 Are you a savvy typer? Using your skills as a typist would allow you to work online as a transcriptionist. Transcriptions convert audio files to readable texts for companies or clients who need the data.
The best thing about it? There is no prior experience needed and you can sign up and start working right away. 
Many companies hire transcriptionists online. I can recommend GoTranscript because it is legitimate and pays well according to Glassdoor reviews. 
Here are a few more transcription companies that accept beginners.
2. Proofreading Gigs
If you want an online job from home without investment that's also flexible, proofreading could be perfect for you! Proofreading involves correcting grammatical errors and spelling mistakes.
Proofreading is usually the final step in the editing process, so you'll need to have eagle eyes to be successful at this job. You may be able to find proofreading gigs through job boards like FlexJobs and We Work Remotely or on freelance sites like Fiverr. 
Want to get started right now? Check out Caitlin Pyle's free workshop that gives you the low-down on making money from proofreading. Don't be shy, she made 43,000 from proofreading a year – working part-time!
In the meantime, you can find 20 proofreading jobs for beginners!
3. Moderator Jobs
Moderators help companies manage their social media pages or message boards by reviewing content and making sure it's up to standard. This may include monitoring Facebook posts, blog posts comments, chat rooms, and social media comments. 
Moderators need to be thorough and have great attention to detail to manage offensive comments, posts that break the rules, and other remarks that go against the community guidelines. 
It's a great job for students who want to make money online without paying registration fees or buying equipment.
There are several online companies that hire moderators such as:
ModSquad
CrispThinking
BabyCenter
Live World
4. Search Engine Evaluator Jobs
Have you ever searched for something online and wondered how the results came about? These results aren't arbitrary – they are carefully selected by Search Engine Evaluators. 
Search Engine Evaluators determine quality search results based on certain criteria to ensure that users get the best results. 
In order to work as one of these evaluators you'll need to have:
Great research skills
Reliable internet access
Laptop or Desktop computer
You can earn about 58,000 per year with this job and it's always fully remote, so you can work from anywhere. One downside to this is that it's project-based, so jobs may not always be available. 
5. Email Marketing
As a blogger myself, I handle my own email marketing, but there are large companies that hire email marketers to manage all the work for them.
Email marketers engage in tasks such as creating email lists, formulating content, and sending email newsletters to an audience. This helps to promote the company and builds brand awareness. 
You can apply online as an email marketing specialist and work remotely for various companies. Most companies have marketers who perform different roles, so you may not have a heavy workload or a rigid schedule. 
It's easy to find jobs on Fiverr and Upwork, and work on a freelance basis. 
6. Sell Low Content Books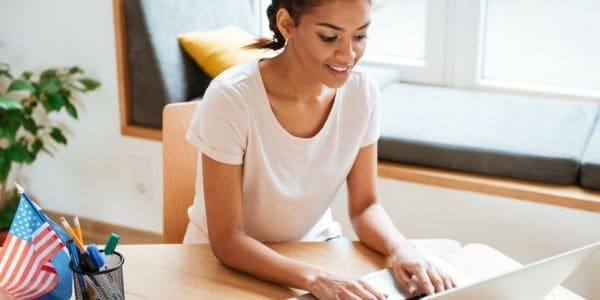 Would you like to start a side hustle where you can use your creativity and earn a potential 5-figure revenue each year? Selling low-content books could bring you this level of success.
Low content books are publications in which the reader does the writing instead of the author.
These books include:
Diaries
Bullet journals
Puzzle books
Coloring books
These books don't require you as the author, to 'write' perse, but to create a digital format with either blank pages or little to no writing, which the buyer uses personally. I've created low-content books using Canva and it was very simple. 
I was then able to upload the book to the Amazon KDP platform for sale. I have a step-by-step tutorial that goes into the process. I'd recommend checking it out so you can create your very own journal. 
7. Freelance Writing
I've enjoyed earning money from freelance writing and I'm sure you would too! There are many people who earn a full-time income from writing. The beauty of freelance writing is that it is flexible.
Even when you do have a time limit from a client, you can still choose when to write and where. There are also various ways to write and earn money online. These include:
Blog Post Writing
Travel Writing
Ghostwriting
Technical Writing
It's best to start in an area that you enjoy and are good at. It makes writing so much easier – it's almost like you're not working. If you want to get started right away, here are a few places to write and get paid quickly. 
8. Give Your Opinion
This is one of the easiest ways to make money online. It doesn't require any investment and you can start earning right away!
I wouldn't necessarily call it an online job, but giving your opinion through surveys or research studies is something that moms can do to earn extra cash. In order to make a steady amount, you may need to sign up with quite a few sites. 
However, you can create an email address just for these survey sites, to get all your emails in one place. The sites I'd recommend are:
To earn more cash with just your mobile phone, here is a list of 40 survey sites!
9. Content Creator
Another way to earn money online without investment is by working as a content creator. A content creator brings ideas to life through the creation of material and promote it to an audience.
This can involve writing, production, or design through a variety of media to connect with others and build brand identity.
One popular area to start as a content creator is Youtube. Creating a Youtube channel is free of cost, so it's perfect for people who want to start an online job without making an investment. 
There are different niches to branch out in such as:
Finance
Work from Home
Animal or Pets
Documentaries
Vlogs
To start earning money, you need to have at least 4000 watch hours on your channel.
10. Bookkeeping
Are you good with math and numbers? Do you enjoy a challenge and wouldn't mind working in the accounting field?
If this is the case, you may like working online as a Bookkeeper. Bookkeepers perform duties such as:
Creating financial reports
Updating financial records
Putting debits and credits to appropriate accounts
Entry-level Bookkeepers can earn about 40,000 per year or more depending on their training and experience. To find legitimate bookkeeping jobs, you can review job listings on Indeed and FlexJobs.
11. Create Printables
Designing and selling printables is the ultimate way to earn passive income online. The best part is, as a beginner you won't have to invest money. You will, however, have to dedicate time and effort to create printables that will sell.
Printables are digital products that a customer will purchase and download online. So no shipping or other transactions are necessary. 
Printables include:
Wedding Invitations
Templates
Calendars
Planners
Trackers
Some of these are really easy to make, while others take a bit more getting used to. How can you make printables you might ask? Through tools like Canva, Indesign, Photoshop, and Illustrator. 
The amount of money you make depends on the season, the type of printables sold, and where you sell them. This mom makes $1,000 each month selling printables on Etsy!
12. Social Media Assistant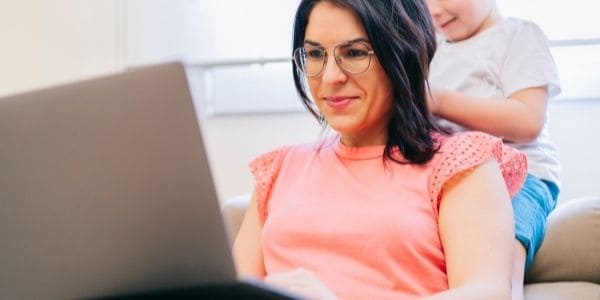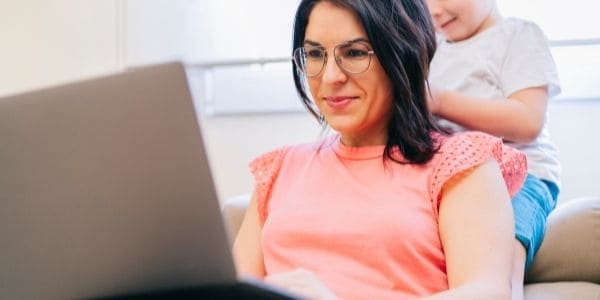 If you're very active on social media and really enjoy it, you should consider working as a Social Media manager. Social Media managers post content for businesses on various social media channels on a daily basis. 
Their jobs will also involve creating, scheduling, and optimizing posts to boost a company's online presence. They also use tools and knowledge of trends to achieve business goals.
Depending on where you work, you could earn around $75,000 per year.
13. Selling Photos Online
Another simple online job that doesn't require investment is selling photos. Your photographs don't need to be taken with any expensive equipment either. Just your smartphone alone can work. You'll just need to make sure the pixel dimensions are suitable for the site that you're selling them to. 
Some of the best sites to sell your photos to are:
14. Data Entry Jobs
Most people have heard about data entry scams and so are leery about these jobs. However, there are legitimate data entry jobs online. Most of the jobs don't require paying a fee, but some do request that you pass a background check.
Genuine data entry jobs involve inputting data into a system and companies prefer if you have a fast typing speed. It's a fantastic job for fast typers because they can work remotely with a flexible schedule. 
Search for Data Entry jobs on Indeed. 
15. Online Market Research
Would you like to help companies by reviewing their products and giving feedback? You can earn money by testing products or joining focus groups to give your feedback. 
Companies often need a second opinion about a product or service they offer. What better way to get an honest review than having a potential customer test it out. That's where you come in! 
You can look for product testing opportunities online and start earning money by sharing your thoughts.
Some focus groups will pay up to $140 per review and you can get free products as a product reviewer. Don't know where to start? Here are 50 ways to earn money as a product tester online!
16. Online Freelance Recruiting
Did you know that you can work online as a freelance recruiter? Yes! You can help job seekers to snag jobs while at the same time, setting your own schedule and working from home.
Some companies require some level of experience in Human Resources to work for their company as a recruiter. However, as a freelance recruiter, no previous experience is required. 
As long as you have a stable internet connection, a reliable computer and you possess organizational skills, you can easily work online as a freelance recruiter. 
17. Voiceover Artist
Do you have a unique voice? You can now earn money online by using only your voice as a voice-over artist. Some voice-over artists work for specific companies, while others work on a freelance basis for clients.
One place to start is ACX. It's Amazon's own audiobook platform where voice artists can sign up for free and pitch their voices. Potential clients will browse the platform and choose a voice-over artist that suits their needs. 
Here are 23 places to make money reading audiobooks online. 
18. Music Review Gigs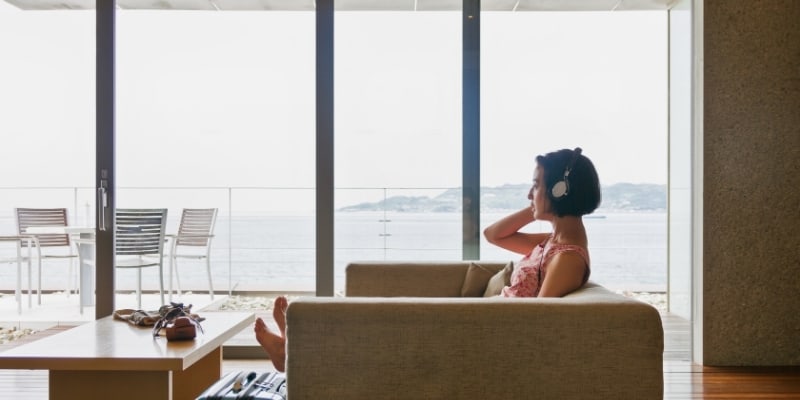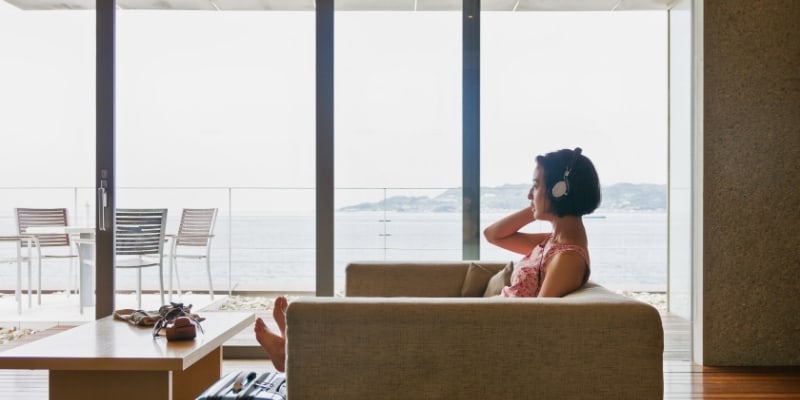 Do you love listening to music no matter the time of day? There are a few ways to make money from your hobby. 
If you have access to the internet, you can pump out the jams and rate music from your laptop. Of course, this won't be a full-time job, but it's a good way to earn money while doing something fun.
To start earning money online with music, check out these apps and sites
Slice the Pie
Current App
Earnably
19. Website Testing
Some companies want feedback about customer experience on their websites. This helps them make decisions about their website's look, feel, speed, and overall optimization. Website testers are paid to test websites in various ways.
It's a legitimate way to make money on the side, and you can choose when to work. You are paid a flat fee for each testing project you engage in. Some trusted website testing sites are:
UserTesting
UserZoom 
TryMyUI
Userlytics
UserFeel
20. Microtasks
Have you ever heard about microtasks? These are small jobs that can be done super quickly. It's a convenient side hustle because it takes little to no time and can be done on your laptop or phone.
While microtasks are not the highest-paying job online, I'm sure a lot of people wouldn't mind doing easy gigs in their free time. You need no previous experience and can get started right away.
Some of the most popular microtask websites are:
Most of the gigs will involve light tasks such as proofreading, testing games, checking websites, and leaving a review, among other things.
21. Virtual Assistant
If you've ever wanted to work as a virtual assistant, now's your chance! It's now easier than ever to work as a VA online with the rise in remote working. 
There are various tasks to perform as a VA such as graphic design, email management, scheduling, writing, and more. As a newbie, you can expect to make around $25 per hour, while veterans can earn around $100 an hour!
22. Captioning
Like transcription, captioning involves converting data to text. In this case, you will be converting video into text. It's a job that does not require experience or investment. Captioners do open or closed captioning. 
Open captioning involves captions embedded in a video that cannot be turned off, while closed captioning can be turned on or off. 
You can work online as a captioner watching pre-recorded videos for Youtube or even TV shows. Online captioning companies include Rev and Happy Scribe.
23. Video Editing
Are you great at doing video editing and using graphic design tools? There are many opportunities available online to create videos and earn a living from it.
Companies will pay video editors to create promotional videos, ads, and other media to highlight their services and create lead generation. 
The best way to get started is to do freelance work on Fiverr and Upwork and then use your expertise and experience to book clients. 
24. Online Coach
People desire help to grow their businesses, career, or change their lifestyle. A coach can provide strategies and assist in these goals. 
Working as an Online Coach is a great way to work with individuals without going into an office setting or meeting in person. You can speak with clients virtually to encourage them and provide tips that will motivate them and bring change.
Depending on your interests, you could work online as a:
Life Coach
Diet Coach
Career Coach
25. Sell Merch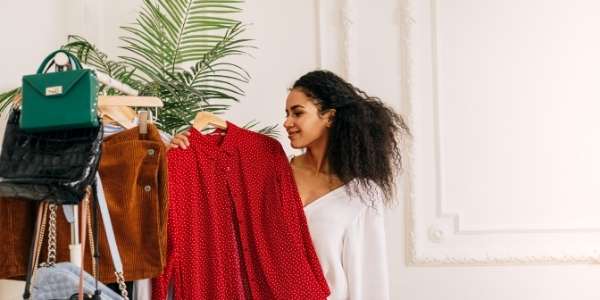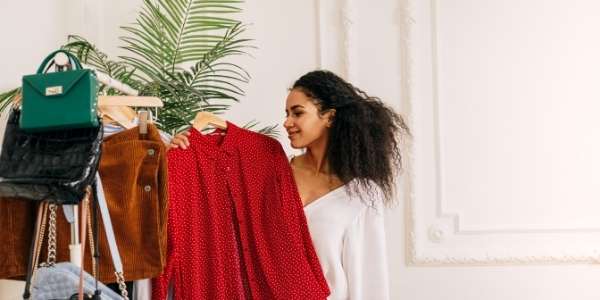 I'm sure that you've heard of Merch by Amazon. If you haven't, it's the online platform for entrepreneurs to sell T-shirts and earn money.
It's completely passive so you can keep earning online even while you sleep. When you sign up with Amazon Merch, you upload designs, and then Amazon deals with all the inventory and shipping. Of course, Amazon will take a small cut, but you'll take the majority of the royalties. 
Best Online Jobs From Home Without Investment or Fees
There is no need to pay in order to start an online job. Whether you're a stay-at-home mom,  a full-time working parent, or someone looking for side gigs, these online jobs are great for earning some side cash. 
In your quest, always remember to use trusted job boards to avoid scams, as there are plenty of them out there!
If You Liked This Post, Please PIN it For Later!????❤️️