This post may include affiliate links.
So you'd like to start selling stickers online, but you're not sure where to start! 
I can help you with that!
Since you're here, you may already know that selling stickers online is a fantastic way to make money online and even earn passive income.
You get to show off your awesome illustrations and even create a brand that people may come to love!
While there are plenty of platforms out there, you want to know the absolute best places to sell stickers online for a profit. 
The platforms I'll mention all have different forms of production but offer a range of options to work with. 
This will include customizable stickers, and pre-made designs or provide opportunities for both new and established artists to sell their work.
You can make money from drawing or even coloring your cute sticker art!
 It doesn't matter if you're a seasoned sticker seller or just getting started, because these online marketplaces are some of the best spots to get your designs in front of a global audience and start earning income from your creative passion.
So what's the best website to sell stickers online? Read on and you decide!
PIN IT!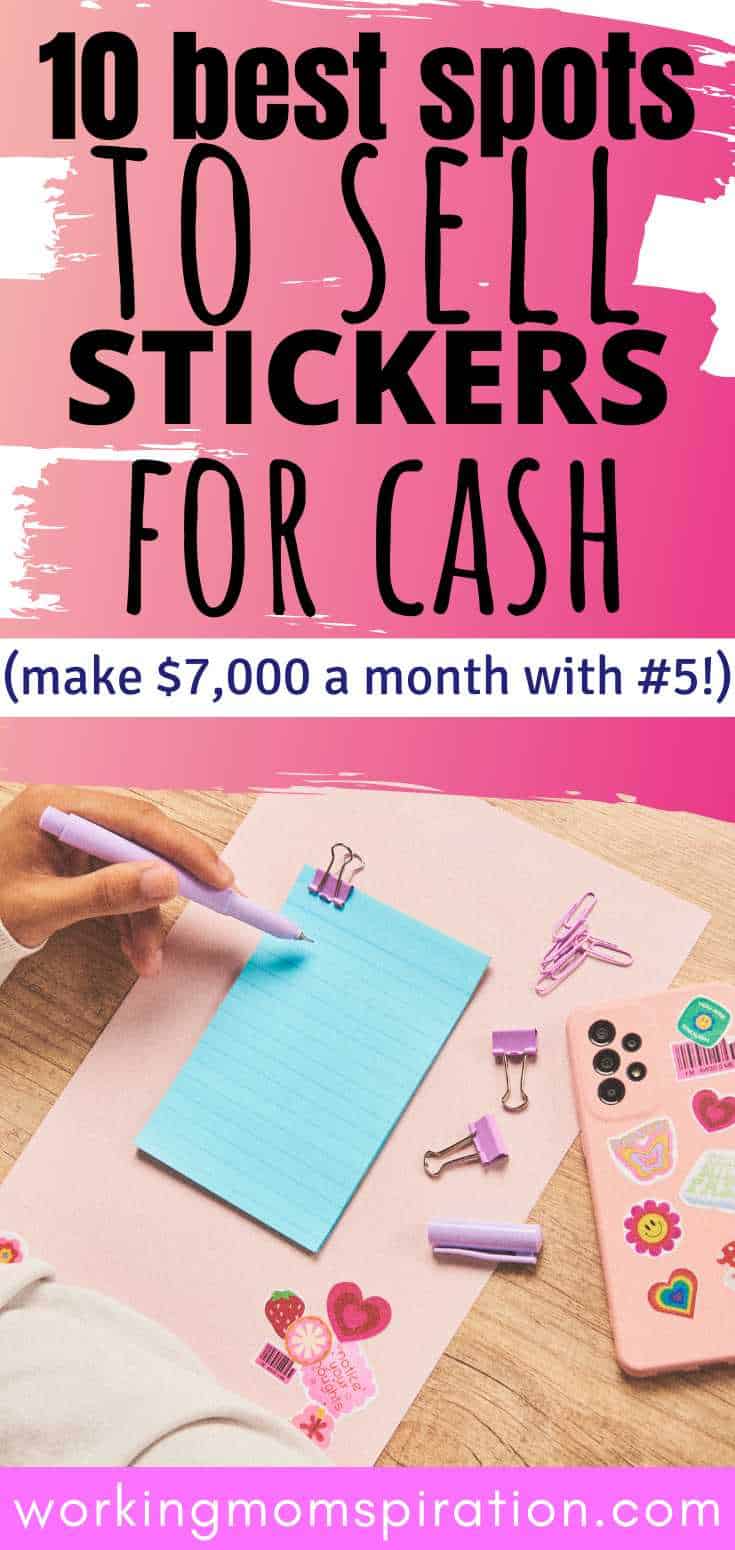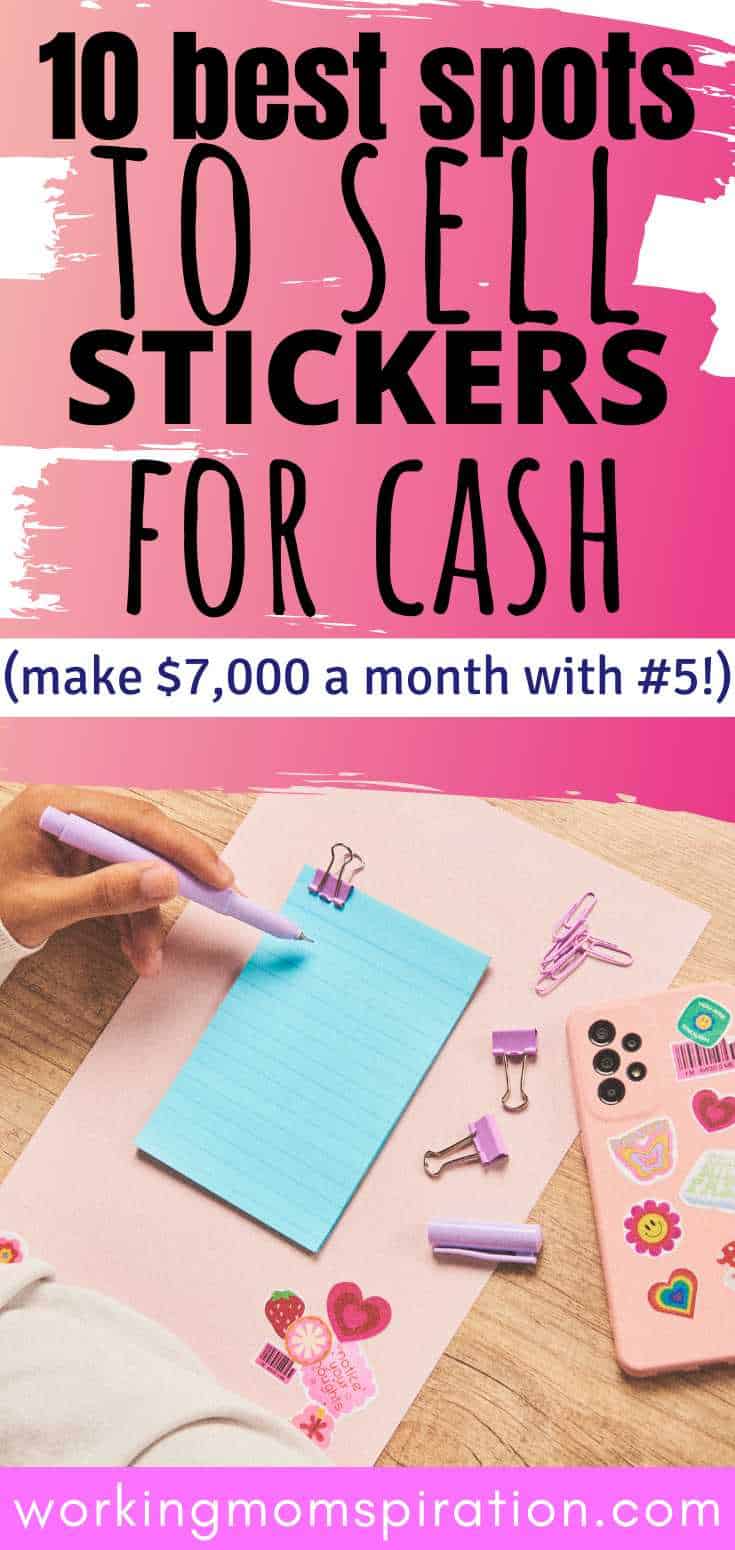 Best Place to Sell Stickers Online for Cash
1. Make Money Selling Stickers on Etsy
Have you ever purchased items on Etsy?
Well, it's a wonderland and a one-of-a-kind spot for handmade and vintage treasures! 
With over 4 million active sellers, you can explore a world of creativity and discover unique gifts, jewelry, home decor, and so much more.
But the beauty of Etsy for you my fellow creator, is that you can sell your delightful creations on their platform. 
If you doubt that Etsy is the platform for you, think again.
Etsy has a large audience, is easy to use, has low fees, allows for customization, and even SEO optimization. 
But what about selling stickers?
You can sell both physical and digital stickers depending on what you prefer.
Look at these cute stickers for example: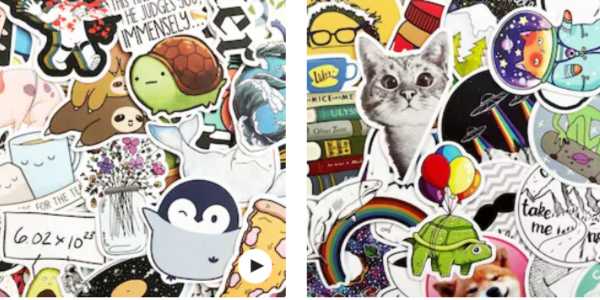 A great way to stand out on Etsy is to offer various sticker sizes and custom sticker options.
This will create more opportunities for sales and fantastic reviews if your product is awesome.
On Etsy, you'll create a listing for each item and a set price for that listing. Etsy does charge specific fees for listings, credit card transactions, and more. 
If you're interested in selling on Etsy, check out this fantastic guide about selling on the platform.
2. How to Start Selling Stickers on Redbubble
This is another platform for artists to sell their stickers online.
While Etsy is a marketplace for selling handmade, vintage products, Redbubble is a print-on-demand platform.
Redbubble is a place for artists in particular to showcase their art by selling them on products such as:
Stickers
T-shirts
Mousepads
Phone cases
Face masks
Hoodies
Tote bags
Throw pillows
On Redbubble, you can set your own margin price and choose how much you make for your stickers.
Be careful not to price them too high as stickers are usually the most popular due to their low cost. Avoid pricing too low as well as you don't want to undervalue your work. 
Stickers like these ones sell really well on the platform.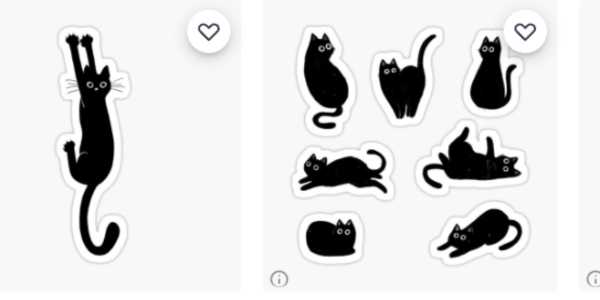 I've sold stickers on it myself and it's super easy to start listing your stickers for sale.
You'll often find stickers that follow trends and cult favorites that can make you the most money on the platform. 
Find out how to start selling on Redbubble with your sticker designs.
3. How to Turn Your Art into Stickers on Creative Market
Would you like to sell digital sticker templates to customers and earn passive income?
On Creative Market you definitely can!
This is a spot where you'll find independent designers and creators selling digital products.
There is a wide array of categories available on Creative Market including graphics, templates, themes, fonts, photos, and more.
 Each item is reviewed by the Creative Market team to ensure that it meets its quality standards before being made available for purchase. 
This quality control process ensures that customers can trust that they are getting a high-quality product that meets their needs.
It's a good place to start selling sticker templates because anyone can sign up to become a seller on the platform, once they produce high-quality designs.
Browse the platform to see if it's for you!
4. Use Amazon Handmade for Creative Projects
If you're looking for one of the best places to sell handmade items, then you've found it!
Currently, Amazon has 2.45 billion users each month! You heard that right, BILLION.
That means more eyes on your handmade products and more opportunities for making money.
Amazon Handmade is primarily a place for crafters and artists to sell their products and all items must be hand-made. 
Apart from stickers, creators can also sell:
Soap
Candles
Jewelry 
Abstract art
Toys and games
Stationary
To get started, fill out the application on their website and choose to either use the FBA method or the Merchant method to fulfill your shipments.
While the platform is similar to Etsy in some ways, Etsy does have a lot more competition, because a greater amount of sellers use their platform. 
Amazon has a much stricter application process because they are very selective about who they choose.
However, it's still an excellent place to start selling your handmade stickers.
5. Make and Sell Stickers on Zazzle
Ever heard of Zazzle?
If not, Zazzle is an online marketplace that allows designers and creators to sell their customizable products to millions around the world.
Since it launched in 2005, it's become one of the largest online marketplaces for customized products, with over 300 million unique products available.
You can find apparel, home décor, electronics, and stationery like stickers. 
What sets Zazzle apart though is that customers can personalize these products by adding their own text, photos, or designs.
 The customization process is easy and intuitive, allowing customers to create unique and personalized products in minutes.
Even beginners can use Zazzle because of its user-friendly design tools. 
I would recommend looking at Zazzle as a bit different than platforms like Etsy and Redbubble because the site is centered mostly around customization.
When designing your stickers, take advantage of text-based designs, colors, and even seasons and trends as customers on Zazzle focus mainly on these options when purchasing. 
I think spending time researching current design trends and creating designs that are in demand is essential. 
Also, Zazzle is a search-driven platform, which means that customers will find your products through search results. 
Make sure to use relevant keywords in your product titles, descriptions, and tags to help customers find your products.
Create your own Zazzle shop and start listing your stickers today!
6. Have Creative Control with Shopify
If you would like complete control over how to sell stickers online, then Shopify is the platform for you!
It's simply an e-commerce platform where you can create an online store and sell products to customers all over the world. 
What's great about Shopify is that you can create your own online store from scratch, or use one of the platform's many pre-designed templates to get started. 
Also, it's user-friendly and intuitive, allowing you to easily set up your store and start selling products in just a few clicks.
You have the option to add and manage products in your store, including descriptions, images, prices, and variants.
There's also a place to track and manage orders from your dashboard, and process payments using a range of payment gateways, including Shopify Payments.
We all know how important shipping your stickers is so you'll be happy to know that you can set up shipping rates and fulfillment options, including dropshipping and print-on-demand services.
I think one of the best things that Shopify offers is the wide range of third-party apps and integrations, allowing you to add additional functionality to your store, such as reviews, upselling, and customer service.
If you'd like to sell stickers and manage your own storefront, Shopify may be the best option for your business.
6. Blog and Make Stickers for Your Audience
Have you ever thought of creating your very own blog?
It's the ultimate way to advertise yourself as an artist or business. It can really help you get massive sales on stickers if you start your blog the right way.
A blog is the perfect way to express yourself and educate customers as well as offer products that you know customers will love!
If you're an illustrator, for example, I recommend starting your blog and writing blog posts around topics like:
How to draw as a beginner
Procreate tips for beginners
How to use Procreate brushes
How to design digital stickers 
These are just examples to get you started and you can link your sticker products throughout your blog to drive sales.
You could also add videos to your blog posts teaching customers all about sticker creation too.
Once your blog has enough traffic, you can take advantage of this and set up a shop page using the WooCommerce plugin.
This way, you can start selling your stickers full-time mostly from the traffic you get from your blog itself.
This couple started a blog and were able to make $500,000 annually!
7. Sell Stickers Using Facebook Marketplace
This is one of the quickest and easiest ways for users to buy and sell goods and services within their local communities.
Not only that, it's completely free and is easily accessible through the Facebook website or mobile app.
One of the main reasons people use Facebook Marketplace is its ease of use. 
If you'd like a free option for selling stickers as a side hustle, I would recommend using this platform. 
Millions of people are using Facebook each day with a portion of that number scrolling through Facebook Marketplace for deals. 
Some of your potential customers will be searching for products they are interested in through different categories such as home goods, electronics, and clothing.
If they search for stickers, they could happen on your own and voila, they'll make a purchase!
To start selling your stickers on Facebook Marketplace, take a photo of your stickers, write a description, and set a price.
You can then post the item for sale, and interested buyers can contact you through Facebook Messenger to arrange a purchase. 
Buyers and sellers can also leave feedback and ratings for each other after a transaction is completed, which helps build trust within the community.
All in all, Facebook Marketplace is a great way for sellers to reach local customers and expand their reach.
It allows you to reach a large audience without having to pay for advertising or set up their own e-commerce website. 
If you'd like to start your sticker business without investment, I recommend using Facebook Marketplace to start out!
8. Sell Custom Stickers on TeePublic
This is another POD platform for artists to sell their designs on a variety of products including stickers, t-shirts, hoodies, phone cases, and home decor. 
One of the key features of Teepublic is its focus on independent artists. 
Unlike many other online marketplaces, Teepublic does not require artists to apply or be accepted into a program in order to sell their work.
 Instead, artists can simply create an account, upload their designs, and start selling. This allows artists of all levels of experience to reach a global audience and earn money from their creations.
I have used TeePublic and had success on their platform selling stickers as well. 
One advantage of using this platform and those like Redbubble is that you can make money selling several products and not only your stickers.
And we all know that more quality products mean a higher probability of sales. 
As an artist, you can track your sales and earnings through the user-friendly dashboard, and access tutorials and tips for optimizing your designs. 
All you have to worry about is designing and marketing, as Teepublic handles all of the production, shipping, and customer service for each order, which allows you to focus on building your brand.
Check out TeePublic to get started!
9. make Money with Templates on Design Bundles
Design Bundles is an online marketplace that offers a wide range of digital design assets to individuals at affordable prices. 
I love it because it gives me a ton of gorgeous clipart that I can use for my own online business. 
At Design Bundles, customers can browse and purchase a variety of design products, including graphics, fonts, templates, mockups, patterns, and more.
You can join the platform's community of talented designers and sell your sticker templates, clip art designs, and illustrations for passive income!
That's because one of the most popular categories on Design Bundles is graphics, which includes clipart, illustrations, and vectors.
 Customers (like myself) use these for design projects like invitations, posters, flyers, social media posts, and you guessed it, stickers!
What sets Design Bundles apart is that they have a subscription service called DesignBundles.net Plus. 
This service provides customers with access to an exclusive library of design assets, as well as discounts on products and freebies.
This can improve your sales because the products are more affordable for customers and they'll most likely order more products for the set price.
If you'd like to sell your sticker templates and illustrations on a platform that offers a steady income stream, Design Bundles will help you there. 
Check out the creative assets on their website. 
11. Earn Cash Selling on Creative Fabrica
Much like Design Bundles, Creative Fabrica is another highly prized online marketplace where you can sell digital design assets.
It not only has thousands of clip art and illustrations, but you can also find fonts, templates, and even procreate brushes.
Again, it's a fantastic place to sell sticker templates because the website is geared toward businesses looking for these types of digital designs to use for art-based or promotional projects.
Their subscription service known as the Craft Club, provides customers with access to an exclusive library of design assets, as well as discounts on products and freebies. 
The Craft Club also offers a variety of tutorials and resources to help customers improve their design skills.
You may find that you can get a steady stream of sales when customers purchase from this subcription service.
If you're an artist looking to broaden your creative base and earn passively, Creative Fabrica is a valuable resource to sell your digital design assets. 
Take a quick look to see what they offer.
11. Use Gumroad to Promote Your Brand
Gumroad is a bit different from all the other mentions on this list because it's a site that allows creators to sell their digital products directly to customers. 
It's not a marketplace like Etsy or a POD platform like Redbubble. 
Instead, creators who have exposure online with a blog or YouTube channel can direct customers to Gumroad to purchase items.
This includes products like e-books, music tracks, videos, and stickers.
You can set your own price and Gum Road takes only 10% on each purchase a customer makes.
The site also offers a variety of tools and features to help creators market their products and grow their audience.
 For example, creators can offer discounts, set up affiliate programs, and even create landing pages to showcase their products.
A unique feature of Gumroad is its "pay what you want" pricing option. This allows creators to let customers pay whatever they feel is fair for a product, which can be a great way to attract new customers and build goodwill.
If you already have a platform such as a blog or Youtube channel, this is a great place to sell your stickers.
Best Places to Sell Stickers Online
If you're a sticker enthusiast or a designer looking to sell your stickers online, you might be wondering where the best places to do so are. Luckily, these platforms cater to the sticker market, each with its own unique benefits.
So which is the best place to sell stickers online?
It's totally up to you!
I think each platform is great for selling your products to an audience, with each having its pros and cons.
Take your time to carefully research the best platform for your business and see where it takes you!
PIN IT!