This post may include affiliate links.
If you're a bookworm and enjoy listening to stories, would you like to read audiobooks for money?
You can try various voice-over jobs for beginners online and work from anywhere in the world. To do well at this job you will have to enjoy talking because it requires speaking for extended periods of time.
Voiceover artists are also known as voice actors. If you decide to take on this role you'll be acting out the scenes in a book using your voice.
It's quite similar to being an on-screen actor, so expressiveness is necessary for the audience to 'see' while they're listening. This job is something even a beginner can get started with!
There are other ways to earn money reading books that are fun, and some are ideal career options.
Find out how you can start making money by reading audiobooks from home!
Please share the ❤️️ and PIN this for later!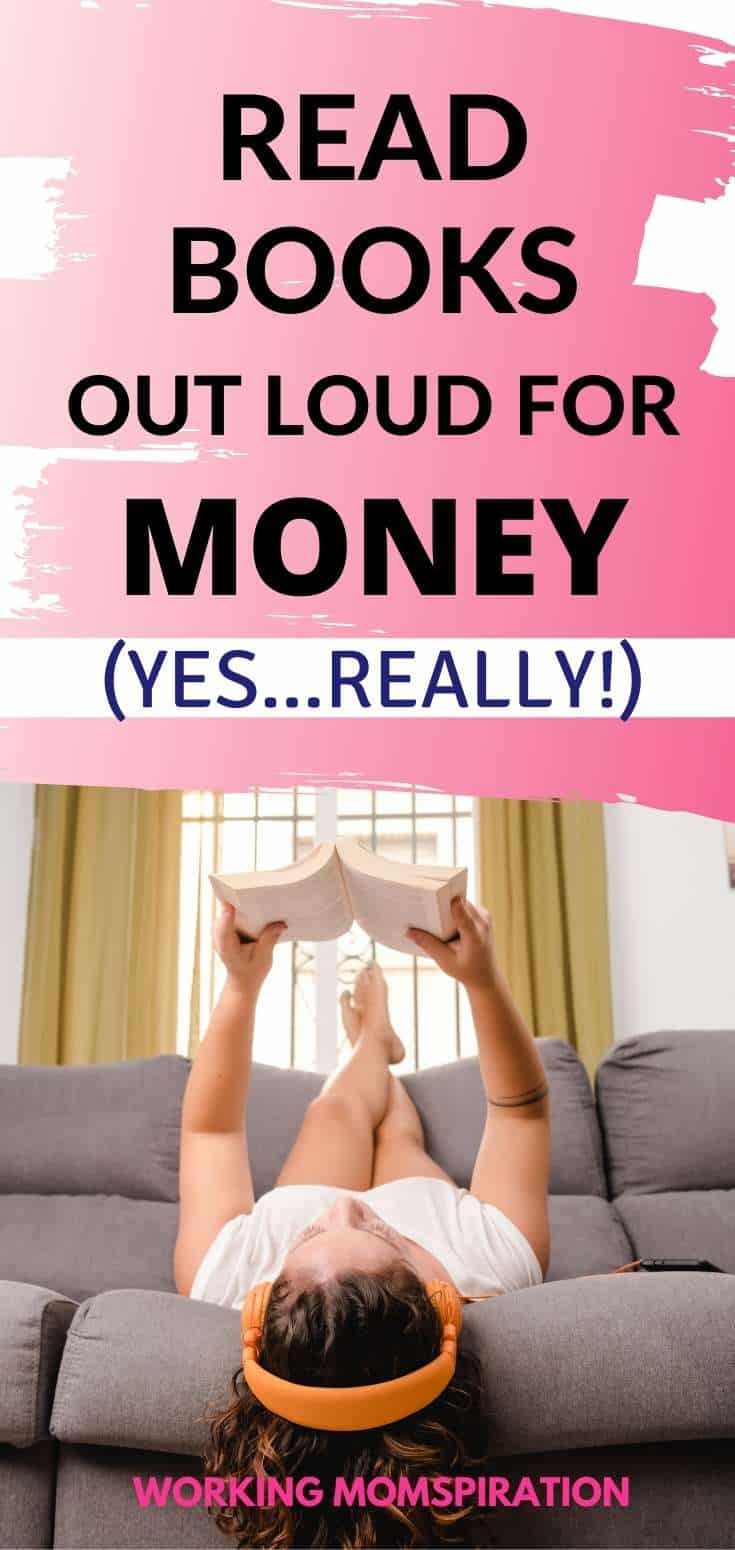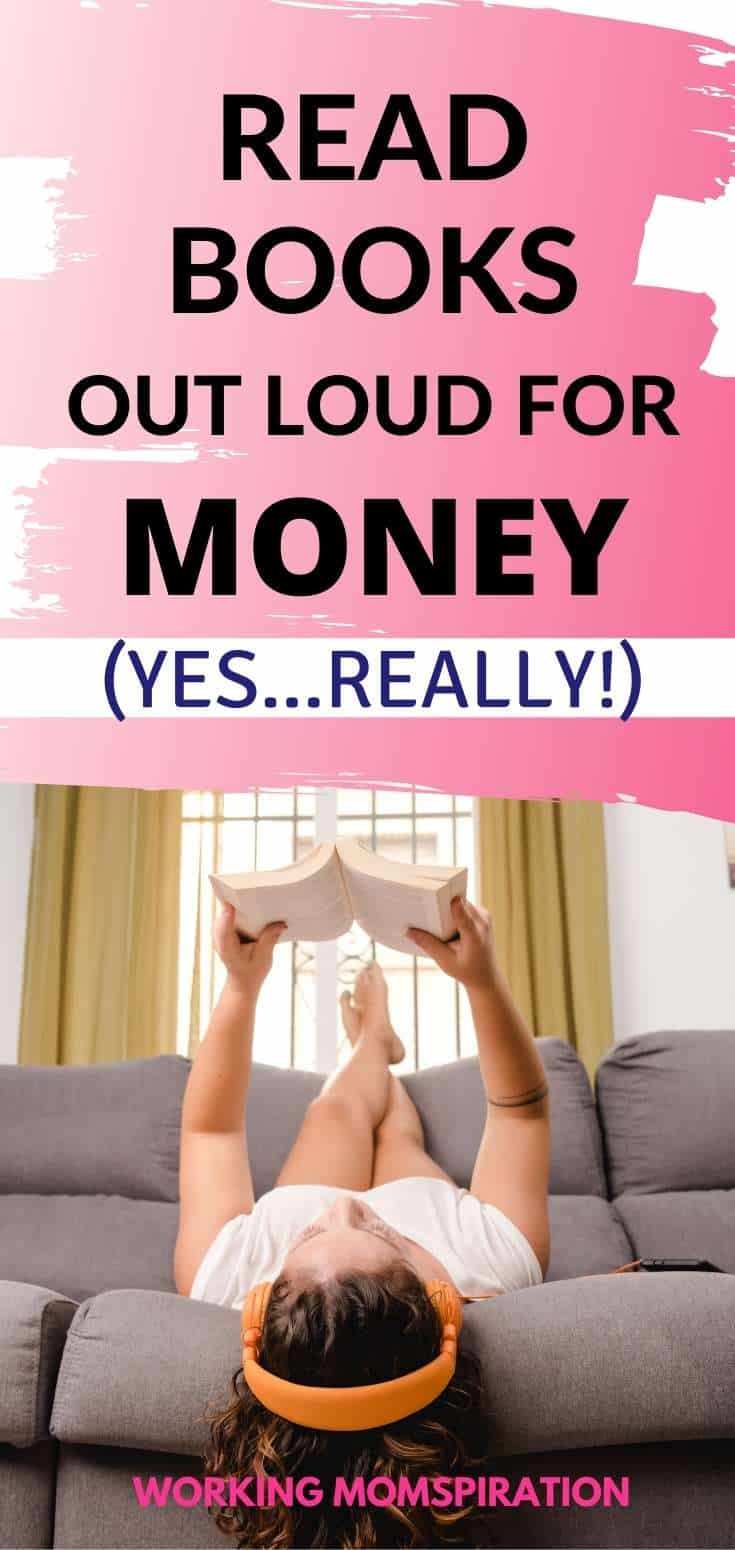 How to Get Started Reading Audiobooks for Money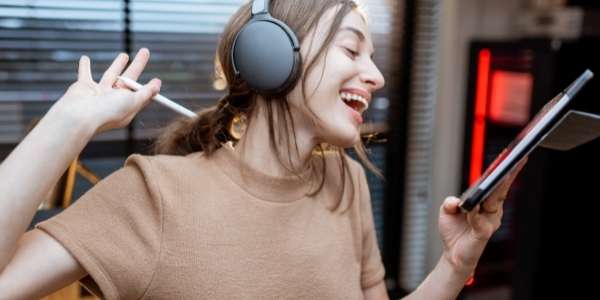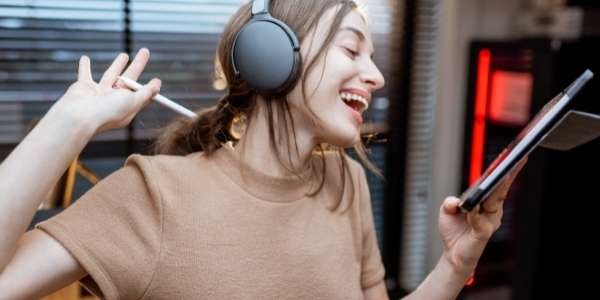 As a beginner, you will not have the experience to start reading audiobooks right away. If this is the case, there are certain things you will need to get voice-over jobs.
Some of these are:
Tools and Software
You won't have to empty your pocket or shell out thousands to find quantity tools. Browse on Amazon for microphones and recording audio that are budget-friendly. I mean it's Amazon – you're bound to find something good.
Quiet Space
Preferably, you should have a soundproof room, but not everyone can afford this. What I recommend is using your home office or a nice quiet space in the house away from the hustle and bustle.
Recordings or Demos
This is necessary when applying for your voice-over gigs. The client or company will need to hear your voice to know if you're a good fit. Making various demos to show versatility is a plus!
Practice (makes perfect)
If you're not a pro at this yet, getting in some practice would be a good idea. You can try free online tools to help you train your voice, hire a voice coach on Fiverr or take a course that goes through voice training.
Create a portfolio
This might be the best step to take when you're a beginner. If you don't have any jobs under your belt, you could do free voice-over jobs to gain exposure and add to your resume. One place to seek these jobs is through Facebook groups. You can offer your service for free and use it as a testimonial.
How Much Can You Get Paid to Read Audiobooks?
You may have asked the question, " Can you make money reading audiobooks?" And the answer is yes!
The payment will be different based on various factors such as:
Level of experience
Hiring company
Being paid by the per-finished audio hour
Royalty Share
Being paid by the per-finished audio hour means how many audio hours you have successfully completed. If you have done one audio hour, this may have taken you three hours to complete based on your experience.
Royalty Share refers to the percentage of earnings you'll acquire based on royalties made by authors. Basically, this means you'll make money based on how well the book sells.
18 Places to Make Money Reading Audiobooks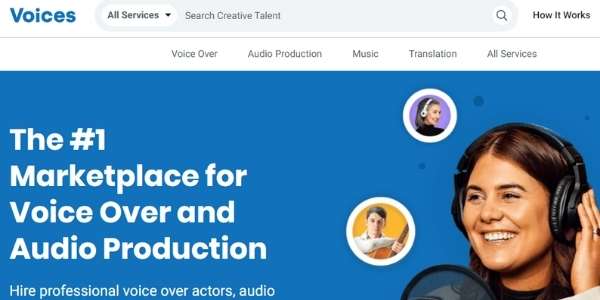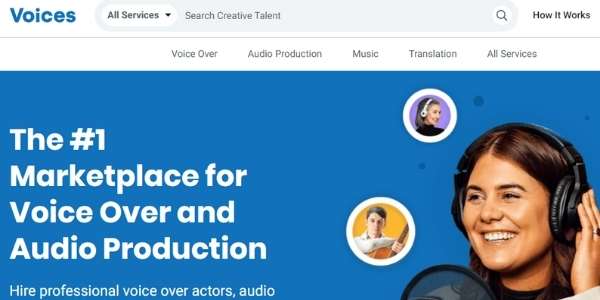 You can work for Voices and get paid to read audiobooks as a beginner. Also, working with popular brands which include The History Channel, Shopify, GoDaddy, Microsoft, The Los Angeles Times, and Hulu is quite possible.
To get started, create a profile for free and then show the types of voice-over skills you possess. A great way to showcase your talent is to upload samples of your best work so that clients searching for specific projects can find you.
Interested clients will send you invitations and if you're interested you can accept the invite. When submitting your response be sure to submit a sample, a short proposal, and your quote.
Tracking your payments is easy and you'll know exactly when your payments are coming. Please be aware that there are three voice freelance memberships available which are:
Guest membership – sign up for free
Premium membership – for $499 a year
Platinum membership – for $2999 a year.
At Findaway Voices, they make it easy for you to create a customized profile page where you can find the perfect client.
You can add samples, an audio intro, use tags, add your own customized background image and a personalized URL. This will make your page appear more professional and make it easier for you to snag freelance gigs on the platform.
When a client wants to find voice talent, they simply click on a profile and listen. If interested, they can hire that voice talent right away.
Narrators are paid by the per finished audio rate and get to choose their own rate. There's no need to send an invoice as their system keeps track of all the audio that has been uploaded to the system. Findaway Voices will pay you within 14 days of the audio being approved.
Another place to read audiobooks and make money is with Voice123. They post thousands of voice-over projects each day so you'll never miss out on job opportunities.
This is a great place to start reading audiobooks for money because you are accepted either as a beginner or professional voice actor. There is also the option to work as a freelance audiobook narrator.
When you sign up on the platform, you are invited to participate in projects that match your preferences. You can then audition if interested and get hired by a client with whom you'll work directly.
Projects on Voices123 include:
Cartoons
Movies
Commercials
Radio
Narration
Video Games
Clients you could be working for include Coca-Cola, NBC, Airbnb, The New York Times.
You can easily get paid to read audiobooks on The Mandy Platform. This is because they have a variety of voice-over jobs in different categories that are posted almost daily.
Their website is geared mostly towards the film acting and theater industry and they have an inclusive community where members are alerted to the latest voice-over jobs or auditions available.
You can join forums and interact with other voice-over professionals in your field. Head over to the site, create your profile, and get access to more than 47,000 employers and 6,500 job posts a month!
The Voice Realm hires only the top voice artists in the industry who have years of experience working for some of the biggest brands.
To date, they have booked over 100,000 voice-over jobs and are hailed as one of the best voice-over companies based on how well they pay their voice-over artists.
What type of voice-over jobs do you have experience with?
At The Voice Realm you can choose from:
Radio commercials
eLearning courses
Internet video voice-overs
TV commercials
Telephone recordings
Business and training recordings
Audiobook Narration
They select their voice talents based on audio quality, experience, and their ability to follow directions. To sign up with them you can visit their website, enter your personal details and information about your experience doing voice-overs.
The Voice Realm will request details on the microphone brand and editing software you use. You can also expect to upload an MP3 file of your sample.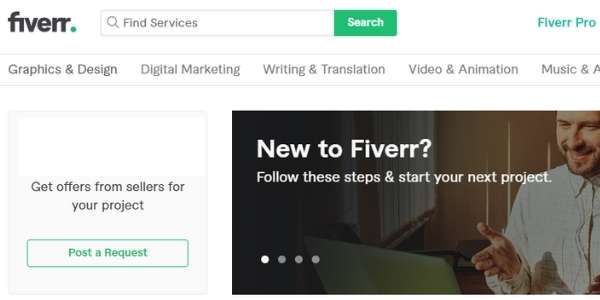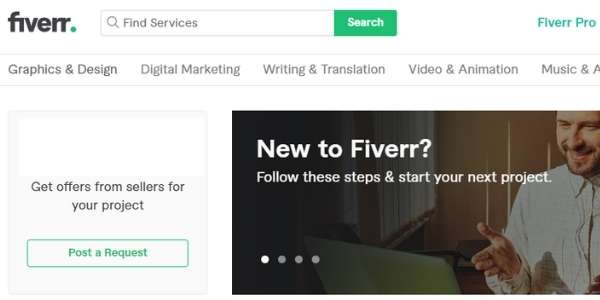 Would you like to work on a platform where you can choose your own schedule and work from anywhere in the world? I'm sure you already know about Fiverr which is one of the largest freelance job boards online.
You can get hired as a voice talent and read audiobooks, online course material and work on other projects using your voice. The great thing about Fiverr is that you can work as an audiobook narrator regardless of your experience.
Freelancers can choose their rates and make about $800 for just a three-hour like this voice-over artist.
One of the best places to find audiobook narrator jobs is with VOPlanet. They are a voice-over casting site that hires talent in various fields. As with some of the other companies on this list, they only accept professional actors that have an excellent track record in voice acting.
Don't be disappointed if you're a beginner as you can apply with even one year of experience. If this is a company that you would like to work for, I highly recommend doing small gigs on Fiverr to build your portfolio and then apply to some of the higher-paying companies that require some level of experience.
If you'd like to work on other projects apart from audiobook narration you can also do business voice-overs, cartoon voice-overs, and eLearning voice-overs.
Operating for more than 25 years EarWorks Media is selective about its voice talents as they work with various advertisers and other brands within the United States. They only hire the most professional voice performers and are careful to select the best demos that they receive.
Not only can you read audiobooks for money but you can also perform web ads, radio and TV commercials, theme park announcements, and voice message recordings.
Some of their brands include the Discovery Channel, Nike, and Toyota. In order to get signed up, a home studio and demo are required.
This company hires voice talent from all over the world and provides voice-over jobs in more than 80 languages. So, if you're not an English speaker, you can still join them and apply for jobs.
Not only do they offer narration but they also do transcription, translation, video editing, and subtitling. So you could say it is a full-service digital company. They screen all their talent to give their clients the best service in audio narration.
This company is not best for beginners as they're looking for actors with at least five years of experience. You should also have your own recording studio and can provide a clean demo or voice sample.
Are you a native speaker of German, Spanish, or French? You can work with Bodalgo as they have actors in several languages doing audiobook narration, commercials, podcasts, and e-learning videos. The voice actors you find on Bodalgo are professionals in the field, so you will need some experience to become an audiobook narrator here.
When you sign up on Bodalgo you will receive a free account initially and then get access to a premium account at a charge. You can pay either monthly, semi-annually, or annually. To be sure that you are a professional voice-over talent you will be vetted by their team. If you don't meet their standards, they will remove you from the platform.
When you're hired for a job, you get to choose your own rates and negotiate with the client.
If your favorite way to work is freelance then you can start using the Upwork platform. Here, you can create a profile, fill out your information and past working experience, then apply for audiobook voice-over jobs.
Don't have any experience? That's fine too because you can start out as a beginner with Upwork. Before applying, you are able to view all the requirements of the job beforehand so you don't waste your time.
If they are relevant to you, apply and await their response.
Upwork is a great place to gain experience even though you may have to work at a cheaper rate until you build your portfolio. Get paid to read books out loud at Upwork and gain unmatched experience right now.
12. Brilliance Audio
If you'd like to try voice-over jobs for beginners from one of the leading companies in the world, you can sign up with Brilliance Audio right now. They accept both professionals and those who are new to voice acting. It is a trusted company and part of Amazon's publishing group that has been around since 1984.
To make it with this company, create some samples and do a bit of practice before sending your application to auditions@brilliancepublishing.com.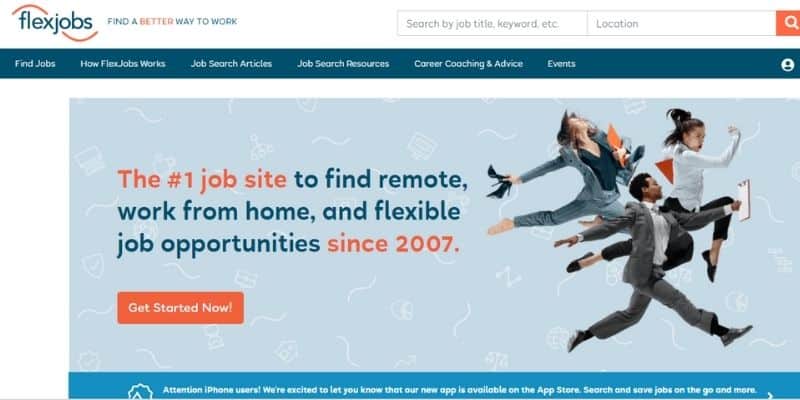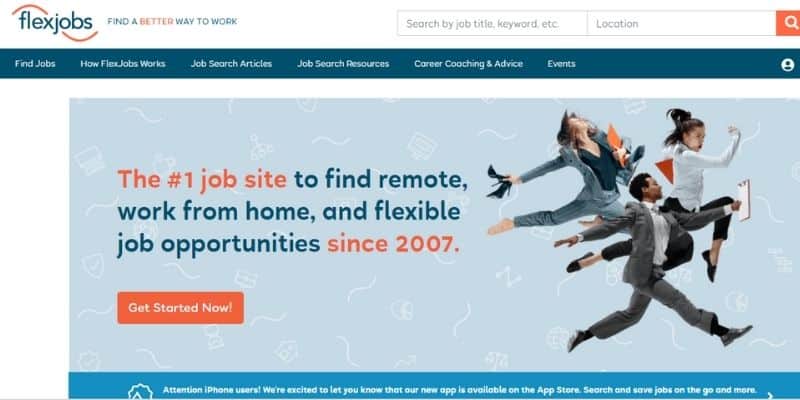 If you'd like to work for some of the biggest companies and brands in the world, FlexJobs offers hundreds of online work-from-home jobs in voice acting for both beginners and experts.
They have premium membership which I've personally used and it was great, so I don't have any qualms about signing up with them.
FlexJobs is a 100% legitimate job site and probably one of the most popular ones online. Once you set up your profile you'll get access to thousands of job opportunities in various fields.
Filter the options and you'll find voice acting jobs that are specific to you. There may also be options to read audiobooks, scripts and do voice-overs for commercials as well.
If you can work pretty fast and are comfortable with 1-2 hour turnaround times, the Internet Jock may hire you. While you won't be reading audiobooks, they mention that audiobook gigs will be available in the future. In the meantime, you can work as a voice talent for commercial gigs.
Working from your own home studio is necessary and you'll be required to work during the day, which is based on the time when completed recordings are expected.
If you're interested you can upload your demo to their site. Internet Jock states that your demo file should sound like a commercial and you should have high-speed internet. Another requirement is that you cannot work for another voice-over service that has rates lower than theirs.
This is one of the most trusted and prolific job boards around. If you'd like to find a voice job that is completely remote, simply type the words voice talent, choose the remote filter and you'll see hundreds of jobs for voice actors that are either freelance, contract, full-time or part-time.
Indeed makes it easy to apply to jobs because once you create a profile with all your personal information you simply have to update it for a specific job. You can also choose companies and favorite them to get regular updates on new openings.
This is another job board that is similar to Indeed.com where you can find an array of audio narrator jobs for beginners. To make it much easier to find your preference you can type in remote voice-over jobs near me or choose the remote filter and apply for any job that suits your interest.
When I reviewed the site I found a voiceover job that paid about $56,000 a year. When you decide to apply on Simply Hired, I recommend checking each week as they are always actively hiring.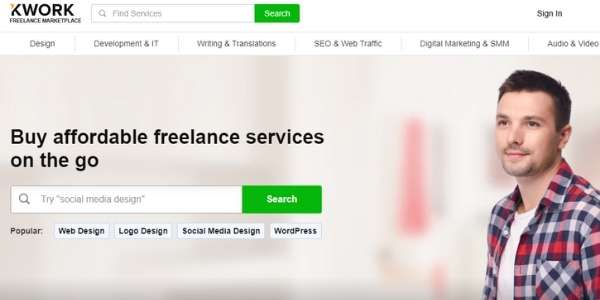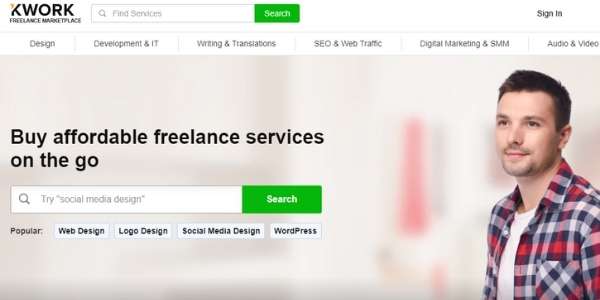 When you visit Kwork's home page, you'll probably think you're on the Fiverr website. Their interface is very similar and the marketplace works much in the same way.
There are multiple voice-over job opportunities to work as a voice actor or audiobook narrator. Just as with Fiverr and Upwork, you can create your profile, list your job history or work experience and set your rates.
When it comes to booking gigs, there is room for negotiation with your client. Again, if you're a beginner, this is an excellent place to start building your portfolio.
Another freelance marketplace to read audiobooks for money is People Per Hour.
Get listed with thousands of other Freelancers in the voice talent industry. In order to beat the competition, you will need to create an excellent profile with all your recent gigs.
I don't recommend setting your rates too high as a beginner, as this could curtail potential clients. What's great about the platform is that it uses an AI system to match clients and freelancers who have similar interests.
So if you're a freelancer looking for audio narration jobs for beginners you'll get linked or paired with a client that's looking for the same thing.
Don't think that you're limited just to reading audiobooks, as you can also get paid to do podcasts, or read scripts and fiction books.
Read Audiobooks for Money This Year
As you can see, almost anyone can get paid to read audiobooks even as a beginner. With the proper training or by trying freelance gigs online, you could be on your way to a successful career as an audiobook narrator. It may take some time to get used to and may require long hours of talking. But if you enjoy reading books out loud and don't mind the challenge, becoming an audiobook narrator is a fantastic way to earn money online.