This post may include affiliate links.
Have you ever thought about how to manage working from home as a single stay-at-home mom?
Do you constantly think, How can a single mom make money?
What about making a full or part-time income with your kids at home? 
It's hard enough being a mom, but being single, and adding 'stay-at-home mom' with all its responsibilities, is another story.
In this post, you'll find out the different ways for a single mom to make money.
It might be a challenge, but it's definitely doable!
As a stay-at-home mom – who also works and homeschools, every day is a hassle. But I wouldn't change anything about it. I love the fact that I can work freely from home while spending time with my son and teaching him as well!
Of course, it's not always a simple process to find jobs that are a great fit for single stay-at-home moms while managing a schedule, doing chores, taking care of kids, and finding time for yourself. But plenty of moms are doing it and you can too!
Are There Really Good Jobs for Single Stay-At-Home Moms?
There is an abundance of work-from-home jobs for single moms that allow you to choose a schedule and stick with it. This way, you won't have to uproot your whole life.
And a major plus is that your kids will be happy with the same routine they had before.
 Let's find out what some of the best jobs are for single stay-at-home moms so you can make money your way!
Please share the ❤️️ and PIN this for later!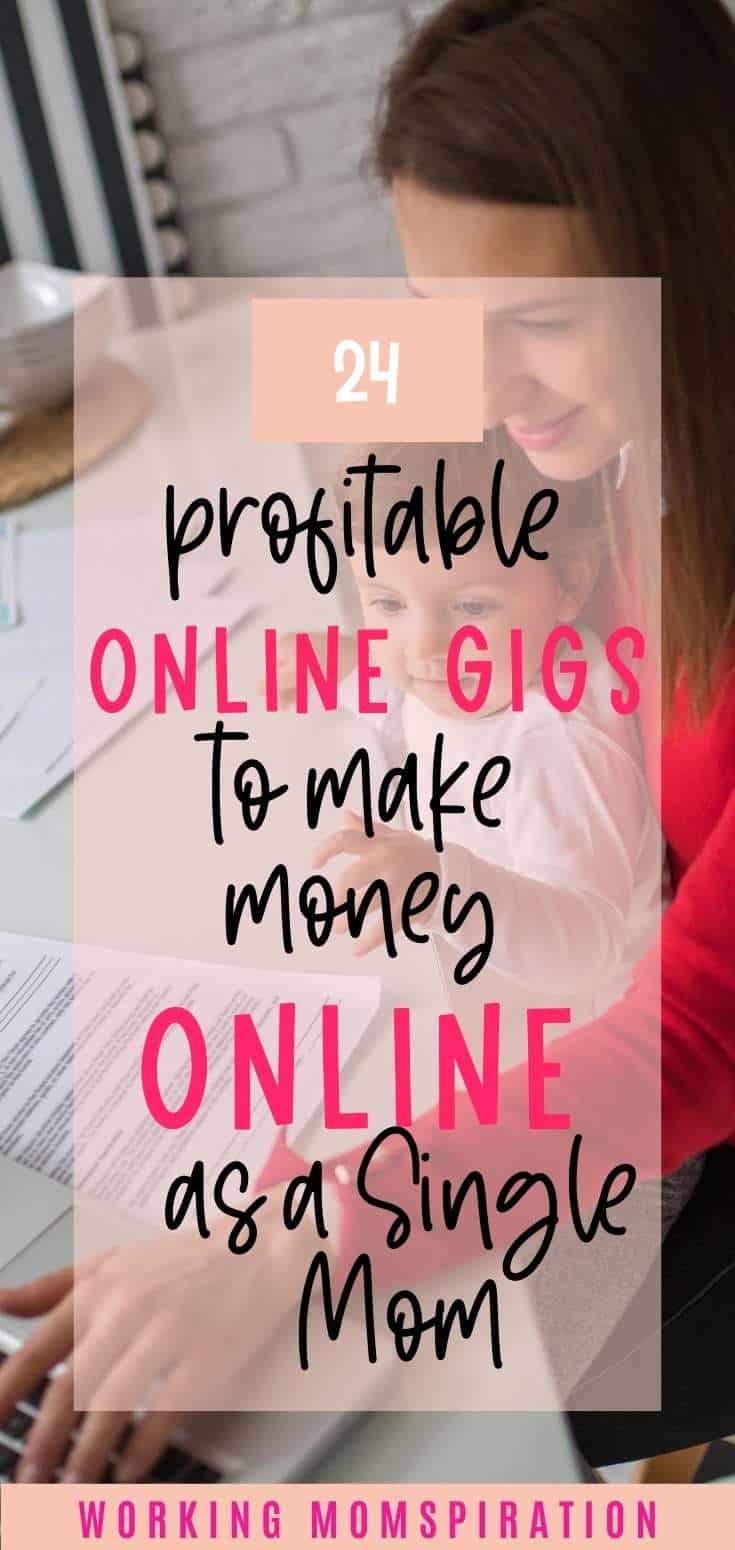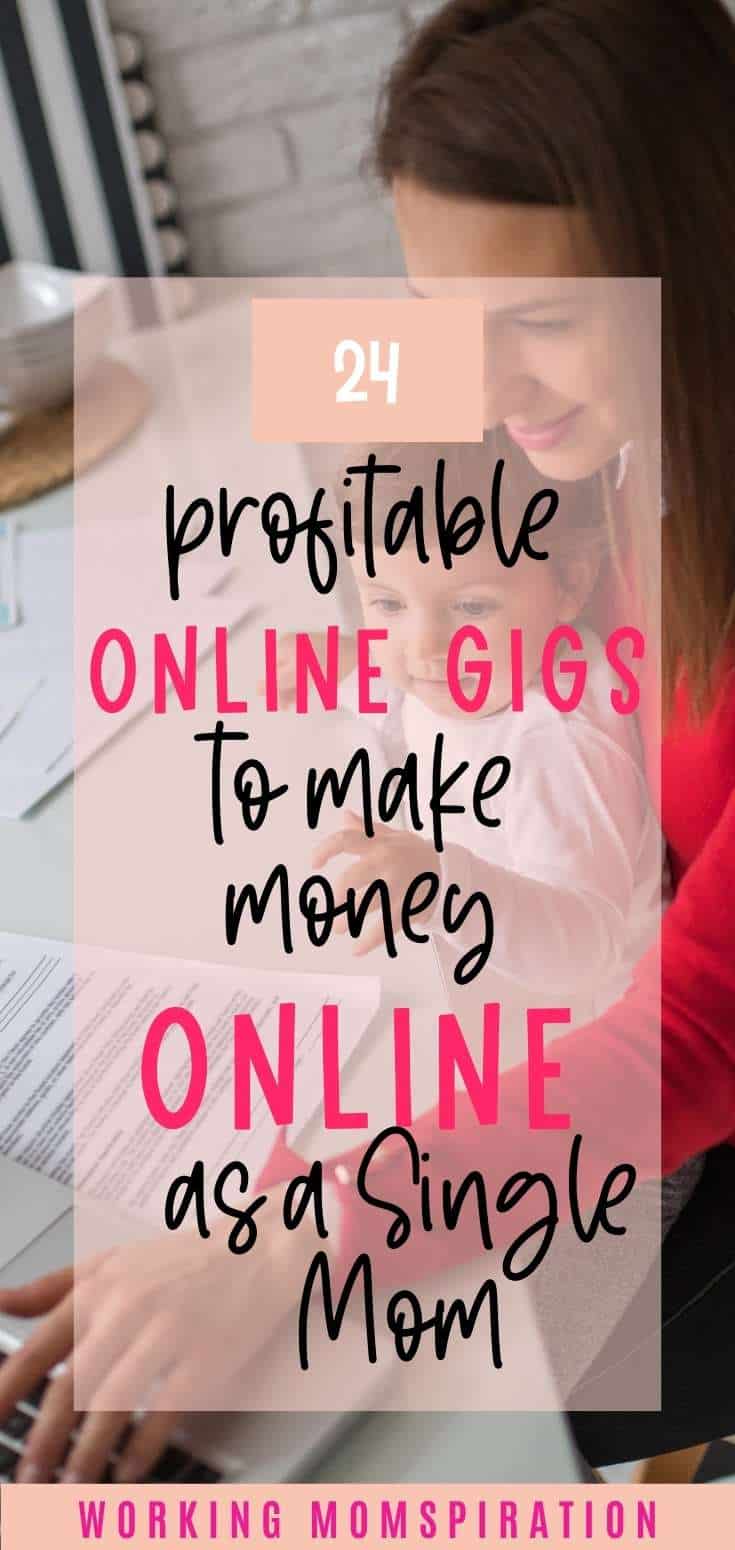 Best Jobs for Single Stay-at-Home Moms 
1. Virtual Assistant
This is a job a truly enjoy, and while it can be challenging, it's a gratifying job. There are several tasks you could be doing throughout the day as a VA which include:
Data Entry
Organizing documents
Scheduling tasks
Appointment setting
Inbox management
Depending on the company or client you work for, there are other intricate tasks you may have to perform. 
Most VA's work from anywhere, as only a laptop and working internet is usually required.  VA's can earn around $16 per hour on average, but experience, skills, and qualifications can make you much more.
2. Writer
I've worked as a freelance writer for more than 5 years now and it's a great side gig for stay-at-home moms! I love it because it's flexible and I get to choose when I write. 
Working as a freelance writer has allowed many single stay-at-home moms to work from home and earn money without having a hectic schedule. 
Also, the amount you earn will depend on how much you work. Some writers earn a few extra bucks each month, while others make a full-time income – I'm talking six figures here! 
What's great about working as a freelance writer is that you can choose who to work for and what to write.  You can choose to do:
Travel writing
Blog Post writing
Ghostwriting
Technical Writing
There are plenty of ways to get started as a freelance writer! You can get paid as much as $500 for writing short stories or write articles for parenting websites on a freelance basis.
Apply on the website Freelance Writing Gigs
3. Teach English Online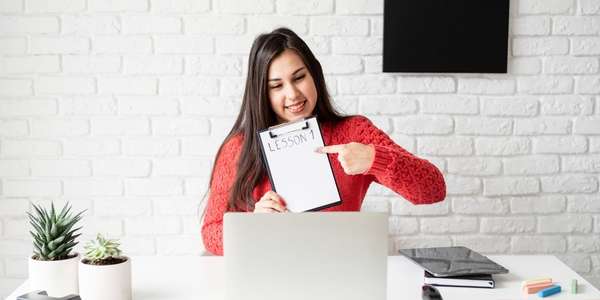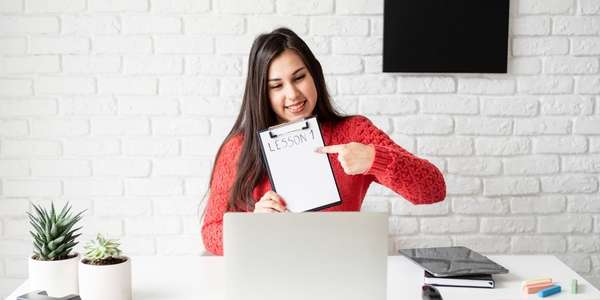 Another convenient way to make money from home as a single stay-at-home mom is by teaching online. A lot of people are looking for tutors to help their kids in key subject areas or to learn English online. 
Generally, you can choose a shift that fits your schedule – whether it's late evenings, early mornings, or anytime throughout the day. Teaching online allows for a lot of flexibility, which is why it's a nice side gig for stay-at-home moms. 
One of the best places to work as a tutor is with Outschool. With Outschool, you can teach students how to read, do math or learn to play a musical instrument. 
If you'd prefer to teach English online to students, here are 21 places to get started. 
4. Transcription Gigs
Would you like to listen to audio and get paid for it? You could work online as a general transcriptionist in your free time by transcribing audio into text. 
There are several transcription companies looking to hire freelance transcribers, but not all are created equal.
Some companies have audio that's really difficult to hear and transcribe, which can mean long listening times and less money for you. Two companies that pay really well for transcription that I can recommend are Rev and Go Transcript.
If you'd like more companies to choose from, here are 14 online transcription companies for beginners.
5. Proofreading Jobs
Just as with transcription, proofreading is a great way to make money in your free time. Not only can you work while your kids are sleeping, but it can become a lucrative business for just about any mom.
Caitlin Pyle did just that as a proofreader and started to make more than 6 figures each month from simply correcting errors.
These 20 proofreading companies are perfect for beginners to earn extra money each month.
Would you like to work online as a proofreader? You could work part-time, full-time, or on a freelance basis. If you're interested, check out this free workshop where Caitlin Pyle will show you how to start earning big bucks as a proofreader online!
6. Dog Sitting
Do you love animals and would like to earn some income by caring for other people's pets? Working as a dog sitter has become really popular in the past few years, especially among people who enjoy a flexible lifestyle.
This is ideal for moms who want a bit of freedom because you can pet sit from the comfort of your home and walk the dogs in your own neighborhood. 
7. At-Home Child Care Services
If you have your own kids, or simply enjoy caring for children, you can work at home performing childcare duties.
This is the type of job that never goes out of style because child care and babysitting services are a must for working parents of young children!
You can help make these parents' lives easier and contribute to the development of young minds with your childcare services.
How much you make will depend on factors like where you live and the hours you work, but you are totally in control. You can earn $700 a month or more depending on your work schedule.
One of the safest ways to get started is to use a website like Care.com and set up a profile to showcase your skills. 
8. Blogging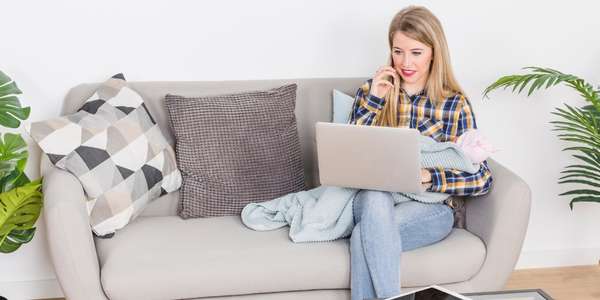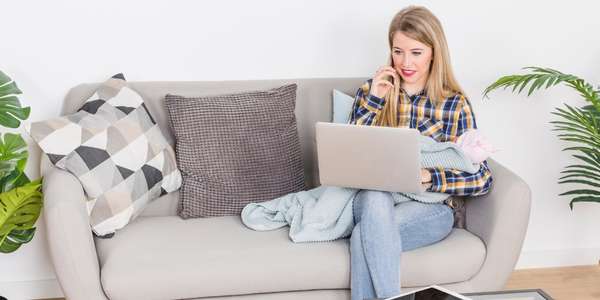 Another fun way to make money as a single stay-at-home mom is by blogging. Let me just warn you now that blogging takes some getting used to and it can be a while before you start to earn money, but it's well worth it!
When I just found out about blogging, I learned that some bloggers were earning massive amounts of money each month- as much as $50,000!
But to be honest, these are the really successful bloggers and this type of success doesn't happen overnight.
It takes time to build a blog that will make money consistently. But it can be done and if you stick to it, you can earn passive income and leave your office job forever.
If you'd like to learn more about this potential revenue stream, I wrote a helpful post about how to start a mom blog and earn money from it!
9. Graphic Design
Can you draw well? How about creating digital graphics? 
Graphic designers are highly sought after by clients who need unique designs for their businesses, websites, online shops, or books.
You can become a graphic designer if you have the skills or learn how to become one with a site like Udemy.
Depending on your skills and experience, you could be making up to $54,000 a year. 
The great thing about being a graphic designer is that you can work when you choose and determine who you work for.
10. Sell Books Online
I've done this and let me tell you that it's seriously fun! Selling your own books is really an easy project to take on too.
You can get started with this through the Amazon KDP program. You simply sign up with Amazon for free, design your book, and upload it to the marketplace!
I got started with this just by doing my own research and learning how to design book covers and interiors with Canva. 
I even wrote a post all about how to sell low-content books using Canva – as a beginner.
If you really want to make serious cash with this side hustle, it's best to do research on the type of books that sell and how to design them well.
11. Customer Service
If you've ever worked in customer service, you know just how difficult it can be sometimes. 
You'll find happy customers half of the time and some angry ones too! I've done customer service for a few years so I know all about it.
However, it can be a beneficial way to earn money especially if you want to work shifts while you care for your kids.
Also, keep in mind that there are plenty of stress-free customer service jobs that don't require being on the phone. 
Here are 23 chat jobs that are great for single stay-at-home moms who want to work from home.
12. Sell on Creative Market
Have you ever heard of Creative Market? I'm sure you have! It's a marketplace  (kinda like Etsy) that sells digital products of all kinds. If you have some graphic design skills or can use a tool like Canva, you can definitely create and sell products on Creative Market.
The best thing about selling on Creative Market is that it's easy to earn passive income and you never have to ship products.
 You can sell things like:
Templates
Patterns
Fonts
Photography
Business Cards
Flyers
Brochures
There are several more products that can be created using Canva and sold on Creative Market or another online shop!
This stay-at-home mom made 6 figures selling digital products on Creative Market.
Get started building your own digital products business by signing up on Creative Market today!
13. Sell a Course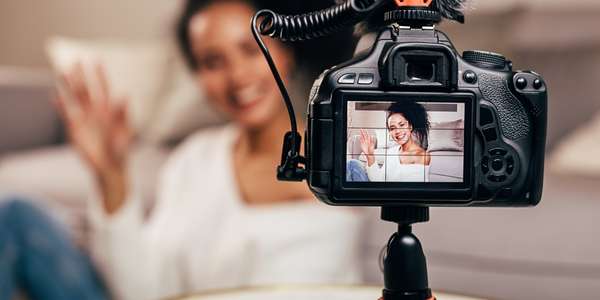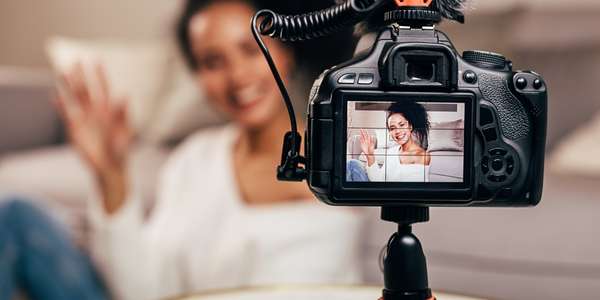 If you have extensive knowledge of a particular topic, some people would pay to learn about it. Why not take advantage of this opportunity, become a course creator and sell your course online?
It may take some time to put your course together, but it's not a difficult feat. With course creator platforms like Teachable, Udemy, and Thinkific it can be quite easy.
What you'll be doing essentially, is recording a series of videos to instruct your audience. It's sort of like teaching but in a condensed format.
You can create your course once and sell it over and over again! This is another great way for moms to make passive income online. 
14. Blog Flipping
If you get the hang of blogging and want to make even more money from it, you could get into blog flipping. Blog flipping is similar to furniture or house flipping, with the exception that you flip a website.
This is a great side hustle for moms who can buy or create a blog and then resell it for profit. 
Fun Ideas for Single Moms to Make Extra Money
15. Surveys: Use your spare time to take surveys and earn a bit of cash. While they won't cover the bills, it's a fun way to earn extra money. Here are some of the best survey sites to earn cash from. 
16. Task Rabbit: If you've never heard of this website, it's a place where you can sign up and do small tasks for money. Check out Task Rabbit for gigs in your area.
17. Get cash back for shopping: Who doesn't like getting cashback? Sign up with sites like MyPoints, Kashkick, and Ibotta to get cash back and other rewards!
18. Sell your internet: This one might sound sketchy, but it's a legitimate and easy way to earn money. Sign up with Honeygain to sell your bandwidth to other users and earn cash!
19. Use Fiverr to earn money: Sell your services on Fiverr to earn extra money or make a full income. Do tasks like transcription, creating resumes, designing logs, or translating documents.  
20. Try Mystery Shopping: If you want something comfortable and fun, you can do mystery shopping by making purchases and earning money with sites like Mystery Shopper and Panel Place.
21. Review Books: Do you love reading books and can't get enough? Why not sign up to earn money by reviewing books online? Most sites don't require previous experience and the signup process is simple. 
22. Do grocery shopping with Instacart: Every mom has done grocery shopping at some time or another. Earning money from shopping is now very easy with Instacart. Help other busy folks by doing their grocery shopping and earning an income by signing up with Instacart. 
23. Sell images online using your phone or camera: Take gorgeous photos and make money as a stay-at-home mom just with your smartphone. You can sell them on sites like Getty Images, Shutterstock, iStock Photos, and Smug Pug.
24. Refer-a-Friend: Wouldn't it be fun to earn money by referring your friends? Apply on websites like Swag Bucks, InboxDollars, Prize Rebel, and Sam's Club to make money with your friends!
Best Jobs for Single Stay-At-Home Moms!
So there you have it! You've discovered 24 ideal gigs for single stay-at-home moms to earn money online with a flexible schedule. Of course, there are other ways for single moms to make money, but I've given you the most popular ones.
While some of these jobs might not work for everyone, there are at least a couple that will suit any busy mom. Whenever you're researching how to find the best job for your situation, it's best to choose from legitimate job boards like FlexJobs, We Work Remotely, Remote Co, among others.
If You Liked This Post, Please PIN it For Later!❤️️????