This post may include affiliate links.
Are you looking for something new since all the kids have moved out? 
You may be feeling a bit bored and yearning for a new hobby or job that you could do to pass the time.
With the additional leisure time, you may find yourself desiring to augment your income.
And trust me, this is something that WE all want.
That's why you're looking for the absolute best jobs for empty nest moms that can bring fulfillment. 
When you no longer have kids in the house, it can come with a lot of loneliness, lack of purpose, and sadness. 
While no job can bring you complete happiness, it can bring financial freedom and something to pass the time.
If you'd like to earn some extra money on your own time, here are the best jobs for empty nest moms to get started with!
PIN IT!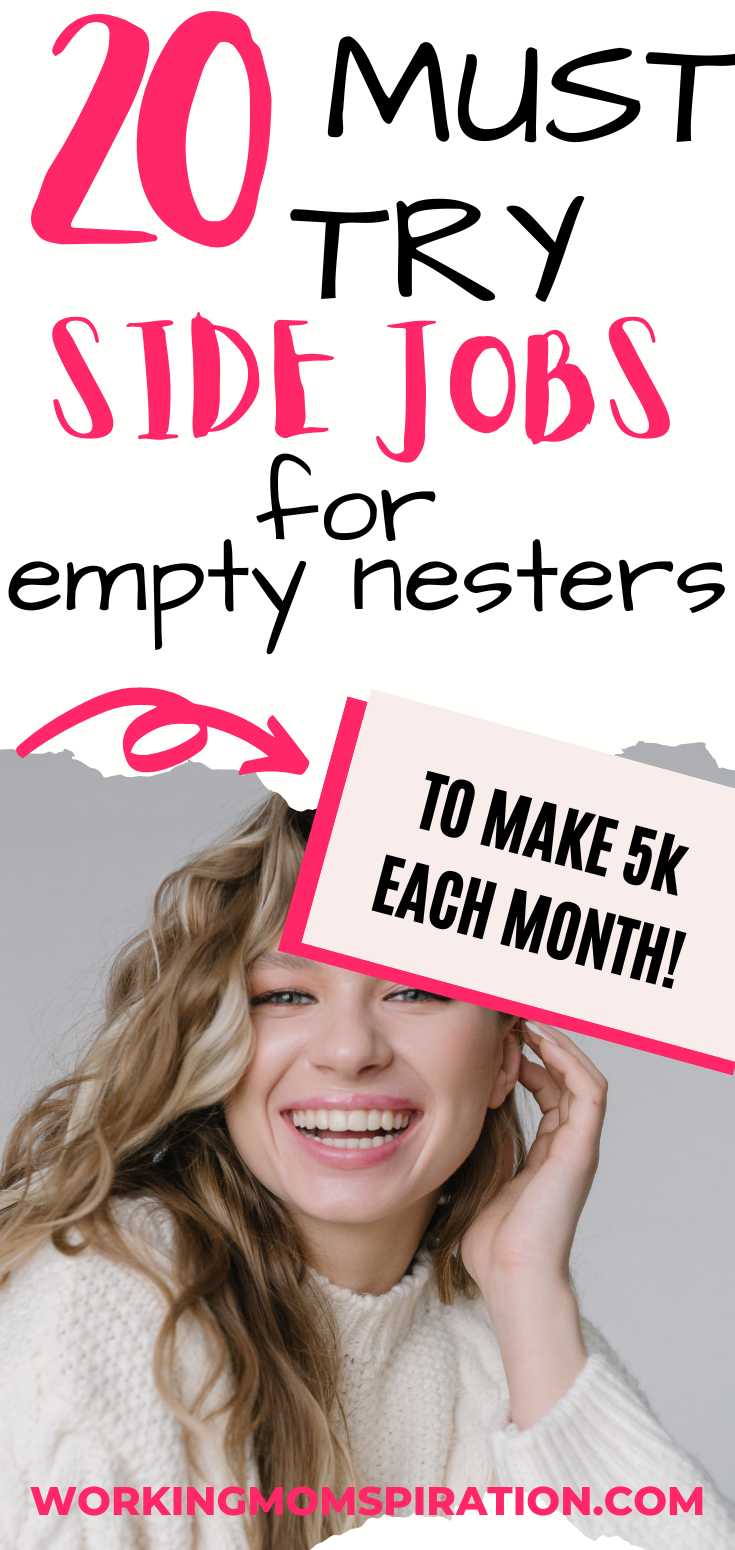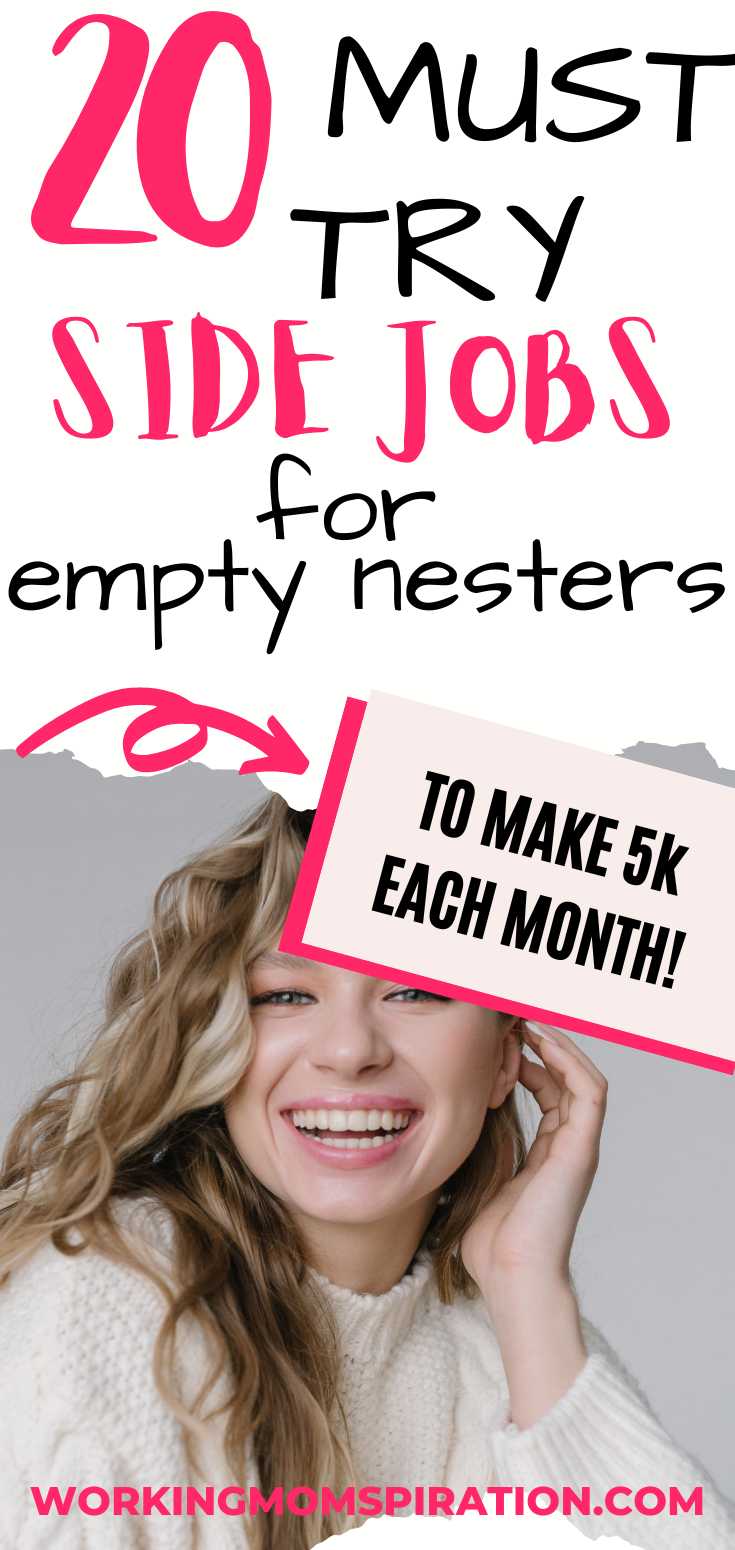 Best Jobs For Empty Nest Moms
Empty nesters may not be interested in a full-time job and being tied down in an office all day. Because of this, I've included more flexible options that I'm sure most Empty Nest Moms would appreciate. Read on to find out more.
Part-Time Jobs for Empty Nest Moms
1. Transcriber
This is an ideal job for moms who can type really fast and don't mind working on a computer. Transcriptionists turn audio into text so the information is readily available in written form.
As a transcriptionist, you need to have good listening skills and be able to navigate on you your computer quickly.
Some people have complained that transcription pay is low, but I've found that this depends on the company you get hired with along with your typing skills.
Essentially, the faster you can type error-free, the greater your chances of earning more per audio hour.
One legitimate spot to sign up with now is GoTranscript. They are always looking for new transcriptionists to work with them.
2. Proofreader
While transaction work requires good listening skills, proofreading requires a keen eye and attention to detail.
As a proofreader, you will be checking documents such as books, articles, blog posts, and publications for grammatical errors and grammar mistakes. 
This type of job is great for moms who enjoy reading as it will seem more like fun than work while proofreading.
You can kick back on the couch or lounge at the local cafe (distraction-free environment of course) while reading because this is a completely remote and flexible role. 
To get started with job offers, check out these 20 proofreading companies that hire beginners. 
3. Copywriter
Are you interested in making money from your writing skill?
One of the higher-paying part-time jobs for remote workers is copywriting. 
Copywriting is a separate writing niche on its own as it has to be done in a specific way. The composition is crafted in an alluring and mesmerizing manner, to entice the reader to take action.
It could be for a product review or service. As a copywriter, you need to sell whatever it is you're putting on paper. 
Copywriters in the US earn an average of about $67, 175 a year, with beginners making $51, 925 a year. 
To be successful as a copywriter, you'll need the following skills:
Attention to detail
Excellent writing skills
Knowledge in SEO
This mom has earned $200,000 + a year from freelance writing. Find out how she does it and how you can do it too, all while working from home!
4. Tutor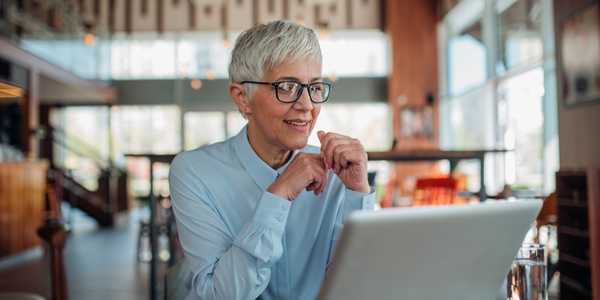 If you've been a teacher in your past career, tutoring is an excellent job to do as an empty nester. 
You can work remotely as a tutor online, or do face-to-face classes with students in your neighborhood. However, to find readily available jobs, using an online resource would be best. 
There are a number of sites that tutors can sign up with and either teach English as a second language such as DadaABC and VIPKid.
One of the best places I can recommend though is Outschool. Here, you can teach a variety of subjects without being limited to having a degree or qualification.
Subject areas include:
Minecraft
Music
Animal Studies
Procreate tutorials
Math
Science
Reading
Grammar
Lots more!
It's totally free to join and as I mentioned, no degree is required. 
5. Social Media Manager
Do you enjoy being on social media? Do you find yourself scrolling online for 5 minutes that eventually turns into an hour?
If so, you might enjoy being a social media manager. 
Social Media Managers monitor the social media accounts of clients or businesses. They ensure that the company has exposure and interacts with its audience.
A few strategies involved include:
Creating or crafting content
Developing social media campaigns
Posting content across social media 
Tracking and maintaining analytics
Learning and utilizing trends 
For some, social media management comes naturally, while others take training or courses.
This Udemy BootCamp course goes through all the strategies you need to become a bonafide social media manager. 
Business Ideas for Empty Nest Moms
6. Blogging
I might say that this is one of the best business ideas for empty nest moms, because I do it! 
I started my blog as stay at home mom and have been doing it ever since. I can sincerely say that I love blogging and after some hard work, it's finally paying off.
If you'd like a business that makes you passive income, blogging should be your first choice. 
I recommend choosing your niche, writing good content, and promoting your blog online.
Learning SEO is also important, and it's what helped me to start ranking for keywords.
Once your blog has enough traffic, you can money through:
Ads
Memberships
Selling products
Courses
I'd say using ads and affiliate marketing are the two easiest ways to make money blogging and you should try those first. After that, feel free to branch out with additional revenue options. 
Usually, blogging doesn't bring in money immediately, so you could earn extra money with surveys or apps and devote the majority of your time to building your blog. 
Find out how this couple makes $500,000 each year with their own blog!
7. Pinterest Manager
Just as with social media marketing, you can earn money as a Pinterest Manager.
However, you can turn this into a business by getting clients and working on their accounts.
This might seem unattainable to some, but Pinterest Managers have successfully done this for years now and are earning lots of cash in the process.  
As a Pinterest Manager, you will create and post Pinterest images, conduct Pinterest keyword research, create and optimize Pinterest boards, and of course track analytics. 
All this can be done by using Tailwind, a tool used to pin hundreds of pins at once.
It makes a Pinterest manager's life so much easier and avoids things like spamming your client's account with the same pin repeatedly.
Find out how to become a Pinterest manager and earn thousands each month!
8. Property Preservation Contractor
This is quite a lucrative business idea that's great for moms who have some free time on their hands. 
Property Preservation Contractors handle the process of caring for a foreclosed property whether it is vacant or occupied. They are required to manage both the interior and exterior of the home as well. 
The main part of their job is working with banks to repair and maintain the home. This may include, landscaping, debris removal, and security. 
While some operate their businesses full-time, you do have the choice to work part-time as well. 
What's great about this business is that you have the potential to earn around 3-5 K each month.
However, this business does require some startup money for insurance, a background check, and additional fees. 
Find out how to get started in this business right now. 
9. Run an Etsy Shop
Another business idea that moms can take up is selling products on their very own Etsy shop. 
This is an awesome opportunity because Etsy is a huge platform with millions of people using the platform each month. That's a lot of potential eyes on your product. 
Etsy is for the artistically inclined, enabling them to display and monetize their own creations.
Popular products that sell on the platform are:
Jewelry
Totebags
T-shirts
Crafts
Home Decor
Journals and Notebooks
Gift or party bags
There is no monthly payment to get started on Etsy, but there is a seller's fee attached to each item you add to your shop and other fees that are disclosed on their website.
I envisage Etsy as a lucrative enterprise with the potential to generate thousands of dollars each month, should you select a suitable product.
10. Sell Printables
If you're a mom who likes using printables, have you ever thought about creating and selling them yourself?
With the use of a laptop, graphic design tool, and the internet, you can create a passive income business on autopilot.
Remember that when you create a digital item once, it can sell repeatedly without you doing a thing!
Wondering what kind of digital product to sell? Here are a few popular ones that other moms love:
Business Cards
Weight Trackers
Chore Sheets
Planners
Pinterest Templates
Social Media Templates
I've used Canva to create my own printables which I sell online. However, Adobe Photoshop and Affinity Designer are tools used by other creators. 
Here are 40 digital products you can sell on Etsy right now!
Side Hustles for Empty Nest Moms
11. Petsitting Gigs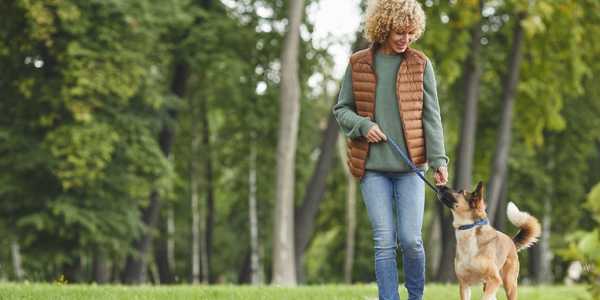 Pet sitting is an amazing way to make some extra money and get to know some really awesome furry friends at the same time! 
It's such a rewarding experience, and it's great to know that you're helping out pet owners who may not have the time to take care of their pets on their own.
 As a pet sitter, you can take on different tasks depending on the needs of the pet owners, like feeding and walking their pet, playing with them, administering any necessary medications, and just managing their overall care.
 Plus, you get to spend quality time with some really awesome animals and get to know their personalities.
While many empty nest moms enjoy having extra space in the house, it can get lonely. Some pet owners will leave their pets with petsitters for a set time, so it's great to have some new company in the house.
Check out spots like Rover for petsitting gigs!
12. Rent Out Your Car
Do you want to make some extra money without a lot of effort? Renting out your car for cash is a great way to do just that! 
You can make some extra money just by allowing someone else to use your car for a set amount of time. This can be a great way to generate extra income, especially if you have a reliable, well-maintained vehicle.
All you have to do is list your car online, set the rental rate, and choose the days and times you are willing to let someone else use it.
You can try spots like:
 It's a simple and easy process that can put a little extra cash in your pocket. So why not give it a try and see what kind of money you can make?
13. Rent Your Guest Room
Do you have an extra room in your house that you don't use after the kids moved out? If so, you could be sitting on a great opportunity to bring in some extra cash.
 Renting out a room in your house is an easy way to generate some passive income that can help you save for your future or just make ends meet. 
And, it doesn't have to be difficult. There are websites like Airbnb and HomeAway that make it easy to list your room and start earning money. 
Plus, you can choose when and how often you rent out your room, giving you complete control over how you make extra money. 
14. Flea Market Flipper
If you're looking for a fun and profitable side hustle, consider becoming a flea market flipper! 
With a little bit of creativity and savvy, you can make a great income by buying items at flea markets and then reselling them for a profit.
 It's a great way to get involved in the buy-and-sell game and make a few bucks on the side. Plus, it's a fantastic way to flex your creative muscles and have some fun in the process.
The key to successful flea market flipping is doing your research. You need to know what items have value and be able to recognize a bargain when you see one.
You should always be on the lookout for antiques, vintage fashion, and collectibles.
You can then acquire these items at flea markets and garage sales, flip them, and sell them for cash. 
Learn how to earn your first $100 flipping items from people who have made thousands from it!
15. Publish a Book on Amazon
Publishing a book can be a great way to earn passive income. It's a fantastic opportunity to share your ideas, tell a story, and even make a difference in readers' lives. 
Plus, you get to enjoy the satisfaction of seeing your work in print! You'll also have the chance to make money while you sleep as you reap the rewards of passive income.
 It's easy to get started – all you need is an idea, some writing skills, and the right resources. 
Once you have your manuscript ready, you can either look for a traditional publisher or consider self-publishing.
With self-publishing, you will be in charge of getting your book out to the market and promoting it.
I recommend using the Amazon platform for self-publishing as many creators do and are killing it right now!
Head over to Amazon KDP, sign up for a free account, and upload your manuscript and cover.
Find out how to publish your first low-content book on Amazon to start earning cash!
Fun Gigs for Empty Nest Moms
16. Give Your Opinion 
If you're looking for ways to make extra money, I would highly recommend giving your opinion! 
Participating in surveys is a great way to make a little extra cash while helping companies and researchers. It's easy to sign up and there are a variety of ways to participate – you can do online surveys, participate in focus groups, and more!
 Best of all, it's fun – you get to share your thoughts and ideas and make a little extra money in the process. 
Plus, since you're doing something that helps companies and researchers, you can feel good knowing that you're making a difference!
 So if you're looking for a way to make extra money, I'd definitely recommend giving your opinion and participating in surveys. A few places to start include:
17. Do Microtasks
Microtasks are small, specific tasks that you can do online or in-person to make a little extra cash. 
These can range from anything like posting comments, participating in forums, or even doing small errands for people. 
Microtasking is a great way to make extra money if you have a few hours a week to spare. It's also a great way to pick up a side hustle if you don't have much time to invest in a long-term job. 
Plus, it's easy to get started — all you need to do is sign up on a micro tasking platform and start completing tasks.
You can check out Picoworkers and Clickworkers to get started!
18. Freelance on Fiverr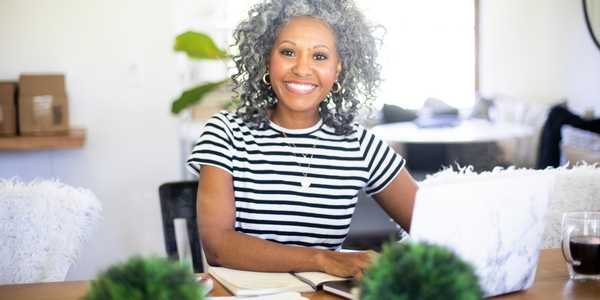 Do you have a special skill or talent that you can share with the world?
Or maybe you just have a knack for helping people out? If so, consider freelance work via Fiverr for extra money.
Fiverr is an online marketplace where people can offer their services, such as graphic design, web development, writing, or even voice acting.
You can make your own profile, set your own prices, and begin taking on projects from clients all over the world. Plus, since you're working as a freelancer, you can work as much or as little as you'd like, making it easy to fit into your schedule. 
Check out these awesome gigs on Fiverr that require literally no skills!
19. Sell Your Internet with Honeygain
Selling your internet is a great way to generate some extra income, and it's easier than ever to get started. 
All you need is an internet connection and a few easy steps to set up your own internet side hustle. You can get started completely free with Honeygain. This is a company that helps businesses in other countries to utilize bandwidth from other users.
You are that user! With a strong internet connection, and excellent upload and download speeds, you can sell your bandwidth and earn passive income.
Ready to get started? Sign up with Honeygain for free. 
20. Use Respondent for High paying gigs
Have you ever used Respondent? It's a site where freelancers can make money by participating in research studies. 
It works in a similar fashion to survey sites, but you'll earn a LOT more than a few dollars at a time.
On Respondent, users give feedback on the services and products of large companies like Microsoft, IBM, and more.
Signing up is pretty simple too. Head to the Respondent website and enter demographic info like your name, gender, ethnicity, and household income.
You'll then get access to studies based on your profile.
Respondent pays as much as $400 for research studies! Sign up for free now!
Start Making Money as an Empty Nest Mom!
Making money as an empty nest mom is not only possible, but it can be incredibly rewarding.
 Whether you're looking for a career change or just a way to supplement your income, there are plenty of opportunities you can explore.
 With some research and some determination, you can find a job or business that works for you. 
 These jobs are super flexible and will allow you to make money as a mom and find the balance between work and family that you're looking for.
PIN IT!