This post may include affiliate links.
Are you someone looking to use your artistic skills to make money online?
Great!
Well, today, you'll learn all about how to make digital stickers to start a business or side hustle online.
Stickers provide us with a platform to showcase our personality and express ourselves through our digital devices.
 While conventional stickers were made of vinyl or paper, the technological revolution has given rise to digital stickers, which are gaining immense popularity. 
Not only is creating digital stickers an enjoyable and effortless process, but it also provides an excellent opportunity for artists and designers to flaunt their skills.
If you're a sticker enthusiast keen to try your hand at creating your digital stickers, you've come to the right place! 
You'll find out various ways to make digital stickers to sell online or for personal use. 
If you're still interested, let's go!
PIN IT!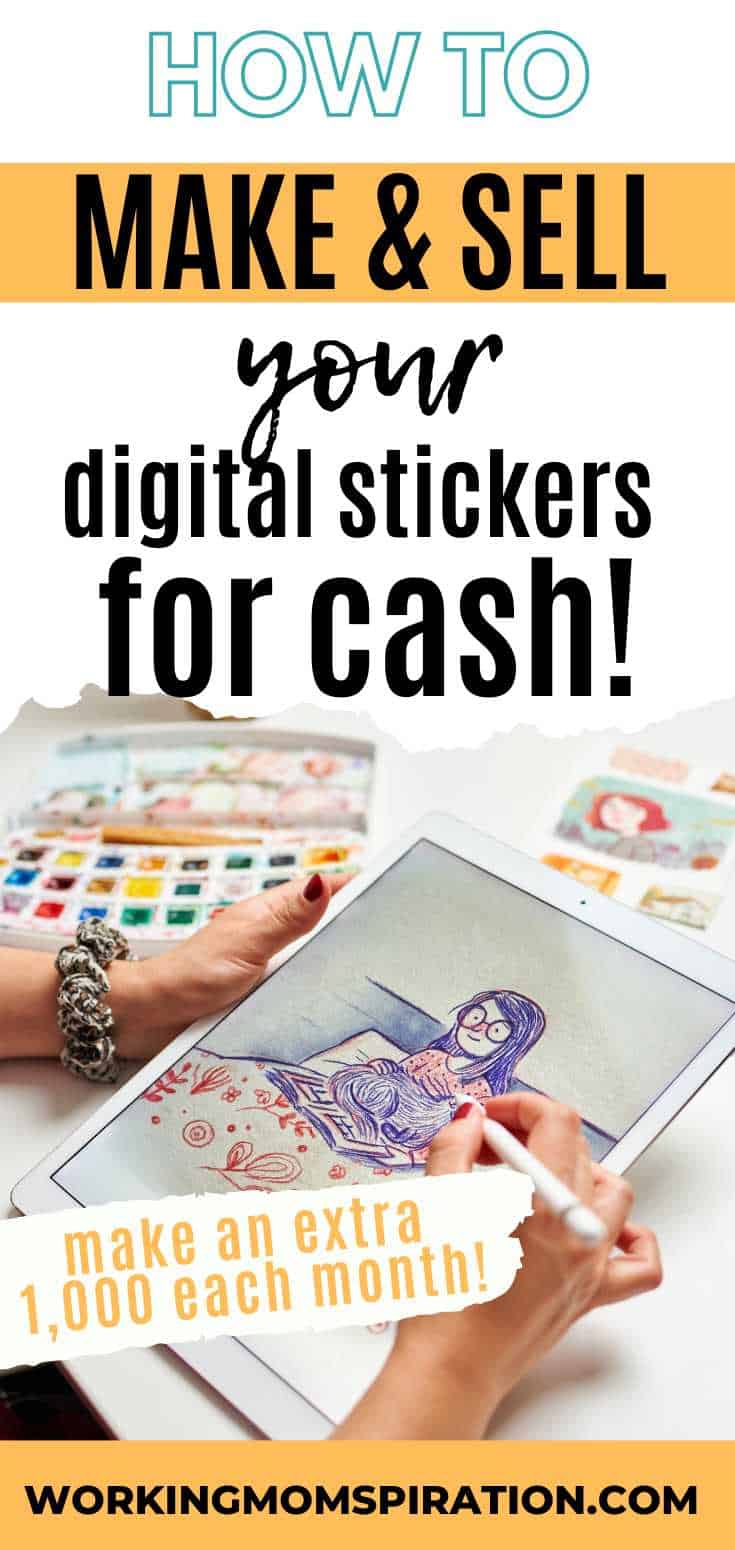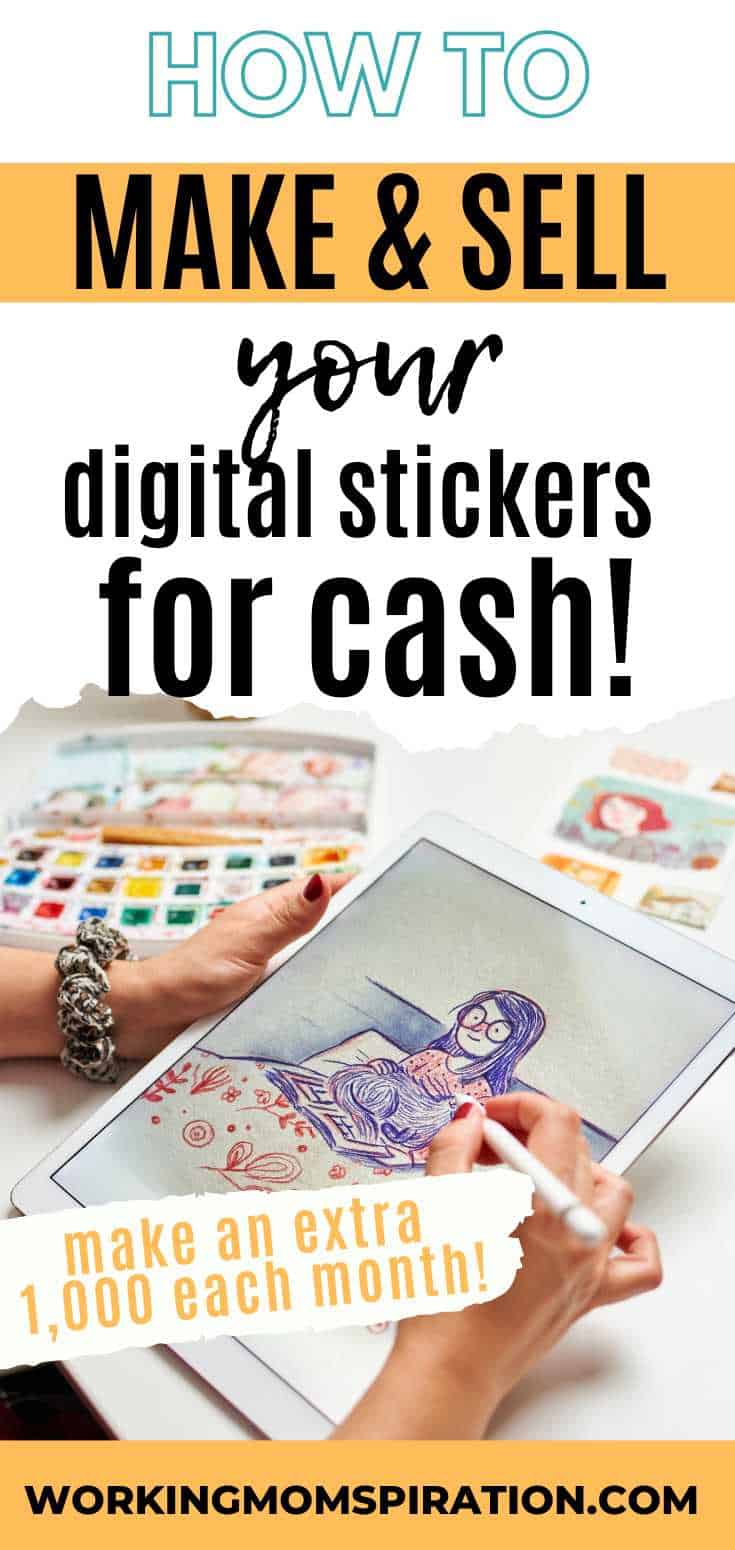 How to Make Digital Stickers 
Let's look into the best methods to make your digital stickers so you can start earning money online!
Choose a Profitable Niche
Choosing a niche for digital stickers can be a challenging task because there are various things to consider. 
Thinking about your target audience and the purpose of the stickers is essential. 
 For instance, if you're creating stickers for gamers, consider creating stickers based on popular games and characters.
Buut, if you're targeting fitness enthusiasts, designing stickers with motivational quotes, workout routines, and healthy food items would work better.
 Also, you'll need to think about the purpose of your stickers. Are they meant to express emotions or share information?
 Are they for personal use or marketing purposes?
 You'll also need to discover trends as they do change over time and can greatly influence your sales.
Here are a few popular digital sticker niches to consider:
Gaming stickers that are based on popular video games and gaming characters and can be used to express emotions and reactions during gameplay.
Fitness stickers with motivational quotes, workout routines, and healthy food items that encourage people to stay active and healthy.
Pet stickers that have cute and funny breeds and pets showcasing their playful antics, which pet lovers can use to express their love for their furry friends.
Trave stickers with iconic landmarks, famous destinations, and travel-related phrases used to document and share travel experiences.
Food stickers featuring different cuisines, food items, and cooking tools which express culinary interests and share recipes.
How Do I Create Digital Stickers?
You DO NOT need to be an artist or illustrator to create digital stickers.
I started selling stickers online without any previous experience, so I don't see why you can't too!
If you're ready to start creating digital stickers, the process is easy and can be done in just a few steps. 
Let's look at different types of software for your design needs, such as Adobe Illustrator, Procreate, or Canva, and how to create stylish designs you can sell online. 
1. How to Make Digital Stickers with Canva
Canva is a web-based graphic design platform that allows users to create various types of visual content, including presentations, social media graphics, posters, flyers, and digital stickers.
I personally use Canva for all my design needs. This includes making stickers, creating Pinterest templates, and stock image usage.
I literally can't live without it!
You can sign up for a free Canva account and once you're in, select the "Create a design" button and select "Custom dimensions".
In the custom dimensions window, enter the size you want for your sticker in pixels. 
The standard size for stickers is usually 512 x 512 pixels, but you can choose any size you like. Once you've entered the dimensions, click on "Create new design".
Once you have your blank canvas, you can start designing your sticker using Canva's wide range of design tools.
 You can add shapes, text, images, and even animations to your sticker. Use the tools on the left-hand side of the screen to experiment with different designs.
 Once you're happy with your sticker design, click on the "Download" button in the top right-hand corner of the screen. 
Select "PNG" as the file type and click on "Download" again. Your sticker will now be saved to your computer.
If you want to create a pack of stickers, you can create multiple designs in Canva and save each one as a separate PNG file. 
Once you have all your designs saved, you can compile them into a single file using a sticker maker app.
2. How to Make Digital Stickers with Kittl
I'm a little new to Kittle even though I've seen it around for a while now. It works just like Canva, where it has design elements and templates that you can utilize. 
However, there is the option to start from scratch too.
To create your digital sticker, head to the top-right corner and select "New Project" which brings up various sizes that you can use for your design. 
There is also the option to choose a custom size. Choose the size you prefer and then up pops your black canvas.
You can then design your sticker using the design elements they have available.
Once that's complete, you can select the "Remove Background" option and download your sticker as a PNG file.
And Voila, you're done!
3. How to Make Digital Stickers with Adobe Illustrator
Even though this is a paid tool with a monthly subscription, it's a worthy contender if you plan to start a digital sticker business.
I must warn you that if you're new to this tool, it does have a learning curve, so be aware of that tidbit.
To get started, open Adobe Illustrator, click on "File" in the menu bar, and select "New". 
In the new document dialog box, set the size and resolution of your document based on your sticker size and intended use.
You can then use the drawing tools in Adobe Illustrator to create your sticker design. 
Play around with the tool by drawing shapes, use the pen tool to create paths, and apply various effects and styles to your design.
You have the option to use layers, which is great because you can easily edit and adjust your layers later.
An easy way to add color is to use the color swatches in the panel to add color to your design. 
You can also create custom colors and gradients to give your stickers a unique look.
Once you have your design and colors in place, refine your design by adjusting the shapes, adding details, or adjusting the color balance.
Before downloading your design, preview your sticker at different sizes to ensure that it looks good at all sizes.
Finally, go to "File" in the menu bar and select "Export".
 Choose your preferred file format, such as PNG or GIF, and adjust the settings to optimize the file size and quality. 
You can also create a sticker pack by exporting multiple stickers as a single file.
4. How to Create Digital Stickers with Procreate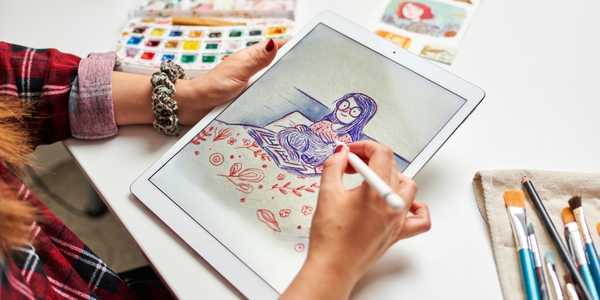 Do you have an iPad?
You could be creating your digital stickers using the Procreate app on the iPad.
It's a paid app that's totally worth it due to its user-friendly interface and powerful drawing tools.
To design stickers on the Procreate app, create a new canvas by tapping on the '+' symbol on the top right corner of the screen. Select 'Create Custom Size' to create your canvas in the size and resolution of your choice.
Next, tap on the brush icon on the top right corner of the screen to open the brush library.
 Select a brush that suits your design needs. You most likely will be using different brushes throughout your design.
Use your Apple Pencil or another stylus to sketch out your design on the canvas. 
Make sure to use bright colors and bold outlines that will make your stickers stand out.
Once you have a rough sketch, refine it by adding details and color. You can also use the layers feature to add depth and complexity to your design.
If you're happy with your design, add any finishing touches such as shadows, highlights, or textures.
You can then use  the 'Share' icon on the top left corner of the screen and select 'Export.' 
Choose the file format you want (such as PNG) and select 'Export Image.'
Wasn't that easy?
5. How to Create Digital Stickers with Infinite Painter
If you have an Android tablet and looking for a Procreate alternative, Infinite Painter works pretty well.
Download and install Infinite Painter on your tablet and create a new canvas.
This works by tapping on "New Painting" to create it. Choose the size and resolution that you want your sticker to be.
Just like Procreate, you can select the brush tool and choose the brush you want to use to draw your sticker.
Start designing your sticker and adjust the brush size and opacity as needed to achieve the desired effect.
The app has an easy-to-use color picker to choose the colors you want to use for your sticker.
 You can also adjust the hue, saturation, and brightness of the colors.
Digital art is great because you can use the smudge tool, or gradient tool to add additional details and effects to your sticker design.
Save your design by tapping on "Export" and selecting the file format you want to save it in, such as PNG or JPG.
6. How to Create Digital Stickers with Affinity Designer
This is a vector graphics editing software used for creating digital designs, illustrations, and graphics. 
It does offer a range of tools and features that allow users to create complex designs with ease, such as vector brushes, advanced typography, and live effects.
What's great about it is that you can pay a one-time fee rather than a monthly subscription which saves you a whole lot of money!
To get started, open Affinity Designer and create a new document by going to File > New. 
Choose your desired dimensions and resolution for your sticker.
Go ahead and use the shape tools in the toolbar to create your sticker design. You can also import your own images and use the pen tool to create custom shapes.
Add a bit of flair to your design by using the color picker, layer effects, and blending modes. 
You can play around with different combinations until you achieve the look you're going for.
Once you're satisfied with your design, select all the elements that make up the sticker by holding down the Shift key and clicking on each layer.
 Then, group the layers by pressing Command + G (Mac) or Control + G (Windows).
Export your sticker by going to File > Export. 
Choose the file format you want, such as PNG or JPEG, and adjust the settings as needed. 
Make sure to select "Selection without background" in the Export Options panel to ensure that your sticker has a transparent background.
7. How to Create Digital Stickers with Inkscape
Inkscape is a free and open-source vector graphics editor that can be used to create digital stickers. 
If you'd like to try your hand at it, download and install the program on your computer and create a new document with the dimensions and resolution you prefer.
Use the pen tool, shapes, and text tool, to create your digital sticker.
 You also have the option to add colors, gradients, and effects to your design.
Once you're ready to download your design, go to "File" and select "Document Properties." In the "Page" tab, select "Custom Size" and set the "Background Color" to "None."
You can then download your sticker design by  going to "File" and selecting "Export PNG Image." 
How to Make Digital Stickers with Premade Designs
If you're trying to avoid the whole 'drawing and designing thing' with these apps, you do have the option to purchase clip art and designs that you can transform into stickers.
You can browse online platforms such as:
Here you can get templates and designs which you can edit in tools like Canva, Adobe Illustrator, and Procreate to make your stickers faster instead of creating them from scratch.
FAQ
What Are Digital Stickers?
Digital stickers are simply graphics that come in various downloadable formats that can also be shared and resized. 
What App Can Make Digital Stickers?
Would you prefer to design stickers on your phone? There are a few apps out there that make this pretty easy. These include:
Procreate Pocket
Adobe Fresco
ibisPaint X
Sketchbook
ArtRage
It's much easier however to create stickers with a computer or tablet. But if you'd like to play around and have a bit of fun, these apps are suitable.
What Format Are Digital Stickers Availble in?
While digital stickers can be saved in a variety of formats, the most common ones include:
PNG (Portable Network Graphics)
JPEG (Joint Photographic Experts Group)
GIF (Graphics Interchange Format)
SVG (Scalable Vector Graphics)
In all honesty, PNG is often the best format for digital stickers because it supports transparency, which is important when placing stickers on different backgrounds. 
However, the specific format used may depend on the platform or app where the stickers will be used.
Where to Sell Digital Stickers for Quick Cash?
For those who love to create digital stickers and wish to earn some extra income, there are various marketplaces where you can sell them. 
Etsy – The online marketplace that specializes in handmade, vintage, and digital products such as digital stickers. You can easily open a shop on Etsy and list your stickers for sale.
Gumroad –  A direct-to-audience digital product selling platform that permits you to set your own prices and sell your stickers exclusively to your target audience.
Redbubble – print-on-demand marketplace where you can upload your designs and sell them as stickers, in addition to other products such as t-shirts, phone cases, and numerous others.
Society6 –  Another print-on-demand marketplace where you can sell your designs, including stickers, and various other products.
Make Digital Stickers and Sell Them Online
As you can see, creating digital stickers can be a fun and creative way to earn a bit of money, by learning how to use some online software.
There are SO many options out there that I haven't even mentioned, but these are some of the most commonly used tools for making digital stickers.
Even as a beginner, you can utilize sites like YouTube and even Skillshare to learn more about using Adobe Illustrator or Affinity Designer.
Once you've caught the hang of it, you can create unique and personalized stickers that can be posted online for cash.
PIN IT!