This post may include affiliate links.
Hey there, fellow creatives! 
Are you looking for a fun and easy way to add some personality to your artwork? 
Well, look no further than stickers! 
Did you know that you can learn how to sell stickers as an artist to create a stable passive income stream?
Also, creating stickers gives you the opportunity to showcase your unique style and promote your brand.
What's great about designing and selling stickers is that you don't need to be an artist or illustrator!
There are ways that you can sell gorgeous designs online without ever having to draw or create anything from scratch! I'll show you just how that can be done if you're a beginner. 
So let's find out how to sell stickers as an artist for extra cash!
PIN IT!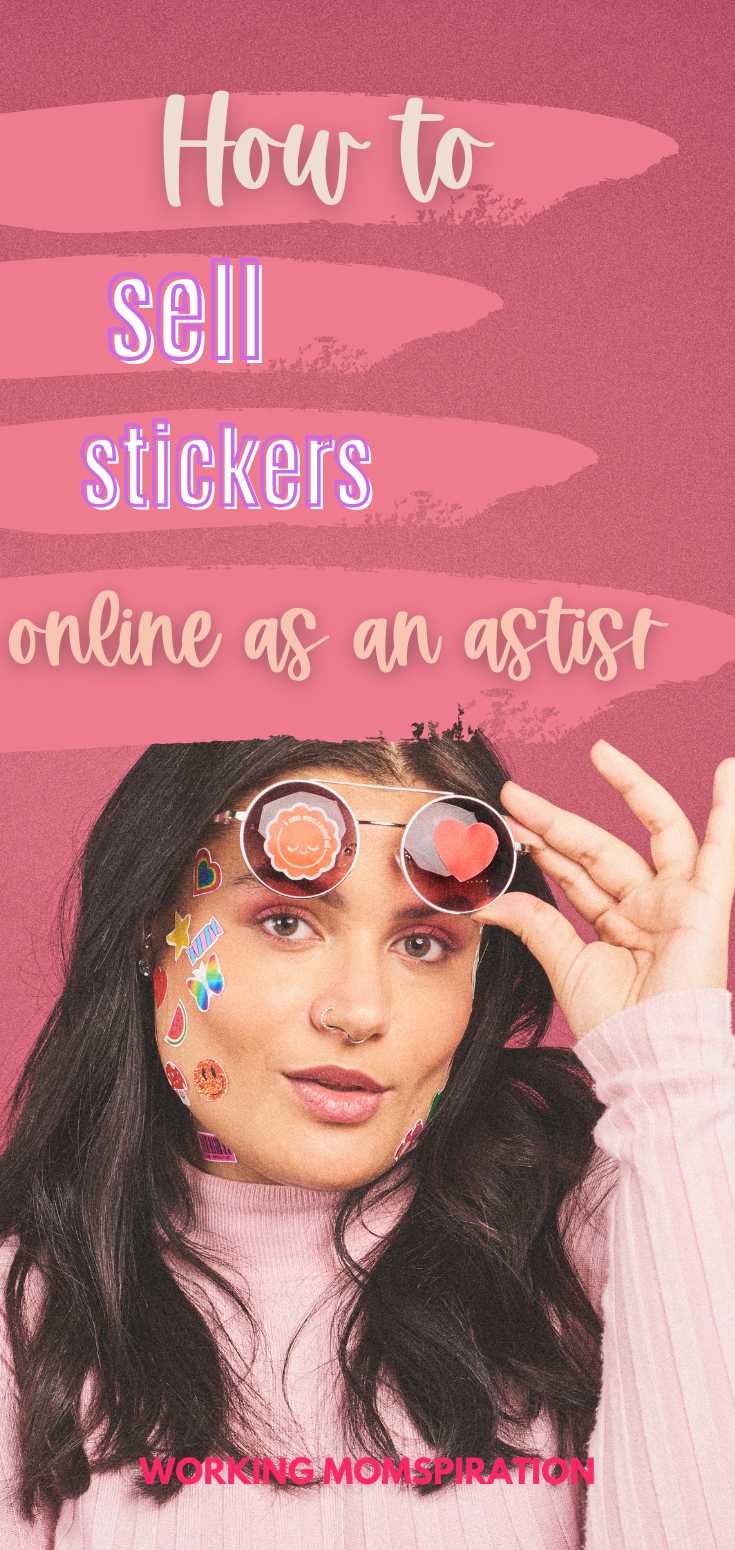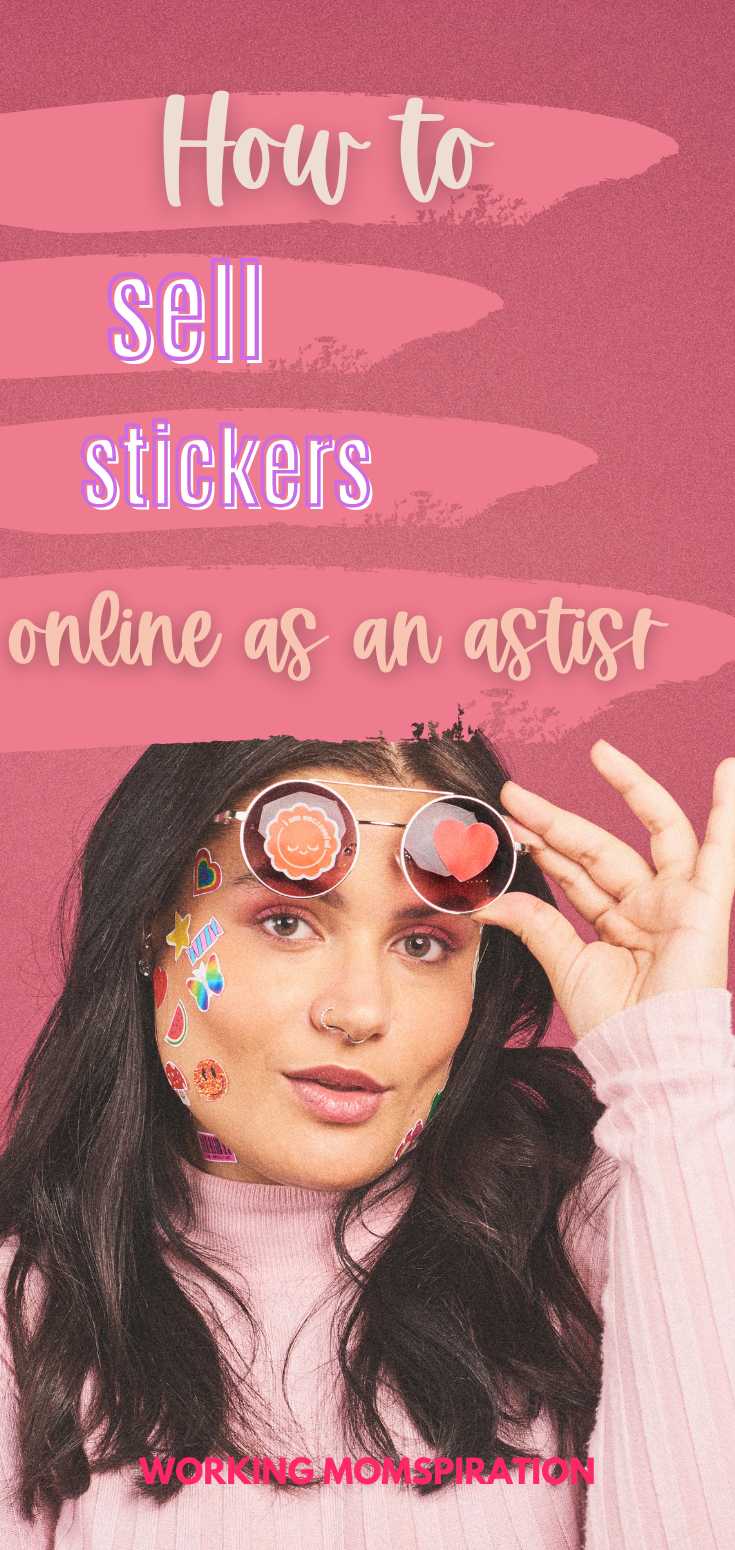 Guide on How to Sell Stickers as an Artist
Selling stickers as an artist is a great way to showcase your creative skills while making some extra income. Here are some tips on how to start and grow your business.
What Types of Stickers Can I Make?
Before you start creating your stickers, you may want to know what type of stickers you can actually sell.
Here are three main cuts to incorporate into your business:
Kiss Cut
This is a popular method for creating vinyl stickers. The design is cut through the top layer of vinyl but not the backing paper, leaving the design on the backing paper. The excess vinyl around the design is then removed, leaving a sticker that can be easily peeled off the backing paper.
Die Cut
 This method uses a metal die to cut the sticker into a specific shape, such as a circle or a custom shape. The sticker is cut all the way through both the top layer and the backing paper. This produces a sticker that is cut to the exact shape of the design.
Full Cut
 This method involves cutting the sticker all the way through the backing paper, leaving individual stickers that can be peeled off individually. This type of cut is often used for paper stickers or label stickers.
You might also find it interesting that sticker cuts can have various finishes, which means how the sticker looks and feels on the surface. Some of these include:
Vinyl 
Clear 
Prismatic
Holographic 
Metallic 
Matte 
Holographic glitter
Mirrored
Depending on the finish of your stickers, you may be able to sell your products for a higher price.
What Equipment Do You Need To Sell Stickers?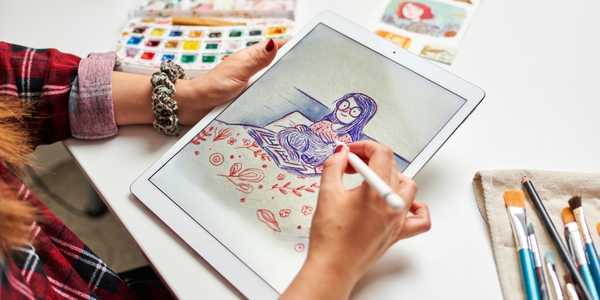 Do you plan to create stickers on your own, or would you prefer to outsource this service?
If you'd prefer complete artistic and manufacturing control over your business, there are specific equipment you'll need to be successful.
Using Design Software
There are plenty of choices out there when it comes to design software for designing your stickers. Everyone has favorites, but I can recommend a few you may find appropriate.
Adobe Illustrator 
You may have to pay a monthly subscription to use this tool, but it's still an excellent vector graphics software widely used by designers to create stickers, logos, and other illustrations. It offers a wide range of tools and features to create intricate designs and graphics.
Canva 
I can't deny that I absolutely LOVE Canva! It's an easy-to-use graphic design tool that offers a range of pre-made templates, graphics, and illustrations. It's fantastic for beginners who want to create simple stickers without any prior design experience.
Procreate 
Anyone looking to create digital illustrations should definitely look into using the Procreate app. Procreate is primarily designed for iPad and has all the tools necessary for you to design your illustrations. You can use brushes, layers, color pickers, and more to make mind-blowing sticker creations!
Printer and Cutting Machine
Having a quality printer and cutting machine to produce your stickers is advantageous for many reasons including:
Quality Control
Customization
Cost-effectiveness 
Saving Time
While there are many printers and cutting machines to choose from, you can definitely use budget-friendly options for your business; A few to look into are:
Printers:
Epson SureColor P600
Canon imagePROGRAF PRO-1000 
Cutting Machines:
Silhouette Cameo 4 
Cutting Machine
Combination Printer and Cutting Machine
It's always best to do further research to decide what printer or cutting machine is ideal for your business. 
How Much Money Can You Make Selling Stickers?
There's no real way to know just how much you can make selling stickers as it depends on various factors. If you decide to sell printable stickers, you will need to invest more in your business than if you choose to sell digital stickers for example.
The amount of money you make will largely depend on:
Cost of Materials
 This includes paper, ink, labels, shipping supplies, and cutting machine blades, among other things.
Price of Stickers
How you price your stickers may depend on your designs, the size of the sticker, and the quality of the materials used. 
Demand for Designs
The demand for your designs will also affect how much money you can make selling stickers. If your designs are unique and in demand, you may be able to sell them for a higher price than if your designs are similar to those of other artists.
Marketing and Sales Channels
 Selling stickers online can have lower overhead costs, but may require more effort to reach potential customers. 
Overall though, the price range for the average 2×3 sticker is $3-$5. Based on your overhead costs, you'll need to price them enough to make a profit. 
How Do Artists Make Stickers to Sell?
That's the big question. How do you actually make stickers to sell? You can choose various options, but I'll recommend some that real artists are doing to make money online!
1. Sell Stickers on Etsy
You probably already know that Etsy is a popular online marketplace that provides artists, designers, and creatives with a platform to showcase and sell their unique creations. 
The platform has millions of users that are seeking products that you may have to offer. 
To be successful on Etsy, you'll need to create eye-catching designs like these ones. No one wants a boring or drabby-looking sticker to decorate their stuff, am I right?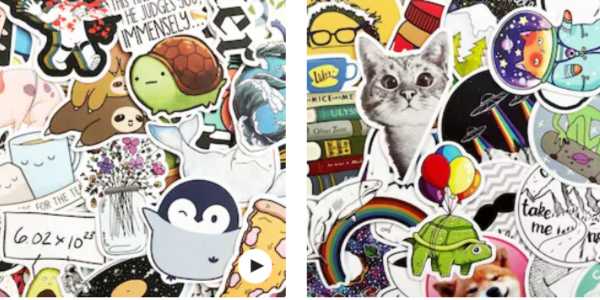 You should be aware that Etsy does have a LOT of competition, so selecting a profitable, yet under-saturated niche is the way to go.
You should also research your competitors and consider using keyword tools such as Marmalead, eRank, EtsyRank, or Keyword Tool Dominator. These will help you with search analytics, optimizing your listings for specific keywords, and providing data on top-performing listings in your niche.
Also, when writing your Etsy listings, use descriptive content and details about your stickers such as the size, material, and design of your stickers.
 One way to increase your sales on Etsy is to offer sticker packs. Sticker packs usually include a variety of different stickers that can be downloaded at once and at a discounted price.
This can work wonders for your sales!
Be aware that Etsy does have fees associated with it such as:
Listing Fees
Transaction Fees
Payment Processing Fees
Advertising Fees
2. Sell Stickers on Redbubble
Selling your stickers on Redbubble is another way to earn passive income online. 
As you may already know, Redbubble is an online marketplace that allows independent artists to upload and sell their designs on a variety of products, including stickers, apparel, phone cases, and more.
Since you're going to sell stickers though, be aware that they are the best-selling products on the platform.
So… there might be quite a bit of competition.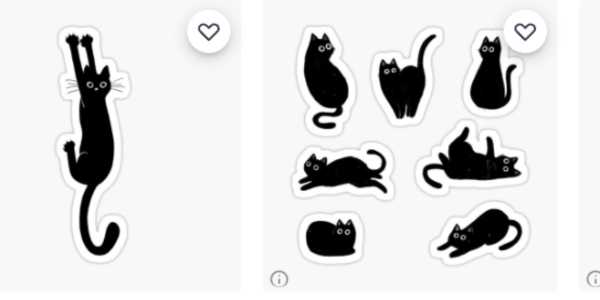 I would use Redbubble as a way to earn extra money though, as it could take time to gain traction on the marketplace. 
What's great about Redbubble is that, unlike Etsy, you can upload designs for free.
They do offer a range of sticker sizes too, from small decals to larger designs, and artists can customize their pricing and set their own profit margins for each sale.
You will also need to incorporate SEO as Redbubble uses tags and keywords to categorize and surface products in search results.
You will have to do some marketing for your products because while Redbubble does offer some exposure to its marketplace, artists must also take an active role in promoting their designs through social media, email marketing, and other channels.
You will see a lot more success when you do this. 
I think the biggest advantage to selling on Redbubble is that they handle all the production and shipping for you. This includes printing, packaging, and delivery. 
This way, you can focus on creating your designs and marketing them online. 
Keep in mind that Redbubble does take a commission for each sale, however, you set your own prices and decide how much you'll make!
3. Sell Stickers On Shopify or Blog
Using Shopify or a blog is a great way to sell your stickers online. It's also a fantastic way to add value for your customers if you'd like to offer written content too.
Shopify is THE place for sellers to create an online store and sell their products directly to customers, especially if they prefer a unique and professional-looking store.
 You should use Shopify if you'd like tools for inventory management, shipping, and payment processing, which can help streamline your selling process. 
The only challenge to consider is that you will have to pay a monthly subscription fee, which can range from $29 to $299 depending on the plan you choose. Keep in mind that Shopify also charges transaction fees for each sale made on the platform, which can lower your profits.
If you'd prefer to use a blog, that's another nice option to sell your merch online.
With a blog,  you can showcase your products and build a brand around your creative work. A blog will offer more flexibility and control than platforms like Shopify because you can customize the look and feel to match your brand. This artist has a blog where she sells stickers AND provides informative content too!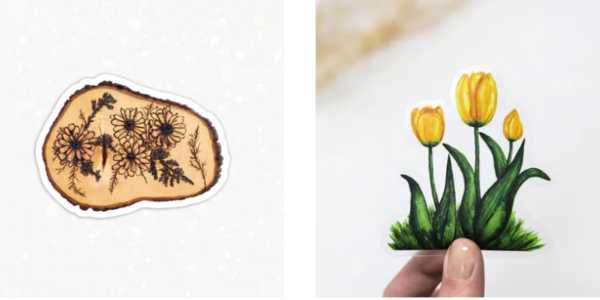 One of the best ways to sell stickers on your blog is to use a platform like Printful. If you're using WordPress like I do, simply download the WooCommerce plugin and integrate it with the Printful API. 
With Shopify, Wix, and Squarespace you can connect to Printful directly. 
Selling Stickers Online FAQ
How to Outsource My Sticker Design
Earlier I mentioned that I would suggest how to sell stickers online without any artistic skills.
The best way to do this is to outsource your designs.
Outsource With Sticker Templates
My favorite option is to purchase templates from online platforms and use them as sticker designs.
The best places to try are:
When you sign up on these platforms (for free) you can browse through thousands of clip art and illustration designs available. The prices are VERY affordable and I've purchased my fair share of these already!
Look at these cute ones I found on Creative Market!
Loading Preview…
Powered by Creative Market
Each design comes with a license that explains how the design can be used.  Be sure to read it carefully to avoid any future issues.
Outsource With Fiverr
Another way to outsource your design is to order custom designs on Fiverr.
You can purchase unique designs from freelancers on the platform and use them as your own. Usually, there are packages that offer a certain amount of illustrations for a certain price. 
This illustrator creates gorgeous sticker designs for up to $25.
And they look pretty great to me!
Printing Your Outsourced Designs
With this option, you can use websites such as Sticker Mule and Sticker Ninja.
With Sticker Mule, you can create and order custom stickers and they will print and ship the stickers to the user. 
They produce high-quality, durable stickers that are weather-resistant and long-lasting.
Sticker types offered include:
Die-cut stickers
Kiss-cute stickers
Bumper stickers
Sticker sheets
Holographic stickers
If you were to order a quantity of 100 die-cute 2×2 stickers, the cost would be $73.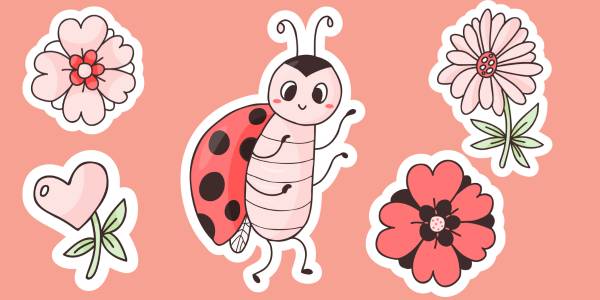 Sticker Ninja is another online company that specializes in custom stickers. They also offer a range of options for creating and ordering custom stickers, including uploading a design, using Sticker Ninja's design tools, or working with Sticker Ninja's design team to create a custom design. 
Sticker Ninja has customization options including die-cut shapes, matte or glossy finishes, and a variety of materials, such as vinyl, paper, or clear. 
Once your design is approved, Sticker Ninja will print and ship the stickers.
An order of 100 glossy die-cut 2×2 stickers would cost $69.69
How Do You Become a Sticker Artist Online?
To become a successful sticker artist online, there are a few steps you can take:
Develop your Skills
 Sticker art does require some artistic skills, such as drawing, painting, or graphic design.
 I'd recommend developing your skills through online courses and self-learning. I'm using Skillshare and YouTube to improve my skills right now. 
Create a Portfolio
Start practicing with traditional art or digital mediums such as Procreate and design a collection of your best sticker designs and artwork to showcase your skills and style.
 This can help potential clients and customers see what you can offer and give them an idea of your artistic abilities.
Find your Niche
 You can design a range of sticker designs, but having a specific niche can better showcase your unique style.
Share your Work
Market yourself online to get more exposure. Use visual sites like Pinterest and Instagram to share your sticker designs and gain followers who can see them.
How to Sell Stickers as an Artist
Selling stickers gives you the chance to make money and create a stand-out brand.
It does require dedication, hard work, and a willingness to learn and grow as an artist though. It's to take advantage of places like Etsy, Redbubble, or your own website, as there are many tools and resources available to help you succeed.
The important thing is to focus on creating high-quality designs that resonate with your target audience and promote your work through social media and other marketing channels.
This will really help to get your name out there and people will start recognizing your brand.
Ultimately, selling stickers as an artist is a fun and rewarding experience that can be transformed into a successful career.