This post may include affiliate links.
Anyone who does business knows that one of the best ways to build brand awareness is to create and promote ads.
It helps customers to know about products and services which creates sales.
You might be wondering, 'What's in it for me?" Well,  you can earn money by clicking on ads which really isn't a hard feat for most people.
While it may get repetitive, the fact that you're just clicking on ads means you can do it at any time of the day.
For most sites, it's free to sign up and you won't ever have to make an investment. 
If you surf the web every day, you can easily get paid to click ads, and it won't feel like you're working at all.
It might sound like an unusual way to make money, but most paid-to-click websites are legitimate and the signup process is quick and easy. 
I'm not recommending this for folks who want a full-time job, or a profitable side hustle.
These gigs are primarily for someone who wants something easy to do in their spare time for extra cash. 
Now let's find out how to make extra money each month by clicking ads and links as an easy side hustle!
Please share the ❤️️ and PIN this for later!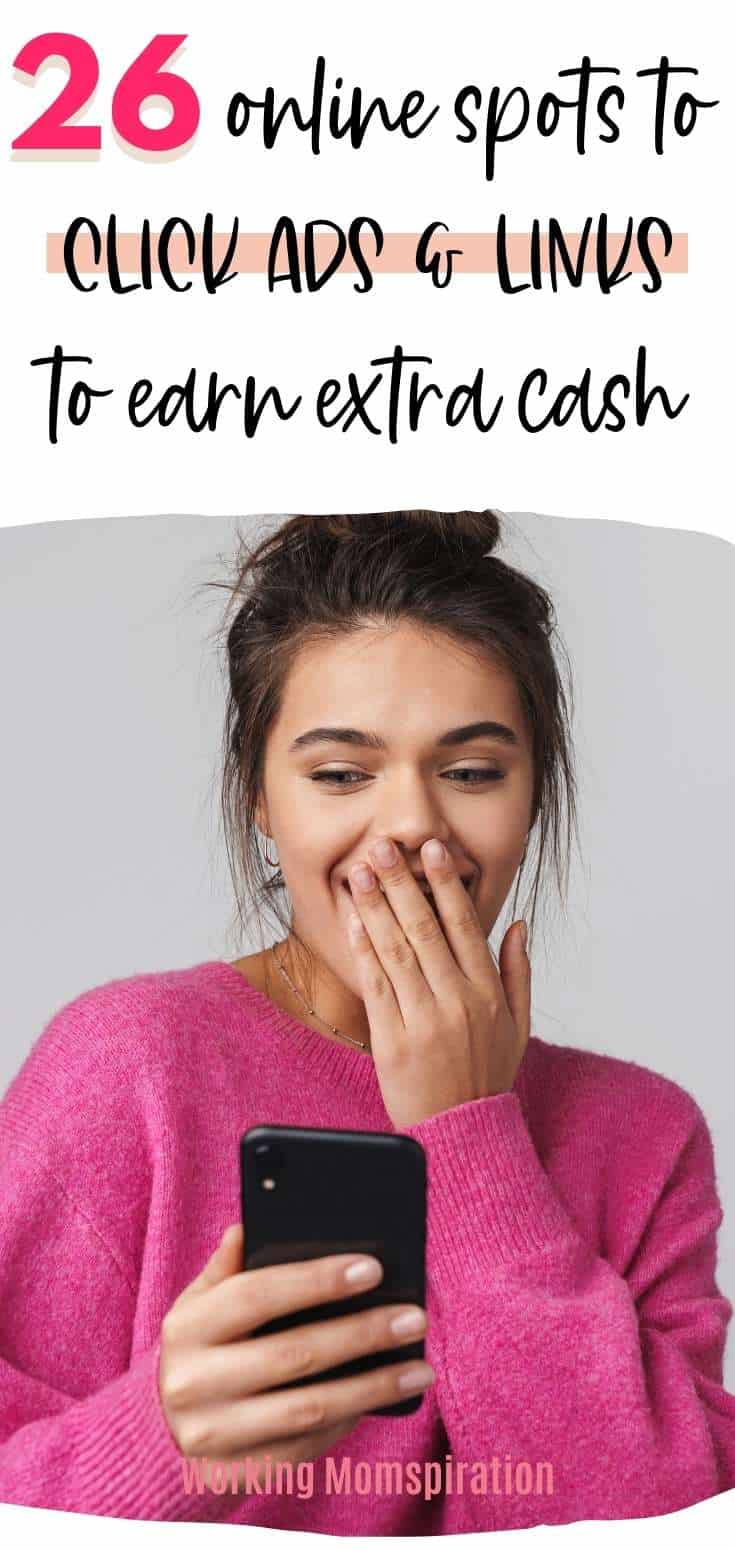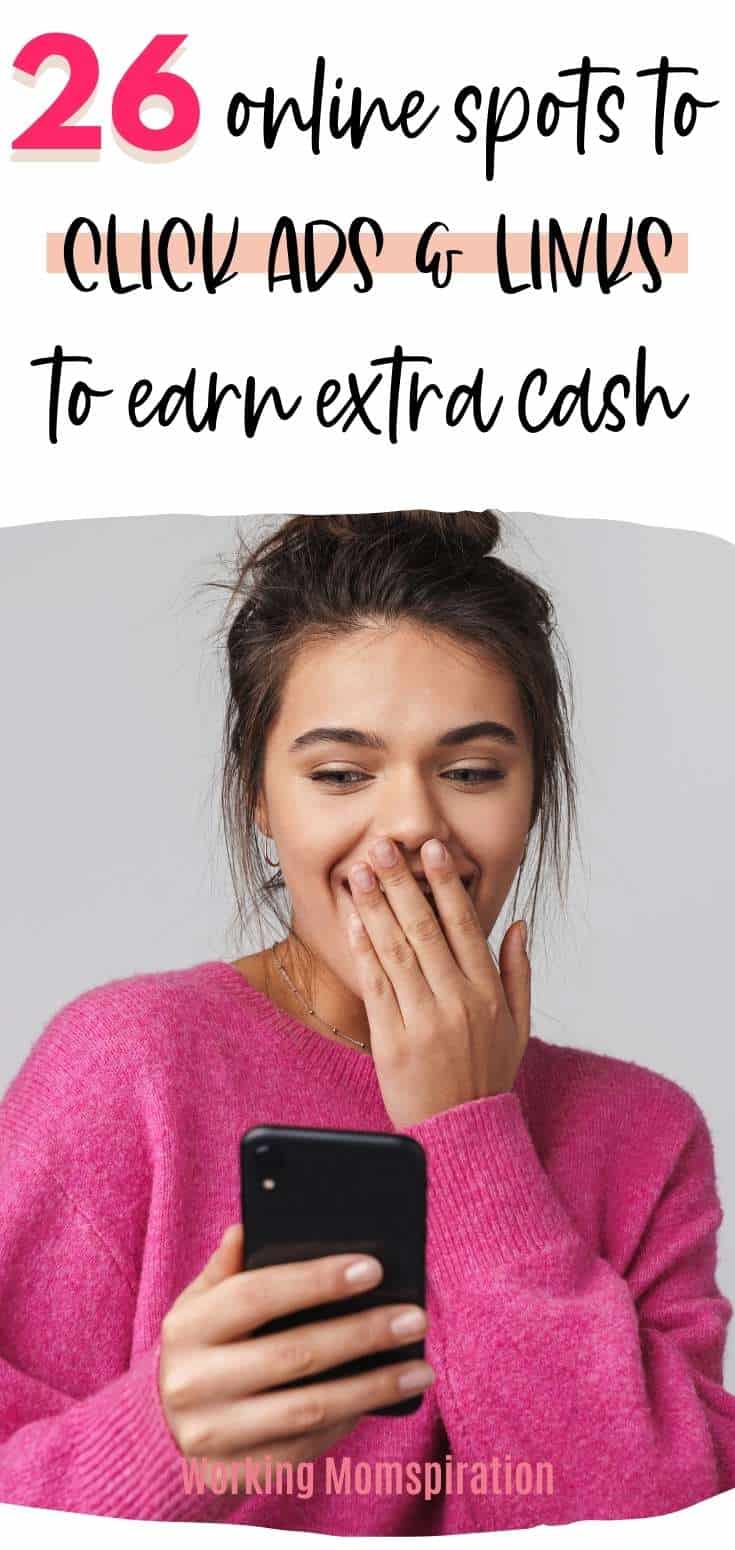 Can I Make Money By Clicking On Ads?
Yes, you can make money by clicking on Ads, but it won't be a high-paying gig, and at most, you'll be making a few extra bucks each month.
However, no one would be doing it if it wasn't worth it.
Even though these are genuine paid-to-click jobs, there are still more lucrative ways to earn money online when you're feeling lazy.
How Do You Click Ads And Earn Money?
You won't be randomly clicking on every ad you see on a website.
There are platforms called PTC sites or 'paid-to-click' websites that pay people to click on advertisements.
If you have a laptop, reliable internet, and a PayPal account to get paid, you can sign up now and start earning. 
When you sign up with a PTC website, a list of advertisements is made available to you.
It's now your time to start clicking away to get the job done. Some amount of time is required to view the ad before you are paid. 
The amount you will make on PTC sites is between $0.01 and $0.04 per click.
Websites To Earn Money By Clicking On Ads or Links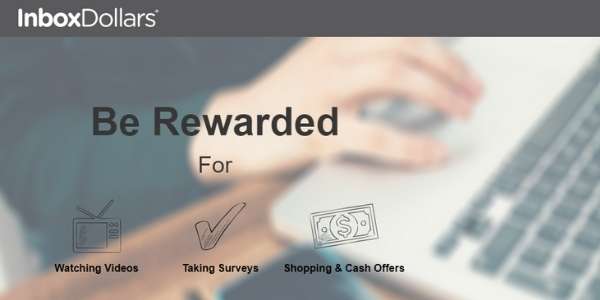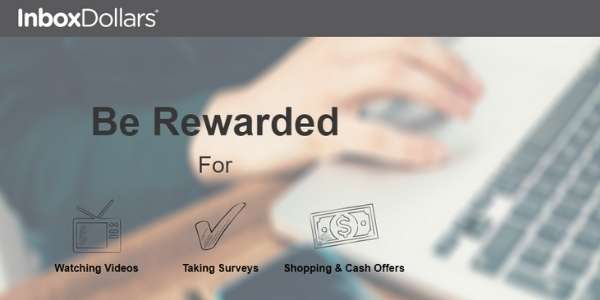 One of the easiest ways to make extra cash is on the website InboxDollars.
If you don't believe that it's a legitimate company, you'll be glad to know that they've paid over $80 million in cash and rewards.
They've also received favorable reviews online from happy users.
To get paid by clicking links, users can sign up to InboxDollars for free and start filling out a profile.
Don't skip this part, because it helps you get more money-making offers.
InboxDollars will send you emails that you can read and get paid for – once you've clicked the link indicating that you've read it.
InboxDollars will pay you through PayPal or with gift cards for clicking links, doing surveys, and playing games.
They also offer cash back when you shop!
Sign up with InboxDollars to click links and get paid!
This site is very similar to InboxDollars and you can click links to earn money, get cashback and receive gift cards.
Swagbucks boasts that it has paid $758 million to date for doing a variety of simple tasks on the website.
If you're someone who already works hard all day, but you'd like to make extra money doing relaxing activities, Swagbucks is the right place to start.
You can spend time reading emails and clicking links for cash, watching videos, playing games, and browsing the internet. 
I'd recommend joining sites like Swagbucks using a dedicated email, as the company will often send promotional emails for you to read, and I'm sure you won't want to miss any potential earnings!
Get paid to click links on Swagbucks!
While you won't get paid to click links on Neobux, you will earn money by clicking on ads.
It's free to sign up and you can apply to become a member even if you're not a resident of the US. When you sign up, you're taken to a dashboard to view ads for a particular amount of money. 
Neobux does have a membership plan which will determine the amount earned per click.
The best thing about Neobux is that members can get paid to click unlimited ads, which means you determine how much you will earn.
Users can upgrade their membership at any time to earn more per click along with other benefits.
The payout is very low at $2 which is a bonus for those who need cash quickly!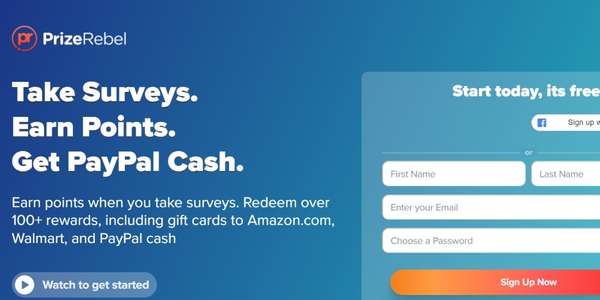 Make easy money and grab gift cards by clicking on links and watching ads on Prizerebel.
Once you sign up on Prizerebel, you'll get access to thousands of surveys and other tasks which earn you points that can be exchanged for rewards.
The company only offers the best gift cards from companies such as:
Amazon
eBay
Apple
Google
Xbox
Walmart
The gift cards are delivered to your email just 5 minutes after you redeem your points! If you'd prefer to get cash, Prizerebel does pay via Paypal. 
Sign up for free with Prizerebel!
You can get paid to click ads on GPTplanet, a PTC site that has paid out more than $1 million to its members.
This site is great because it allows users from countries around the world to register on the platform. 
Earn money on the platform by viewing ads, completing offers, and referring friends.
Users can earn around 0.01 per click and withdraw $1 by Skrill, Payeer, and Bitcoin. 
GPTplanet offers other fun ways to earn money by clicking with games like GPTgrid.
This might just be one of the best PTC sites out there!
Not only is it a legitimate website, but it has paid out $9 million to its members.
Unlike some of the other PTC sites, the website appears quite modern and easy to navigate.
What I like about PaidVerts is that you don't have to get stuck at your computer clicking ads, because they have mobile apps for both Apple and Android devices. 
When you go to sign up, just select, 'Register,' or 'Join Us Now' and enter all the relevant information.
Gain more points to redeem for cash by working faster on clicking ads daily. 
Would you like to have a little fun while making money? Fusion Cash will pay you for clicking ads, playing games, answering surveys, and downloading apps.
Once you've signed up, a $5 bonus will be added to your account, and when you've accumulated $25, just withdraw your cash via Paypal or get gift cards from major brands. 
Even though it will take you a bit of time to acquire your $25, the tasks are relatively easy and there are several other ways to make money.
You'll love this PTC site because it has a minimum payout of only $2.
With payment outlets on the platform like Payeer, Bitcoin, Skrill, and Neteller, you can get your payments in no time.  
When you join Scarlet Clicks, you can earn money by clicking on ads, filling out forms, referring friends, and more.
Clicking ads can earn you up to $0.01 and you'll receive 100% from any referral made. 
Scarlet Clicks has membership plans that allow you to withdraw higher amounts of money.
If you live outside of the US and Canada and would like to earn money by clicking ads with a legit website, OptimalBux is a good option.
They have a free registration process for users worldwide to join their site. 
The website is very welcoming and even though it has a smaller amount of members compared to the other websites mentioned, it has paid out $469,502.61 to date.
Members can make $.01 per click and will earn 100% of the money made from referrals.
Once you're ready to withdraw, using Skrill, Neteller, Payeer, AirTM, Bitcoin, and Litecoin makes receiving payments easy.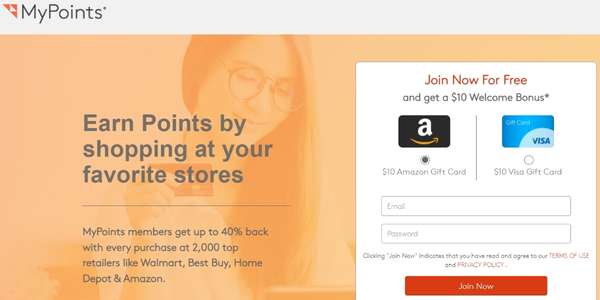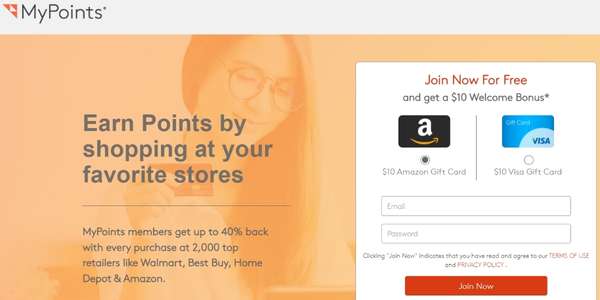 You will enjoy clicking links on the MyPoints platform, because it offers members 40% cash back on purchases from places like Walmart, Amazon, Best Buy, and Home Depot. 
Upon signing up, MyPoints rewards new users with a $10 bonus!
To start earning on MyPoints, head to your dashboard and start watching and clicking on ads.
Once you've accumulated enough points, you can redeem cash with Amazon or Visa gift cards.
Head to MyPoints and get paid $10 to click on ads when you sign up!
Another fun way to earn money by clicking on links is with Kashkick.
Unlike some other sites, Kashkick does not use a points system but instead shows you the money you've accumulated.
When you've reached $10, it's easy to withdraw money using a Paypal account. 
 On Kashkick you can earn money doing things like:
Surveys
Paid Offers
Referrals
Playing Games
Watching videos
Completing quizzes
It's a straightforward process to make money on Kashkick doing surveys because you can complete short forms every day and potentially make $100- $300 per month.
Sign up with Kashkick to earn from clicks!
Would you like to earn money by giving your opinion and answering questions?
Opinion Outpost will reward members for doing simple tasks like this online.
The company partners with brands that want to get honest feedback on their products and services.
These brands will pay to get this information because it helps them to make their products better.
Share your feedback on topics like entertainment and fashion, and in return, you can earn cash and gift cards!
Opinion Outpost states that they pay about $390,000 every month to members and they always have surveys available on different topics, so you never get bored. 
Earn rewards on Opinion Outpost today!
One of the best places to earn money from ads is with LifePoints.
The company has paid out more than $3 million to its members and they make it clear that it's completely free to join.
Members have said things like, 'LifePoints ranks at the top as they have a very good site with no junk' and 'Easy to use. Easy to cash out'. 
On LifePoints, members can test new products, answer surveys, watch ads, and much more. Once you've gotten enough points you can withdraw funds using Paypal. 
Get started with LifePoints today!
14. InboxPays
Would you like to join a site that has paid out $2 million to its members?
InboxPays will send you promotional emails that you can read and earn money from by clicking on links.
Other ways to make money include taking surveys, playing games, referring friends, clipping coupons, and completing offers.
When you want to cash out your earnings, your payment is sent directly to Paypal.
The only downside is that InboxPays only accepts members from the United States. 
Other Ways To Make Money With Ads and Links
15. Become a Facebook Ad Expert
Facebook Ad experts create and monitor marketing campaigns using the Facebook Advertising platform. Other tasks they perform include:
Creating graphics
Planning Ad campaigns
Monitoring analytics
Staying up to date with trends
Networking with marketers
The great thing is, that you do not need an educational certificate to be a Facebook Ad Expert. Just a simple free training program will tell you all you need to know!
16. Watch Ads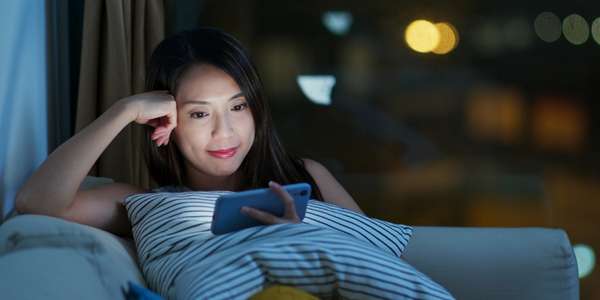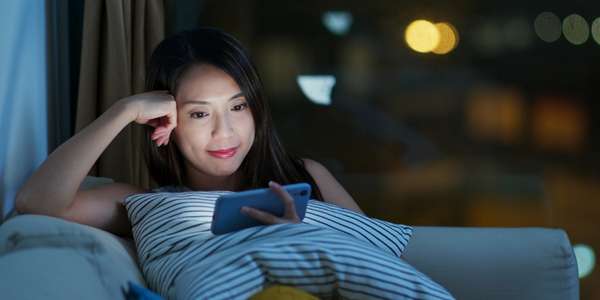 Did you know that you can get paid to watch ads? Watching ads is a fun way to pass the time and earn money simultaneously.
You can also get paid to post ads on some sites too. There are plenty of sites that claim to pay for watching ads, but a lot of these are fakes. 
Legitimate sites that will pay you to watch ads are:
If you'd like to get paid to view ads and earn additional cash, try signing up on more than one site.
17. Sell Advertising Space On Your Blog
Would you like to earn a passive income around the clock? One way to do it is by creating a blog that makes money year round!
Not only can you earn from your blog by selling digital products and promoting services, but you can also earn from ads.
Once your blog has enough traffic, you have the potential of making thousands each month when people click or view ads. 
18. Place Ads On Your Car
Perhaps you've seen this, but never thought about doing it yourself.
Placing ads on your car is another passive income stream to start by using something you already own.
If you would like to earn money this way, three legitimate companies include:
Carvertise
Car-Bucks 
Wrapify
19. Refer Friends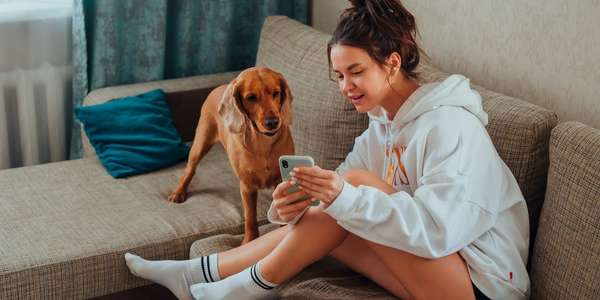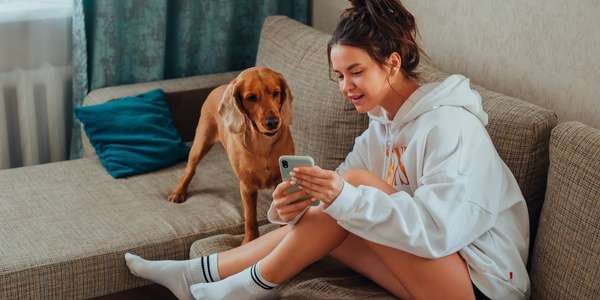 Earn money the easy way and help your friends by referring them to programs online.
When you use an app that offers you rewards for doing tasks, referrals can make you extra money.
It's completely free and in most cases, you receive 100% of successful referrals. 
Refer friends with apps like:
More Fun Ways To Earn Money By Clicking On Ads and Links
If you'd like more fun and easy ways to earn money using only your phone, the following websites can help you make additional funds every month.
Remember that you can do these tasks during your break at lunch, at night while the kids are sleeping, or in your downtime.
20. Rakuten Insight
21. Hintsters
22. Buzz
23. Opinion Poll
24. Quick Rewards
25. Rewardia
26. Opinion Bureau
Earn Money By Clicking Ads In Your Spare Time
This is such an easy way to make money that it's hard to resist. Yes, it does not pay as much as a regular job and it won't make you rich.
But as mentioned, it will bring in extra money each month.
If you're interested in more profitable ways to earn, you can make money from typing, using your voice, blogging, decluttering, writing, and making printables!
If You Liked This Post, Please Pin It For Later!❤️️????