This post may include affiliate links.
Most people I know simply can't stand doing phone jobs. Anything that requires them to answer a phone or make calls just sends shivers down their spine. I despised phone jobs too, but only when I was in customer service. As an Administrative Assistant, I actually enjoyed it and looked forward to working every day.
You too can get paid to answer phone calls working from your couch. While it may not sound like the ideal job for people who don't like to talk, it's a nice side hustle to earn extra money. The best thing about the jobs I'll mention today is that no prior experience is needed.
What you'll need is a high school diploma, a helpful attitude, and the ability to navigate the web and use tools or software. Also, training is provided to get you on the fast track to success.
If you're ready to make money answering phone calls, read on to find out how to apply online and start working!
Please share the ❤️️ and PIN this for later!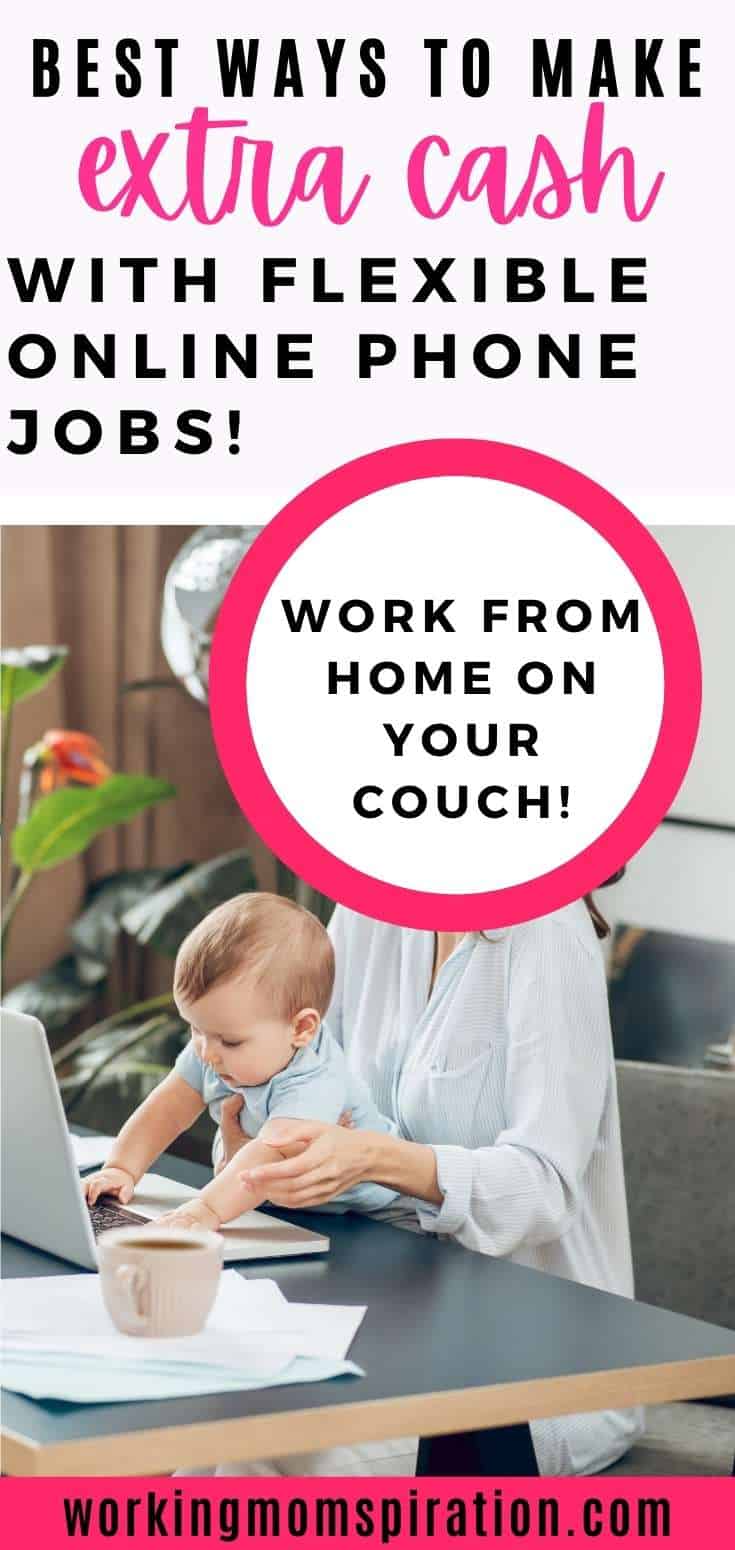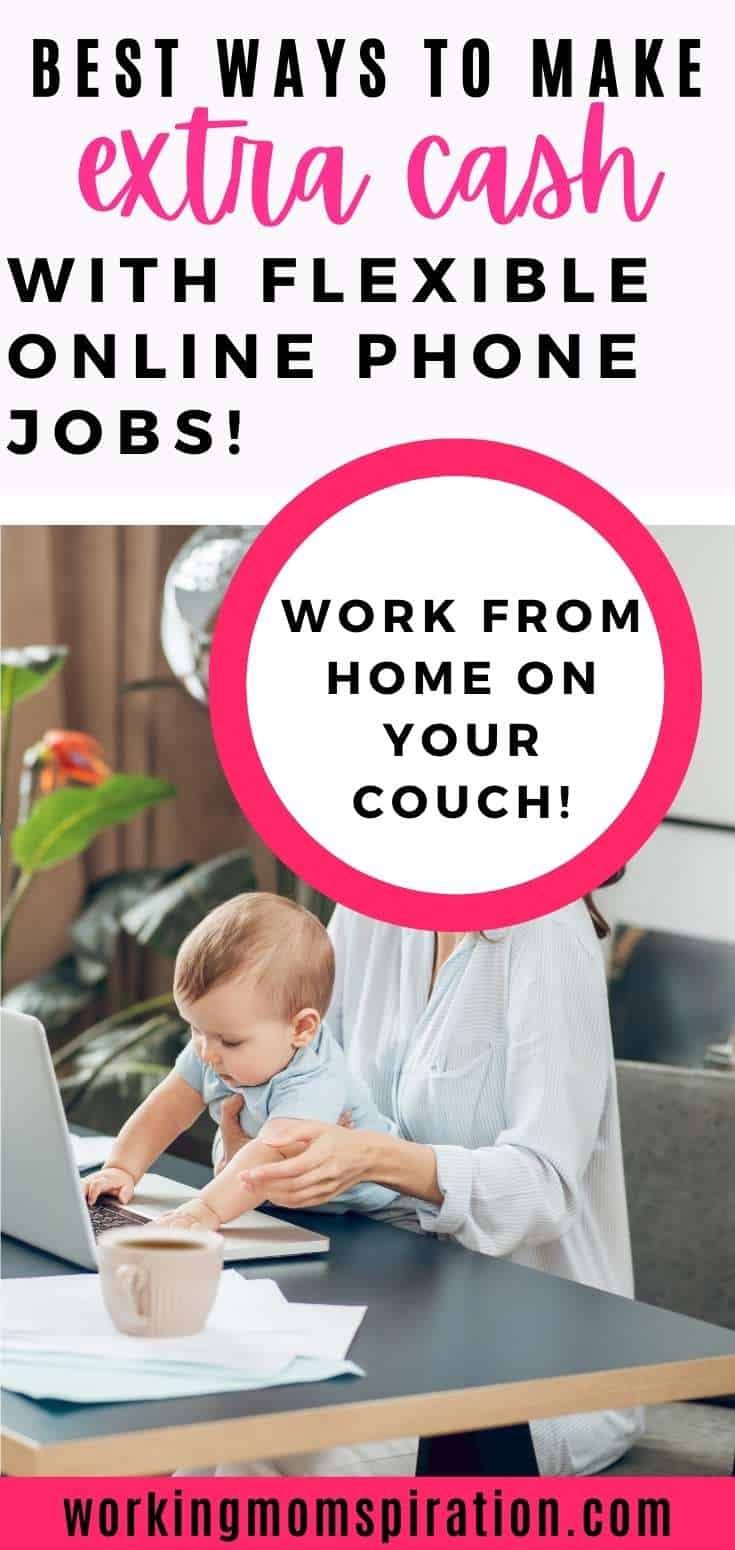 Get Paid To Answer Phone Calls As a Customer Service Rep
1. TTEC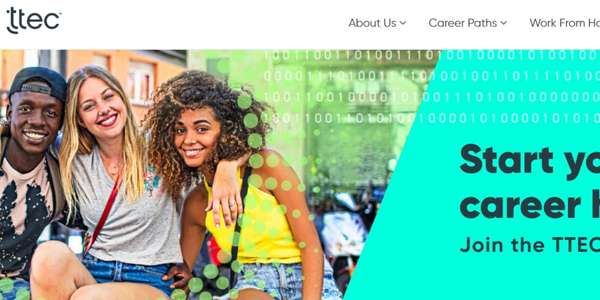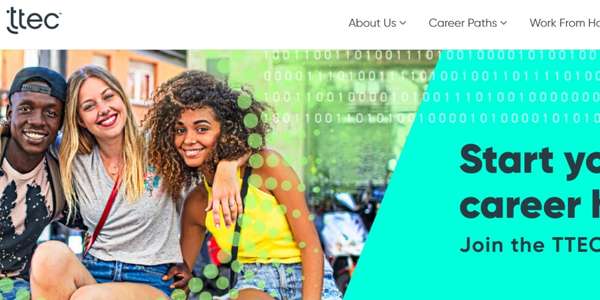 TTEC, previously known as TeleTech, is a customer service company based in the US with additional locations in Bulgaria, the Philippines, New Zealand, and Brazil. With more than 62,000 employees worldwide, this established company is great for job seekers.  At TTEC, you can follow a career path as a remote worker in areas such as:
Insurance
Customer Service
Sales
The company believes in bringing a smile to people's faces and providing necessary solutions to customers. One thing that stood out with TTEC is that they are invested in helping veterans. In fact, they hire around 1,000 veterans each year.
If you don't mind answering phone calls while working from home, TTEC might be the right company for you. 
2. Sutherland Global
Sutherland Global states that they are an 'experience-led digital transformation company' working for more than 35 years to bring exceptional service to clients all over the world.
 At Sutherland Global, you can work remotely as a customer service rep and get paid to answer calls related to billing, energy conservation, service requests, and more. 
Sutherland Global is looking for applicants who:
Are active listeners
Pay great attention to detail
Have an enthusiastic personality
Depending on the role, you may earn around $14 or more and Sutherland will pay premiums for working night shifts. If you enjoy working at night, here are 7 part-time night jobs for moms. 
3. FlexJobs
While FlexJobs is not a Customer Service company, they have a listing of phone-based jobs available on their website. What makes their site so great is that the positions listed are usually flexible, remote jobs from legitimate companies looking for candidates. 
Flexjobs screens all these jobs beforehand, so you'll never have to worry about scams. Their website also offers job seekers career advice and even webinars to help you find the right job. 
When you're looking for your ideal role, you can filter by a full-time, part-time, or flexible schedule. Sign up with FlexJobs to start your remote job.
4. Fiverr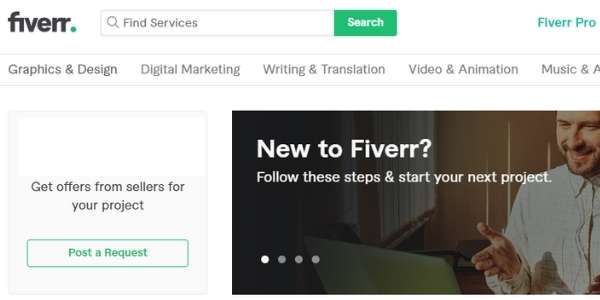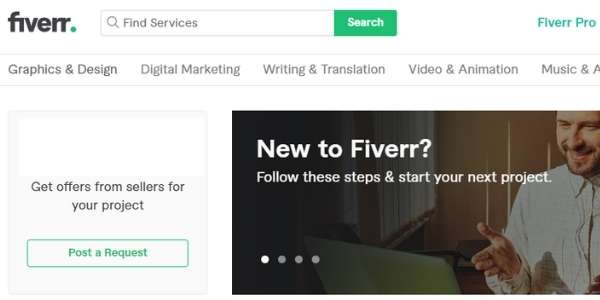 If you're looking for a side hustle where you can answer phone calls and get hired almost immediately, you should check out Fiverr. 
As a freelancer, you can get hired by clients looking for someone to answer phone calls and assist customers. Some of the clients have their own businesses, where customers may have to pay bills, order products, or report technical issues.
In general, you will know your pay beforehand and what to expect from your role. Before applying for jobs, Fiverr requires that you set up an account. Of course, it's completely free and you can sign up and start applying immediately.
5. Virtual Vocations
Finding legitimate home-based jobs can sometimes be difficult and because of that, companies like Virtual Vocations are created to provide job leads that can be trusted. On their website, they provide a directory of remote jobs where you can answer phone calls and help customers. 
When you sign up, Virtual Vocations has a curated listing of remote jobs from which you can apply, once you have created a profile. It's easy to navigate the website, apply for phone jobs and start working in no time. 
Check out Virtual Vocations.
Get Paid To Answer Phone Calls As a Virtual Assistant
6. Fancy Hands
Are you great at making and taking phone calls? Can you successfully complete admin tasks in record time? If your answer is yes, Fancy Hands is waiting for Virtual Assistants like you!
Fancy Hands is US based Virtual Assistant company that hires dedicated VAs. They look for assistants who have a fast internet connection and can navigate websites and certain software. 
Other requirements for the job:
Making outbound calls
Finding prices online
Data entry
Scheduling appointments.
Depending on the task, VAs earn around $3 – $7 and payments are made every other week on Tuesdays. If you think you're up to the task, apply to Fancy Hands online. 
7. Belay Solutions
Another place VAs get paid to answer phone calls is at Belay Solutions. The company is completely remote and has been recognized by companies like INC, Entrepreneur Magazine, and more. 
Apart from Virtual Assistants, Belay also hires Social Media managers, Bookkeepers, and Website Specialists. Belay is flexible, with contractors working as little as 10 hours a week. To sign up, go to the application page, select APPLY NOW and choose the position that best suits you.
Candidates are expected to participate in a video conference call, skills assessment, and an interview. 
8. Boldly
If you have some experience working as a Virtual Assitant and would like to take your career to the next level, Boldly is the right place. They hire VAs with at least 10 years of experience for premium clients. 
Even though you'll assist 1-3 clients at a time, you are a valued employee at Boldy which provides guidance through a team leader who works closely with you. Another good thing about Boldly is that they allow VAs to choose the companies they work with which should make the job more rewarding. 
View their job page for open positions. 
9. Zirtual
Get Paid to answer calls with Zirtual, a popular virtual assistant company that hires remote workers. Similar to our other mention, Fancy Hands, you'll also be assisting clients with admin tasks. These include but are not limited to:
Inbox Management
Social media management
Calendar Management
Research
Data Entry
Event Planning
Travel Booking
At Zirtual, you can work on a freelance basis, but a college degree and US resident status are required to apply. However, once accepted, the team at Zirtual will train and provide guidance along the way. 
10. Upwork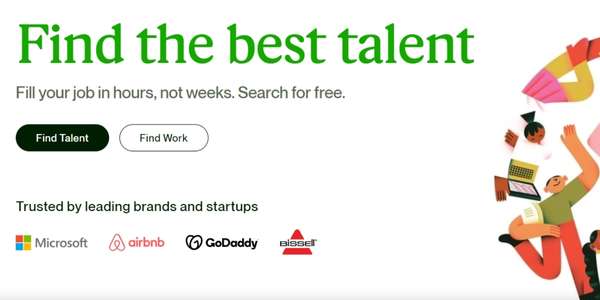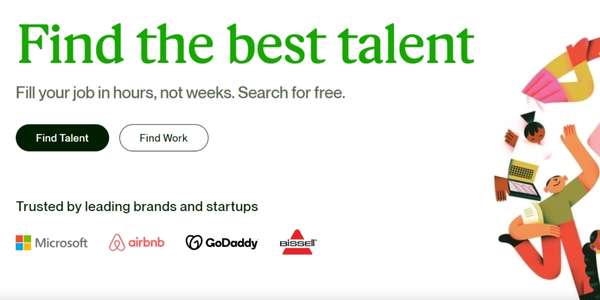 Would you like to make money answering phone calls on your own schedule? Everyone dreams of working whenever they want, and with freelance sites like Upwork, it's highly possible! Upwork is a marketplace like Fiverr where VAs can answer phone calls, book trips, and manage accounts.
When a client searches for a VA to work with, they will look at the profile, specific work hours, work experience, educational background, and relevant skills. If you're ready to take the plunge, start earning money on Upwork today!
Get Paid To Answer Phone calls as a Technical Support Rep
11. ModSquad
Have you ever heard about ModSquad? It's a relatively new company that hires customer service and technical support reps from around the globe. They seem to have a fun in-house and remote working environment for their employees. 
As a technical support agent, you may work with brands like Warner Brothers, NFL, PBS Kids, and A&E. ModSquad is always hiring for roles that are customer-centric, so you're expected to be helpful and versed on technical topics. 
12. Apple
Are you interested in working for one of the most successful companies in the world? Apple is well known for its popular line of gadgets, and as a technical support rep, you can get paid to answer phone calls from Apple customers.
You will help them with troubleshooting issues about products and answering other technical questions. If you're into email or chat roles, these can be found on the Apple website.
13. We Work Remotely
This website makes it easy to find the latest technical support roles as you can filter by job category, region, time zone, company, and job type. This way, you can find only the jobs specific to your preference. 
We Work Remotely also has hundreds of other job opportunities available including customer service, virtual assistant roles, and other phone-related jobs. Sign up for free with We Work Remotely.
14. Fastly
Some of the values expressed by Fastly include trustworthiness, integrity, transparency, and passion. Apart from providing a remote working experience, Fastly also allows for flexibility with paid time off, parental leave, health plans, and retirement plans for your future.
Even if you're great at your technical support role, the company takes the initiative to provide ongoing training for its employees and even implemented the Employee Experience Champion Network so employees can give feedback. 
15. Twilio
Twilio maintains that they thrive on 'creativity, diversity, and positivity.' As a remote company, they have about 30 offices around the world and 90% percent of employees say that Twilio is a great place to work. 
The roles listed on their website are varied, so you can scan their job listings and decide which is best suited for you. 
Other Ways To Get Paid Using Your Phone
16. Just Answer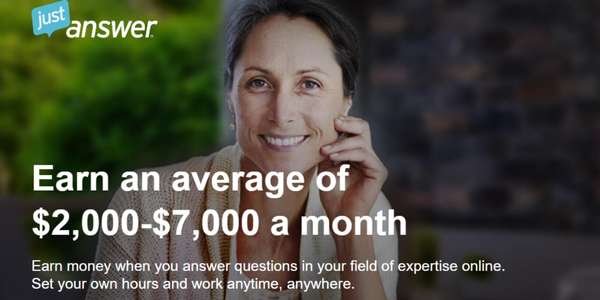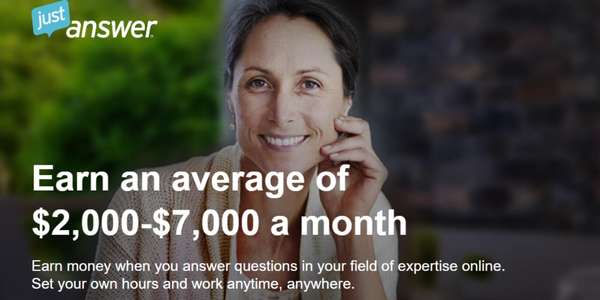 Would you like to earn $2000-$7,000 a month from answering questions? This sounds like quite a lucrative venture from just helping people online. Just Answer connects experts in their field with customers looking for assistance. 
Of course, you'll need to be a professional whether as a lawyer, teacher, doctor, mechanic, or plumber, and show proof of your certificate or degree to get started. This is just to prove that you do have some level of expertise in that area.
It takes less than 2 weeks to verify your account if you're located in the US or Canada and once approved, you can work whenever you want.
Sign up now and start earning thousands each month!
17. 6ya
Another way to make money with your phone as an expert is with the company, 6ya. Currently, they only hire US-based professional experts, but hopefully, they will branch out in the future On their website, they mention that you can work anywhere (in the US) and at any time, choosing your own schedule.
You earn money for every call you take, with most lasting up to 5 minutes long. Video calls are also an option as some calls may require a visual response. Sign-up takes about 5 minutes, so get started now. 
18. Survey Junkie
If you're not interested in taking phone calls, you can make money by doing other fun things on Survey Junkie's website. It's one of the top survey sites that has paid out more than $25 million since its inception. 
Surveys generally take from 2 to 30 minutes, with higher-paying surveys amounting to a $3 payout. Other ways to make money with Survey Junkie include browsing the web and shopping online. To start earning cash, sign up with Survey Junkie now!
19. Inbox Dollars
You can also complete surveys and offers with Inbox Dollars. This company was started as a reward site in 2000 and pays people to do a variety of activities for money. It's a legitimate company with an A+ rating with the BBB, so you can rest assured that there are 0 scams.
Taking the surveys will never bore you as there are topics like politics, sports, and more. There are also games to play like Sudoku, word search, and Wheel of Fortune. Another way to make money is by reading emails, referring friends, and participating in trivia. 
Sign up for free and earn a $5 bonus.
20. Kashkick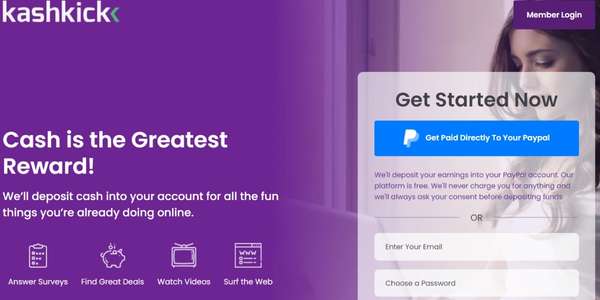 Earn more cash and rewards with Kashkick. Kashkick is another survey site that offers a steady stream of tasks daily. In fact, Kashkick seems to have a high number of surveys on their site, so you just may be able to earn regularly. 
One of the downfalls of using Kashkick is that it's currently not available globally and they do not offer a sign-up bonus as Inbox Dollars does. However, because they always do have a high volume of surveys, this makes up for it. 
Sign up with Kashkick and earn cash.
21. Honeygain
With Honeygain, you can earn a passive income around the clock. It's an effortless way to earn money by using something that you (hopefully) already have at home – the internet!
When you sign up with Honeygain, you can use your bandwidth and share it with other users. According to Honeygain, your devices work like 'towers' to help businesses around the globe gain access to the internet. 
The best part is, it's totally free to sign up, set up your shared internet, and start earning! Earn money passively with Honeygain now. 
22. Daily Goodie Box
While you won't earn money with this, you do get free products to test out. If you're familiar with PINCHme, then you'll understand how Daily Goodie Box works.  You might be thinking right now that there's some type of catch, but it's completely free.
There are brands that need people to test products and give their feedback, so using outlets like Daily Goodie Box or PINCHme is a great way to promote their products and get honest input from potential customers.
If you live in the US, getting free products shipped to you is very easy. Just sign up with Daily Goodie Box, like their social media accounts, and await your samples for review. 
23. Give Your Opinion
Would you like to earn cash and other rewards by giving your honest opinion? Imagine answering simple questions and filling out a questionnaire and earning cash. Sounds great, doesn't it? The fun part about it is that you can do them on your phone, or even while running errands.
Here are a few places that will reward you for your opinion:
24. Instaread Reviews
Enjoy reading books? Get paid for reading books and giving reviews. Your reviews should be around 1,000 to 1,500 words and provide 'key insights of new and classic nonfiction'. Earn $100 per review and read their style guide for more information. Sign up with Instaread.
25. Micro Tasks on Picoworkers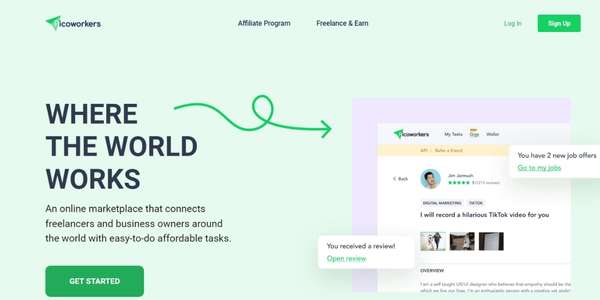 Not feeling up to the phone talk? You're in luck! If you want to do small tasks online that don't require much work, check out Picoworkers. On the site, clients are looking for freelancers who will complete microtasks for cash.
The jobs aren't the highest paying, but they are very easy. Sign up with Picoworkers to do proofreading, write blog comments or sign up to different websites. 
Get Paid To Answer Phone Calls From Home
There you have it! A list of legitimate companies and websites that offer phone jobs in various capacities. Not everyone likes being on the phone, but when cash is needed, that doesn't really matter. I worked in customer service for some time, earned some money, and moved on to other things that I enjoyed more.
With these gigs, you don't necessarily have to work a full-time shift, as part-time roles are available. Also, they are all remote, so you'll never have to worry about commuting. Get paid to answer phone calls and earn money on your own time!
If You Liked This Post, Please Pin It For Later!❤️️????