This post may include affiliate links.
Are you seeking temporary jobs while pregnant? 
When I was pregnant, I was already working at the time, but if I had known about these easy jobs for pregnant women, I would have been the first to try them.
You see, I've always been someone who liked the idea of working alone and on my own time. 
I never wanted to be in a 9-5 job, working away every day, and not being able to make money the way I wanted.
If you're pregnant and on maternity leave, these jobs can work too, because of their temporary nature. 
If you're a woman asking:
How can I make money while pregnant and unemployed?
What are the best ways to get free money for pregnant moms to be?
I'm pregnant and jobless, what to do?
How to manage when you're pregnant and need money fast?
I'm pregnant and need a job from home, how can I find one?
How to make money while pregnant and homeschooling?
I'm pregnant and need a job from home, can I get help?
These questions are highly relevant and if you're in a pinch for cash, these jobs will help you earn money right away. 
Some of these pay daily, while others pay a weekly or monthly salary. 
If you'd like to work from the comfort of your own home, most of the jobs mentioned will be right up your alley.
I know that a lot of pregnant moms have gone through joblessness, and these easy side hustles are excellent to do at home or even on a freelance basis.
These jobs won't tie you down indefinitely and for the most part, you can choose a
flexible schedule. 
If you desperately need money when pregnant, these jobs can help you make extra money on your own time.
Please share the ❤️️ and PIN this for later!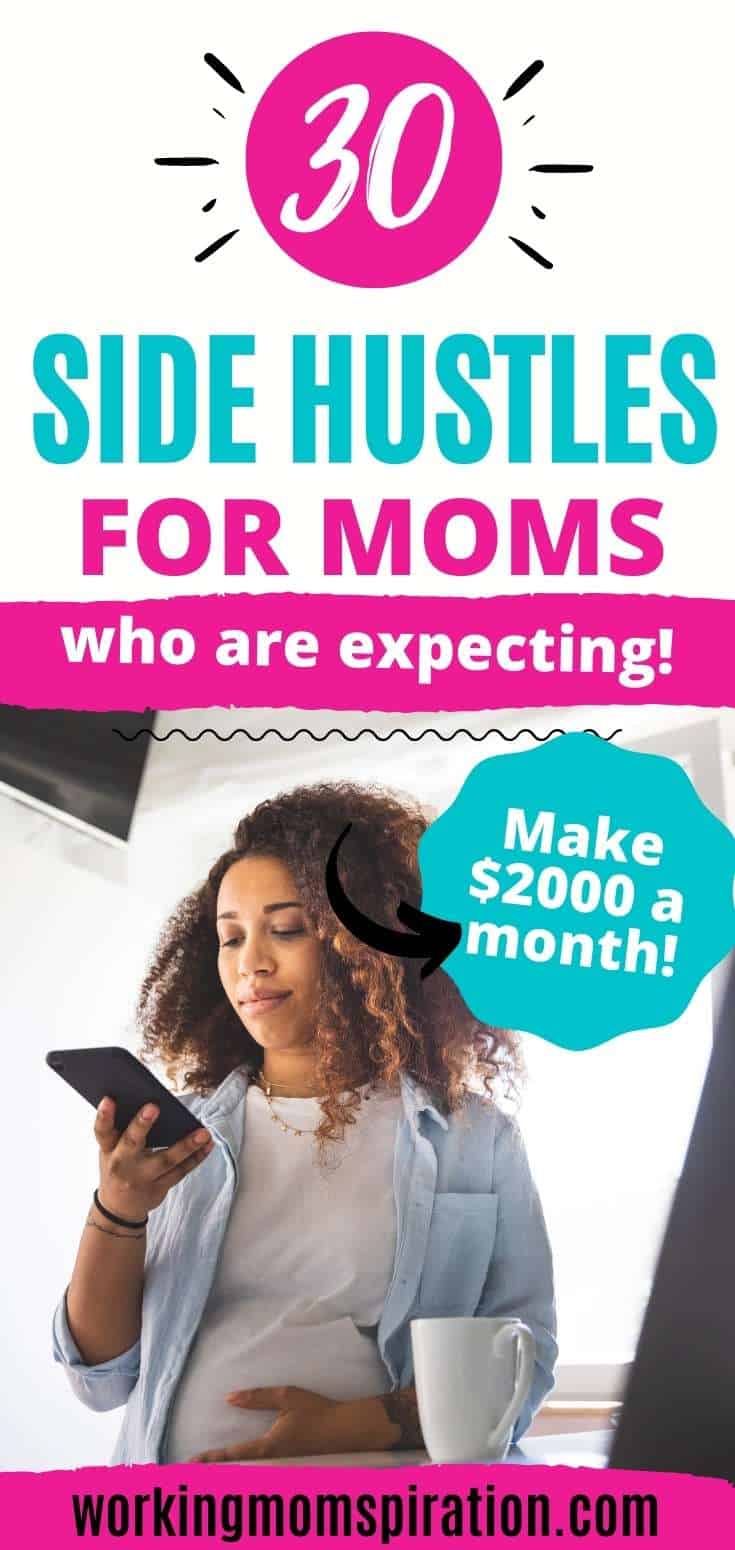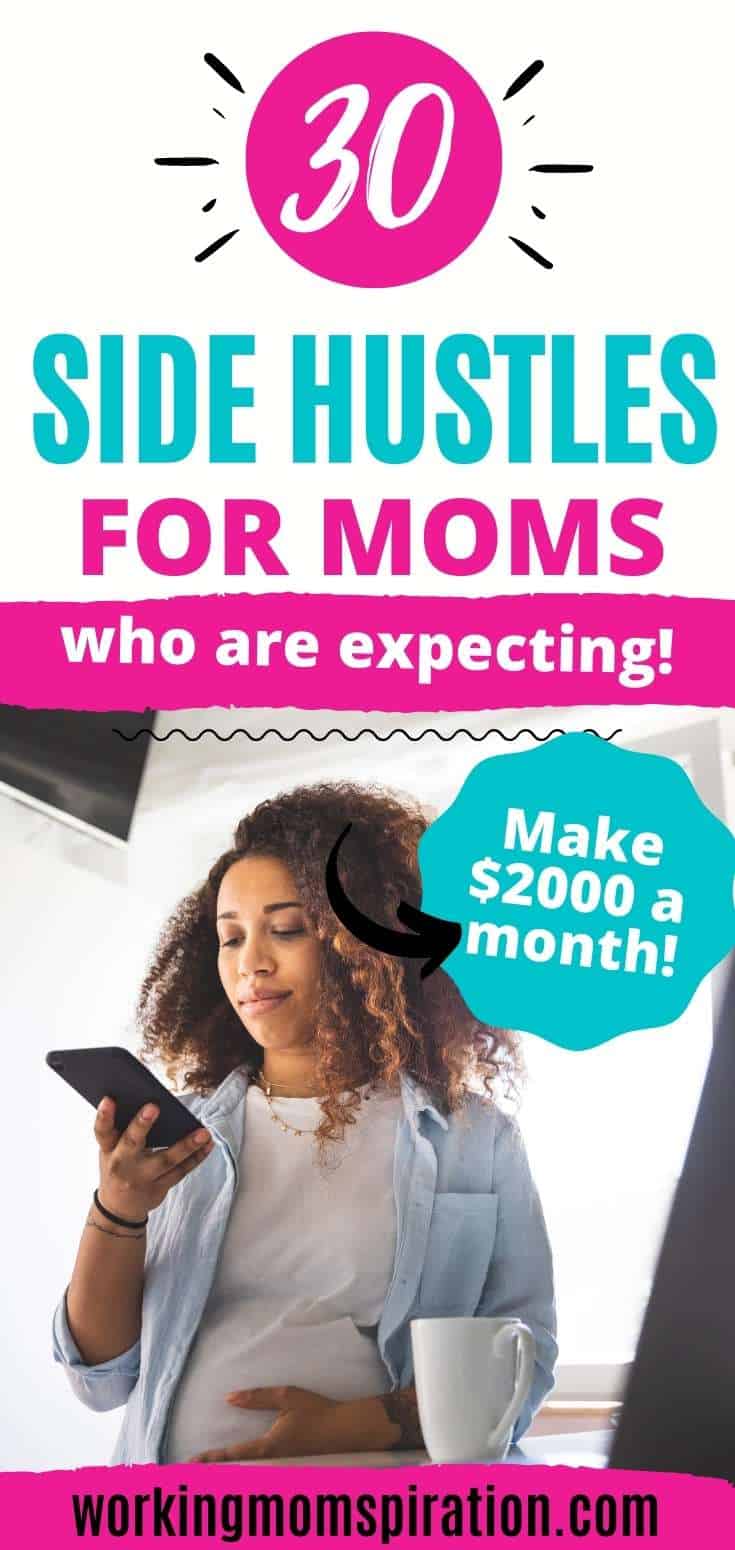 Temporary Jobs While Pregnant: How to Make Money While Pregnant and Unemployed
Here are some jobs that are great for moms to work online flexibly. Simply use your laptop, kick up your feet and start earning money on your own time!
Best Online Jobs for Pregnant Moms
1. Market Researcher
If you really want to know how to make money while pregnant and unemployed without ever leaving your house, you've come to the right place.
Market Research is not only for highly paid business executives or marketers.
Also, this kind of market research won't hurt your brain either. 
Pregnant moms can do online research with the company Wonder. This is a company that pays people to look for information online and write detailed reports.
These reports are mostly based on topics like business, health care, marketing, fashion, education, and more.
This is an online job that has flexible work hours and is great for pregnant women who like to do research.
If you'd prefer to do more low-key online research, sign up with Panda Research!
2. Online Tutor
As a homeschooling mom, I enjoy teaching my son different subjects and making it as fun as possible.
What about you? Are you good at teaching?
You could become an online tutor, even if it's temporary.
It's an excellent work-from-home job because of its flexibility.
One easy way to become a tutor is with Outschool. This is an online teaching platform where moms (or anyone) can make money by tutoring kids.
The categories on the website include:
Drawing
Reading
Spanish
Creative Writing
Public Speaking
Coding
Algebra
Engineering
Grammar
There are a LOT more subject areas listed that you can view on their website.
 I'd say that this is one of the best part-time jobs you could do while pregnant. 
Sign up with Outschool and become an online tutor.
Instead of working online, you could try working as a private tutor and help students in your local area.
3. Online Moderator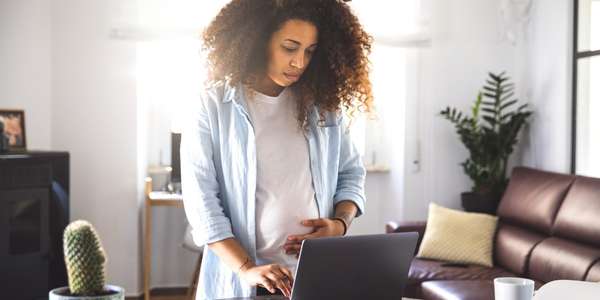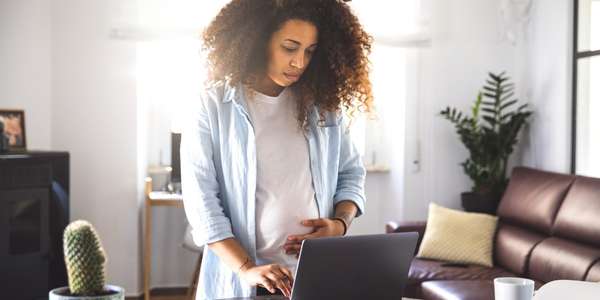 Another stress-free job for pregnant women to do at home is online moderation. 
Online moderators or "Mods", manage and monitor online chatrooms, message boards, social media accounts, and other platforms. 
They help to keep the peace by removing anything that violates the rules and by enforcing the policies and community guidelines. 
This job is ideal for pregnant moms who may be introverts because you'll never have to talk with angry people. 
Online moderators also respond to comments or emails and deescalate any issues that may arise. 
If you're interested in this role, check out the following companies:
Mod Squad
The Social Element
Live World
4. Website Template Designer
Even though this can take a little time, it's one of the most profitable online jobs out there. 
Website templates are basically the skeleton of a blog or website. 
It comes with the theme and several other elements that make a website appear and function properly online.
One of the most popular types of website templates is WordPress templates. I used one for my own blog and I purchased it on Creative Market.
If you have any skills in developing websites, you could earn a nice amount of money selling templates online.
Sell your templates on:
5. Transcription
This is one of the most flexible online jobs to do while pregnant because you can choose your own schedule.
If you've never heard about transcription, it's a process that involves converting audio to text and entering it into special software.
It can be easy, especially if you type fast and there are several transcription companies that hire beginners to work online.
Three companies I can recommend are:
Easy Jobs for Pregnant Women
6. Pinterest Manager
A fun way to earn money while pregnant is by becoming a Pinterest Manager or Pinterest VA.
It's one of the newest jobs on the block, but it does pay well, once you're trained.
Pinterest managers handle the accounts of their clients – usually business owners, to get them traffic to their websites.
They offer services like designing and scheduling pins, creating Pinterest boards, tracking analytics, and researching trends.
By following a suitable online course, you could become a Pinterest Manager in as little as 2 months. 
7. Proofreading
If you cringle at grammatical errors and punctuation mistakes, then proofreading might be just the right job for you.
Proofreaders earn money by fixing errors found in written content. 
This will be a relatively easy job for people who enjoy reading and have an eagle eye for spotting errors. 
You can find proofreading jobs online that are great for people with little to no experience.
If you'd like to turn this into a profitable business opportunity, this free workshop can help you get there. 
The creator Caitlin Pyle earned $43,000 in one year working part-time as a proofreader!
8. Virtual Assistant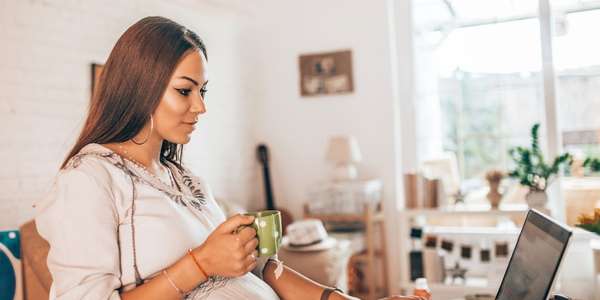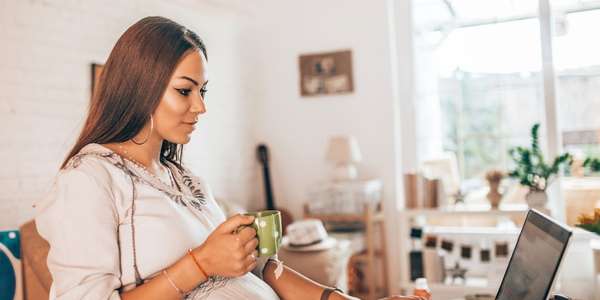 Would you like to make money working as a VA? This is a great remote working opportunity for moms because it's in high demand. 
If you've ever worked in an office setting or as an administrative assistant, this job will be very familiar to you.
Expect to do things like:
Answering phone calls
Sending emails
Making Travel arrangements
Bookkeeping
Marketing
These are tasks any mom can do once they have a comfy work area and a quiet background.
If you homeschool like I do, ask a family member for help with the kids when you really need it.
Find out how to start your own freelance business and turn your temp job into a permanent one!
 9. Test Websites
This easy side hustle can be done on your laptop from anywhere in the world.
It can add some extra income to your household really quickly. 
Companies will pay testers to review website performance and give feedback. 
The actual website owners don't pay you, but website testing companies will
Sign up with the following sites:
Generally, testers can work at any time of the day and earn money after they post a review or rating.
It's not a full-time job, and gigs are not always available, but you could apply to various sites for more opportunities. 
10. Paid Product Tester
If you don't enjoy testing websites, but would like to test physical products for cash, you could sign up as a paid product tester. 
You will be an influencer of sorts by reviewing products sent to you by various companies. 
This is one of the lazier ways to make money or get free products that you really like.  
Once you sign up with a Product review company and fill out your profile, products will be sent for you to give an honest review.
To get started. Sign up with:
While these are some of the best places to find paid tester jobs, you could sign up to other sites to get more free stuff!
Passive Income Jobs for Pregnant Moms
11. Sell PLR Printables
It can be difficult finding new side hustles if you're pregnant and unemployed, especially with jobs that are physically demanding.
This job, however, is easy-peasy!
PLR printables are relatively new, but the business is taking the market by storm.
'PLR' stands for Private Label Rights and selling them online is one of the best ways for pregnant women to make money.
That's because it takes little or no work on your part.
How it works is that you purchase PLR printables, tweak them a bit, and resell them as your own.
PLR products can also come in the form of social media templates, images, blog posts, and more!
Purchase your PLR printables from Etsy and start selling!
12. Blogging
If you're a mom who wants to know how to make money while pregnant and unemployed, blogging is one of the BEST options!
I started this blog while I was unemployed, and it's the best decision I ever made. 
Now, I'm earning money passively every month!
With my blog, I don't have a boss watching my every move. (I find that creepy BTW)
When you've just started your blog, it's best to create quality content, market your posts online and try to drive traffic. 
After some time, you can start making money with ads, affiliate marketing, membership, courses, and more.
This is still one of the best at-home jobs for moms because of the passive income potential.
I host my website with Bluehost and I have nothing but good things to say.
You can sign up with Bluehost to start your own blog. 
13. Design and Sell Stickers
People really love stickers, especially for decorating laptops, bags, phones, and more.
Almost anyone can create them using the right tools. 
For example, artists use Cricut machines to create stickers and sell them on Etsy.
This is a good option for women who like to create and can think outside the box.
If creating physical stickers yourself is too much of a hassle, you can design stickers and sell them on Redbubble.
 If I have done it with no experience, then so can you!
I used Canva to create text-based stickers and purchased illustrations on Creative Market to design my stickers.
This is a passive income side hustle that continues to pay back.
Sign up with Redbubble and make sales!
14. Sell Books on Amazon
Selling books online is not as hard as you may think.
In fact, it's pretty easy to do it with the Amazon KDP program.
Many best-selling authors have been successful using the Amazon KDP platform and there's no reason why you can't.
Simply create a book cover with Canva like I do, get free interiors from Bookbolt, and then upload your book to Amazon KDP. 
To make this a profitable long-term business venture, I recommend using keyword research tools like:
Amazon Keyword Ranking & Index Checker
Publisher Rocket
Helium 10
KDP Spy
Book creation tools like:
Affinity Publisher
Canva
Adobe Indesign
Tangent Templates
You can make a lot of money from this side hustle, because my research shows that some people are making 6-figures a year!
If you want to give your books an extra boost, try running Amazon Ads to get a few sales and this will help you rank better.
15. Affiliate Marketing
As you'll soon find out, making money while pregnant, doesn't have to be difficult.
This is truly the case with Affiliate Marketing. 
As a matter of fact, affiliate marketing is worth $17 billion of the global market size. 
It's also important to note, that it makes up 16% of global eCommerce sales.
As a pregnant mom looking for work, affiliate marketing is a great place to start and It's simple enough too.
Simply promote products and services for brands using social media or a blog.
Once a customer buys a product using your link, you'll earn a commission.
A couple of affiliate programs to try are:
Remote Temporary Jobs While Pregnant
16. Social Media Manager
This could be a suitable career option for moms who like social media.
Social Media Managers handle the accounts of clients and schedule posts to platforms like Facebook, Instagram, and TikTok.
Social Media Managers also perform tasks such as:
Developing tactics to increase followers
Managing campaigns
Reviewing analytics
Having a background in marketing will give you a head start!
17. Customer Service Agent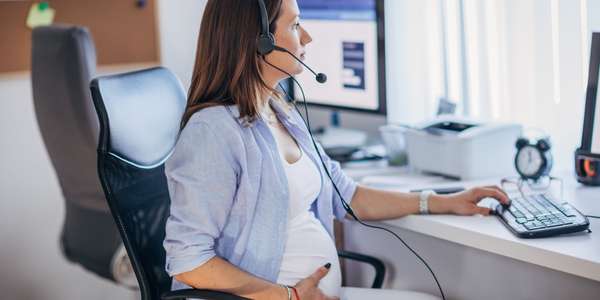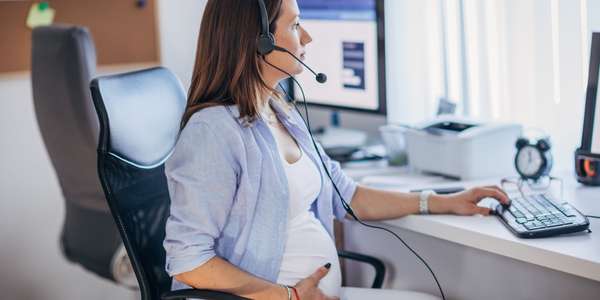 Another remote job for pregnant moms is customer service and if you like helping people, that's a plus!
Customer service reps can answer customers by phone, email, and chat. Reps in the US earn about $17 or more per hour.
If you're interested in chat jobs that you can do remotely, here are 23 places to start. 
18. Grocery Shopper
The weekly grocery shopping trip can sometimes be hectic, which is why thousands of people have it delivered to them instead.
They prefer to pay for this convenience rather than walking in crowded aisles and lifting heavy bags to the car.
As a grocery shopper for Instacart, you can shop for groceries and deliver them to customers using your car.
Another way to earn money while pregnant is by working as Dasher for DoorDasher.
You can deliver groceries with your car, scooter, or bicycle.
While pregnant, I would recommend using only a car though.????
Sign up with Instacart or DoorDash and earn cash!
19. Sell Services as a Freelancer
In order to work remotely and choose your own schedule on a temporary or long-term basis, freelancing is a must.
It's easy to sell your services or use your skills to make money online. 
Are you good at graphic design? Well, you could design logos and sell them online. 
What about video and animation?
Create advertisements and other media for clients and earn an online income.
I recommend using Fiverr or Upwork to do freelancing gigs for extra cash.
Best part?
Work whenever you choose!
20. Search Engine Evaluator
A very simple way to earn money while pregnant is by landing a job as a Search Engine Evaluator. 
This job involves placing a rating on the search results, which in turn affects website rankings. 
The more suitable the results, the higher they appear, which will improve reader interaction on Google or other search engines. 
It's great for anyone who wants to work from home and earn money doing something stress-free. 
Find these jobs on :
Appen
Lionbridge
iSoftStone
Bonus Temporary Jobs While Pregnant
21. Survey Taker
This is one of the easiest jobs you could do while pregnant because it's super fun.
It takes little work, which is why so many people do it.
In all honestly, it's technically not a job, but you can still make extra money each month to cover some expenses. 
Survey takers help companies by answering questions listed on a form.
Usually, when you sign up to a survey site, they will ask pre-qualifying questions to get more details about you.
Once accepted, you can do a number of surveys each day and make money. 
It's perfect for pregnant moms because online surveys can be done using a phone!
Legitimate survey sites include:
To earn more cash each month, here are 40 surveys sites to join now!
22. Sell Unwanted Clutter
Is your house feeling a bit stuffed? Start rounding up items you no longer use and sell them online.
These could include:
Electronics
Books
Memorabilia
Kitchen Gadgets
Furniture
Sell these items on places like eBay, Facebook Marketplace, and Decluttr.
23. Pet Sitting
If you can handle a lot of activity and you absolutely LOVE animals, then pet sitting might be for you.
Pet sitters take care of animals for pet owners who are either traveling, working, or out of town for a period of time. 
These pet owners love their pets like family and want them treated in a loving way.
It's your job as a pet sitter to bathe, groom, feed, walk, and play with these furry pets while their owners are busy.
You can find pet-sitting jobs on Rover. 
24. Dropshipping
This is a fantastic business opportunity for moms to try because it can turn into a profitable venture.
Dropshipping involves selling products online, with a third party or dropshipping company shipping the products for you.
You can source the products from online manufacturers and transport them through the drop shipper.
To make good sales, I recommend that you create an online store by using the Shopify platform and pay the monthly fee.
Learn more about dropshipping by taking an online course.
25. Micro Task
One of the best ways to get temporary jobs while pregnant is to try micro-tasking. 
It doesn't pay thousands of dollars, but you can complete microtasks at any time of day because the gigs are very flexible.
Micro tasking jobs include:
Transcription
Making comments
Clicking links
Completing spreadsheets
So as you can see, these are easy online gigs that you probably already do every day.
If you'd like to do micro gigs in your free time, check out Picoworkers.
Fun Temporary Jobs While Pregnant
26. Voiceover Artist
Do you have an impressive voice? You could become a voiceover artist and earn an income from reading books.
If you choose to work as a voiceover artist, you can apply to different companies and complete gigs on a freelance basis.
Jobs you may do include:
Podcasts
Animation
Audiobooks
Games
Documentaries
Maps
E-learning
You don't have to be a beginner to become a voiceover artist, but having a quiet workspace, a stable internet connection and quality recording equipment are essential.
Get started with these popular companies that accept voiceover artists. 
27. Game Tester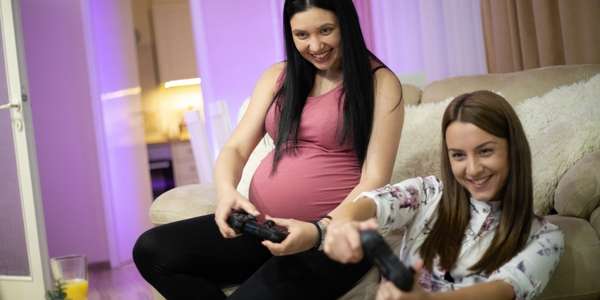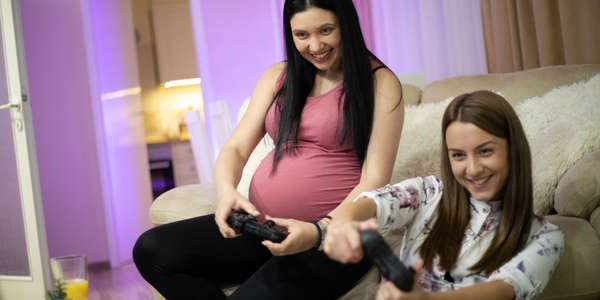 Another fun temporary job to try while pregnant is game testing. Most game testers work for companies like: 
Kevuru Games 
QAwerk 
 iXie Gaming 
Pingle Studio 
 Snoop Game
They work alongside programmers to test video games and report any bugs, glitches, or inaccuracies. 
It's a fun way to earn money, however, testers will have to play game levels repeatedly, so it can get repetitive.
If you'd prefer to work remotely, check out PlaytestCloud.
They hire freelance game testers to test games in their downtime. 
28. Travel Agent
If you're someone who loves the travel scene, working as a travel agent could be an awesome opportunity.
Most travel agents work for travel agencies.
However, you could work as a self-employed travel agent if you choose. 
It's a rewarding job helping people to experience a great vacation or booking the finest hotels for them.
No matter the negative events that take place in the world, the travel industry always bounces back, so it's still a great job for women who want to work from home.
Travel agents earn money through commissions, cruise incentives, service fees, vacation packages, and more!
29. Book Reviewer
One of my favorite ways to spend my time is reading books. I get so into it, that I forget about everything else!
What about you? Do you enjoy reading?
If so, why not make money with your hobby?
You could earn a small income from reviewing books online on a freelance basis.
These jobs are available online through publishing companies, so you could apply and start working right away.
Companies I recommend are:
Kirkus Media
Any Subject Books
BookBrowse
Online Book Club
30. Mystery Shopper
This might be one of the best jobs for pregnant women who need extra money because it's so easy.
Mystery shopping involves reviewing products or services and giving a detailed report. 
You may have to visit retail stores, malls, restaurants, hotels, grocery stores, and more.
Some hiring companies may require you to inform them of how the place you visited looks and the quality of service.
To start your shopping journey, sign up with:
BestMark
IntelliShop
Market Force
How to Find Temporary Jobs While Pregnant
Finding temporary jobs while pregnant is very easy if you know where to look.
 There are thousands of false adverts and fake websites claiming to have 'work-from-home jobs' but are just looking to get quick cash.
This is why I only recommend using legitimate websites to find opportunities online. Here are a few job boards you could use:
Most of these sites allow you to sign up and start using them for free. FlexJobs requires payment for yearly or monthly payments.
I used their platform, and they offer pre-screened jobs from employers and brands from all over the world and are highly rated. 
To start using the platforms mentioned, set up your profile and optimize it for the role you have an interest in, to increase your chances of getting hired.
If you'd like to work in your local area, simply type, 'pregnant friendly jobs near me' or 'jobs for pregnant women near me' and you'll see jobs tailored to you on Indeed, Snagajob, and Simply Hired and there are plenty to choose from.
What To Do If You Are Pregnant and Have No Money?
I would start by checking with your local Community Service Office, where you can get cash assistance.
There are grants for pregnant women that can give expectant mothers financial help while they trying to find jobs.
How Can I Work While Pregnant?
Being pregnant puts a lot of pressure on your body. It's important then to make yourself as comfortable as possible while working from home, or in the office.
Here are a few ways to work while pregnant without causing your body further stress:
Set up a relaxing workspace
Take regular breaks
 Keep healthy snacks nearby
 Dress comfortably
 Choose stress-free jobs
Pregnant women can work successfully at home and earn a steady income throughout their pregnancy journey.
What Job Can I Get While Pregnant?
There are plenty of good jobs for pregnant women out there, especially when choosing to work from home. 
The best jobs involve minimal movement, limited pressure, great flexibility, and of course the chance to earn money passively if possible. 
Good jobs for a pregnant woman are ones that offer stability and the opportunity to work with minimal supervision. 
Best Temporary Jobs While Pregnant!
If you're a pregnant mom looking for the most comfortable jobs possible, these are perfect. For most of them, you'll never have to leave home and you can work online from a laptop.
Some of these are also great business opportunities to start, that could potentially make you 6-figures each year.
Just remember to stay on the safe side and use legitimate job boards when seeking temporary jobs.
If You Liked This Post, Please Pin It fOR Later!❤️️????