This post may include affiliate links.
Are you new to freelancing and wondering how to get gigs on Fiverr? If you have, then you know just how simple the process is. 
You sign up for a free account, enter your qualifications and start accepting gigs.
But did you know that there are several Fiverr gigs that require no skills? 
Yeah, like nothing at all!
And it's a fun way to make money without ever worrying about being qualified or having a special skill set.
Fiverr is fantastic because you can work as a freelancer in a range of fields and choose your own schedule. 
You'll never have a boss looking over your shoulder or be restricted to the daily commute.
For anyone who wants a more relaxing schedule that doesn't require a tight deadline or a hectic schedule, these Fivver gigs are perfect.
If you're new, this post will show you some of the best Fiverr gigs for beginners with no experience. 
This means you need no previous qualifications or educational background to perform ANY of the jobs on this list. 
Now, if you're still interested, here are 15 ideal Fiverr Gigs that require no skills whatsoever.  
Share the ❤️️ and PIN this for later!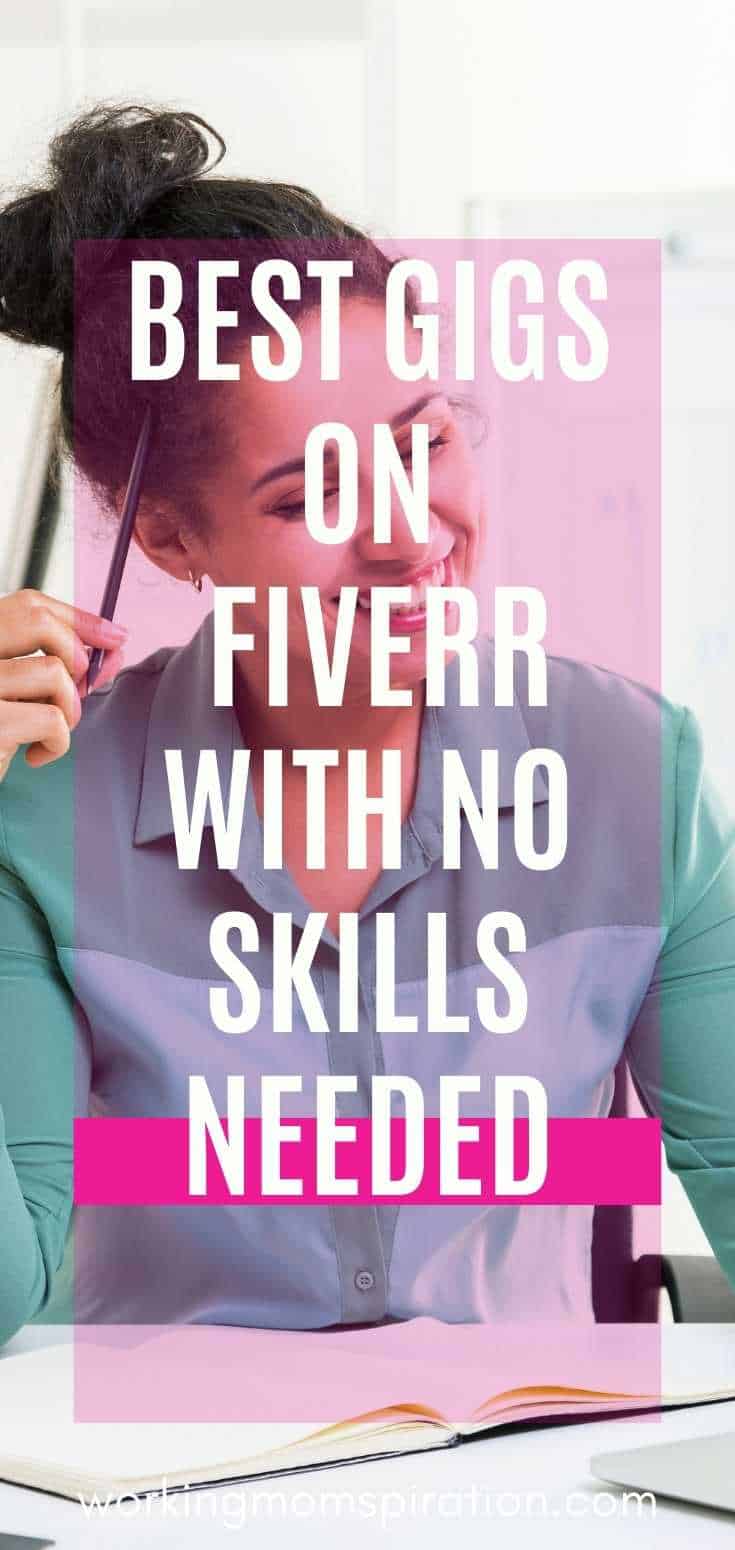 Best Fiverr Gigs That Require No Skills
1. Create Business Names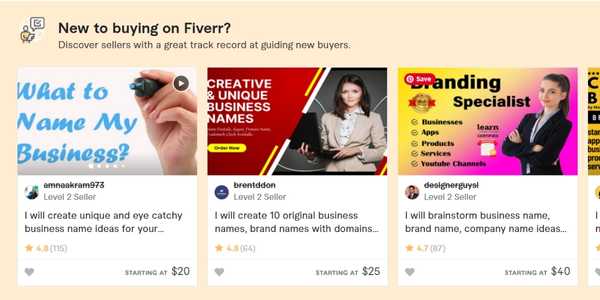 Anyone who has started a business knows how time-consuming it can be to create the perfect business name. 
You want something that will stand out and really connect with customers. Because of this, people will use services to create a business name. 
Obviously, you need no skills to perform this job, but a little creativity goes a long way! 
Instead of creating generic business names, you do want to conduct some research about the business and add your own touch for a catchy name.
However, you don't have to do this alone. You can use tools such as Business Name Generator to get more creative. 
Simply enter related search terms and voila, awesome business name ideas at your fingertips!
Freelancers like this one charge $250 to create 5 business names and provide competitor research, while this seller charges about $90 for 15 business names.
Depending on the information you provide, you can choose to charge more for your services.
2. Transcription and Subtitles
This is one of the most popular Fiverr gigs that require no skills whatsoever.
 If you can type a little faster than average, then transcription is a great job to start with. 
Transcription involves converting audio to text, while subtitles are related to adding text to video.
 It's relatively easy, even though you do need to have keen hearing and be fast with your hands. 
Fiverr freelancers like this one charge about $30 for their basic package and $90 for their premium package. 
If you're interested in competing with sellers like these, you can check out this free general transcription mini-course that shows you the ropes as a beginner. 
3. SEO Audit
For anyone who has wondered how to work on fiverr without any skills or qualifications, this next gig is perfect!
An SEO audit is an evaluation of a website that helps the website owner to make changes so that it ranks better in search engines. 
Because many website owners aren't tech-savvy, they will scour the internet looking for tech gurus to help with the issues on their website. 
SEO audit services are available on Fiverr for various prices and it requires literally no skills to do this. 
That's because freelancers can use online tools like Screaming Frog and Ubersuggest.
Each of these tools have limitations on its free plans, however, if you're planning to do this full-time, making an investment could be necessary. 
Miranda is an excellent seller who has worked with clients like Walmart and TikTok. She charges $55 for her basic package and $145 for her premium package. 
This is a fantastic way to earn money on Fiverr by simply using a tool and providing a report for clients. 
4. Proofread Documents
Proofreading is another fun online gig for freelancers to make money on Fiverr. 
Proofreading, as you may know, involves reading documents and correcting grammatical or spelling mistakes. 
It's a nice way to earn extra cash online especially if you enjoy reading. You might get some boring stuff to read at times, but hey, you're getting paid right?
Proofreaders in the US earn about $22 per hour, but on Fiverr, you get to choose your own prices. 
For example, this seller charges $125 in the basic package for proofreading children's books.  
If you're new to proofreading, this free workshop shows you how to earn money from proofreading and how to start your own proofreading business. 
5. Remove Backgrounds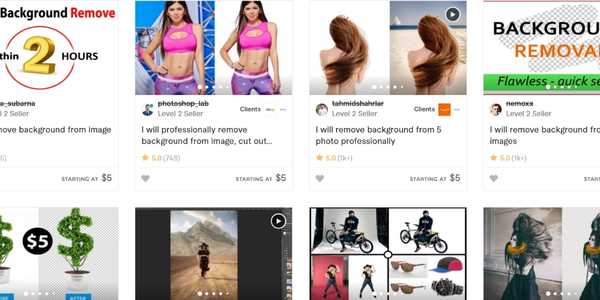 Now, this might be one of the easiest Fiverr gigs that requires no skills, like, at all!
Removing backgrounds is now easier than ever with free online tools, but some image removals are a bit more difficult.
It may require the use of Photoshop, which of course anyone can do – even a beginner. 
Customers may need backgrounds removed for wedding photos, e-commerce listings, photo collages, and more. 
Because it's a high-demand service, you could make a steady income doing this part-time. 
Just like this seller who charges as much as $150 to remove backgrounds from images and even complex photos.
While Photoshop does have a learning curve, you can easily learn how to edit images and make money on Fiverr. 
Sometimes adding bonus features to your listings like photo bundles can give you a competitive edge.
For example, if your competition edits 5 photos for a particular price, you can edit 10 photos for the same price. 
Once you gain more bookings, you can then raise your prices. Great reviews will help too!
6. Create Logos
Do you have a great sense of design?
Another way to earn money on Fiverr is by creating logos. And no, you don't have to create logos from scratch like a graphic designer. 
You can get ideas by using tools like Adobe Logo Maker, Design Hill, Shopify, and even Canva.
When using these free tools, it's easy to create a concept design by choosing the business type and a visual style.
Most people prefer simple logos because they make a statement without trying too hard. 
Think about some of the major brands you know like Nike, Kraft, or Puma. Notice anything in common?
They all have simple, yet bold logos that are easy to remember.
When designing logos for customers, try not to go overboard and always take the feedback they provide to make a stellar design. 
To earn more money as a logo designer, I recommend including additional services like this seller does. 
Not only does he offer logo services, but he also includes the following:
Color palettes
Typography guidelines
Iconography
He does all of this for the hefty price of $790!
7. Backlinking with Comments
Now, this is something other bloggers will understand as it's very necessary.
Backlinks are one of the major ranking factors for websites to show authority and trust in search engines like Google.
Even if the website content is great, without backlinks, it's gonna be difficult to rank.
You can help businesses to rank by posting simple comments on other websites which count as a backlink. 
While these backlinks are not rated as the very best, they can help to increase website authority on a smaller scale. 
It's an easy albeit repetitive task of posting comments on multiple websites related to something mentioned in the blog post. 
For example, on a food blog, you may post, 'That's an awesome vanilla cake recipe! My family will really enjoy it!'
Most websites don't allow blog links, but if the link is added, it is registered as a no-follow backlink.
This seller charges as much as $200 for 12,000 blog comments, which is really a lot.
One downfall for bloggers is that these links can be spammy!
8. Create Presentations
If you've ever done PowerPoint presentations for school or work, then this is an easy online gig for you to earn money.
There are thousands of people who would prefer to pay than create PowerPoint presentations because it's just so much easier. It also saves a lot of time, so it's definitely worth it. 
To make it a seamless process, I recommend using Canva to create presentations, because they have pre-made templates that you can utilize.
Simply choose a template, change the colors and add the information.
If the customer asks for specific features, you can use Canva to create a template page from scratch.
This seller charges $100 for 50 slides!
9. Promo Ads
Advertising is still the way to go when looking to gain an online audience and grow a business.
Ads help business owners to find their ideal customer and potentially increase revenue.
As a Fiverr freelancer, you can earn money by creating short videos for clients. 
Ads are usually less than 30 seconds long, so you don't have to worry about creating anything lengthy.
To create ads, you can get free videos on Pexels and edit them by using Canva for free. 
Make them short, informative, and to the point. 
Like this seller, you could create 45-second videos and charge $70 or more!
10. VA Tasks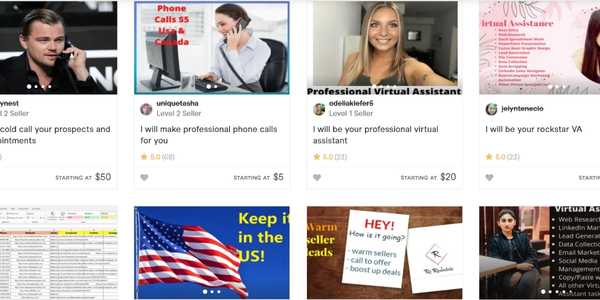 One of the best online jobs right now is working as a virtual assistant.
You get to work remotely, choose your own schedule in some cases and perform manageable tasks.
Don't get me wrong, it can get challenging, but it's a great way for anyone to make money especially beginners in the working world. 
As a VA, you can get clients on Fiverr and perform simple tasks such as:
Managing emails
Online shopping
Booking flights
Scheduling emails
One interesting virtual assistant niche to try is the online Amazon virtual assistant segment.
You will work with sellers on Amazon to list items in their stores and handle customer service. 
Sellers like this one help with inventory management, payment processing, and order management.
11. Unboxing Videos
Have you ever watched unboxing videos on Youtube?
I quite enjoy them from time to time, and they provide excellent gift-giving ideas for the holidays. 
Unboxing videos are very popular on Youtube and it's a great way for content creators to boost engagement and gain more followers and views.
However, not everyone has the time or wants to make the effort to create these videos.
Because of this, you can be an influencer of sorts and film unboxing videos for clients.
You'll receive the product, unbox it and give a genuine review.
If you've ever wondered how to make money on Fiverr without skills, now you know how people do it!
This seller charges as much as $2,100 for 3 short videos with 10 products each!
12. Voiceovers
If you have a unique voice or can do impressions, you could make money by reading audiobooks online.
While there are several companies hiring voice-over artists, an easy way to break into your role, is by finding gigs on Fiverr. 
Voice-over artists can complete an assortment of jobs including:
E-book narration
Ads
Voicemails
Trailers
Promotions
E-learning
While most voiceover gigs will be in English, if you speak multiple languages, you have a greater chance to earn money.
Erica can do accents such as American and Hispanic and she performs video narration, e-learning, and radio voiceovers. 
She charges $625 for 1000 words!
13. Create Thumbnails
Another way to earn money on Fiverr without any skills is by creating thumbnails. 
Thumbnails are the pictures you notice on a video before it starts.
It is essential that a thumbnail stands out, because this determines if someone clicks on the video or not. 
Content creators on Youtube will need a service like this if they do not have time to create their own. 
They might create and edit their own videos, but prefer to leave the thumbnail design to someone else. 
One of the best places to create thumbnail designs is with Canva.
You can make use of the hundreds of designs they have available and edit them for your thumbnail gigs.
Try to create a thumbnail that looks unique as it can get you repeat customers.  
14. Data Entry
One of the most simple jobs around is data entry. It just involves typing data into a spreadsheet or software.
Most data entry jobs don't pay a significant amount of money, but Fiverr is one place that doesn't go along with the general rule.
Because most clients will be looking for custom orders, you can take advantage of this and earn a greater amount of money than a regular data entry clerk would.
You can offer similar services like this seller does such as:
CRM Data Entry
Data Conversion
Typing Gigs
He charges $100 just for his basic package. 
15. Write Short Bios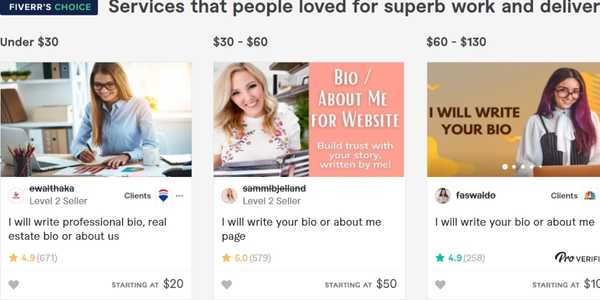 Another easy no-skill gig on Fiverr is writing short bios. These can include company, professional or business bio's that help to attract clients.
Once you have some information on your client, you can use descriptive language to create catchy content that promotes their business.
These bios help to boost brand awareness, captivate their audience and engage customers. 
Generally, these bios are very short – about 150 words, but they do make an impact.
This doesn't require skill but merely knowing how to write for an audience. 
This seller charges $45 for a 500-word bio. 
What Are the Easiest Fiverr Gigs?
Some of the easiest Fiverr gigs include almost anything that doesn't require previous experience or skills. One of the best ones I can recommend that hasn't been included in this list is online research. 
This may involve scouring the internet for statistics or market research for clients who need it for business proposals or school projects. 
How Do I Get a Job at Fiverr With no Experience?
Have you asked the question, 'Can I Join Fiverr With No Experience?' Well, the answer is YES!
Signing up with Fiverr is simple and straightforward. Head to the website and sign up with a free account and set up your profile. While you don't need any experience to work on Fiverr, having some job experience is still valuable. 
Even if you've never worked a day in your life, you can still snag gigs on the platform and gain good reviews if you work efficiently. One way to get experience if you really want it, is to do small gigs for friends and family (for real now) and use this information within your profile. 
Can a Beginner Earn on Fiverr?
Thousands of people have started out on Fiverr, all of whom were beginners at some point. The key to making it on Fiverr is being thorough, as this help you to get 5 star reviews. 
There will always be customers who won't be happy even when the work was done perfectly, but for the most part, you can earn great reviews and get more opportunities the more you freelance. 
Which Are the Best Low Competition Gigs on Fiverr
There are some jobs on Fiverr that will be more difficult to get into as a beginner. So it's always best to find low-competition gigs where you can get hired quickly. A few of these include:
Creating a custom gift box
Creating food pouch designs
Redbubble promotion
Short-story writing
Infographic design
You can always learn to do these by watching online tutorials as these gigs are in high demand, but not everyone knows about them!
Please Pin This for Later