This post may include affiliate links.
We're all aware that stickers have been around for like ages. 
But what has made stickers such an attractive commodity for businesses recently?
The appeal probably comes from their versatility and cost-effectiveness, making them the perfect promotional item for any budget. 
However, designing and producing stickers can seem daunting for those unfamiliar with the process.
If you're looking for a fun and creative way to showcase your artistic talent while making money,  an ideal side hustle is to make and sell stickers!
Your stickers can include quirky sayings, adorable illustrations, cute characters, and even inspirational quotes.  
If you would like to learn how to make and sell stickers online, this post will show you how.
We'll be looking at the tidbits you need to know about making and selling stickers.
This will include printing options, packaging, marketing, where to sell, and much more.
So, whether you're looking to start your sticker business or create your own custom designs for personal use, this guide will provide you with the essential knowledge and skills needed to produce high-quality stickers that people will love.
 So let's dive right in and explore the world of sticker making and selling!
PIN IT!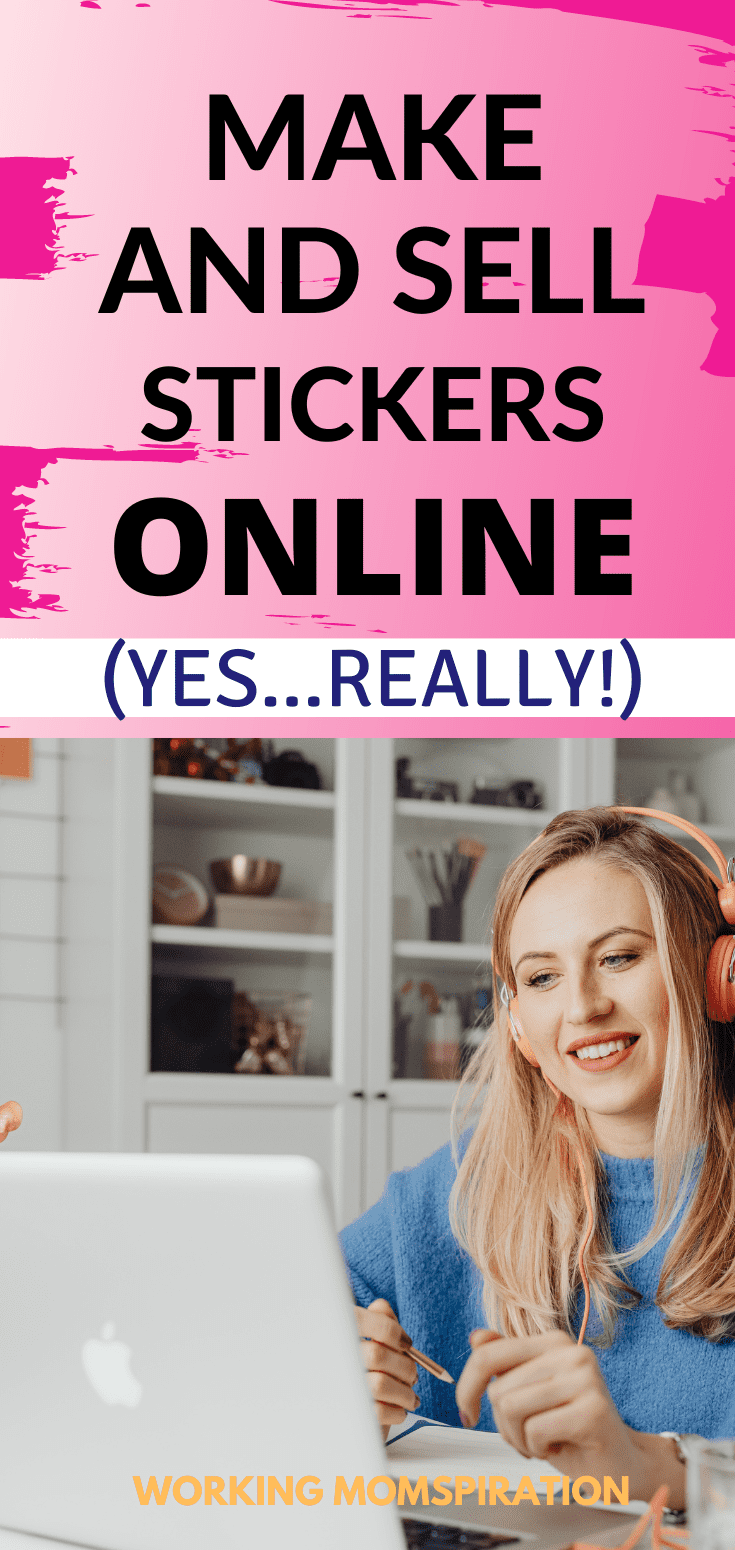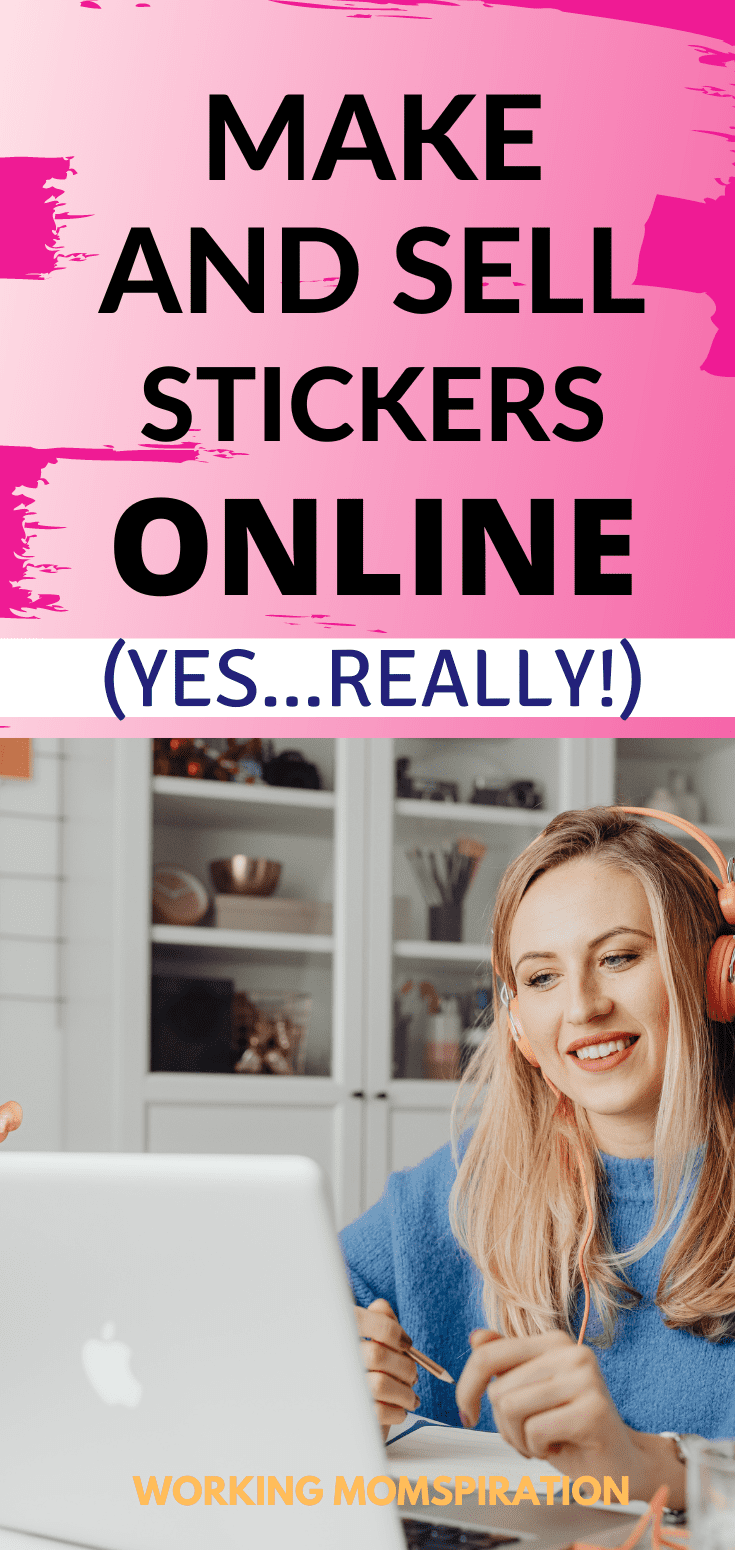 1. Pick a Sticker Niche
When it comes to making and selling stickers, choosing a niche or theme is the most important step.
 A niche allows you to focus on a particular audience, making it easier to develop designs that resonate with a specific group.
What type of sticker theme are you thinking of? 
 You will need to choose a theme that you are passionate about, because this will fuel your creativity and inspire your designs. 
A few fun ideas include:
????Plant and botanical stickers showing illustrations of plants, flowers, and foliage.
????Pet and animal stickers with cute cats, dogs, or even hamsters!
????Food and drink stickers depicting illustrations of favorite foods or drinks such as boba tea or pizza.
????Travel stickers that showcase famous landmarks, cities, or maps.
????Inspirational quotes and affirmations that are uplifting or motivational quotes and sayings.
????Pop culture stickers that feature illustrations of favorite movies, TV shows, or characters.
♻️Eco-friendly stickers that promote environmentalism, recycling, or sustainability.
????Minimalist and simple stickers that feature simple, elegant designs with a minimalist aesthetic.
One way to take advantage of the market is to identify areas that are underserved, giving you the opportunity to stand out from the competition. 
For example, one of the largest sticker niches is the 'pet' niche. Most stickers online will have terms like 'dog' or 'cat'. 
You could try going further by choosing 'pomeranian dog' stickers wich will undoubtedly have less competition.
You could take it even further by choosing less popular pets like hamsters and creating stickers for that theme. 
2. How to Make and Stickers for Your Small Business
 Research and Purchase Quality Materials for your Stickers
If you want to make and sell stickers, you must have quality materials to produce them.
The first step to is to purchase materials that can make your stickers stand out from the others. If you use low-quality materials, the images on the stickers could become easily blurred, and colors may not be as vibrant. 
This could affect sales and the overall quality of your stickers. 
Here are a few tips for getting quality output:
Paper
The type of paper you use will play a significant role in determining the quality of your stickers. Most sticker creators use premium vinyl paper that is water-resistant and durable or glossy paper that provides a shiny finish. 
High-quality paper will enhance the visual appeal of your stickers and make them stand out.
Adhesives
The adhesive you use will affect how well your stickers stick to different surfaces. It's best to look for strong and long-lasting adhesives that are not too aggressive to avoid damaging surfaces. 
A weak adhesive can also make your stickers less effective. Researching the best adhesive options will ensure your stickers are functional and long-lasting.
Compatibility
 Before purchasing any materials, ensure they are compatible with your printer or cutting machine. Several issues can arise if you fail to check the compatibility of the materials you buy, which can lead to wasted time, money, and resources. 
Be sure that you're using the right paper and materials in correspondence with your printer.
Make Bulk Purchases
Buying materials in bulk can save you money, especially if you plan on making and selling a large number of stickers.
It can also ensure that you have enough materials to meet demand, without running out and having to place rush orders.
Experiment, a LOT
 Do not be afraid to try out different materials and see what works best for your stickers. Experimenting with different materials will help you find the perfect combination of materials for your unique designs.
It may take some trial and error to find the perfect combination, but it is worth it in the end.
3. Choose the Right Equipment for Making Stickers
Now that you've got an idea about the materials you need for your sticker business, you'll need the right equipment for the task at hand. 
If you're starting your art business from scratch and creating everything on your own, making smart decisions from the beginning is necessary.
Drawing Tools
Where would your stickers be without some suitable drawing tools? If you're a traditional artist, you'll need things like:
 Pencils, Pens, Markers, Paints, and Colored pencils which can all be found at your local art shop or on Amazon.
If you're taking the digital route, a Samsung Tablet or iPad works perfectly. 
Printers
One of the top items you'll need is a printer.
A good quality printer is necessary for creating high-quality stickers. I personally recommend choosing one that:
Offers good print quality
High Resolution
Cost-effective
Compatible with materials purchased 
A few of these include:
Brother MFC-J497DW Inkjet Multifunction Printer: Best on a budget
Canon Pixma IP8720 13″ Inkjet Color Printer: Great overall value
Canon Pixma PRO-200: Ideal for professionals
Cutting Machine
The great thing is, you have lots of options when it comes to cutting your stickers. A cutting machine is necessary if you plan on creating custom-shaped stickers. 
Most small business owners stick to well-known quality cutting machines like the following:
Cricut Maker 3
Silhouette Cameo 4
Brother ScanNCut SDX125E
If you're still debating your choices, be sure to review the features of each model, and look for a few others that may interest you.
When purchasing a cutting machine, you'll need to look for features like:
Cutting force and speed
Cutting precision
Material compatibility
Software compatibility
Connectivity
Packaging Tips
When you're selling stickers never forget how important it is to package them properly!
 Not only will it protect them during shipping, but it can also be a great marketing tool to attract potential customers. Let me share some tips!
First, choose a packaging material that is sturdy and can keep your stickers safe during transit. Items like plastic sleeves, clear bags, and bubble mailers are great options. Stickers are delicate and can easily get damaged during shipping, so it's important to protect them with these handy tools.
Also, make sure your packaging looks great! It should be visually appealing and match the brand image of your stickers. Adding a branded sticker or business card can also make your packaging look cohesive and help customers remember your shop.
Remember, packaging your stickers with care can make a big difference in how they are received by customers. 
4. How to Make and Sell Stickers with Print on Demand
If you're looking to grow your sticker business without overburdening yourself, outsourcing can be a fantastic solution to reduce your workload and costs while focusing on other important aspects of your business.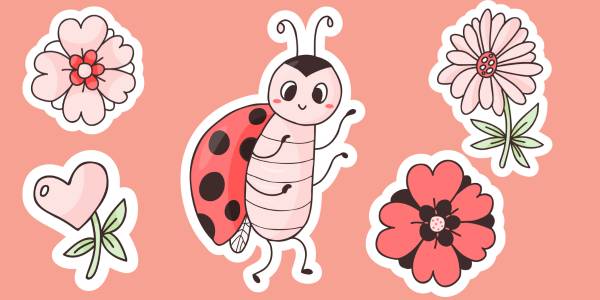 Where to Outsource My Sticker Biz?
To sell them as a freelancer online, I'd recommend using:
Society 6
Shopify
Blog/Website
Big Cartel
Etsy
With Redbubble and Society 6, the companies do all the shipping and manufacturing for you. If you choose to use a blog, Big Cartel, Etsy, or Shopify, you can connect your storefront with Printful which will handle the printing and shipping.
This allows you to simply design your projects with ease and concentrate on marketing efforts without worrying about getting materials and printing!
5. Marketing Your Stickers Online
Marketing and promoting your stickers are crucial parts of the process of making and selling stickers to earn money. 
If you'd like to make constant sales, attracting the attention of potential buyers is very important.
Use Social Media
One of the best places to start is with social media. Social media is an effective tool that can be used to your advantage.
 You can post pictures of your stickers on your Instagram, Facebook, Twitter, and other social media accounts to reach a broader audience. 
A fun way to get more views is to create a marketing campaign and post interesting updates that will engage
Attend Public Art Events
Get your name and brand out there by attending events like craft fairs and festivals to showcase your stickers and meet potential customers face-to-face.
Collaborate with Creators/Influencers
Another popular, yet subtle way to build your brand is to partner with influencers in your niche. Reach out to them and offer them free stickers in exchange.
FAQ about Sticker Making
Here are a few questions you may have about selling your own stickers online.
Is Making and Selling Stickers Profitable?
Yes, this is a profitable business because stickers and popular and in great demand. 
People love buying them because they are soooo affordable!
As a designer or artist, you can create a lucrative business from making and selling stickers.  A mix of awesome designs, the use of talent, and great marketing can produce results that exceed your expectations. 
Of course, you'll have to factor in the cost of materials, like sticker paper and ink, as well as the time it takes to create and package your stickers. Once you've got a handle on those costs, you can set a price that covers them and allows you to make some money.
It can be done, like this auto employee does making 100K from selling stickers!
Can You Make Money Selling Custom Stickers?
You most definitely can make money selling custom stickers because some people prefer custom items rather than designs that everyone else has. 
If you choose to sell on Etsy or use a blog, you can take custom orders and make more money this way.
These features may include illustrations, colors, quotes or sayings, special occasions, you name it!
I recommend selling custom stickers alongside your other stickers to boost sales. 
How to Price Stickers
Pricing stickers for sale can be a bit tricky, but here's one way to go about it!
As a business owner, you should start by calculating your costs. This means figuring out how much you spent on materials (like paper, ink, and packaging) and any expenses related to shipping.
Next, do some research on the market. Look at what other sellers are charging for similar stickers. This will give you a good idea of what people are willing to pay and help you stay competitive.
Some sticker shops price their stickers between USD 1 – USD 7. Decide on your price point by not selling too low or high.
Consider your audience, too. Think about who you're selling to and how much they might be willing to spend. For example, if you're making stickers for kids, you may want to keep the prices a bit lower.
Finally, set a profit margin. This will depend on your business goals and how much you want to invest back into your business.
Make and Sell Stickers Online Now!
Ready to make money online?
Making and selling stickers has become an easy and fun way to showcase creativity and earn some money.
While you may not make money immeditately, it can turn into a really lucrative venture once you give your time, market your projects and create incredible designs. 
Have fun with it and see where you sticker business stakes you!
PIN IT!