This post may include affiliate links.
Crocheting is an art that has been passed down for generations and has recently gained popularity as a way to make money.
 If you're a talented crocheter, you can turn your hobby into a profitable business.
If you would like to know how to make money selling crochet items, this one is for you!
 Using a little bit of creativity and effort, you can start earning money by selling your crochet items, even from the comfort of your home. 
That's because there's a demand for handmade, unique, and personalized, and crochet items fit the bill perfectly. 
Today, we'll look into how you could start your own crochet business.
This can work if you're a seasoned crocheter or a beginner looking to turn your passion into a business.
If you're ready, let's dive in!
PIN IT!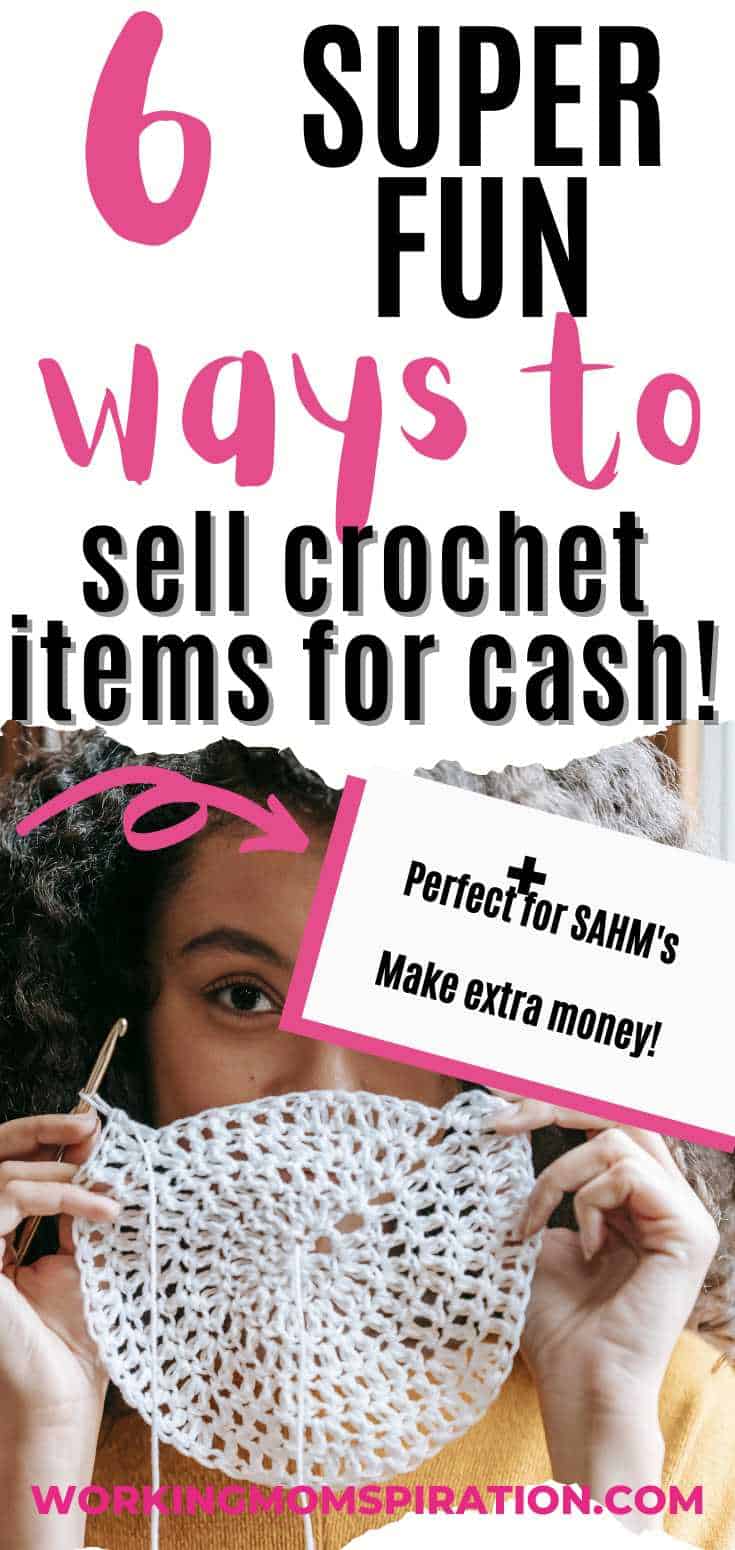 How to Make Money Selling Crochet Items
1. Try Selling Crochet Items on Etsy
If you are a talented crochet artist looking to turn your hobby into a lucrative side business, Etsy is the perfect platform for you.
 The site has millions of potential customers browsing the site daily, so you can easily create a successful shop selling your handmade crochet items. 
What crochet items sell best on Etsy?
You may have to use a keyword research tool for that, but a few popular evergreen products include blankets, hats, and scarves.
If you truly want to have success on Etsy though, it's VERY important to invest time in creating high-quality, unique items that stand out from the competition.
You can use strategies to give your shop a boost and help you to get more sales.
This can involve using product photography to ensure your listings pop. Etsy is a highly visual platform, so you need to take great pictures of your product. I also recommend trying to include images that show the customer how they can use the product. 
 You can also promote bundles at discount prices and frequent sales on your shop too. 
Marketing your shop through social media and offering excellent customer service is important for building a loyal customer base.
Take your time to do careful keyword research, create quality items, and market your shop to stand out on the platform. 
3. Start Selling Crotchet Patterns Online
Did you know that there are places online where you can sell crochet patterns?
Yes! And it's actually becoming increasingly popular because of the demand for unique and high-quality patterns. 
New to crocheting?
Crochet patterns simply serve as a guide for creating various crochet projects, ranging from basic to complex designs.
 The patterns are just a set of instructions that detail the specific stitches, techniques, and materials required to create a particular crochet item. 
They may include written instructions, charts, diagrams, and photos to illustrate the steps involved in the crocheting process. Basically, they make the process a whole lot easier!
To make money in this industry, you must create patterns that are easy to follow, visually appealing, and offer something new and innovative.
 The key to hitting it big is to build a loyal following by consistently producing high-quality patterns – things that make a customer feel satisfied with what they've made.
By doing this, you can establish your brand, increase sales, and ultimately achieve financial success.
Ready to start selling? These 5 places are great for crocheters:
Etsy
Ravelry
Craftsy (now called Bluprint)
LoveCrafts
Your Own Website or Blog
3. Host crochet classes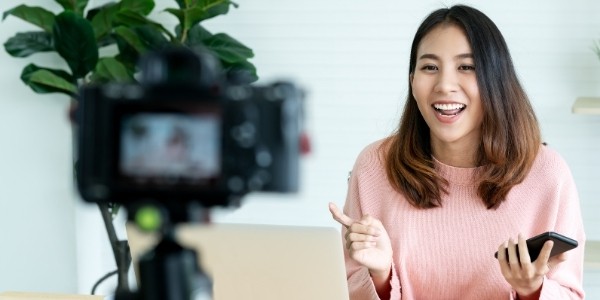 If you truly have a love for both crocheting and teaching, you could extend your skills and start hosting crochet classes.
You're sitting on a goldmine of valuable skills that eager-beavers are itching to learn. 
The great thing is, hosting your classes could be in-person or online.
Your knowledge and expertise can be shared with aspiring crafters, beginners, or even those seeking to up their game in crochet techniques. 
First, think about who your target audience is and then decide on the level of expertise you wish to teach.
It's a pretty good idea to offer a range of classes from basic stitches to advanced patterns and specific crochet projects. 
For example, you could teach a class about only stitching techniques like the following:
Chain Stitch
Single Crochet
Double Crochet
Half Double Crochet
Triple Crochet
Slip Stitch
Increasing and Decreasing
Crocheting in the Round
Crocheting Flat Panels
Color Changing Techniques
Crochet Edgings and Borders
Crochet Cables
Or you could conduct workshops all about how to earn money by making amigurumi projects.
Some of these projects could include cute items for kids like:
Cute Animal Friends
Farmyard Animals
Ocean Creatures
Woodland Creatures
Fruit and Veggie Friends
Space Adventures
Seasonal Amigurumi
Superheroes and Super Villains
Insects and Bugs
Musical Instruments
Book and Movie Characters
You get the idea.
Go ahead and explore what idea most interests you and turn it into a worthwhile venture that both you and your clients can benefit from.
4. Blog About Crotcheting
Are you interested in writing and would like to know how to make money with a crochet blog?
To start a crochet blog, you'll need to have a basic understanding of blogging and how it works. 
This includes knowing how to write so that you can help your readers.
Forget writing like you did in school, instead, you'll write in a casual, easy-to-understand format.
Most importantly, developing your crochet skills will be necessary. And creating original designs that will attract readers to your blog has to be on the list too.
 Once you have established your blog, you can monetize it through advertising, sponsored posts, affiliate marketing, and selling your own crochet patterns or finished products. 
These are excellent ways to make money with a business that you can have complete control over.
You'll own your blog and you can write about what you want, whenever you want.
Learn how this couple earns $500,000 with their blog every year!
5. Showcase and Sell Crochet Items at Craft Fairs
Craft fairs are a great opportunity to showcase and sell your crochet items. 
The festive atmosphere of a craft fair attracts a lot of potential buyers who are looking for unique and handmade items.
 As a crocheter, you can take advantage of this opportunity by creating a variety of items that are visually appealing and functional.
When selecting items to sell at craft fairs, consider the time and effort that goes into each item. 
It's always best to choose items that are both profitable and practical. 
Hats, scarves, blankets, and washcloths are some of the most popular crochet items at craft fairs. 
However, don't be afraid to get creative and experiment with different patterns and designs. 
You could also make custom orders for customers who want specific colors or designs.
Remember too that it's important to price your items appropriately, taking into account the cost of materials and the time it took to create the item. 
6. Start a crochet subscription box service
Who doesn't love getting a surprise in the mail?
While this surprise won't be free for the customer, it's a great money-making opportunity for you!
Because crocheting is a popular hobby, there's no way of it going out of style anytime soon.
You could start a crochet subscription box service and turn it into a profitable business. You'll do this by catering to those who are passionate about crocheting. 
The concept of a subscription box service involves delivering a selection of curated items to customers on a regular basis, usually monthly.
 In the case of a crochet subscription box, this would mean delivering yarn, patterns, and other crochet supplies to subscribers each month.
To start your crochet subscription box service, try to source high-quality materials and patterns that align with customer preferences.
 It may be necessary to work with suppliers to ensure consistent and timely delivery of materials. 
Create unique and visually appealing branding to attract subscribers and build a loyal customer base. 
You can then set up your pricing and offer flexible subscription options can help the business stand out in a crowded market.
How to Make Money Crocheting FAQ
Can you make good money selling crochet items?
Obviously, you can! 
Selling crochet items is a very profitable way to earn income. 
Many crafters have turned their passion for crochet into a profitable venture by creating and selling unique handmade pieces.
 The key to making good money really lies in creating items that are high quality and of course, eye-catching. 
 Custom-made creations, trendy accessories, and cute amigurumi toys are some crochet items that often fetch higher prices. I mean, they're just so adorable!
What crochet items make the most money?
This all depends of course, but certain crochet items tend to make more money due to their popularity and market demand. 
These may include custom-made pieces, personalized gifts, and trendy accessories like hats, scarves, and shawls often sell well. 
As mentioned before, intricate amigurumi toys, especially those inspired by popular characters or animals, are highly sought after by collectors and gift-seekers. 
Home decor items like blankets, pillows, and wall hangings can also be lucrative, as they add a touch of handmade charm to living spaces.
How much money do crocheters make?
The income of crocheters can vary widely and can be affected by the number of items sold, pricing strategy, skill level, and market demand. 
Some crocheters make a part-time income, while others can earn a full-time living from their craft. 
There are also opportunities to supplement earnings by offering crochet classes, selling crochet patterns, or collaborating with yarn companies for design projects. 
Can you make a living selling crochet patterns?
Most definitely! Many successful designers have built thriving businesses by creating and selling their crochet patterns. 
The beauty of selling patterns is that they can be sold repeatedly without the need for physical inventory or production. 
This allows designers to reach a broader audience and potentially earn passive income.
 To make a living from selling patterns, you'll need to create ones that are in demand and that offer clear and detailed instructions.
Don't forget to market your patterns effectively too!
Is it hard to start a crochet business?
Starting a crochet business can be both exciting and challenging, but it's certainly possible with dedication and a well-thought-out plan.
 Like any business, it requires careful planning, identifying your target market, and understanding your competition. 
For example, setting up an online shop, whether on platforms like Etsy or your website, is a common starting point.
 Building a cohesive brand identity, creating high-quality product photos, and writing engaging product descriptions are essential steps to attract customers.
 You'll also need to consider pricing your products competitively and factoring in the cost of materials and labor. 
Is crocheting a profitable business?
Crocheting can be a profitable business for many crafters.
 Handmade items often hold a special appeal for customers seeking unique and personalized products, which can justify higher price points.
There are ways to boost your business and make it more profitable such as proper planning, marketing, and efficient use of materials.
It's also possible to expand your revenue streams beyond selling finished items, such as offering crochet patterns, teaching classes, or collaborating with other businesses.
What is trending in crochet items 2023 and beyond?
As of 2023, sustainable and eco-friendly crochet items are just a few of the items trending in the crafting community.
 That's because of a growing focus on environmental consciousness. So, you'll come to see that crochet pieces made from organic and natural fibers, like cotton and bamboo, gaining popularity. 
Reusable and zero-waste creations, such as market bags and produce wraps, are also in demand, as customers seek functional and eco-conscious alternatives to single-use items. Also, oversized and chunky crochet designs for home decor, like blankets and wall hangings, are trending for their cozy and stylish appeal. 
What are the rules for selling crochet items?
It's not all fun and games in the crocheting field. You will need to be aware of the rules and regulations that may apply to your business.
 Some key considerations include complying with safety standards for children's items, following labeling requirements for handmade goods, and adhering to copyright and trademark laws. 
The platform you choose to sell your crochet items on may have its specific rules and policies that you must adhere to.
You should also understand the legal requirements for selling handmade goods in your region, and ensure that your products meet the necessary safety standards.
What is the hardest crochet thing to make?
The hardest crochet thing to make can vary from person to person based on their skill level and experience. 
Intricate lacework and detailed garment patterns often require advanced crochet techniques and precise stitch placement, making them challenging for some. 
Projects that involve complex color changes, intricate shaping, or unconventional construction methods can be quite challenging. 
Amigurumi toys with intricate designs and small details may also pose a significant challenge, especially for those new to the craft. 
How to Make Money from Crochet: Final Words
As you can see, making money from crochet items can be a fun and creative way to turn your passion into a profitable venture.
If you have a creative touch and a sense of flair, you can turn a simple ball of yarn into a beautiful and unique piece of art that people will be willing to pay for.
And guess what? You can choose to sell your items online or at craft fairs, basically, wherever you want.
The possibilities are endless! So, grab your hooks, choose your favorite colors, and let your imagination run wild. Who knows, you might just crochet your way to financial freedom!