This post may include affiliate links.
Are you on the lookout for part-time weekend jobs that can make you some extra cash?
Think about it.
You could be sitting at home scrolling through boring TV channels, reading an awful book that you may never finish, or you could make some money with a weekend side hustle.
Everyone is looking to make some extra money nowadays, and a part-time weekend job is a convenient way to spend the time, especially when it's from the comfort of your home. 
You could be looking to make more money to save for a vacation coming up or to help pay the bills.
Either way, you'll be getting some extra cash in your pocket, and that's reason enough to do it!
Most of the jobs on this list are very flexible, pay really well, and some can potentially turn into a full-time income stream.
Who knows?
You might find something you really love and turn it into a full-fledged career.
Let's find some of the best part-time weekend jobs to keep yourself busy and earn extra cash!
Remember to PIN this post for later!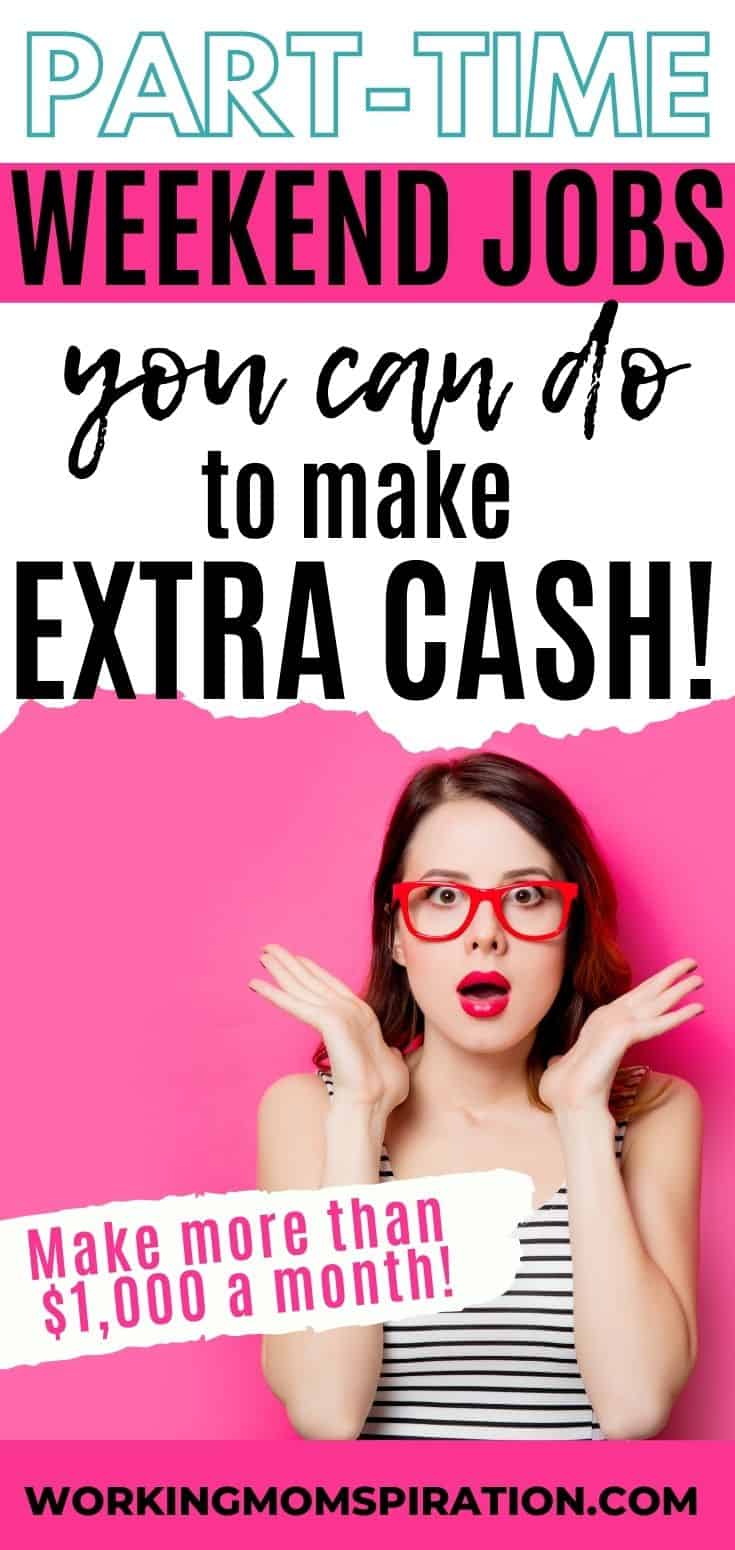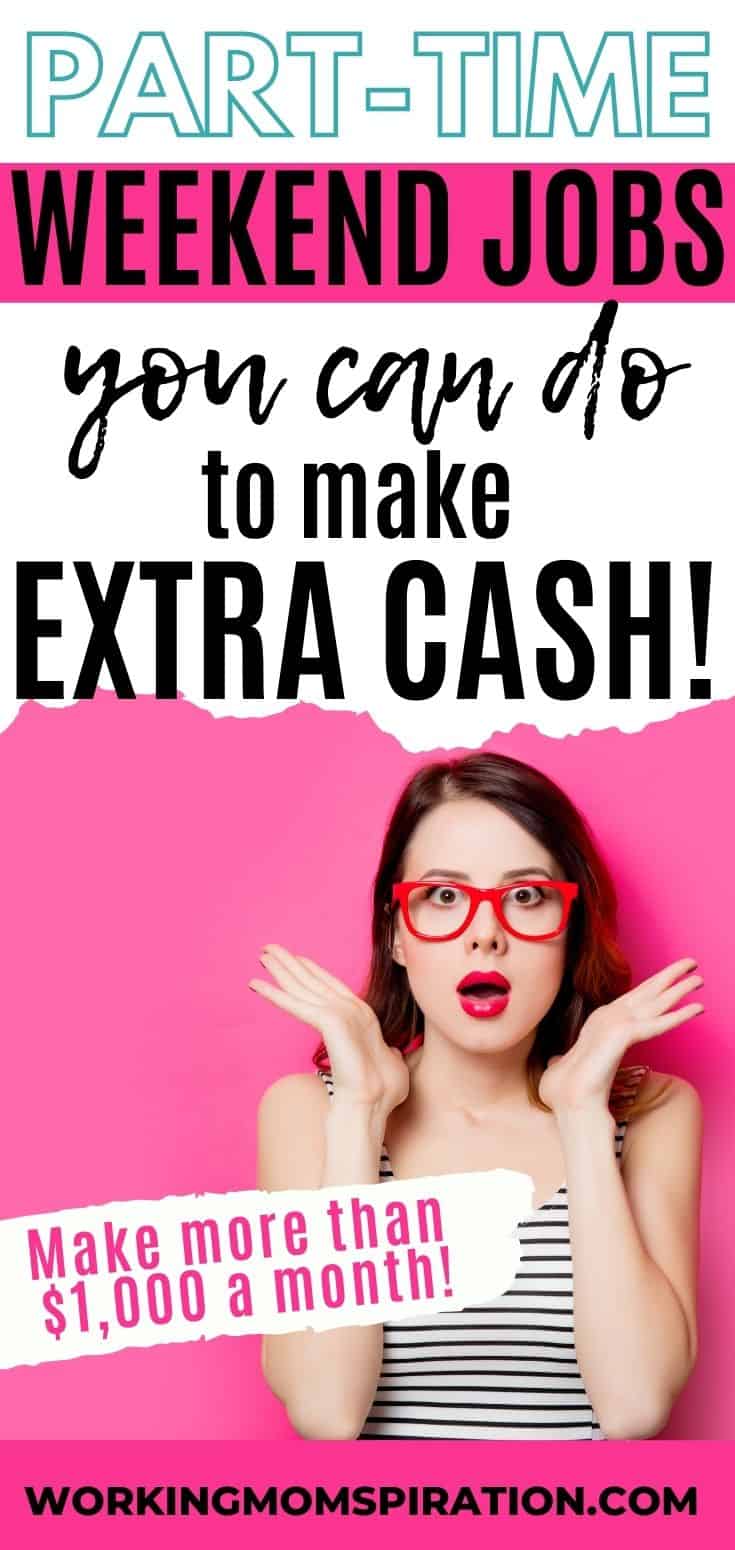 1. Give your Opinion
This is a side hustle for extra cash and not something to do full-time, which makes it ideal as a part-time weekend job.
You can do lots of things like surveys, watch videos, answer questions, and surf the web to get some extra cash.
Some companies also offer gift cards that you can use to shop at your favorite stores such as Amazon, Bed, Bath and Beyond, and Target.
You can try sites like Swag Bucks which is trustworthy and has rave reviews. 
Another great site is Opinion Inn which gives you a $10 sign-up bonus. These sites are totally free to sign up for and you can use them at any time. 
What I love about them is that you can relax and do surveys on your phone while in bed and it won't even seem like work!
Some survey sites allow you to get cash from referrals, use their apps on the go and even use links to make money.
2. Deliver Stuff
So you'll have to leave home for this one but I believe it's well worth it.
You can get paid to deliver food or groceries by going door to door as a delivery driver.
The outlook for this type of job is certainly great especially because people are very busy and would rather have their food delivered than head out. 
If this is something you can't do full-time, it's great as a side hustle.
A few popular places that do grocery delivery include Grubhub, Uber Eats, Doordash, and Instacart.
With flexible work hours, you can be on your way to earning cash with your weekend side gig.
3. Blogging
I certainly consider this one of the best part-time weekend jobs because HELLO, you can work whenever you want and the weekend is a great time. 
What's particularly good about starting a blog is that you can choose your own work hours and it has a very high earning potential.
Some bloggers make more than $10,000 monthly with their blogs.
This couple makes $500,00 each year from their own blog and they have a free course to show you how to get started too!
However, this is after lots of work and investment. This is definitely NOT a get-rich-quick scheme.
If you work full-time now in a job that you don't really love, starting a blog right now and working on it on the weekends is a place to start. 
Be prepared to wait some time to make money. This can take anywhere from 6-12 months.
But it's definitely possible.
You can make money from a blog with:
Ads
Affiliate Marketing
Digital products
Courses
Memberships
Find out how to start a blog from scratch with this step-by-step guide!
4. Writer
This is another awesome part-time weekend job because you can work on your own time and make a decent amount of money. 
It's easy for you to start working part-time on the weekends and grow into a full-time writer if you really come to love it.
Some writers are able to earn more than $500 for each article they write.
Usually, though, this will depend on your experience or the types of articles you write. 
This mom actually earns $225,00 each year from writing, and if she can do it, I don't see why you can't too.
You don't have to stick with article writing, as there are several different genres within the writing realm and you'll have to decide which one best fits you.
A few of the most profitable niches include:
Ghostwriting
Creative Writing
Greeting Card Writing
Freelance Writing
If you need to brush up on your writing skills or you would like to invest in a professional writing course, Udemy offers substantial courses by writers and authors who can help you improve your writing skills.
 5. Transcription
The transcription field has been booming in the past few years as some sites allow non-US applicants to apply on their platforms. Some consider it data entry, which is another specialty on its own.
The medical transcription field requires special training, so most people opt for general transcription which is pretty straightforward. 
Transcription requires that you be able to type relatively fast and still maintain a high level of accuracy.
Some people may be daunted by this especially because most companies pay by audio hour and not by the actual hours you work. 
If this sounds like something you could handle check out the following companies:
6. Become a Tutor
Did you know that tutoring can make for an easy weekend job? That's when you do it online of course!
There are lots of places hiring people to teach students online at various hours of the day.
If you have a free weekend, this is certainly something you could venture into.
Some companies want tutors to teach music, a second language, art, math, and science.
This is an ideal job for someone who has experience with teaching and would like to extend it as a side hustle.
You can make anywhere from $15-$30 an hour and choose the hours that fit your schedule.
A few places looking for tutors are:
7. Customer Service
If you've worked in the customer service field as I have, you may be aware that there are lots of these jobs available online.
You can make some extra money by doing this part-time on the weekend as they usually have flexible work hours.
There are several types of customer service jobs available and oftentimes they are available to persons who live outside of the U.S.
You simply need to use the words international and remote to narrow down your search.
If you'd like to do customer service but hate being on the phone, here are 23 places that offer chat jobs from home. 
8. Virtual Assistant
This is certainly one of the most popular careers right now that you can do from home.
You have so many options when it comes to roles you can fill as a VA. 
Are you good at content writing? How about editing and proofreading? What about making or taking calls?
These are services that you can offer as a Virtual Assistant.
It's one of those jobs that is highly valued because people are always on the lookout for someone to help with accounting, marketing, project management, and all sorts of secretarial tasks.
If you're on the lookout for Virtual Assistant jobs, check out:
9. Write Book Reviews
Bookworm or not, you will find that writing book reviews is an easy way to make some money on the weekend.
Some people (like myself) enjoy a good book regularly, so why not do it and get paid?
Most places require that the review has a word limit and that it is formulated to their standard, so be on the lookout for that.
Also, there are many scams out there that promise to pay you but never do. Here are a few  places legitimate places that pay for book reviews:
10. Do Online Research
This is actually something I've done and it makes for a nice extra income.
Although I did it on the weekends and weekdays, you can work around your schedule or whenever fits best.
Online research can involve just about anything from doing surveys, answering questionnaires, or writing market research proposals.
Once you have an internet connection and a working laptop, this is something you can do from just about anywhere. 
One place I'm sure is always open for researchers is Wonder. You can make between $24-$32 an hour.
11. Do voiceovers
Have a silky smooth voice that you always get complimented on? You can make money doing voiceovers for audiobooks or marketing projects on a freelance basis. 
It can be a fun way to make extra money on the weekend and build a portfolio for yourself.
Companies like Bunny Studio and Voices hire voiceover artists to work on their own time. 
12. Do Babysitting
Do you enjoy being around kids? If so, babysitting may be just the right weekend job for you.
There are lots of places hiring babysitters to care for children when parents are working or otherwise busy.
The average pay per hour is $17 and that's not too bad for a part-time job.
You can sign up with Care or Sittercity as a babysitter and start earning some cash now.
13. Sell Photos
Are you excellent at taking pics? And no, I'm not talking about just selfies!
Can you take pictures that are absolutely breathtaking, whether it's of a dramatic sunset or a delicious plate of Mediterranean-style food?
If you've got the skills to make a picture pop, then you can take advantage of this opportunity.
Selling photos is a great way to make money online. Hundreds of sites will pay you to use your photos as you will make royalties off them forever!
Learn how to brush up your photography skills with online classes on Udemy so you can start your new side hustle.
This is a worthy investment that could really pay off!
14. Proofreading
Are you good with finding grammar mistakes, punctuation errors, and things of that nature?
This means you could be a proofreader.
Proofreaders are hired to find errors in documents, books, and articles that may not be noticeable to the untrained eye.  You could work on weekends making an extra buck by correcting these mistakes!
Proofreaders can make between $10-$45 per hour! Imagine doing this part-time every single weekend?!
There are lots of places that hire proofreaders and an excellent place to start would be Fiverr.
This is especially the case if you're a beginner and you'd like to create a portfolio of sorts. 
In order to do proofreading, it is recommended that you speak English at the native level, but a college degree isn't required.
I recommend this excellent free proofreading course that can help you excel and make a career from it if you're serious!
15. Make Printables
I look at this as more of a passive weekend job where you work once and the money keeps rolling in.
When you fall in love with it though, which you will, you won't be able to stop!
And the thing is, you don't need to be a graphic designer to start making printables.
Printables can be meal plans, coloring pages, water trackers, journal prompts, and checklists. 
You can use tools like Canva, PicMonkey, or Adobe Photoshop to make cute designs and artwork to sell online. Printables are really popular online, especially on places like Etsy.
Why I call it a passive income stream is that once you create one, you can keep making money from it forever.
The sky is really the limit on this one and you can make upwards of $1,000 a month!
Get started with these 40 digital product ideas.
16. Dog walker/Dog sitter
People will pay you to look after their furry friends when they are out or busy.
This is more of a freelance opportunity that you can do on the weekends or whenever you find the time. 
It's an easy job to do and you may have fun doing it if you're an animal lover. 
 As a pet sitter, you will look after pets by walking, feeding, and playing with them.
You can find jobs like this on sites like Rover where you can make $1,000 a month!
17. Do Tasks on Picoworkers
You may have heard of Picoworkers where you can complete short tasks for money.
It isn't a huge money-maker, but it can add a few bucks to your pocket.
On Picoworkers, you'll find tasks like surveys, questions, website testing, and transcription tasks that are rather simple.
Look out for gigs that you like as they are all flexible and can be done in a jiffy.
18. Social Media Assistant
If you're someone who's always on social media, you can turn your hobby into a hustle.
There are companies that will hire you to do social media consultations on a freelance basis. 
Once you land a gig, you can schedule and write posts for companies and work on your own schedule.
Check out places like Fiverr, FlexJobs, and Remote Co for positions that suit you.
If you'd prefer to be a Pinterest Manger online, that's a great option too.
That's it peeps!
Part-time weekend jobs can be a great side hustle to make some extra money.
Because these options are flexible, you can do multiple gigs and choose when you work. You'll also gain experience in different fields and add various jobs to your resume.
This list just barely scratches the surface as there are hundreds of jobs you can try doing part-time.
Scour job listings on scam-free sites such as FlexJobs, Virtual Vocations, Remote Co, and freelance sites like Fiverr, Upwork, and Freelancer to find weekend jobs you like.
Which one of these weekend jobs will you be trying? Let me know in the comments below!
If you liked this post, please PIN it for later!❤️️????