This post may include affiliate links.
Who doesn't love stickers? 
I know I do!
And now, there are a ton of places where you can purchase them online.
One of these places is Redbubble!
But instead of purchasing stickers, would you like to know how to sell stickers on Redbubble?
I've done it myself and it's a great platform to earn some extra money!
If you don't know much about it,  Redbubble is a platform that offers a unique opportunity to showcase and sell various types of merchandise, including stickers. 
There are millions of active users and it's an ideal platform for anyone looking to monetize their creative passion. 
Still, selling stickers on Redbubble can be challenging, especially for those who are new to the platform.
Let's dive into the most effective strategies for selling stickers on Redbubble, from designing eye-catching graphics to optimizing your product listings for search engines. 
If you're interested, let's find out how to sell stickers on Redbubble and start a consistent side hustle. 
PIN IT!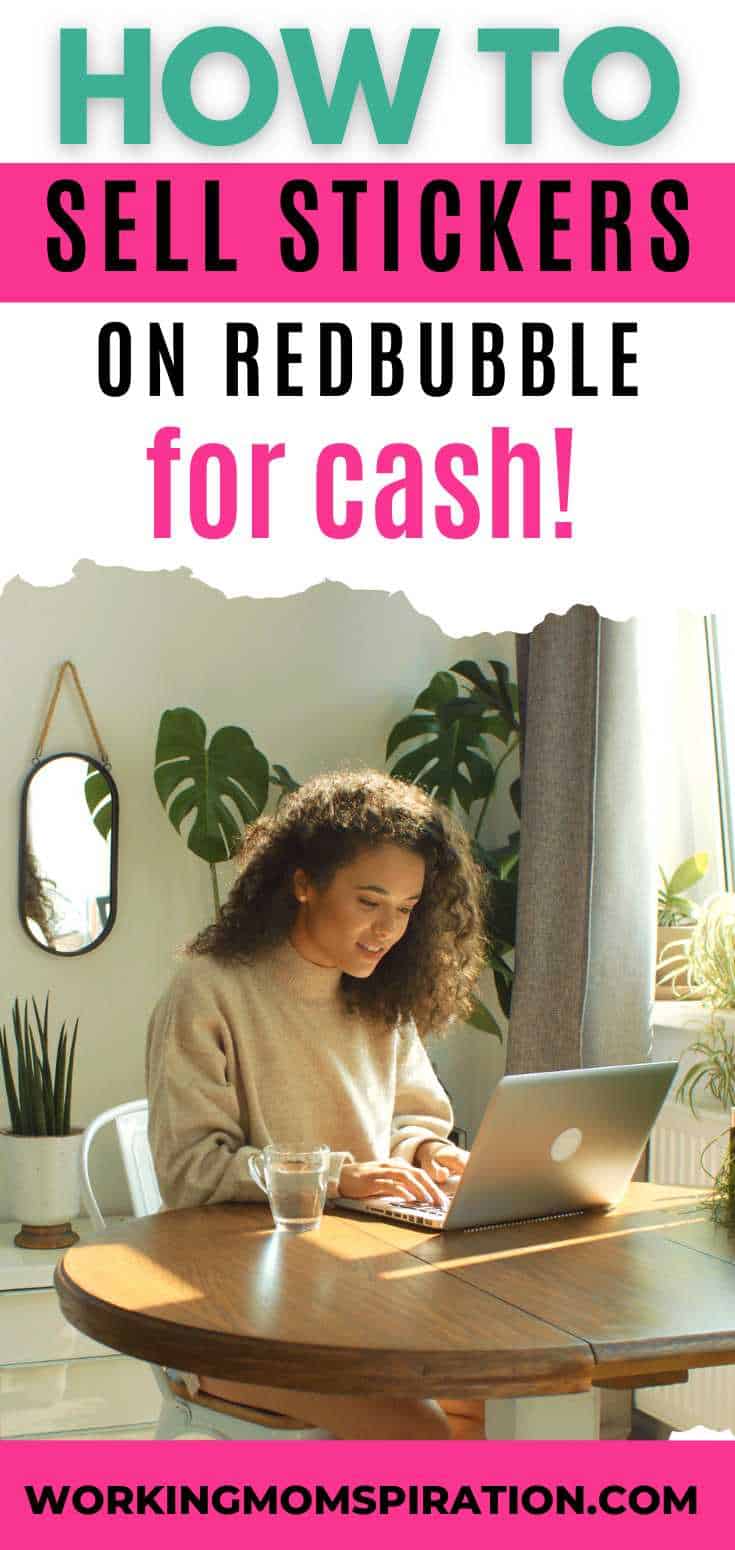 How to Sell Stickers on Redbubble: Choose a Niche
Before you start uploading designs to the platform, it's important that you know what you're selling and who you're selling to.
That's why it's very important to choose a niche.
Some creators emphasize creating a general Redbubble store that sells almost anything including what's trending at the time, while others state that niching down is important.
Either one can work, to be honest, but I like the idea of niching down more because the sales will be more consistent.
Ultimately, creating a niche store or a general store depends on your goals and preferences.
The Difference Between a Niche Store and a General Store
A niche store focuses on a specific theme or topic, such as cats or food, and all designs in the store relate to that theme. This can attract a specific audience that is interested in that particular niche, and can potentially result in higher sales from that audience.
Here's an example of a niche store that sells really unique stickers and products. Here's another example of a niche store that takes on a life of its own.
A general store, however, offers a variety of designs that may appeal to a wider audience. This can attract a broader range of customers who may purchase designs based on their individual interests and preferences.
If you have a passion for a particular niche and enjoy creating designs within that theme, a niche store may be the way to go. If you prefer to have more flexibility in your designs and appeal to a wider audience, a general store may be a better fit.
Regardless of which option you choose, it's important to do your research, create high-quality designs, and promote your store to maximize your chances of success on Redbubble.
How to Make Stickers to Sell on Redbubble
Are you ready to start designing? 
Redbubble does have some rules for uploading your projects to the platform. This is to ensure that they are providing quality designs to customers. 
There are plenty of tools to design your stickers which include Canva, Procreate, Adobe Illustrator, Affinity Design, and more. 
 If you're using a tool like Canva, you can utilize the custom design feature to create your preferred design. 
Sticker Sizes
Redbubble offers a wide range of sticker sizes that you can choose to design, which include:
Small: 3 x 4″ (76.2 x 101.6mm) = 450 x 600px
Medium: 5.5 x 5.5″ (139.7 x 139.7mm) = 1100 x 1100px
Large: 8.5 x 8.5″ (215.9 x 215.9mm) = 1700 x 1700px
Extra Large: 14 x 14″(355.6 x 355.6mm) = 2800 x 2800px
For stickers, Redbubble is looking for PNG files with a high resolution of 200 DPI and a 1/8th" (3.2mm) white border around your artwork. 
They also recommend uploading designs that are at least 2800 x 2800 px to ensure your creations fit all available sizes. 
Bigger is always better, so don't be afraid to go all out. 
Choose a Shop Name and Upload Your First Design
Head over to Redbubble and sign up to the platform or log in.
If you don't already own a shop, you will need to choose a shop name.
It doesn't have to be anything catchy for you to make sales, but I would make it memorable – just to be on the safe side. 
Once everything is set up, you will need to upload your first design!
Choose the Upload New Work option and upload your sticker design.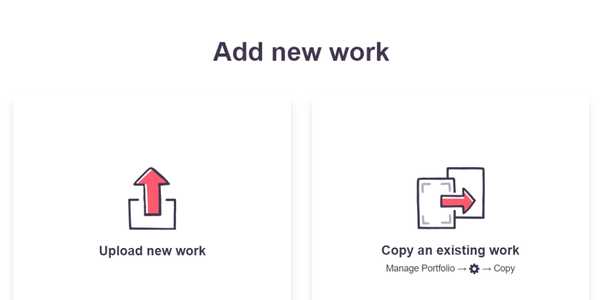 Quick Tip: Make sure that your design meets Redbubble's content policy and copyright guidelines. Avoid using copyrighted or trademarked material that you don't have permission to use.
Start Selling Stickers on Redbubble
Once you have uploaded your first design, you'll see that you have the option to add your design to not only stickers but to items like:
Phone cases
T-shirts
Posters
Notebooks
Mugs
Throw pillows
Laptop sleeves
Tote bags
If you do plan to sell more than just stickers though, I recommend uploading your designs with dimensions of at least 9075 x 6201 pixels, which will fit all the products on the site – including your stickers.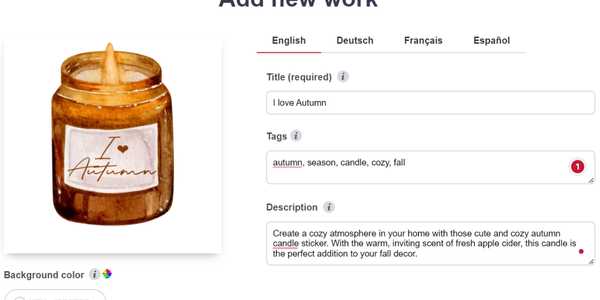 Upload your design and then enter the Title, Tags, and a Description. As you can see, I've added mine, but you can add more or less depending on your preference.
Avoid keyword stuffing though -Redbubble HATES that!
Next, select the enable option to choose how many stickers you'd like your design added to.
I enables all 4 options as you can see!
Once you've chosen the products that you'd like your design added to, choose the Save Work option, and wait for your design to be approved. 
Importance of SEO for Selling Stickers on Redbubble
 Your title is the first thing that customers see when browsing on Redbubble, so it's important to make it clear and descriptive.
 A good title should include relevant keywords and provide a brief summary of what your product is.
 This will help your product appear in search results when customers search for specific keywords.
Tags, on the other hand, are additional keywords that you can add to your product to help customers find it when browsing or searching on Redbubble. 
They should be relevant to your product and should include both general and specific terms. For example, if you are selling a cat-themed sticker, relevant tags could include "cat," "kitten," "pets," "animals," and "cute."
The product description provides more details about your product and can help persuade customers to make a purchase.
 It should include information about the materials used, the size and dimensions, and any other relevant details.
 You can use your description to tell a story about your product or provide ideas for how customers can use it.
How to Sell Sticker Packs on Redbubble
If you'd like to increase your sales and get more visibility, I'd recommend selling sticker packs on Redbubble.
Sticker packs are basically collections of stickers that allow artists and designers to offer a variety of their designs in one purchase.
 Sticker packs can be customized with different sizes, shapes, and quantities of stickers, and can also be themed to appeal to a specific audience.
It really makes your shop stand out and may lead customers to make a purchase.
Sticker packs are also a convenient way for customers to purchase multiple stickers at once, usually at a discounted price compared to buying individual stickers.
This creates greater value for them and they could become repeat customers.
How Should I Design My Sticker Packs?
Since your sticker pack will include designs, you will want to make sure everything looks cohesive and welcoming to the customer.
They might all be of a similar theme, color, or style. This will draw the customer in and create some intrigue.
Also. you'll want to make sure that your sticker pack isn't crowded together to avoid printing issues once the customer makes a purchase. 
 Always download your file on a transparent background, otherwise, your design will be printed with all the files as one sticker instead of separately. 
How to Price Your Stickers on Redbubble
Pricing your stickers is one of the most important aspects of selling on Redbubble. 
You'll want to avoid overpricing them, as stickers are considered one of the most popular products on the platform, and that's largely due to the prices – affordability.
To price your items correctly I recommend the following:
Creating quality designs that are highly detailed
Consider the pricing of similar stickers on Redbubble.
 Take a look at the pricing of stickers from other artists with similar designs, and adjust your pricing accordingly.
While it can be tempting to price your stickers low to attract customers, it's important to value your time and creative work.
Set a price that reflects the effort and skill you put into creating your designs.
When you sell on Redbubble, there is a base price that includes a set fee for hosting your work along with the manufacturing fee charged by the third-party manufacturer. 
However, the artist margin and markup are what you really care about.
 The markup is the percentage you add to the base price, while the margin is the actual amount of money you make from each sale. The Redbubble percentage is 20%, but you can increase that to whatever amount you choose. 
It's necessary that you price your stickers in a way that you don't overprice, while you still leave room to earn a bit of a profit. 
How to Promote Your Stickers on Redbubble
There are plenty of ways to promote your Redbubble stickers, but here are a few that work great for creators:
Try sharing your stickers on your social media platforms such as Instagram, Facebook, Twitter, and Pinterest. If you create eye-catching graphics or images, you can showcase your stickers and share them with relevant hashtags and captions. If someone is interested, they can use the link on your social media page which will bring them to Redbubble to make a purchase. 
Another way to promote your stickers is to collaborate with influencers who align with your brand or style and have them promote your stickers.
You can offer them free stickers or other incentives in exchange for promotion or commission for every sale they drive.
To really get your sales revved up, you could consider using ads. This works best on social media platforms like Facebook, Instagram, and Twitter to target potential customers.
When you create ads on Facebook for example, you'll get to target specific demographics, which makes it easier to drive traffic to your shop for you to make sales.

FAQ
Here are a few questions that you may have about selling stickers on Redbubble.
How much does it cost to sell stickers on Redbubble?
It's completely free to sell stickers on Redbubble! Redbubble does take a commission from each sale made, which varies depending on the product type.
 The commission is deducted from the sale price, and the remaining amount is paid to the seller.
 Redbubble handles the printing, shipping, and customer service for the seller, making it a convenient platform to sell on.
Can you make money selling stickers on Redbubble?
Yes, you can definitely make money selling stickers on Redbubble!
I sold my first design just a few months after starting my one shop.
Remember that you can set your own markup price for each sticker, so you can increase your sales if you increase the markup price.
How many designs do you need on Redbubble to start selling?
While you technically only need one design to start selling on Redbubble, they recommend uploading at least 5 designs to your shop when just starting out. 
When you have a range of designs, it can attract a larger audience and increase the likelihood of someone finding a design that they might want to purchase. 
How many designs can you upload to Redbubble per day?
Rdbubble recommends uploading no more than 30 works on your account each day.
Is it Hard to Make Money on Redbubble?
It is not hard to make money on Redbubble but it can be a challenge with factors such as:
 High competition
Quality of designs
Pricing
Marketing Strategy
Redbubble's algorithm
Copyright infringement
Customer preferences
Despite this, making money on Redbubble is possible and requires dedication, hard work, and patience.
 It's important to create high-quality designs, price your products competitively, promote your designs effectively, and stay up-to-date with Redbubble's policies and guidelines.
How Does Redbubble Pay You?
Redbubble pays sellers through PayPal or bank transfer. To receive payment, you need to set up your payment details in your Redbubble account settings.
Is it better to sell stickers on Etsy or Redbubble?
Both Etsy and Redbubble are popular platforms for selling stickers, but which platform is better for you depends on your needs and goals as a seller.
Some differences between both include: 
The Audience: Etsy has a more diverse audience, including people looking for handmade and vintage items, while Redbubble's audience is more focused on art and design. 
Fees: Both platforms charge fees, but the fee structure is different. Etsy charges a listing fee of $0.20 per item, plus a transaction fee of 5% of the sale price, while Redbubble takes a commission on each sale (approximately 20% to 30%).
Customization Options: Redbubble offers more customization options for stickers, including different sizes and finishes, while Etsy is more limited in that the seller may or may not do customizations.. 
Marketing: Both platforms require you to market your own products, but Etsy has more built-in marketing tools, including the ability to create coupons and discounts, run sales, and use Etsy Ads to promote your products. Redbubble has fewer marketing tools, so you may need to do more of your own promotion.
How to Sell Stickers on Redbubble as a Side Hustle
Selling your stickers on Redbubble can be a great way to make money as a side hustle.
While some creators do make consistent income on the platform, it can take time to get to that level.
However, by choosing a non-competitive niche, analyzing popular trends, designing unique and eye-catching stickers, optimizing your titles and tags, and engaging with your customers, you can increase your chances of success on Redbubble. 
Remember, it takes time and effort to build a following and make consistent sales, but with persistence, creativity, and a little bit of luck, you can turn your passion for art into a profitable business.
PIN IT!