This post may include affiliate links.
Not everyone knows how easy it is to make money from their phone. One of the best ways to earn extra cash online is with refer and earn apps or websites. These apps can be downloaded to your phone in just minutes, and signing up is completely free!
While these refer and earn apps won't make you rich overnight, they are still an excellent way of making money on the go. It's simple for stay-at-home moms, college students, and other busy working folk to use these apps for additional income.
What's great is that you can use these apps or websites while you're on lunch break at work, while on vacation, or just before bed. 
There are plenty of ways to make money that don't require leaving your house, which I'm sure you guys would love!
If you are someone who likes sharing money-making ideas with your friends and family, these refer and earn apps are a perfect!
Please share the ❤️️ and pin this for later!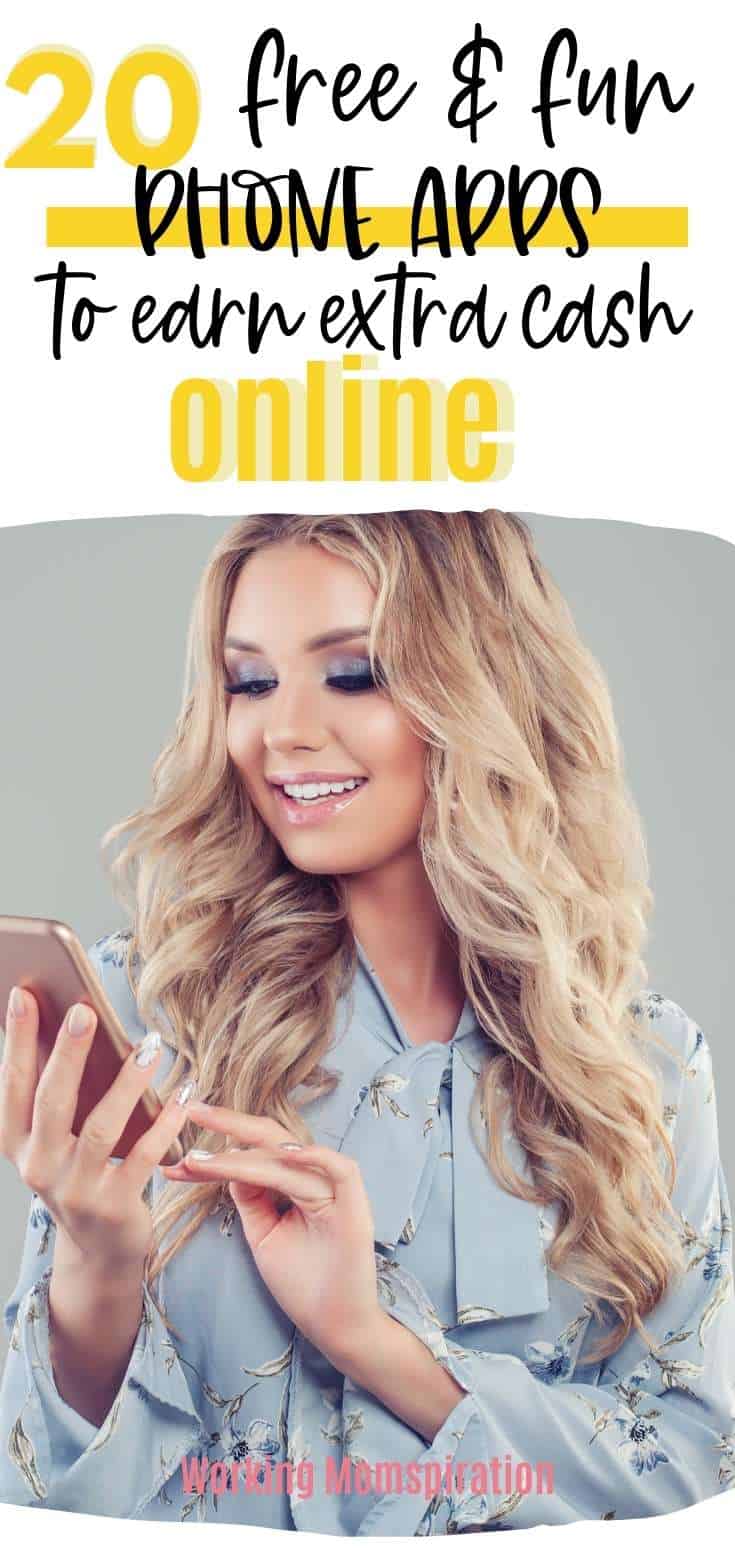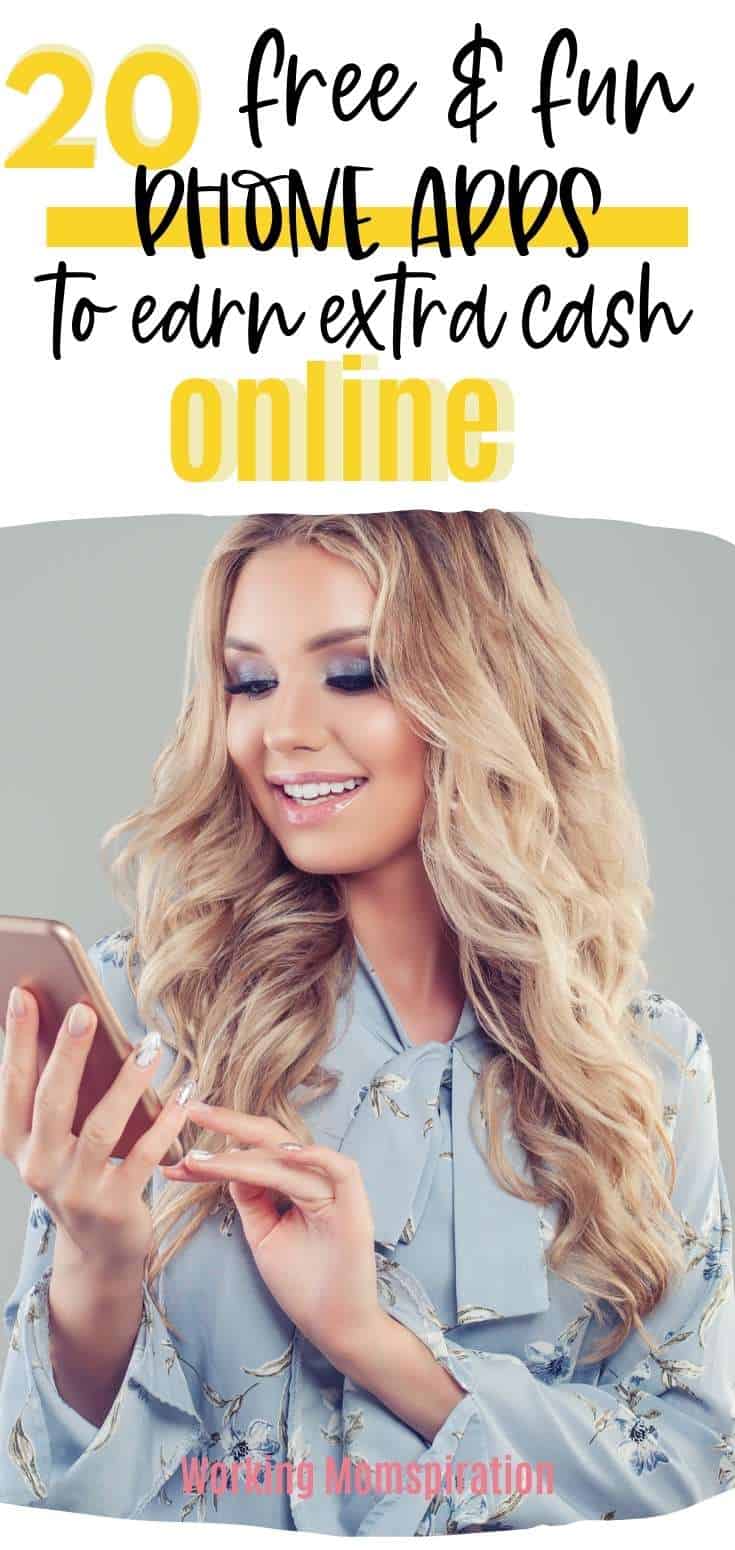 Best Refer and Earn Apps and Websites To Make Extra Cash
1. Swagbucks
One of the best refer and earn apps is definitely Swagbucks. It's been around since 2005 and has an excellent 4.3/ 5 rating on Trust Pilot.
When you signup, you're granted a $5 bonus, and the points you earn are all converted to cash. To make money on their platform, you can do fun activities like completing surveys, playing games, watching videos, and participating in polls. You even get cashback on shopping purchases! 
It's a good refer and earn app for a reason. If your friend earns 700 points and refers you to Swagbucks, you earn 70 points straight away!
Sign up with Swagbucks to start earning cash!
2. Prize Rebel 
Another legitimate platform to get paid for referrals is PrizeRebel. It has paid out more than $20 million since its inception in 2007. To earn more money on the platform, you can take surveys on a daily basis. 
Surveys are offered after completing your profile and answering a series of questions. PrizeRebel informs you of the estimated time to complete a survey so you don't have to waste your time. 
Other ways to earn money include completing paid offers, playing games, doing daily challenges, watching videos, doing contests, and inviting friends. Each time a friend uses your referral link, you earn a commission. 
Refer friends with PrizeRebel!
3. Kashkick
If you'd like to use one of the best refer and earn apps online, you should try Kashkick. It is a 100% legitimate app that actually pays its users unlike some that are complete fakes. Kashkick will pay you in cash once you reach the $10 threshold on the app. 
What makes Kashkick great is that you can make money with surveys, some of them paying $2 or more, paid offers, and referrals. Whenever someone signs up using your link, you earn a 25% commission of the amount they earned using the website.
 Start earning with Kashkick today!
4. MyPoints
Another refer and earn app to make money with is MyPoints. This platform has been around for a really long time – since 1996 to be specific. It's a fantastic site for earning money in a variety of ways. 
When you sign up with MyPoints, you can take surveys that range from 2 minutes to 40 minutes. The longer the survey, the more you earn. However, you can also take multiple 2-minute surveys in a day for more points.
MyPoints also offers deals that earn you points such as signing up for free trials or apps. Other ways to earn on MyPoints include:
Watching videos
Playing games
Using the internet
Cashback
Inviting friends
When you refer friends, you'll earn 10% of your friends' qualifying points. 
Signup with MyPoints and earn passive income!
5. InboxDollars
If you don't mind earning gift cards or making extra cash on the side, you should definitely check out InboxDollars. Just as with Swagbucks, you earn a $5 bonus when signing up. As you might already expect, earning on InboxDollars is easy, with the platform offering several ways to make money such as:
Completing paid surveys
Playing online games
Watching Videos
Reading Emails
Cashback
Referring friends 
When friends use your referral link, you'll earn $1 for every friend who signs up and makes $7. Also, you receive 30% of your friend's lifetime earnings!
 Sign up for free with Inbox Dollars!
6. Instacart
Are you someone who enjoys shopping? Even for something as mundane as groceries? You're in luck because you can get paid for being a savvy shopper. It's very convenient to have someone else purchase groceries to avoid long lines and frustration. 
As an Instacart shopper, you can make money fast by shopping for groceries. In order to apply to Instacart, you should be a US resident, be at least 18 years old, and have a smartphone to download their app. One of the best parts is, that you can choose your own schedule and work whenever you want!
According to Instacart, you can refer friends or family through email, text, or social media with your unique referral code. 
Sign up with Instacart for free!
7. Opinion Bureau
This platform is not as popular as some of the others on this list, but it's still a convenient spot to earn extra cash. The first step to take on Opinion Bureau is filling out a qualifying questionnaire. This will help you to get offers on Opinion Bureau and makes it possible to start earning.
Even though there are not as many survey offers on Opinion Bureau, you can also participate in polls and refer friends. When your friends sign up and start using Opinion Bureau, you earn a reward of 1 USD. 
Sign up with Opinion Bureau today!
8. DoorDash
Another way to use refer and earn apps is by using the DoorDash program. DoorDash hires Dashers to deliver groceries to customers. If you decide to use the program, you can use your car, scooter, or bicycle to deliver groceries. Some Dashers even walk to make their deliveries!
After you've started making deliveries, you can refer friends using the DoorDash app with SMS, Facebook Messenger, Twitter, and email. 
And get this, you'll earn $300 for every friend who signs up using your referral link. If this isn't one of the best refer and earn apps, I don't know what is.
Sign up with Door Dash and earn your $300 referral!
9. FlexOffers
This is a well-established platform that is used by publishers, and content creators worldwide. It has a fantastic referral program that could make you a significant amount of money if you it promote wisely. 
Flex Offers has several programs that you can choose from including:
Automotive
Business
Lifestyle
Home & Garden
Clothing and Accessories
There are several more categories to choose from and it's best to promote just one category depending on the type of customers you have. One of the best ways to use Flex Offers is with a blog or business platform. 
Sign up with Flex Offers for free!
10. Share-A-Sale
Would you like to be an affiliate and refer customers to Shareasale? They have so much that you can promote including shopping, travel, clothing, jobs and employment, and much more. 
They are easy to sign up with and make it easy for you to cash out with their simple payment system. If you want to refer quality products and services to an audience and help them to live their best lifestyle, Share-a-sale is one of the best spots to try!
Get started with Share-A-Sale today! 
11. Rakuten
Another great money-making app is Rakuten. It's a nice way to make passive income by getting cash back. Have you ever shopped for stuff online and wanted a discount? Well, Rakuten is one of the best cash-back apps that you can earn from. 
Also, when you use the app, Rakuten pays you a commission for every customer that you refer to them.
12. Ibotta
If you want to earn from cashback and referrals, you should definitely sign up with Ibotta. It's another refer and earn app that people use to find offers online. The best way to make money with this app is to find participating stores and purchase your product there- if you can. Also, you'll need to keep track of your receipts for reference. 
Ibotta is great because they pay your cashback within 48 hours!
Sign up with Ibotta and earn $5 for each signup!
13. Daily Goodie Box
Would you like to get products for free? With Daily Goodie Box, you can! Daily Goodie Box is a product sample website where customers test different products for free. I mean, who doesn't like free stuff?
If you'd like to get started with this easy gig, sign up on their website and fill out your profile. Also, be sure to follow their social media accounts too!
If you do get a free product box, the shipping is completely free, so you won't ever have to pay for it. 
Here are just a few products you may review:
Crunchsters Crunchy Mung Beans
Trilogía Vitamins
Zolli Candy 
Facial Cleansers
 Banana Snack Bars
Daily Crunch Snacks
Dr. Botanicals  Lemon Superfood Rescue Butter
14. FabFitFun
Another referral program that's great for women who love subscription packages is FatFitFun. This company has a membership program that offers luxury subscription boxes with various items at a reduced cost. 
The products are high-end and really look nice. I wouldn't mind trying some of these products myself! If you don't mind paying for their seasonal plan for $54, you can start getting your goods delivered and use their referral program to get your friends on it. 
15. TopCashBack
This is a fantastic refer and earn app, where you can also earn cash back on selected purchases. TopCashBack gives its users 100% of the commissions earned on the platform. It's completely free to sign up and get cash back in categories such as:
Home and Garden
Fashion
Fitness
Health & Beauty
To find better deals, you can use the chrome extension that alerts you when shopping or use their interface to find brands tailored to your liking. 
Sign up with TopCashBack and earn $10 for each friend you refer!
16. BeFrugal
If you're someone who really enjoys shopping, BeFrugal is definitely a site you should use. Their partnerships with thousands of stores allow you to get cashback on products. Imagine earning up to 40% cash back at your favorite stores!
When you refer friends, you earn $10, plus, you get promos and coupon codes that help you save money.
If you want to make a $10 bonus right now, sign up on their site for free. 
17. Toluna Influencers
Maybe you have never thought about being a social media influencer, but you can influence brands at the touch of a button. Toluna Influencers will grant you rewards simply for sharing your opinion.
You can participate in surveys and earn points which can then be redeemed for rewards like:
Amazon Vouchers
Starbucks Vouchers
Netflix gift cards
CVS vouchers
Chili's vouchers
Sign up to get your gift cards. If you'd like another place to get gift cards, be sure to check out Dabbl. The app is available on both Android and IOS. 
18. Opinion Outpost
Opinion Outpost is another spot to share your opinion for a little extra money each month. Not only can you do surveys, but you can also review products for gift cards or cash.   It's easy to take surveys on the website or have them sent to your email. 
Even though the referral is not as much as some of the others on this list, you will still earn $1 for each friend who signs up and completes a survey.
Sign up to get your special link and start earning!
19. Branded Surveys
Another place to make to earn money with surveys is Branded Surveys. You can give your opinion by completing surveys in exchange for gift cards, cash and even donating to charity. To get started, sign up and fill out demographic details, and complete offers. For signing up, new users get a $1 reward.
When you're ready to do surveys, you're shown the point amount for each survey and how long it takes to complete the questions. 
Their Refer-a-Friend program is great too as you earn 50 points for each person that signs up. 
Sign up with Branded Surveys today!
20. Survey Junkie
Would you like to join the 10 million members on Survey Junkie and make money in your spare time? You can join right now and earn a 25-point bonus before taking surveys which earns you additional points. 
Surveys can range from 3 minutes to upwards of 23 points. Again, if you're short on time, take multiple surveys to earn more points. 
Earn additional money with their referral program by using your unique link to send to friends and family. 
Check out Survey Junkie today!
Earn Money With High Paying Referral Programs
Not all referral programs are made equal. Some offer more lucrative options than others so I highly recommend signing up with legitimate companies like these to see which ones suit you best. 
Some people use these apps every day and don't even know that they are some of the best referral-earning apps online. That's because there are so many other fun ways to make money with them like watching videos and playing games.
Get paid to refer friends and family and start earning money passively now!
If You Liked This Post, Please Pin It For Later!❤️️????