This post may include affiliate links.
Would you like to refer and earn 2000 dollars each month?
Well, you certainly can with these apps and websites!
And it's one of the simplest and most fun ways to earn an income without having to work.
I like to think of it as an extra money side hustle, or something to supplement your already existing income. 
These referral sites will reward users to promote their products online. It works for them because they are getting more exposure and leads.
This in turn brings them more money.
And that's where you come in. 
If you want an easy way to make money online, you can share your referral link with friends to get them in on the fun. 
When friends use your link to sign up, you'll get money and they might get a welcome bonus too!
So it's a win-win for everyone. 
The sites I'll share won't pay you huge bucks as standalones, but if you use a number of them them in combination, you can make extra money every month.
If you're still interested in learning how to refer and earn 2000 dollars each month, keep reading.
Please share the ❤️️ and PIN this for later!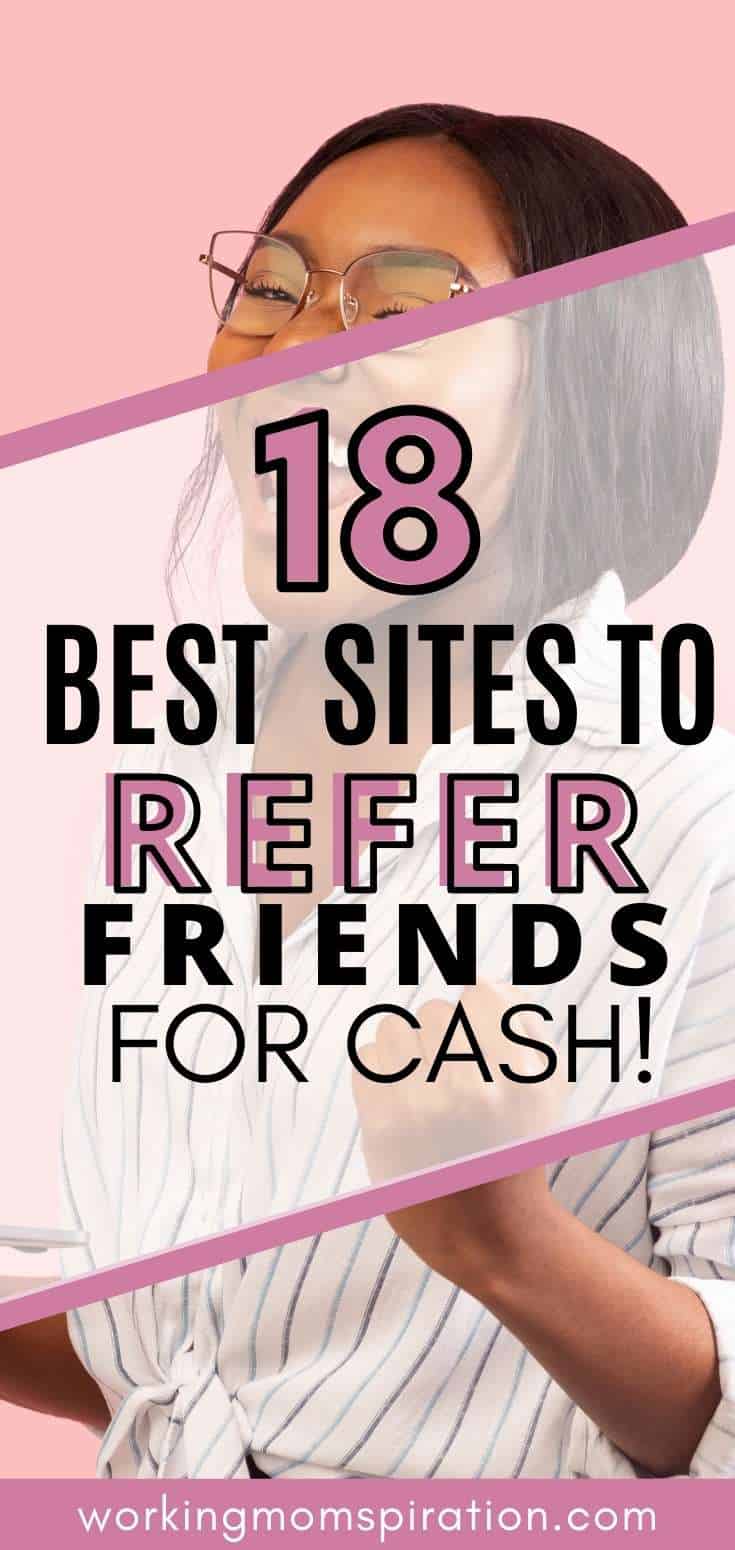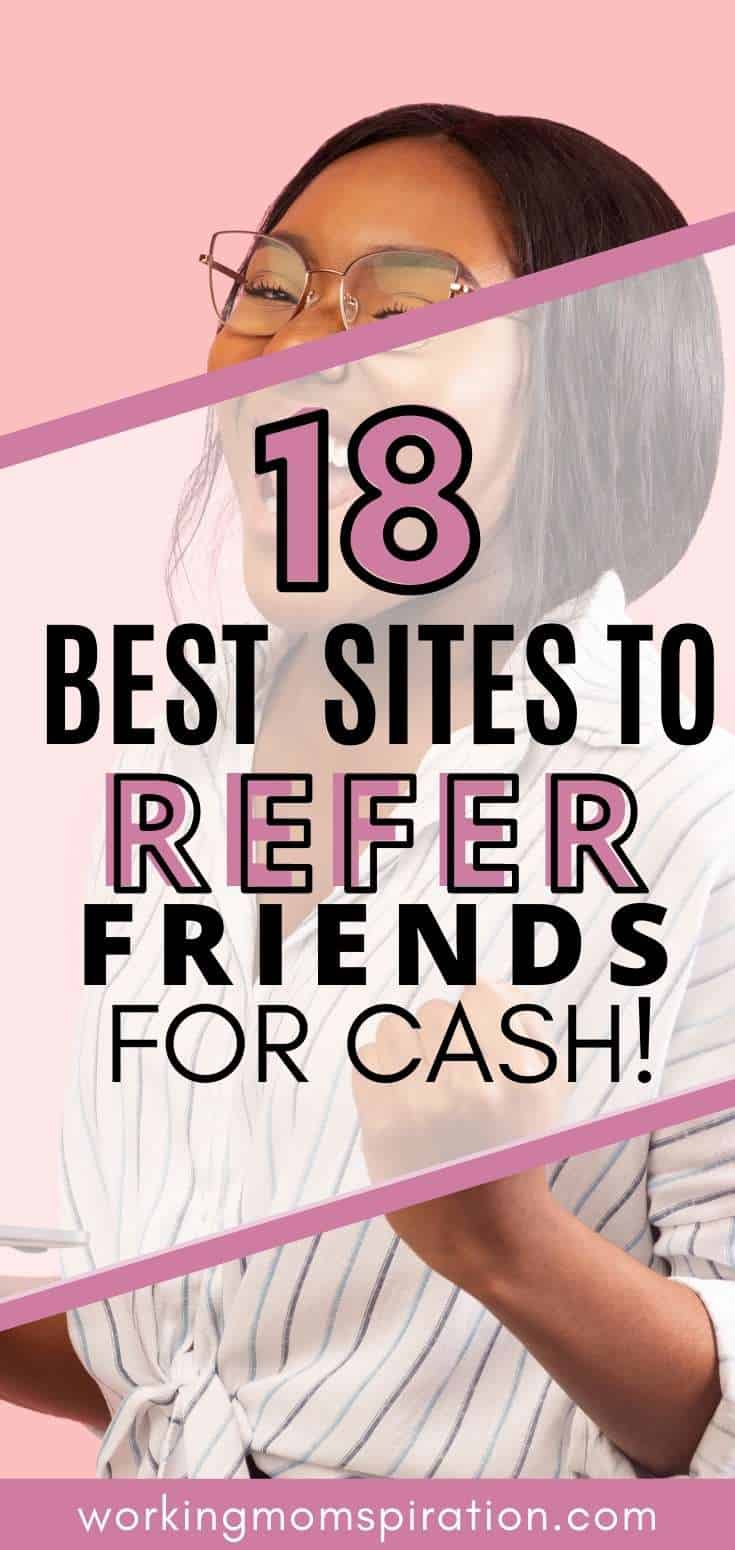 What is a Referral Reward Program?
A referral program is an agreement where customers are offered rewards or incentives to promote products and services. 
It's a form of marketing that brings greater exposure to brands and increases loyalty among customers. Some people turn it into a full-time business too.
Referrals can be done through:
Reviews
Word of Mouth
Emails
Referrals or Sharing
You can make money with any one of these methods, but I recommend using refer and earn apps which have sharable links to earn on the go.
How Can I Earn from Refer and Earn Programs?
If you've been wondering how to refer and earn to get the most money, there are different ways to go about it. 
When you refer friends or family, you can earn a certain amount of points for each referral. 
The specific amount received will depend on the referral program.
Whenever you sign up with referral programs, I recommend using a dedicated email address as they will provide daily offers.
 It will help you to be more organized, so you won't miss any opportunities for more money-making gigs.
 Also, it prevents you from being bombarded with unnecessary emails in your work or school inbox. 
Refer and Earn 2000 Dollars Each Month
1. Dosh
Do you eat out often? What about making frequent hotel stays? 
If you partake in these fun activities frequently, you definitely should be using the Dosh app.
The app allows you to earn money easily by referring friends and family. 
Simply use your unique referral code and earn $5 each time someone signs up using your link.
Another way to earn money with Dosh is through cashback.
Dosh will grant you cashback when you book hotel stays, dine out at restaurants, and shop!
Users can use this free cashback app either online or in-store. 
The great thing about Dosh is that cashback is rewarded automatically. This means that once a purchase is made, your money is awarded. 
Cashback rewards can range from 1.5%-15%. To make sure your payments are automatic, link your debit or credit card to the app.
It's easy to find offers using the app when shopping, dining, or booking hotel stays. 
Sign up with Dosh and get automatic cashback!
2. Rakuten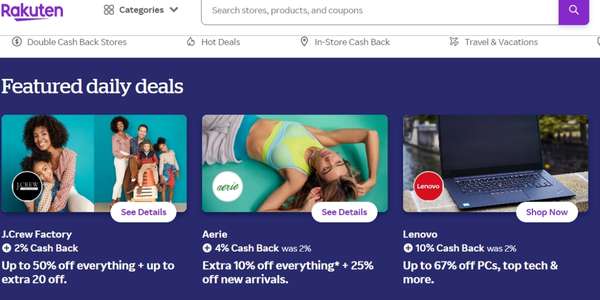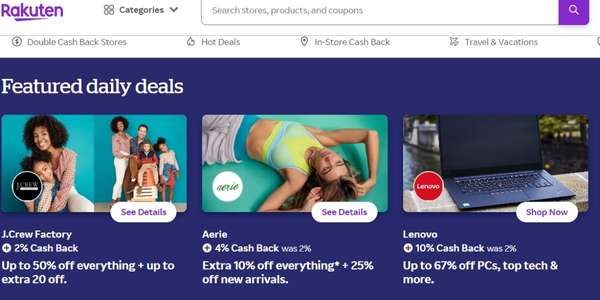 Another way to refer and earn 2000 dollars is with the Rakuten app. 
As a new user, you automatically earn a $10 welcome bonus! 
It's completely free to sign up and start earning money from cashback or referrals.
Once your friend uses your link, you earn $30!
Imagine referring 15 friends in one week?
That's $450 of referral money earned!
Scroll their platform for other offers such as discount codes and promotions. 
They partner with over 3,500 stores including Adidas, American Eagle Outfitters, Michael Kors, Nike, Overstock, and more. 
This platform is a fantastic option for anyone who wants to shop online for purchases as the cashback offers are generous. 
Get cashback offers with Rakuten!
3. TopCashBack
With more than 11 million users, TopCashBack is one of the oldest and most popular cashback sites around.
TopCashBack partners with more than 4,500 brands that pay TopCashBack, when they yield high profits.
 To get started on their site, sign up with your email address and log into their secure platform. 
Once there, you will be greeted by a large directory of retailers and brands that you can use to shop online. 
On TopCashBack, users can earn money with payout bonuses, get coupons and of course get referral bonuses.
When friends use your link then sign up to TopCashBack and get their $10 signup bonus, you'll earn $29 cash back! 
Sign up for free with TopCashBack!
4. BeFrugal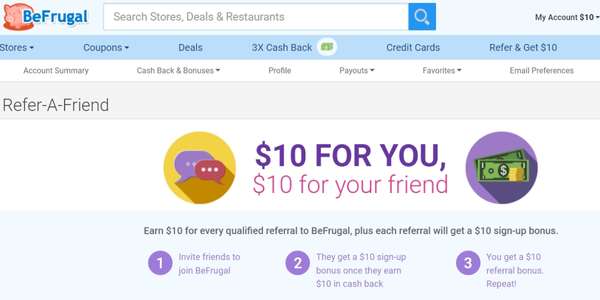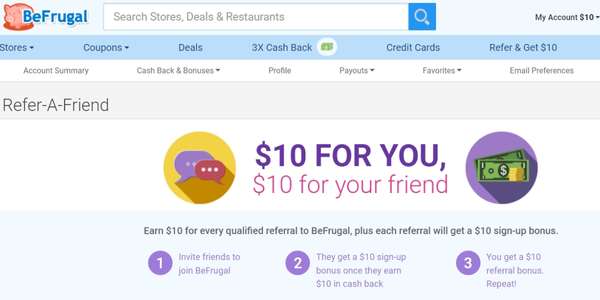 BeFrugal might be one of the best ways to refer and earn 2000 dollars a month because their site also offers up to 125% more cashback than their competitors!
Once you're ready to shop, you'll have access to more than 5,000 stores which include Target, Amazon, and Walmart. 
BeFrugal states that you can earn up to 40% cashback from retailers and brands found on their site. 
However, you probably won't find too many retailers for this amount of cashback. 
BeFrugal also offers coupons and promotional codes from various retailers and restaurants as another way to save money.
However, you can earn money consistently by using BeFrugal's Refer-a-Friend bonus program.
You will earn a $10 bonus for each qualifying new member referred to the platform.
 The member you refer must use your unique referral link and earn $10 in cashback within 365 days for you to earn cash back. 
Sign up with BeFrugal and earn cash back!
5. Drop
With more than 3 million users, Drop is a loyalty reward app that you should be using if you'd like extra money each month.
It's one of the best ways to make money by doing small tasks and then referring friends to benefit from the app. 
If shopping is your favorite pastime, use the Drop app to shop with retailers and eateries like Uber Eats, Sephora, Old Navy, Macy's, and more!
Users can also play games, complete surveys, snag deals, and refer friends for cash.
When you refer friends and they join using your referral link, you both receive $5 worth of points. 
Download and earn money with the Drop app!
6. InboxDollars
One of the most popular platforms online for earning extra money is InboxDollars. 
It's commonly known as a site where users can make money by taking online surveys. 
Once signed up, users receive a signup bonus and can start taking surveys after completing a short profile survey. 
Some surveys are short, while others have detailed market research-based questions. 
There is also an area to play games and win money or earn other prizes or rewards.
Use your referral link to earn money each time someone signs up.
7. Acorns
Are you interested in making online investments? 
Acorns is a great place for beginners who are interested in the stock market, to begin their investment journey.
They do have investment fees that can turn some away. However, to make up for this, investors can:
Receive educational tips on investment practices
Deposit a minimum of $0 to open an account
Get cashback from investments
You can get cashback from more than 350 retailers.
To earn some passive income with the Acorns app, you can promote your link and when a friend signs up and invests at least $5, you will also receive a $5 thank you bonus in your account.
Invest and earn from the Acorns app!
8. Healthy Wage 
If you're looking to lose weight and start a healthy lifestyle, Healthy Wage can help you do that.
Healthy Wage is a company that allows people to earn money by losing weight.
If you decide to test this out yourself,  you would need to fill out a profile and decide how much weight you plan to use, and place bets on how much to lose. 
If you meet your goal, you are paid a certain amount of money. 
You can use their app to track your progress and goals.
To make it more fun, users can participate in challenges.
Healthy Wage states that winners can earn up to $10,000!
If you're interested in earning more money with Healthy Wage, refer friends, family, and co-workers to earn $40 for every person who signs up using your link.
Sign up with Healthy Wage to earn cash!
9. Respondent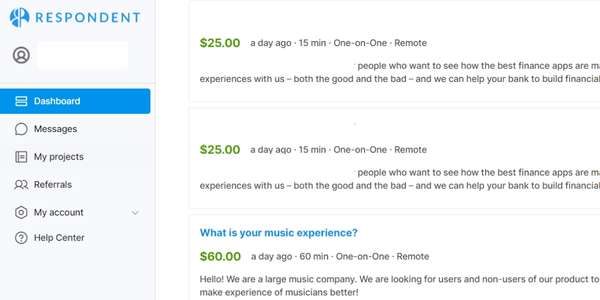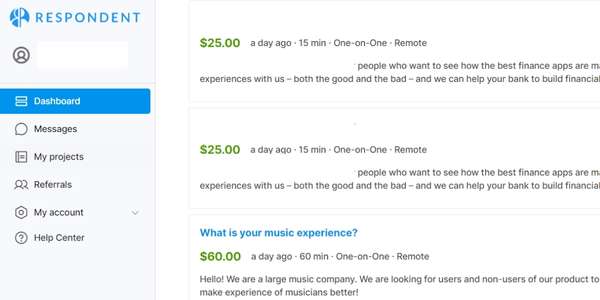 Would you like to join a group of researchers from various backgrounds like software, marketing, and sales?
Respondent is not like a typical survey site as it conducts thorough research on a myriad of topics and uses participants from outlets like the New York Times.
You will find that video interviews are one way to participate in studies on the platform which is quite different from other platforms.
They pay between $50 – $400 for research studies which is almost unheard of!
It's easy to refer and earn money with Respondent too!
When you refer a friend and they participate in studies, you'll earn $50 through PayPal.
Start referring friends with Respondent today!
10. Grammarly
If you absolutely hate having poor grammar or spelling mistakes for work or school projects, you should definitely use the Grammarly app. 
I've used it for years now, and it's really helped me while doing freelance writing gigs and writing for my blog. 
Grammarly guides users on:
Tone detection
Formatting
Compelling vocabulary
Formality
Spelling
It comes with a handy Google Chrome extension that shows any errors in spelling or vocabulary and provides consciousness to your writing.
If you're like me and you use this tool almost every day, start making some money by referring your friends to the app.
You can sign up in less than 60 seconds for their affiliate program and include Grammarly in blog posts or as banner ads.
Top performers in their program get:
Cash bonuses
Increased payouts
Exclusive discounts
Sign up with Grammarly for free!
11. Fiverr
Most freelancers know that Fiverr is a convenient place to find moderate to high-paying jobs. 
If you've never used Fiverr before, it's a marketplace where anyone can sign up for free, list their skills, and start working online.
It's perfect for choosing your own schedule and working remotely.
It's best for people who already have a website, or social media account where they can advertise this program.
Fiverr states on their website that, "Anyone can become a Fiverr Affiliate!"
By joining their affiliate program, you can earn between $15-$150 depending on the product promoted.
Sign up with Fiverr Affiliates and promote awesome products to your audience. 
12. Sam's Club
Sam's Club is a membership site where customers can get discounts on wholesale products from top brands.
Departments in Sam's Club include:
Appliances
Flowers and Gifts
Furniture
Seasonal and Holiday Decor
Toys, Games, and Books
They get great reviews from customers who say things like:
"Sam's club is a great place to shop in bulk it helps save money because when you buy things individually they cost more." 
"I love all the free samples they give out on occasion and the fact you can buy tons of stuff in bulk for a really cheap price. "
"…you are buying…. can't say that I have ever got anything bad from there customer service seems to be great too and their pizza is amazing food quality overall is very good "
If you'd like to join their membership to get free samples and discounted products or earn from their Refer-a-Friend program, sign up with Sam's Club today. 
13. Wise
I've used Wise to conduct payment exchanges online and it's an easy platform to utilize. 
It has an intuitive interface with simple navigations that make it easy to complete business transactions.
Wise also has a referral program where you can invite 3 friends and earn $50. 
Use their referral program and when 3 of your friends make their first transfer of more than $200, you'll get a $50 referral bonus.
14. Living Social
Living Social is another site where you can find deals on hotels, meal subscriptions, steaming programs, cruise events, restaurants, and more.
When you hop on the website, you'll notice the original price of the product or service and the subsidized deal next to it. 
I've seen deals of up to 84%!
Living Social has other offers such as LivingSocial Reserve for hotel reservations, Deal Bucks for future Living Social purchases, coupons, and a referral program.
When customers make a purchase with your link, you'll earn commissions. 
Of course, this is better done with a website, email marketing platform, or by using your social media accounts.
15. DailyGoodieBox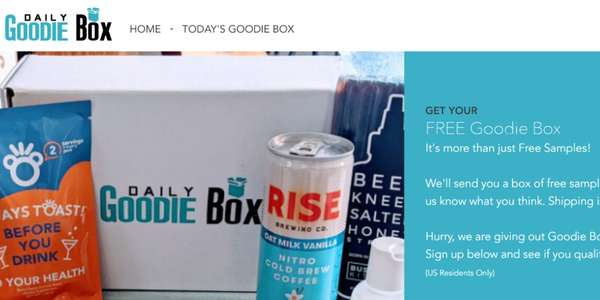 If you'd like to get free samples in exchange for product reviews, there's no better place than with DailyGoodieBox.
This is a company that offers samples like snack bars,  beauty items, and other products from the health or beauty categories for customers to test out.
Once you've been sent your free box, provide an honest review and you get to keep your items. 
DailyGoodieBox has a referral program that you can earn commissions from once a customer signs up with the company using your link.
Sign up with DailyGoodieBox to get your free samples.
16. PrizeRebel
This is a popular website for taking surveys and earning cash online. 
To start earning money on their website, sign up for a free account and take multiple surveys each day.
Each survey has points that can later be exchanged for cash.
If surveys aren't quite your thing, you can also watch videos and complete paid offers.
What you'll probably love the most about PrizeRebel is that you can refer friends and get bonus points.
You can later exchange these points for cash as well.
Sign up for free with PrizeRebel!
17. Swagbucks
Users can join this reward site to earn cash and prizes for doing simple tasks.
Earn money for doing simple things like online shopping, browsing the internet, watching videos, and playing fun games.
I also like the fact that Swagbucks offers coupons that can be used at your favorite retailers.
Imagine doing fun stuff and earning coupons to shop!
If you'd like to further your earnings, refer your friends and and earn 10% of your friend's lifetime points. 
You can easily do this using social media. 
Sign up with Swagbucks and test it out now!
18. Kashkick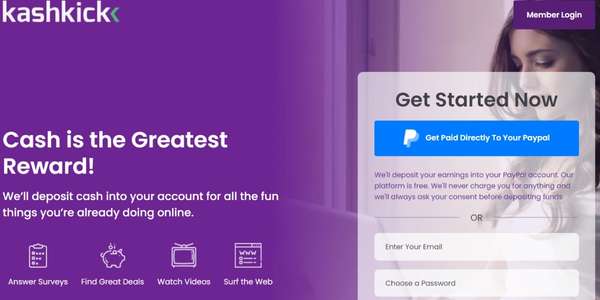 Earn money easily using Kashkick with various money-making tasks. 
First, complete your profile and enter the usual demographic information such as your age and ethnicity. 
After this, you can start answering surveys which could take 5 minutes,15 minutes, or more. 
Enjoy games like Scrabble Go and Harvest Land to earn extra cash.
You might want to hear about Kashkick's referral program which is really profitable compared to other programs.
Refer your friend and earn 25% of their lifetime earnings when they use your special link. 
Sign up with Kashkick and earn from referrals. 
How To Refer and Earn 2000 Dollars Passively 
Are you wondering how to earn 2000 fast?
The best way to make money passively each month through referral programs is to find legitimate sites to sign up with.
There are plenty of online sites promising huge amounts of cash for little work but are in mostly scams.
All the referral programs mentioned on this list are trusted sites or apps that actually pay members.
These sites are not recommended to take your day job, but are ways to earn a little extra cash to cover small expenses.
To make sure that you get the most from them, I recommend:
Signing up to multiple sites and taking opportunities each day.
Use one email to sign up to avoid too many promotions in your work email.
Try other offers apart from referrals as this will help you earn more cash.
If You Liked This Post, Please Pin It For Later!❤️️????