This post may include affiliate links.
One of the greatest dreams of a large segment of moms is to work from home and earn a steady income.
 It's a fantastic experience when you can make money without ever setting foot outside. 
Commuting can be hectic, not to mention the early morning rush to get the family and yourself ready.
However, working as a virtual assistant could change all that!
Did you know that there are hundreds of virtual assistant jobs for moms to work on a flexible schedule?
Yes! And I believe that working as a virtual assistant is one of the best jobs out there – because I do it!
I work for a client and my role involves answering social media messages and emails. 
While working as a VA can get hectic depending on how many clients you work for, prioritizing your tasks can help you manage your days better.
If you're still interested, let's find out more about the most suitable virtual assistant jobs for moms and how to get started. 
Please share the ❤️️ and PIN this for later!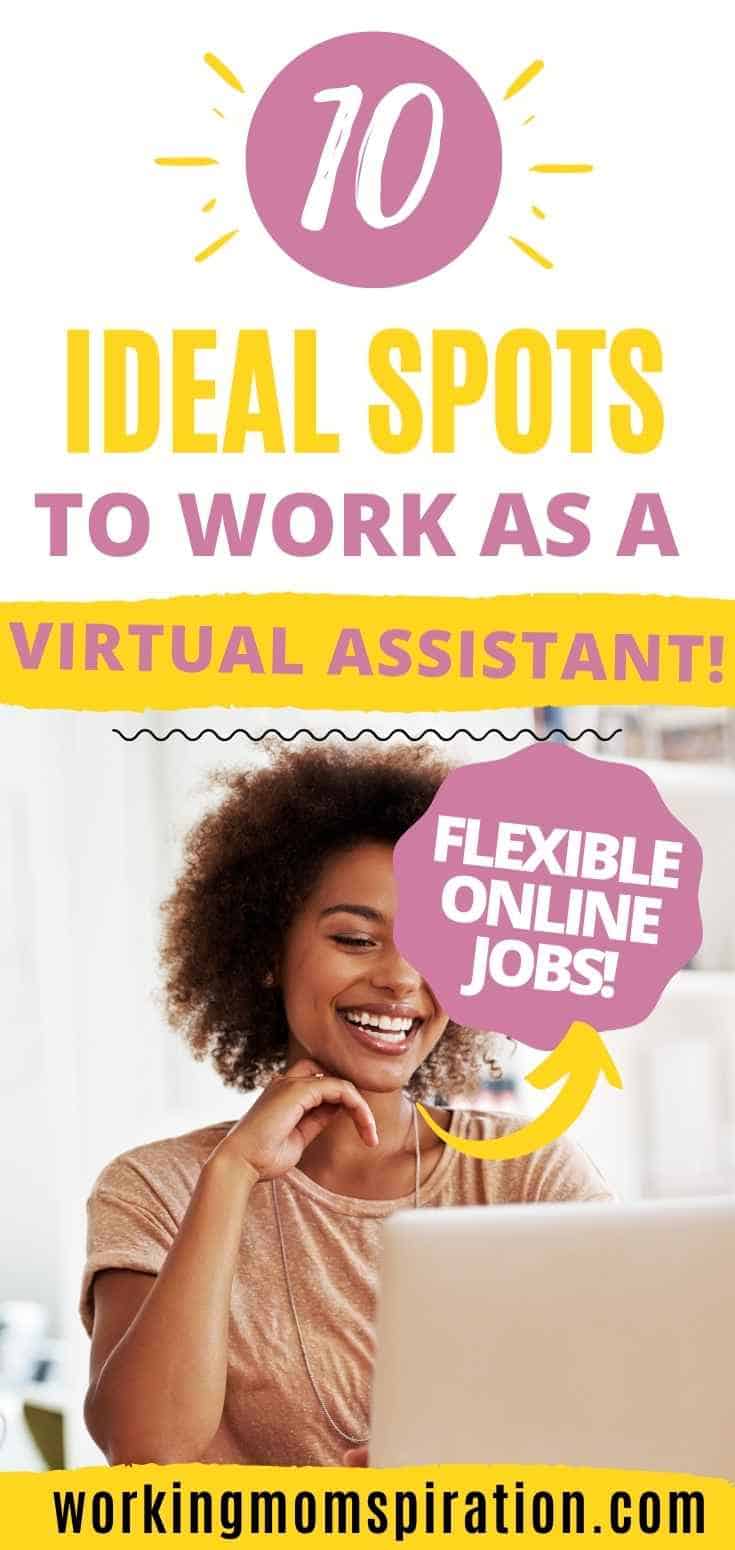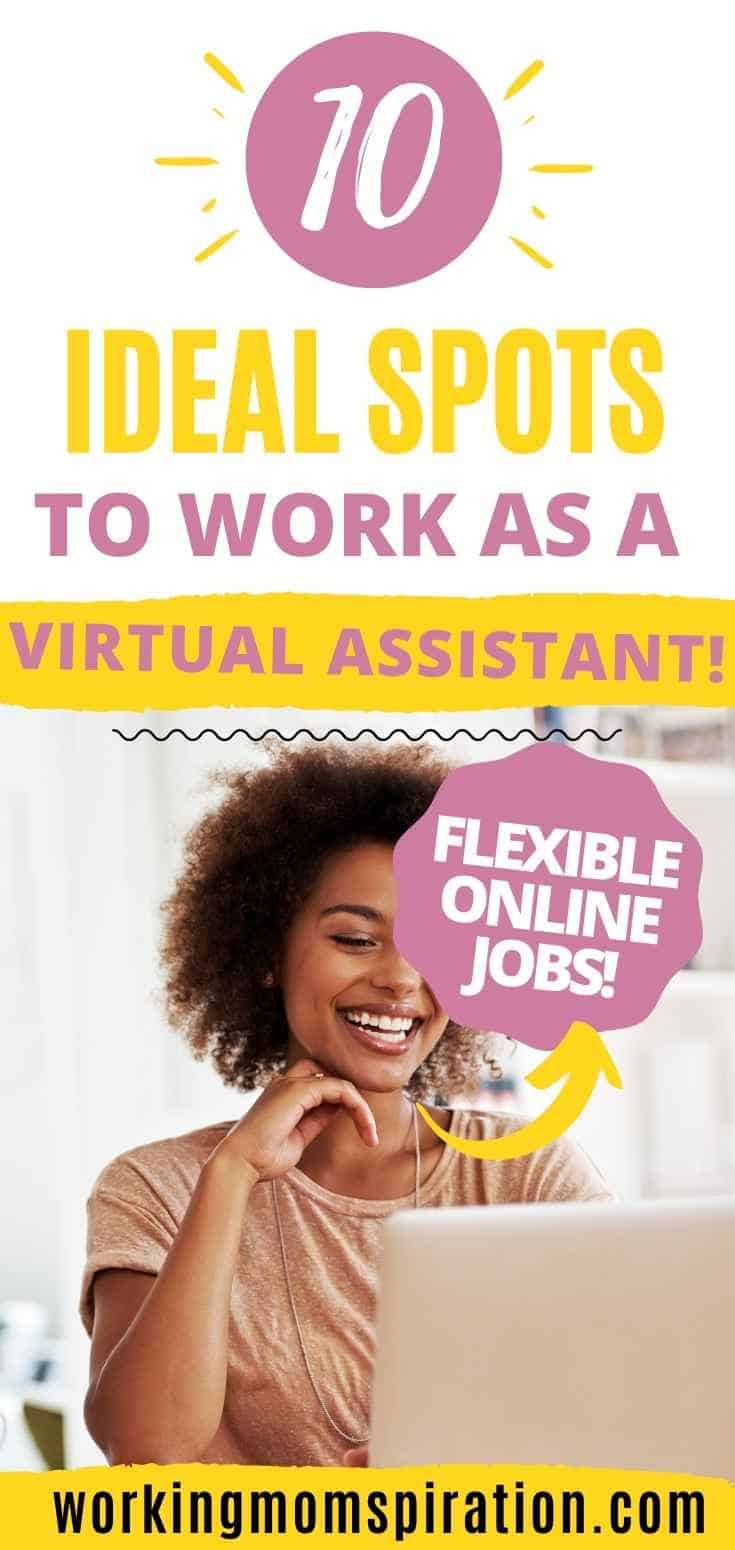 What Do Virtual Assistants Do?
This will be different depending on the client or company, but generally, a virtual assistant does a range of administrative tasks. This can include but is not limited to:
Email management
Taking calls
Booking flights
Making travel arrangements
Managing schedules
Social media management
As you can see, these are tasks that moms do anyway, so I'm sure you can handle it all????
What I can recommend for working at home as a virtual assistant, is to set up a comfy workspace.
Preferably, you can choose a quiet area when taking calls. 
If you homeschool like I do, this might be a bit difficult, so make do with whatever home setup is manageable. 
Requirements to Work as a Virtual Assistant
Some companies do not have many requirements for virtual assistants to get started, as they usually accept beginners.
There are some companies that choose experienced virtual assistants for premium clients like executives, but this isn't necessary in most cases. 
The requirements might include:
A high school certificate
Prior experience as an administrative assistant
Excellent verbal and written communication skills
Being fully computer literate with proficiency in Microsoft Office
Being highly organized
How Do I Become Virtual Assitant With No Experience?
If you have no experience as a virtual assistant and you want to snag a job without any setbacks, there are various ways to go about starting your freelance journey.
Here are a few tips I can recommend as a working VA:
Choose a Niche – Decide on what type of VA jobs you're most interested in. Brainstorm and create a list of tasks you like, and settle on a few of them. For example, would you prefer to help clients with customer service, or would you rather help them with social media management? The choice is yours. Access your skills and decide which is best.
Take a Course – This is not recommended for everyone, but some VA gigs require training. If you have no idea how to manage analytics for social media, but would like to work as a Pinterest VA, or Amazon Virtual Assistant, the best option might be to take a course. Free information online can only go so far. Find out how to turn your VA job into a 6-figure career!
Just Start Applying – Most VA jobs require little to no experience, so you could just start applying for jobs online. Look for legitimate job boards instead of browsing Craigslist ( total no-no). Read the requirements of each job listing carefully, to see if you meet the qualifications. If it looks like a good fit – apply!
Training for Virtual Assistants
While there are plenty of training courses out there, I've found one that's used by real VAs and founded by an actual VA.
It provides some of the best educational resources out there that help thousands of users to find jobs and create a career.
You can get started by using their free download that contains videos, checklists, and worksheets to help grow your VA business and find clients.
Find out how to get started with your own VA business with their helpful training and resources.
How Much Does A Virtual Assistant Make? 
This is the best part about being a Virtual Assistant!
Money!
There isn't a set rate for a VAs salary because some clients pay rates based on the type of tasks, your qualifications, and the hours worked. 
However, the average Virtual Assistant in the US earns about $20.88 per hour. 
Some clients will pay double this amount depending on the state or country you work in, which really opens up more possibilities. 
Best Virtual Assistant Jobs for Moms: Legitimate Spots for VA Jobs!
1. Flex Jobs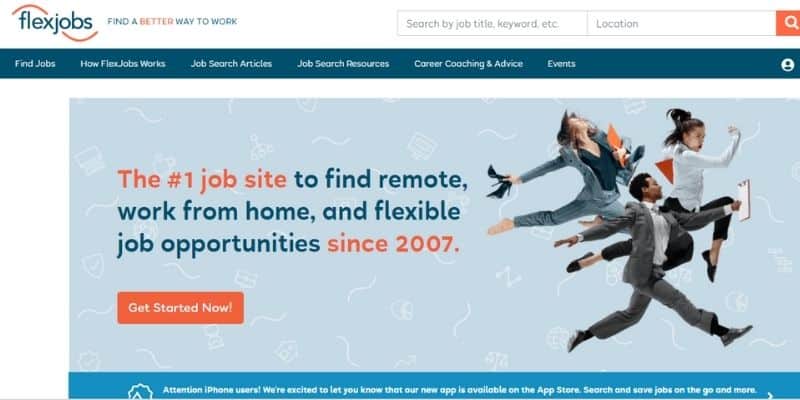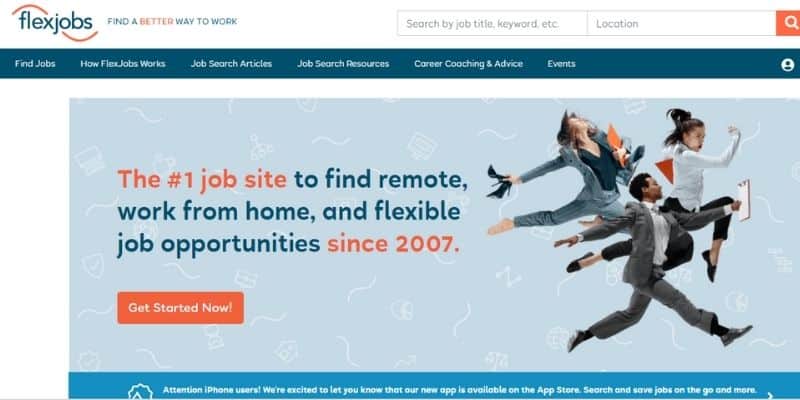 This is one of the best places for freelancers to find remote jobs. 
It is a trusted job board that has a large directory of full-time and part-time jobs that moms can choose from.
 Also, what sets them apart from the rest, is that they pre-screen every job on their site to make sure that users aren't scammed. 
It has an A+ rating with the Better Business Bureau, which shows that it can be trusted.
One thing I love about FlexJobs is that you can categorize jobs by location and job type. 
I hesitated before signing up with FlexJobs initially due to the fee, but I'm happy I did. The great thing about FlexJobs is, you can choose the monthly fee option.  
Once you've found your dream job, stop the subscription and move on!
2. 24/7 Virtual Assistant
This site is great for beginners who want to wet their feet and gain some experience in the VA world.
 This company has a range of services that they offer to clients and you can take your pick of which niche to dive into.
A few interesting solutions for clients are:
Real Estate
Administration
Branding
Web Development
Online Marketing
As a beginner, you may not have experience in all of these fields, but 24/7 Virtual Assistant states that their VAs offer services such as:
Sorting and Filing
Photocopying and Collating
Keeping records of all the important work and transactions
Running Errands
Typing Correspondence
Word processing and typing
Scheduling an appointment
To sign up with the company, check out the application page.
3. Fancy Hands 
This might be one of the best places to find virtual assistant jobs for moms because it's so flexible! 
That's because you're paid per task which takes in the difficulty of the task and other factors.
 While there isn't a set rate, the job appears to include simple day-to-day tasks that can be quickly completed. 
Fancy Hands only requires a few things to get started with them including:
Fast internet connection
Knowledge of websites
Ability to use software
A couple of things you should know are, how to do internet research and using a phone. Basic stuff right?
Daily tasks will include:
Making phone calls
Scheduling appointments 
Tracking prices for stuff
Finding hotels
Data entry
Even though the pay isn't the highest, they make it clear that there's room for growth. Read more if you're interested. 
4. VaVa Virtual Assistants
At VaVa Virtual Assistants, you can earn up to $1,500 per month. How much you earn is based on your skill set and client availability.
One thing to note is that they do require one year of experience working as a VA and only hire in the US. 
Some of your tasks may involve:
Setting appointments
Managing calendars
Creating documents
Find out how to start as a VA with VaVa Virtual Assistants. 
5. Remote Co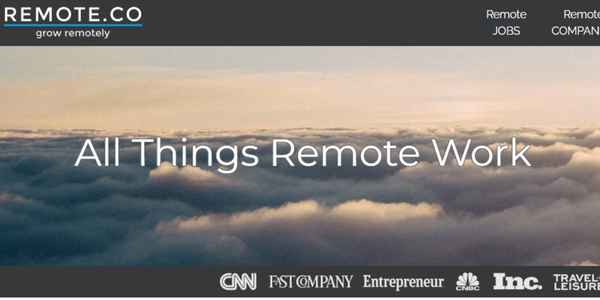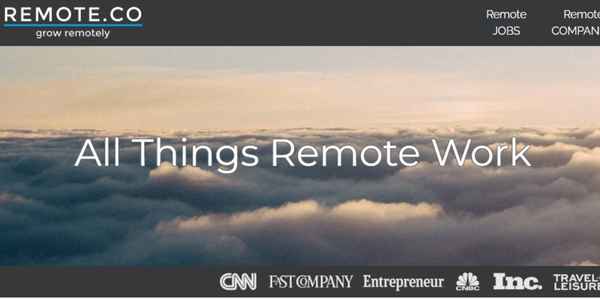 They are known as the 'definitive remote work job board for online job seekers and companies hiring.'
It's pretty easy to navigate the website and find jobs quickly. What's great about Remote Co is that they offer jobs in categories such as:
Customer service
Accounting
Recruitment
Marketing
Online Data Entry
Most virtual assistants perform these tasks daily anyway, so it's a convenient site to readily find virtual assistant jobs. 
What sets this site apart though, is that once you select an available job, it displays the location, salary, job benefits, and the role with a description.
If you'd like to find a job right away, browse Remote Co for current job listings. 
6. Vicky Virtual 
The main role that you'll be playing at Vicky Virtual is dealing with phone calls. So you're basically a virtual receptionist and the job sounds simple enough.
Clients will pay you to answer calls in a friendly manner, route calls to different numbers, voicemails, and extensions, and make calls in a professional manner.
Sounds pretty simple to me! Even though I don't answer calls right now as a VA, this job sounds great.
Other tasks you'll perform when working for Vicky Virtual are:
Taking messages via text or email
Booking appointments
If you do decide to work with Vicky Virtual, you'll be working from home and you do need to be welcoming and helpful to ace this role.
Check out Vicky Virtual today.
7. Upwork
Another place to find virtual assistant jobs for moms on a freelance basis is Upwork. Upwork is a freelancing marketplace where moms can sign up and find VA jobs online. 
On Upwork, you get to choose your own rates, which proves to be profitable if you're an excellent worker. 
It's best to do a thorough job as a VA, as you get rated by your client. The better your rating, the more opportunities for jobs on the platform. 
If you're interested in this free platform, check out current opportunities. 
8. Fiverr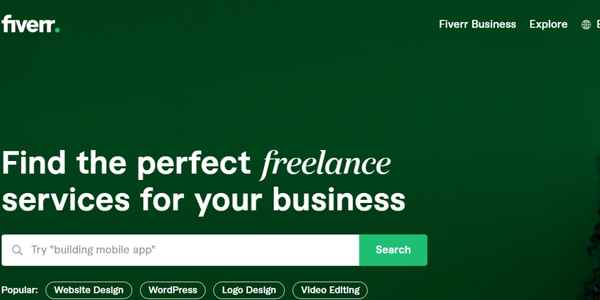 I must admit that I have used this platform's services and it's really useful. It works much in the same way as Upwork, even though it's probably more popular. 
I can recommend Fiverr as one of the best freelance platforms around, where you're guaranteed your money.
Get started on Fiverr by browsing the website and then setting up your profile. Set your ideal rate and start accepting gigs online. 
It's completely free and you can choose to work whenever you want.
Check out Fiverr and see if it's for you!
9. We Work Remotely 
This is one of the best remote job portals to use as a virtual assistant because it lists job opportunities only from legitimate companies around the world. 
Apart from the comprehensive job listings on their site, they also offer articles on the top 100 remote companies and a learning portal for job seekers.
You can make your job search easier by using their search option or selecting categories to find similar jobs.
Browse their website to find virtual assistant jobs for moms who want to work remotely.
10. Boldly
This is a popular Virtual Assitant company that offers jobs to VAs who have a bit of experience.
They are used by big brands and hire executive assistants, social media managers, and marketing managers. 
You receive certain benefits working for Boldy which include:
Flexibility
Completely remote jobs
Paid parental leave
Paid vacations
In order to have success at this company, it's necessary that you have reliable internet, strong time management, dependability, and friendliness!
Look for remote positions on Boldly.
How Can I Become a Certified Virtual Assistant?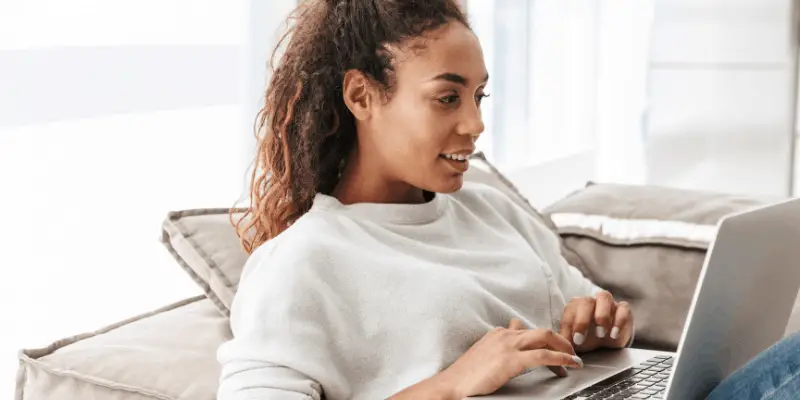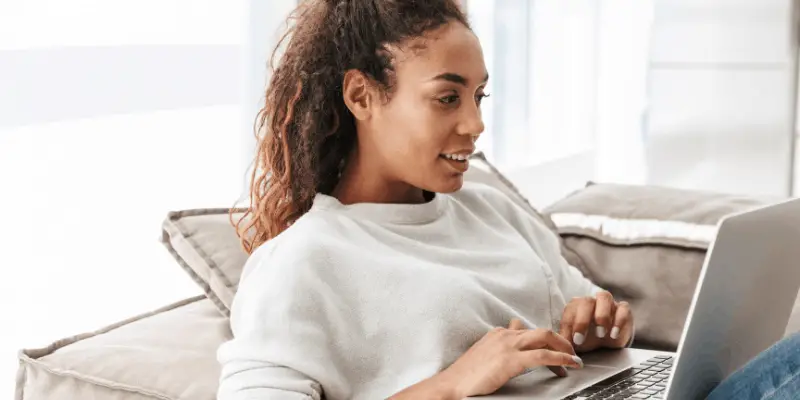 Becoming certified as a virtual assistant does give you a competitive edge when it comes to higher-paying jobs and faster job offers.
The best part about being certified as a VA is that you can complete your course online and get started working as soon as possible!
You can become certified as a VA with a company like ACGP Global which can be completed online.
What Kind of Virtual Assistant Jobs are in Demand?
Even after deciding to work as a virtual assistant, you may find that you can't decide on a specific niche. Also, you may be wondering what kind of virtual assistants are in demand.
At this time, it appears that the most in-demand virtual assistant services include project management, social media management, and email marketing. 
This is because small businesses have hundreds of tasks to complete each day on their websites and e-commerce stores, so it would be impossible for them to do it alone. 
If you're interested in more high-paying options, looking into these VA fields could be a good option. 
What is the Easiest Job as a Virtual Assistant?
This will all depend on your skills, qualifications, and level of experience.
However, for most beginners, the easiest job for a virtual assistant will include simpler tasks such as data entry, transcription, and general administration such as taking and making calls.
Most VAs do a combination of these tasks, while others settle on one specific niche such as Pinterest management.
How Can I Work from Home as a Mom?
The number one tip, I can give you for working at home as a mom, is creating a schedule. I work from home as a VA and blogger, so managing my time is essential. 
You can create a schedule and place it on a sticky note or do something more complex like using a spreadsheet.
Choosing a specific time for chores, spending time with kids, and working, can help to make your day flow much better.
It doesn't always work when I try it myself, but I attempt to improve things each day. 
You can do the same mama! 
Other Virtual Assistant Websites to Find Legitimate Jobs
Zirtual -US
People Per Hour -Worldwide
Belay – US
Virtalent – UK
LinkedIn – Worldwide
Are These the Best Virtual Assistant Jobs for Moms?
This might depend on personal preference, but most of these options are great for beginners with absolutely no experience!
As a mom, you can work from home in a cozy area and earn money on your own time
It also gives you flexibility because you can choose a part-time or full-time schedule.
Whether or not your kids are home, these flexible jobs can be done by just about any mom!
Please PIN This for Later!