This post may include affiliate links.
As a teenager, I enjoyed signing up for surveys to make extra money. I wanted to buy my own clothes, video games, and food. (I was a major Doritoz fan)
I knew it would never make me rich, but at the very least, I could make some extra cash.
It's not just teenagers who can earn money doing surveys, but moms can take advantage of this opportunity too.
There are hundreds of surveys for moms to do online that are legitimate and safe. 
You can find paid surveys for moms with reputable companies by looking at online reviews like this one.
However, as a mom who scours the internet all the time to find convenient ways to make extra income, I've put together a trusted list of the best online survey sites where you can earn an extra $300 per week.
Instead of being duped by scams or being paid a ridiculously low amount of money, here are some of the highest-paying survey sites for moms to earn extra income each month.
This can come in pretty handy for holiday shopping, emergencies, or to cover a few bills.
If you're a stay-at-home mom who wants some easy cash or a simple side hustle, these survey sites will pay you simply for answering questions that won't boggle the mind.
Can You Make Money Doing Surveys?
The honest answer to this is yes, you can make money doing surveys online.
Legitimate companies will pay you for giving your opinion, simply because they need answers.
 Usually, these are market research companies that need to know what a certain demographic thinks because it will help them in developing a product or service.
Sometimes, your answers will allow them to amend their products or provide better service to their customers.
Even though it's pretty easy, most people will not do this for free, hence the reason for paying people to answer these relatively easy questions.
Are These Paid Online Surveys for Moms Legit?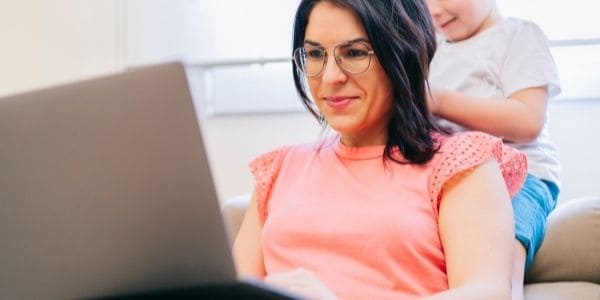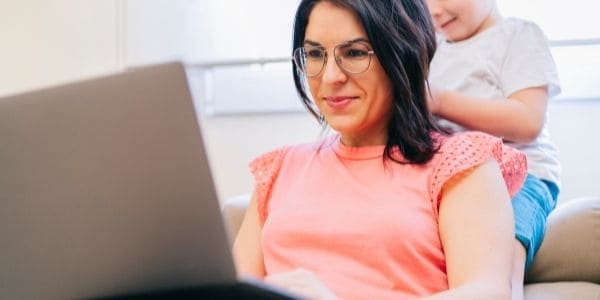 All the surveys I will mention today are 100% legitimate and will pay you cash and sometimes gift cards depending on the company.
Each company will have its own rules on :
How to sign up
How to get payments
The amount of surveys to complete each day
The survey sites I will list today all have credibility, trust scores, and private policy pages that you can check before signing up with them.
How Much Money Will You Make From Answering Surveys?
The amount of money you can make will depend on how many surveys you do, and the amount per survey that the company pays. Keep in mind though that surveys are not a full-time job – just a way to make some extra money.
Based on your schedule as a mom, you can make an extra $100, $200, or even $300 per month! Because some surveys are longer and more in-depth, they may pay more money than shorter and easier surveys.
Why Should Moms Take Paid Surveys?
I highly recommend taking surveys as a mom because you don't need to have a particular skill, certification, or requirement to do them.
It's just a simple way to earn money that only requires the internet, a phone or tablet, and a bit of spare time.
You don't need to apply for a job and wait for someone to call you, or go through a daunting interviewing process. Taking surveys online is completely flexible and you can complete them at any time of the day.
We know that as a mom time is very precious. So if you can make some easy money with a side job like completing surveys, it's a win-win!
List Of the Best Paid Surveys for Moms
1. InboxDollars ????????????????????
This is an excellent paid survey site for moms who want to make some extra money doing a variety of fun tasks. 
Since 2006, InboxDollars has paid $80 million to its members worldwide.
It has a 4.5 trust score on Trust Pilot, meaning that they have great reviews from people who have taken surveys on the site.
What makes InboxDollars a good choice is that it pays some of the highest rewards around! 
Imagine making $5 for taking a single survey!
However, you can earn money doing plenty of things apart from taking surveys.
On InboxDollars you can also:
Play games
Read emails
Shop online
Watch videos
Refer friends
One thing I like about InboxDollars is that you'll know how much you'll earn before taking a survey or task. So you can choose higher-paying options if you like. 
Instead of accumulating points like some survey sites, you make actual cash.
Once you reach a threshold of $30, you can withdraw your money via Paypal, check, or gift cards.
When you sign up with InboxDollars, you get a $5 signup bonus. From here, you can start answering questions about your education, income, and more.
This helps you to get surveys tailored to you.
Ready to start earning money? Sign up for your $5 bonus now!
2. Survey Junkie ????????????????
Another legitimate way for moms to take paid surveys for cash is through Survey Junkie.
It's a nice option because it's easy to get started and you'll earn rewards just for signing up.
As you do various tasks on Survey Junkie, you'll get points that you can then redeem for Paypal cash or gift cards.
I love the idea of getting money through PayPal because I can easily shop online and make my purchases safely. 
I get pretty excited about gift cards and you should too!
You can use them to buy your favorite products at places like Target, Amazon, Walmart, and Sephora. 
As you continue to answer questions, you'll get more points. This will include simple questions on topics related to social media, shopping, or food.
When you sign up, you can earn 25 points, and completing your profile earns you 50 points.
You can even earn up to $150 a task!
Not too bad if you ask me.
Another way to earn money on Survey Junkie is by participating in focus groups.
Start earning with Survey Junkie today!
3. Swagbucks ????????????
One of the easiest survey sites to get started with is Swagbucks! If you want to earn money doing surveys as a beginner, Swagbucks is a convenient place to start.
It has short, paid surveys for moms who have a busy schedule and just want to answer questions really quickly.
Just like with InboxDollars, you can earn a $5 bonus just for signing up on their site. If you get bored from doing surveys, you can complete a host of other tasks as well.
You can enjoy playing games, inviting friends, watching videos, entering daily challenges, and earning cashback when you shop.
What better way to get back your hard-earned money after being forced to buy Nintendo games for the kids!
Their surveys take about 10 minutes or less to complete and even if you don't qualify for a particular survey, you can still earn consolation points that make up for that.
Surveys pay between 1- 350 Swagbucks which you can then redeem for PayPal cash or for gift cards.
After earning Swagbucks, you can shop at spots like Amazon, Lowe's, or Target.
Earn a $10 signup bonus when you sign up today!
4. My Points ????????????
You might not have heard of MyPoints before, but it's one of the few places to find legit surveys for moms.
They have been dishing out rewards since 1996 and are a very popular online platform to complete a variety of tasks.
Just like InboxDollars and Swagbucks, you get paid to do everyday tasks.
These include:
Playing games
Watching videos
Reading emails 
Recommending products
While they do have a lot of market research surveys, they do pay significantly less than some of the other survey sites on this list.
What I do recommend, is using MyPoints for shopping rewards. 
Get started by creating a MyPoints account and then choose from thousands of popular retailers. MyPoints will grant you points for your purchases.
You don't have to go out of your way to shop either. Instead of using walk-in vendors, just make your usual purchases online or buy gifts at these retailers. 
Once your points get to a certain amount, you can redeem them in the form of gift cards or PayPal money.
Get your free $10 bonus with MyPoints today!
6. Toluna ????????????????
Have you ever thought of becoming an influencer?
As a mom maybe not, but you can still earn money by being an 'influencer of sorts' with Toluna.
Toluna has been around for more than 25 years now and is home to millions of members.
You can do surveys that pay up to $15 each and take only a few minutes to complete.
With Toluna, you can earn about 1200 points for doing 10-minute surveys.
These surveys cover really easy topics like lifestyle, technology, and movies. If you enjoy answering these kinds of questions, consider doing several surveys each day, which will allow you to earn even more rewards. 
As a Toluna member, you can also earn money by
Testing products
Doing polls 
Engaging with other members
Referring friends
Doing contests
Posting content
When you're using Toluna, be sure to complete profile surveys. Profile surveys will help you to qualify for personalized surveys.
You will earn more by getting additional surveys to fill out and earn greater rewards.
A few of these survey topics include:
Shopping habits
Family
Media
Career and employment
Become a Toluna Influencer and earn money now!
7. Prize Rebel ????????????????
This is a popular paid survey site where moms can earn extra money in their leisure time. 
If you want to make money without much of an effort then Prize Rebel is a great place to start. I have an account with Prize Rebel and they have an easy signup process.
Just sign up with your email and start answering surveys! Be sure to fill out your profile correctly to get surveys that are personalized.
Prize Rebel also has an Offer Wall where you can earn points for doing tasks like watching videos or searching the web. 
You'll be rewarded with points for every survey you answer. After you earn about 100 points, you'll earn a dollar.
Just like some of the other survey sites on the list, you'll get a cash reward or gift cards in exchange. You can also earn money by referring your friends to Prize Rebel.
Use your referral link to share on social media or by email.
Start earning with Prize Rebel now!
8. Panda Research ????????????
Would you like to make money doing survey jobs for research companies?
One of the best places to find paid surveys for moms specifically in market research is Panda Research.
Panda Research has been around since 2015 and is one of the safest online survey sites for moms to try.
Panda Research pays up to $50 for detailed surveys, though most of their surveys are around $1.50. You can take around 10 minutes to complete most of their surveys.
One way to make extra money with Panda Research is by using their referral program.
You'll make 10% of the cut for all the friends you invite to the Panda Research program. You can also get discounted deals and special promotions by participating in various surveys. 
They also send email offers that grant you additional incentives and offers for completing tasks and doing reviews. 
Be aware though that although Panda Research is a legitimate company, they do have lackluster reviews regarding a lack of surveys at certain periods and long waiting times for payments to come through.
Also, the only way to get paid by Panda Research is through PayPal.
Sign up to get started!
9. Opinion Outpost ????????????????????
If you want to earn money with one of the fastest-paying survey companies, then you're in luck. 
Opinion Outpost is known for being a fast-paying company and that makes it really popular.
They are a reputable company that has a quick sign-up process where you can easily redeem your points for money.
As a busy mom myself, I know how hard it can be to find time throughout the day to plan and manage extra tasks.
They have short surveys that you can do quickly and earn points. You have the potential to earn an extra $300 a month or more with Opinion Outpost and the other survey sites on this list.
Most surveys are worth around $3 or less, so you can quickly accumulate points and cash out quickly. This is because they have many survey opportunities for you to complete on a daily basis.
You'll have a choice of earning money through PayPal or by Apple or Amazon gift cards. Their minimum threshold payout is low, and you can expect to cash out payments quickly.
Earn money with Opinion Outpost now!
10. Branded Surveys ????????????????????
Want to know another popular online paid survey site for moms?
It's called Branded Surveys and they give you real rewards for completing surveys on their website.
Like InboxDollars, they have a 4.5 rating on Trust Pilot and excellent reviews to go along with it. 
First, head to the Branded Surveys login page and sign up. You earn points when you sign up and additional points for filling out your profile. This can take around 15 minutes or less.
Once you've done that, you can start taking surveys right away. 
What's great about it is that members can make around $5 for each survey completed. After you've earned enough points (around 1000) you can cash your earnings which is equivalent to $10 USD. 
Branded Surveys also has a loyalty program known as Branded Elite that allows members to earn bonus rewards. You can make more money by going through different tiers.
Completing more surveys allows members to earn more bonuses. If you have friends who would like to earn money from simple tasks, invite them to join and get additional points and redeem these points for cash.
You can also participate in daily polls, and rank on their leaderboard for additional rewards.
Try Branded Surveys today!
11. American Consumer Opinion (ACOP) ????????????????????
This is another legitimate survey site that will grant you rewards and points in exchange for money. 
Now this company is truly an oldie but goody and has been handing out rewards since 1980.
Not only does it have an excellent Trust Pilot review, but has already paid out $30 million to members already.
Their longer surveys can bring you around $50 while shorter ones pay around $1. Do ten short surveys that take around 5-10 minutes and that's $10 in your pocket already!
ACOP makes it pretty easy to track earnings with their simple points system. You can also engage in product reviews and earn up to $200 for giving your honest opinion on a product.
The surveys on their site are often related to advertising, testing new products, and marketing. 
You'll basically be engaging in paid market research online for companies that need consumer opinions. 
When it comes to payments you need to accumulate 500 points in order to earn $5.
One downfall is that ACOP does have longer payment processing times for checks, but participating in high-paying surveys that pay through PayPal, may be faster. 
12. KashKick ????????????????
Would you like to join a survey network for moms that pays well and offers various ways to earn money?
If so, then Kashkick might be the answer.
KashKick is a relatively new survey site, but it's already become quite popular due to its ease of use and reward offers.
It has excellent survey opportunities that you can find daily. Before taking these surveys, you'll need to do a preliminary survey to match you to unique surveys.
Once you're ready to take these surveys, scan all available surveys and choose from the highest-paying surveys.
You'll also find paid offers to complete like short tasks, quizzes, watching videos, and playing games.
Sign up with KashKick and earn cash back!
13. InboxPays ????????????????
If you enjoy reviewing products and would like to get paid for it, InboxPays is the place to go.
Here, members get paid to do market research and give a review on products from legitimate companies.
It's easy to sign up to InboxPays, enter your profile details, demographic information, and get matched for the right surveys.
Most surveys are worth between $1-$5 and will only take a few minutes of your time.
You can also earn money on InboxPays by:
Referring friends
Reading emails
Doing paid offers
Clipping coupons
If you enjoy getting payment faster,  InboxPays is on the list of survey sites that pay through Paypal.
14. Life Points ????????????
Want to avoid survey scams and make real money online?
LifePoints needs panelists just like you to do surveys, product testing, and short tasks for research.
As you use LifePoints you'll earn points and exchange them for Amazon gift cards or PayPal cash. 
Just like other market research sites, simply sign up and enter some basic information about yourself. Users can start earning points right away by doing simple tasks.
Keep in mind that the surveys on LifePoints are very short and each one shouldn't take more than 10 minutes of your time.
15. Rakuten Insight ????????????????????
Rakuten Insight has surveys that take as little as 3 minutes to complete and some go up to as much as 20 minutes.
Of course, the longer a survey takes, the more money you'll receive.
Rakuten Insight partners with various companies that want to make improvements to their products.
When you answer surveys on Rakuten Insight, you'll be helping these companies while getting paid.
You can download the Rakuten Insight app on your device, complete surveys, and cash out using PayPal.
16. You Gov Panel ????????????
YouGov Panel is one of the leading survey companies with more than 5 million members around the world.
Once you have signed up with them, you just need to verify your account and start earning some side cash. YouGov offers daily questions, opinions, and other options to earn money.
Users on YouGov Panel will earn points that they can redeem for cash.
Most surveys will take you around 5-15 minutes to complete.
17. iSurvey World ????????????????
Rated as one of the more higher-paying survey sites, iSurvey World is a great option for moms to make extra money when they're not too busy.
Most surveys pay around $1-$2 and you'll get $5 just for signing up!
When you've completed your profile, you can start taking surveys and receive your payment via Paypal.
They have a really easy-to-use interface that isn't riddled with ads, like some other survey sites.
One downside is that they don't seem to have a referral program which usually allows you to make extra money by inviting friends to join.
Sign up with iSurvey World for great rewards!
Bonus Paid Surveys for Moms
18. Opinion Bureau ????????????
19. Opinion Inn ????????????????
20. Clearvoice Surveys ????????????
21. Opinion Heard ????????????
22. Nielsen Computer and Mobile Panel ????????????
23. Opinion Bar ????????????
24. Hintsters Surveys ????????????
25. Point Club ????????????
26. Profluence ????????????????
27. Quick Rewards ????????????????????
28. YourSurveys ????????????
29. Survey Cabin ????????
30. Opinion Champ ????????????
31. Survey Club ????????????
32. Survey Savvy Connect ????????????
33. Top Surveys Today ????????????
34. Opinion Network ????????????????
35. Opinion Poll ????????????
36. Rewardia ????????????????
37. SaySo Surveys ????????????
38. Springboard America ????????????????????
39. Pinecone Research ????????????????????
Answer Surveys for Gift Cards
40. Dabbl ????????????????
If you'd like to answer surveys for gift cards then Dabble is the best option for you.
On Dabble, you can complete surveys for Amazon gift cards and other retailers like  Best Buy, Walmart, Target, and Bed Bath and Beyond. 
It's actually a free app that almost anyone can download and start earning rewards. 
Apart from doing short surveys, you can also watch videos, answer trivia questions and play games on the app.
When you've earned enough points, you can access gift cards in the amount of $5 and $10.
Try the Dabbl app for awesome gift cards!
Starting Earning Money from Surveys Now
Surveys are a quick and easy way to earn extra cash online. While you will never get rich from it, you have nothing to lose by signing up with a few of these sites.
You can greatly benefit from answering only a few questions each day, testing products, watching videos, and playing fun games.
Most of these sites even allow you to complete tasks using your phone.
So, if you're a mom who does find some extra time throughout the day to yourself, hop onto these platforms and start doing paid surveys.