This post may include affiliate links.
Would you like to find legitimate proofreading jobs online?
I've got a work-from-home opportunity that involves reading and a little bit of writing.
Does this sound like your cup of tea?
If you shudder at consistent spelling mistakes or awkward grammatical errors, you might like these legitimate online proofreading jobs that allow you to work anywhere you want. 
While entry-level proofreading jobs are nothing new, they are super convenient for beginners who would like to start working online as proofreaders without too much hassle.
These jobs may also be convenient for expert proofreaders who simply want to make some extra cash online. 
You might be wondering if proofreading really is for you.
I'd say if you want to learn a high-paying skill, then proofreading is definitely something you'll want to try.
Not only is it flexible, but you can work from the comfort of your home or even at your local cafe. 
And remember, this opportunity can also be a lifelong career because proofreading is never going away.
Bloggers, business owners, and content creators like myself, all make mistakes when we're writing –it's human nature.
And there are hundreds of businesses that need proofreaders on deck as well.
In this post, I'll get into legitimate proofreading jobs for beginners that can be done online, so you'll never have to commute.
I'll also show you where to find them and how to get trained as a proofreader.
Want to start making money right away?
Sign up for this free workshop that will teach you how to get started in proofreading and earn an income from it.
Please share the❤️️and PIN this post for later!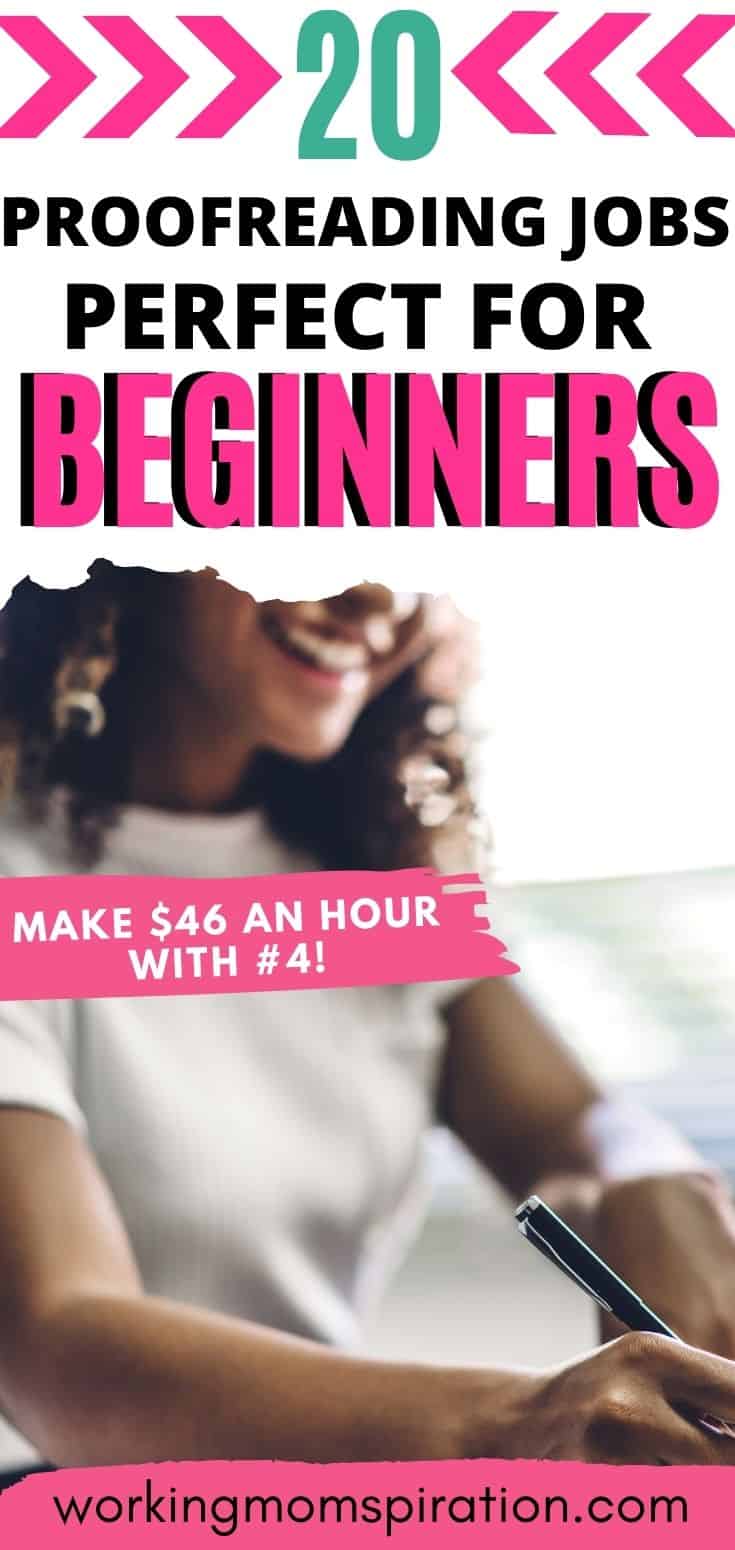 What is Proofreading?
No doubt you've already heard about proofreading and what it involves.
People sometimes confuse proofreading with editing, which is something completely different. 
Proofreaders work on fixing grammar and sentence mistakes while an editor works on sentence structure and succinctness.
As a proofreader, you will be the last 'eye' before a paper is published and your job will be to correct the final errors – so no pressure!😉
This stage is very important because there might be teeny tiny errors that haven't been noticed beforehand, but once a proofreader goes over them, these can be cleared up.
How Much Money Can I Make as a Proofreader?
This will all depend on:
If you choose to work full-time or part-time
Your experience as a proofreader
If you're a beginner, you might make less than an experienced proofreader which is only normal.
So if you're not a newbie to proofreading, you can expect to make more per hour. 
Since this is a post to help you find legitimate proofreading jobs for beginners, I will provide you with a few stats from industry leaders on the salary you can actually make.
According to Indeed, the average proofreader makes $22 an hour which is not too bad if you ask me.
A report from Salary also backs this up stating that proofreaders make between the range of $47,126 and $61,321 a year.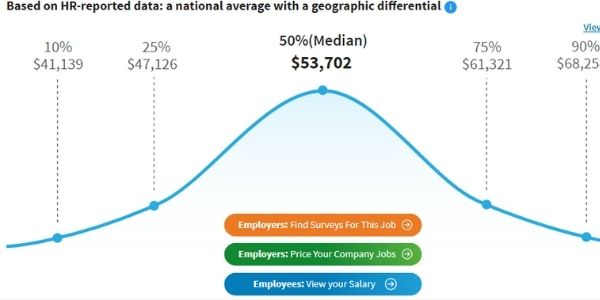 Also, the added benefits are that you will be working from home, so you won't have to pay a fare or spend money on filling your gas tank each week.
Despite all this, you may still be wondering what's in it for you when it comes to working online as a proofreader.
What are the benefits?
Are there any downfalls?
Let's find out!
Benefits 
Working from home
Choose your schedule
Manage your own time
Small investment as a business
Try multiple proofreading side hustles at once
Downfalls
Need to work with tight deadlines
Must be able to multi-task with different projects
Proofreading and typing scams are rampant
Can't be easily distracted
With that said, proofreading is best for people who don't need much supervision and can keep laser-focused on the job at hand.
Not everyone is fit for this and that's okay! Just make sure you're choosing the right online job that works for you.
How to Get Proofreading Jobs?
Just about anyone can do proofreading because it's a skill you can learn online.
You don't need to do a proofreading training program at an office or workshop physically.
That's one of the things that make it such a popular career!
This free workshop by Caitlin Pyle from Proofread Anywhere, gives you all the basics on proofreading, how to snag clients and most of all – how to make money from proofreading.
If you're still on the fence about proofreading, check out the free workshop right now!
Essential Tools for Proofreaders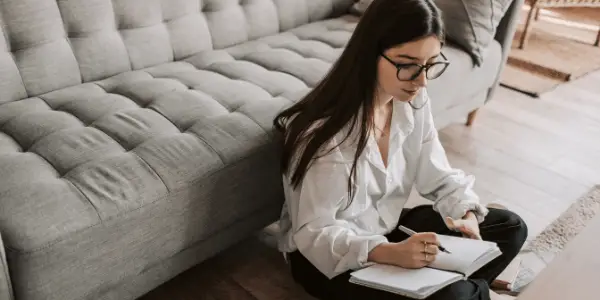 If you're going to proofread online it is necessary to have a few tools to make your life that much easier.
Bonus? These are all free!
Grammarly: I proofread every single blog post with this and it not only corrects spelling mistakes and punctuation but also enhances writing with readability hints and suggestions.
You can use the free Chrome Extention on various websites too!
Google Docs: Simple way to send and receive documents with your clients.
It also has this cool feature where it automatically saves any recent changes you've made to your document. 
Spell Checker: A simple took that helps you find any errors you may have missed. 
Ginger: A lifesaver for proofreaders that helps find more advanced issues that are not that obvious. 
Language Tool: This is a proofreading program in English, Spanish, French, and more than 20 other programs.
Pretty handy!
Legitimate Proofreading Jobs Online
This is an online job board that lists hundreds of work from home jobs in a range of fields.
As a proofreader, you're in luck because Flexjobs provides freelance, part-time and remote work at home opportunities. 
What I love about the website is that it screens and handpicks every single job listing, so you can avoid scams.
Be aware that for all the incredible legitimate job offers from FlexJobs, there is a monthly fee of $14.95, so it is not free.
However, Flexjobs does offer a 30-day money-back guarantee, so if the site is not up to your standards you can get a refund.  
This is one of the best places for freelancers because it's a marketplace where you can choose your own gigs.
This means that you will know what you'll be getting into before starting a project.
The projects listed on Upwork will explain the job description, the time frame of the job, and any qualifications you need to snag the job. 
As a proofreader, you will need to optimize your profile to show why you're best for the job. 
This is a website for proofreaders and writers to find jobs online that fit their qualifications.
They offer both part-time and full-time roles so you can work as much or as little as you want!
Even though Contena is a paid membership site, they provide a catalogue of resources on working as a freelance writer and how to make the most of it as a career choice.
If you want to invest in a worthwhile job site that caters specifically to writers and editors, then Contena is perfect for you. 
As the name suggests, this is a site that offers proofreading services.
As a proofreader, you can apply and start working on a freelance basis.
They provide part-time proofreading jobs and their hours are very flexible.
Another awesome thing about this proofreading job site is that they pay up to $46 per hour!
Of course this will depend on the urgency or the workload.
They also require that you pass a proofreading test, so be sure to look out for that.
This is an ideal proofreading company for entry-level proofreaders.
While the pay isn't awesome, newbies can build their online portfolio, develop their skills and earn a decent income. 
It's great if you haven't quite decided if you want to do proofreading full-time, but still want an online job.
Similar to Upwork Fiverr is an online marketplace for professionals to find remote jobs that suit their work preference.
You may not find the best-paying jobs, but you might find a few that are worth it. 
A good way to get started on Fiverr is to create a profile that showcases your qualifications.
This way, employers will know just what to expect from you.
This is another proofreading program you may have already heard of.
It's perfectly suited for college students or recent graduates with some experience in proofreading.
You'll need to take a short quiz before starting with them, and you can earn up to $3,000 a month!
Polished Paper offers both full-time part-time opportunities to 'exceptional editors'.
If that's anything to go by, you may have to be an expert in your field. 
They require that you sign up for an account, upload your resume and then perform a 35 question editor test.
It's best that you have a knowledge of MLA, CSE, APA, and Chicago formatting guides.
Want to work as much or little as you like? If that's the case, then Scribendi is for you.
Scribendi hires proofreaders to edit copy for clients and they hire from all over the world!
You can work full-time, part-time or occasionally. 
They require that you have a good knowledge of computers to be able to download and upload files as needed.
If you run into any issues, they would like you to be able to troubleshoot on your own.  
This company is always on the lookout for stellar proofreaders and editors.
Apart from proofreading, WordVice also offers other jobs opportunities such as:
Freelance Editor
Research Expert Content Writer
Freelance Translator
They hire editors from all over the world, so no matter where you live, you can work for WordVice remotely.
Their vetting process is a bit more advanced as their editors need to have a master's degree or above to work for the company.
If you believe you meet these requirements, visit them today. 
You'll be happy to know that this company is listed on the Forbes 100 list of remote companies.
If you're hired, you can work from the comfort of your home as a freelancer and earn money as you wish.
The application process includes a multiple-choice question to test your proficiency in grammar.
If you do pass the test, you will be able to take some follow-up tests along with an interview. 
This company hires proofreaders with a bit of experience, so if you have been building your portfolio, you could probably snag a job with them.
They also look for proofreaders in the book publishing scene, so if you have worked in that capacity, it's a big bonus.
Also keep in mind, that you will need to pass a proofreading test to work with them.
Gramlee mentions that they're 'grammar fanatics' and that they're looking for awesome editors for their company.
You will be working as a contractor and work on your own schedule. 
Once you fill out the employee form on their website, they will get in touch if you're a fit. 
Proofread Now states that they have very high standards for their editors and that only a few who apply are accepted.
Don't let that get you down though- if you've got the skills, you'll make it. 
The company accepts proofreaders in a variety of fields such as:
Law
Finance
Medicine
Technology
At Proofread Now, you can land a job and work from anywhere in the world as long as you have a stable internet connection and editing tools. 
Edit Fast makes it clear that they have freelance roles available but 'they cannot always guarantee work'.
However, they do explain that they make payments through Paypal and that they take 40% of the project price.
So this is something to think about before using their platform.
They require their proofreaders to have:
A degree
Access to a laptop
Stable Internet Connection
Proofreading experience
Word Processing software
If you're ready to take the plunge sign up with Edit Fast Today!
Apart from being ranked as one of the best companies to work in America, Scribe Media also boasts plenty of benefits to its full-time members such as:
Insurance Benefits
Health Saving Accounts
Immediate access to 401K
On-time Payment
Emergency Loans
Paid Time off
They also highlight their company culture which includes 'doing right by people' and the tribe principle 'we before me'. 
Another benefit of working for Scribe Media is that they have flexible working hours.
Do you have any experience proofreading essays? Because that's what you'll be doing at Prompt.
This is a very flexible job requiring a minimum of 4 hours per week.
As a beginner, you will make around $20 per hour and once you're approved as a full member, you can earn anywhere between $25-$28 an hour.  
Although this is a job site that provides a range of careers, you can find hundreds of companies hiring proofreaders and editors. 
Of course, some of the jobs available may be part-time or full-time depending on the hiring company.
However, you can scroll through their listings to find a proofreading job that fits your qualifications.
You'll be able to work for Wordy as a beginner, however, the greater your experience, the higher your chances of landing a job.
In order to qualify on Wordy, you will need to pass a few tests to showcase your skills in grammar, spelling, and language structure.
You'll be working as an independent contractor, so of course, you'll get to choose your own hours. 
This is an online marketplace where you can find proofreading jobs that cater to academic proofreading, blog articles, and book proofreading.
They make it clear that you can work as little or as much as you want.
Also, you will get your payments quickly and they create an online system where you can easily monitor your payment history. 
You can earn up to $11 per hour working at Writing Jobz.
What Skills Do I Need to Become a Proofreader?
There are certain requirements that are needed if you're to embark as a freelance or full-time proofreader.
Native Speaker of English
One of the first requirements is that you need to speak at the native level of whatever language you are proofreading.
Because the sites listed in this post are geared toward English speakers, you will need to be a native speaker of English in order to work as a proofreader.
Knowledge of Grammar Rules
Another requirement is that you will need to have proficiency in grammar, punctuation, spelling and certain writing styles.
Of course, online tools like Grammarly do help, but you will still need to understand the language structure and nuances.
Tech-Savvy
You will also need to be computer or tech-savvy.
There are certain tools you will need to use such as proofreading and/or writing software as required by the company.
This will vary, so be on the lookout for that. 
Qualifications
I wanted to give you a heads up in case you run into online jobs that require certifications for proofreading.
Some companies will require that you have a bachelor's degree to become a proofreader, but most don't.
You will see that most online proofreading jobs don't need any form of certification for their proofreading positions.
How Can I Train to Become a Proofreader?
Becoming a proofreader does require that you understand how to quickly spot mistakes and have the ability to work independently.
With that said, there are several training programs out there for you to get started.
If you're serious about proofreading as a career, then this training program might be right for you. 
Proofread Anywhere is an online training program that has more than 40 lessons divided into modules that explains the proofreading process, snagging clients, getting paid and more!
All in all, this program will fit you for your very own proofreading business so you can make a full-time income.
Get started with the free workshop today!
Is Proofreading Right for You?
This will all depend on your passion, skills and how much you're willing to work. Proofreading is not for everyone.
But do you enjoy reading? Are you fascinated with fixing errors? Do you want a career that involves managing your own schedule?
Proofreading might be for you if you enjoy these things.
If you're not too sure as yet, that's fine. I would recommend that you apply for proofreading jobs online and test it out. 
If it works out it can be a fully sustainable career choice and you can even transform it into a business.
Ready to start proofreading now? Go ahead and start applying!