This post may include affiliate links.
Have you ever thought about selling digital products on Etsy?
If you're interested but not quite sure what to sell, there are many digital products to sell on Etsy, even for beginners!
Being creative is essential to making it on the platform, so it's great if you have an understanding of design and what looks pretty.
There are things you may have contemplated such as:
What digital items can you sell on Etsy?
What digital items sell best on Etsy?
Selling digital products vs physical products.
How to create digital downloads.
Is it safe to sell on Etsy?
The most profitable things to sell on Etsy.
If you're thinking that there's too much competition, or it's too difficult to create digital products, that's totally not the case.
To be honest, though, it's harder to do well on Etsy if you:
Choose a competitive niche
Copycat the competition
Don't do keyword research
Don't like creating products
I'm not going to make any promises that you will make easy money on Etsy, because that's not how it works.
However, if you study the market, find a non-competitive niche, know your audience and create unique, useful products, you can turn this into a 6-figure business in time. 
Don't believe me? This mom makes $12,500 each month by selling digital products on Etsy!
She started this side hustle while on maternity leave and when she noticed that she was making passive income, she invested more time in using SEO to increase her visibility.
This is something you can do right now.
If you're interested in starting a passive income business online, I'll show you 40 killer digital products to sell on Etsy, that are super popular and ripe for the taking!
Please share the ❤️️ and PIN this for later!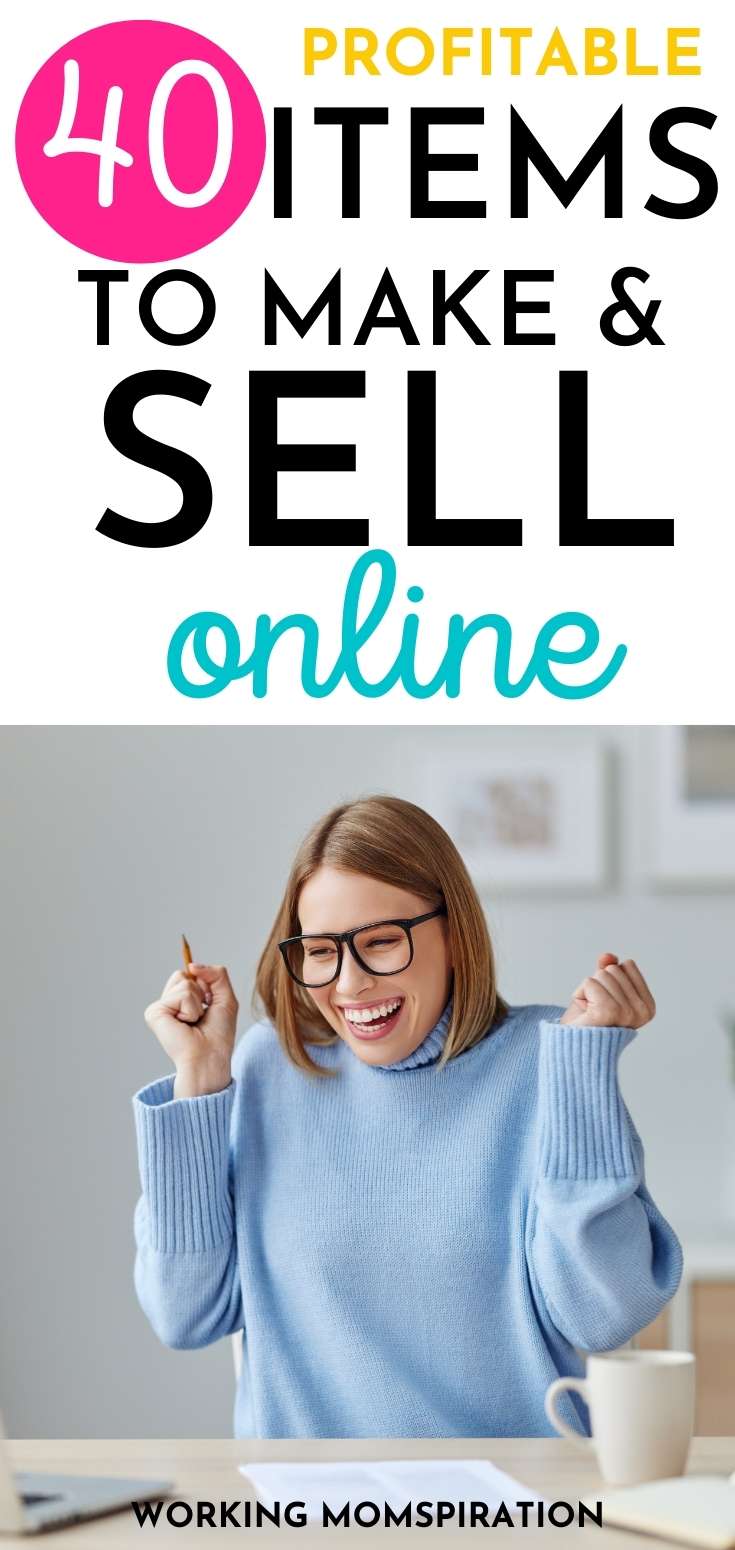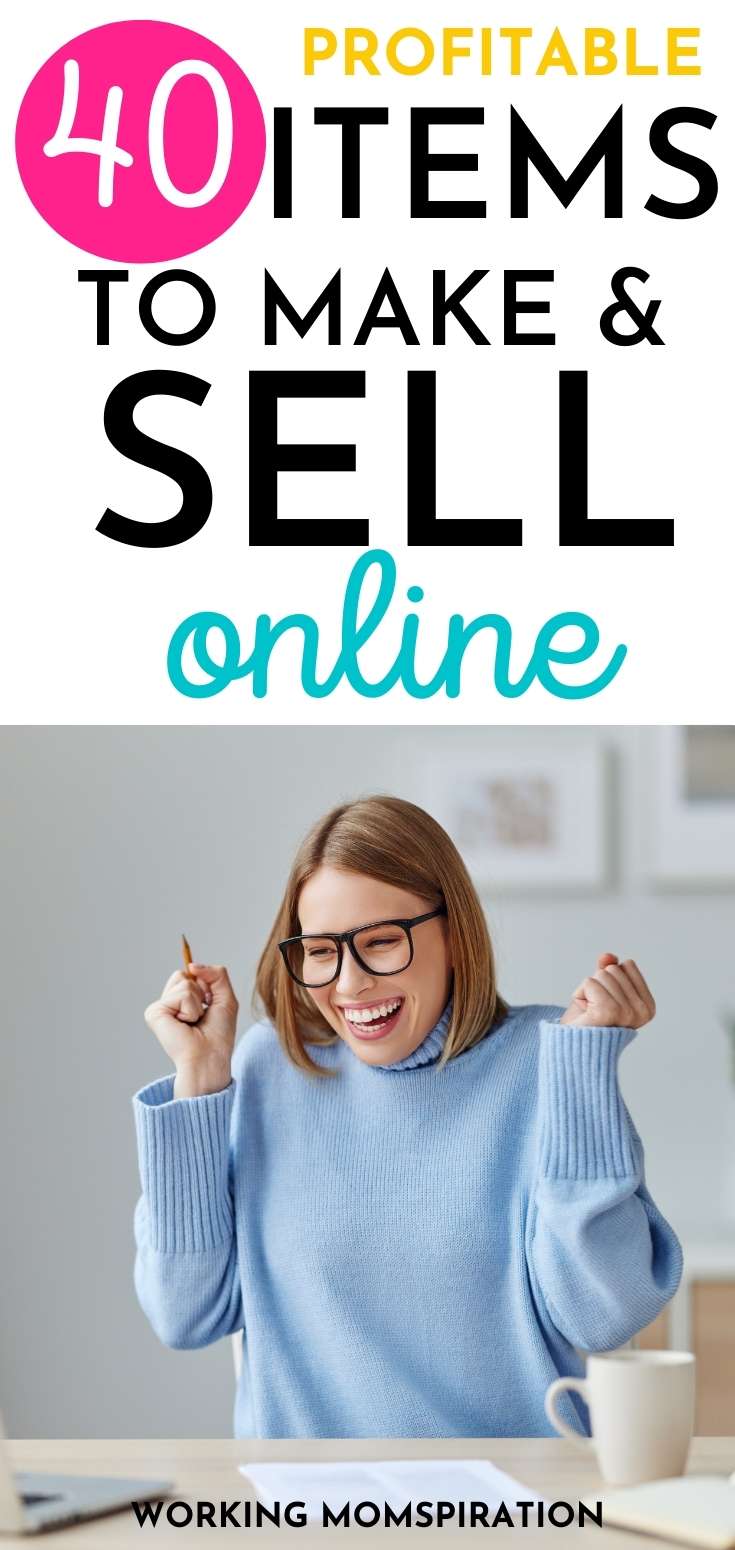 Profitable Digital Products To Sell On Etsy
1. Productivity Planners


Would you like to sell one of the most popular digital products on Etsy, and put your own spin on it?
I'm sure you would! Printable productivity planners are perfect for people who want to set and meet their goals.
One of the main audiences you could market these productivity planners to are moms who work from home. 
I can't think of anyone busier than moms, and these planners can help them to manage their tasks and keep track of them.
They are also great for business owners, students, and teams who need guidance on upcoming projects or assignments.
A great idea for sales is to market your planners to a particular audience. 
2. Business Cards


These are definitely an oldie. But goodie.
Business Cards have existed for like…forever, and it doesn't look like they will be disappearing anytime soon.
If you would like to sell a product that's mainstream, business cards are a great place to start.
However, you can make yours unique by creating editable business cards and selling them to customers who want to customize them to their liking.
To make your printable cards stand out, try using custom fonts, cute icons, and pretty patterns that customers can move around for a one-of-a-kind look.
One place to make them editable for customers is with Canva.
Simply provide the downloadable link for customers to edit the card.
Not every seller does this, so I think it's a fantastic idea to get customers and retain them.
3. Chore Chart


This is one of my favorites, and I actually made my own using Canva.
However, not everyone wants to create printables from scratch, so making your own and selling digital downloads on Etsy is a fantastic idea. 
Of course, your main audience for chore charts are families and in particular mothers, who want to assign chores and other duties to their kids.
For greater sales, try creating colorful chore sheets as parents will gravitate toward these more. 
To get more bang for your buck, you could create tabs on the chore charts to add names for children with personalized icons.
4. Digital Wall Prints


Do you hang art on your walls?
Well, a lot of people do and they purchase wall art printables to add to their decor.
As with many niches on Etsy, the wall art niche is very competitive, but you can niche down to find less competitive niches.
You can sell wall art prints as single pieces and in bundles. Both sell really well on the platform, but art printables that follow a particular theme are more profitable.
Say for example you would like to sell nursery wall art, it's best to use a theme like nursery names with patterns, or ones with a range of baby animals.
5. Clip Art


If you're an artist and drawing is something that comes easy to you, you could create custom graphics and sell them to customers.
These are usually graphics that are used on other projects like invitations, posters, flyers, and other printables.
When creating clip art, the best way to get more sales is to create a bundle that all looks cohesive and sell it at a reasonable rate.
6. Logos


Every business needs a logo – most businesses anyway because it helps with their branding.
I created my own logo for this blog too – but I created it using only fonts.
Trust me, drawing is just NOT my forte. Logos are another digital product to sell on Etsy for profit because the demand is there.  
If you're interested in selling logo designs on Etsy, the best way is to showcase a portfolio of designs you've made or create designs if you haven't already sold any services.
Having a good sense of design and artwork will help you to excel as a seller.
7. Resumes


This might just be one of the top-selling digital products on Etsy because the job hunt is always on.
Not everyone wants to create a resume from scratch because, in all honesty, it can be kinda tedious.
The designs you create don't have to be fussy because most resumes are pretty simple. However, you certainly can add custom features such as:
Resume Icons
Custom Fonts
Various Industries
Cover Letter Example
This adds value for the customer and they make come back for future purchases.
8. Wedding Invites


Wedding invites never go out of style and I can see them being one of the best digital downloads to sell on Etsy because people prefer to have them designed by professionals.
There are several types of wedding printables on Etsy, so you can definitely create your own space even in such a large market.
There are particular invites that go with a certain theme such as minimalist, patterned, greenery, foiled, ivory, simple, boho, and I could go on and on. 
Just be sure to add 'This is an electronic download' to your listings, as some customers might get confused and think the invites are being mailed! 
9. Meal Planners


Planning meals especially for large families can take a lot of work.
That's where these convenient printable meal planners come in. Meal planners can have daily, weekly and monthly tabs along with shopping lists.
When it comes to meal planners, I'd say to add pops of color and maybe cute food icons for a fun little 'foodie' theme.
Another way to add more value is by adding a daily food diary for customers to keep track of what they actually ate or the food items they used. 
10. Gift Certificate


One of the easiest digital items to sell on Etsy might be gift certificates.
They are so simple, that even a beginner could make one.
Gift certificates can be used by businesses or shop owners to offer discounts to their customers.
Instead of making one themselves, they can head to Etsy to purchase affordable templates, make some edits, and gift them to customers.
This is something you can easily create in Canva on your own.
 11. Menu Cards


These are great items to use for weddings, birthdays, and baby showers to add a unique touch to the event. A menu item is a simple printable that almost anyone can do themselves.
However, when it comes to impressing guests, you really want to go all out!
You could design both foldable and non-foldable options for customers and create cards that have a theme.
It's best to create them in such a way that they can be easily customized by the customer. 
Another important aspect is incorporating sections where the customer could add meal options such as entrees, main courses, and desserts.
12. E-books


Did you know that Etsy also offers e-book templates for customers?
E-books can be used as lead magnets for bloggers, as recipe books for cooks, or sold as a course. They can be created in varying styles for a unique look. 
A lot of Etsy sellers promote templates that are editable in Canva, Illustrator, and Microsoft PowerPoint, so you can easily customize your own e-book using any one of these tools. 
13. Activity Sheets 


To make money from one of the best-selling printables on Etsy, you need to check out Activity Sheets. These can be any type of activity for kids to learn or have fun with.
If you have kids, you may have an idea of the type of printables to create.
Activity sheets can involve writing practice, matching words, fill-in-the-blank, labeling, and more.
You could also include fun games such as tic tac toe, hangman, or hidden pictures.
Kids love these types of games and they can be a great time-saver for homeschoolers!
14. Recipe Cards


Do you use recipe cards at home? You may not, but they are so convenient for home cooks.
Recipe cards contain recipes ( like obvi) with measurements for each ingredient, the amount, the serving size, the prep time, and the cooking time of the meal.
What's great about the recipe cards on Etsy is that they are editable and customers can play around with them to add their own ingredients, measurements, and features.
15. Lightroom Presets


Selling digital files on Etsy isn't difficult when you choose to promote quality products. Lightroom presets are a popular digital product on Etsy.
Lightroom presets aren't printable products but instead, digital items that enhance photos. They act as filters for customers to use on their photos.
Etsy sellers make lightroom presets available for Android, IOS devices, and for desktop versions as well.
16. Social Media Templates


Who wouldn't love to have one of the top-selling digital products on Etsy in their shop?
Sometimes a profitable product can belong to a few shops and might not be a top-selling digital product on its own.
I do believe that social media templates might be one of the best digital downloads to sell on Etsy too. 
That's because social media templates are frequently used by bloggers, brands, and businesses to promote products and services on Instagram, Facebook, Twitter, and even Pinterest. 
A great way to make sales is to create bundles with a variety of templates at an affordable price. 
17. Coloring Books


Instead of purchasing all their products on Amazon, customers may turn to Etsy for coloring books.
The coloring books and sheets on Etsy are really gorgeous and it's no wonder they are such a hit!
You can market to different audiences too because there are coloring books geared to kids, adults, and teens.
I've also seen coloring books with motivational quotes, bible characters, animals, seasons, Kawaii, and more!
18. Digital Stickers


This is one of my favorites and it's so convenient that they come as digital downloads too!
Most of the digital stickers I've seen on Etsy are created for digital planners, but some creators are making them for labels or decor.
Some of my favorites are those cute stickers with motivational quotes and icons attached. If you're new, creating stickers doesn't have to be difficult.
I used Canva to create my own stickers which I sell on Redbubble!
19. Real Estate Checklists

If you want another easy digital product idea to sell on Etsy, checklists might be the right choice for you.
As you know, checklists are used to keep us up to date with what we need to accomplish. real estate checklists are a great product if designed correctly. 
For your own template, it's best to include categories that are most commonly used when moving. These include:
Moving Checklists
Cleanup Checklists
Buyer Checklists
Seller Questionnaires
Maintenance Checklists
As mentioned before, creating a bundle with useful templates can attract more customers to your listing.
So, do some research on the type of checklists needed for real estate inventory.
20. SVG Cut Files

If you're interested in creating digital downloads for Etsy from scratch, SVG cut files are one such item. 
SVG files are also known as Scalable Vector Graphics.
When you resize them, they don't lose their quality which is essential for designers and crafters.
It means that these designs can be placed on large murals or on a tiny teacup for printing. 
The best way to create your own SVG files is by using a Cricut machine.
This will help you to make epic designs that customers will love. The SVG files are often used in Print On Demand services for T-shirts and merchandise. 
21. Digital Paper


Another fantastic digital product idea to sell on Etsy is digital paper.
These are similar to physical wallpaper but instead are used for printing.
They can be used in a variety of ways too, because they are patterned digital downloads. 
One of the best digital paper products I saw on Etsy was a glitter themed-product with 100 different items.
If you're going to sell this type of product, you will need to do something similar and give the customer bang for their buck. 
I would recommend drawing patterns or purchasing products from Creative Market to create these patterns. 
22. Workbooks


If you have a creative mind and would love to help business owners utilize workbooks for their audience, this is one product you could create and sell on Etsy.
Workbooks are comprised of different template pages that customers can customize for their particular needs. 
Workbooks contain sheets such as:
Charts
Opt-Ins
Webinars
Challenges
Even though most workbooks contain much of the same templates, try setting yourself apart with unique designs.
23. Blog Planner


Bloggers often use blog planners to plan and strategize their blogging goals.
Sometimes when you have something on paper, it's just easier to do it.
I used a blog planner when I just started this blog and I used it to write blog post ideas and create a blogging schedule.
I am slacking a bit on it now, but it's still worth using.
Blog planners may come with templates like:
Daily Checklists
Blog Post ideas
Blogging Kits
Content Creator Listing
If you do create blog planners, try to showcase how customers can best use the item to their advantage to achieve their goals. 
24. Digital Party Invites


Who doesn't send party invites at least once in their lifetime?
Make birthdays and other events special by designing unique printable invites. You can create your party invites in different sizes that the customer can choose from and use attractive colors that pop.
When designing your product, think about the audience you're serving as this will determine how your design turns out.
Types of Party Invites include:
Kids' Birthday
Housewarming
College Graduation
Games night event
25. Fitness Tracker


Using a fitness tracker is one of the ways to stay up to date with your health needs and it can be tempting to purchase a bunch of them.
Etsy sellers create fitness trackers with a myriad of categories. Some of these include:
Workout Schedules
Water Intake sheet
Challenges
Weekly & Daily Exercises
Weight Loss sheet
Adding a workout checklist and food intake with measurements could be a good idea to include in your bundle. 
26. KDP Interiors


There are plenty of trending digital products on Etsy and KDP interiors might be one of them.
That's because many entrepreneurs are seeing how easy it is to sell books on Amazon.
KDP interiors are simply items like lined pages, blank pages, planner sheets, coloring pages, and an assortment of other printable materials that can be placed in books. 
Etsy sellers who create these items sell them online to budding authors. I've created my own using Canva and I made a sale within my first few months of selling books.
You too can create KDP interiors using Canva, Indesign, and Affinity Publisher. 
Find out how to create your own books and sell them on Amazon!
27. Flyer


Flyers are great for promoting events and advertising products.
Businesses utilize them heavily to promote services. Even though flyers are common printables, it takes a lot of creativity to make them attractive.
The design is all on one page, so it has to make a statement. 
Using neon colors, bright graphics and gorgeous fonts can make your flyers look 'fly'????.
28. Baby Shower Invite


Baby showers are fun, especially for the expecting mom who wants everything perfect for that special day.
Baby shower invites have a soft, minimalist feel that gives a delicate vibe. Oftentimes, baby animal graphics and watercolor elements are used. 
It's best to use whimsical, cursive fonts as they add a feminine feel. 
29. Spreadsheets


If you're someone who likes to keep track of expenses, then you know just how important spreadsheets are.
It appears that a lot of people purchase spreadsheets from Etsy because there are several results on their platform. 
You could create spreadsheets for annual, monthly, and daily expenses, along with graphs, transaction trackers, and bill calendars. 
30. Product Labels


Using well-designed product labels is one of the best ways to market products.
The label is like the 'book cover' that potential customers read before they purchase. This can make a big difference whether a product sells or not.
Can you create fancy designs that drive sales? If so, you should definitely try creating product labels and selling them on Etsy. 
31. Invoice Templates


This might be one of the easiest digital products to sell on Etsy for complete beginners.
An invoice template is just a single sheet comprised of categories like Products and Services, Unit Price, Quantity, Bill To, Company Details, and more. 
Creating this doesn't require any special software and you can easily create one in Canva.
32. Sleep Trackers


Did you know that some people track their sleep?
Yes, and apparently, these sleep trackers are very popular digital products to sell on Etsy.
They basically help users to know the quality of their sleep and if they're getting enough. 
If you do plan to create these products yourself, customers may want daily, weekly or monthly categories, a place to take notes, and even mood trackers for each day. 
33. Stock Photos


Would you like to know one of the best digital products to sell on Etsy?
It's stock photos of course! I say that because you don't need any fancy software to make them.
A simply high-definition camera or just your smartphone will do. 
I use photos on my blog and content creators need them for their businesses.
Try taking a photography course before diving in. 
34. Fonts

I absolutely love purchasing fonts online! I use them for my Pinterest pins and for creating products to sell online.
Could you create gorgeous fonts and sell them to customers? If you can, it's an awesome passive income opportunity!
Even though you can sell them on Etsy, there are other platforms to sell your fonts online and earn cash every day!
35. Greeting Cards


One of the best-selling printables on Etsy has got to be greeting cards.
They are profitable items, especially for special events like Christmas, birthdays, and Valentine's Day.
Be sure to add humor or heartwarming sentiments, as these tend to sell better. 
36. Bookmarks


I love collecting bookmarks because I'm a true book lover.
Even though we're used to seeing rectangular bookmarks, you can have fun and create them in different shapes and sizes.
To add more flair to your creations try creating animal-shaped bookmarks for animal lovers, flower-themed bookmarks, and bookmarks with funny quotes!
37. Mockup Templates


This is great for people who have a great sense of design.
That's because mockups help to make sales products look even better. You can create mockup templates for T-shirts, books, planners, wall art, and more!
38. Icons


This is another digital item that you could sell on Etsy if you're good at drawing. Icons are used as phone or tablet app covers to add customization features. It's a good idea to take a look at the best sellers on Etsy to get some ideas. 
39. Web Templates


If you're good with coding, then you just might be able to sell web templates on Etsy.
Website templates are used by bloggers like myself to add a customized theme to a blog.
A website theme creates a feel for the blog and usually targets a particular audience. 
Web templates are on the more expensive side, so you could create a fantastic passive income stream with this one. 
40. Sewing Patterns


This is an excellent product to create and market to crafters.
Sewing is a constant trend and lots of people are taking it up as a hobby.
However, there are some who turn sewing into a business.
Why not create sewing or embroidery patterns and sell them on Etsy?
You can turn this into a skill to help others learn and earn money at the same time!
How To Go About Selling Profitable Digital Products on Etsy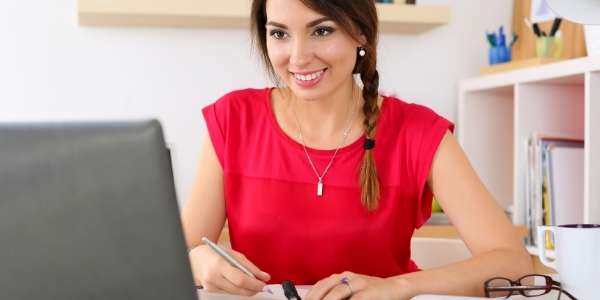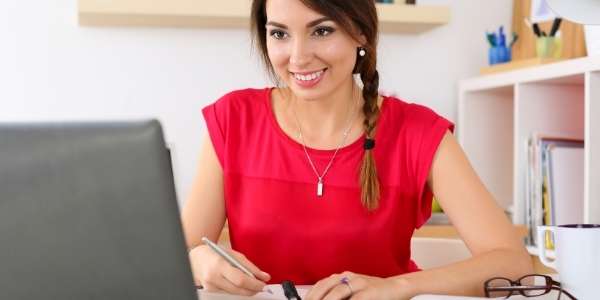 Selling profitable products on Etsy won't come overnight, but you can speed up the process by following the best practices of successful Etsy sellers Here are a few general tips to try:
????Validate Your Niche
This process isn't difficult and as a matter of fact, you can do this in less than a minute. Validating your product is simply checking to see if there is a market there for a particular product.
Head over to Etsy and type in the name of your product idea to see if there are any results. If there are sufficient results (or any at all) this means there is a market for that product.
????Do Keyword Research
This might be the most important part of the process. Doing keyword research is essential for any business and even more so, when using a highly competitive marketplace like Etsy. 
To find non-competitive keywords, try using keyword research tools like Sale Samurai or Marmalade. This will help you to choose keywords that you can rank for especially if you're new to Etsy.
Marmalade costs $19 a month, while Sale Samurai costs $9.99 a month, which is very affordable. If you plan to be in the Etsy business for the long haul, I definitely recommend using a keyword research tool. 
????Create Quality Products
This definitely goes without saying, but creating quality digital products to sell on Etsy is a must.
Because the idea of selling on Etsy is tempting, you may want to rush into it and create a product quickly and start selling.
But it's much better to take your time to develop products that customers will love as it can really pay off. 
Don't risk it by creating any old thing because customers do leave reviews which can be brutal and this can affect your chances of selling future products. 
✅Add Value To Your Listings
There is a lot of competition on Etsy, so you'll want to make sure that you're adding value.
By that, I mean going the extra mile and thinking outside the box. If one of your competitors creates a planner that has a daily and weekly schedule, you can add a daily, weekly, and monthly schedule, checklists, trackers, and anything else that's relevant to your product.
 Show the customer why they should purchase your product over your competitors.
Another tip for increasing your sales is by creating listings with instructions and guides, showcasing how the customer can use the product, and even adding a video in the form of a slideshow of the product. 
What is the Cost To Sell On Etsy?
Before taking the plunge to create a shop, any sane person would have to ask, "Is it still worth it to sell on Etsy?"
I believe it is, especially because there isn't a monthly cost like some other platforms.
However, you are required to pay a listing fee of $0.20 for each product added to your shop.
The 'listing lasts for 4 months or until the product is sold', according to Etsy.
Once an item is sold, there is also a 6.5% transaction fee. Find out more about Etsy's fees to see if this is the right side hustle for you.
Is Selling Digital Products on Etsy Profitable?
It can be if you follow the steps mentioned above, perform competitor research, provide great customer service, and be consistent.
Market Place Pulse is a website you could use for reviewing the top Etsy shops based on sales within a 30-day period.
It's a good idea to check it every once in a while to see what these shops are doing to get sales. This could include:
Quality of products sold
Product release consistency
Quantity of products sold
Core audience
Customer Service Feedback
This could help you to know what the competition is doing so you can mimic their best practices and avoid any errors they have made. 
Resources For Selling Digital Products On Etsy
In order to create quality products to sell on Etsy, making use of tools and resources can help you along the way.
Here are a few I use in my own business which have helped me tremendously!
I use this to create graphics for my blog, for T-shirt designs, making stickers, KDP covers and interiors, and even logos.
I absolutely love Canva and using Canva Pro is probably the best investment I've made to date.
To be honest, I use this tool almost every day, and it's great for beginners or even illustrators. Sign up to get a 30-day free trial!
I've used this site mostly for KDP interiors, but it also has clip art, graphics, fonts, and many other useful items for starting your side hustle! Sign up for gorgeous graphics!
This is similar to Creative Fabrica, but I'd say its inventory has a wider array of products. You can get illustrations, stock photos, graphics, digital paintbrushes, and much more. Get graphics like the ones below now! 
Loading Preview…
Powered by Creative Market
I love design bundles and I've used them to buy fonts for my products. However, they also have graphics, clip art, and other illustrations that you can use to create printables. Sign up for your bundles! 
Sell Digital Products on Etsy for Passive Income!
It's possible to sell digital products on Etsy for extra money or turn it into a passive income stream.
The popularity of these products is only increasing so it's the best time to get into the game and profit from it.
If You Liked This Post, Please Pin It For Later!❤️️????