This post may include affiliate links.
Are you in desperate need of some cash?
You may need to pay off a loan, buy a new tablet, pay for your kid's new game console, or do an impromptu family road trip. 
I know I've been in many situations where I needed money in a hurry too, so it happens to all of us.
Either way, you want some money, and you want to make it fast.
In this post, you'll get some savvy tips on how to make 300 dollars fast.
You'll also learn how to make money over time if you're not in a hurry.
This post is about how to earn extra income online, and you'll also discover:
How to make 300 dollars a day
How to make 300 dollars fast online
How to make 300 dollars a week
Ways to make 300 dollars fast
Where to get 300 dollars fast
Quick ways to make 300 dollars
How to make 300 dollars a month online
If you want to know more, read on!
Please share the ❤️️ and PIN this post for later!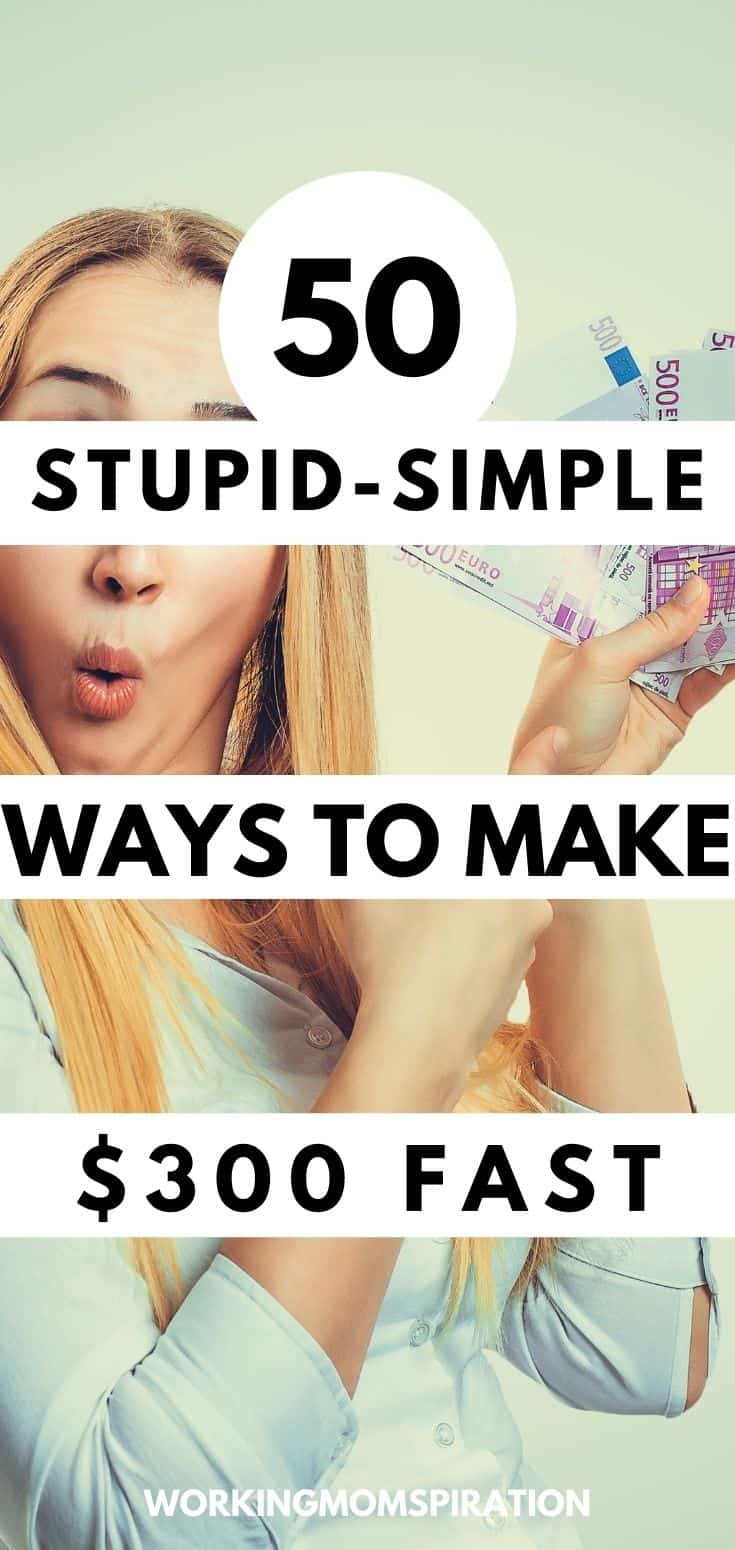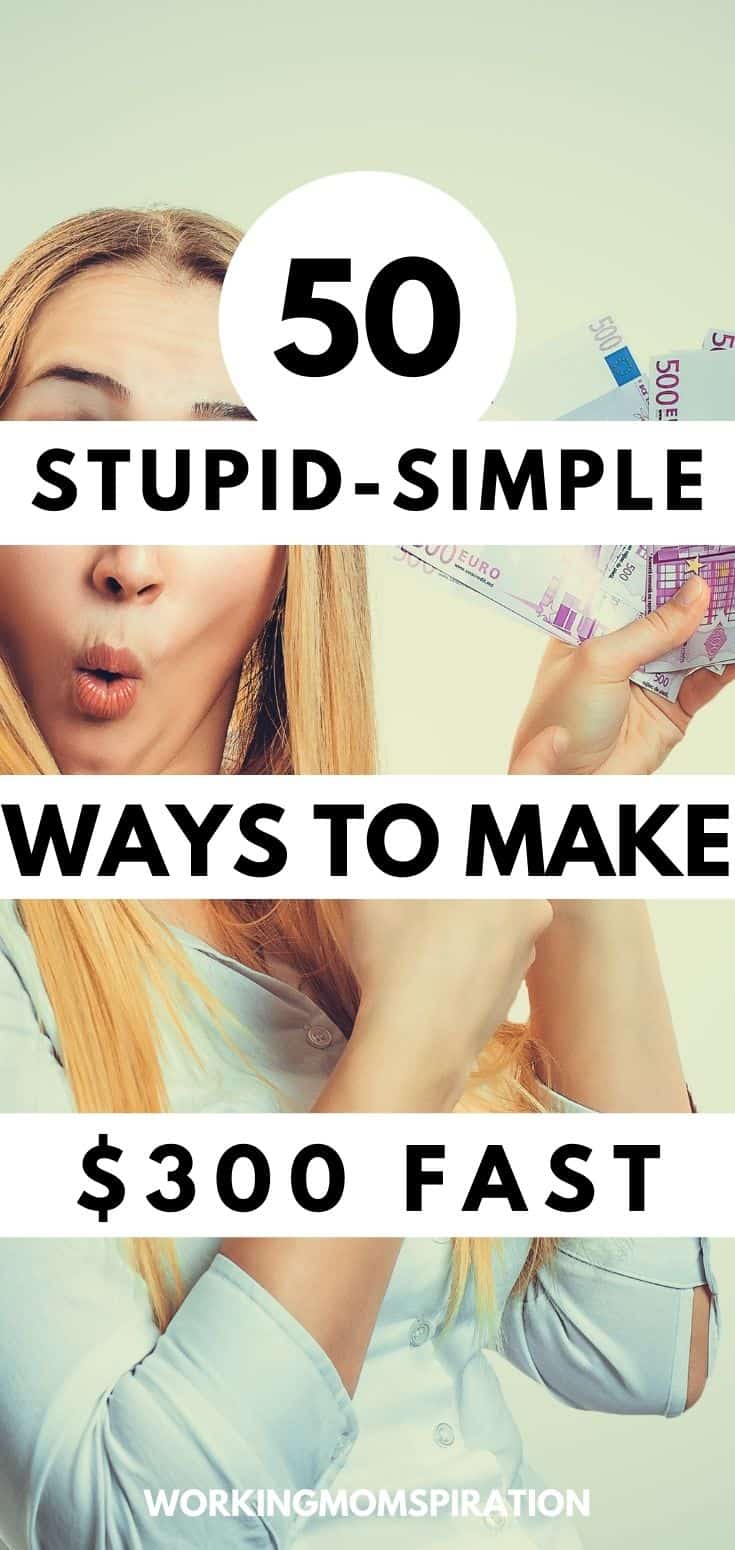 How to Make 300 Dollars Fast With Easy Gigs
1. Use Task Rabbit
Want to make $300 the fast way?
Task Rabbit can help you do that.
Task Rabbit is a website that allows you to complete easy tasks in the comfort of your home or neighborhood for extra cash. 
You might think this could be some form of scam, but it's not.
Head over to the website, sign up, create a profile and confirm your identity – just so they can know you're a real person.
Depending on what city you live in, you may have to pay a $25 registration fee to get started.
Task Rabbit allows you to set a weekly schedule and even perform same-day jobs.
There are more than 50 categories to try on Task Rabbit.
A few easy gigs include:
Washing cars
Running errands
Event Staffing
Baby Proofing
Painting
Snow removal
You can even perform online tasks like data entry and editing.
With Task Rabbit, you'll be able to set your rates and keep all the money. 
2. Test Websites
Have you ever been on a website or blog, that was glitchy or not so user-friendly?
As a blogger myself, I know just how important it is to have a website that my readers can easily navigate. 
That's because a lousy blog can cause you to lose money.
And that's the reason why companies hire website testers to give reviews on how suitable a website is for readers.
Generally, you can work from anywhere in the world, as long as you have a good internet connection.
If you need money right away, website testing is a great option to get cash fast.
 Usually, you can sign up to one of these sites, start testing, and give your feedback.
A few popular places for website testing are:
UserTesting
Loop11
TestingTime
Respondent
User Interviews
To make quick money with website testing, spend your time doing a quality assessment so that the company will know you were thorough.
3. Give Reviews
Would you like to write reviews to earn cash?
Companies will pay you to give an honest review of their product or service.
They take your feedback seriously because it can help them to improve their product which brings greater customer satisfaction.
Writing reviews is ideal for someone who needs some extra cash, so don't look for a full-time income from this.
You can make a quick $300 with these online companies:
Giving reviews is an easy side hustle because you can do it in your spare time, and it doesn't require much effort on your part.
4. Watch Videos
Who doesn't enjoy watching videos?
Whether it's funny cats, learning a course, or a new recipe, videos are an easy and digestible way of transferring information.
Did you know that you can get paid for doing this?
You can make extra money at home by watching advertisements, clips, and even films.
One way to do this is through Slice The Pie.
Slice The Pie is a website that will pay you for watching a variety of videos or for listening to music.
You can make your first 300 dollars in just a few days straight to your PayPal account.
The minimal withdrawal amount is $10.
5. Do Surveys
One of the most fun ways to make money is by doing surveys.
Almost everyone has tried this easy side gig at least once.
There are hundreds of companies that hire survey-takers to answer questions.
Usually, this is for research purposes, and they pay you cash for your answers.
One thing to keep in mind is that many sites are scams. 
This means an unsuspecting person may sign up, answer questions, and never get paid.
Avoid these sites like the plague, and only sign up with legitimate places that have excellent reviews.
One of these places is Swag Bucks.
Swag Bucks has been around for a long time now and has paid more than $600 million in rewards already.
They have plenty of positive reviews from customers who love using the site.
Sign up today and earn a quick $5 bonus!
You can also take surveys with SaySo Surveys, Survey Cabin, Tellwut Surveys or try these 40 survey sites to get more cash!
6. Play Games
Another easy way to earn money is by playing games.
Not only is it free to start, but it's a fun way to make extra cash, no matter where you live.
It's a good option for stay-at-home moms who want some extra money.
If you like platform-styled games, then Playtestcloud is an awesome place to start.
As a Playtester, you sign up for an account, test a game and start earning.
Play as much or as little as you want. 
You may not enjoy platform games, but you love the simple ones you can do on your phone.
Earn money with Inbox Dollars, where you can play real games or win prizes – all on your device.
You can play card games, strategy games, or action games on their platform, or download them to your phone. 
When you play several games on Inbox Dollars, the money can add up.
7. Participate In Paid Focus Groups
If you're looking for more easy ways to make money online, I recommend participating in focus groups. 
A focus group is simply a group of people that are paid to give feedback. 
 As a participant, you will get to share your ideas or views on different topics.
How do you feel about baked lasagna?
What about traveling outside your state?
You will be asked specific questions about what you think, and you only need to give an honest answer,
The best thing about online focus groups is that they pay well!
Up to about $150 for a single session!
If you do two sessions back-to-back, you can make $300 quickly.
You might be wondering just what your answers are used for.
It's mostly for market research and to know what people think about particular ideas.
Focus groups are a bit different from surveys, as they go in-depth.
Want to get started now?
Here are a few places to sign up and get paid
They are all free, so sign up today!
8. Get Cashback From Apps
Would you like to get cashback?
Of course, you do!
And it's very simple to do really.
If you've got a phone, which I'm sure you do, you can hop onto a mobile app and start earning cash with simple tasks.
When you shop online, you have access to really sweet rewards.
With an app like Rakuten for example, you can get a rebate or coupon on that purchase.
It's almost like getting free money!
You can use these when you're dining out, traveling, or shopping online.
Another app that allows you to get cashback is Ibotta.
It's the most popular app in the iOS store so it couldn't hurt to try.
Some other great cashback apps are
9. Rent Your Car
I bet you've never thought of this one.
If you've got a car but you hardly use it, this is the perfect opportunity to earn some income.
By renting your vehicle, you can pay for your car expenses.
People generally need rental cars when they're traveling and will be willing to pay on a same-day basis if it's an emergency.
This means you could make money right away.
To rent your car to suitable folks, you should apply through online services that act as an intermediary.
Look for companies in your local listings as there are bound to be a few.
One of the more popular companies to try is Turo.
They allow you to list your car for free and you can choose the times when your car is available for rent.
10. Babysitting
This is a good side hustle for people who already have some experience with kids.
It's not only a popular gig to make extra money, but potentially for a full-time income too.
It's one of the fastest ways to make money because people are always in need of babysitters. 
And in some cases, it's a last-minute request.
You will need to have a bit of patience and the willingness to be helpful.
As a babysitter, you may find yourself helping to prepare meals, assisting with homework, and finding lost toys.
One way to snag an easy gig is by registering on Care.com which is a trusted site for hiring babysitters.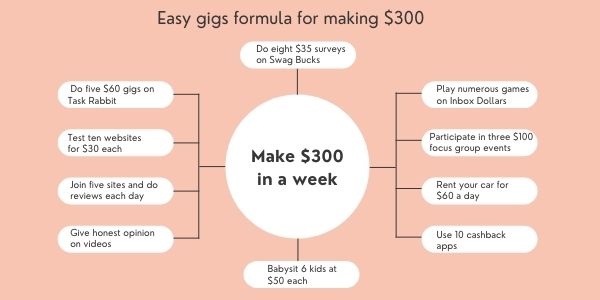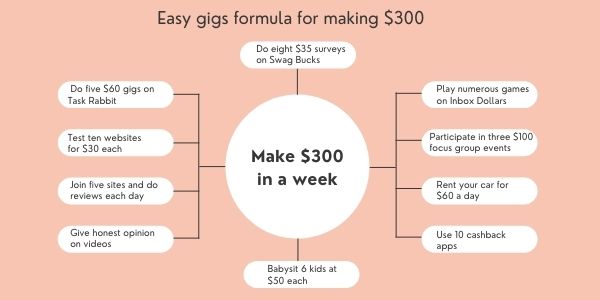 How to Make 300 Dollars Fast With Passive Income
11. Sell Your Photos
Are you a photographer?
Do you take great pics that people would love to buy?
You could make passive income each month by selling photos online.
But who needs photos anyway?
Content creators, business owners, bloggers, and more!
It's easy to make your first $300 selling photos you've taken by selling them on different online platforms.
You'll be making royalties from these for a long time.
To make money, you need to submit your photos where they can be found by the people who buy them.
I recommend trying:
12. Try Affiliate Marketing
If you've ever thought about how to make $300 a day, this is how.
Affiliate marketing has become one of the more popular ways to earn an income online.
As you may already know, it involves promoting a product and getting a cut of the sales when a customer purchases it.
Affiliate marketing is something that anyone can get into, once they develop the right business mindset.
As an affiliate marketer, you should never just promote products to make money, but think about how it can benefit the consumer.
It's best to choose a niche and then promote products within that niche.
If you're a mommy blogger, promoting baby products will come with the territory. 
The best way to make the most of affiliate marketing is by starting a blog.
You can earn money every day on your blog when people purchase from you.
13. Start a Blog
While you may not make your $300 right away, blogging is an awesome way to make a passive income each month.
And most likely, you be making much more than $300 a month!
With a blog, you can write about a specific topic or various related topics.
This can help your audience to solve a problem, or it can be for pure entertainment.
I started this blog to help working moms with financial advice.
You will have to decide what topic to write on and how it can help your readers.
Making money with a blog is multifaceted. There are multiple income stream options available such as:
Ads
Sponsorships
Selling digital products
Membership
Starting a successful blog will ensure you will never have to worry about making $300 fast or being broke.
Find out how this couple was able to grow their blog and earn $500,000 each year with this free blogging course!
14. Create and Sell Crafts
Are you a creative person?
You can turn your creativity into money by selling crafts online.
Crafts are very popular and one of the biggest sellers in the online space.
They are also evergreen products because people always buy them – year-round!
What type of crafts could you make?
I would recommend something you could make fast, like wall art. 
You can create an inspirational quote in a beautiful font and have it online in less than an hour.
Need more ideas? 
Here are 25 lucrative crafts to make and sell online!
15. Advertise On Your Car
I already mentioned renting your car for money, but did you know you can also advertise on your car for cash?
I like to think of this as a passive income stream because you're not actively doing anything – except driving of course.
One downside to this is that there are some scams out there, so you'll need to be on the lookout for that.
Legitimate companies will pay you money to have your car "wrapped" as they call it, and you can earn around $100 -$500 from this each month.
16. Sell Merch Online
Merch or merchandise as it's sometimes called, has become popular in the past few years.
That's because it's no longer celebs or big companies that sell and make money online.
'Regular folk' like you and I can make a steady income from selling products online.
Merch usually includes products such as:
Clothing
Mugs
Tote Bags
Hoodies
Sellers can customize the products and sell them at a set price.
Companies like Redbubble will handle all the shipping and logistics while you sit back and earn money from creating a product just once.
I made a sale on Redbubble in just a few weeks!
Not only is this a flexible side hustle, but you can also make money quickly if you design nice products.
17. Sell Your Own Printables
Another great way to make 300 dollars fast is by selling printables online.
Your printables would be digital downloads that customers can access right away.
Selling printables is a good passive income idea because they are relatively easy to make.
Take your time to make quality printables and sell them in your own Etsy shop.
Customers can purchase them again and again, so you'll be making money while you sleep – literally!
Profitable printable ideas:
Chore sheets
Trackers
Password keepers
Meal planners
You can easily create printables in Canva, or by using Adobe Illustrator.
18. Make and Sell Low Content Books
Have you ever heard of low-content books?
Chances are, you've used them yourself.
Low-content books are products that customers write in.
They include:
Sketchbooks
Diaries
Journals
Homeschool planners
Fitness trackers
You will be able to sell your books on the Amazon marketplace, but first, you'll need to create an Amazon KDP account.
You can create low-content books with online tools like Canva.
Once you have made them, you upload them to the Amazon marketplace and start earning cash.
Learn how to make low content books and sell them online!
19. Open a Bank Account
One genius trick to making 300 dollars fast, is by opening a bank account.
Banks sometimes give customers $100-500 dollars for opening an account.
This could be either a savings or checking account.
You can grow interest with your money and earn passive income over time.
Or, you can get your $300 right away.
Some people have made thousands by getting bank bonuses, so you should try this option if you need the money ASAP.
20. Sell Stickers
Stickers are really popular right now, and you can make them quickly and earn money online.
Stickers are a profitable art form and creative artists are making thousands each month by selling them online.
If you can create cute designs, you could sell them in your shop.
I've heard of people who sold products on their first day of setting up a shop on Etsy.
You can also sell on Zazzle, Redbubble, and TeeSpring.
So if you want to make passive income get started with selling stickers online.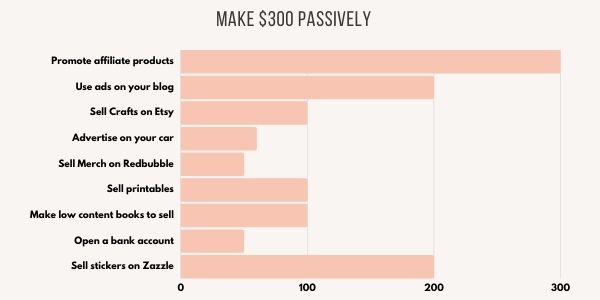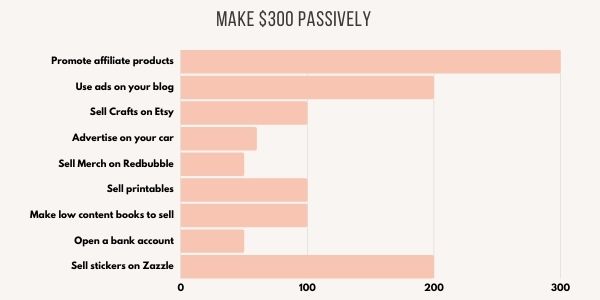 How to make 300 dollars fast with a side hustle
21. Make money by Dropshipping
Dropshipping is a process where you sell products through a third party, instead of keeping an inventory yourself.
Once the customer orders the product, it is sent to them by a third party, but you'll make the sale.
Dropshipping is a viable option because it's easy to sign up with a dropshipping company and start selling products.
You can make money in little time if you promote your products and offer something that people want to buy.
22. Open a Print On Demand Store
One of the best ways to make 300 dollars fast online is with a POD store.
You could try selling T-shirts in your store and earn fast money.
The best thing about it is that you can get started for free.
There are several places online to create a store and start listing your products.
I have used shops like:
So far, I've only gotten sales on TeePublic and RedBubble, but they're all worth trying.
A good way to make money with your store is to look at what's already selling.
People love to order T-shirts based on trends and pop culture, so you can look into that.
 It's not rare for people to upload a design and sell it on the same day.
23. Recycle On Gazelle
Do you have old phones or tablets lying around that you no longer use?
Instead of leaving them to rust, why not sell them on Gazelle?
Gazelle is a website that recycles phones and other devices and sells them on its online platform.
As a seller, you can send them your device, they inspect it and you get paid.
They have paid more than $40 million since they started the website.
This might possibly be the fastest way to make 300 dollars in a day!
24. Create a Course
I love taking online courses!
Especially ones that teach practical skills like cooking or photography.
People need help learning subjects like drawing, music, painting, business, personal development, and more.
You could create a course for free and start earning money quickly. 
Make money online with a course using free platforms like Udemy and Skillshare.
25. Start an Airbnb
Would you like to know how to get 300 dollars right now?
By opening an Airbnb of course!
Airbnb makes it a simple process to rent out a bedroom or two for quick cash.
Making money is much easier if you live close to a big city or a tourist destination.
People enjoy renting homes instead of hotels because they like the feel of 'home'.
Depending on your location, the size of your home, and the amenities, you could charge as much as you want.
It could be $50 – $100 a night or even more.
26. Deliver for Postmates
Have you ever used Postmates?
If you haven't, it's a service that delivers items for restaurants, convenience stores, and grocery stores.
Let's face it, everyone needs groceries.
The comfort of having them delivered straight to you is a major plus.
Shopping in-store can be tedious and not everyone likes doing it.
To work for Postmates, you'll need to have an insured vehicle, a smartphone with the Postmates Fleet app, and pass a background check.
Once hired, you can make deliveries with a bike, scooter, or by walking.
If you need money fast, Postmates is an excellent way to make it. Another way to make money by delivering groceries is with DoorDash. Sign up and start earning from delivering groceries to customers!
27. Social Media Manager Jobs
Social media isn't going anywhere.
Take advantage of it and earn 300 dollars or more by snagging a gig as a social media manager.
Social Media managers create and schedule posts for companies on social media.
This would include Instagram and Facebook.
With a bit of creativity, an internet connection, and a computer, you can work online and earn money.
The best place to look for jobs is on Facebook job boards that are looking to hire people right away.
You could also earn money as a Pinterest Manager by helping entrepreneurs with their Pinterest accounts.
28. Try Fiverr Gigs
If you've never used Fiverr, you're missing out.
You can find jobs at the touch of a button in various areas.
Can you help someone with SEO?
How about creating a stellar PowerPoint presentation?
You can start making money with Fiverr, by starting a new account, creating a profile, showcasing your skills, and starting getting clients.
Sign up with Fiverr and start taking gigs!
29. Flip Furniture
Flipping furniture can certainly make you more than $300 depending on what you're selling.
Find furniture at garage sales, Facebook Marketplace, and even Craigslist to get you started.
You will need to restore the item by painting and/or reupholstery and then sell it for a profit. 
The great thing is, you sell it on the same spots you bought it, and no one would even notice.
30. Sell Treats
Enjoy baking?
If you fancy whipping up tasty treats often, you can cash in on your hobby.
This is an excellent way to make a quick 300 dollars.
All you need are your kitchen gadgets and a little time to bake and sell your treats.
Make decorative cakes, cupcakes, or donuts. 
Look online for events that are requesting baked goods and give them your details.
Who knows, it could turn into a great business opportunity.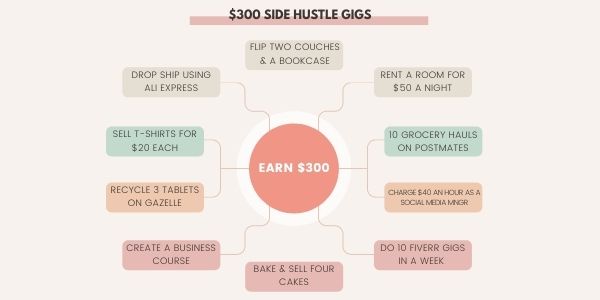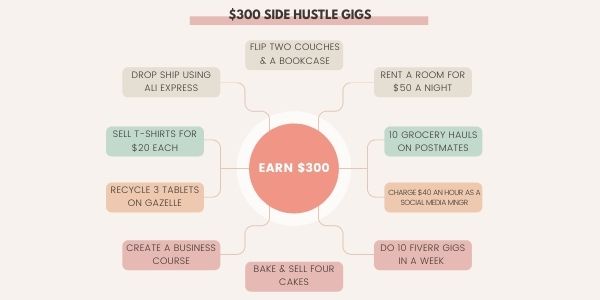 How to Make 300 Fast On the Weekend
31. Chat Moderator
If you're good with social media and enjoy chatting with people online, you could work on the weekends as an online moderator.
Moderators work on forum sites and message boards, answering questions, making comments, and monitoring the space.
If people are fighting in forums, you'll be the referee in settling these matters.
A well-known spot to find moderator jobs is on ModSquad.
As soon as you sign up with them, you'll get an email letting you know how to progress to the next stage.
ModSquad hires often, so you can start making an income almost immediately.
32. Do Research and Get Paid
Are you good at finding information online? 
If you are, and you also enjoy reading and a bit of detective work, why not try working as an online researcher?
An online researcher will use the internet, library, and other references to find data or market trends for clients or businesses.
Companies will use this research for presentations or as implementations to further their business.
You can find research jobs online through Google search, or on Fiverr.
A popular online company that offers researcher roles is Wonder.
It's said that they pay up to $30 for a successful research project.
33. Become an Instacart Shopper
If you've used Instacart before, then you know what this gig is all about.
As an Instacart shopper, you will buy groceries for customers that will then be delivered to them.
To work for Instacart, you will have to meet a few requirements.
Have legal authorization to work in the U.S.
Be at least 18 years of age
Have access to a vehicle
Be able to lift a certain weight
You can hop onto their job portal and apply right away.
What's also great about this job is that you can set your hours and make extra money just by shopping for other people.
34. Write Book Reviews
One fun activity for book lovers is reading. 
Would you like to make money this way?
Getting paid to read books, has become a popular online hustle for people who want to make easy cash.
Book reviewers have the task of reading a book and then giving an honest review of it.
This is often in the form of a summary with a specific word count.
Book reviewing is fun because you can choose the type of genre you want to read.
If you'd like to make money this way, try sites like Kirkus Media or Online Book Club to get started or check out these 40 ways to make money from reading.
35. Uber Driver
What better way to earn money on the weekend than by working as an Uber driver?
Not only can you make money fast, but you get to pick a schedule that works for you.
You can also make more profit during high-demand periods.
If you own a car and you're ready to make some extra cash on the side, then you can get started today.
Uber drivers make $19 per hour on average.
36. Dog Sitting
Animals make most of us feel warm and fuzzy inside.
To be successful, you should love pets, because it makes it so much easier.
Pet sitting is an excellent side hustle for animal lovers because you get paid for doing something that you love.
Head to websites like Dogvacay and Rover to get pet sitter jobs in your area.
You can expect to make around $10 – $25 an hour.
37. Do Laundry At Home
Most people hate doing laundry – that's just the way it is.
But making money from it is a completely different ball game.
This is an easy side hustle that you can do on the weekends and earn enough to cover certain expenses.
One way to make money doing laundry is through Laundry Care.
This is a company that offers premium laundry services throughout the country.
If you're a stay-at-home mom, you can make a decent amount of income from this and create your own laundry business at home.
Get started by signing up with Laundry Care and purchasing your $30 supply kit which includes nylon bags and plastic bag tags.
You will need to have a washer and dryer (duh)  and earn about $20 for each bag of laundry you do.
38.  Voice Over Jobs
Most people don't think of doing voice acting as a job, but it's a fun opportunity to make money.
One of the best ways to do this is by narrating audiobooks.
The only things you'll need are a whimsical voice and a home studio for recording audio.
Popular companies that hire voice actors are:
Bunny Studio
Voice 123
Findaway Voices
Spoken Realms
Depending on the company, you can expect to make $30 per hour.
39. Sell On Poshmark
Selling products online has now become so easy.
One company that helps you make money selling online is Poshmark.
It's an app that allows you to list items like clothing and accessories online to sell to your followers.
If you've got lightly used clothing or items you no longer use, you could be making extra money right now.
And the great thing is, that Poshmark does all the shipping for you. 
You simply need to put on the shipping label and leave your items at the post office.
40. Have a Yard Sale
This is the old-fashioned way of making some extra cash without ever leaving the house.
Look around and take an inventory of all that you have.
Do you see anything you could sell right away? You could declutter your home for quick cash.
It could be old furniture, an outdoor grill you no longer use, an antique clock, or vases you can remodel.
Gather up your items for sale and make sure you have already advertised your sale in the neighborhood.
Even if you don't succeed in one day, you could put on a garage sale each week, until you've reached your goal.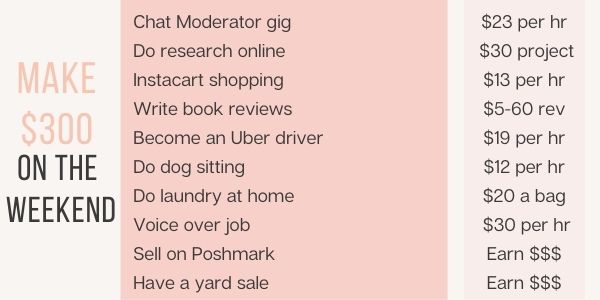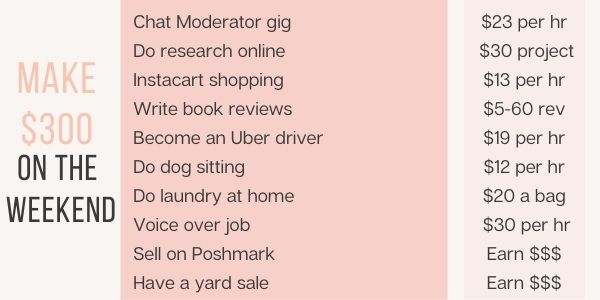 Extra Ways to Make 300 Dollars Fast
41. Name Companies with Squad Help
I saw this recently on Pinterest and thought it was interesting.
You can earn money simply by creating names for companies.
The way you earn money is when someone pays you for a name you have created. It could be for a business or an online shop.
You can make between $100- $500 for selling company names.
42. Tutor Online
If you already have experience with teaching, why not tutor kids for extra money?
You don't need to have a degree or teaching certificate to become a tutor.
Most companies allow you to work remotely and earn a steady income from teaching.
One of the most popular ways is by teaching children English.
Some sites also pay you to teach children how to read.
You can get tutoring jobs through Outschool and Cambly.
43. Sell Old College Notes
College notes are something you can now sell online.
If you're a college student, this is a fantastic way to earn money without much hassle.
This won't make you rich, but it's a nice side hustle to bring in some passive income.
You can sell notes online to companies like:
Notegen
Notesale
Nexus Notes
Omega Notes
44. Clean Houses
You may not love it, but you can clean houses and earn around $40 an hour.
Finding gigs may not be that hard either.
Advertise your services locally or use Task Rabbit to find easy gigs.
The amount of money you make will depend on the size of the house and how often you clean.
You make up for $80 to clean a 5-bedroom house.
If you do a few of these a week, you can make your $300 fast.
45. Become a Part-Time VA
Another way to make money fast is by doing virtual assistant work online.
You will be doing a variety of things like proofreading, making calls, setting appointments, and even writing blog posts!
There are several other administrative tasks you can do as well.
So if you have any special skills like graphic design, let your employer know.
Snag VA jobs on:
46. Read Emails and Make Quick Cash
You probably read hundreds of emails each day, so this won't be a hard task to manage.
It's a fantastic way to earn extra money in your free time.
Vindale Research is an app that will pay you simply to open emails. You will earn $1 just by signing up with them.
At times, they may not offer enough email tasks for you to make $300, so you could try other places like:
47. Give Your Opinion
If you like the idea of doing market research and surveys, then you'll love this easy gig.
Make your voice heard and give your opinion to various companies online. One place to start is Opinion Outpost.
They give you cash for answering questions and giving honest feedback. They also pay really well – around $25 per survey!
Want to make your $300 faster? Here are other spots to earn money giving your opinion:
If you'd like to make $300 more quickly, these 40 places will pay you for sharing your opinion!
48. Refer and Friends and Earn Cash
I'm sure you've often helped friends and family with tips on shopping, restaurants, or products you've used and loved.
Now, you can use your gift of gab to earn money through referrals.
This is a type of affiliate marketing, that you can do the easy way – usually through social media or by using your phone
Earn money doing something you love and get your friends in on it too.
Here are a few sites to start earning from referrals:
49. Flip Blogs
While it may not happen instantly, you can make a large profit by flipping blogs online.
Blog flipping is the process of purchasing a blog, revamping it, and selling it for a higher price.
One way to get started is by purchasing a blog on Flippa that already has an audience, creating great content, and then selling it for a considerable sum.
While this method does take time, it is worth it.
50. Create Youtube videos
Anyone can become a Youtuber and earn money.
What it does take to make it on Youtube are awesome content, consistency, and good video editing skills.
I've seen YouTubers blow up big time by how well they edit their videos.
If you've got some tips that could make a difference on the platform, why not sign up and start making some videos now?
You could earn a lot more than $300 with a Youtube channel.
Popular money-making topics include:
Finance
Pets
Pranks
Recipes
Funny videos
Entrepreneurship
Personal Development
You need about 4000 watch hours to enter their partnership program to place ads and earn money.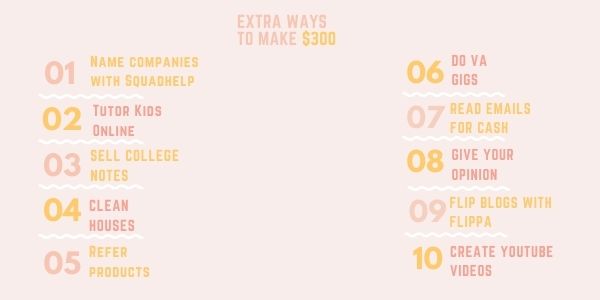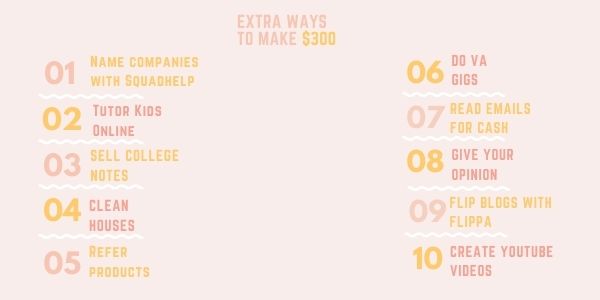 Can You Really Make 300 Fast?
There are a ton more ways to earn money online when you're in dire need. 
But, the ones I've mentioned require little or no investment.
I've also included passive income streams that are great for people who not only want to learn how to make a quick 300 dollars but would like to earn money long-term.
Please let me know if you've tried other ways lucrative ways to earn online and what they are in the comments below.