This post may include affiliate links.
One of the most lucrative ways to make money online right now is to start working as a freelancer. 
Today I've got 12 freelance jobs for moms that they can do from home and make money.
Freelance jobs have really grown over the past few years and have seen around 59 million Americans doing freelance mainly because of its flexibility and earning potential.
There has also been a steady growth in the demand for freelance skills which means that moms can really take advantage of this and create an online business or try a side hustle within the freelance realm that they can specialize in.
With all of that said, there will be benefits and negatives to every single job, and that will also exist when you start a freelance job at home.
Weighing the pros and cons is a good way to decide if going freelance is for you and what's the best niche to concentrate on based on your skills. 
However, I'm here to provide you with a few of the best freelance jobs you can do from the comfort of your home as they can all be done online.
Some require little or no investment so you can always experiment to see if it's really for you.
Let's get into the best freelance jobs for moms!
Please PIN this post and share the ❤️️ guys!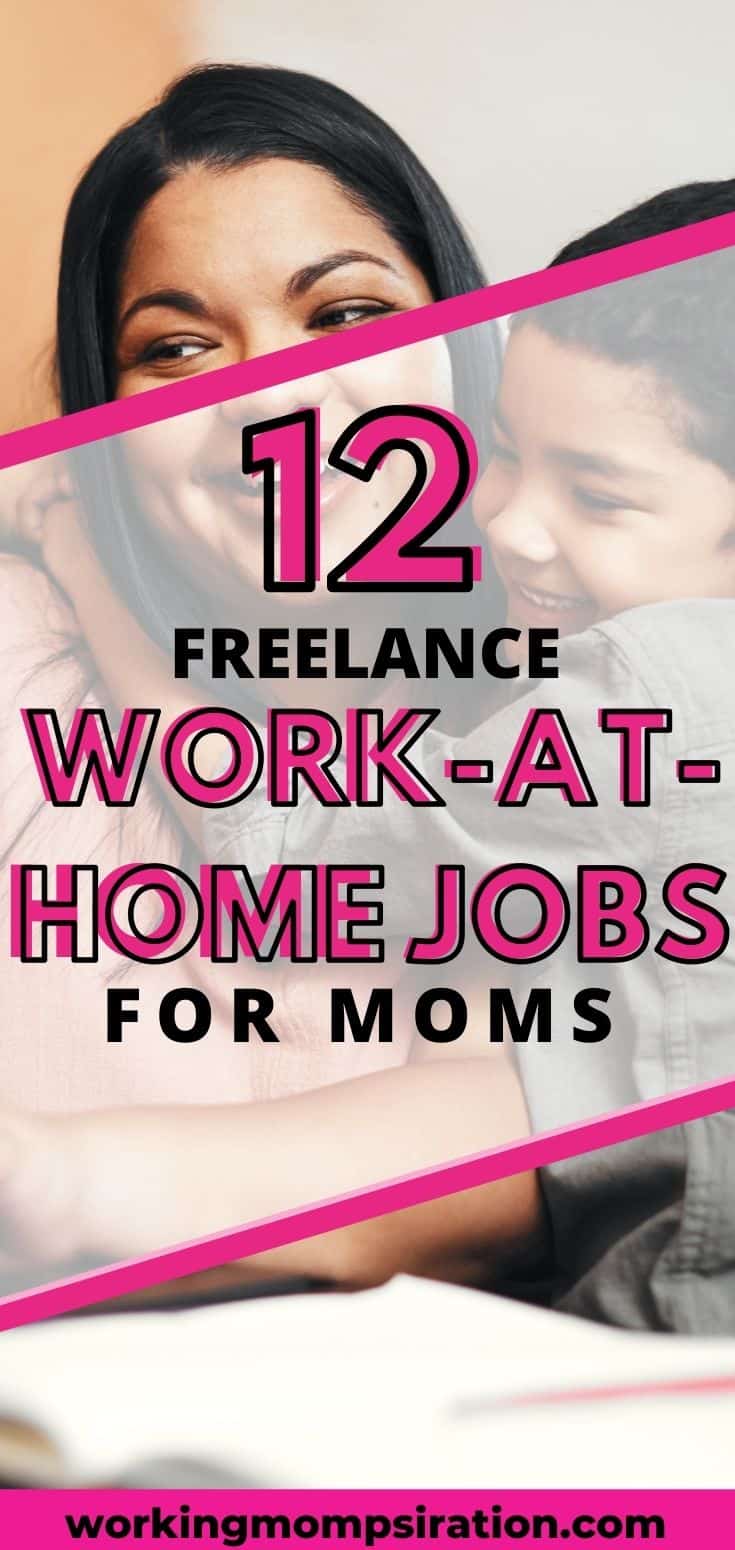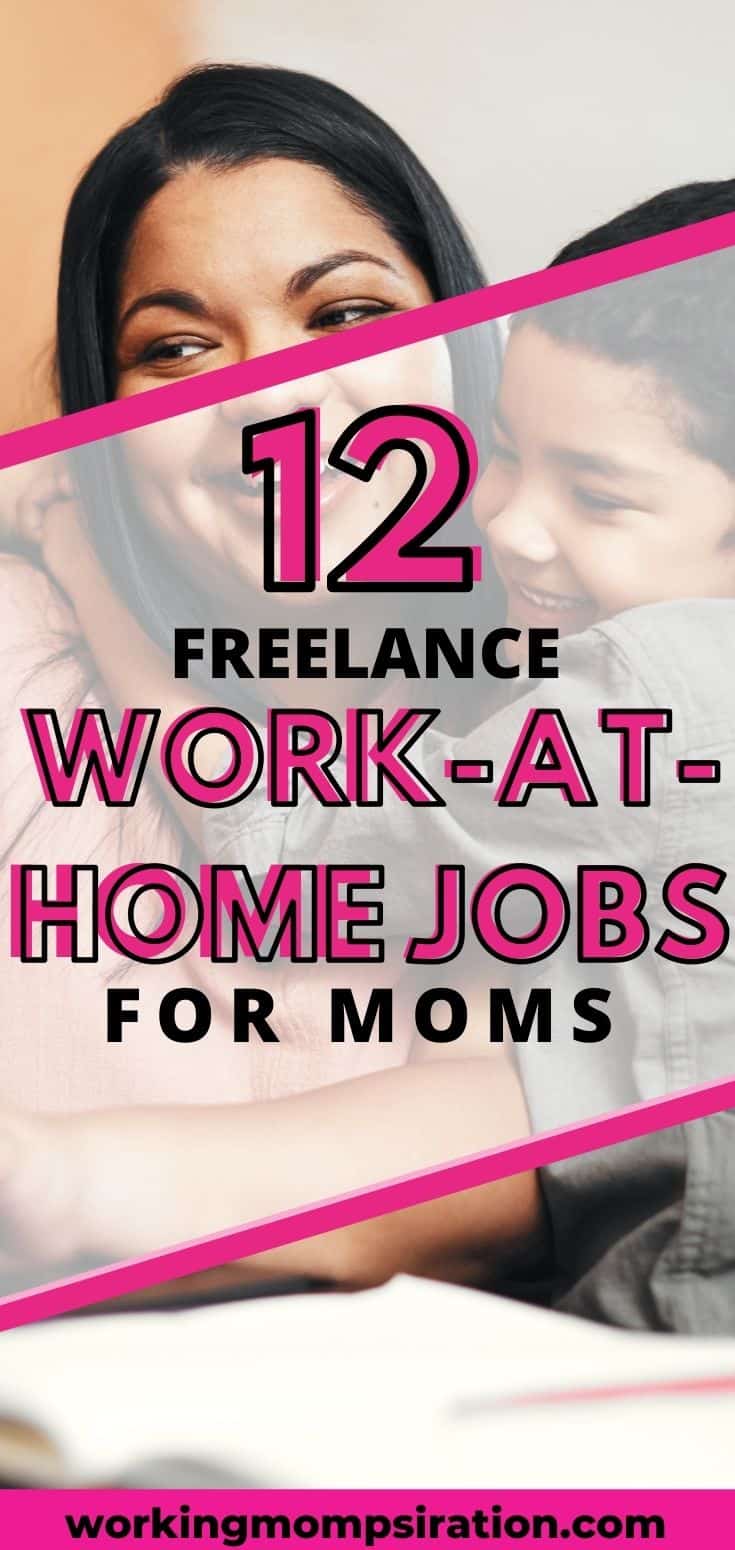 The Best Freelance Jobs for Moms to Earn Money Online
1. Content Writing
This is one of the most popular freelance jobs online with millions of Americans making up the number.
Becoming a freelance writer with the proper credentials will take time as there are plenty of writers out there taking advantage of this freelance opportunity.
There are several platforms for you to get started on making money from freelance writing which include:
On FlexJobs, Jobs Today, and Virtual Vocations, you can create an account and start applying for freelance writing jobs with various companies.
What I like about these job sites is that they hand-screen the jobs so you won't run into scams or other issues with payment. 
With the Fivver and Upwork platforms, there is more of a marketplace, so will have to compete against other freelance writers.
However, as soon as you land a gig, if you do it well, you get rated and your rating can help you land other freelance writing opportunities. 
Once you continue building your freelance portfolio and you get more serious about it, you could consider starting a blog to make your name known in the community.
You could start a self-name blog where you introduce your skills and experience as a freelance writer as well as what your business will have to offer. 
This will create a platform for you to meet clients and build a relationship with them.
Starting a blog for your freelance writing business will allow you to network with other freelance writers which can then get you connected with even more clients in the writing world. 
Learn from this mom, who was able to make more than $200,000 each year just from freelance writing. Check out the free course where she shows YOU how to do the same.
If you're new to blogging, there are many places where you can promote your blog for free, so you won't have to pay a dime on marketing when you've just started.
2. Proofreading
This is another awesome freelance job that is excellent for busy moms to make money online without adhering to a  hectic work schedule.
As a freelance proofreader, you'll get paid to fix grammar errors and spelling mistakes that can normally occur in writing.
This is a great field to get into because proofreaders are an asset to almost any company that has massive amounts of content to review.
Remember how we mentioned freelance writing as our first work-from-home job? 
Well, proofreaders are needed to read and thoroughly assess the work of writers to make sure it's top-notch.
Although proofreading does come naturally to some, there is still a technical side to it.
If you're interested in going full-time or just working part-time as a proofreader, I highly recommend trying this free workshop that will guide you through the whole process of proofreading. 
3. Graphic Design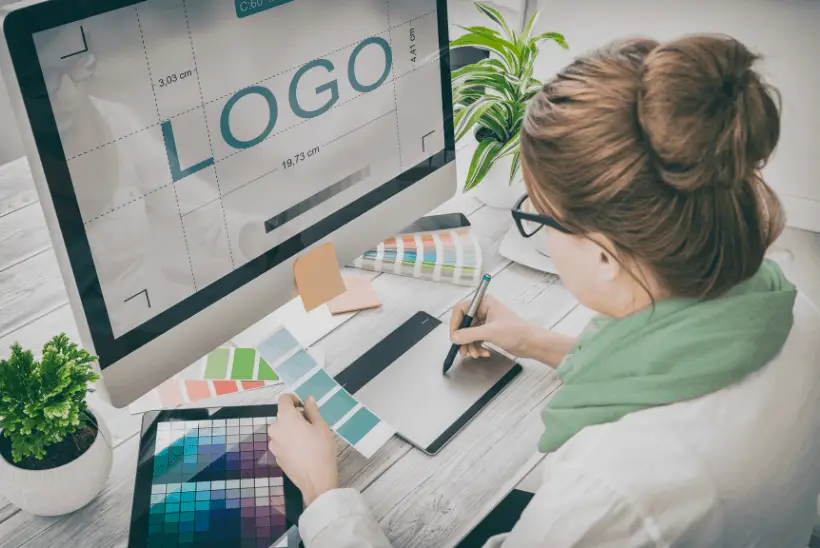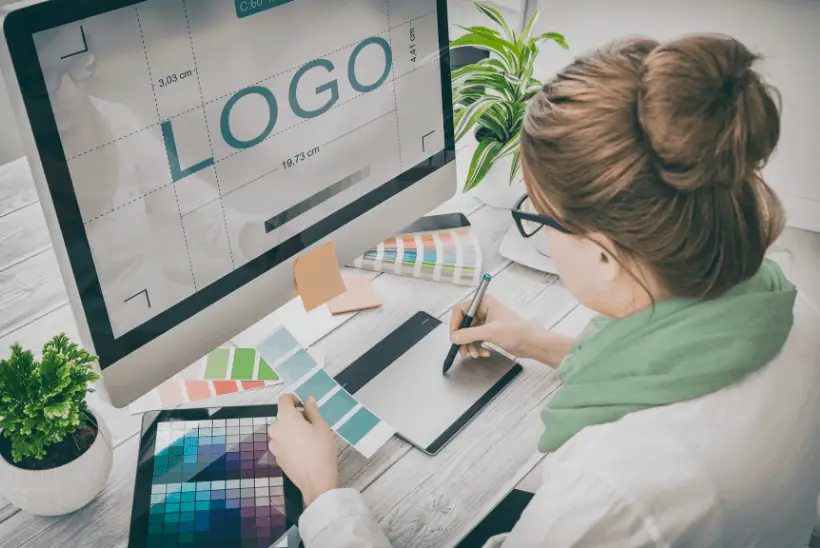 Graphic design allows you to create graphics for electronic media and printed materials and trust me when I say it is in HUGE demand. 
If you are really creative and you love designing then this can become the ideal freelance work-at-home job for you.
As a freelance graphic designer, you won't be confined to a specific company, so you can work with as many clients as you please.
You will be expected to create visual ideas using typography, illustrations, and imagery.
There are several tools you can use and the very best ones are paid.
These include:
Adobe Photoshop
InDesign
Illustrator
If you do want to play around with design before you plunge into these more complicated tools you can have a go at Photpea, Canva, PicMonkey.
The great thing about working as a graphic designer is that you can be your own boss.
You will most likely always have gigs coming your way because graphic design skills are always needed by small business owners and larger companies.
Before working with larger clients, you can start accepting jobs on Fivver or Upwork.
4. Social Media Marketer
Would you like to work as a social media marketer?
Well, in this day and age where almost everything is centered around social media, it's no wonder that these jobs are growing online.
If you haven't heard about social media marketing, it's where you help businesses grow online with promotions, posts, ads, by replying to customers, creating graphics, and maintaining an overall presence online.
There may be different roles you have to play as a social media marketer based on your skills as well as the job description, but you can learn how to advance in your role with this social media manager school. 
If you already have experience with social media marketing you can find job listings online.
You could also work as a Pinterest Manager online if that's more your thing.
5. Photographer
Are you great with a camera?
Can you capture gorgeous, high-quality images that could be sold online?
Becoming a photographer requires skill and you can use this skill to earn money online.
In the beginning, this can be a convenient side hustle opportunity, until you gain more clients and you can do it full-time.
Freelance photography has really grown because there are many courses online that self-taught photographers have learned from.
Also, you can purchase photography equipment online to get started as soon as possible.
You can make as much as $3,500 working as a freelance photographer with wedding photography!
Another way to make money as a photographer is to sell photos during Christmas on SmugMug, Getty Images, and Deposit Photos!
6. Transcription
Another noteworthy freelance job that moms can do from home is transcription.
As a transcriber, you will simply be converting audio files into text for clients and you get paid. This is something just about anyone can do!
As a freelancer, you have different types of transcription jobs available to you such as:
General Transcription
Legal Transcription
Medical Transcription
The most common transcription that freelancers do is General transcription and you can easily apply to companies online even as a beginner.
Usually, you will need to do a short test or task to prove that you can type with accuracy and write in the correct format.
However, after you do pass, you can actually get started right away.
If you do like transcription, get started with the following companies:
7. Affiliate Marketing
Affiliate Marketing might sound like a scam to some people, but let me tell you now, it's one of the best ways to work as a freelancer and make money online.
This is also not a regular job that requires you to work on shifts or to be tied down at a desk.
You have complete freedom to promote products online and earn a commission or fee from doing it.
This works better if you have some exposure online like a Youtube channel or a blog where you can then recommend products and services to your audience. 
There is a higher chance of making money if you have a larger audience and if choose a niche.
For example, you could be an influencer for beauty products or a book lover who recommends books for your audience to read.
When considering affiliate marketing, you need to look at demand in the specific niche as well as your interest in it.
You will never want to recommend products that you don't like or that you would never use to your audience as that wouldn't be fair.
If you're worried about being rejected by affiliate companies as a beginner, there are several companies that accept new affiliates but they would prefer if you had a blog.
You can learn how to get started with a blog in this step-by-step guide.
8. Blogging
This is by far one of the best freelance jobs for moms. And no, it's not just because I do it myself????
Blogging gives you freedom and allows you to earn money on your own time. 
Another good thing about it is that the earnings can be exponential. It can depend on how much time, effort, and investment you spend on your blog.
It's important to note that you won't immediately earn money when you first start your blog as it's a gradual process. You will first need to gain traffic and build an audience.
But once your blog is established, there's no saying how much earnings you can make from it.
The most common ways to make money blogging are with:
Ads
Sponsored Posts
Affiliate Marketing
Selling Products
Courses
As you can see, you have a chance to create multiple streams of income while setting your own schedule and working however you want.
Don't believe blogging works?  See how this couple makes $500,000 annually from their blog!
If you're ready to give this a go, you can sign up with this special pricing plan with Bluehost for $3.95 a month!
9. Translator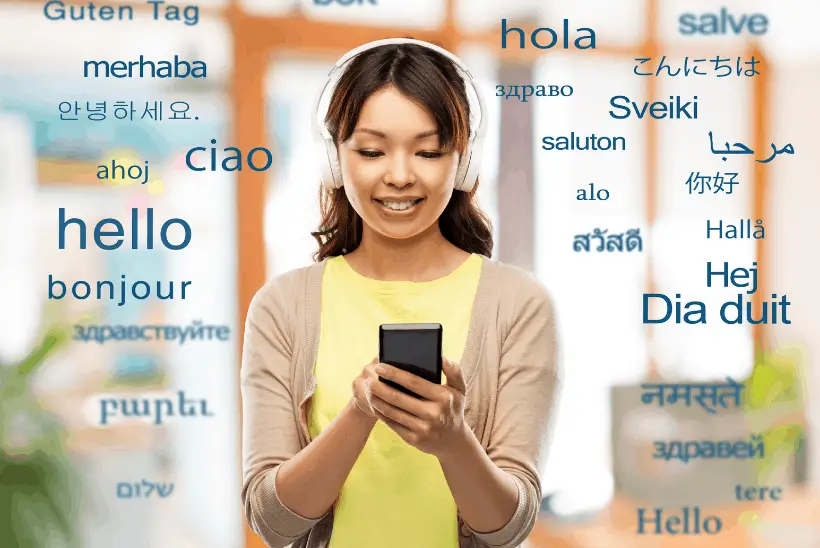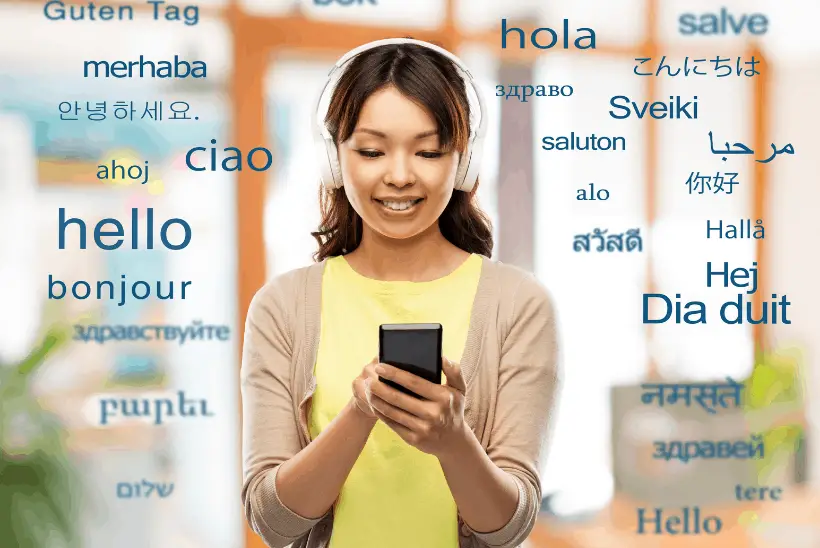 This is perfect for people who are multilingual and can comfortably speak and write these languages.
 This is somewhat similar to transcription as you will be translating audio files or written documents into another language.
Because not everyone is multilingual, this is a high-demand job and as a freelancer, you can earn some extra cash working online as a translator. 
You can find freelance translator jobs on:
10. Virtual Coach
Becoming a coach is ideal for people who are motivational and who love helping other people with career advice, life choices, and goals.
What you will do as a coach is work with clients and create plans for them to achieve their short-term and long-term aims.
Of course, you will have to set appointments, but you will still be working as a freelance coach as you are the one creating your very own schedule and working on your own time.
And because this position is virtual, you never have to leave your home, as it is definitely not necessary to meet clients face to face.
You are not required to be trained professionally or have a degree as a coach but you can take online courses to give you an extra boost.
11. Search Engine Evaluator
Search Engine Evaluation has become a common freelance job for people to earn money online in their spare time.
This job involves browning the web and giving thorough feedback for the company to improve its online presence.
For this freelance job, all you really need is high-speed internet and a willingness to learn. 
You can work part-time or full-time and the schedule is very flexible, so I highly recommend this to moms looking for a low-stress freelance gig.
You can find Search Engine Evaluator Jobs on Flex Jobs.
12. Bookkeeper
Bookkeeping is a freelance job you can do from home especially if you have previous experience in accounting.
Bookkeepers record and keep track of financial transactions for companies or business owners. 
To be more specific, as a Bookkeeper you will be managing accounts receivable and accounts payable, overseeing project budgets, filing reports for accounting, and keeping track of inventory or supplies.
On average Bookkeepers make almost $50,000 annually, so if you're a mom who is good at crunching numbers, I'd definitely get back into Bookkeeping even if it's part-time!
Flexible Freelance Jobs for Moms
If you don't want to work full-time, have a hectic schedule, or commute, then freelance work-at-home jobs are a fantastic option to turn to.
Freelance is really booming right now and doesn't seem to be slowing down.
Finding a freelance job online is not very difficult and most don't even require past experience.
When searching for jobs online, it's always best to go with credited websites that provide hand-screened jobs, so you can avoid scams.
Well, that's all for now. Let me know which one of these work-at-home jobs was your favorite!
If you liked this post, please PIN it for later!❤️️????