This post may include affiliate links.
Whether you're a stay-at-home mom, college student, or someone who works the 9-5, you can still earn some extra cash without spending hours online working. 
And not only that, there are side hustles that you can actually have fun with!
With these gigs, you won't have to think really deeply about creating the perfect resume or waiting to hear back from an employer.
We know just how brutal the job can get. If you're having anxiety about doing another hectic job search, then you're in luck. 
In today's post, you'll get a few creative ideas to make money online that don't require you to be tied to a desk all day.
These are by no means the only ideas for you to make money online, but they are some of the easiest to try and they don't require a monetary investment.
If you're all set let's get started with some simple but fun ideas to make money online from the comfort of your home. 
Please share the❤️️and PIN this post for later!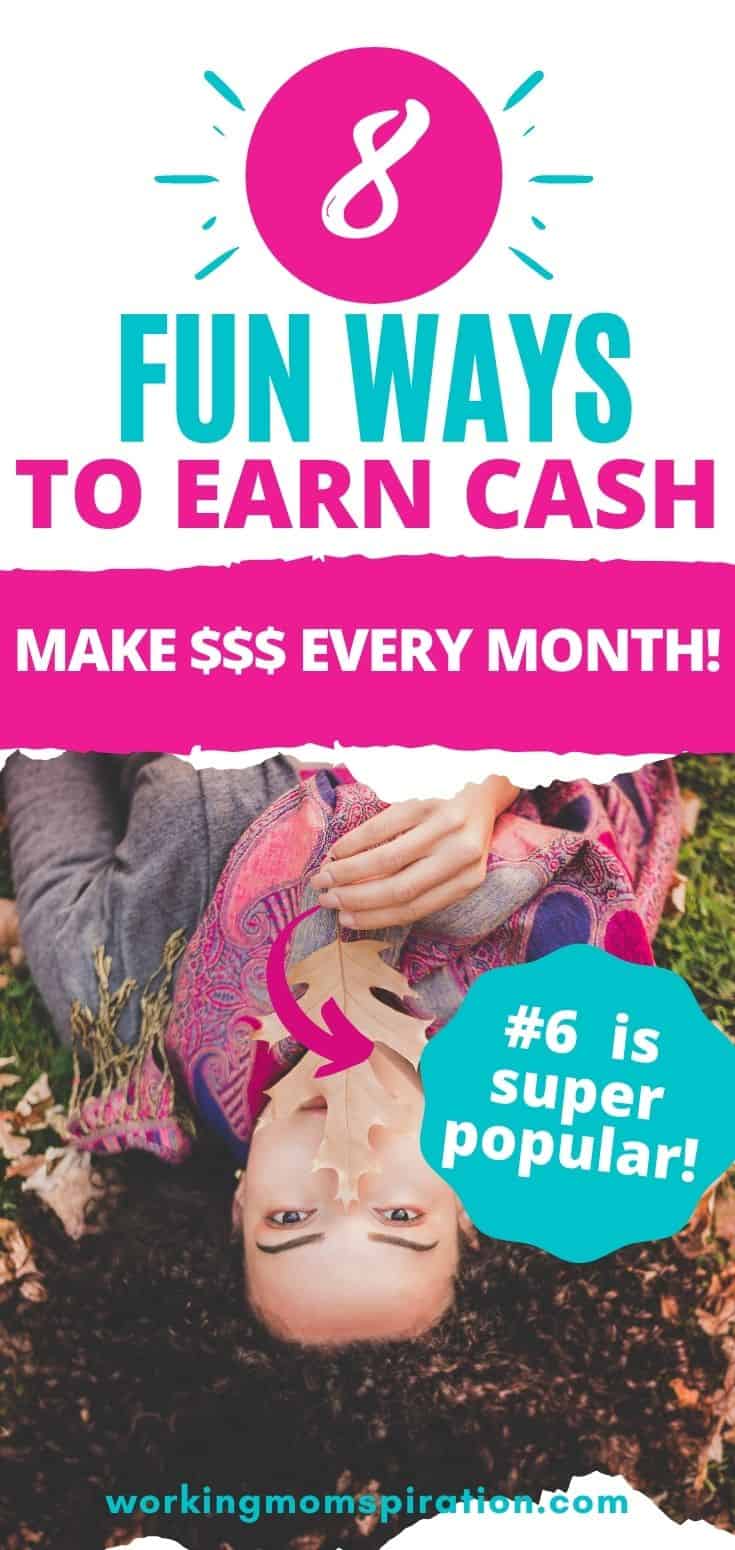 1. Watch Videos
Do you enjoy watching videos online?
If you do, you can actually make money from it and earn extra cash watching them for a few minutes or hours – when you get carried away that is.
It won't be a huge amount of cash, but at least you're getting paid for doing something fun right?
You can pick the types of videos you would like to watch whether it's entertainment, travel, and so on.
You'll not only get to watch videos, but you can also shop and earn points that you can redeem for cash or gift cards.
Who doesn't love gift cards? I mean, come on!
If you won't get bored watching videos all day then you can sign up with Swagbucks and earn some extra cash.
The best part is that you can do them in bed or even on the weekends when you have more spare time.  
Sign up with Swagbucks and get a $10 bonus!
You can also watch videos on:
 2. Sell Merch Online  
I know you may have heard of this and you're probably thinking that people will buy Merch only if it's from a celebrity or influencer.
WRONG! 
Just about anyone, anywhere can sell their own merch in the form of T-shirts, hoodies, mugs, stickers, and other merchandise on online platforms to make money.
And best of all, it's free!
Of course, there are websites that will require a paid monthly plan to sell products but there are other popular places that will pay you royalties when you sell products.
A few of these places include:
You may be wondering, how do you actually design products that people will want to buy?
It's pretty easy.
First, take a look at what these websites cater to, specifically their niches, and then you utilize Google Trends to see what niches work and if they are seasonal or evergreen. 
Once you have an idea of what you'd like to sell, you can create designs with Canva, PicMonkey, or Photopea.
When you do your research, you'll see that text-based designs with funny statements do really well, especially on places like Redbubble.
If you want to take your designs to the next level you can purchase illustrations on Creative Market or Design Bundles. 
3. Start a Youtube Channel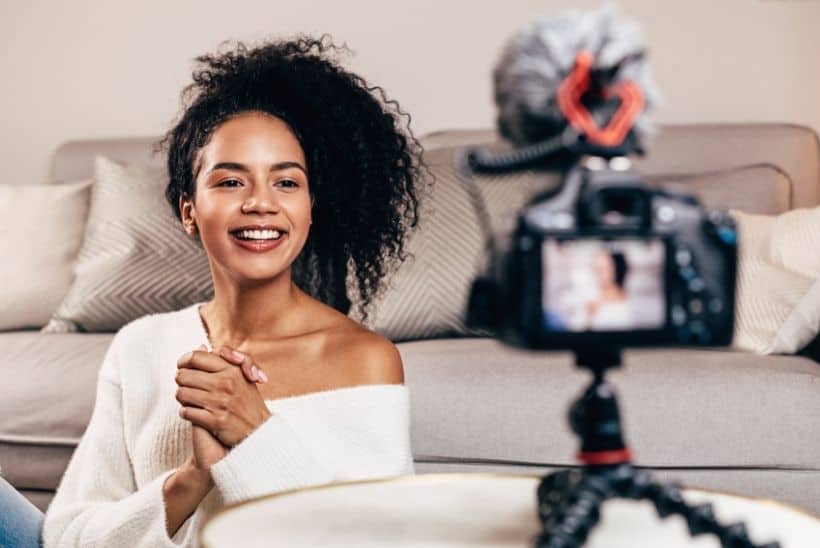 People love watching videos especially more than reading a post like this????.
Am I right?
This is why Youtubers have taken advantage of this and are creating profitable businesses by making videos that people want to watch.
YouTubers have even become celebrities in their own right and are able to get brand deals and sponsorships that are really lucrative.
You too can become a Youtube partner and earn money from ads, super chats, and even channel memberships.
However, in order to make it in the Youtube partnership program, you do need to have at least 1,000 subscribers and have 4,000 video watch hours within 12 months. 
There are various niches you can promote to make money and one of them includes online business.
It does take some time to grow, but if you have already been successful in starting a business, you can recommend different ways for your Youtube audience to make money online.
The great thing about some of these business niches is that you don't even have to show your face.
You simply record and edit your videos with captivating images and detailed instructions. 
Also, adding affiliate links in your video descriptions can create another revenue stream when you endorse products that your audience will love.
4. Create Low-Content Books
Have you ever bought journal prompts or notebooks on Amazon?
Did you know that some of these books are created by regular people sitting at their laptops and creating documents on Photoshop, Canva or Photopea? 
Yeah! I didn't know until recently. You don't even need to write words to start creating these books.
They are called low-content books for a reason.
They are simply books with blank or lined pages that customers can use for doodling or journaling. 
In order to get started, you can download free interiors from Bookbolt and upload them to any graphic design software you have access to like Canva, and then you can create your covers and upload them to the Amazon KDP platform.
There are several products that you can publish on KDP such as logbooks, notebooks, planners, and trackers.
You'll just have to make sure that your covers and interiors stand out from the crowd.
You can get free patterns from places like Pexels but lots of other people may be doing this.
To get consistent sales KDP publishers usually get freelancers on Fiverr to create their covers and purchase interiors from Creative Fabrica. 
If you're interested in making extra money from home without too much investment, then KDP may be right up your alley. 
5. Share Your Opinions
Sharing your opinion by doing surveys is another great way to make money online, even if it's just an extra $100 per month!
While this won't pay the mortgage, it certainly can help with groceries or get some extra things for the house.
Surveys are really popular because you can do them in under 5 minutes, and they don't require much work.
It's an ideal side income opportunity because you can do them in between chores, while the kids are sleeping, or just before bed.
 While I consider it one of the more fun ideas to make money online, we all know that it won't make you thousands per month, so you'll want to take that into consideration.
It's best to look at this as an enjoyable task rather than as a job and choose the best times to answer surveys and polls that fit your schedule.
There are lots of places where you can sign up to do surveys and one of the best in my opinion is Survey Junkie which has around 5 million members and is highly trusted.
Sign up with Survey Junkie today and earn cash or gift cards!
You can also share your opinion and earn money with:
6. Fun Writing Gigs
If you have fun writing (which a lot of people do) then you can make money from your hobby.
As someone who does freelance writing, I do really enjoy it. Writing is an expression of your thoughts, and you can transform your creativity as a way to earn extra income.
One way to do this is by working as a freelance writer.
You can earn cash by writing poems, short stories, or writing greeting cards.
While you still have to use your brainpower, these can be seen as a creative outlet where you can have fun and still make money.
There are lots of places that take writers for these type of gigs such as:
Each company will have various genres that they accept which include humor, fun, originality, and more.
Also, when you're making your submissions, be sure to check the guidelines for each company and always proofread your work beforehand.
It's super important because grammar is very important when it comes to writing.
If you find that your submissions don't get accepted right away, you can keep trying and also try freelance writing gigs on Fiverr.
7. Giving Reviews
This is a type of mystery shopping job that you can do as a side gig to make some extra cash online.
When you're giving reviews, you will have to give valuable information to companies to help improve their product or service. 
When you provide honest feedback, this can help them make changes that can enhance their services.
This can involve online services, digital services, and physical products.
You can get paid in the form of cash and reimbursement if you had to first pay for the product. 
One trusted place for doing reviews on digital products and services is Panel Place. There are categories on their website such as:
Gaming
Productivity
Work from home
Market research
Music
Lifestyle
Finance
You simply sign up, browse opportunities, use the service and then give your honest feedback. Panel Place is a nice option because it can all be done online.
Sign up with Panel Place and earn cash!
8. Create a Course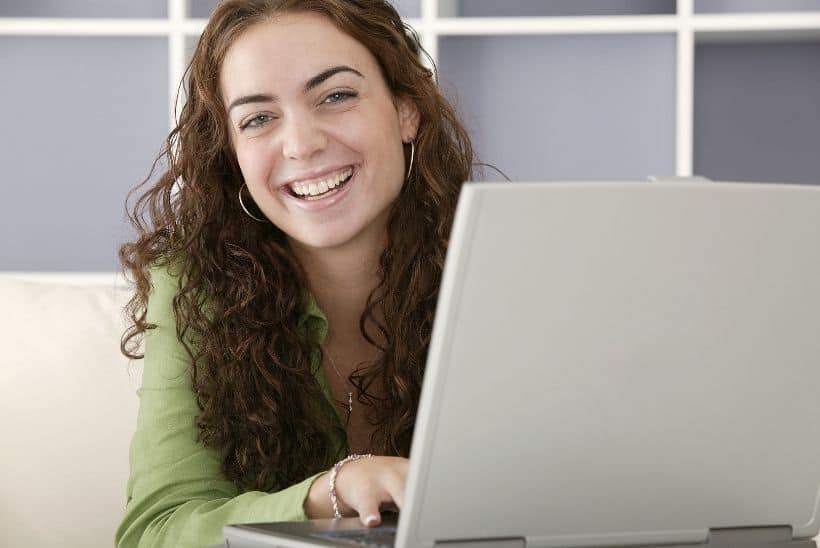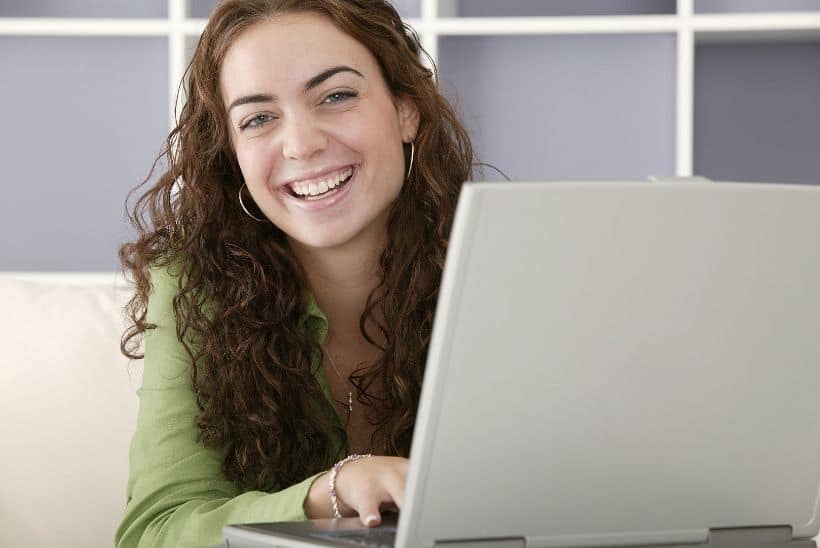 Do you have a skill that you'd like to teach?
How about specific knowledge that you have on a particular subject?
If you have practical and intellectual knowledge in a certain subject area, then creating a course is a fun idea to make money online that results in passive income.
There are many course creators out there who are making thousands by creating courses and selling them online.
If you're wondering if creating a course and marketing it is hard, I would say that the hard work pays off. 
Once you've completed your course, you can use platforms like Thinkific or Udemy, and upload your course there.
And best of all, it's free.
The only catch is that Udemy collects some of the royalties you make and then uses the remaining amount to promote your course.
Creating courses is a way to create passive income and live your life more intentionally. 
Best Ideas to Make Money Online
You have the chance to earn extra cash each month and have more financial freedom with these simple money-making ideas.
With just a little creativity, perseverance, and using your free time for these side gigs, there's no telling just how much you can make.
Let me know in the comments which one of these side hustles you'll try first!
If you liked this post, please PIN it for later!❤️️????