This post may include affiliate links.
I'm sure that when we were growing up we've always heard that we need our college degree to 'start a business or to 'be someone in life'.
And while I've got nothing against a college degree, (I went to university and obtained a Bachelor's), in today's world, you really don't need a degree or any type of qualification to make money online or be successful. 
 As a matter of fact, none of the jobs on this list require a college degree and you can make a decent amount of money from them if you start them the right way.
What I personally love about these jobs as a stay-at-home mom, is that they can ALL be done from home!
That's right. You can do any one of these gigs from home and make money your way.
And another bonus is that they're flexible.
I wanted to provide this list of high-paying jobs that moms can do without a college degree because I've done a few of them myself, and I didn't even need any type of qualification to apply for them.
This doesn't have to be a dream job or something even that you love.
It can simply be a way to make some extra money or do a side hustle along with your 9-5.
Let's get into the highest-paying jobs that moms can do without a college degree so that you can make some money on your own schedule!
Please share the ❤️️ and PIN this post for later!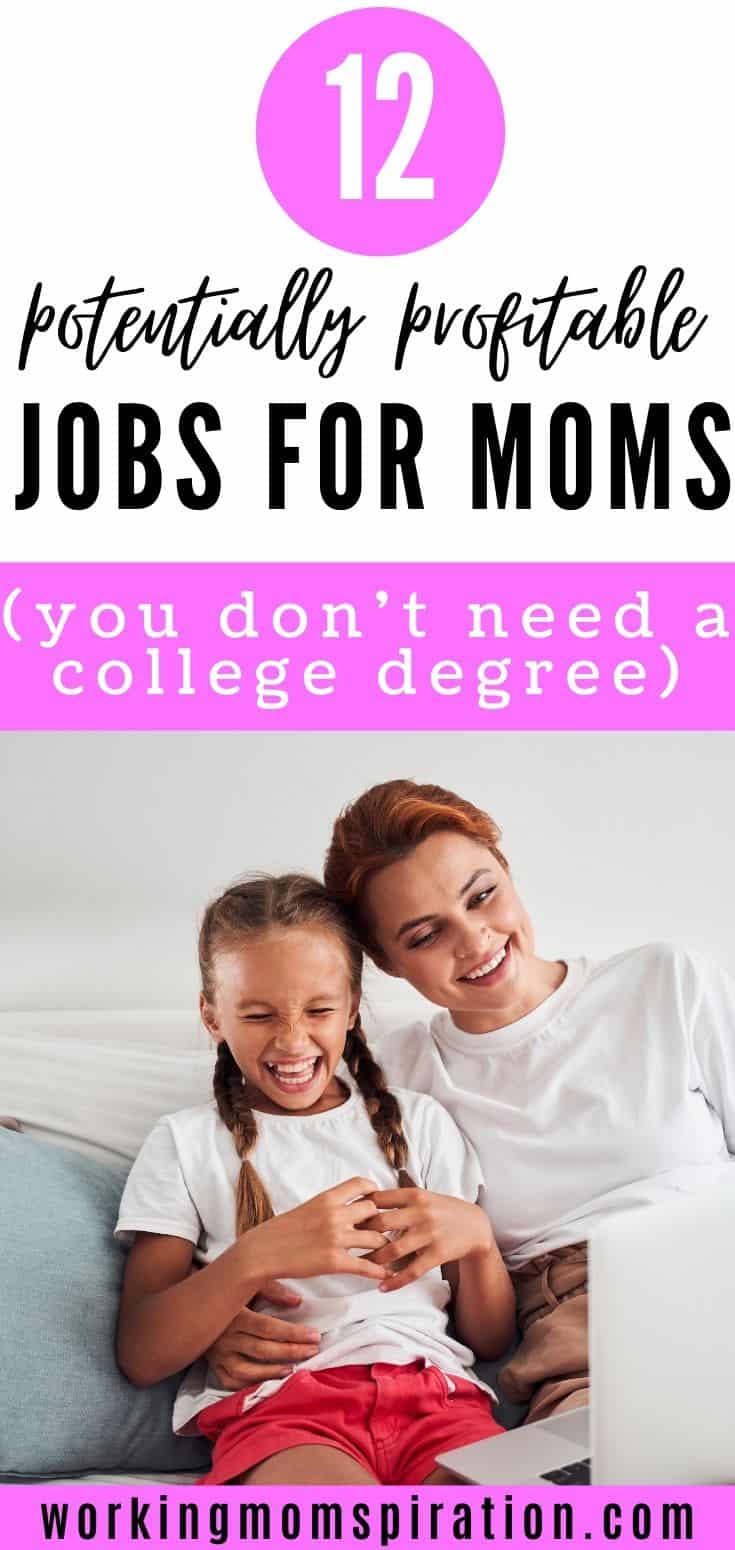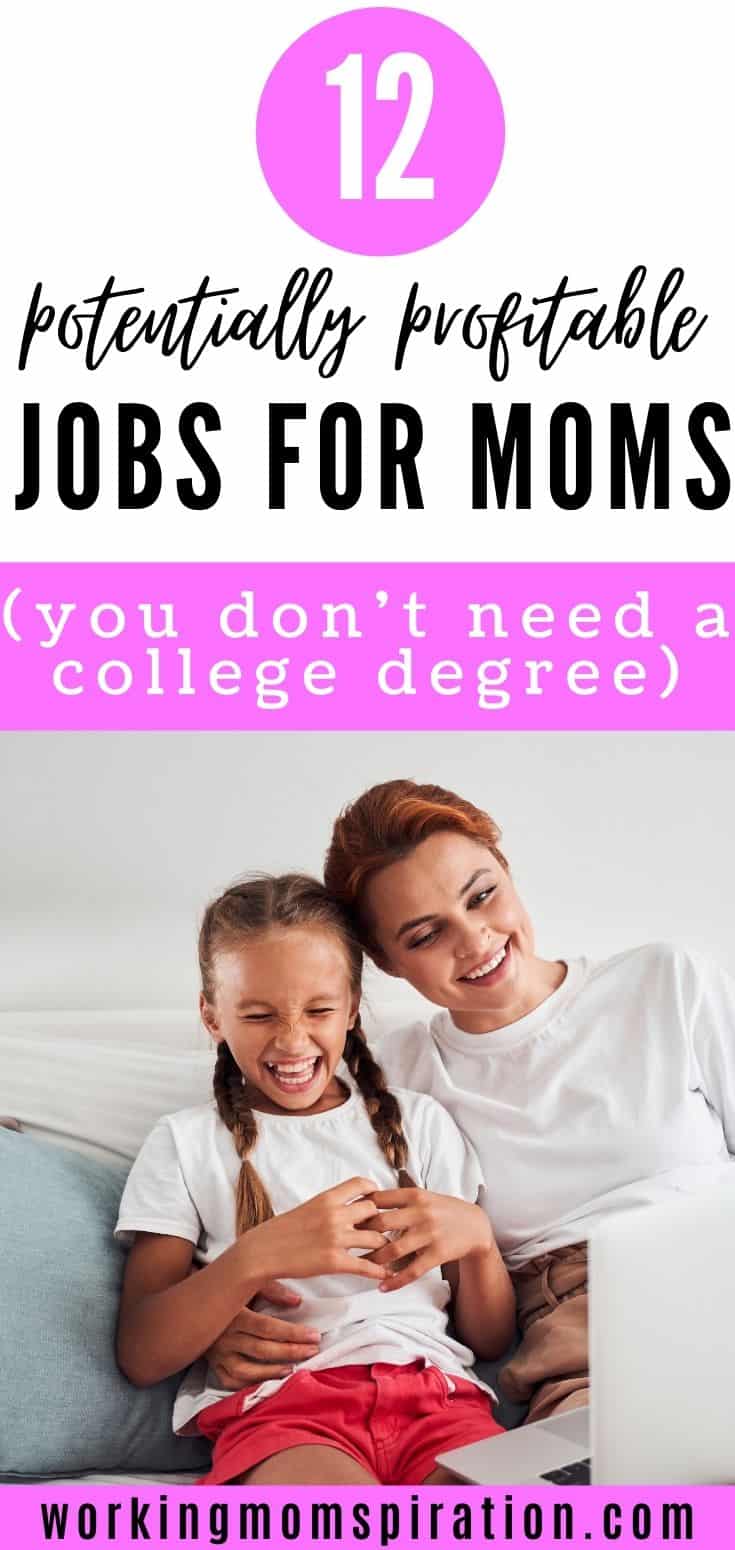 List of highest paying jobs without a college degree
1. Blogging
I know there might be people doubting this…but yes, blogging is a REAL job!
And it takes a LOT of work.
Whew.
There, I got that off my chest.
Even though I put this job first on the list, it's not a job that has money rolling in right away. 
It can take months and even years to earn money from a blog.
Buuuuuut I don't want to get you thinking it's an impossibility. Thousands of moms have blogs and some of them are making thousands each month from them.
Take Alida from The Realistic Mama for example, who makes $24,000 per month from things like affiliate marketing and advertising on her blog.
Another mom blogger, Ali from What Moms Love, makes about $30,000 mostly from sponsored posts and ads.
Other mom bloggers make $1,000 or $2,000 a month which steadily grows over time.
To give you a real picture, bloggers make money from the following:
Display Ads
Affiliate Marketing
Selling physical or digital products
Offering courses
Consulting
Offering a specific service
Most new bloggers tend to start off with Affiliate marketing which is basically promoting a product to their audience that they've either used and loved or one that their audience would like.
There are several affiliate programs that accept new bloggers and a few of them include Shareasale, FlexOffers, and CJ Affiliates. 
The average blogger makes around $32,000 per year, but full-time bloggers are able to make more than $200,000 per year working as much as 10-30 hours per week!
Blogging does take time because apart from writing content that's helpful for your readers, you also have to market it and drive traffic.
But trust me, the upside of that is that if you continue working on it consistently, you will reap the rewards.
And the reward can be insurmountable.
The amount of money you make can sometimes depend on the niche you choose, but it's mostly dependent on how much work and investment you put in. 
This couple makes $500K from their blog each year, and they have a free course that shows you just how to do it too!
For anyone who's been mulling this over for some time, you can easily sign up with Bluehost and start your blog today!
2. Online Tutoring
There are several companies online that offer moms the opportunity to teach children online.
They usually have flexible schedules and the chance to earn bonuses. 
It's perfect for moms who had previous teaching experience, but as I stated before, a Bachelor's degree is not essential for some of these companies
As an online tutor, you can help children to learn in key subject areas whether it's Math, English, or Science. 
Online tutoring offers a great way to make some extra cash or try a side hustle, as they are super-duper flexible!
The top online tutors earn as much as $62,000 per year!
One of the best places to check out is Cambly!
3. Transcription
Doing transcription jobs is another easy way to make money and you definitely don't need a college degree or any other qualification to do it. 
What you do need however are attention to detail and a fast, accurate typing speed.
Most companies require their transaction workers to type more than 50 WPH. 
You will need to listen carefully to the audio and then type what is written in a clear and concise format. 
The average pay for transcribers is currently $15 per hour and you can earn this by transcribing audio, videos, movies, and podcasts.
Some transcriptionists actually make up to $58,000 per year as this job is very flexible and you can try multiple gigs at a time. 
To complete transcription files much quicker, I recommend Otter ai.
This is a website that converts audio and video text and with that output file, you can then make the final changes.
This way you can save tons of time on your transcription projects. 
Some sites where you can transcription are:
4. Freelance Writing
I did freelance writing as my first gig as a WAHM and I must say I absolutely loved it!
This is one of the best jobs that you can do without a college degree because you have the chance to get high-paying writing gigs depending on your skills.
When you start doing freelance writing, you can be your own boss, by choosing when and how you want to write.
You can choose to be a:
Blog post writer
Greeting card writer
Business writer
Technical writer
Ghostwriter
If you choose to become a ghostwriter you can earn as much as $150 an hour!
This makes freelance writing one of the more popular jobs on this list. In order to showcase your skills, you should try to get gigs on sites like Fivver.
Depending on the type of freelance writing you do, you could make around 104,000 a year which makes freelance writing one of the highest-paying jobs on this list.
5. Proofreading
If spotting grammar mistakes and other odd occurrences in writing comes pretty easy, then proofreading might be just the job for you. 
A proofreader will be able to read and scrutinize written work and make edits to them to correct grammar mistakes and misspelled words.
It's up to you as a proofreader to make sure that the final piece of a document is perfect for submission.
Even though you do not need to have a college degree to embark in this field, I highly recommend doing some type of course to lay the groundwork. 
You have the opportunity of making around $72,000 a year, which is what the top earners make annually!
You can get started with this free workshop at Proofread Anywhere so you can start working online as a proofreader!
6. Virtual Assistant
This role is more of an online administrative assistant because it involves doing…well…lots of administrative stuff.
You'll most likely be making calls, taking calls, working on projects, and many other tasks that an employer may require.
When starting out as a virtual assistant, it's recommended that you have excellent organizational skills, fast typing with accuracy, knowledge of computers, technical know-how, and past experience working as a virtual assistant. 
You can get started working remotely as a virtual assistant with FlexJobs which has hundreds of legitimate, hand-screened jobs. 
Just to give you a little boost, virtual assistants can make up to $115,000 annually. 
Here are a few spots to start working as VA now!
7. Start a Youtube Channel
Almost everyone is starting a YouTube channel these days, whether it's to offer business tips, do daily vlogs, or moms doing homeschooling videos to help other homeschooling moms like myself????
Even though it does take time to gain traction on the platform, it makes for a great passive income stream when you start to make money from videos that you've made.
Because there is such a variety of niches you can choose from, you can take the time to explore the material you believe would best suit your audience. 
While filming videos might be easy for some, you also have to consider the editing process as well as incorporating SEO and marketing your channel.
As with all business ideas, there is a learning curve and it will take some time to gain followers and have enough watch hours to start making money with Adsense.
But if you think this is something for you, I say consider it, do your research and take the time to plan your content beforehand, and provide quality videos for your audience. 
Top earning Youtubers make about $82,000 on average, but of course, you can make more or less depending on various factors such as your niche and the ever-present Youtube algorithm. 
 8. Start an Etsy Store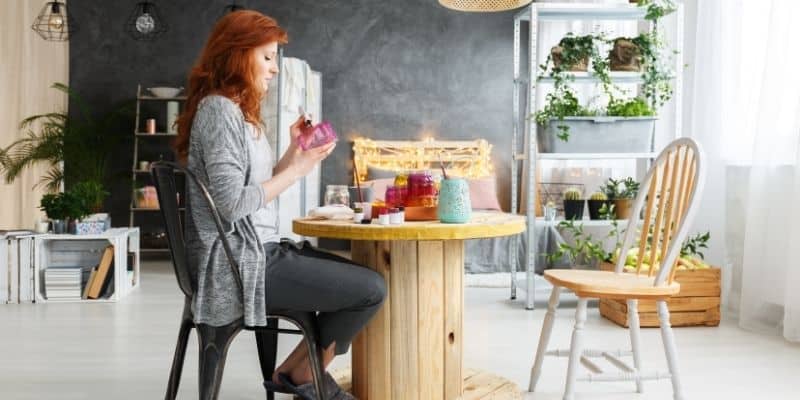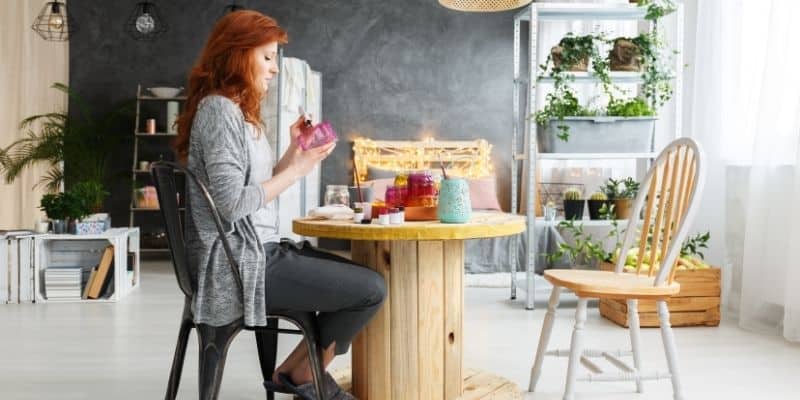 Have you ever thought of starting an online shop to sell your art or creations?
Have you reluctantly held back because you weren't sure how to start?
Well, if you'd like to take the leap by selling handmade products or digital products online without starting an entire website from scratch, Etsy is a great start.
That's because it's an online marketplace where people are constantly searching for goods and products that they can't find anywhere else.
Would you like to sell planners?
How about T-shirts? You can even sell invitations online for events like weddings, birthdays, or baby showers. 
The one thing to remember is that Etsy does have some fees associated with it so it's best to do some research for yourself to see if that fits within your business model.
However competitive Etsy is, based on my own study it seems that if you do a spin on certain products and bring something different, then you do have a chance of making it on the platform. 
If you have no idea what types of products to make, you can check out this post on profitable crafts to sell online.
And just in case you were wondering if crafts still sell, find out how this mom made $40,000 working part-time on Etsy selling jewelry.  
9. Customer Service
Don't hate me because I mentioned it.
I did work in this field for years too, so give me a chance.
I know that working as a Customer Service Representative is not an ideal job for most, as it requires, dare I say a certain type of patient temperament.
But it is a job that can make you a decent amount of income which can grow exponentially if you get promoted in your role.
Customer service representatives make as much as $52,000 annually and I say that's not too bad at all.
Remote Co has hundreds of customer service jobs that you can check out and their platform is really easy to use. You simply sign up and start applying for jobs.
Customer service jobs are ideal for those who like interacting with others, are really helpful, and those great at troubleshooting issues.
If you'd like to try customer service jobs you don't have to do over the phone, check out these 23 chat jobs you can do at home!
10. Online Research
Even though you don't need a college degree for this next job, it still takes lots of work and good research skills.
It's great for people who like to work alone and earn money flexibly.
I would know because I did it as a side gig for a little while.
One of the more popular companies that offer research roles is Wonder.
How it works is that you sign up with Wonder and they provide you with questions that you'll have to answer.
Don't be fooled though, as it's not as simple as it seems.
The questions are usually requested by clients doing market or product research, and you will have to provide them with comprehensive and detailed answers that they will then approve.
If this sounds like something you'd like to try then apply at Wonder today! 
You can earn as much as $30 per hour.
11. Children's Book author
One of the hottest side hustles right now is publishing, because you have the potential to earn hundreds or even thousands a month. You can easily become an author using Amazon's KDP platform.
And if you already doubt that you'll be able to write, create illustrations and publish your book then read a bit further on how you can actually do this without much hassle.
When it comes to writing content for your children's book, you can either write it yourself or use Fiverr to hire a writer who actually writes content for children.
And if you happen to not be an artist, you can purchase beautiful illustrations for your children's book on Creative Market. 
If you head over to their site, you'll literally find thousands of gorgeous illustrations for children.
They come very reasonably priced and have commercial licenses so you can use them safely in your book.
The publishing process is also very simple.
You will be able to simply create an Amazon KDP account and upload your new book to the platform. 
It would then be published for the Kindle platform and show up when buyers are searching for books with relevant keywords.
The best thing about using the platform?
It's totally free! 
The top-earning children's book authors make around $104,000 per year.
So you have the potential of making passive income from this gig. 
12. Sell Printables
One of the easiest and most profitable ways to make money online right now is with printables.
Again, you can use tools like Canva, PicMonkey, or Adobe Photoshop to create them, or hire someone to make them.
There are various printables you can make like:
Water trackers
Meal Planners
Coloring pages for kids
Wall Art
Party Invitations
Blog Planners
The number one reason I love printables is that they are a source of passive income.
Once you make one, you can continue selling it again and again. They are very popular during Christmas and other holidays too.
It's a good idea to get some inspiration on how to actually design printables and then choose printables that sell.
Niching down is also very important when selling printables online and it's best to choose a niche that has low competition when you're just starting out. 
If you'd like to sell printables on Etsy, here are 40 hot digital product ideas.
That's it!
I hope you liked this list of jobs that you can do without a college degree or qualifications.
While we can all agree that having a degree is great, it's not really necessary when it comes to earning passive income or making money online.
These jobs are also flexible which means you can do a few of them at the same time and earn even more money.
If you're a mom who loves finding new side hustles like me, then comment down below and tell me which one was your favorite!
If you liked this post, please PIN it for later!❤️️????