This post may include affiliate links.
Who hasn't shopped on Amazon at one time or another?
You can find almost everything on the website.
Looking for books? Check! Baby clothes? Check! Car parts? Check!
If you want groceries too, Amazon's got it!
But one thing you may not have thought about is starting a side hustle on Amazon. What I mean by that is selling books.
Today, we will dive into how to make money selling journals on Amazon.
Selling journals is a partially passive income stream that many entrepreneurs have started doing recently. 
They have taken advantage of a market that never seems to slow down and that's journaling. 
Journals are a popular item among people who enjoy writing, journaling, and note-taking, and they make excellent gifts for friends and family members.
With some simple tools, you can tap into this growing market and reach a large audience of potential customers.
How much can you make selling journals on Amazon though? This will all depend on how much work you put in!
So, if you're really interested in learning how to sell journals on Amazon, let's get into it!
PIN IT!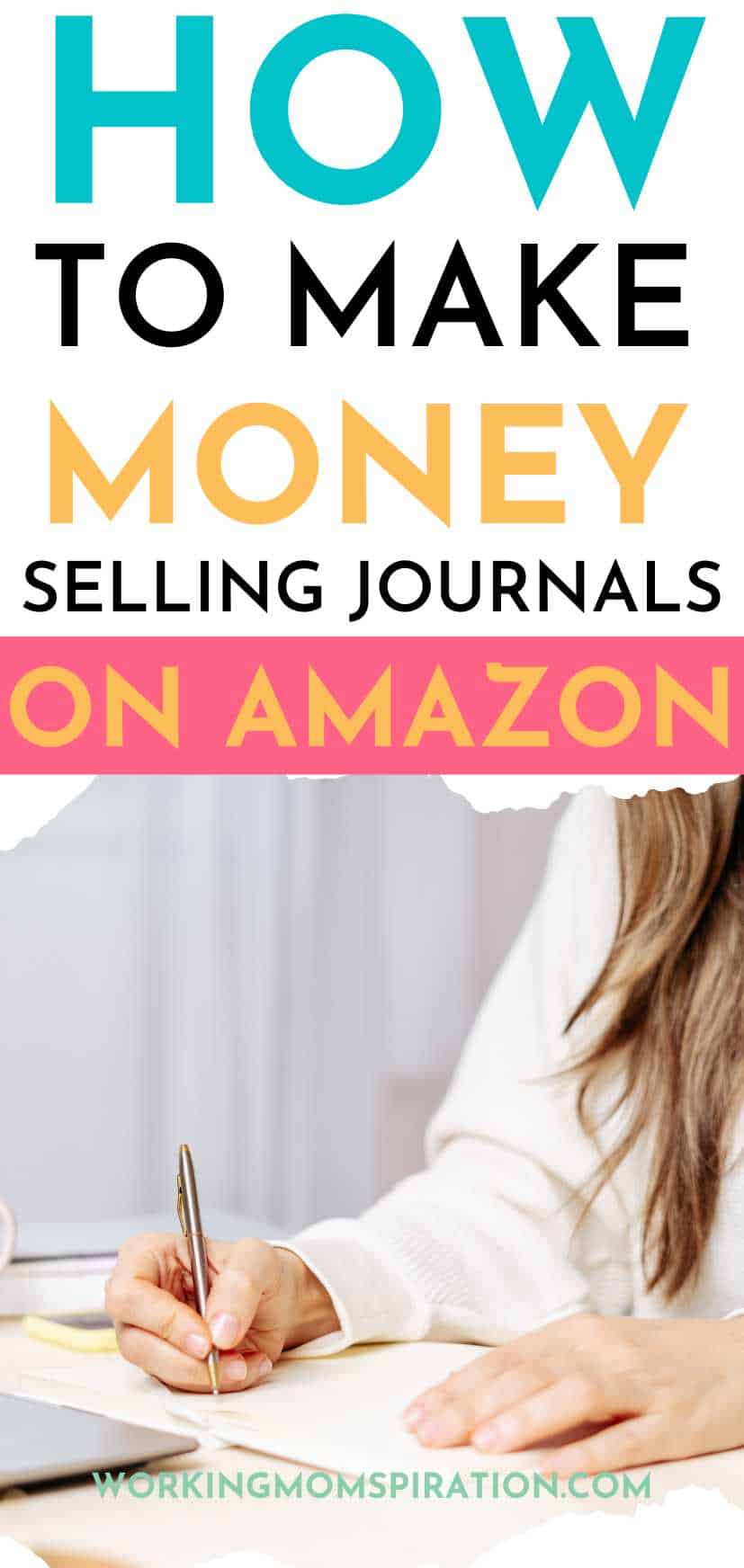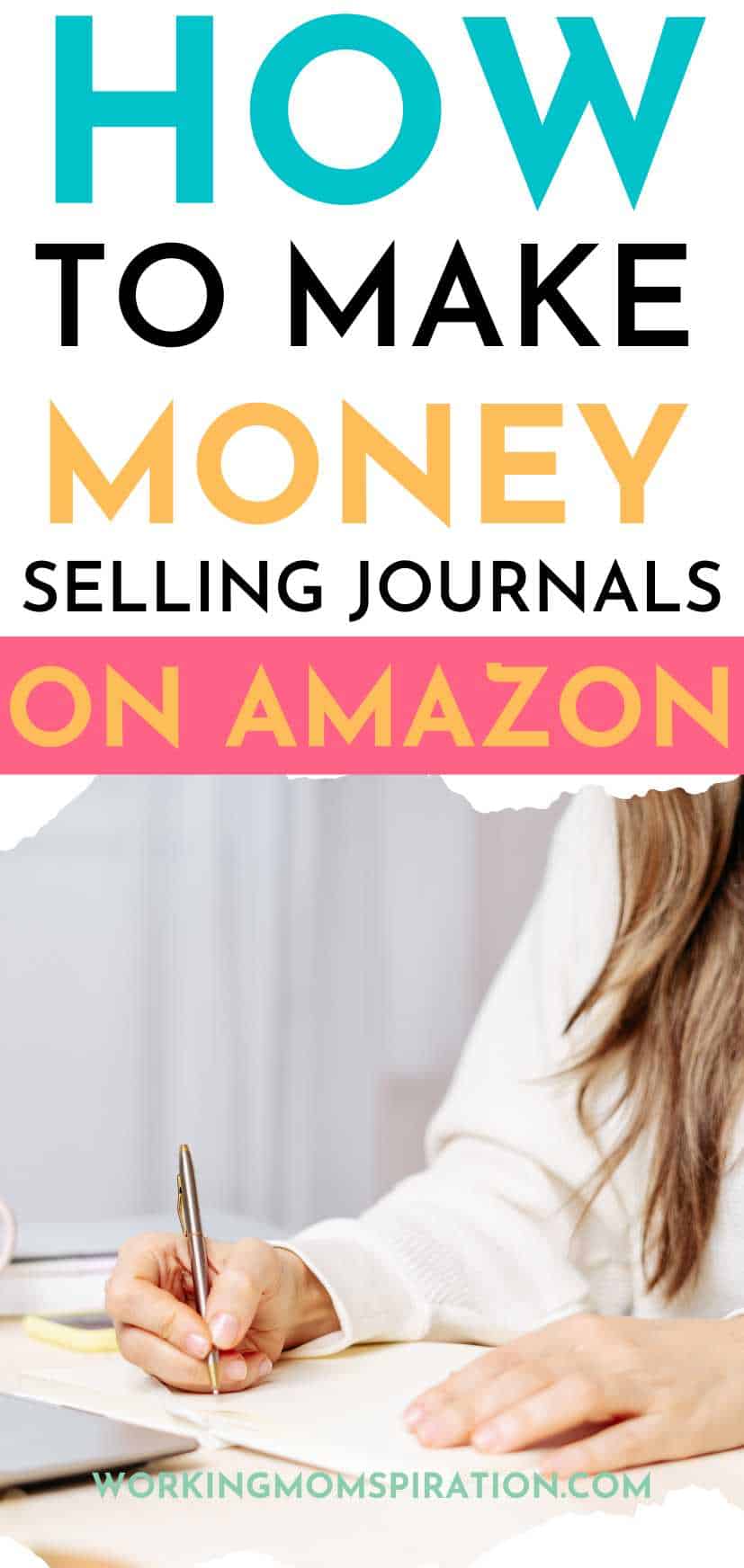 Selling Journals on Amazon KDP
If you're new to Amazon KDP, it stands for Kindle Direct Publishing. On the platform, anyone can join and publish books for free!
If you're an aspiring author or publisher looking to take your book to the next level, just know that Amazon KDP is a powerful self-publishing platform that allows you to easily upload and distribute your books to millions of readers around the world.
With KDP, you have complete control over your book, from the content to the cover design. 
You can upload your manuscript in a variety of formats, including Word, PDF, and ePub, and use KDP's built-in tools to create a professional-looking cover.
 You can also set your own pricing and royalty rates, giving you the flexibility to earn money on your own terms.
Journals are just one of the many things that you can sell on KDP.
But just how DO you start on the platform?
By knowing what type of journal to sell.
How to Make Journals to Sell on Amazon
1. First, choose a niche.
In the world of business and marketing, a niche refers to a specific segment of the market that has unique needs and preferences.
 A niche market is a smaller, specialized market that caters to a particular group of customers who have distinct needs that are not being fully addressed by mainstream products or services.
For example, a niche market could be pet owners who are looking for organic, locally sourced pet food. 
But what about journals?
A simple browse on Amazon can show you the various niches for journals that sell.
Just type the word Journal, and you'll see several long-tail keywords showing the different types of journals available on Amazon.
I use the tool called the Amazon Suggestion Expander which shows even more results.
I've decided that I will look at journals for kids and see what comes up.
Some journal Niches include:
Gratitude Journals: Journals that focus on daily gratitude and mindfulness exercises.
Bullet Journals: Journals that incorporate bullet point systems to help organize tasks, goals, and habits.
Fitness Journals: Journals that help users track their fitness progress, set goals, and stay motivated.
Travel Journals: Journals that provide prompts and space for travelers to record their experiences and memories while on the go.
Recipe Journals: Journals designed to help users organize and document their favorite recipes and culinary experiments.
Self-Care Journals: Journals that offer prompts and exercises to help users prioritize their mental and emotional well-being.
Creative Writing Journals: Journals that provide prompts and exercises to inspire creativity and encourage daily writing practice.
Bucket List Journals: Journals designed to help users set and achieve their personal and professional goals.
Memory Journals: Journals that provide space and prompts for users to record important memories and milestones in their lives.
Planner Journals: Journals that combine planning tools with daily journaling prompts to help users stay organized and productive.
There are plenty more to choose from and just a little digging will help you find them!
2. Keyword Research + Tools
While you can certainly do keyword research for free, it will really help you to find niches much faster with keyword research tools.
To conduct keyword research on KDP, you typically start by brainstorming a list of relevant keywords that align with your book's content, themes, and audience. 
It's important to consider synonyms, related terms, and long-tail keywords for more specificity.
Next, research what keywords other books in your genre or category are using in their titles and descriptions using Amazon's search bar. This can give you an idea of popular keywords and phrases that potential readers are searching for. Utilize keyword research tools like 
Book Beam
Publisher Rocket
KDP Spy
Book Bolt
Self-Publishing Titans
3. Validate Your Niche
Even if you've found keywords and a niche that actually exists on Amazon, you still need to validate them.
That means checking things like the competitiveness and the traffic that these niches get.
To do this, you'll need to analyze the top-selling journals in your potential niche. 
You can do this with paid tools like Publisher Rocket and Book Beam which show the top-selling books along with other features you will not readily see on Amazon.
However, you can use a free option too!
Start by adding the Amazon Suggestion Expander and once it's added, scroll to any Amazon journal (independently published preferred) and hover on the book. 
You'll see the BSR (best seller's rank) details. For the book I've chosen, it's 1599 which is great.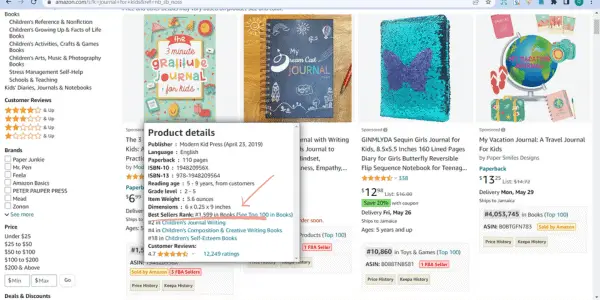 Basically, the lower the BSR the better. If you're at a BSR of 1, that means you're the Best Seller at that time!
Follow up by using the BSR to Sales Calculator ad enter the BSR and you'll see an estimate of how many sales per month and daily that this book is getting.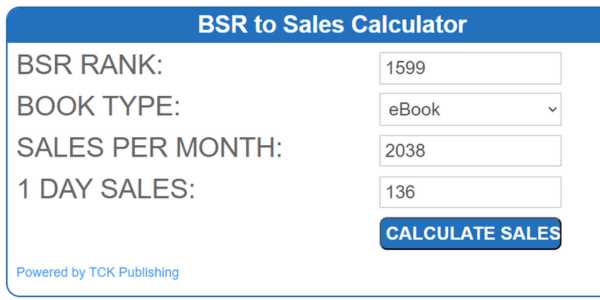 As you can see from the pic, this book is selling like hotcakes!
The cover of the book itself is attractive and I bet the inside is even better.
That's what customers look at first – the cover, so you'll need to have stunning designs in order to make a good first impression. 
Also, if the content of a book isn't good, even though the cover is, the customers will leave negative reviews which will undoubtedly sway potential customers. 
Once you've found your niche and relevant keywords, it's time to start designing a journal.
If you've ever wanted to know how to sell journals on Amazon using Canva, you're in luck!
I've actually written a post on how to create a journal on Amazon step-by-step using this handy tool. So go ahead and check it out!
4. Analyzing Your Competitors
Look closely at competitors' titles, covers, and descriptions to identify patterns and determine what's working well for them. 
Analyze what makes them stand out and how they appeal to potential readers.
 Read through their descriptions and consider how they present the benefits and unique features of their book. Checking the reviews of the top books in your niche can also be helpful, as it can give you insight into what readers like and dislike about them. 
Take note of recurring themes or complaints. You'll also want to take note of how your competitors price their books and journals and consider how you can offer competitive pricing while still making a profit. 
Also, you should consider how your competitors are marketing their books and journals. Take a look at their social media presence, email campaigns, and other marketing efforts to get an idea of what's working and what you can improve upon.
Create Gorgeous Covers for Your Journals
As I mentioned before, having a beautiful cover is necessary when selling on Amazon. It's the first thing that customers see and that will make them click on the book and check it out.
If your cover is not attractive, they'll just scroll by. 
To make your cover stand out, you'll need to have:
High-quality graphics 
Easy-to-read fonts
Bold/ attractive colors
Simplicity
You should also consider your target audience when designing your cover. The imagery and text should appeal to their interests and preferences.
If you decide to create a brand, you should use a consistent branding strategy for your journal series, including the design of your covers. This can help build recognition and loyalty among your readers.
Also, try different designs and test them to see which ones perform the best. Make adjustments as needed to improve the effectiveness of your covers.
If you're new to cover design or you're not a graphic designer, there are a few easy ways to get a stunning book cover done for you:
`1. Hire a Fiverr Freelancer
To hire a freelancer on Fiverr for your KDP journal cover design, sign up for free on Fiverr.
You can then use the platform's search feature to find freelancers who specialize in KDP journal cover design. 
Look for sellers with high ratings and positive reviews from past clients. Once you have found a few potential freelancers, review their portfolios to see examples of their previous work. Make sure their style aligns with your vision for your journal cover.
Next, contact the freelancer to discuss your project and get a quote. Be clear about your expectations, budget, and timeline. Once you've agreed to the terms, place an order with the freelancer, and voila, get your journal cover!
Here's a freelancer creating beautiful journal book covers on Fiverr who's pretty affordable!
2. Use Canva for Book Cover Designs
Canva is free to use and has tons of ebook cover templates to choose from. 
Head to Canva and go to the eBook templates and choose one of the free options if you don't have a Pro account.
While you can't use the template exactly as it is, you can change the colors, fonts, and elements and make the design your own.
Once you're done, you can download the design to use on Amazon KDP.
3. Use BookBolt Studio
This is not a free option and some have said the interface is a bit clunky, but you can use the Book Bolt Studio to design book covers and interiors. 
Not only that, but Book Bolt comes with other features like:
Keyword research
Category research
Description builder
Interior formatter
Competition analysis
AMS advertising
Sales tracking
So, apart from using the cover designer, you can use all these features to enhance your journal creation on Amazon for a monthly fee.
They have a library filled with elements, fonts, and other useful graphics that you can use to make unique templates.
Check out Bookbolt and start making journals.
In case you're wondering, you can use Fiverr, Canva, and Book Bolt Studio to create journal interiors as well. Tangent Templates is another great paid tool where you have access to hundreds of template interiors for your book. 
Selling Your Journals for Cash
The process of selling KDP journals can be a lucrative and exciting venture for self-publishers. 
However, the process of actually selling your journals on Amazon can seem daunting at first. 
1. List Your Journal
However, to get started, all you need to do is sign up for a free Amazon KDP account and enter your demographic information and payment details.
Once you're ready to list your journal, you will need to enter your book title, description, and keywords. Then you'll get to upload your cover and interior and choose the type of paper for your book along with pricing.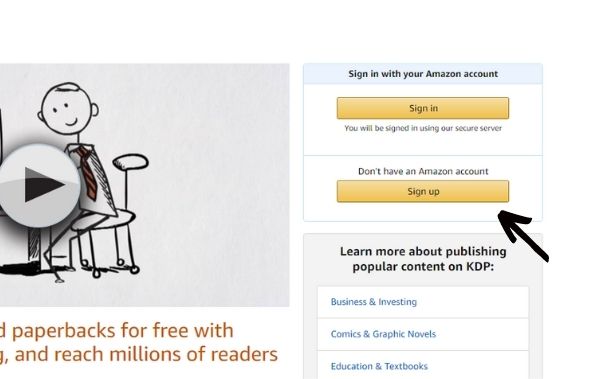 Amazon offers a range of pricing options, including royalties based on a percentage of the list price or a fixed amount per sale.
 You'll also need to choose whether to make your journal available in all Amazon marketplaces or just specific regions.
2. Promote Your Journal
Once your journal is live on Amazon, it's time to start promoting it. 
One effective way to do this is by using Amazon Advertising, which allows you to place targeted ads for your journal on Amazon.com and other Amazon-owned websites. You can set a budget and bid on keywords related to your niche to reach potential customers.
You can also promote your journal by leveraging social media and other online channels. Consider reaching out to influencers in your niche to review or promote your journal, or creating a website or blog to showcase your work and drive traffic to your Amazon page.
One thing to keep in mind is that the market for KDP journals can be competitive, so it's important to stay up-to-date on trends and be responsive to customer feedback.
FAQ About Selling Journals on Amazon
Is it profitable to make journals with Amazon KDP?
It's definitely profitable to make journals and sell them on Amazon KDP! 
Currently, there's a huge demand for journals of all types and it's great that just about anyone with a working internet connection can create and sell their own journals.
Still, the profit potential of selling journals on KDP depends on various factors such as the niche, target audience, marketing strategy, pricing, and production costs. 
If you can create a high-quality journal with unique content and an eye-catching design, you can attract customers who are willing to pay a premium price for your product. 
Also, if you can find a profitable niche that is not too competitive, you can generate steady sales and income over time.
How long does it take to make money with KDP?
The time it takes to make money with KDP can vary greatly depending on various factors. 
Some authors may start earning revenue within the first few weeks of publishing their book or journal, while others may take several months or even longer before seeing a significant return on their investment.
One of the biggest factors that can impact how long it takes to make money on KDP is the amount of time and effort put into creating and marketing the book or journal. 
Authors who invest a lot of time and energy into writing, editing, designing, and promoting their work are more likely to see faster returns than those who publish quickly without putting in the same level of effort.
Also how quickly you earn money is the genre and niche of your journal. Some niches may have more competition, making it harder to stand out and attract buyers, while others may have a more dedicated audience that is willing to pay higher prices for quality content.
It's also important to note that KDP royalties are paid out on a monthly basis, but there is a two-month lag time between sales and payment. 
For example, royalties earned in January are paid out at the end of March. So, authors who are just starting out may need to wait several months before seeing their first payment.
How to Make Money Selling Journals on Amazon
If you ever wanted to start a business in publishing you now have the chance with Amazon KDP. You can start off simple by creating journals and eventually selling high-content books of your choice.
It can be a profitable venture for those who are willing to put in the effort and time to create high-quality products and promote them effectively.
Just remember that you'll need to do thorough market research, design visually appealing covers, and create content that appeals to a specific audience.
Utilizing tools such as Book Bolt and Canva can make the process easier and more efficient. While it may take time to see significant profits, with persistence and dedication, it's possible to create a successful business selling journals on Amazon through KDP.
PIN IT!