This post may include affiliate links.
Would you like to start an online business this year? How about a side hustle?
The perfect way to earn money this year is by learning a few high-income skills.
With high-income skills, you can start the career you've always wanted or launch a full-scale business. 
Thanks to the online world, anyone can learn just about any skill over the course of a few months or in a year.
Some of them are even free!
In order to really benefit from a skill, though in most cases you will need to put in a little investment. 
And by investment, I mean time and money.
However, the skills you'll learn about today aren't the ones you'll be spending your entire fortune on as some of them cost less than a family meal at a restaurant.
Remember that a little investment does go a long way and learning a skill is a true investment for growth.
If you're interested in launching a business, starting a career, or earning money online, let's find some of the best high-income skills to get you there.
What are high-income skills?
Before you embark on your new journey, it's best to know just what high-income skills are.
High-income skills are trades that can earn you an online income of about $10k a month or more. This means you can potentially earn more than 120,000 a year!
Not all the jobs on this list will make 120,000 but most do have the potential.
Also, always remember that the amount of money you make will be relative to other factors as well.
You might think that achieving this amount of income is nearly impossible or quite difficult.
But,  learning the right skills and applying them to the right career or business, is the perfect way to start generating a full-time income.
Of course, you won't be making explosive money right away, but you'll be on your way there.
If you want a lucrative career and you're open to learning something new, let's get into some of the best high-income skills that can earn you six figures this year!
Please share the ❤️️ and PIN this post for later!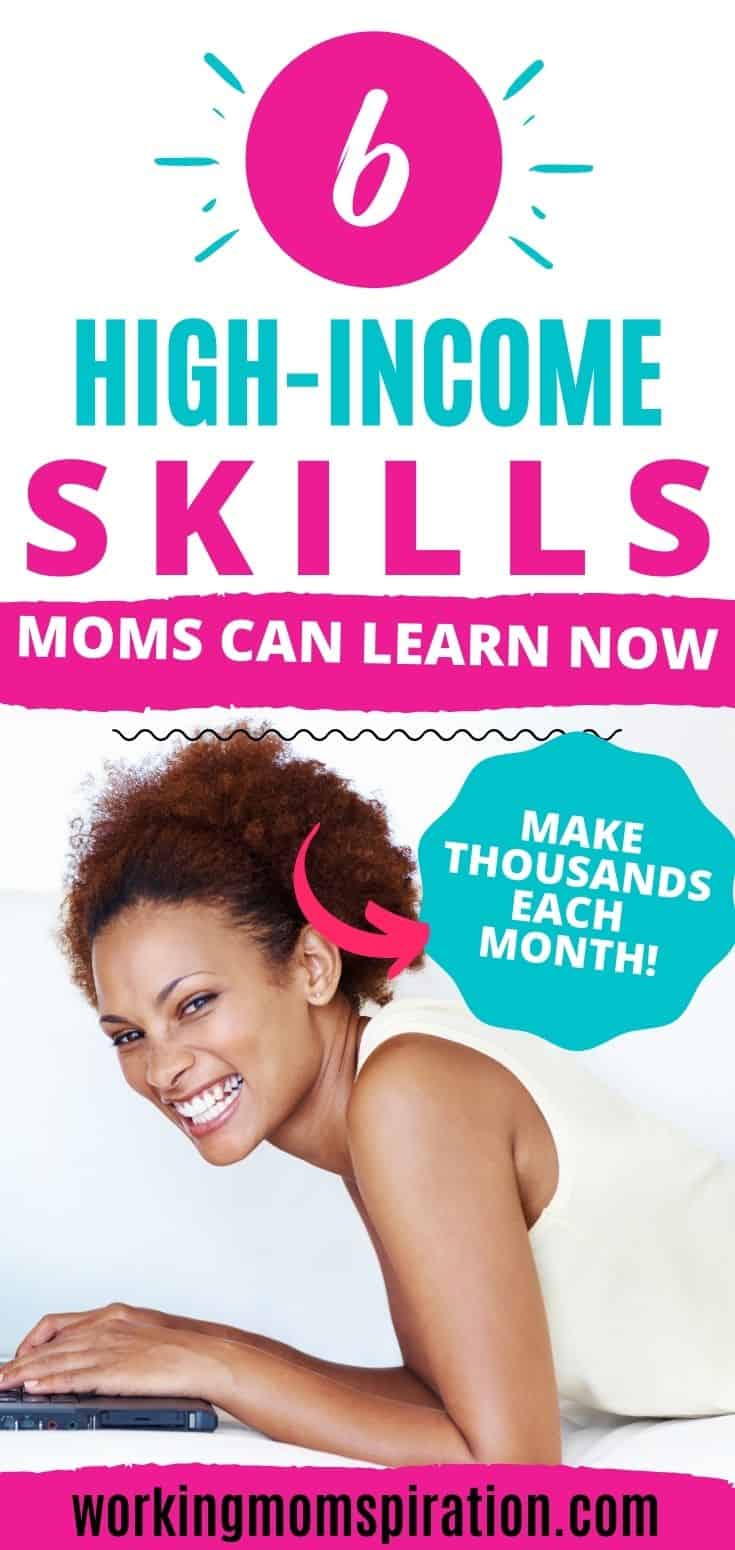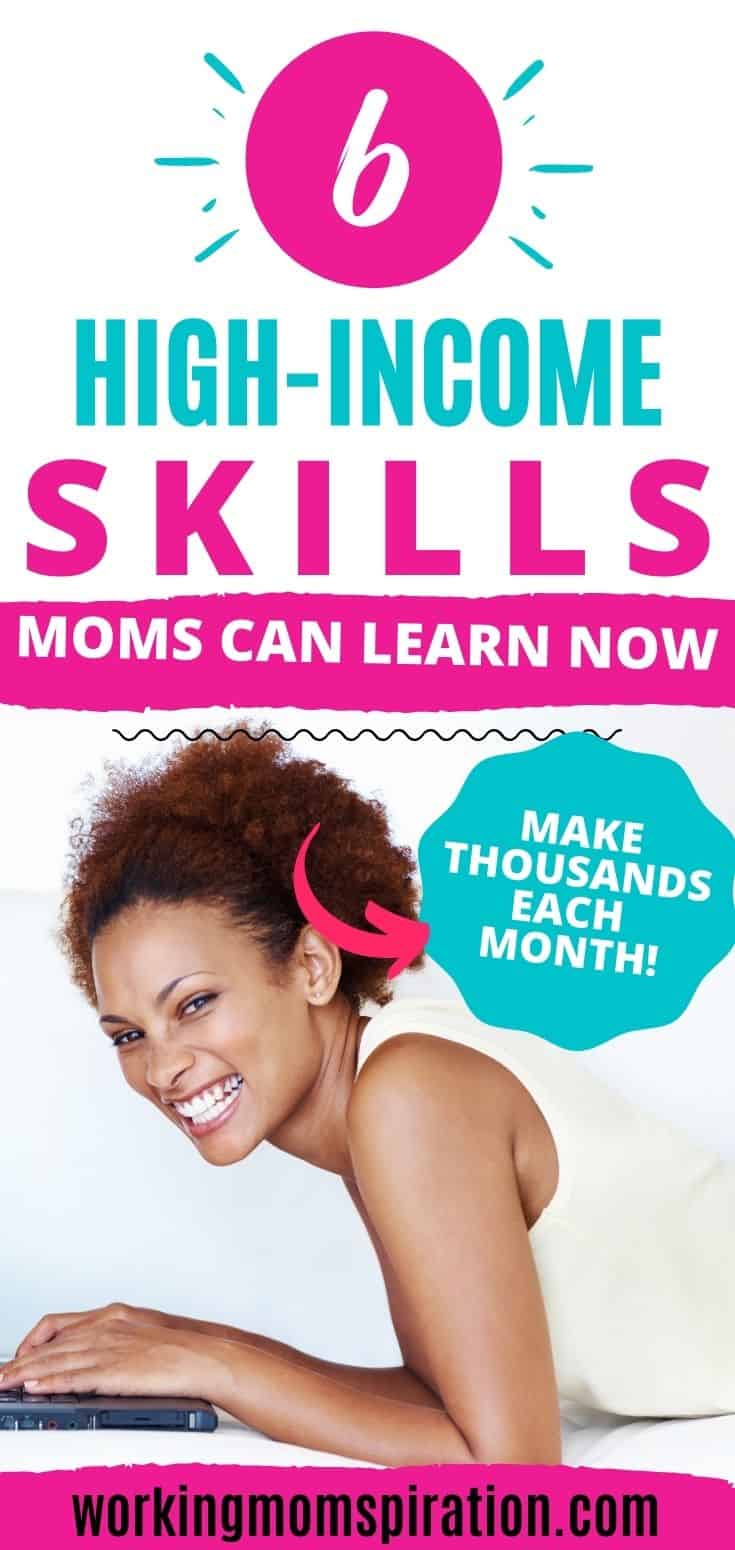 1. Digital Marketing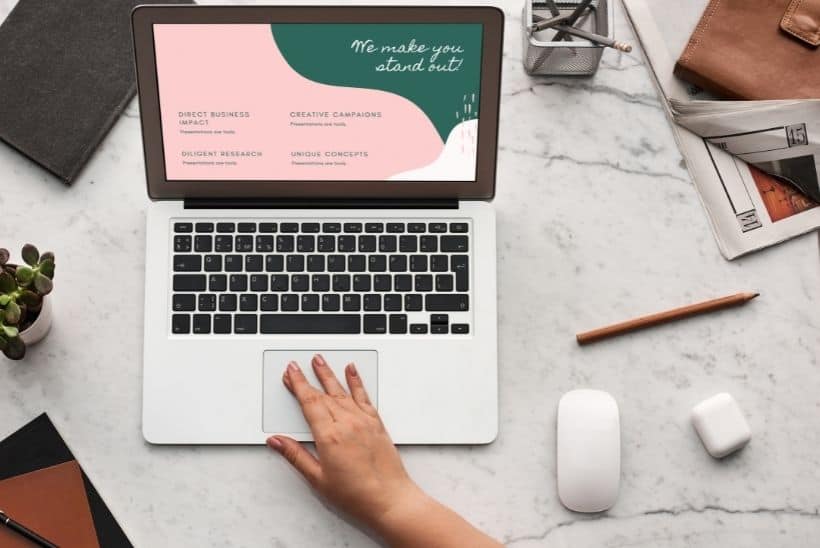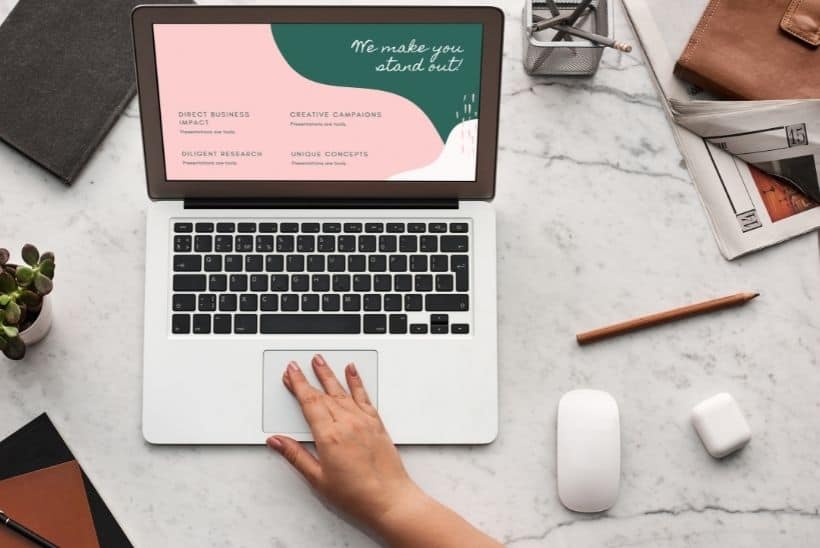 Digital Marketing itself is a great high-income skill because there are various areas to branch out in.
Each marketing niche has its own specialty and will cater to different audiences.
As a digital marketer, you can choose to either work for an established company, or do freelance work. 
You can choose niches such as 
Social Media Marketing
Search Engine Marketing
Content Marketing
Online Advertising
Email Marketing
Search Engine Optimization
One of the more popular niches on the list is social media marketing as many businesses need marketers or managers to handle their social media accounts.
If you're savvy with this type of marketing field, you can try applying for jobs right away.
If you would like to learn more and develop this high-income skill, Udemy has a catalog of reasonably priced courses both for beginners and experts in the digital marketing field.
????Earnings: 71,000 per year!
2. Graphic Design
Want a job that brings you lots of creative freedom that can make you a steady income and pays really well? 
Well, graphic design is a great way to do that. Just about every company needs a graphic designer.
Here's what you need to know to start working as a graphic designer:
Have a knowledge of Illustrator and Photoshop
Understand UI/UX design
Have a knowledge of HTML
Know how to use Microsoft Office
Understand Photography & Typography
While this might look like a lot, this is what employers will be looking for if you're planning to start out as a freelancer or employee.
Your portfolio will need to be thorough as this is a competitive field. 
Some employers will also be looking for about 2-3 years of graphic design experience, so you'll want to look out for that as well.
If you don't have this type of experience in the field, you can try building your portfolio on places like Fiverr or We Work Remotely.
Want to know a few other ways to make money with your graphic design skills?
You can create designs and sell them online.
This can be done by selling your designs on T-shirts, stickers, mugs, wall art, and more!
The best way to do this is by using Print on Demand suppliers who allow designers or artists to sell their designs on their websites for free!
One of the most popular places to try this is on TeePublic.
You simply create your design, upload it on their website and start selling.
Sign up with TeePublic today!
????Earnings: 116,000 per year!
3. Copywriting
If you're great at writing or you love to write or edit, then working on this high-income skill is a good way to make more money online. 
Copywriting is essentially a skill where writers create marketing materials and sales promotions for products and services.
It is still a bit different from writing your general blog post or article. In this case, copywriting is a high-income skill that's designed to sell. 
In order to work in this field, you'll have to be able to write in an engaging way and persuade your audience.
You need to be able to drive sales and increase revenue, so it may not be for everyone.
However, If you hone this skill, you have the potential of earning a full-time income and you can do this all online!
Sometimes working as a freelance copywriter might be the best bet, because having a passion for something sometimes makes you sell it better.
What do you have a passion for? Is it cat-inspired clothing?
What about planners or journals?
Selling effectively takes lots of practice and you'll need to have this skill in order to be successful as a copywriter.
Another important part of being a copywriter is having proper grammar and punctuation.
I use Grammarly to proofread all my blog posts and you can use this app for free or use their paid service.
The app even helps you with tone and makes word suggestions, so it's really very handy! 
In order to make this happen, learn the essential skills you need with Udemy's online courses.
????Earnings: 130,000 per year!
4. Entrepreneurship
Would you like to be your own boss and make money your way?
An ideal way to get this done is by working on your entrepreneurial skills.
Entrepreneurship involves key abilities such as leadership, marketing, and management. 
Entrepreneurs know how to be resourceful, think outside of the box, and make things happen.
This way, they can generate revenue in even the most unlikely ways.
Starting out with this skill means spending time in research and requires a determined work ethic. 
If you do want to hone these skills there are a subset of areas to get started on right now. You can foster your creativity and inventive mind in areas such as:
Freelance
Online Business
Business Strategy
Blogging
Take blogging for instance. You don't have to reinvent the wheel.
Do you have an idea that you've been sitting on for a while now?
You can express that on your blog.
A blog can allow you to have a full-time income business in even a year.
Some people do it in 6 months.
The key is to bring new ideas to something that already exists.
If you'd like to learn more about blogging, check out this step-by-step guide.
????Earnings: 134,000 per year!
5. Photography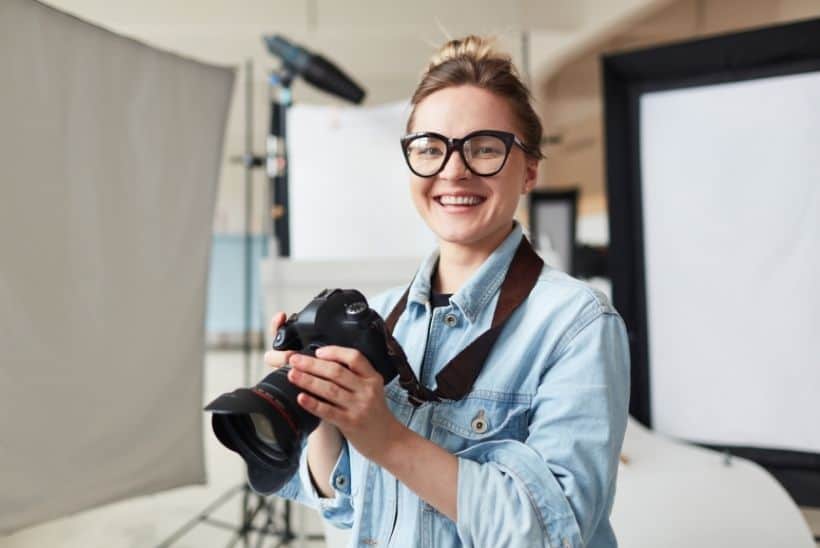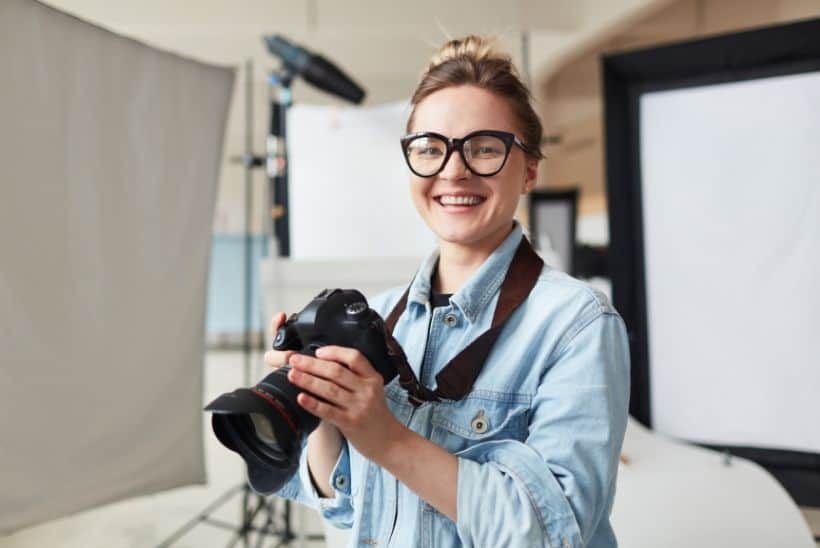 Are you skilled with a camera? 
Having a skill set in photography can create unlimited opportunities for a freelance business. 
There is a high demand for stock photos and photographers are able to take advantage of this demand and earn a high-grossing income.
You can earn this skill online for free at Alison or Creativelive.
After you've taken your free course, I recommend some hands-on practice.
This could be practice in a studio, in nature, on the streets, or with family and friends.
But you should practice as much as possible to learn perspective and gain a natural touch of the skill.
How will you actually make money with this high-income skill?
One of the first ways photographers make money online is by selling their pictures.
5 places you can sell your pictures are:
Shutterstock
Bigstockphoto
Alamy
500px
iStock
By selling your pictures to online sites like these, you will be making royalties.
This is essentially passive income.
So you earn cash while you sleep basically.
If you really want to go deeper with your photography skill, I highly recommend Udemy's online courses.
They have a wide array of photography courses that teach you the basics and give you expert lessons so you can beat the competition.
Check out Udemy today.
????Earnings: 81,000 per year!
6. App Development
Have you ever heard of app development?
It is a new term to some, but some of those apps and games on your phone were made by regular people like you and me.
The thing is, they learned the skill and transformed it into a money-making business.
App development has been growing for some time now and people are generating thousands of dollars from just one app that they've created.
Unlike what some may believe, you don't just create an app and start making money right away.
As with any business, there is a period where no sales accrue.
In order to earn an income from this, you will need to think about a strategic monetization process. 
Customers love apps.
That alone shows you that there is an opportunity.
But how will you make the money?
You can monetize it through two methods: free or paid monetization. 
When you charge customers to download your app, this is the paid method and you can generate more money this way. But what if someone does not want to pay outright? They can download the app and you'll make money with ad revenue or affiliate deals.
Because building an app can cost lots and lots of money, learning the app development skill is a big plus.
It will involve a great amount of technicality and knowledge of programming, but if you're tech-savvy and into that sort of thing, it's well worth the try.
????Earnings: 137,000 per year!
How to learn high-income skills


You can use Youtube to learn how to develop high-income skills from budding entrepreneurs who may try to sell you their own online courses that may or may not have what you're looking for.
Or….
You can sign up with Udemy which has reasonably priced courses in a variety of areas from experienced and certified instructors.
They have thousands of up-to-date courses in a collection of high-demand topics including the ones I've mentioned in this post.
At this time Udemy has more than 40 million people learning from 155 thousand courses.
They are also very affordable price and you can grab a 50% discount right now!
The main topics they cover include:
Design
Development
Marketing
IT and Software
Personal Development
Business
Photography 
Music
Of course, these are broad topics, and you'll find many umbrella courses within each topic.
Are you ready to make money with a high-income skill this year?
By learning any one of these skills and using this skill for business, you have the potential for making more than 210,000 each year!
I'm not making this up as the research has shown that people with high-income skills make more than the average person.
If you're really interested in increasing your earning potential, sign up for any one of these courses and make it a reality!
If you liked this post please PIN it for later!❤️️????