This post may include affiliate links.
Did you know that you can earn a side income teaching English online without a degree?
That's right.
You don't need to have a degree in order to teach English online to children or students. I know a lot of moms would love a convenient way to earn money online on a part-time basis. In fact, teaching was one of the things I turned to when I wanted to work online.
That's because some online teaching jobs allow you to choose a schedule and work remotely. You don't have to be located within the US or Canada specifically to start teaching English online. 
Most of the companies that I'll mention today are known as ESL or English as Second Language. They hire people from all over the world to teach kids and adults to speak English.
If you think you're up for the job, let's find out how you can get started teaching English online without a degree!
Please share the ❤️️ and PIN this for later!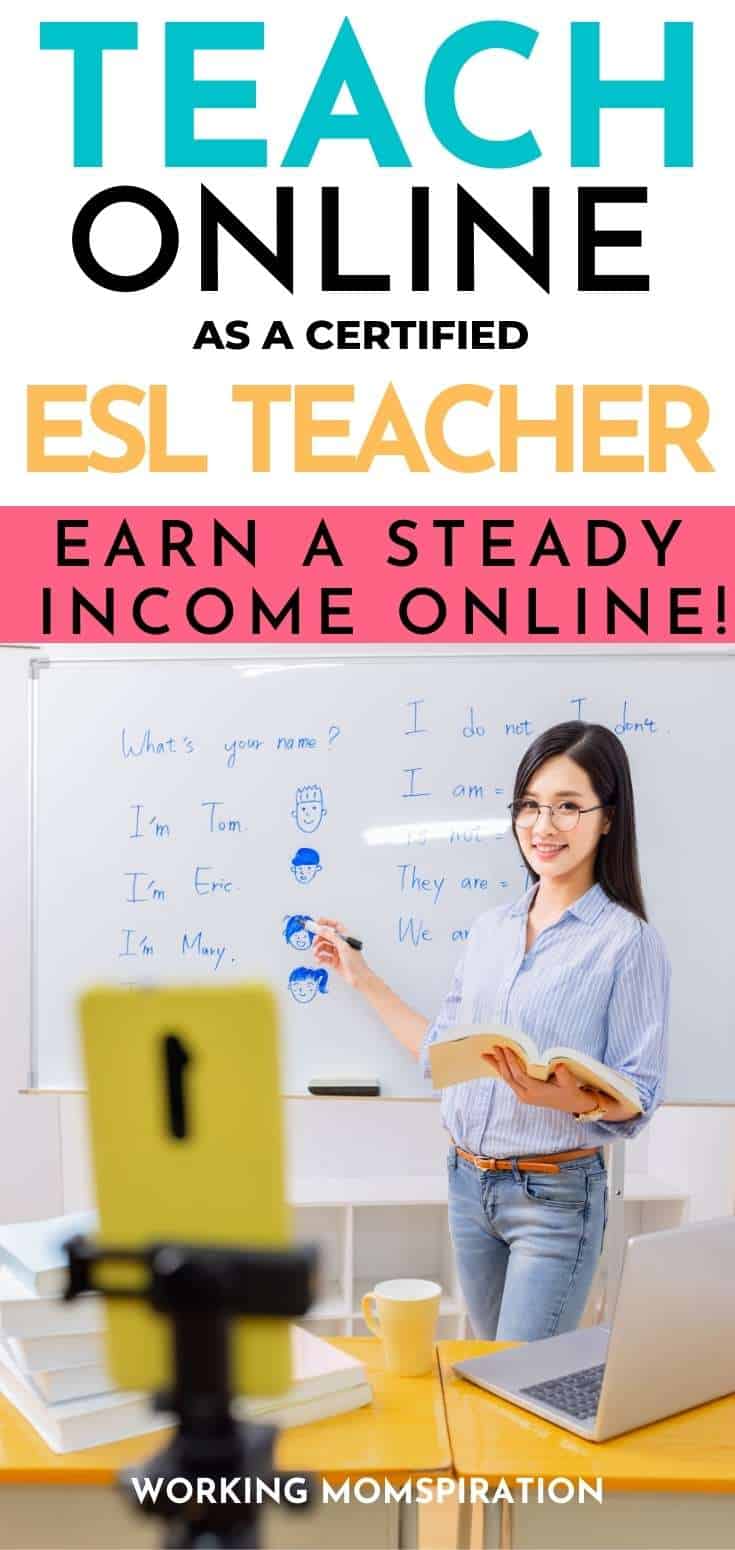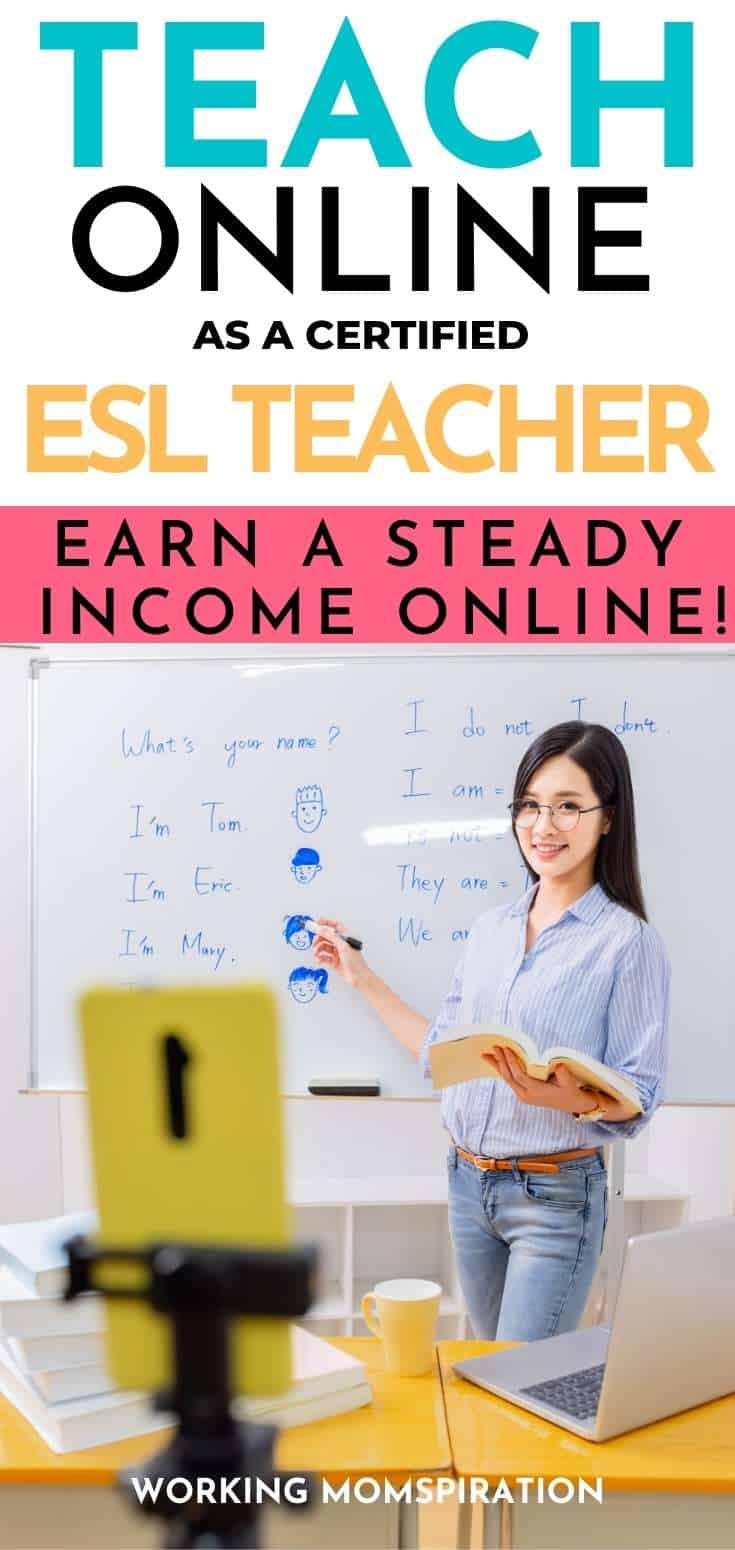 What do I need to Start Teaching English Online?
Be a native English speaker
TEFL certification
Own a laptop
Reliable internet access
Quiet office space
Teaching aids
Headset
Is it Legal To Teach Online Without a Degree?
It is definitely legal to teach without a degree. There are several ESL companies that do prefer if candidates have a degree, but some don't. In most cases, companies will want to ensure that you are fluent in English, are motivated, and have teaching skills so their students to learn effectively. If you have previous experience teaching online or in general, that's a great bonus!
How can I Start Teaching English Online without a degree?
The best way to go about this is by taking a Teaching English as a Foreign Language (TEFL) course to obtain your TEFL certificate online. You may run into a company that does not require one, but in most cases they do. In reality, it's best to be prepared and avoid being rejected, so try to get a TEFL if you want to expand this is a career option.
How Much Can I Make Teaching English Online With No Degree?
This will depend on the company you are working for. However, research from Payscale shows that the average tutor earns around $46, 386 per year. Some companies will pay you based on your level of experience, while others pay a set fee and provide bonuses.
There are also options where ESL teachers can create a profile and set an hourly rate. The only downside is that other teachers may have lower prices and this makes it more competitive.
21 Places To Teach English Online With No Degree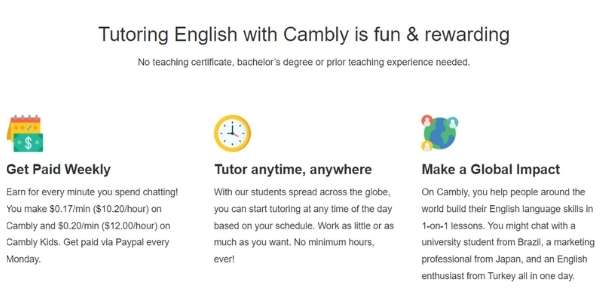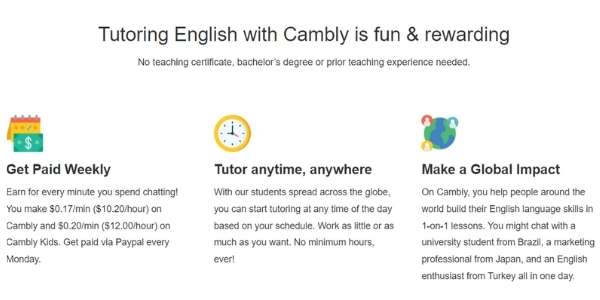 With Cambly you can teach English online without a degree and with no previous experience.
As a tutor, you will conduct live one-on-one video classes with students. The class times range from 15 minutes to an hour, up to 5 days a week. 
You will earn money for every minute you spend talking, so if you spend one hour with a student you'll make about $10.20. When you become a Cambly tutor, you have the option to teach kids too and this pays up to $12 an hour. 
Payment is done through PayPal every Monday. One of the best things about Cambly is that you can work from anywhere as little or as much as you want.
In order to work at Palfish, you'll need to be a native English speaker and have a teaching certificate. As a tutor, you'll be instructing people of all ages through live streams, videos, and other creative methods.
The Palfish platform allows you to teach English to Chinese students so you may be working at various hours throughout the day. You'll be helping them with their conversational English and improving their vocabulary.
To get started, sign up for Palfish, set up your profile, and work as an online English tutor.
At this time, Palfish only hires teachers from the US, Canada, New Zealand, Ireland, Australia, and the UK.
If you'd like to teach English online and set your own rates, then Amazing Talker is the right company for you. There are no minimum hours and you can choose your own schedule.
To work for Amazing Talker you will need to be fluent in English and have experience tutoring or working in the classroom. One difference with this company is that you will meet and teach English to Japanese students and sometimes even to Korean students.
This gives you the opportunity to meet people from different cultures and maybe learn from them too.
If you've ever wanted to teach English online and you have no experience, Preply is a great option. While they prefer that tutors have a teaching certificate, it's not required. You can sign up to be an online English tutor and start sharing your knowledge with students from all over the world.
As with Amazing Talker, you can set an hourly rate and make up to $15 to $25 per hour. You are your own boss because you decide how much and when you teach.
One thing I like about Preply is that they give free training webinars to help improve your teaching skills so you can excel at your job.
There's no need to wait on jobs or feel lost because they have a steady stream of new students and a very supportive teaching community.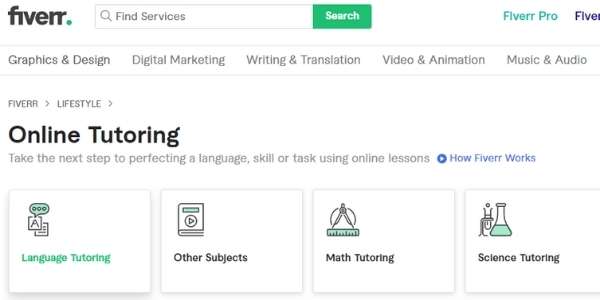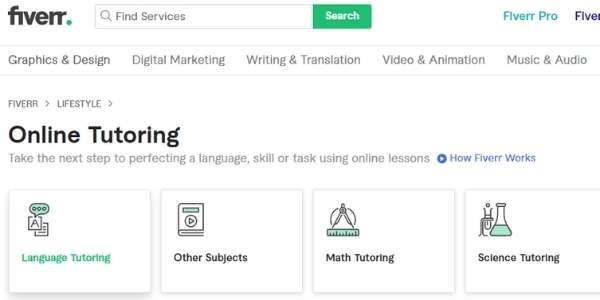 You may have used Fiverr as a freelancer, but did you know that you can teach using the platform too?
There are plenty of people looking to learn stuff online and the English language is one of them. You can teach students conversational English and earn money whenever you want.
In order to book more clients, provide the best quality service so you get good reviews.
Sign up with Fiverr and start earning now!
If you'd like to help people reach their learning goals, Lingoda is the perfect place to start. Lingoda is not your ordinary teaching site because they provide high-quality courses taught by native-level teachers from all over the world.
Teachers are available 24/7 but you get to choose when you work. Lingoda prefers teachers who are honest, proactive, enthusiastic, and adaptable to changes. If you're a creative person, the opportunity to earn an income in a very highly competitive field to develop and grow your career in teaching is possible with this company.
One of the best places to teach online without a degree is Verbal Planet because they make it easy to connect with students from all over the world.
What's great about the platform is that you can set your own lesson rates and hours.
Another bonus is that you keep everything you earn and there's no fee to sign up. You will use Skype to communicate with students when you teach.
iTalki makes it quick and simple to sign up to their platform and start teaching. Just head over to their website and sign up to start the process. If you're a good fit they will reply in 10 business days and ask you to complete the onboarding process.
During this time, you're expected to watch teacher success videos, complete tutorials, set up an account, and pass a few quizzes. Once you're finished with the onboarding process you can start teaching online.
Keep in mind that you can teach in two different ways which include working as a:
Professional teacher
Community tutor
If you do apply as a Community Tutor you can upgrade to become a Professional Teacher later on. As a Professional Teacher, you will possess extensive professional experience and can provide materials and structured lesson plans to help students.
Working as a Community Tutor will involve being helpful, knowledgeable, and assisting students with conversational English.
If you'd like to become an online tutor and earn $1,000 each month then it's time to get started with SkimaTalk. You can work from anywhere as long as you have a strong internet connection and a reliable laptop.
You'll be teaching students from all over the world and you're required to be a native English teacher and fully commit to the job. Once you have a passion for helping students do their very best you'll fit in very well with the company.  Of course, you need no prior teaching experience and you can get started by applying here.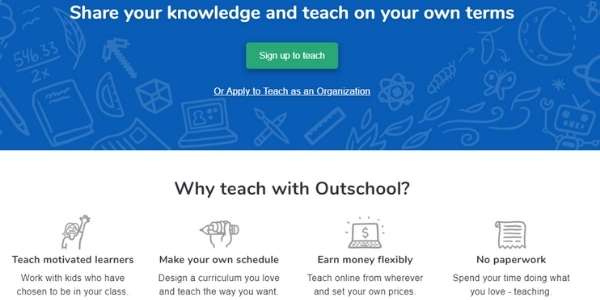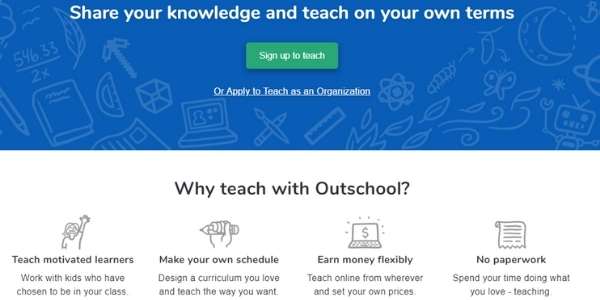 It;s possible to work as a private tutor and teach children online with Outschool. You can earn money online flexibly and design your own curriculum to keep children engaged while learning. Outschool is a fully digital online platform and you'll never have to worry about writing or keeping papers.
They provide a streamlined listing for your classes and access to secure online payments so you're never short of getting what you deserve.
Communication is easy with your students as there is an integrated video chat platform and you also have support through chat, email, or phone if you have questions.
Outschool only hires teachers from the US, Canada, New Zealand, Australia, and the United Kingdom.
Sign up today to start earning!
This company requires that you are a speaker of English from the US, UK, Australia, New Zealand, Canada, South Africa, or Ireland.
If you're at least 18 years of age, have prior experience teaching in the classroom, online, or as a volunteer, you can apply to Tutlo.
Having a reliable internet speed of at least 5 Mbps is essential and you must be able to conversationalize with students to be an effective teacher. Currently, Tutlo has about 100 active tutors and 500 students. 
They provide structured lessons and materials that will help you provide excellent lessons to students. Check them out here.
Open English hires ESL professionals that are interested in increasing the educational success of students. You can join their team of online teachers and earn a steady income each month.
There are two teaching options on the Open English platform which are:
Open English Junior – children between the ages of 8 and 14 within Latin America.
Remote Teacher – for Open English Centers where you conduct interactive group classes.
Open English states that you can work from home and enjoy flexible working hours.
If you have a day job, you can earn money in the evenings or on weekends. Open English also provides prepared lesson plans that make it easy for you to get started with your sessions.
Teach English online with the Rype app in a fun and engaging way to gain a fulfilling teaching experience. Currently, the app has more than 1000 students and is steadily growing.
As a Rype tutor, you will be verified on your quality teaching style to make it the best and most personalized learning experience for the students that come on board.
One-on-one lessons can be customized based on student preference and you can choose the best times to work online. You can make up to $2,000 each month teaching with Rype.
Tandem is all about building a product that encourages cross-cultural conversations and helps learners to succeed at every stage of their journey.
Tandem isn't only about working but they endorse training, fun, and play for all their employees. They facilitate shared time with other teammates with regular team events like summer barbecues and board games.
Tandem wants you to be able to work and take time for relaxation too. View their career page for open positions.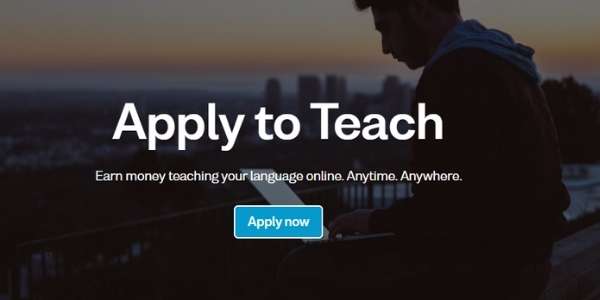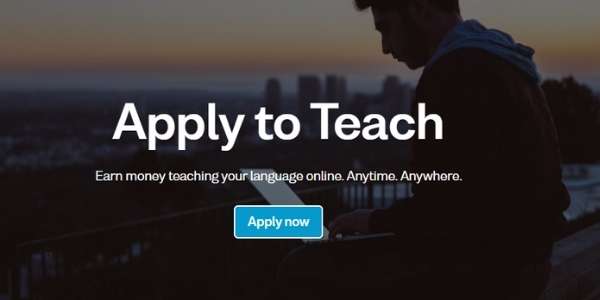 This is an online language platform where you can teach private sessions through live video chat.
As with the other listings I've mentioned, you can teach from anywhere with reliable internet and a computer. They have an easy signup process to submit your application.
Verbling does require their teachers to have previous experience teaching and a teaching certificate to get started.
Even if you are not a native English speaker, you can work for them if your command of English is appropriate. Your payments will come through PayPal, Wise, or Payoneer once you're ready to cash out.
Tutors can set their own hourly rates and select any amount of private sessions as they'd like. Apply to teach with Verbling.
At Learnlight you'll be joining an international team with friendly talented professionals just like you. They have more than 500 teachers in 52 countries who speak various languages.
Learnlight cares about its employees which is why they acquire talent from around the globe so that all teachers can choose a work schedule that perfectly fits their lifestyle.
If you want a real teaching career and you have leadership and managerial skills, Learnlight is a great place to start.
This is another platform where you can teach English to Japanese students and work remotely.
You'll be helping students learn on Skype and all your lessons are about 25 minutes. Tutors conduct all their classes based on student preference. Students can choose to learn the following ways:
Textbook-based learning
Free talk
Online materials
If you want to get started as a teacher having a clear accent with good pronunciation is essential. Being encouraging to students is also a big plus.
Unlike the othercompanies on this list, you'll be known as a coach instead of an ESL teacher. There are other requirements such as having a native level of English and the ability to speak a few other languages.
Vivaling prefers if you have a minimum of 2 years working full-time with children and a teaching certificate.
Once you're comfortable with educational technology and you have a working computer with a reliable internet connection you can work for at least 12 hours a week during after-school hours or on the weekends.
You'll need to submit a demo video as part of the application process. Once that is complete you will be interviewed and given onboarding tasks in order to join their team of coaches.
Apply as a coach if you're qualified.
This is an English-based company that allows tutors to teach conversational English to Chinese students.
They take on highly qualified teachers from North America who are certified or have ESL teaching experience.
You can work from home at your convenience using a notebook or desktop and supply quality online videos for students through one-on-one live lessons.
Once accepted through their rigorous vetting process you are trained on their curriculum to provide the best language learning services to students. Apply now.
Get started as an online English teacher totally free on Classgap. There are over 100 languages and subjects you can choose from. In the case that you'd like to teach something other than English, you have a choice. You get to decide how much you earn with fast transfers to your bank account or by PayPal. 
This is another flexible remote work-from-home opportunity for people who enjoy teaching online. Sign up with Classgap now.
With more than 13,000 teachers onboard and 500,000 students, Native Camp isn't your average ESL company. While training and experience aren't necessary, you will need to communicate effectively and have stable internet. 
The company offers flexible working hours, and bonuses for reaching your targets. To make your teaching experience easier, they provide easy-to-use training and teaching materials. Apply online today.
Teach English Online and Get Paid
So you've learned about some of the most popular places to teach English online without needing a degree. This could become a great career move or just a simple way to earn money online. Whatever you decide, remember you will need a TEFL certificate to work with most of these ESL companies. It's highly beneficial to become an ESL teacher as you will be gaining experience while helping students with their English skills. These are some of the best companies to teach English online, so start applying now!
If you liked this post, please PIN it for later!????❤️️