This post may include affiliate links.
Are you looking for some easy ways to make extra money at home?
Of course you are!
Let's be honest, we are always looking to make more cash, even if it's just an extra $500 that can help with the bills or a few more groceries.
As stay-at-home moms, we can never have too many snacks, can we? 
You may want to go on that vacation to Italy with the family or on that awesome Disney cruise you've been longing for.
Whatever it is, there are lots of reasons why you would want to make extra money, and today, I'm going to give you some of the best options to get extra cash!
Having an easy side hustle that allows us to put a few more bucks in our pockets is essential, especially with how tough things are on households these days. 
That's why it is vital right now to find a side job that will give you the freedom to make extra money at home and improve your lifestyle. 
What's nice about these jobs is that you can actually do them wherever you are in the world, as long as you have an internet connection.
This allows you to create your own schedule and be more comfortable in your workspace.
If you're ready to pay off your mortgage, go on your dream vacation or buy that expensive gift you've wanted for a long time, then let's get into some of the easiest ways to make extra money at home!
Please share the❤️and PIN this post for later!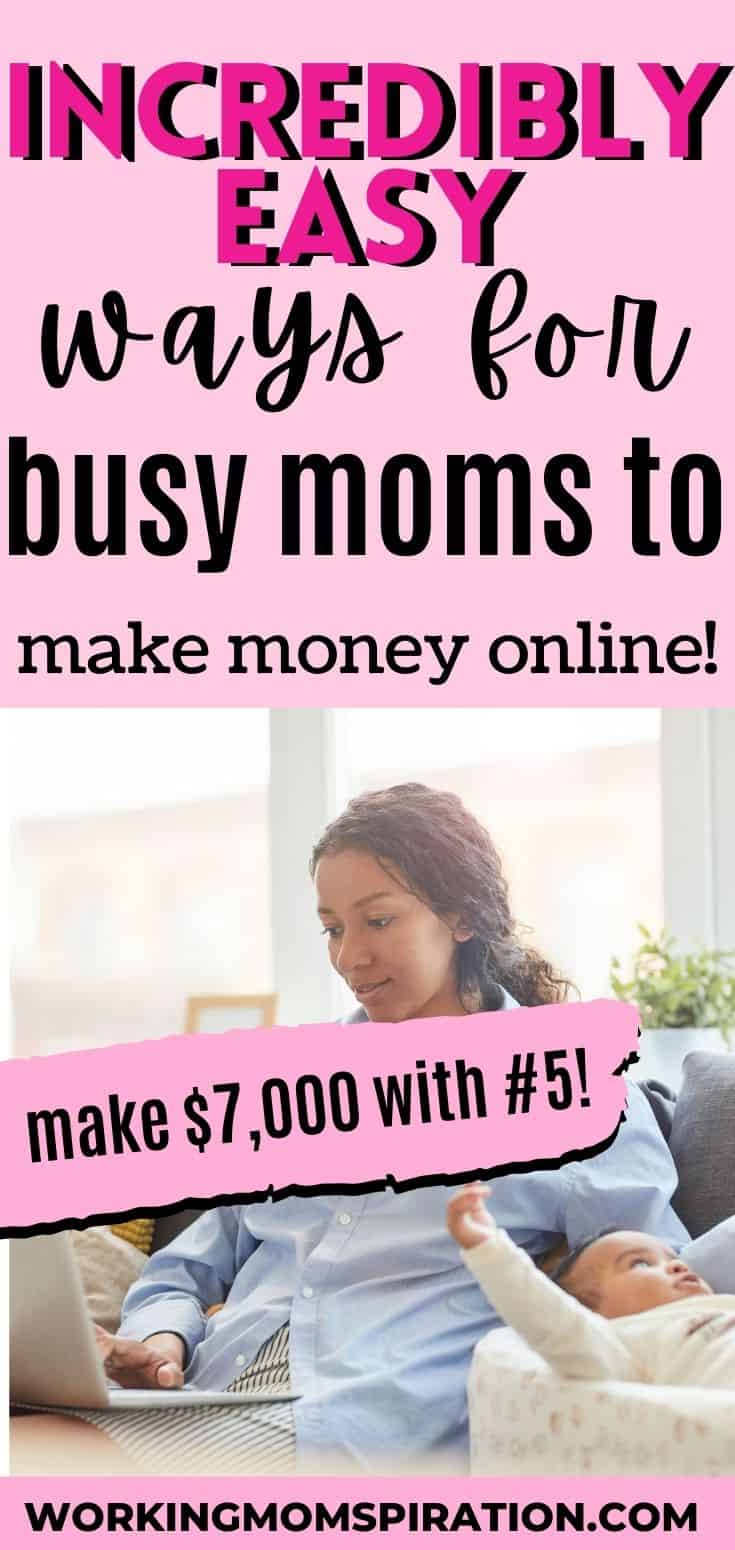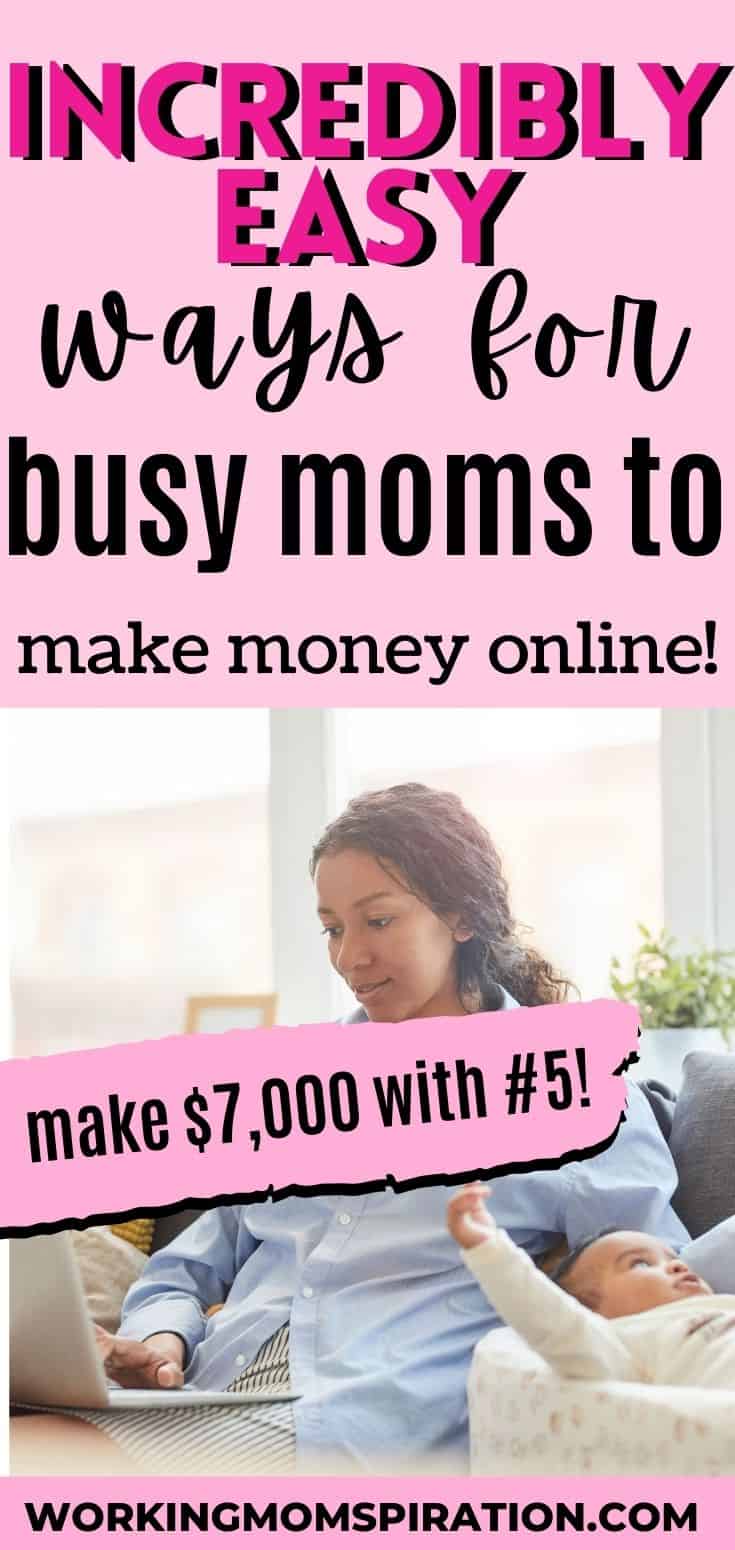 1. Online Surveys
Do you enjoy taking surveys? If you do, then you know just how quick and easy you can get them done and earn cash.
With surveys, you can do them while you're watching TV, listening to music, or when you're simply relaxing at home.
All you need to do is pick up a tablet or head to the computer and start answering a few questions. 
There are a few companies out there that will pay you cash for your opinion.
This is a good option for you if you want to make a bit of fast money without too much hassle.
Surveys can take around 5 minutes or a little more to complete and you can do quite a lot in a short amount of time, and that means more cash for you. 
If you want to make even more money with survey sites, I recommend signing up for quite a few of them, so you can answer questions in your free time. 
Here are a few that I highly recommend if you want to start making some extra money at home:
Swagbucks – You must have heard of Swagbucks as it is one of the most popular and trusted survey sites around.
You can complete surveys on their site to redeem for gift cards or cash paid to your PayPal account.
There are other fun things for you to do on Swagbucks like searching the web and getting free offers from brands.
If you'd like to make some fast extra money at home, then sign up for Swag Bucks today!
Survey Junkie – This is another highly rated survey site that has more than 10 million members in the U.S. and Canada.
Just like Swagbucks, you can earn points by answering surveys which you can then redeem for cash. 
 Joining is very easy and you can start making money right away. Sign up with Survey Junkie now.
Opinion Inn – This is another popular and trusted survey site that allows you to give your opinion and make money from it. Once you've earned $25 you can withdraw this amount on PayPal.
There are even surveys where you can earn $100!
Not only that, but you also get a $10 sign-up bonus! Sign up for your bonus with Opinion Inn today!
2. Use your Smartphone
Yes, you can use your smartphone to make money!
Everyone is using their smartphone today to chat, work, design, and do a lot of other things.
There's no reason why you shouldn't be using your phone to make money too.
There are tons of money-making apps out there that will pay you cash or gift cards to use them.
Because most people have their handy sidekick by their side most times (even in bed) they can easily whip it out and start earning cash!
A few apps I recommend for this are :
You use your phone every day, so why not start earning cash from it?
3. Transcription
You may have already heard of this but I thought it was worth mentioning anyway.
Transcription involves turning audio files into written form. 
There are thousands of businesses out there that need their meetings, notes, and other audio transcribed for their records.
That's where you will come in. You can sign up to do transcription work on a variety of platforms which include:
These sites usually require that you have an above-average typing speed and accuracy when transcribing material.
While transcription might not be for everyone, you can actually learn by practicing by listening to the audio while typing.
With enough practice, you can be on your way to making extra money with transcription. 
According to Rev, their top transcriptionists earn $1,300 monthly. Sign up with Rev today!
4. Sell Art
Are you an artist or have an eye for creating pleasing art?
Well, this side gig might be for you!
There are thousands of artists all over the world who are creating and selling their art for cash and they earn royalties from their art every month.
If you are gifted with the skill of artistry but haven't been using it, I think it's time to start creating designs in your spare time and submitting them online. 
Some do it as a hobby, but it's a high-income skill to earn passive income online!
A little trick that a few people might not know, is that you don't need to be an actual artist or know how to draw, paint or do any of that good stuff in order to make money. 
The way to go about this is by purchasing art from creative artists who sell their designs for others to use for business.
For example, we have things like clip art, SVG's, and watercolor art that you can purchase, make your own, and sell for profit. 
One thing you should never do though is download someone's design without their permission.
That's why I recommend using places like:
Here, you can purchase art with a license that you will be able to use on your own designs on places like Redbubble or Zazzle.
Check out those websites and start designing!
5. Give Advice
Ready to make some extra money at home by giving advice?
This is definitely possible and you can do this in your bed, at a coffee shop, or while you're on vacation.
That's because you're not limited to an office setting and you can do this simple side gig online.
How it works is that as an expert in a specific topic, like medicine, education, or the culinary arts, you can answer questions or give advice to clients.
The website you'll be working on is known as Just Answer, and as a professional in a certain field, you will be sharing your expertise with customers who are in need of help. 
To go more in-depth, there is a list of fields that experts can choose from which include:
Home Improvement
Veterinary Medicine
Law
Mechanics
Medicine
Plumbing
Appraisals
Taxes
Electronics
Computers
The site also includes a general category that can include topics like relationships, food, entertainment, jobs, and more. 
It's free to sign up and Just Answer will require certification in whatever specialty you have selected to give advice on.
According to the site, you can make between $2,000-$7,000 a month.
Sign up with Just Answer today!
6. Rent Extra Space 
This gig might not be for everyone and that's fine, but renting a bit of extra space in your home that's not being used can be a stream of passive income that can literally pay for itself.
The safest way to do this is probably through Airbnb.
You should take advantage of this opportunity if you live in a tourist area and make an extra $1000-$3,000  a month!
You will still have to maintain the space, cater to guests' needs, and set ground rules, so it's not quite as passive as you would like.
However, after you've set up the space and gotten used to the routine, it is certainly a nice way to make extra money each month.

7. Sell Photos
Selling photos online is another way to make extra money at home.
You can take pictures of nature, families, crafts, and other scenes and sell them to Stock Photo sites.
This is the case if you are good at photography and have a high-quality camera. Not everyone is great at taking pictures that are good enough to be sold but anyone can take online classes to learn the art of taking quality pictures.
There are several companies that are always looking for stock photos to sell to business owners and bloggers. These include Deposit Photos, Shutterstock and iStock.
8. Watch Videos
Do you enjoy watching videos? Do TV shows, advertisements and short funny clips make you happy?
If you like this sort of thing, then you can turn your love into making some cash!
Watching videos is something you can easily do in between chores, while the kids are sleeping or if you have some alone time that you want to use for some productivity. 
If you're ready to make some money and have fun doing it, then sign up with these companies and start earning today:
9.Proofread
Starting a proofreading gig is another great way to earn extra money at home.
You can get started in proofreading if you enjoy reading, and you're good at spotting grammar and punctuation errors.
Proofreading isn't just about correcting grammar though as you'll also have to format the document as the last 'eye' before it is submitted.
It could be a job application, an academic paper, a blog post, or other written content. 
Editing is different from proofreading in that it changes the structure and language, while proofreading is centered around minor errors. 
If you haven't done proofreading before and would like to learn how to start earning an income from it, you can sign up for this free proofreading workshop.
10. Sell Templates
You certainly don't need to have an eye for design to start selling templates online.
There are a variety of templates that you can make and sell online and many of them are evergreen. You can choose from:
Coloring pages
Water Trackers
Pinterest Templates
Instagram Templates
Media Kits
Invitations
You can literally make thousands of money each month selling templates online with your own blog, on Etsy, Zazzle, or Shopify.
I recommend you start experimenting with your designs on  Canva.
They have pre-made templates that you can draw inspiration from, but be sure not to use those!
You will want to make your own designs from scratch using their easy-to-use graphic design tool.
You can also head over to Creative Market and get designs that can be incorporated into your templates for added value.
Creating templates can be a fun hobby if you like designing and you can then turn it into profitable passive income hustle. 
Take advantage of selling your templates during Christmas or the holidays.
Make Extra Money at Home Right Now
What are you waiting for?! It's time you started making some extra cash online with these incredibly easy side hustles!
I know not all of them will make you thousands each month, but they are a great start! 
You can start making at least $500 a month with surveys and work your way up to making a full-time income by selling templates or giving advice to customers.
Because you have so many options and they are soooo flexible, there's nothing stopping you from trying them all.
Let me know which one of these side hustles you'll try first!
If you liked this post, please PIN it for later!❤️️????